Are you loving velvet? If you've been to my blog lately you might know that I am so in love with velvet right now. It's so luxurious feeling. Today I want to share my velvet ottoman slipcover, but first I wanted to update you on my bulbs.
Some people asked how I kept my hyacinths upright. Well at the time, they hadn't bloomed and they were fine, CLICK HERE. Then the blooms came, and they flopped over. So I've used toothpicks to keep the bulb from tipping over, and a chopstick with sting to keep the blooms more upright. I didn't edit out the toothpicks so you could see what they look like. I'm not crazy about the toothpicks, but the scent is heavenly and the flowers are so pretty!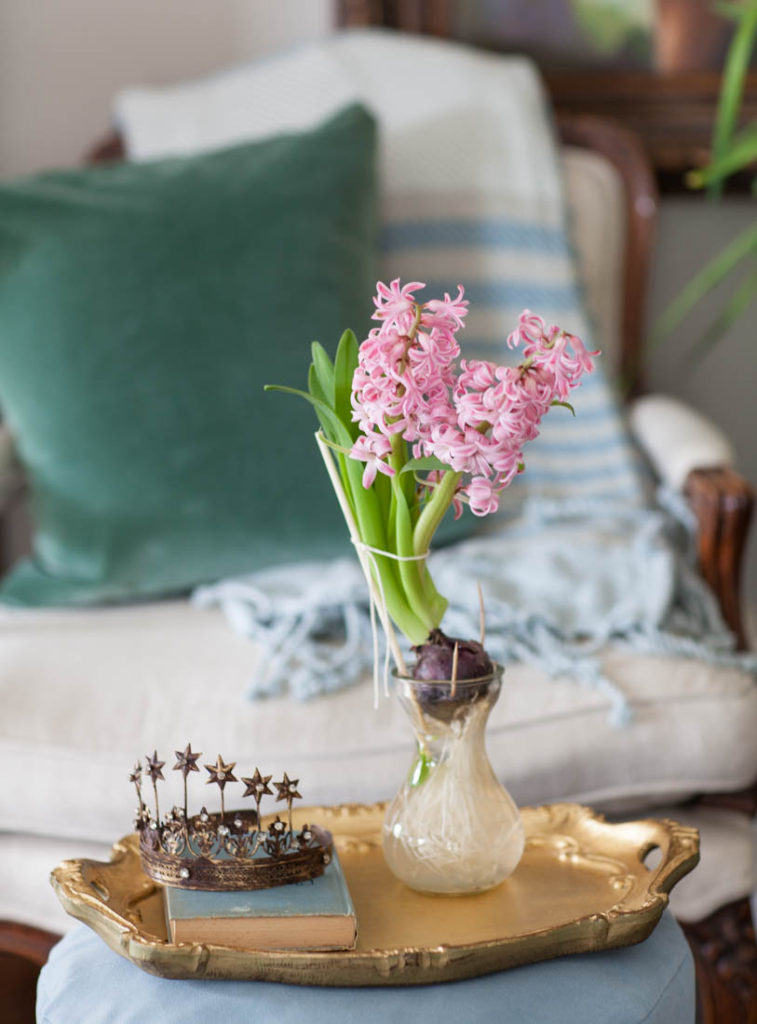 I also got some paperwhites this year also. CLICK HERE for to see the ones from this year, and HERE for last year's. I potted these before Christmas and I am just now getting blooms. This year's crop is drooping earlier than the ones from last year did. But finally, finally I have blooms!  I moved some of the paperwhites and one of my hyacinth bulbs to my bedroom so I could enjoy them in here.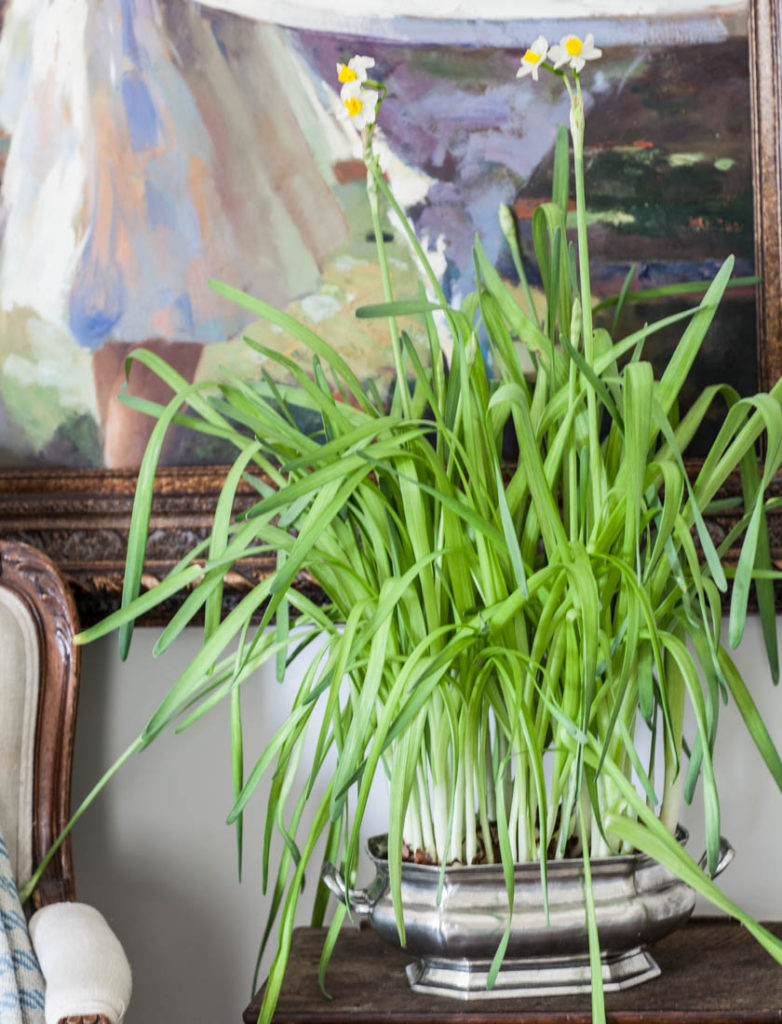 Okay now the ottoman. The post is sponsored by Calico.
I went to the local Calico store in my area and saw so many gorgeous fabric choices in person. I decided on this sumptuous velvet. The velvet is Forever Velvet in Blue Opal. It's a performance fabric that is easy to clean and resists stains. That's good since it's on an ottoman. The velvet pillow was also made with fabric from Calico.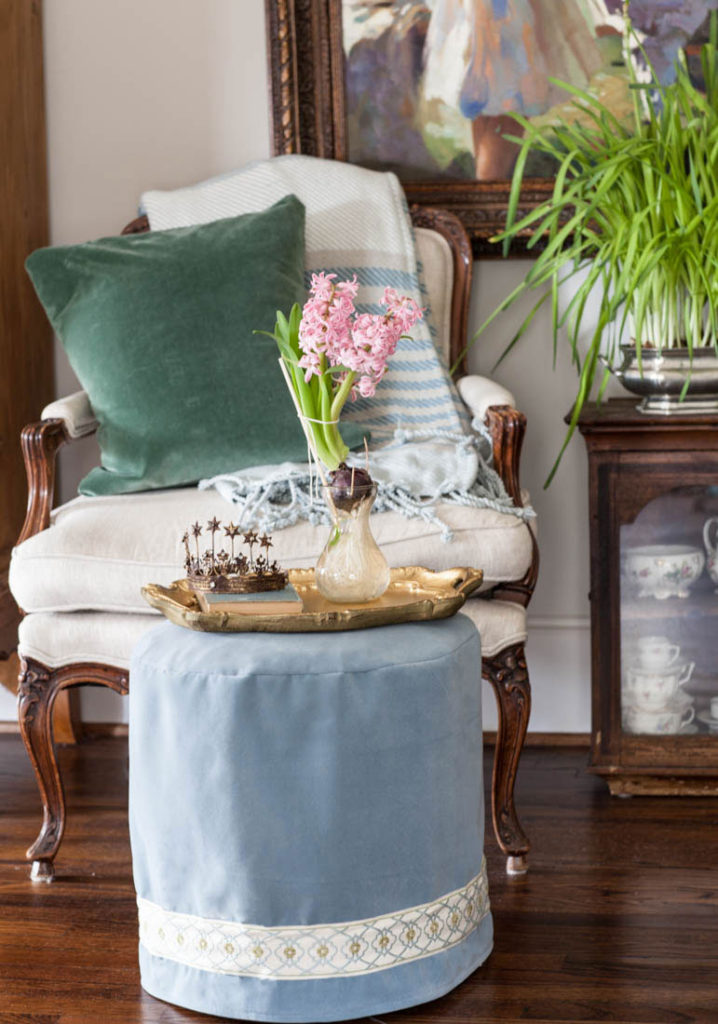 The trim is so pretty. I didn't see it on their website, but I think you can order it with this info – EA271/08 Seaspray.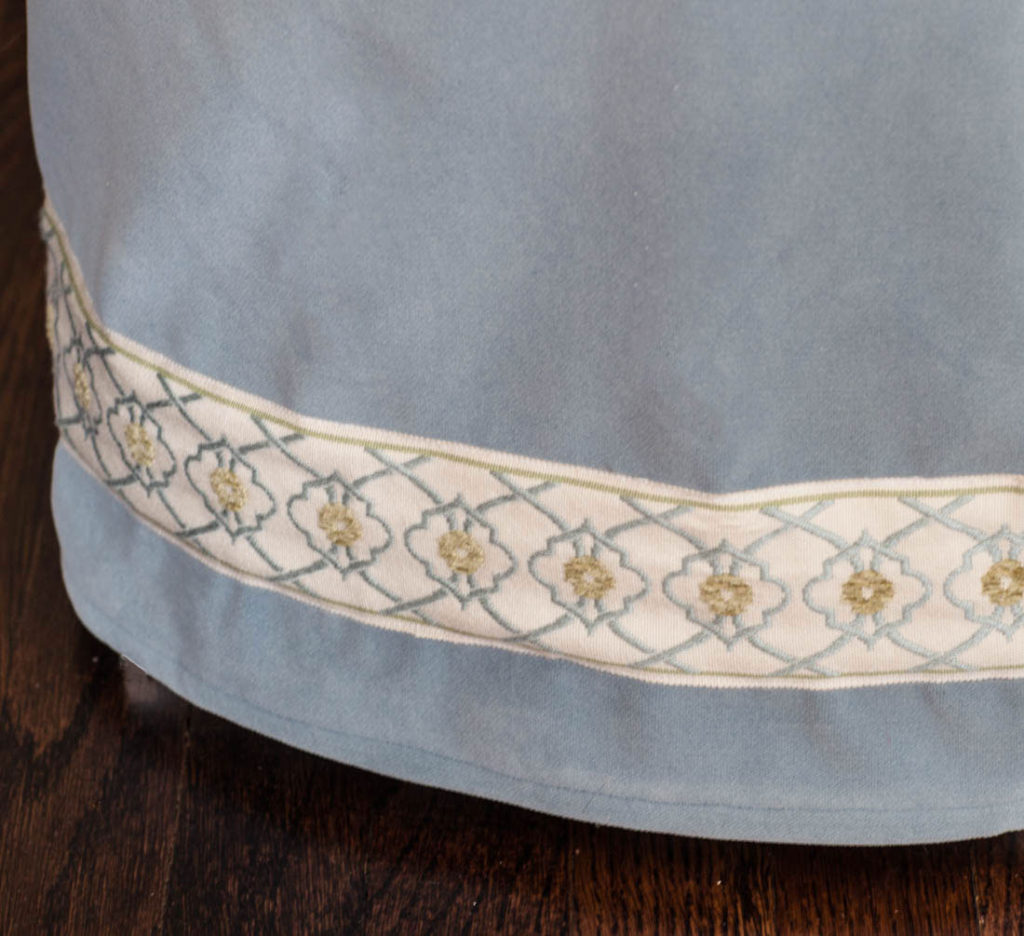 I went with a more relaxed fit than I normally do for a slipcover. I won't do that again. I prefer a snug fit. If you want directions for making the slipcover, you can see directions HERE.  That slipcover tutorial has a ruffle so just ignore that part. The trim I added last.  I think the velvet ottoman slipcover adds a nice detail to the room. I also made another ottoman slipcover that I can't wait to show you. You are going to love it, I think.