I was trying to decide how to word the title of this post – How to keep from re-cluttering after decluttering, Surprise I bought more dishes (said sarcastically), or even Antique Dishes and how to display them. In the end, I chose the direct approach. If you saw my blog post last week about my decluttering, CLICK HERE, then you know I got rid of 2 sets of dishes. Yes I was decluttering. But what I didn't tell you was that I was decluttering to make room for more clutter.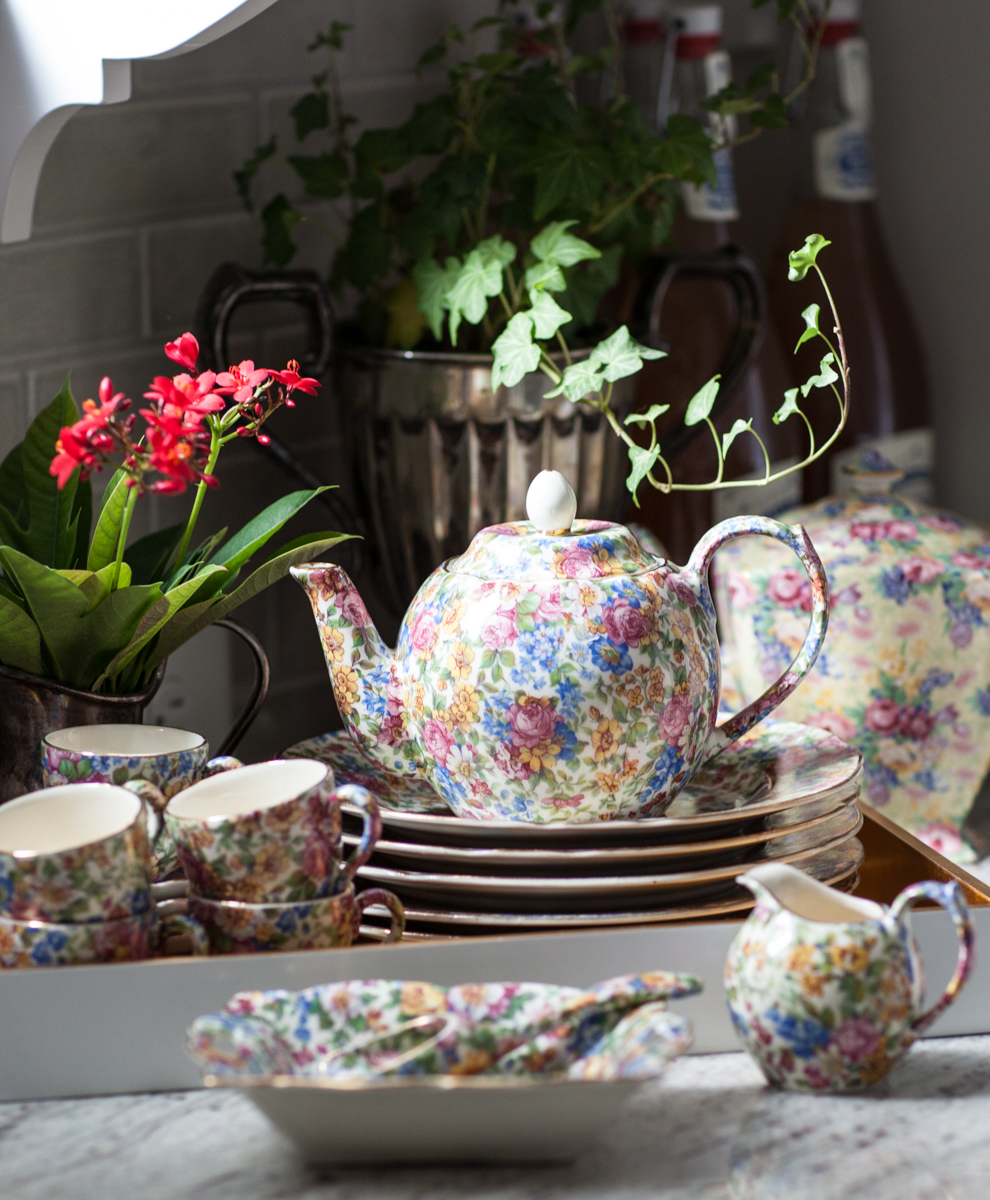 When we arrived at the farm last Friday, we found that the refrigerator was warm inside. There's no telling how long that went on. Then when we got home Sunday night we realized that our city house refrigerator also had an issue, but was still
I walked past these dishes several times on recent visits to my thrift store. I'm not collecting Chintzware and it wasn't English, so I passed. Although, they did draw me in, I resisted on several occasions. It's almost a complete set. They were made in Czechoslovakia, which isn't easy to spell by the way. As I placed the dishes by the cash register, a man walked up and fondled the teapot. (I am not making this up.) I asked if he loved dishes. He said, "No, but I love chintzware!" He mistakenly thought this was English, then I mentioned that it was from Czechoslovakia. He said, "Even better! That country isn't even around any more, and they are known for their high quality china." he said. He seemed so happy and handled several of the pieces with care. I understood his appreciation for a thing of beauty. His smile was ear to ear. I began to feel like an intruder as he spent time admiring each dish. A volunteer at the store came over to admire them also. She wanted to know they were going to a good home. I understood. It's like when a puppy get adopted. You want to know the puppy will be cared for, loved and appreciated. It's a teapot, 5 plates, 5 cups and saucers, a creamer, and a dish with a scoop.
According to Kovels, these dishes were made for import to the US, made after 1920. This shallow dish and scoop are so unique.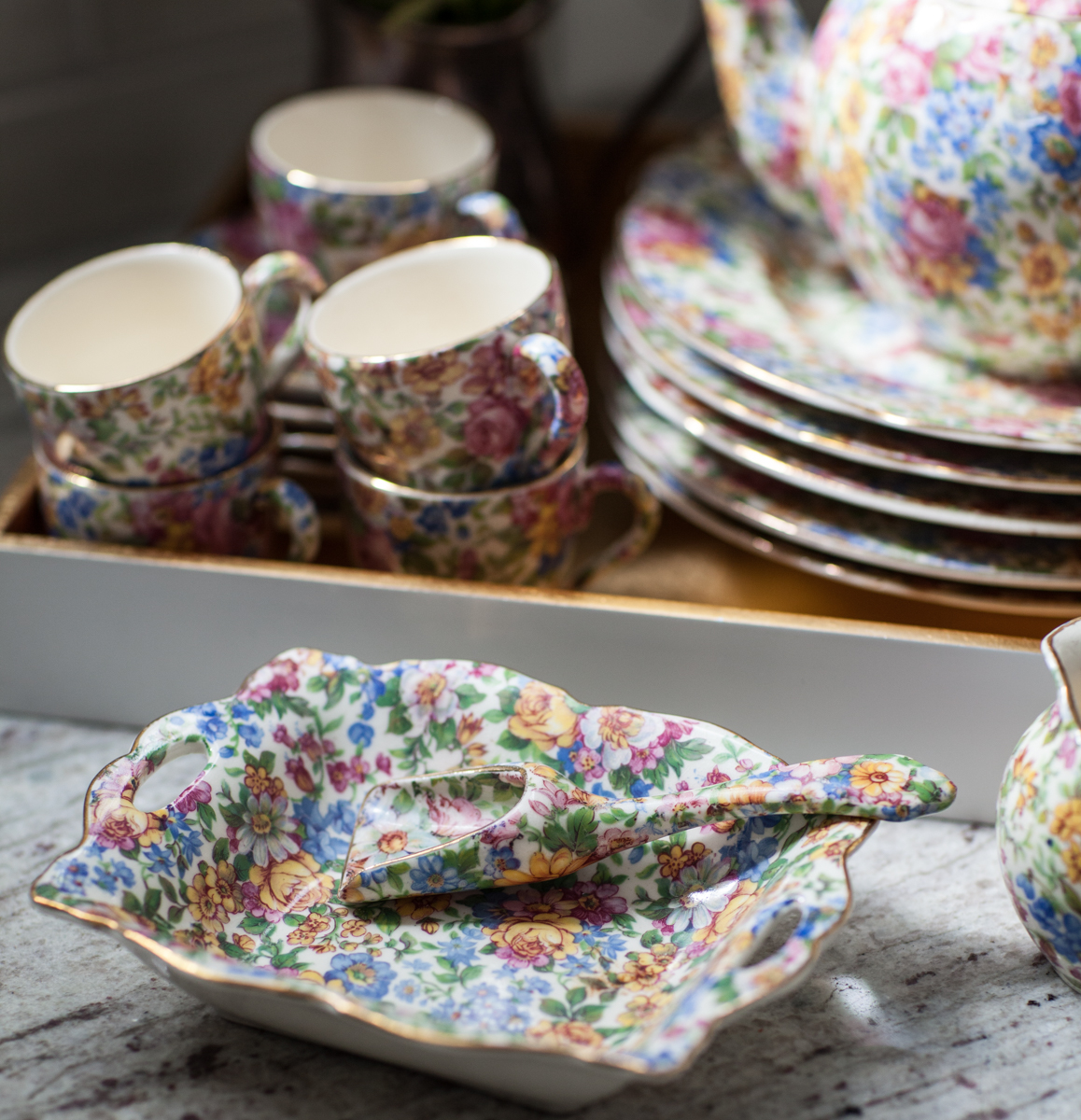 Everything is small, almost child-sized. I already had a few pieces of Royal Winton Welbeck, so this is a nice addition. The plates are heavy.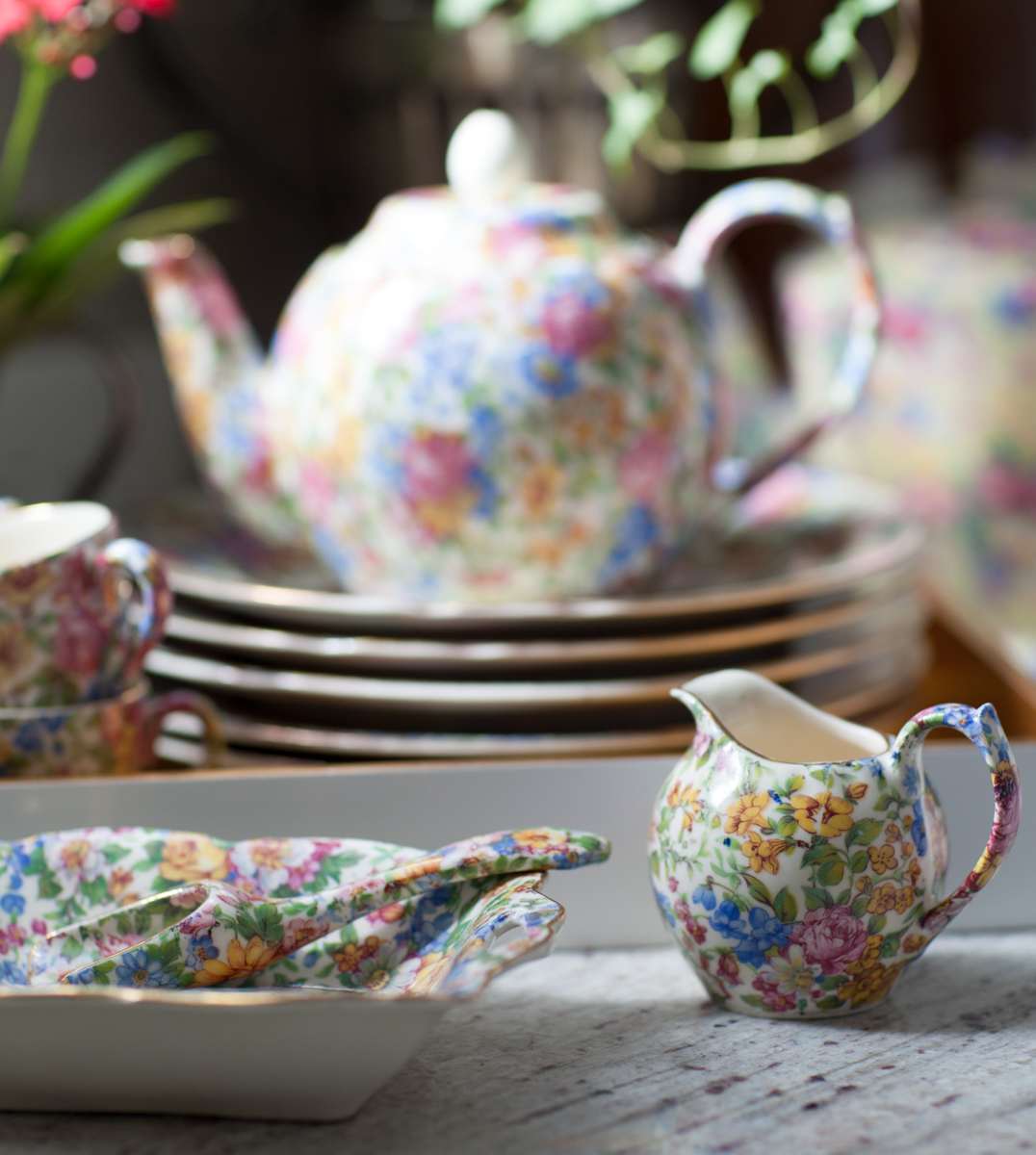 In another European country, I found a set of French dessert plates. These are from faience plates from France and they celebrate the French revolution. They were made to commemorate the 200 year anniversary of the French revolution in 1989.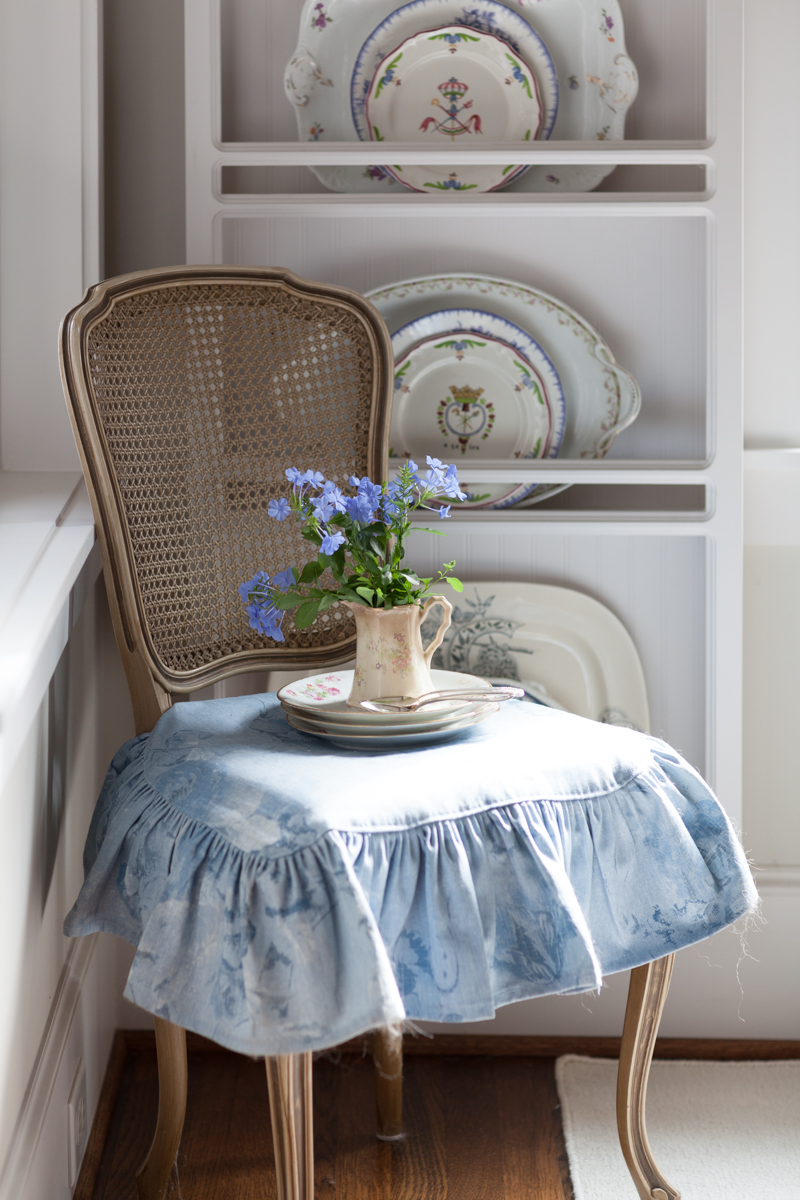 These are all hand-painted and shipped to me from France. They have so much personality!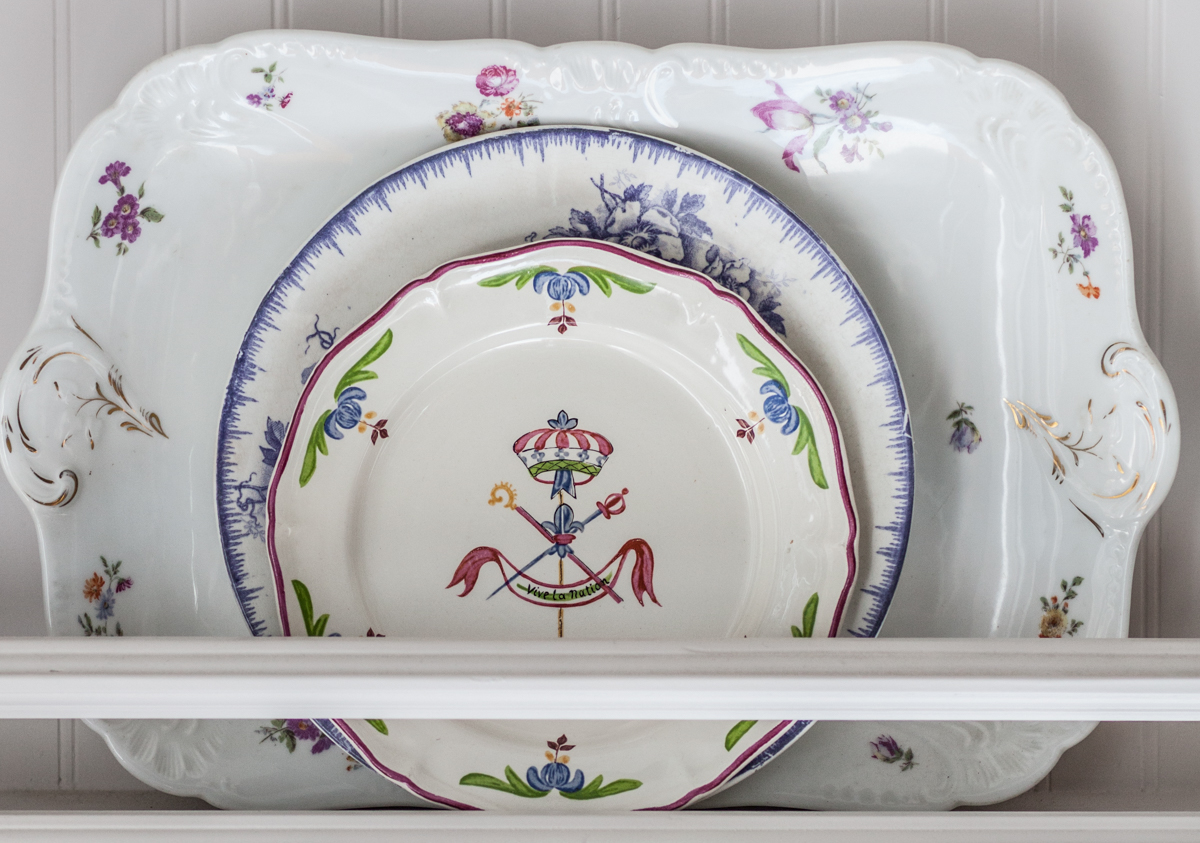 Here are a few more of the plates.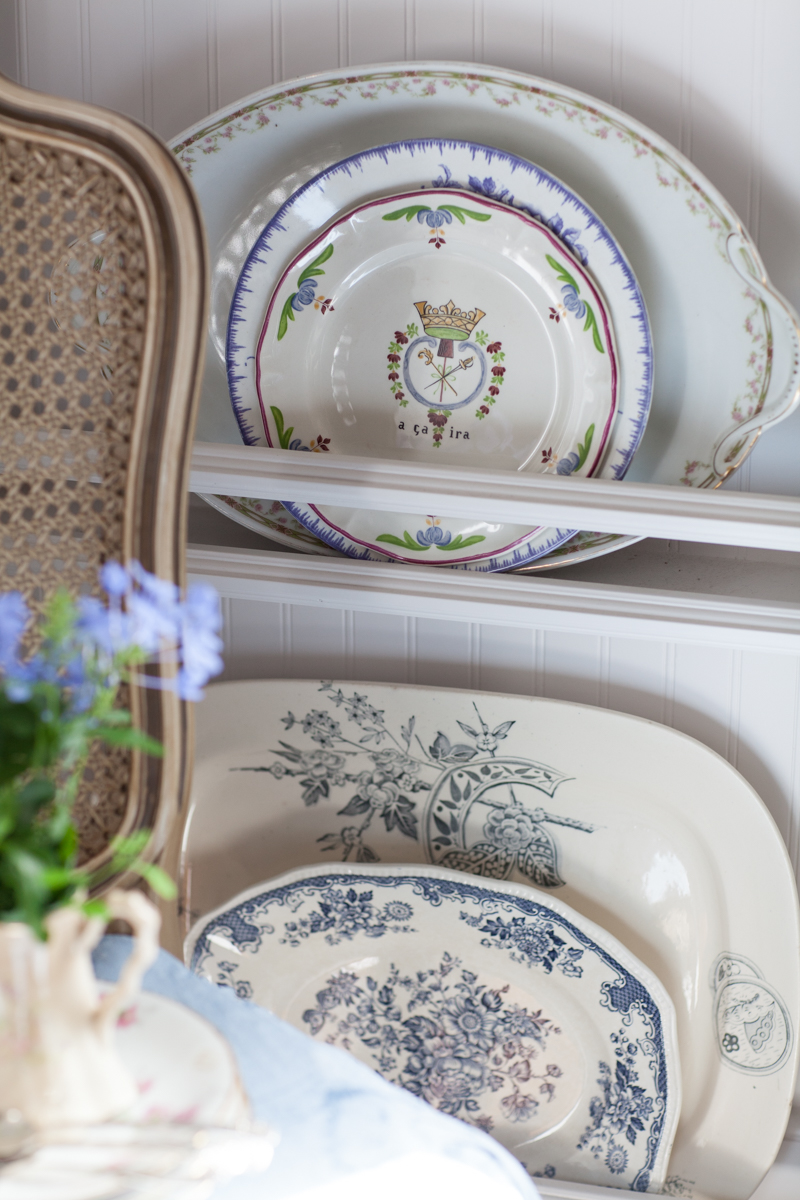 The colors are so pretty!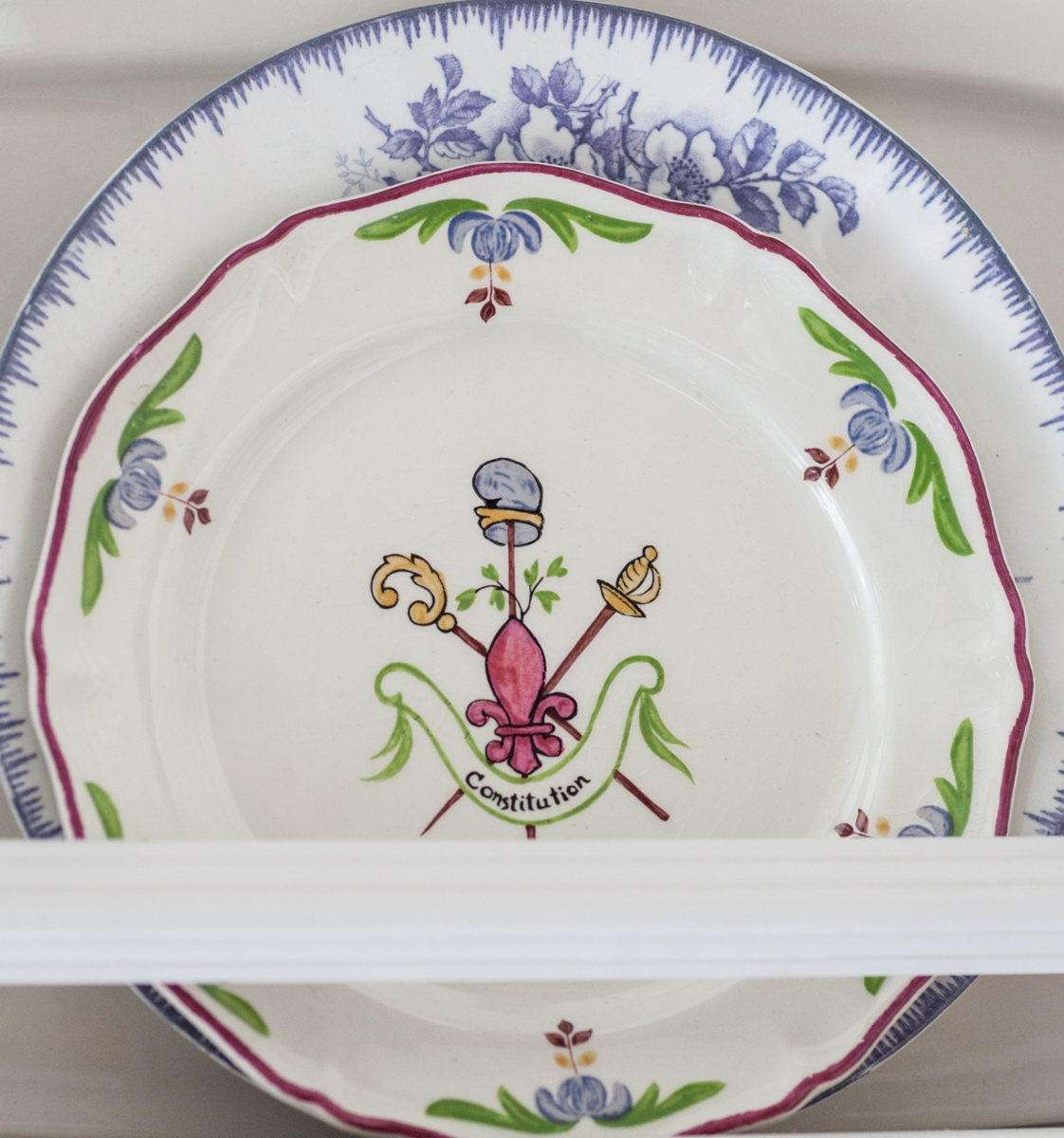 I figure I'll make enough money from my old dishes to pay for these (or at least pay for some of them.) But the way I figure it, it's okay so long as I'm also giving things away and selling things. I actually love to have a revolving door of dishes. I buy them, enjoy them, then move them on to a new home, (RINSE, WASH, REPEAT.)  I know I'm not the only one! I heard from a lot of dishaholics since my last post!
I've got a few more goodies to show you. And I'm pondering what else I'll get rid of.  I started to stack up my mother-in-law's Lenox gold and cream wheat dishes to take to the consignment store. Something stopped me. We don't actually use the dishes, and I'm not that crazy about them. But I wasn't quite ready to let them go.  I'm going to ponder that for a bit longer. I have a set of English dishes that will make it's way to the Bespoke Decor store in the next month, and probably my Limoges dishes will make their way there soon.
I also have several hand-painted Limoges dishes that will probably move onto other homes as well. They are gorgeous, but I'm not displaying them right now. I feel like I don't really own any of these pieces. It feels more like I'm caring for them in-between owners. It's my job to keep them safe while they are in my care. I love them, then re-home many of my pieces. Even my new dishes may move onto new owners soon, but not this weekend. This weekend, Evie and I are having a tea party!