If you have been reading my blog lately then you know I've been adding color to my mostly neutral home. I still love neutral, and don't see the color as a permanent change. I think that's what I like about having a neutral room. They are flexible. I can add color with slipcovers, pillows and throws, then change that color easily without spending much at all. I kept all of my neutral accessories, so I can move them back in the room, whenever I want. I guess the thing I like the most is having options that don't cost a lot. So today let's look at 4 rooms and see them in neutral versus color options.
I'm here to encourage you to decorate your home the way that speaks to you. I'm here to offer ideas. To do that, I have to change things up over time. If all I do is offer up photos of my home that never changes, then it might become boring and stale for readers and for me. If you want to keep your home the same, that's great! I'm  not suggesting you need to change your decor every week or month. I'm saying I need to so I can continue to offer fresh content for you. Please do what works for you, your family and your home.
Now, let's get to these 4 rooms.
The room was neutral for a long time. Interestingly, this room seems to be the most controversial, and when I say controversial, I just mean there's a lot of disagreement on which look is best. As you can see I used a grain sack on the ottoman. The neutrals have a calming effect.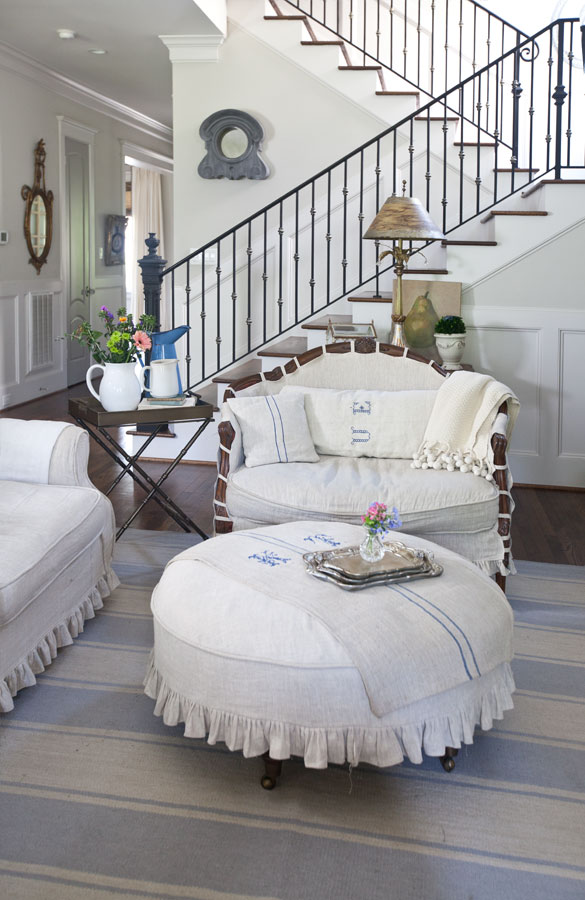 In this version of the room, it's more lively with the blue pillows. You can find the post on this room HERE.
t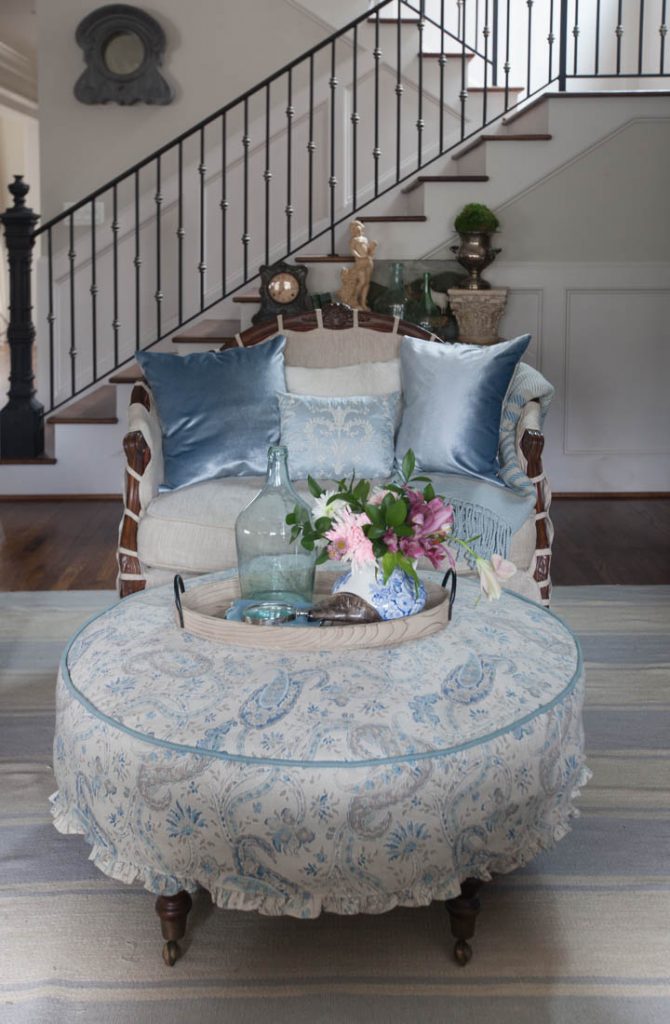 This room is our breakfast room, and I made these gray linen slipcovers soon after we moved into our home. They offer a neutral feel to the room. The rug is blue and white, but there's very little color here.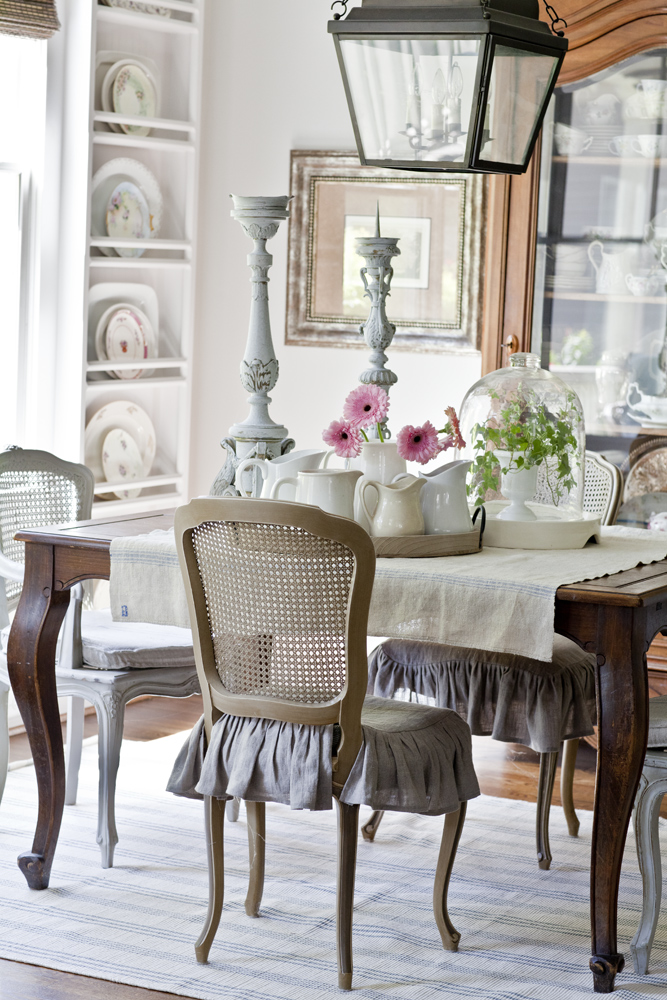 Now I've added the blue slipcovers for the chairs. I think this is my favorite project of the four. In person, this blue is gorgeous!  You can find this project HERE.
There are so many things to like about a color room and about a neutral room. Neutral versus color doesn't have to be a one time permanent decision. You can change things over time.
I've added several new things to my favorite Amazon items list. affiliate link, click below.
Amazon.com/shop/cedarhillfarmhouse
We are a participant in the Amazon Services LLC Associates Program, an affiliate advertising program designed to provide a means for us to earn fees by linking to Amazon.com and affiliated sites.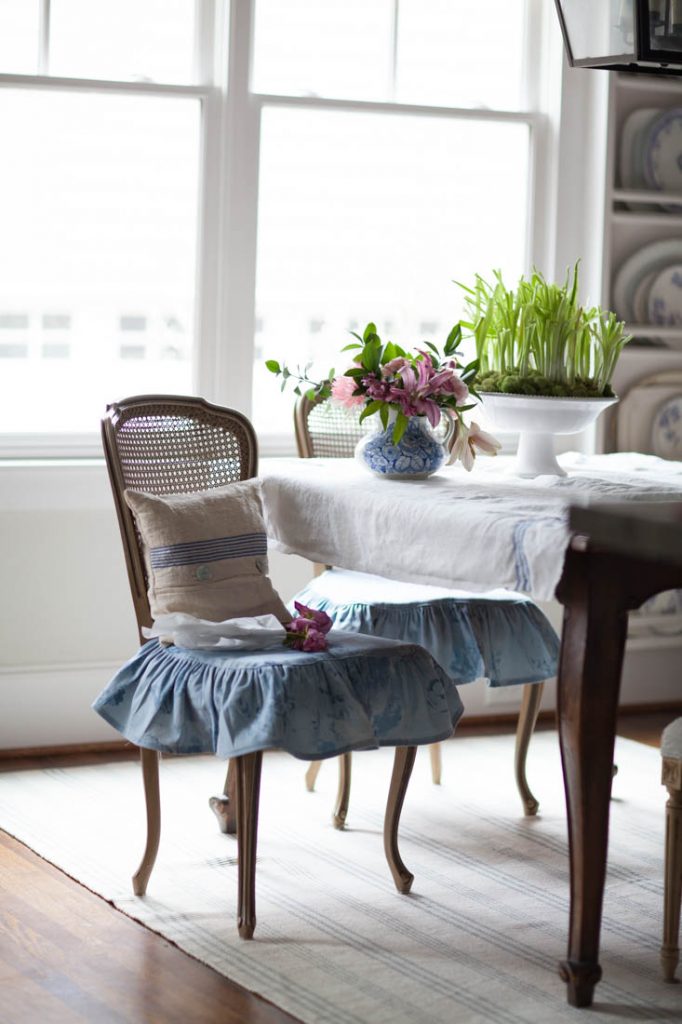 This room is our bedroom. I used a grain sack fabric to reupholster the settee. Here I am showing it first with a cowhide rug, blue and white pillows and a white ottoman. While there is some color in the room, it's minimal.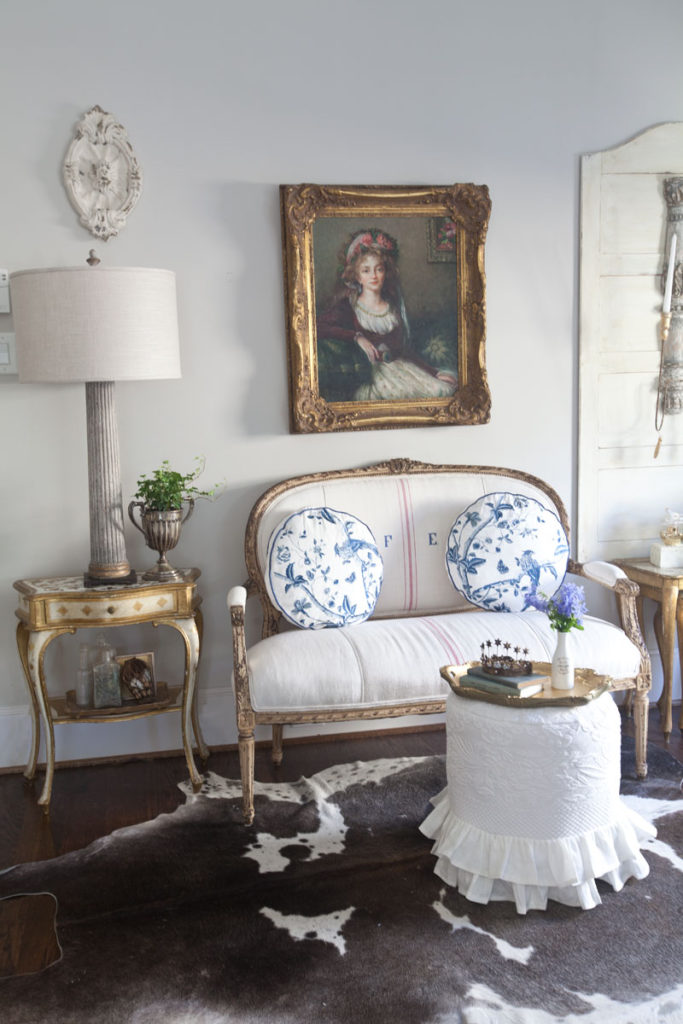 Next I added turquoise pillows and a colorful ottoman slipcover. I admit I have a thing for velvet. You can find the post on this project HERE.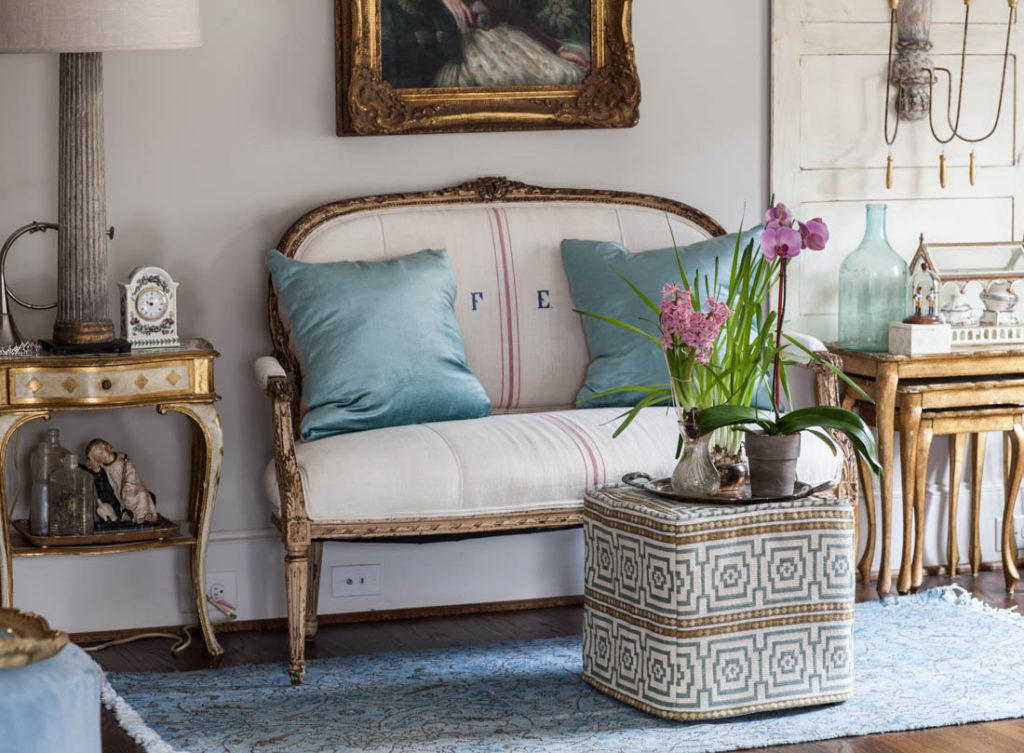 Finally, I'm showing my dining room. Do the chairs look familiar? I have 4 arm chairs and 2 side chairs in this style. They are antique chairs from France, that I found at an auction. I know it's weird that there were 4 armchairs and 2 side chairs. It seems like it's normally the other way around (4 side chairs and 2 arm chairs). I used the arm chairs in the dining room, and put the side chairs in the breakfast room. The fun thing is that I got to use different slipcovers in the dining room than I used in the breakfast room. Here you can see the room with the gray linen slipcovers like the ones in the breakfast room above.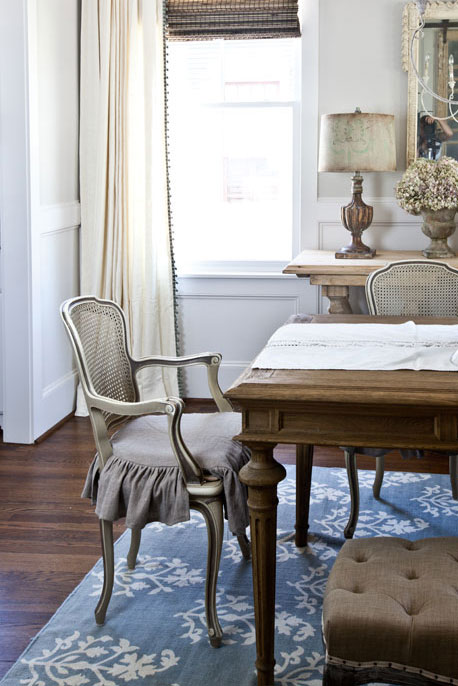 Below you can see the room with pink linen slipcovers. I love the soft pink in the room. You can find the pink slipcover project  HERE.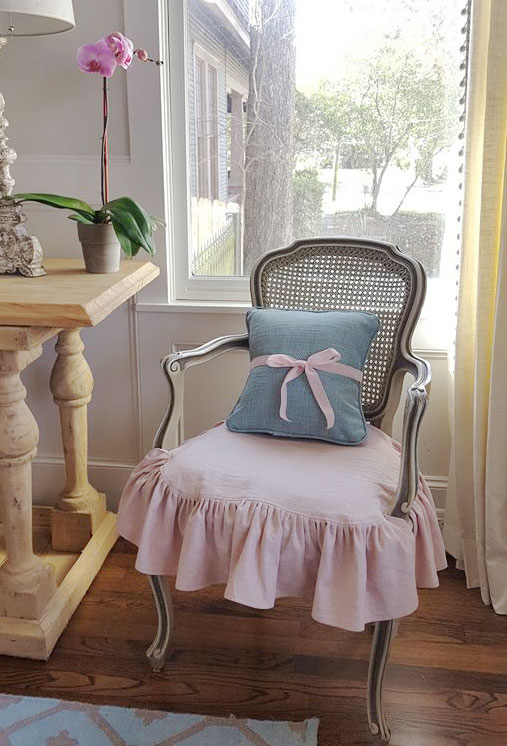 So which do you prefer? Obviously there isn't a right and wrong answer. It really speaks to whether you prefer the color or neutrals for your home. As you might have guessed, more changes are coming!