Gorgeous New Millennial Pink Slipcovers
Today I am showing off the new millennial pink slipcovers I just made. It was time. The old slipcovers are lovely and I'm not getting rid of them, just rotating them out for now. (Sorry Peggy and Ginger! Yes I know they will look better in your homes, but I'm not getting rid of them.)
So here's what the older slipcovers looked like. I made these also.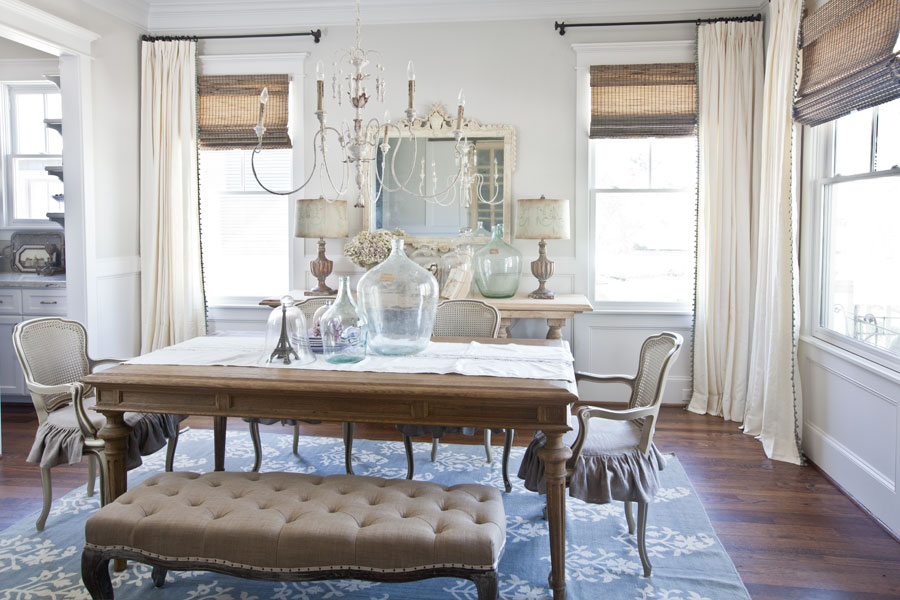 I mentioned in this post, that I'm adding my color of the year to my home. My color of the year is lavender. What goes with lavender? Millennial pink! Well I think so. I did two different slipcovers.
This post is sponsored by Calico Corners. All opinions are my own.
The first fabric I used is Downton in color Blush.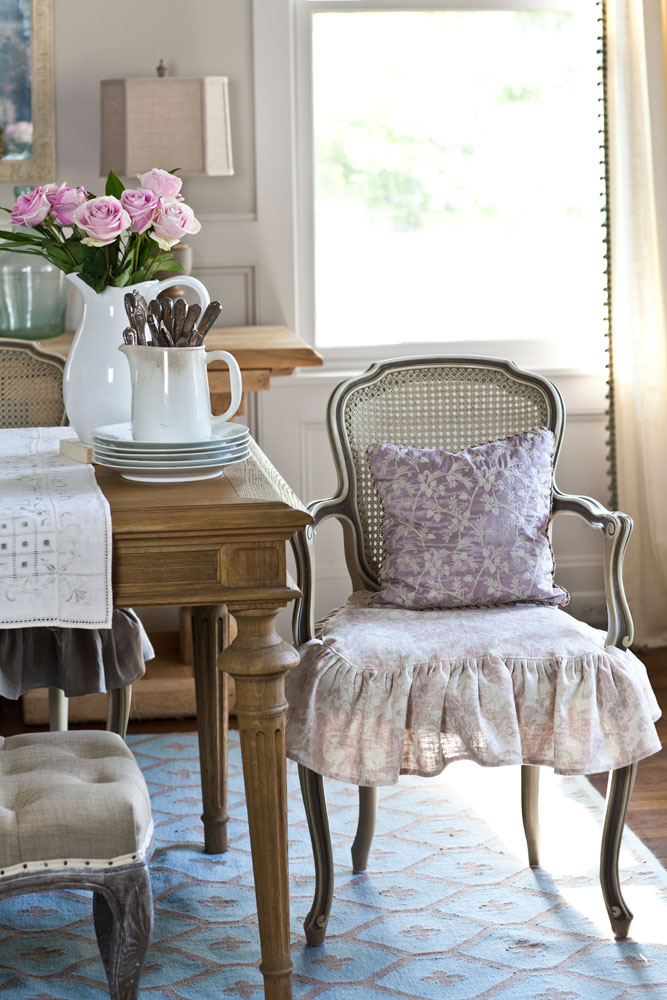 (Affiliate link)
It's not a lot of color, but it softens the room just a bit. I love the very subtle pattern. It doesn't scream at you. It has a quiet elegance. If you are looking for instructions for this slipcover, I have a tutorial for a very similar slipcover in my book, French Accents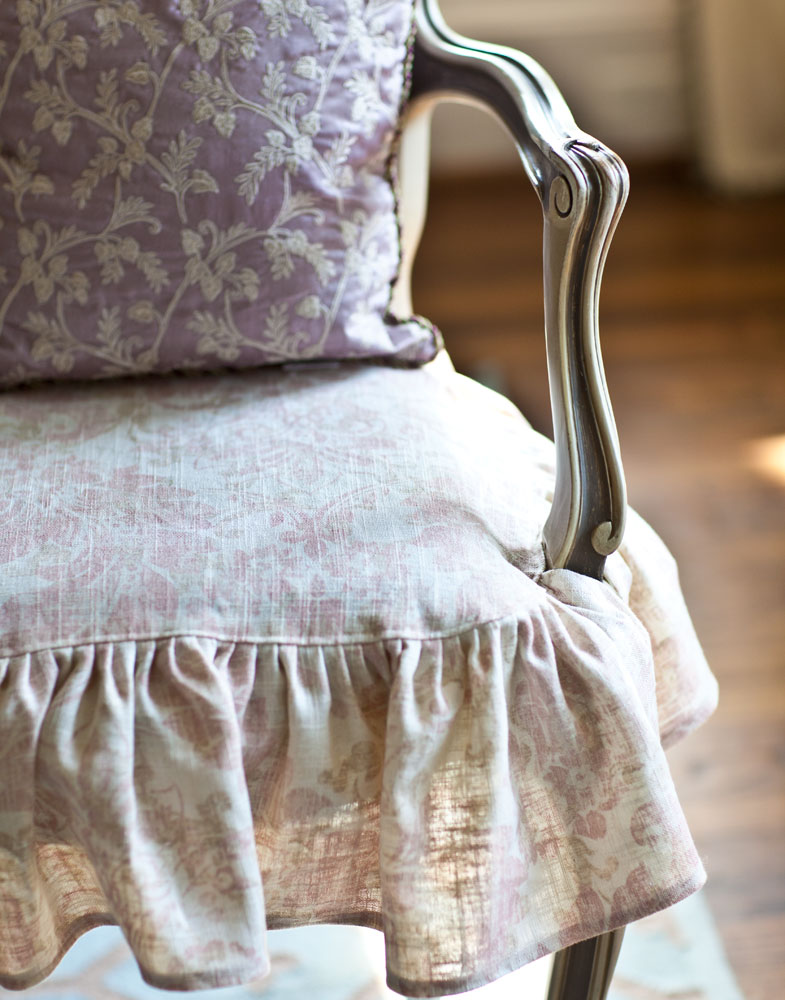 I used the same exact technique to make slipcovers for the end chairs in Wexford linen in color Blush. This is a solid that works so well with the Downton linen. Both fabrics are linen. Linen has such an amazing drape, and is gorgeous for a slipcovered chair. Here is the caveat, it can stain, so it is probably best to treat it with Scotchgard or a similar product. You could also use a synthetic linen fabric, but it probably won't drape the same way. You want to use a lightweight fabric if you want it to have a soft drape like this.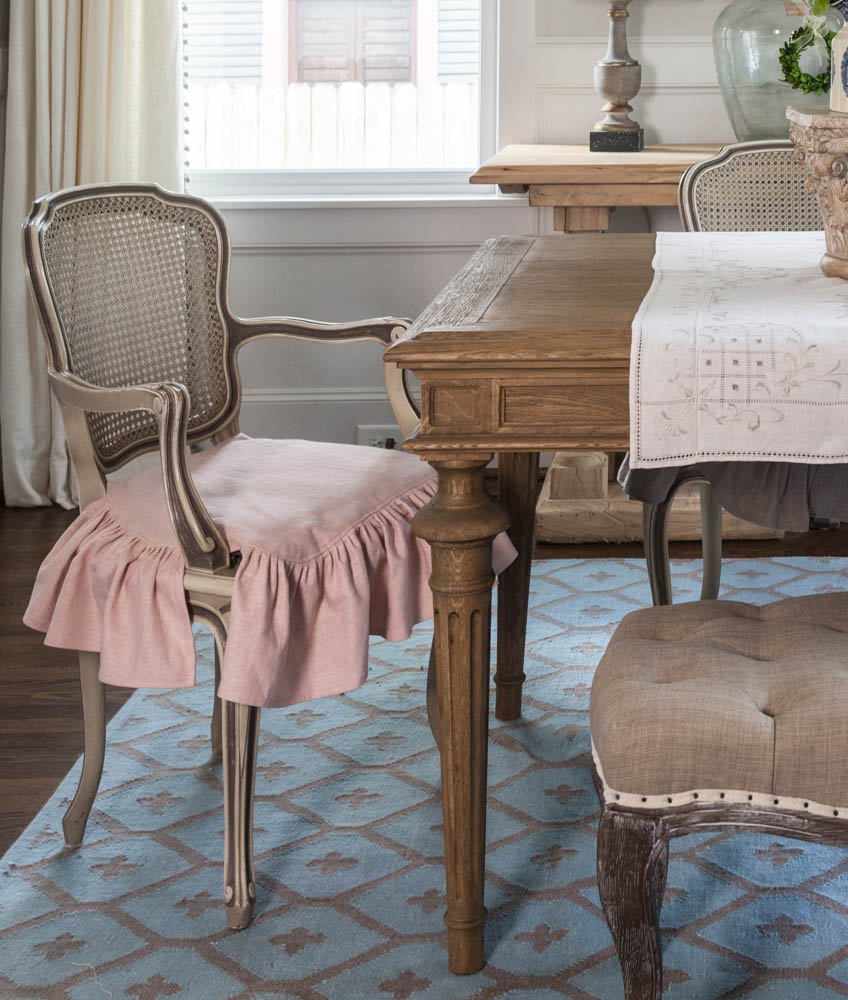 Well look at what I did. There's mistake in the photo below. Did you catch it? I took a photo of the table and my new slipcovers…. only I forgot to change out all four chairs for the photo. I still have one of the gray slipcovers on a chair in the back. #bloggerproblems
I used the print for the slipcovers on the back two chairs and the pink slipcovers for the side chairs. I have more fabric and still need to do the chairs in my breakfast room. There are two chairs like these in there.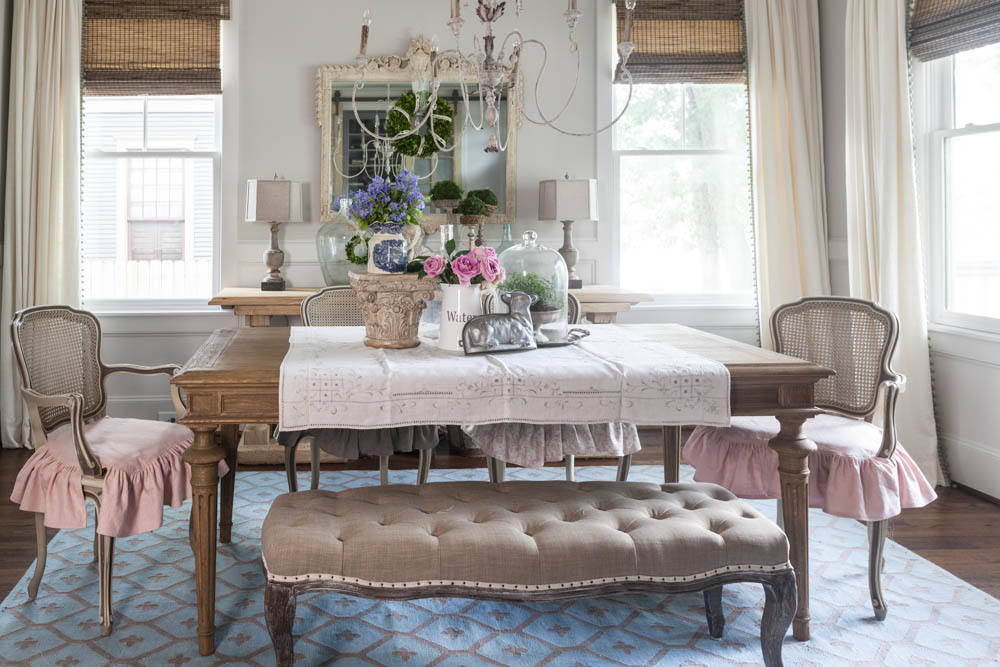 I'll be taking a new photo of this room, but not in time for today's post. So this will have to do. Did you notice my new lamb chocolate mold on the table? Or is it some other kind of mold? I'm not sure, but if you know, I would love to hear from you.
Working with Calico Corners is such a delight for me because I do love to sew and I love pretty fabrics. I hope to inspire you to sew more, or if you haven't to learn to sew. But if that isn't your thing, you can buy the fabric and work with Calico to have the item made for you.
If you want something reupholstered, they can do that for you. Check out this gallery of before and after photos, CLICK HERE.
I hope you enjoy today's episode of DECORATING TIPS AND TRICKS
EPISODE 89 MAKING YOUR HOME MORE YOU