Not only did I visit Harrods (CLICK HERE) on my recent trip to London, but I also went several time to Fortnum and Mason. When my husband started traveling to London, I asked that he bring me back tea from Harrods, just like my neighbor Barbara did. Once he got to London, he said that he was going to get me tea from Fortnum and Mason instead. He said that it was the Queen's grocer and he heard it was just as good or even better than Harrods for tea. I grumbled, because I suspected a darker motive. Perhaps this 'Fortnum and Mason' place was closer to his office than Harrods, and it was simply more convenient for him. I did a bit of research, and decided that he might be right, and if the Queen drinks their tea, then maybe I could too. Actually neither store was close to his office, so he was doing me a 'solid.'
Since then, he's brought me tea, dishes, and even a hamper from Fortnum and Mason over the years. So it was just as exciting visiting Fortnum and Mason as it was Harrods.
Disclosure: As an Amazon associate, I earn from qualifying purchases.
Fortnum and Mason is much smaller than Harrods, but oh does it have loads of charm. The window displays were like the ones I saw at Christmas time on Fifth Avenue in NYC.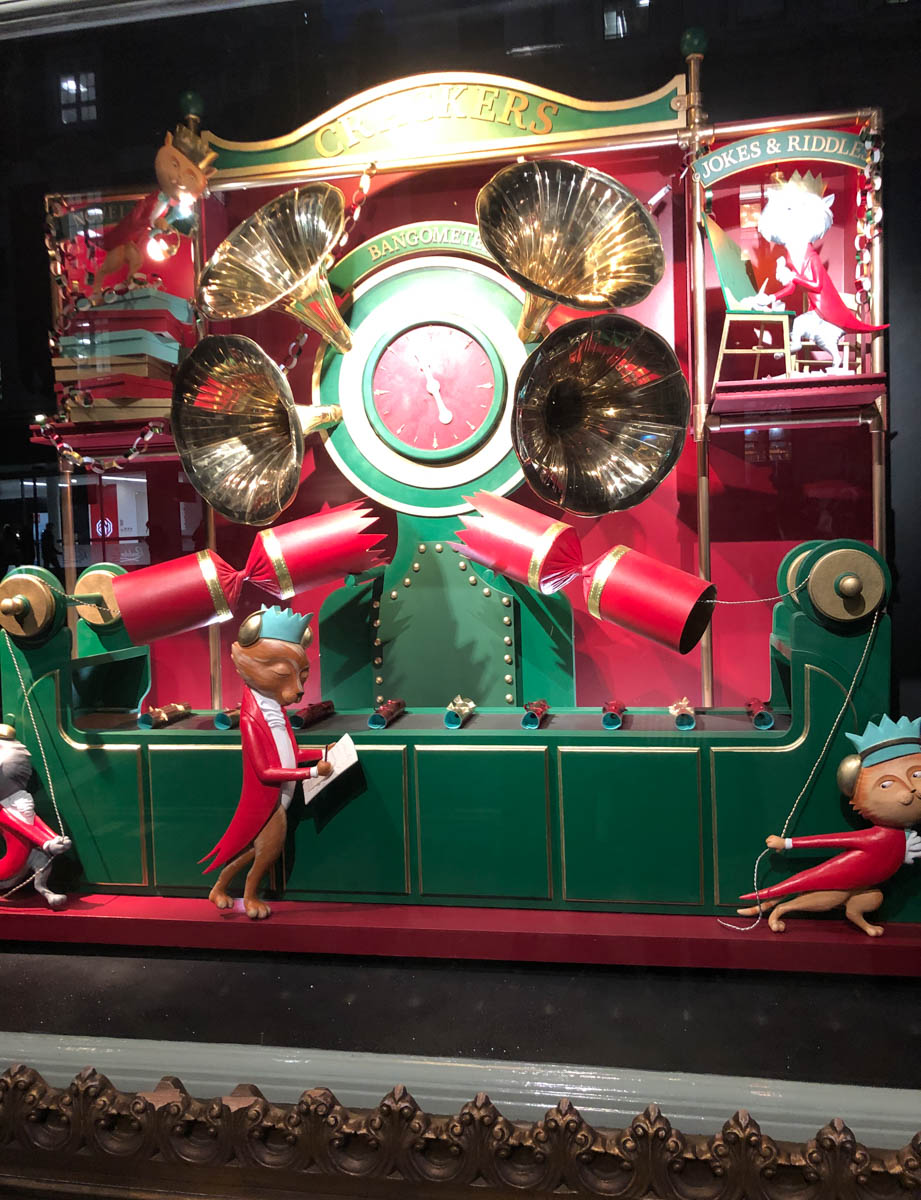 The outdoor displays make you so excited to go inside the store.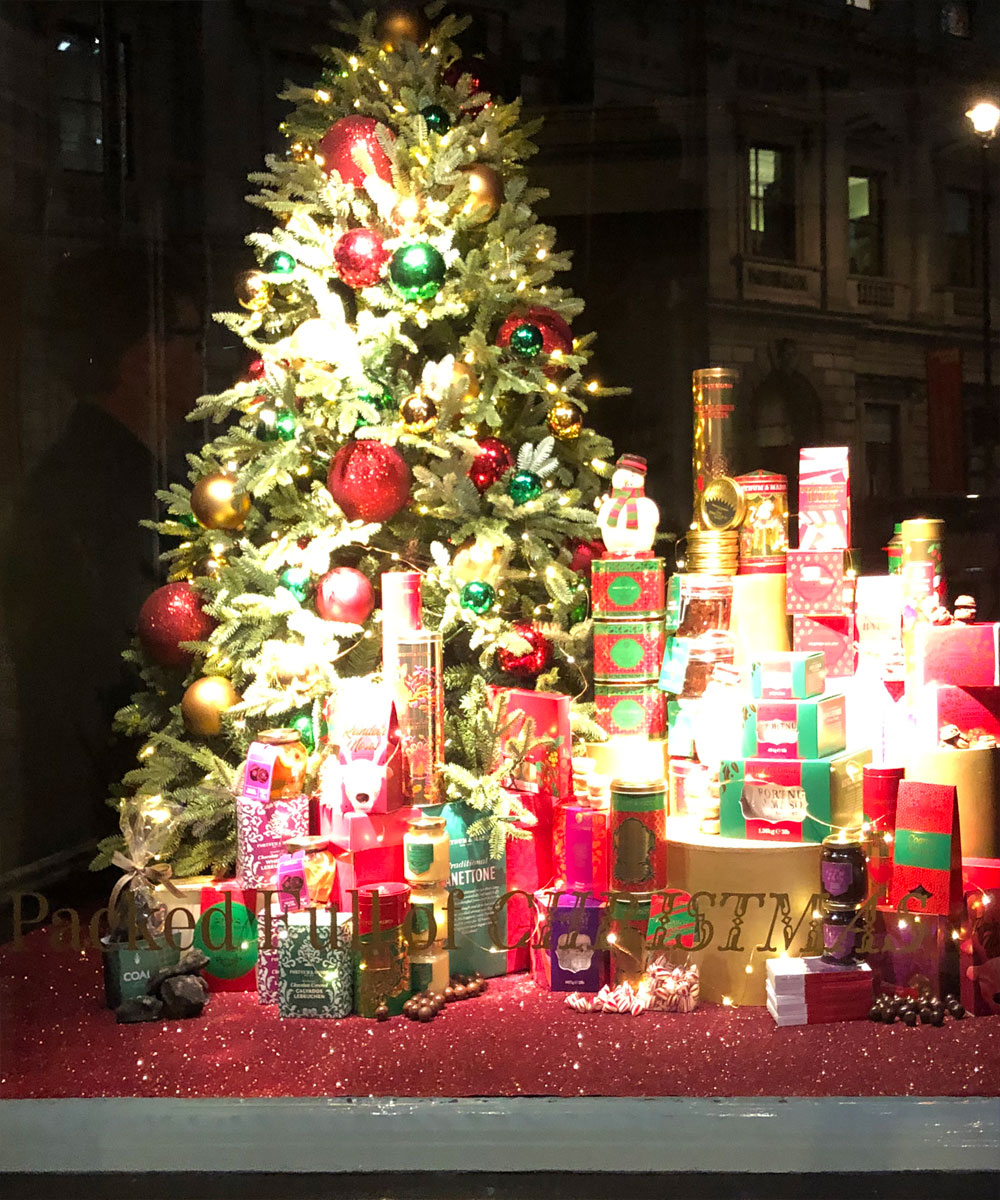 Just look at how they dressed up the entire building.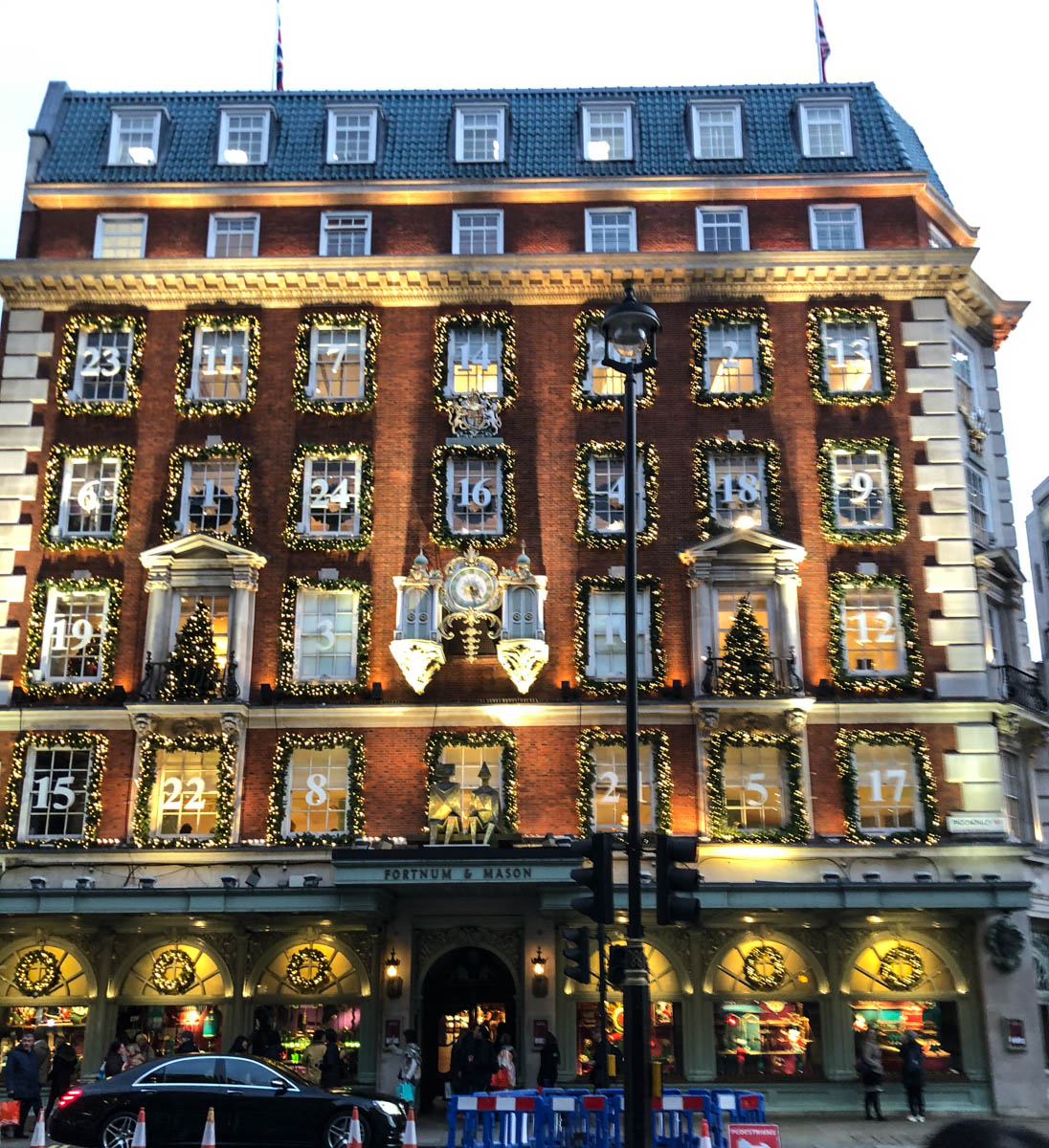 See how they made it look like an Advent calendar? So scrumptious! Fortnum and Mason is located in Piccadilly, which is an area of luxury shopping.
Their flagship store sits on the same location where it was established in 1707 by William Fortnum and Hugh Mason. William Fortnum was a footman for Queen Anne. He was quite the entrepreneur. Queen Anne insisted on having brand new candles every night, so William took the offensive half-used candles and sold them on the side for a nice profit. He also had a grocery business on the side. His royal connections probably were valuable in the grocery business. At some point, he talked his landlord, Hugh Mason, into joining his grocery business, and they founded teh first Fro
It was founded as a grocery store, and like Harrods much later, soon developed a reputation for providing quality foods and service. With the growing middle class of Victorian times, the store grew rapidly into a department store, so they began to sell dishes and clothing as well as groceries. In 1761, William Fortnum's grandson Charles went into service to Queen Charlotte and the family's royal connections continued. This royal connection gave the business great status, and the business thrived.
During the Napoleonic wars, F&M was the supplier to the British officers, providing them with dried fruit, spices and preserves. No wonder they won the war. During Queen Victoria's reign, F&M provided food to many court functions. Queen Victoria even sent supplies from Fortnum and Mason to Florence Nightingale hospitals during the Crimean War.
Did you see the clock on the front of the building? Apparently, every hour, there are two figures that emerge from either side of the clock and bow to passersby. One that represents Fortnum and the other one Mason. I missed the show, but believe me, I spent hours inside studying everything else, mainly what could fit in my suitcase for the ride home.
In 2012, the Queen opened the tea room on the fourth floor, so there is still a royal connection with F&M. There are actually 4 restaurants in F&M. The Parlour shown below is where they serve some amazing ice cream treats and tea. Tea seems to be available everywhere.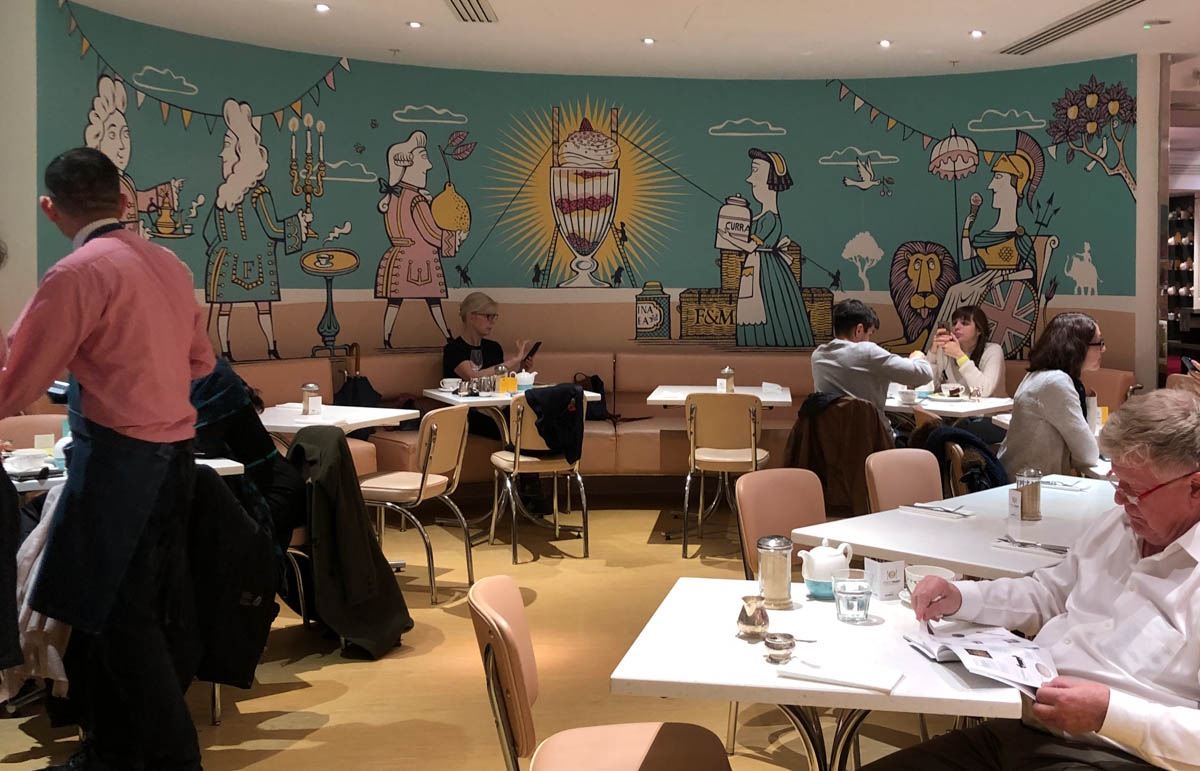 They also have the very fancy Diamond Jubilee Tea Salon on the fourth floor. This is where you would go for high tea. The Gallery on the Mezzanine level is more casual, and perfect for a light meal and of course tea. There's also a wine bar on the lower ground floor. I was hoping to have high tea here in the Diamond Jubilee Tea Salon, but it didn't work out time wise. We did stop in the Parlor for afternoon tea, and the Gallery on another day for tea. They even have a gluten free menu. They really have a friendly staff.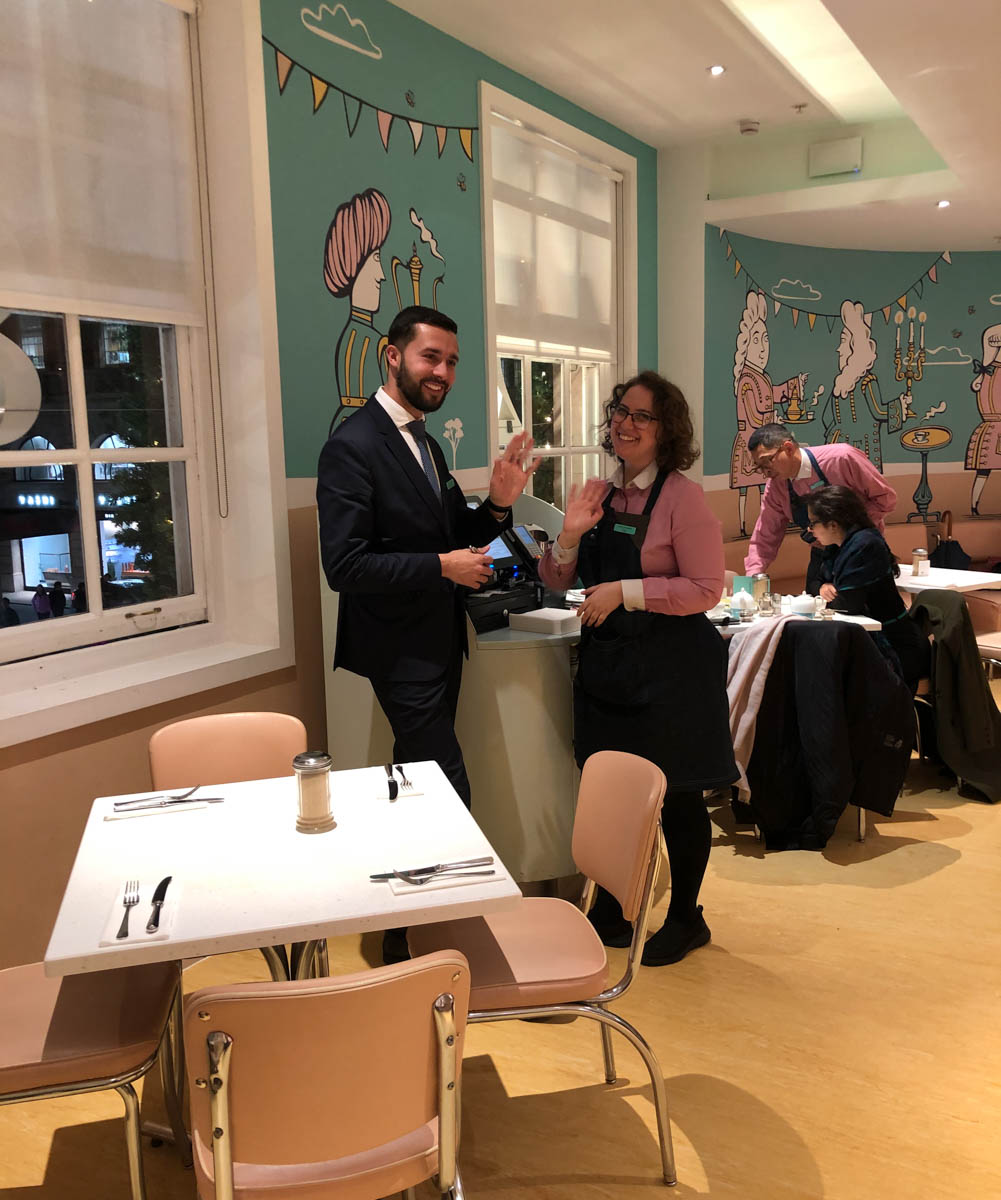 The goods here are amazing. I wanted the picnic blanket so badly, but had to be honest with myself that I would not be using it as a picnic blanket. Since it was lined to be used on the ground, I don't think it would have worked well indoors as a throw.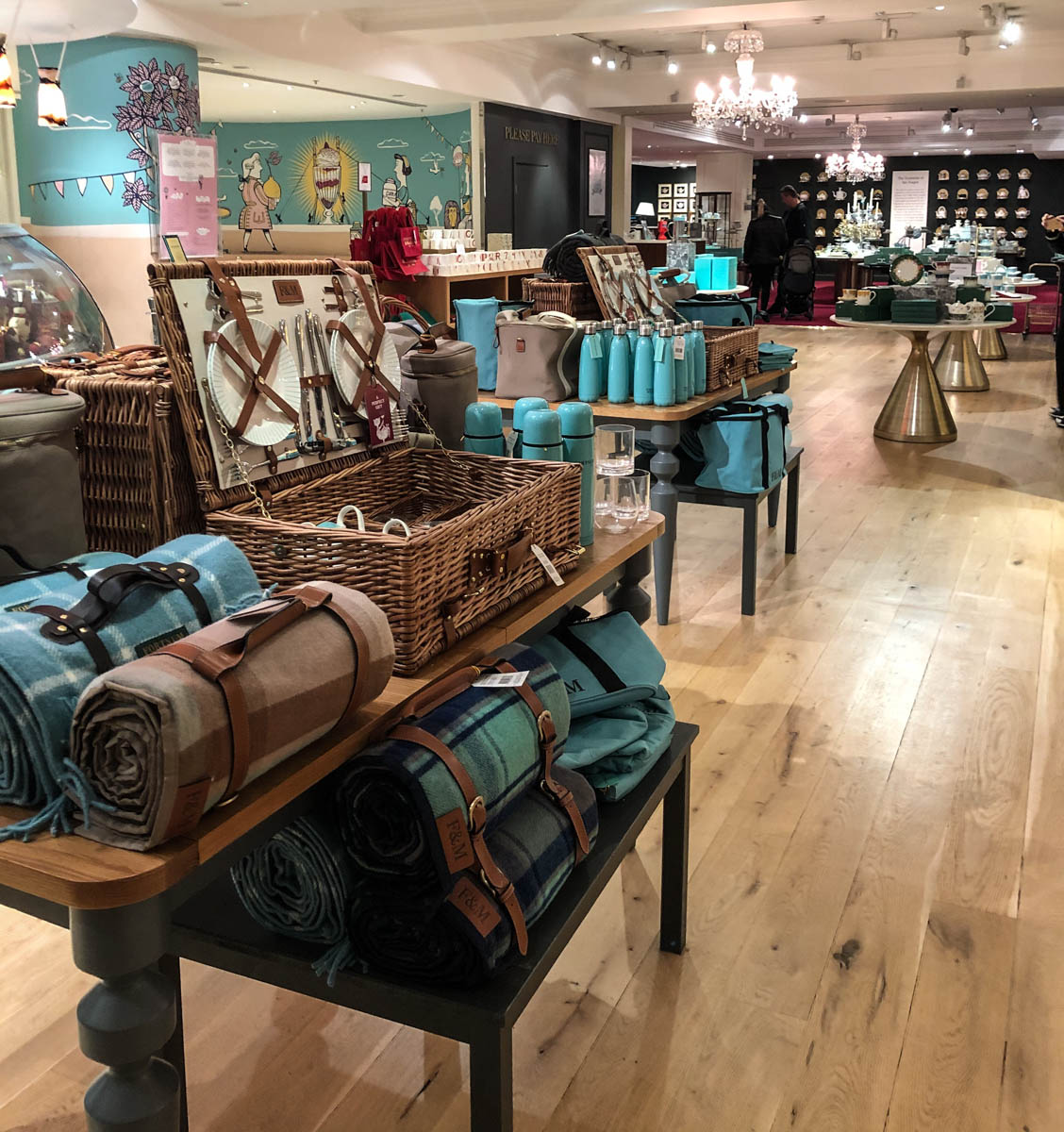 They had all kinds of teas, coffees, biscuits, chocolates, preserves, cheeses and other foods. Not only did they carry foods, but they had a women's department, a men's department, childrens things, a Christmas shop, and loads of dishes and things for your kitchen.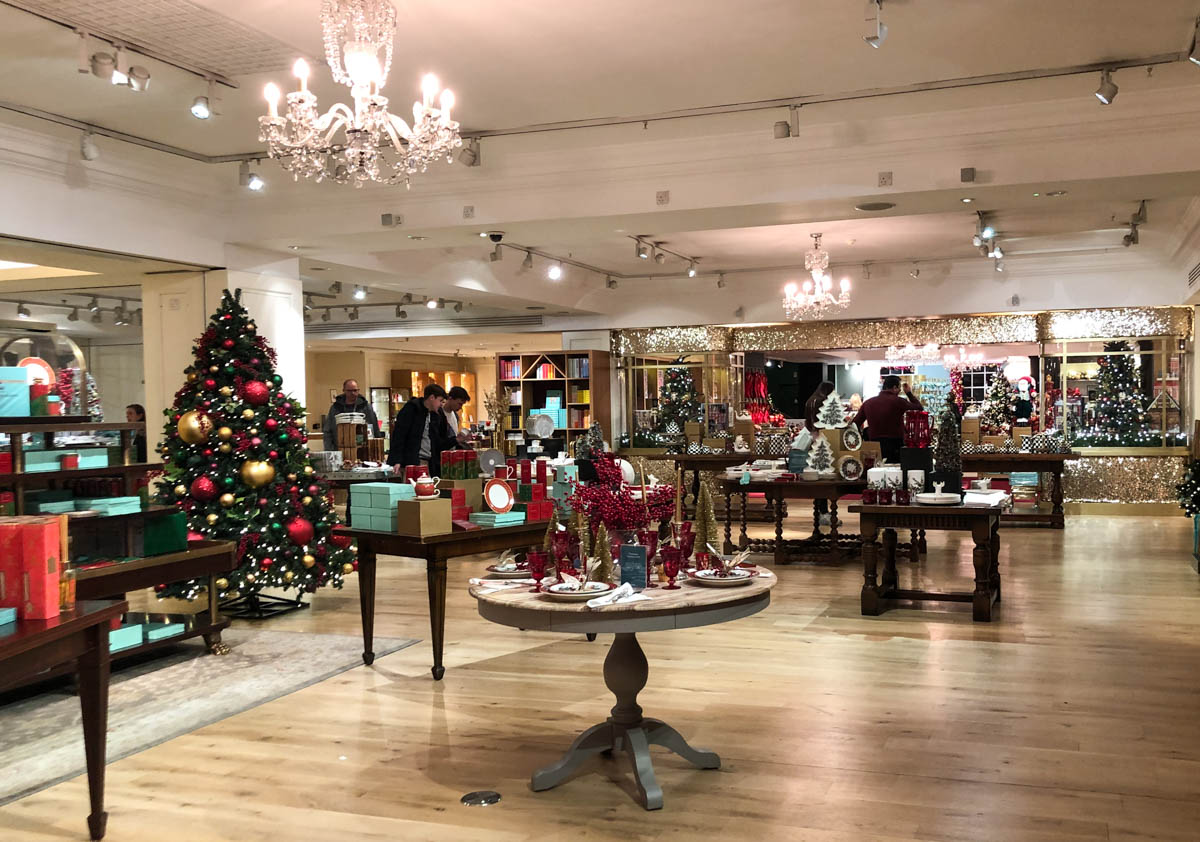 They had Christmas gifts everywhere.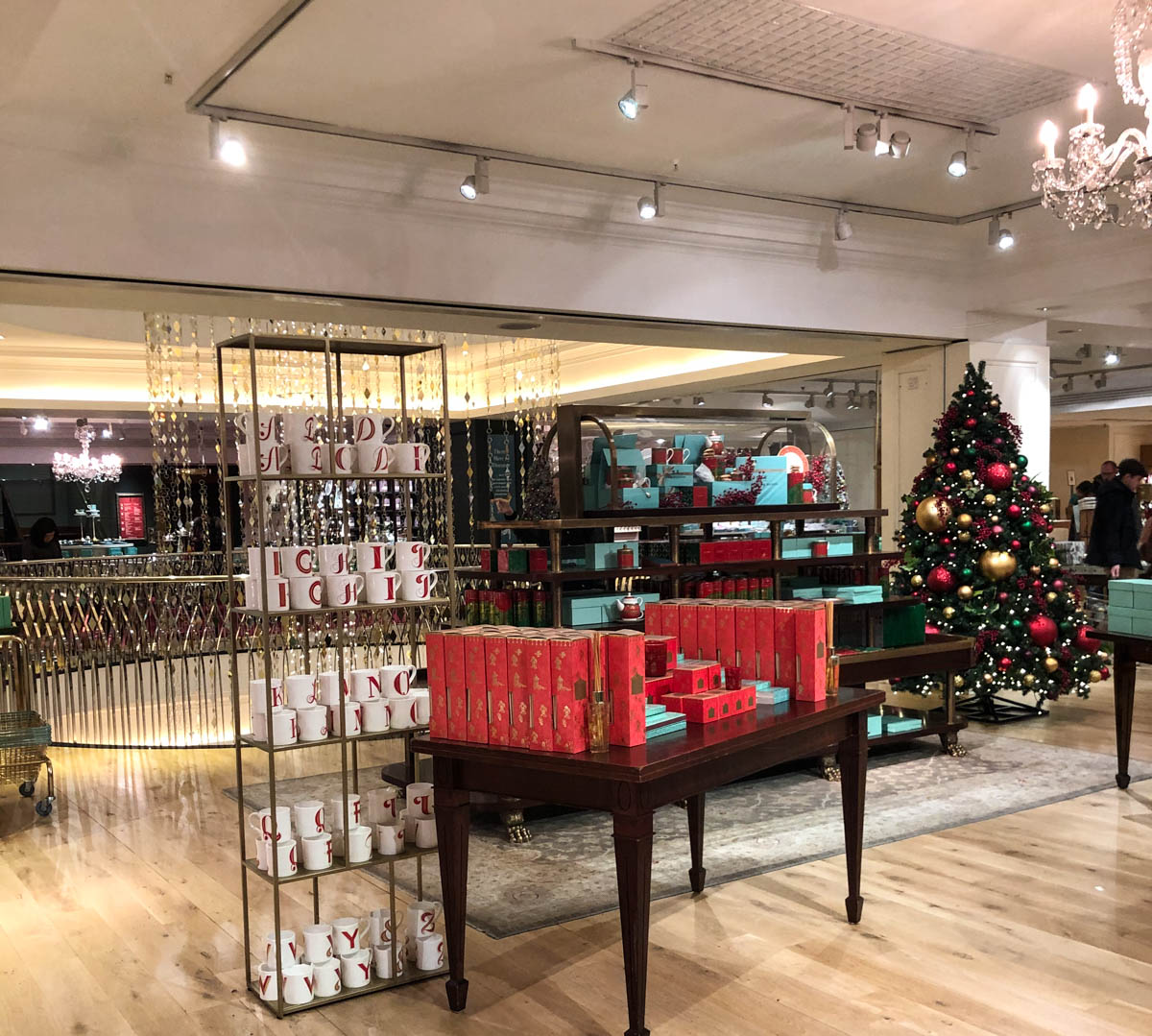 This is but a small sampling of the teas they sell. I had such a time deciding which ones to bring home. After spilling the Darjeeling sample on the floor, I decided that would be one of my choices! Don't worry, we spent enough to make up for my little mishap.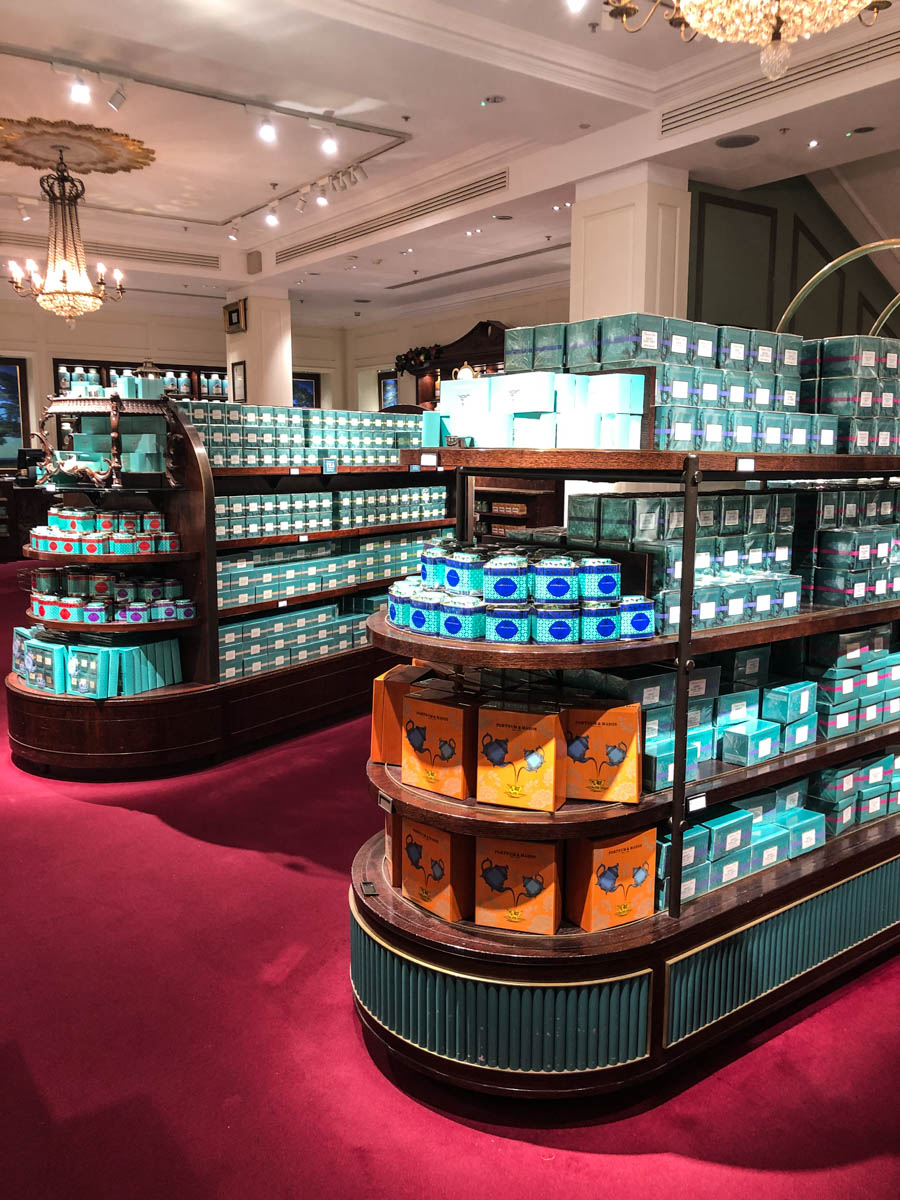 I also chose their Darjeeling with broken Pekoe, the Darjeeling finest tippy golden flowery orange Pekoe, and the Assam Superb.
Since you may not be headed to London anytime soon, here are a few of the things I found that you can get without leaving your home.
The gorgeous F&M shopping tote, CLICK HERE. I grabbed one of these, because it was too charming!!!
The Scottish shortbread in the gorgeous tin fantastic. We ate all of the shortbread, but I still display the lovely tin in my kitchen. CLICK HERE.
This is one of the Darjeling teas that I purchased. CLICK HERE.
The Assam tea I purchased can be found HERE.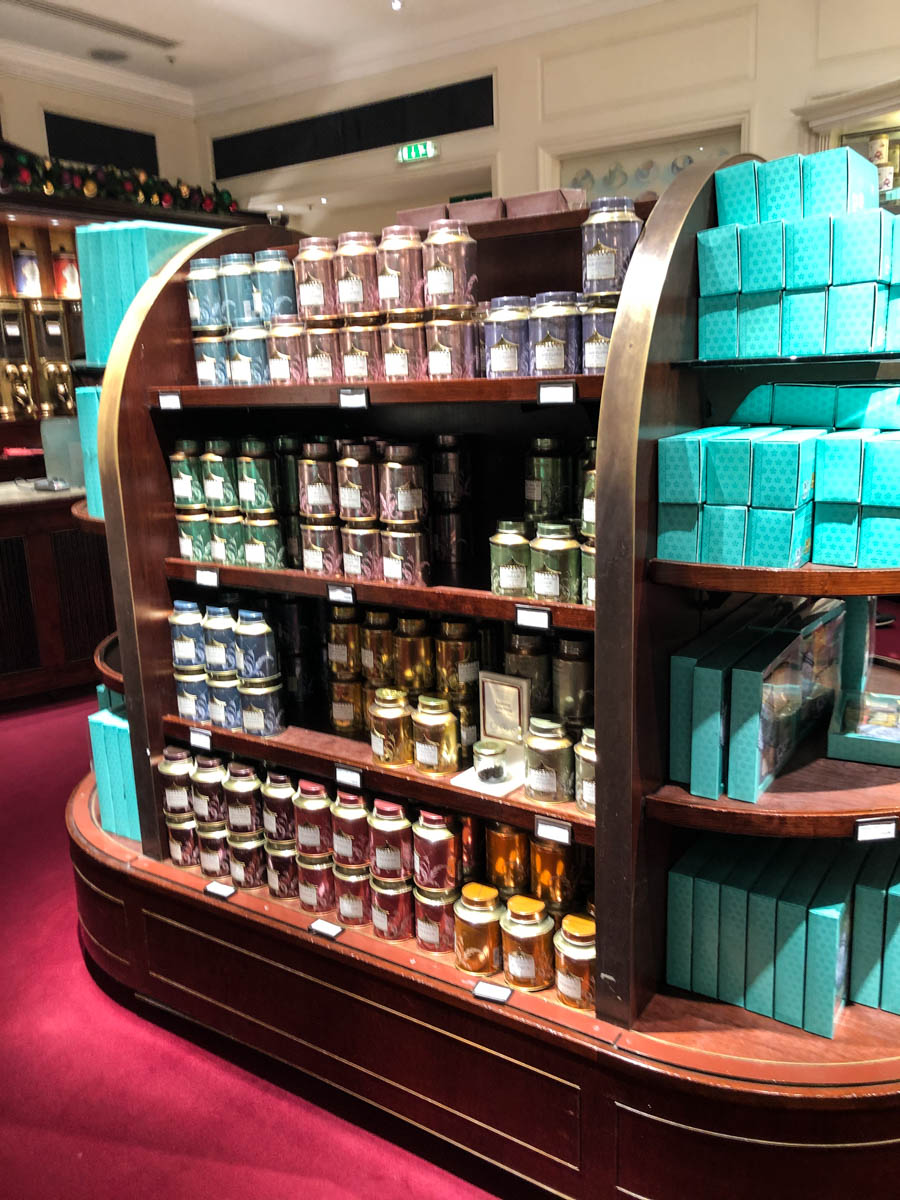 If you are headed to London, do yourself and favor and stop in here to purchase some tea and to enjoy a cuppa in one of their restaurants. I visited four times in one week. In my defense, I don't know when I'll be back, so I needed to absorb all of the F&M I could.