I am joining a new event today called Country French Design Series. This is my kind of thing!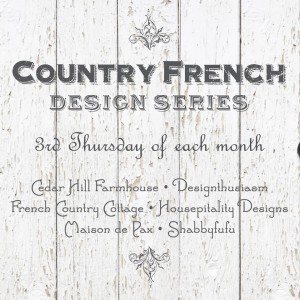 Today's theme is a country French morning, so I thought I would share a bit of my morning with you.
First things first. I make a pot of hot tea. I start with well water we bring back from the farm. No chlorine taste and all of the minerals give it a nice flavor. I fill my tea kettle up all the way. My old tea kettle just sprung a leak so I decided I needed a cute one. I shopped on Amazon and found this sweet number (affiliate link).
I like that it is ceramic. I know a lot of people heat their water in a microwave, but not me. It doesn't taste very good that way. Don't believe me? Then do a taste test like I did.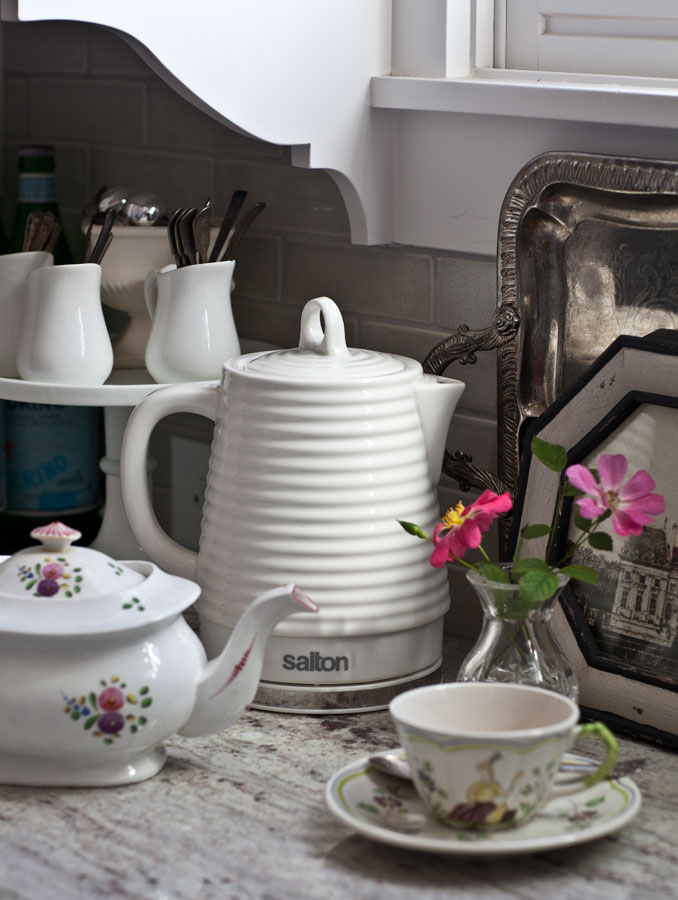 I always have my tea in a pretty teacup with a silver tea spoon every morning. It is one of my favorite parts of the day. I also have a smoothie most mornings, but for today it's a croissant, since that is a very French breakfast.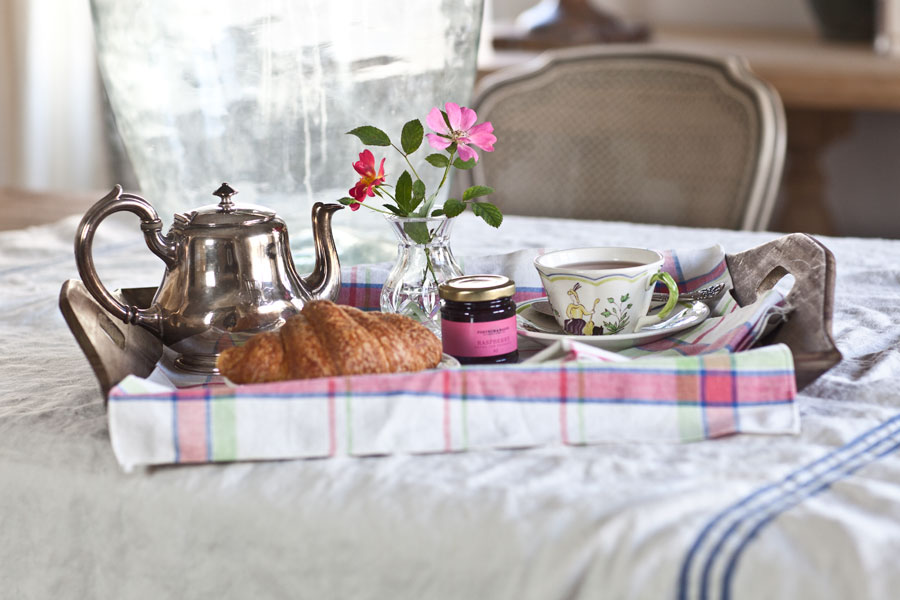 This sweet little plaid napkin is from France. The silver-plate teapot is one I found at the flea market in Paris. It's a monogrammed Christofle. Simple yet elegance, it embodies restrained French style.
I bought several tins of tea while in Paris last time. It's delicious!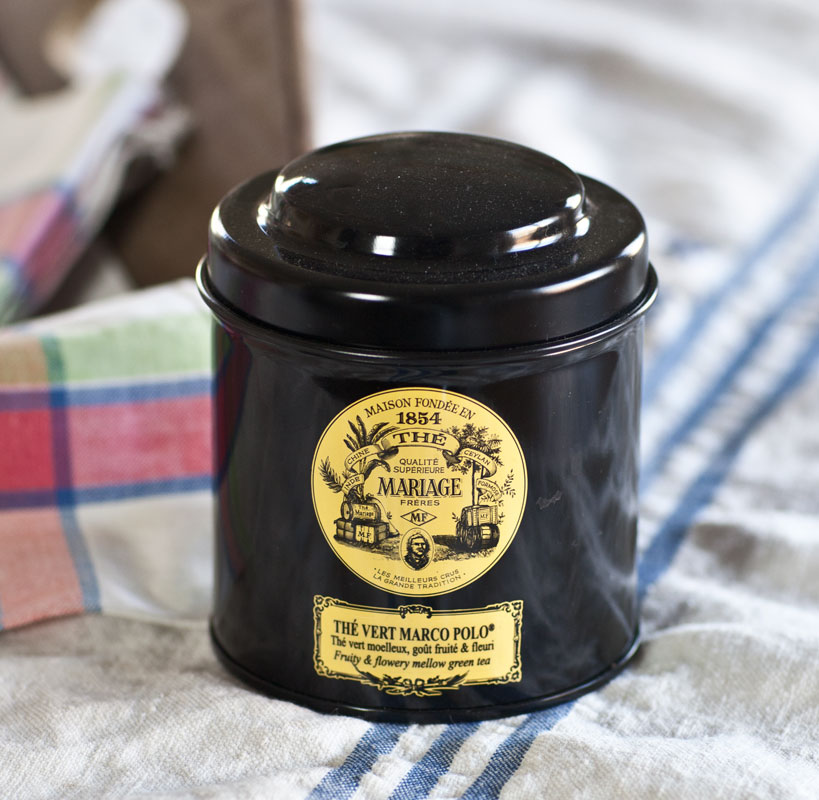 Mariage Freres is a gourmet French Tea or The company. Founded in 1854, their teas are simply delicious. My favorite green is the (affiliate link) The Vert Marco Polo. (Affiliate link) Bolero is one of my favorite black teas made by Mariage Freres. Mostly I'm gluten free, but sometimes as a special treat I have a croissant from the local bakery that is walking distance from my house.
I love to load up one of the fresh croissants with Irish butter and a bit of Fortnum and Mason raspberry preserves. Mr. CH brought a bunch back from his last trip to London. He actually brought back a hamper full of goodies from Fortnum and Mason. (Not French, but who cares?)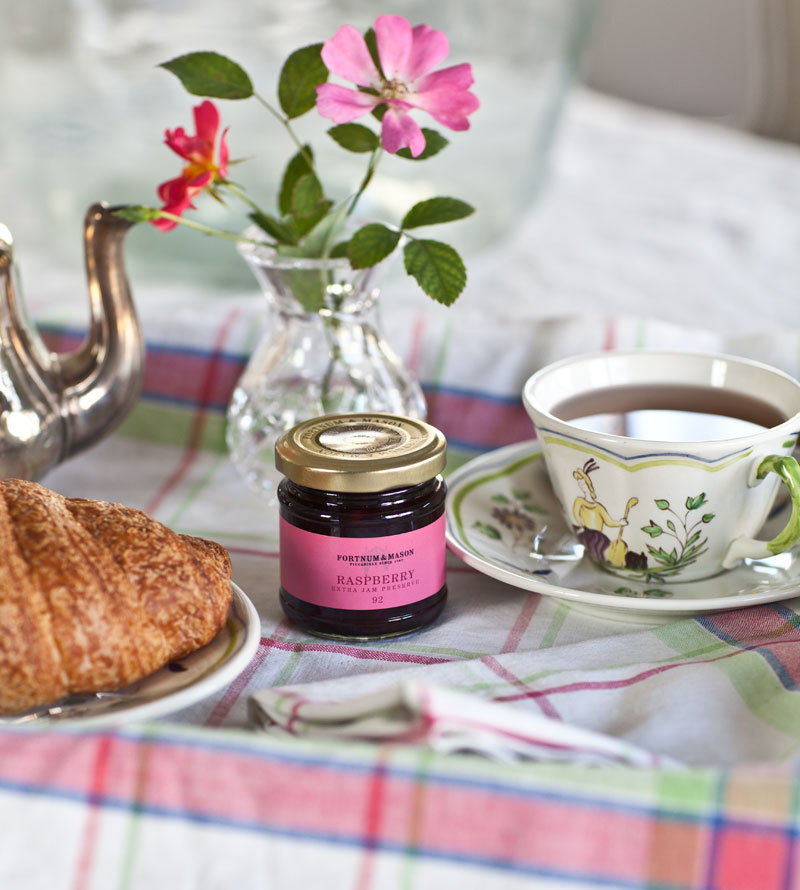 After breakfast if I had time I would love to do a bit of reading. I wanted you to see one of the few French books in our home, a French New Testament. It was printed in 1946 (if I remember correctly) in Geneva. It belonged to my father-in-law and I believe it bought it when they lived in Geneva after he finished his Ph D.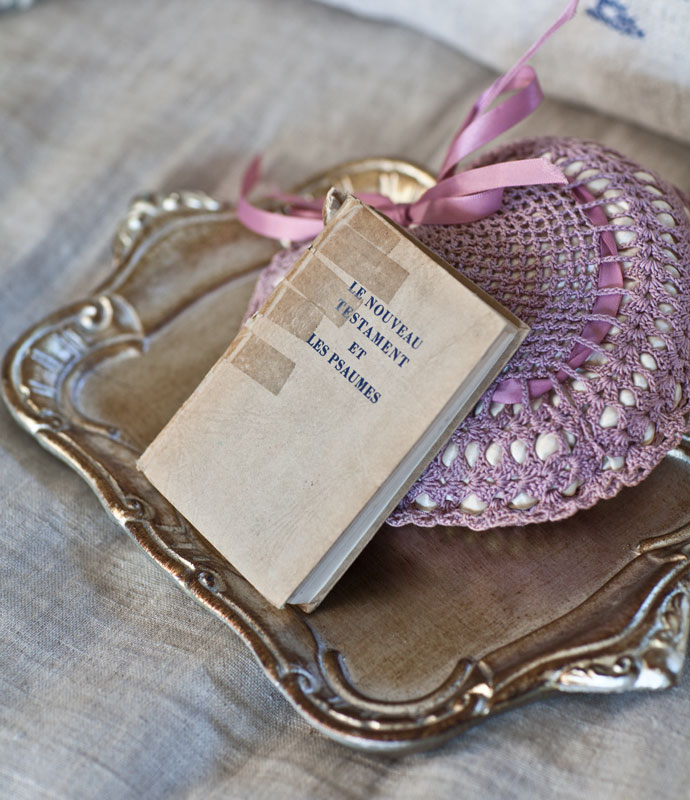 A Kindle is nice, but I do love the feel of a book in my hand.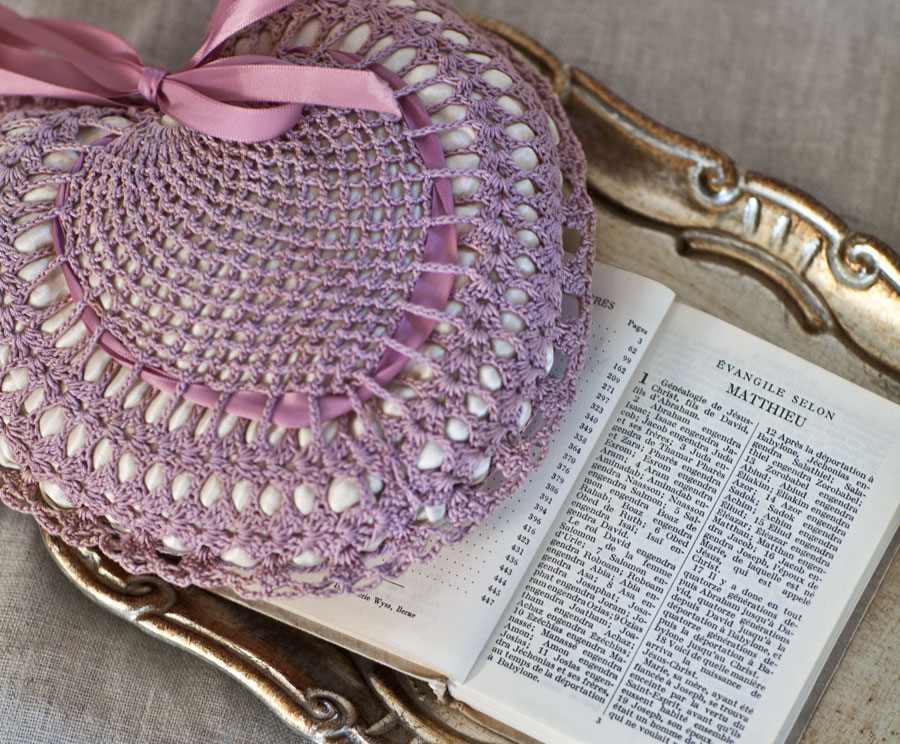 After breakfast I usually sit on the sofa and catch up on things before I get dressed. It's a bad habit I think to start working before I'm dressed but I do it every day. I used to work on the computer in my study, but I finally got a pretty fast laptop last year and now I work in  here on the sofa. The cabinets are not blocking windows. The windows are short situated above the cabinets. I only mention that because people ask me all the time why I am blocking the windows. There is no point to put in a big window here, because all you can see through those windows is the side of the neighbor's house just a few feet away.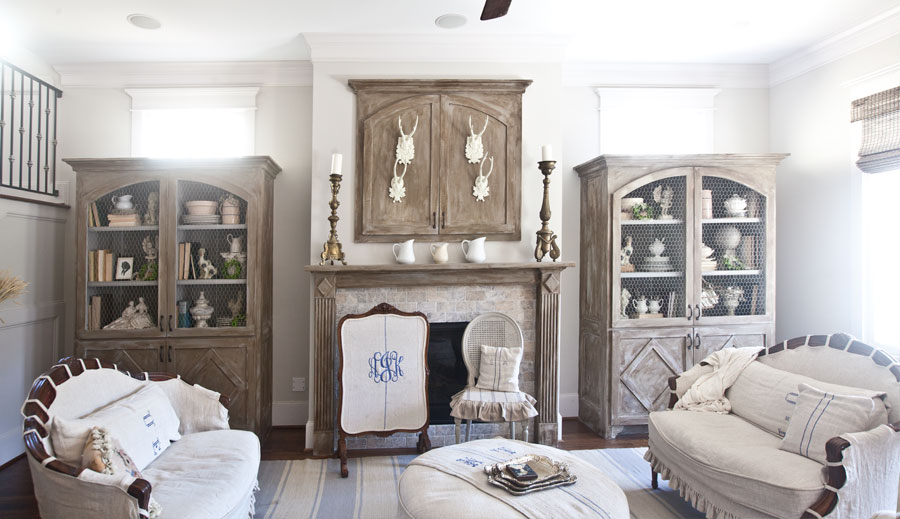 And this is where I am many mornings. I usually do photography and styling in the afternoon, and a few days a week I pack up goodies for my online shop.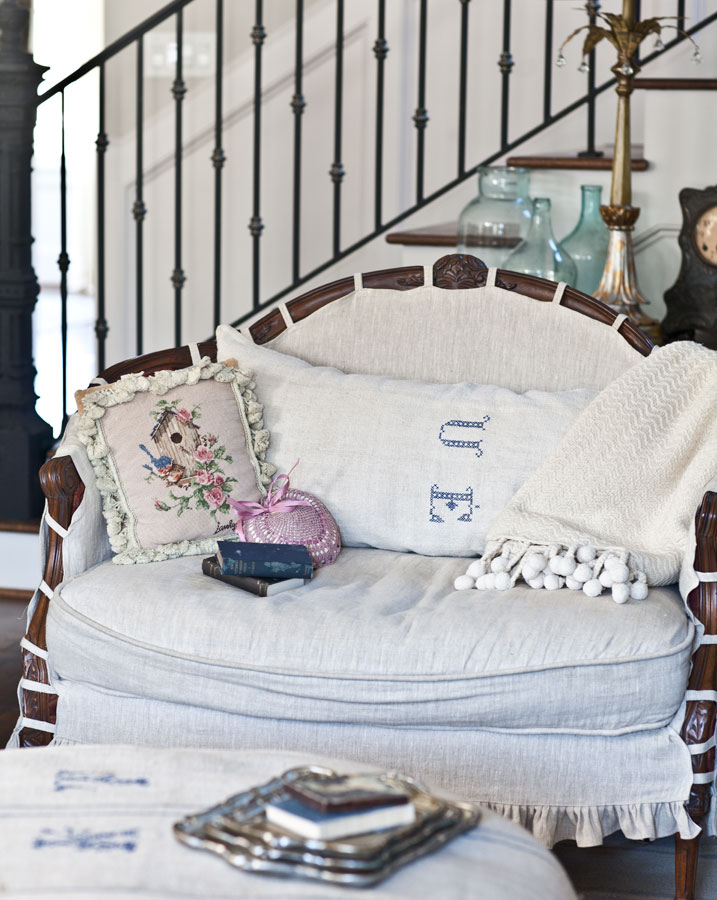 Some days I have meetings, but most of my meetings aren't in person; they are phone appointments, so they usually happen in here. So that's my morning. I do love the French touches that make my ordinary life feel extraordinary.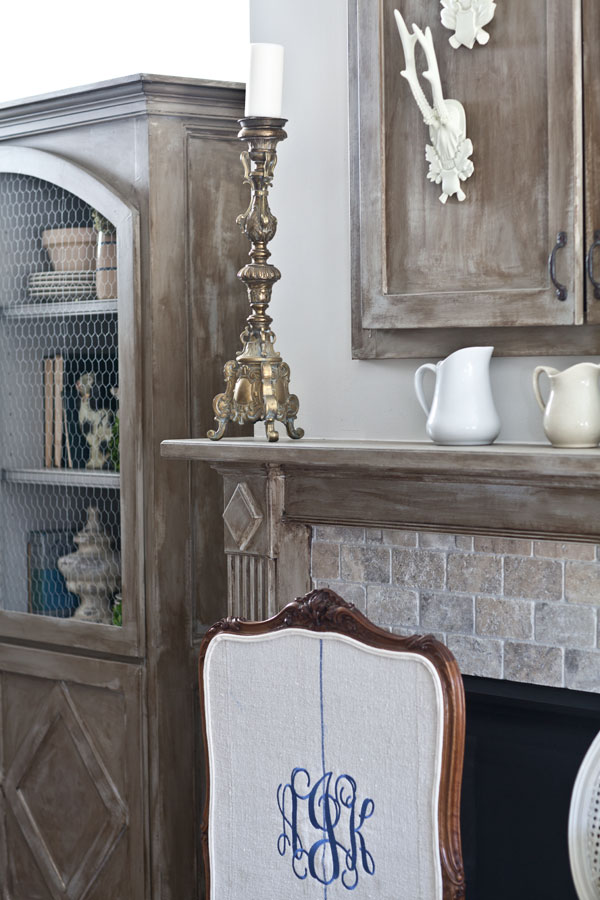 If you are in Houston, I have a DIY painting workshop this Saturday. It's not too late to sign up!!
I'm joining with 5 other bloggers to bring you this French Country Design Series.
Once a month we'll post as a group our unique perspectives on a common theme, and this is the first of our three month series, "Morning, Noon and Night". I invite you to enjoy the wonderful posts below evoking a French Country Morning…