I mentioned recently the baby steps I've been taking with my daughter's room. I wanted to work on it for years, but it's been difficult to do much in the past because my daughter was in here a lot. But since she moved out, it's been empty during the week, and therefore easier for me to work on. She was home this past weekend, but no word on whether she liked the changes or not. She's nonverbal, but I know she likes pretty things. Hopefully she liked the new look.
This is where it was last time you saw it. I had already changed the curtains, the rug, the chairs and the artwork.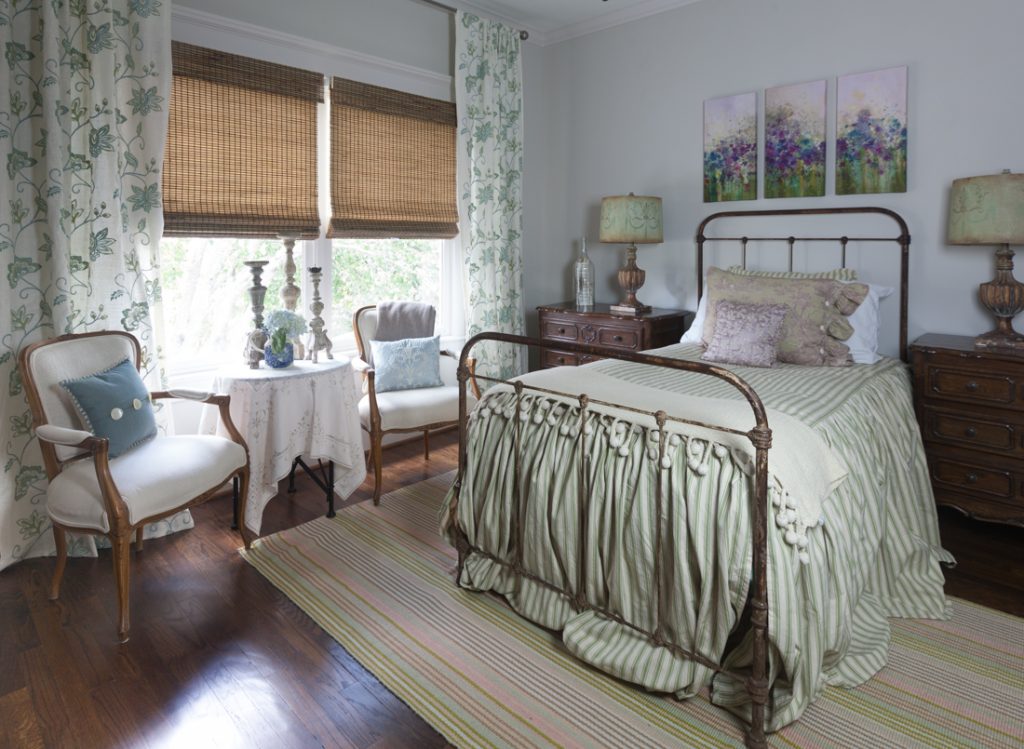 If we go in the 'way back machine' then you'll see it with dark curtains, the practical chairs and the dark rug.  This look felt too dark for me.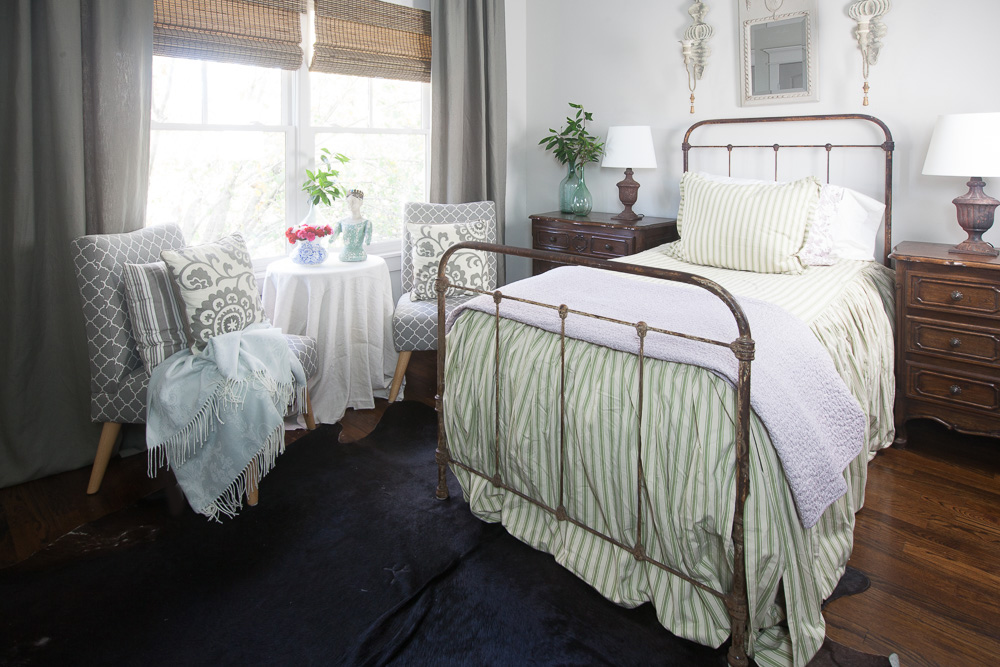 We no longer need the larger table in here, so I went with this little column table from the guest room. I love the smaller scaled items in here a lot better. And now that my daughter isn't in here every day, I didn't need the larger table.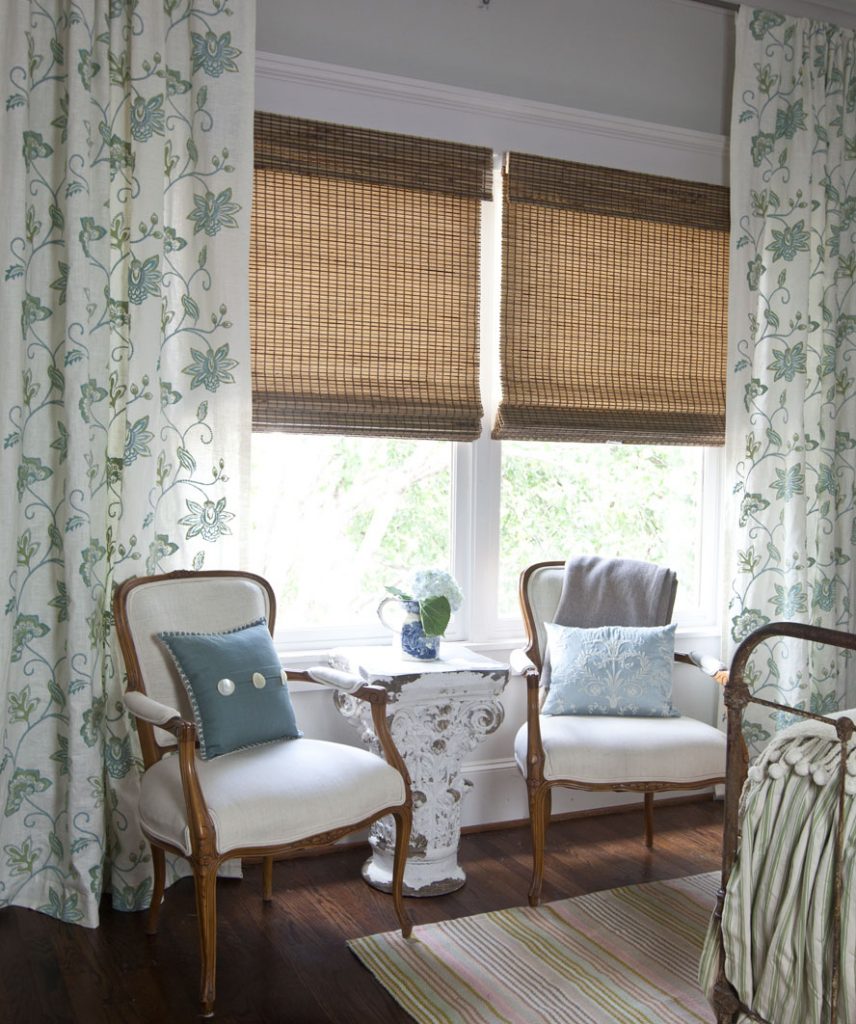 The chests have always felt too dark to me, but I've put off painting them for a long time. Well last week, I finally had time to get to them. I painted the chests with Amy Howard at Home  One step paint in Luxe Gray paint which is a very light gray. It's a chalk based paint, so I didn't need to remove the finish first. After the paint dried, I added a layer of Howards Wax. Here's my affiliate link for the wax, CLICK HERE.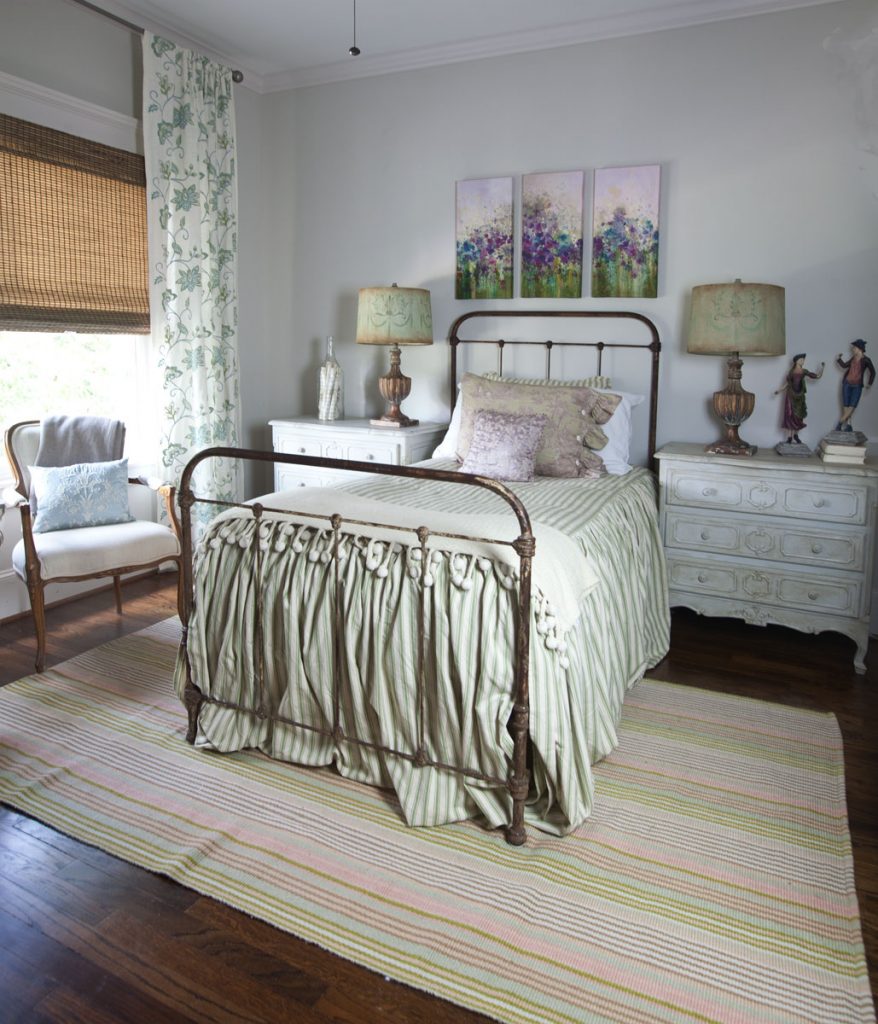 Here the room is with the painted chests. I knew the lamps would probably need to go elsewhere once the chests were painted. I think the hand-painted shades that have been antiqued end up looking dingy next to the light gray chests. Sorry Ginger and Peggy, the lamps work perfectly in my hallway, so I won't be getting rid of them (even though I know they would look better in your homes.)  I went back to the original iron lamps. The lamp bases are dark, but the shades are white.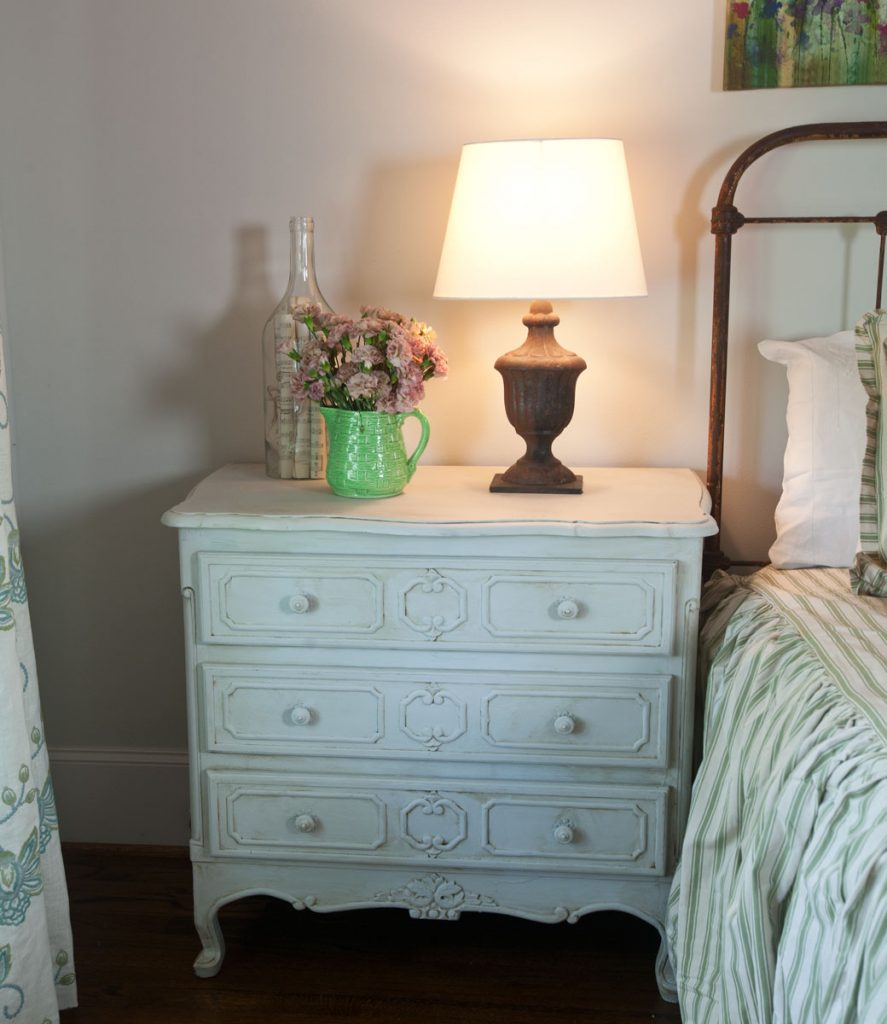 To try something different, I moved a lone French chair up here. I think it looks great, but I still might put the pair of chairs back, since I'm not sure where else they'll fit.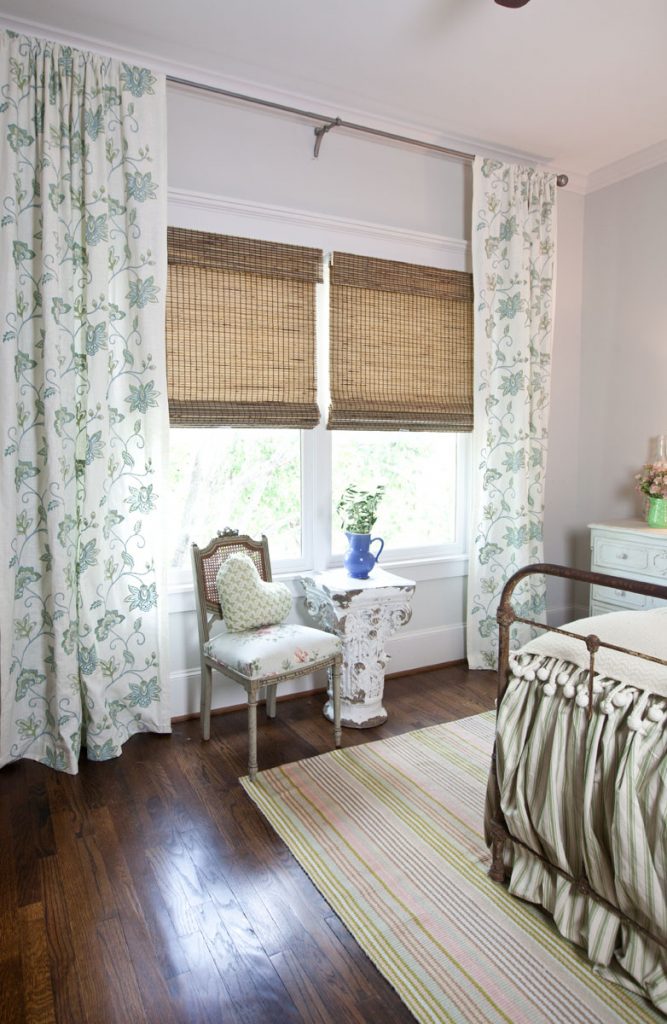 It's a really darling antique chair and very unusual.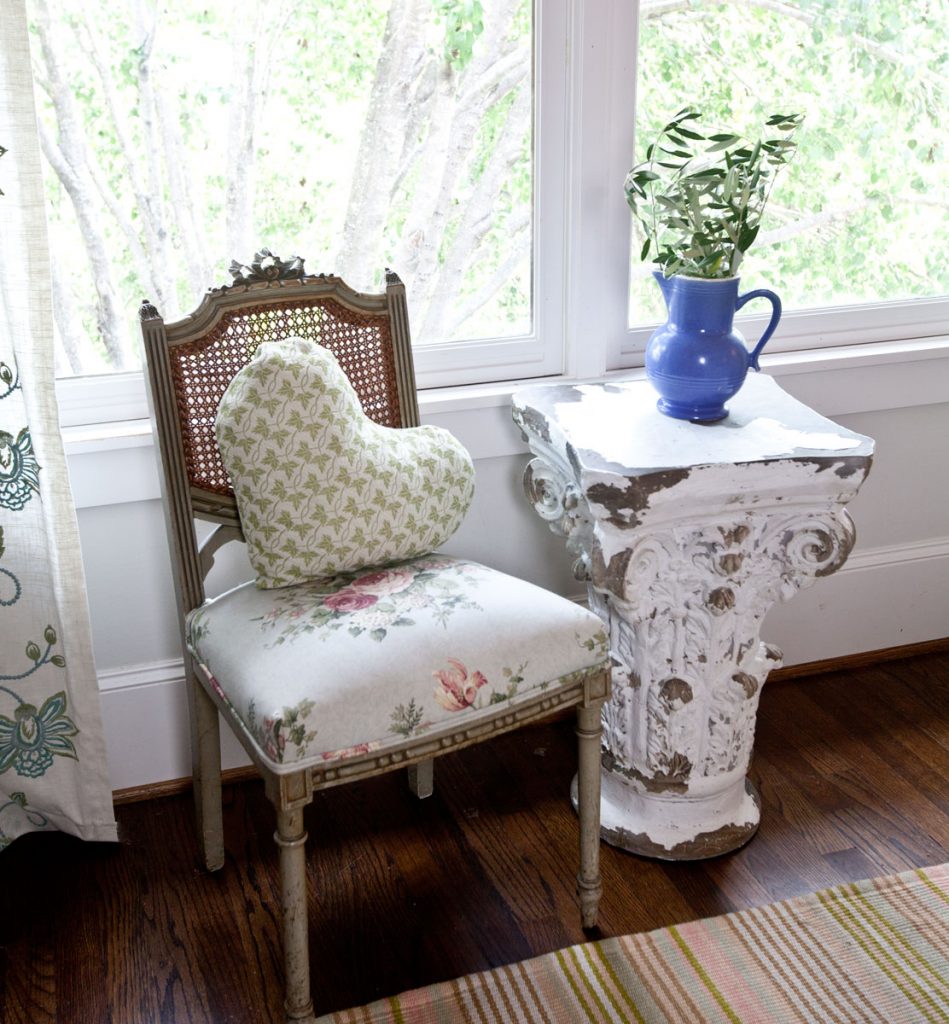 Here's the room again with the new (old) lamps.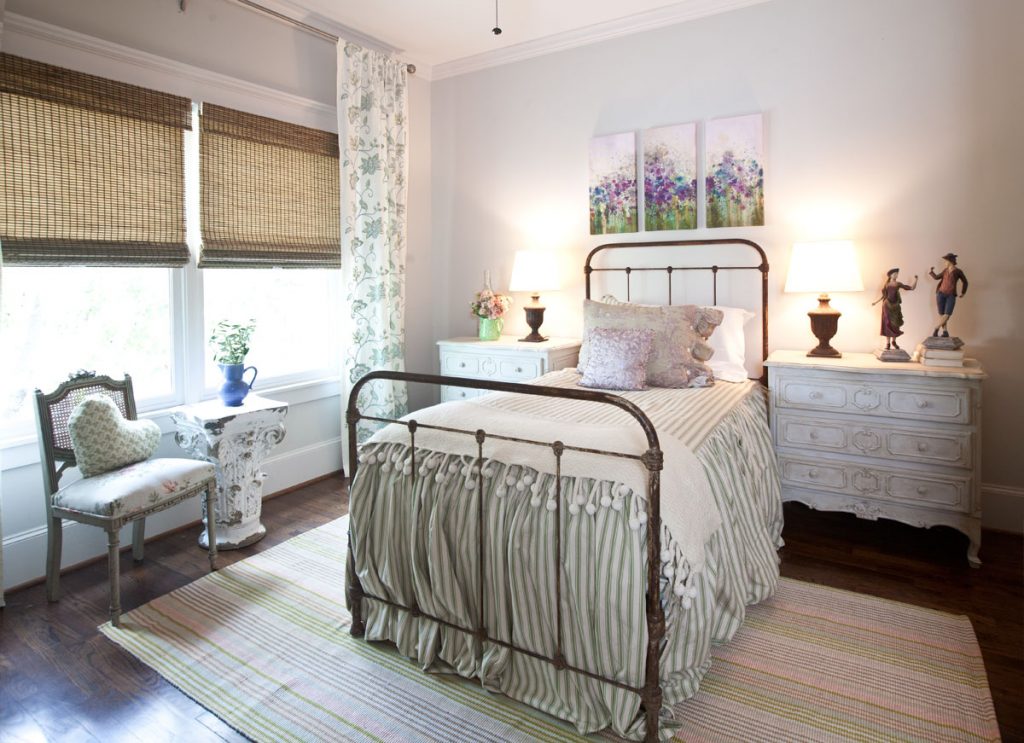 If you scroll back to the top to see the room as it was a few months ago, you'll see that it looks very different.  What kind of money does it take for this transformation? The rug was new and I made the curtains. Everything else was just moved in here from another room. The artwork above the bed was in the room, but on another wall. So the point is that you can probably transform a room without spending an arm and a leg. Try moving things from one room to another.
As you might remember, my daughter moved into a group home. I gave them the two gray chairs and the larger table that are shown in the second photo. I'm working on redoing my daughter's bedroom at the group home. I'm still putting my plans together, but hopefully I'll be able to share that transformation on my blog later this year. Did you see what I did? I didn't say next week, I said this year. The younger me would have said next week. I'm giving myself 6 months to get it done.