I'm so excited to show you the updates to our bedroom. I've been adding color and pattern slowly to the room. I still love my fairly neutral palette, but the blues and pinks go so well with what I had already in the room. I started with a neutral bedspread and neutral curtains, so the new patterns work perfectly in here. I love the way the sunlight fills our bedroom! There are 4 large windows, so it's light and bright.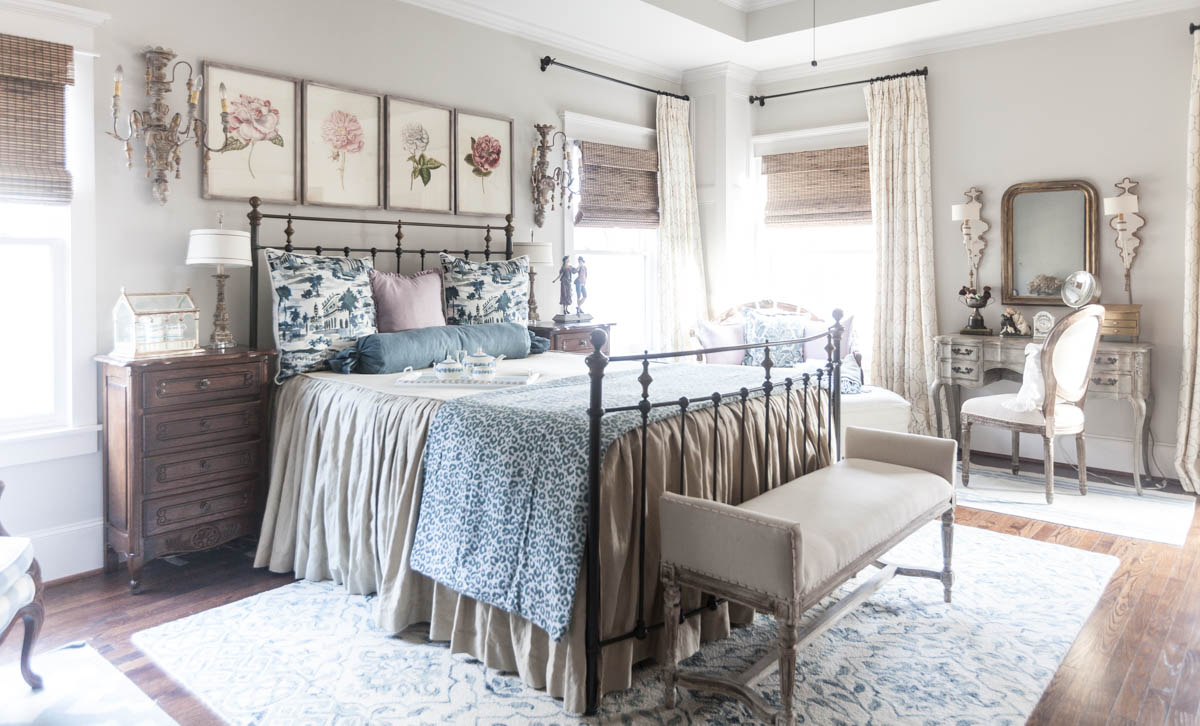 This post is sponsored by Soft Surroundings. They sent me this beautiful leopard print coverlet. It's so soft, and cozy. You can see it's a bit oversized for our bed, but that's because I got the king size for our queen bed. That way there's no fighting for cover in the middle of the night. You can find it HERE.
There are leopard pillow shams that go with the coverlet. You can find them HERE. I loved the leopard print shams, but wanted something different for my pillow shams. Instead of going with the matching shams, I decided to go with the Califa euros instead, also from Soft Surroundings. They are in the same color family, but clearly are a different pattern. I love the way the new patterns really gave my room a fresh post- Christmas look, perfect for the start of a new year. They even worked with my blue linen bolster that I already had and my blue rug, CLICK HERE.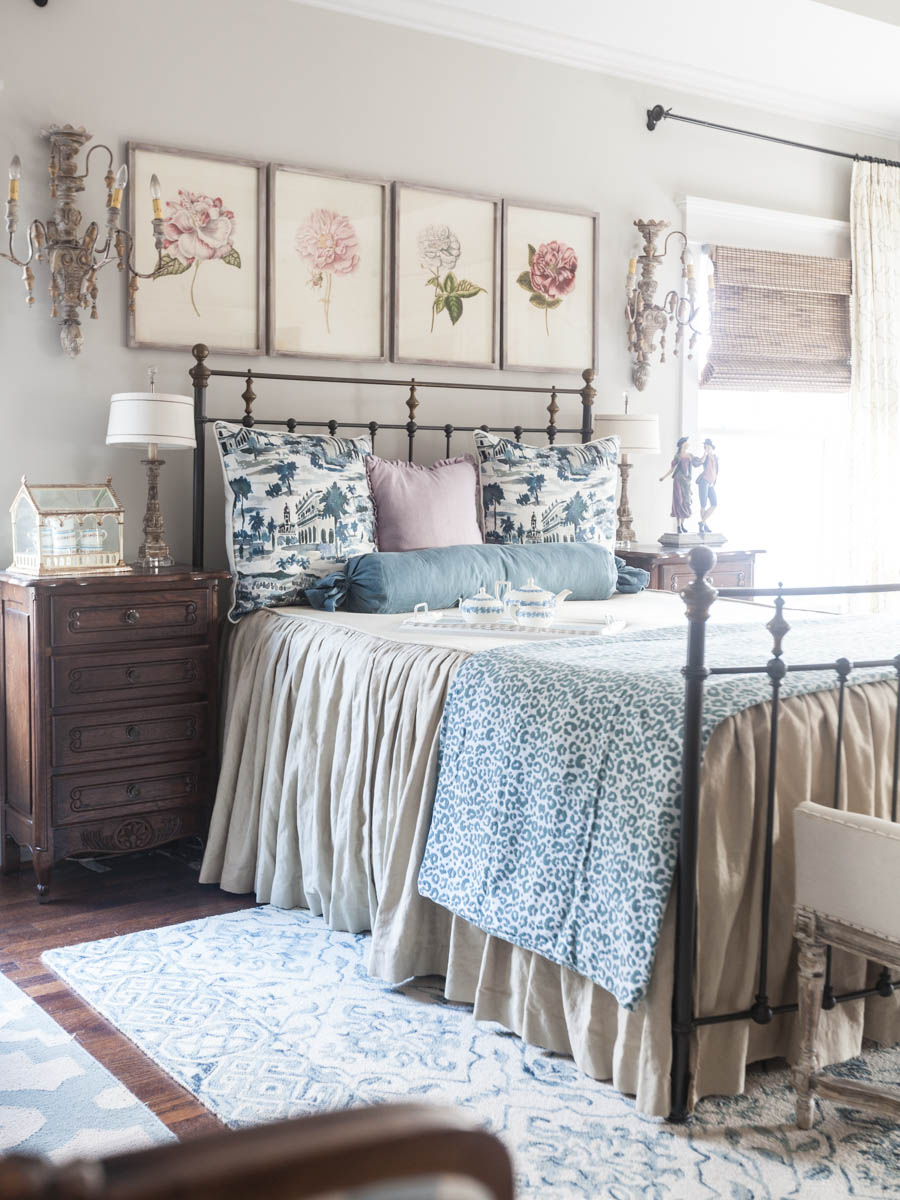 On the bed tray, I've displayed my Wedgwood vintage teapot. This pattern is Queensware lavender grapevine. I found it at a thrift store and couldn't resist! Vintage English teapots are a weakness of mine. Just look how beautiful the blue details are. This was all they had (no cups) but I didn't care.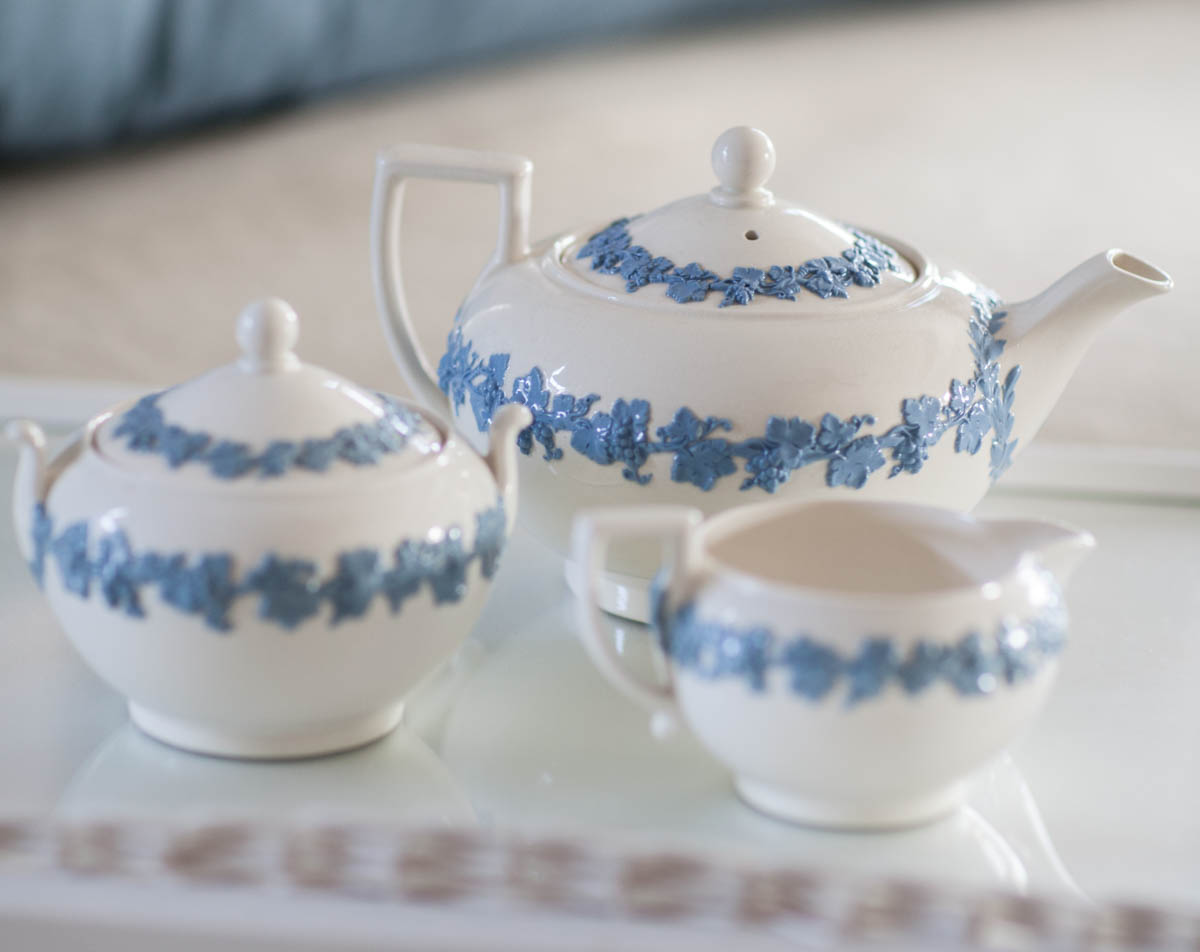 Here is the close-up of the fabric on the Califa euro pillow. It reminds me of some old curtains my mom had in her bedroom that were probably from the 50's. The pattern really spoke to me. I was a bit obsessed with it. I had to have it.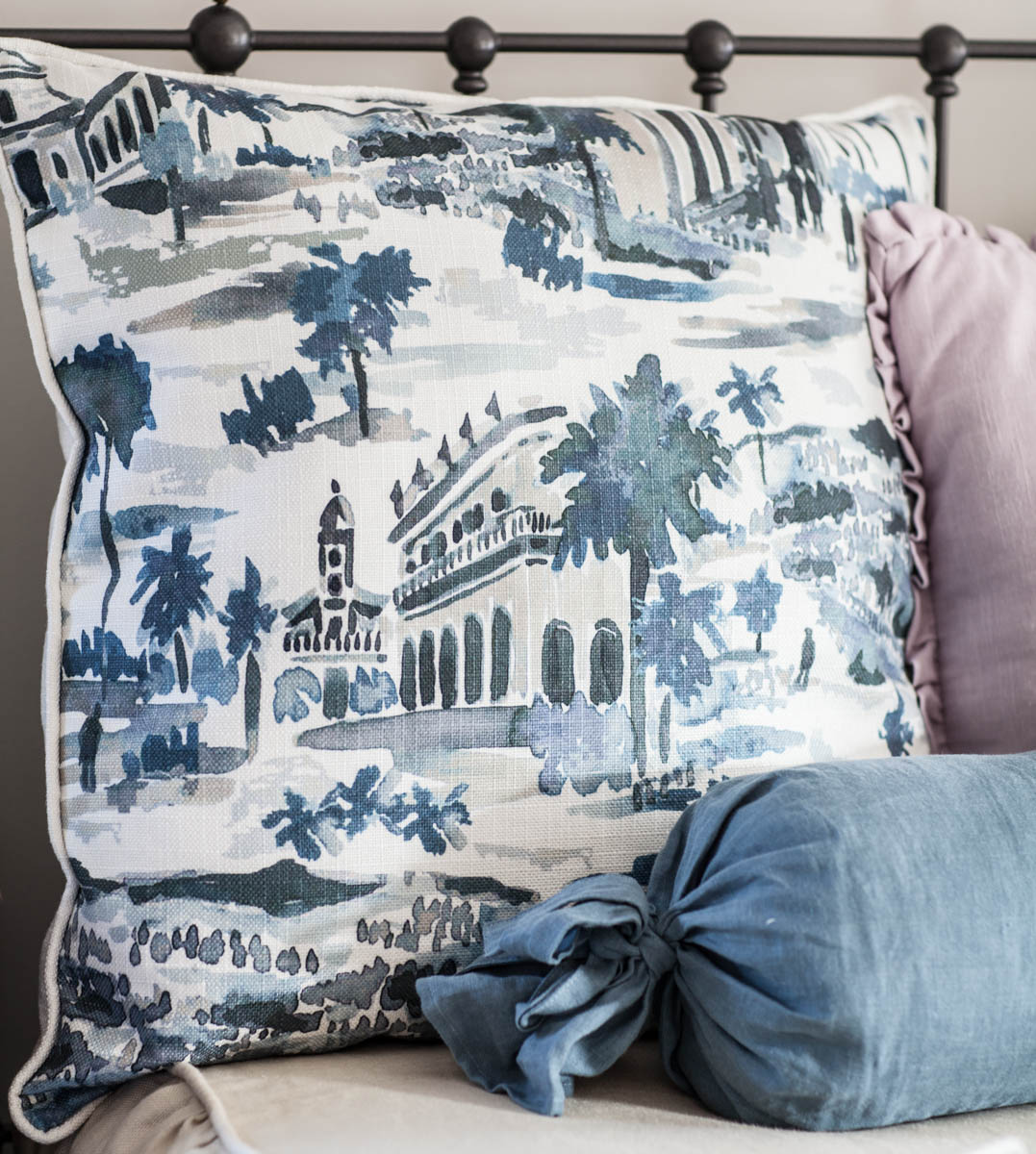 The pillow below is another pattern in the room, but since each pattern has a limited color palette, they all work together.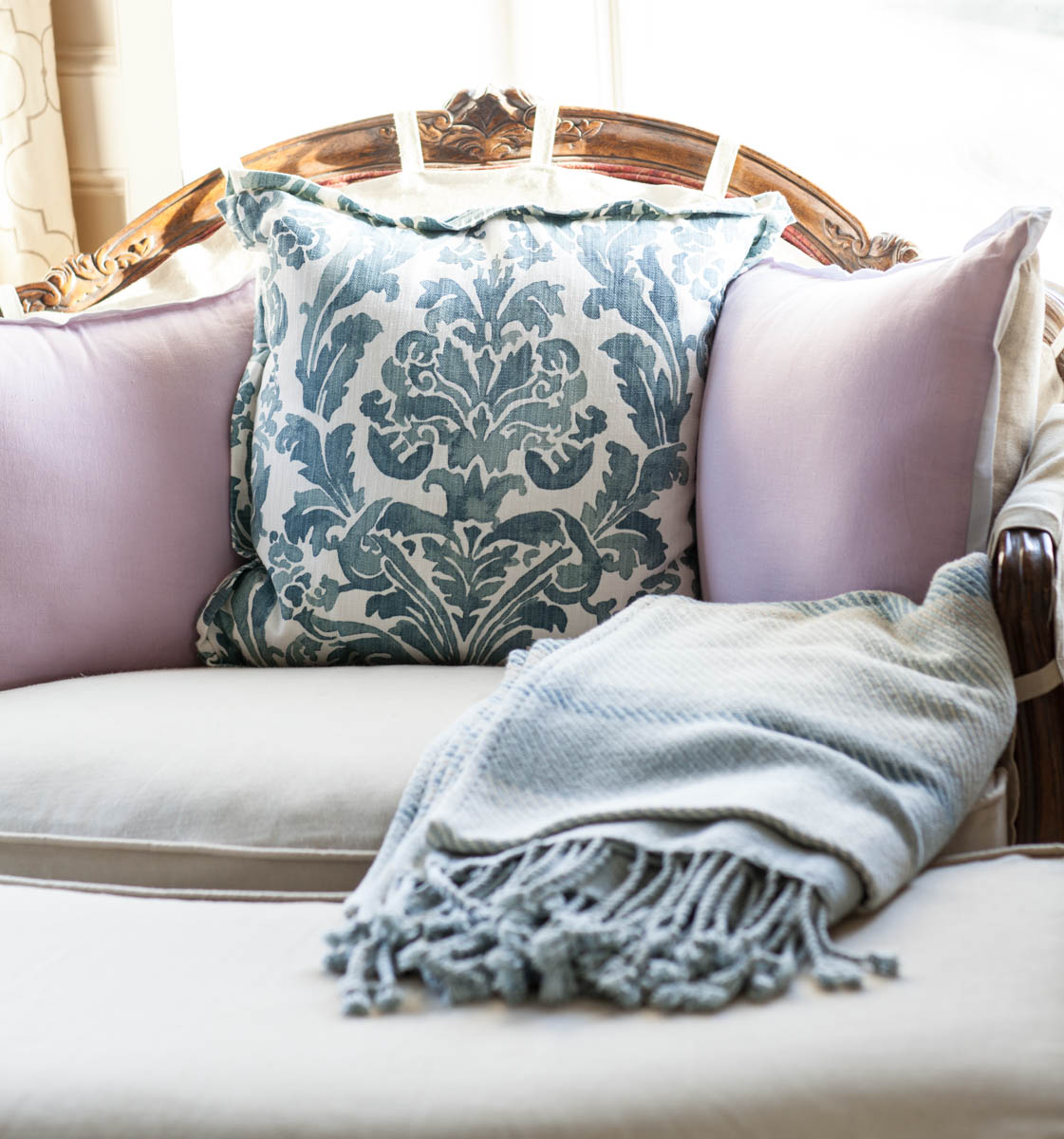 Next to the bed, I had a display of some other vintage dishes I couldn't resist. This set did not come with a teapot, or perhaps the teapot didn't survive years of use. Still the color on the cups really spoke to me, so again, I couldn't pass them up. I've pared down my dishes a lot this year, but this set made the cut. I am sure you can see why!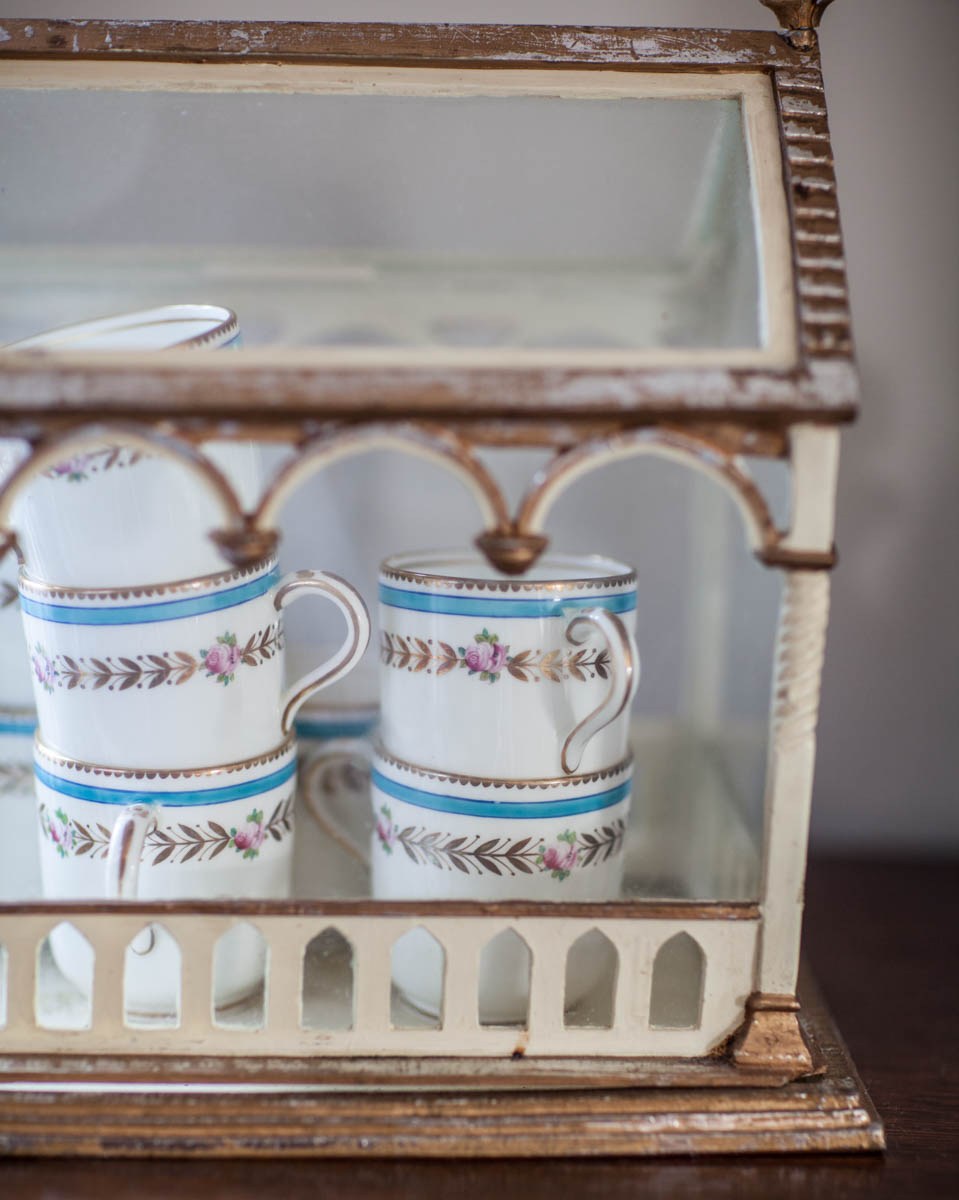 Here's another view of the room. The painting was on another wall, and I removed a candle sconce that was here. I find that these small changes keep me from being bored with the room. The pink pillows are made from antique Turkish rugs. These are all small changes, but they add up.  When I started the room was completely neutral with no rugs or curtains.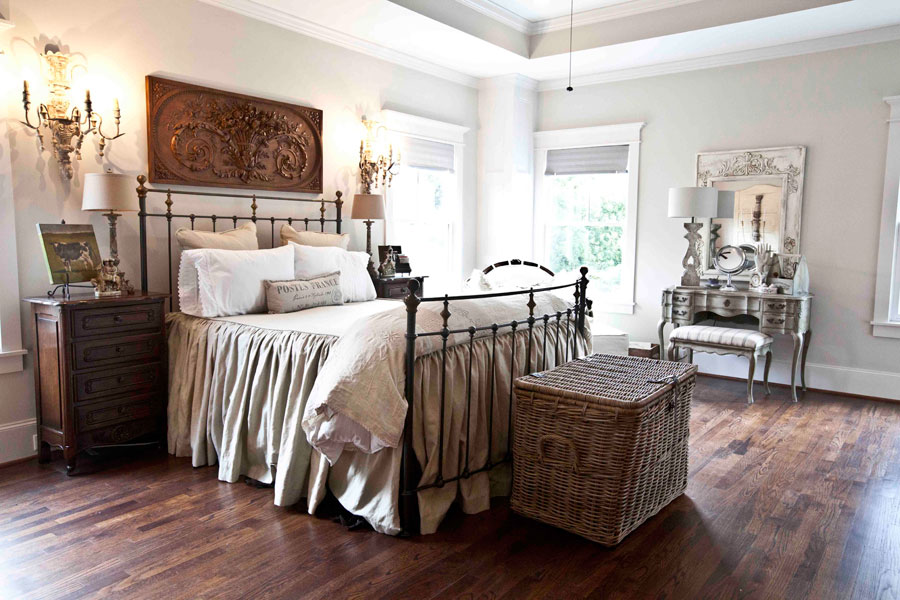 I thought these vintage pillows were so unique and a fabulous addition to the room.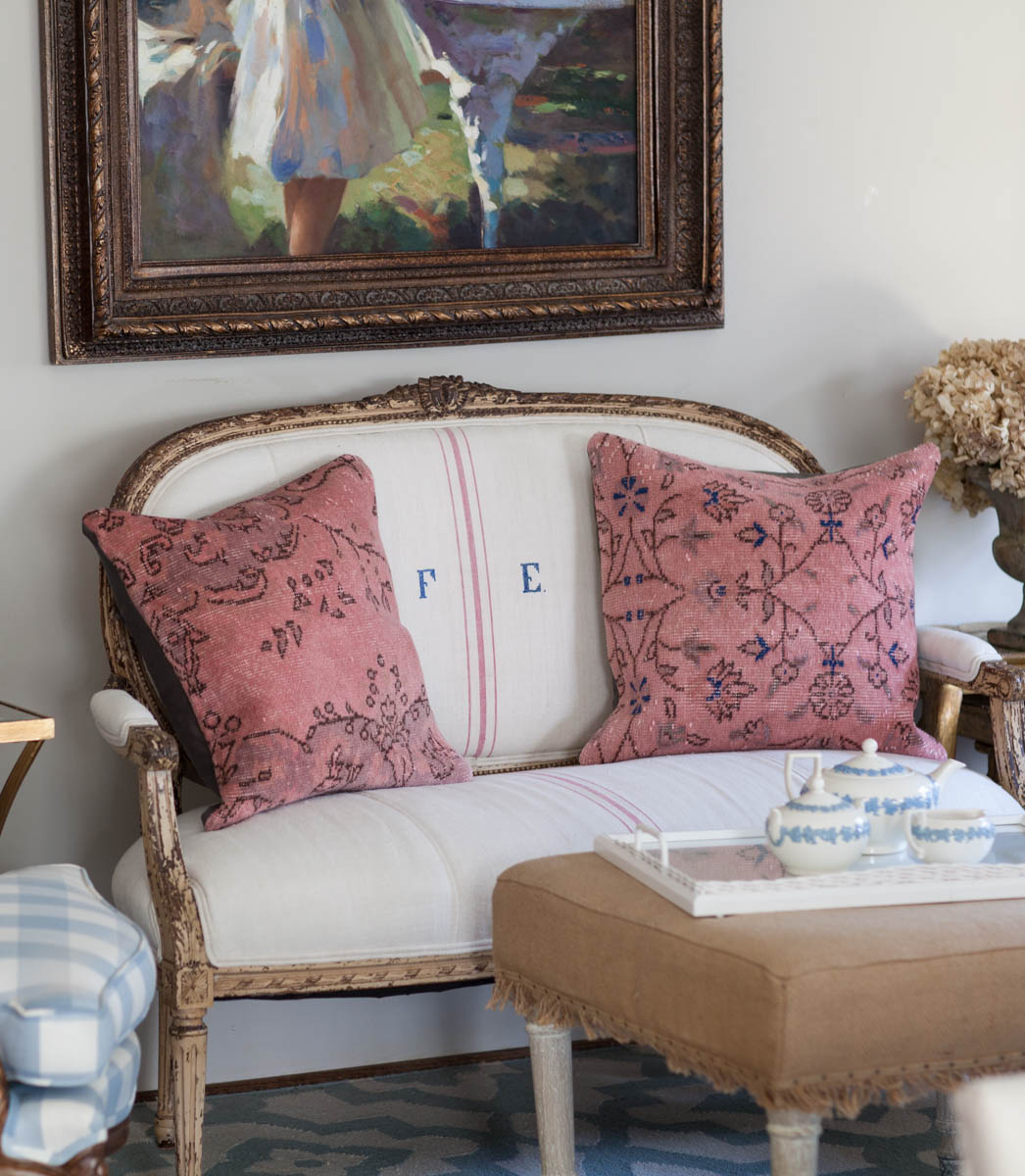 Thanks so much for stopping by! I appreciate your time so much. I want to show you the updated guest quarters and some other changes to our house, so keep an eye out for those, coming soon.