I'm joining 4 other bloggers today for my monthly country French event, and today's topic is outdoor dining.
When I think of dining in French style, I'm reminded of a trip to Provence, where we often enjoyed leisurely meals out of doors.  And when we went to Italy just a few short weeks ago, there too, we mostly dined outdoors.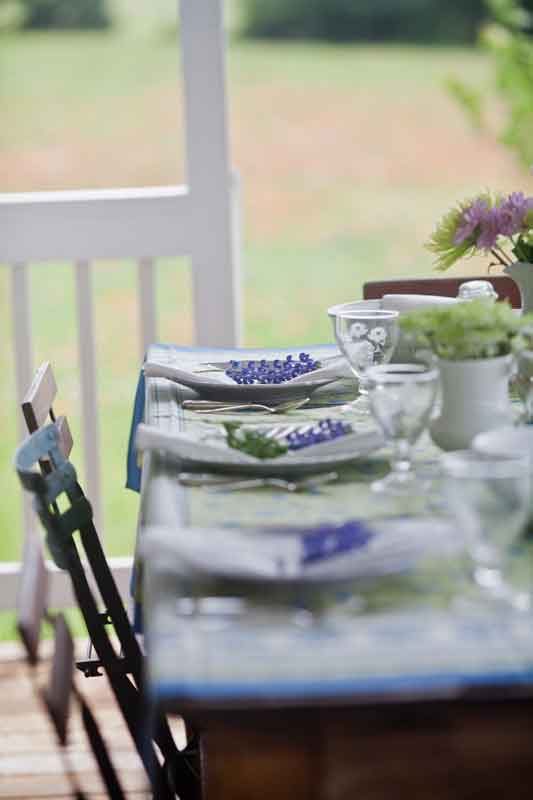 This is my favorite place to take a meal… on my back porch at the farm. In the distance you can see the pink/orange tint of the Indian Paintbrush that dots the pasture.
On top of each plate, I placed a freshly picked bluebonnet from the fields. Fresh flowers always remind me of France. I try to always have fresh flowers on the table when we entertain, even if those flowers or branches came from the farm.  The nearest florist is 30 minutes away, so we often grab flowers that bloom naturally on the farm.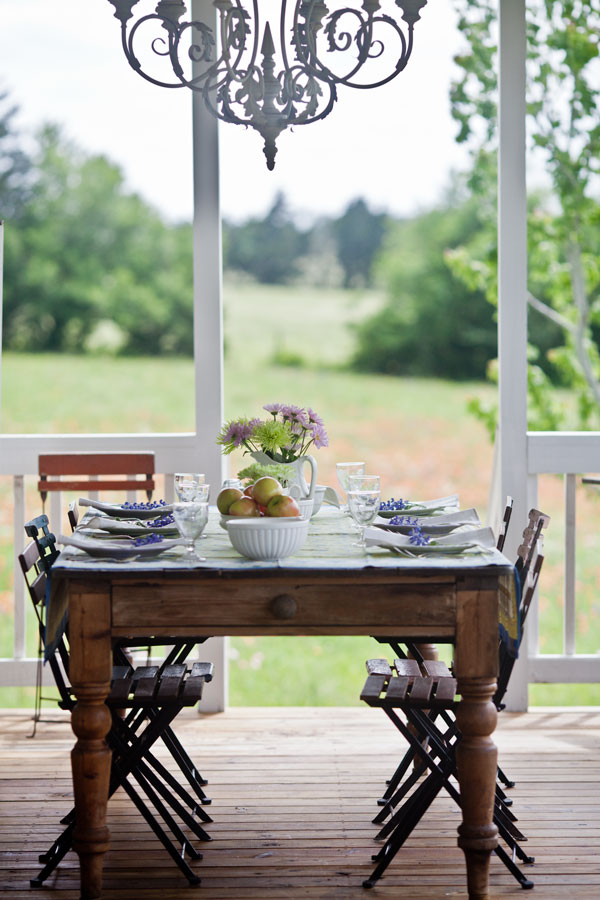 Each year we have loads of Bluebonnets.  This year we had an okay amount, not a lot, but definitely they made their presence known.  They bloom but for a few short weeks, but during that time, the fields are glorious.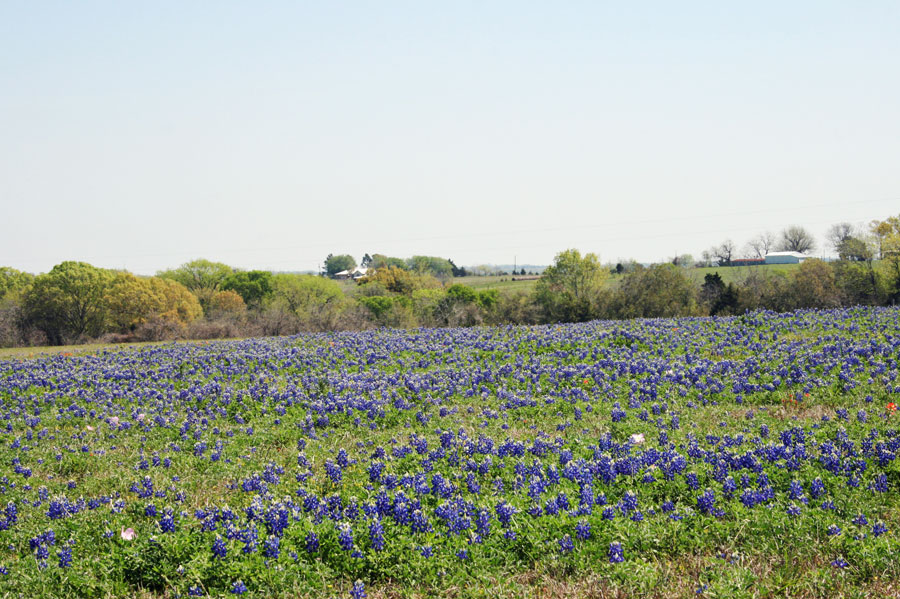 I like the simplicity of one single flower on top of vintage linen napkins. These napkins were a special find at Round Top. The dealer told me that he bought them from a factory that was closing, and that they had never been used.  The closing of an American factory is very sad to me.  That makes these napkins even more special.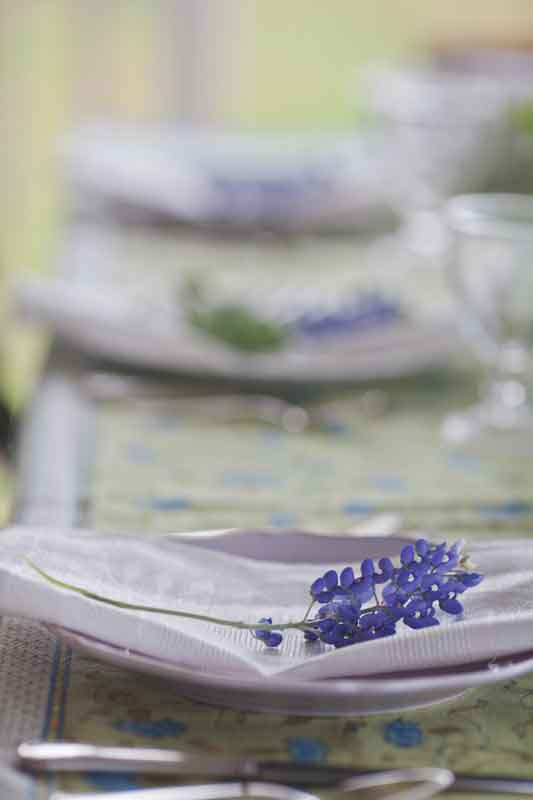 One of my fondest memories is a family meal we had on this porch a few years ago. Some of my dear friends were here. I made chicken smothered in a butter, garlic, sun dried tomatoes, topped with goat cheese with a salad, asparagus, and roasted garlic mashed potatoes.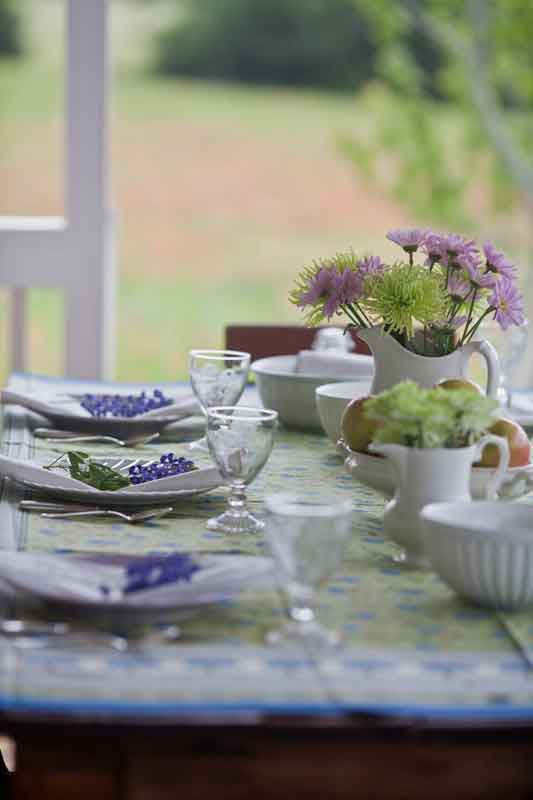 We sat around this very table. We laughed, we smiled, we told stories, and lingered.  No one dared move, lest the spell be broken. We all knew it was special. The cool breeze carried the scent of the  freshly cut hay.  No one checked his watch or phone. It didn't matter what time it was. We were content.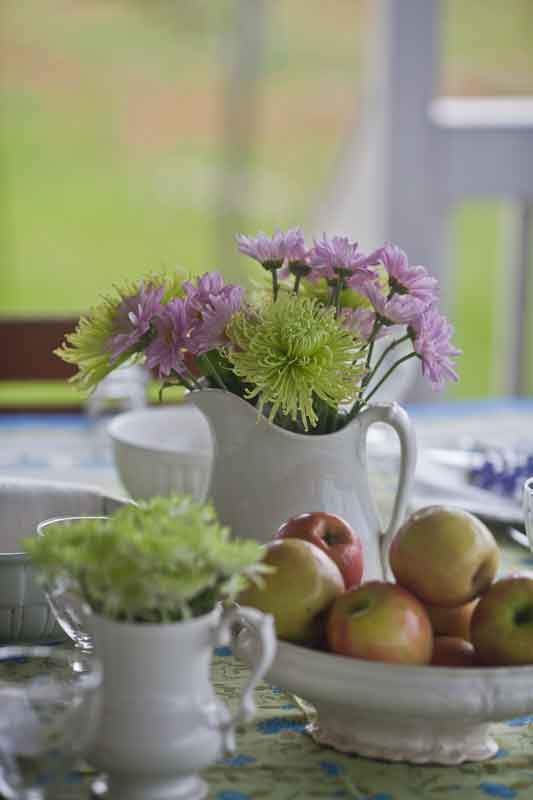 My friend Peggy brought a homemade pie for dessert.  It was still warm from the oven.  Another forkful?  Why not? I was stuffed.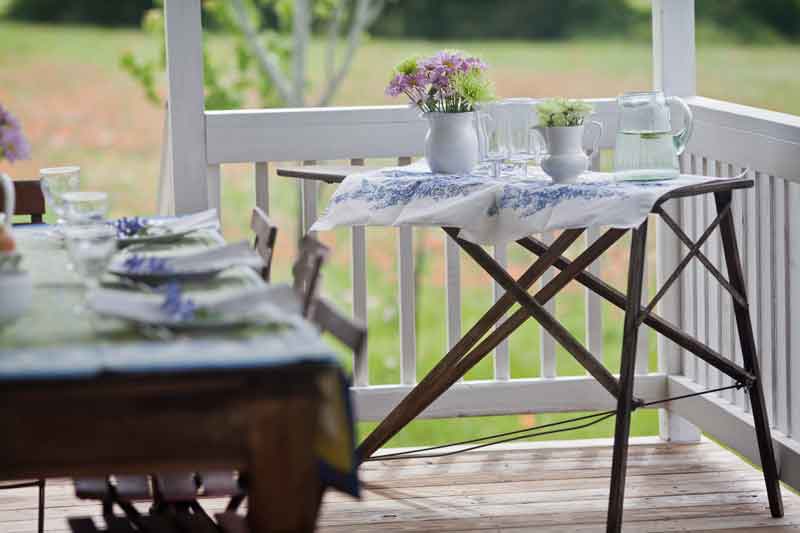 I used my antique ironing board as a buffet.  I think my grandmother would approve. She liked a good meal, and laughter.  Even as a child, I adored eating outside. When we went to visit our family, the long tables would be set up next to the vegetable garden.  It was a great place to play while we waited for my mom, her sisters and grandma to set out the food.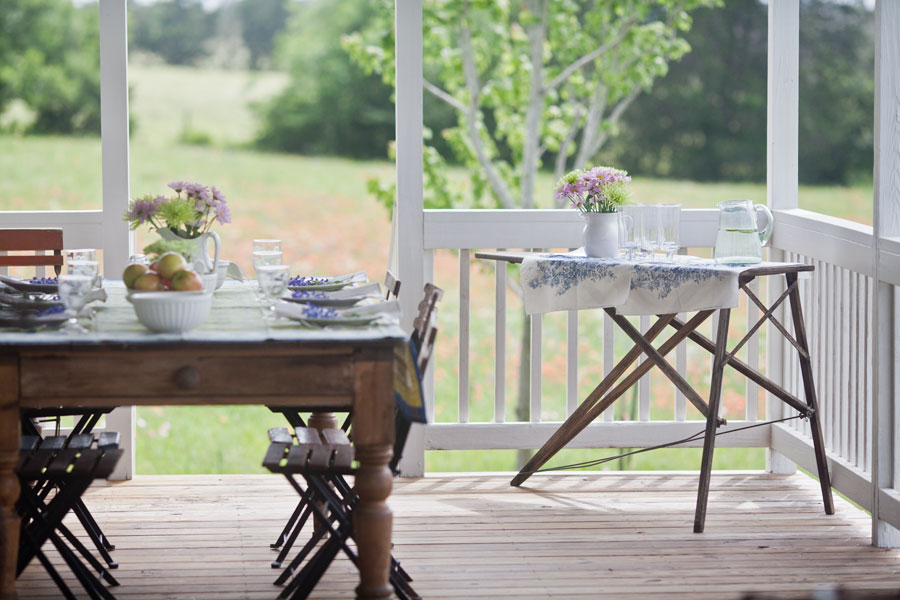 Much of the food on the table came from grandma's garden, fried okra, corn on the cob, sliced red tomatoes, cucumbers in a bowl of vinegar,  and mashed potatoes.  All of that was served up with grandma's roast beef.  It always fell apart in a way that made my mouth water.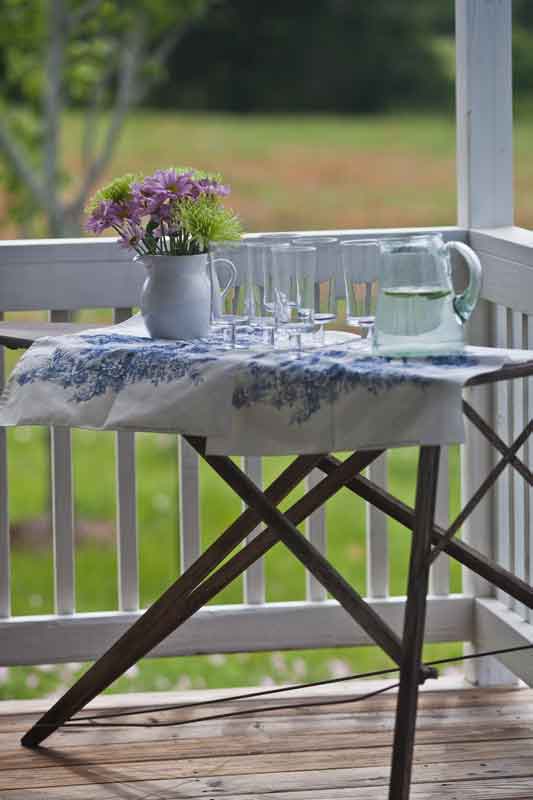 It may be the back porch in the middle of a hay field, but I use my silver.  I like my guests to feel special.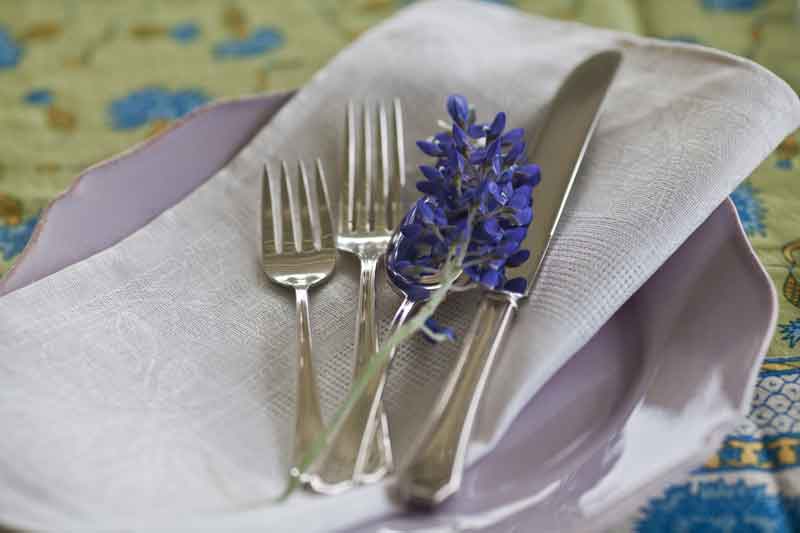 Family and friends around an outdoor table, fresh flowers and good food all feel very French to me, no matter what language is spoken.
Please join the other bloggers at this country French event.