I left the house this week and went to my favorite antique store. I went to just get out of the house, but just in case, I brought my credit card, because… dishes. Well you never know.
Many readers know of my love for dishes, purple (the color) and things made in France. And where all three of those collide is a sweet place, or what I call a wonderful trifecta. These salad plates were made by Sarreguemines. The clay has an almost translucent quality to it, that is very unique. When I saw that they were on sale and a set of 11, I couldn't resist. I know what these plates normally sell for, and this was a bargain.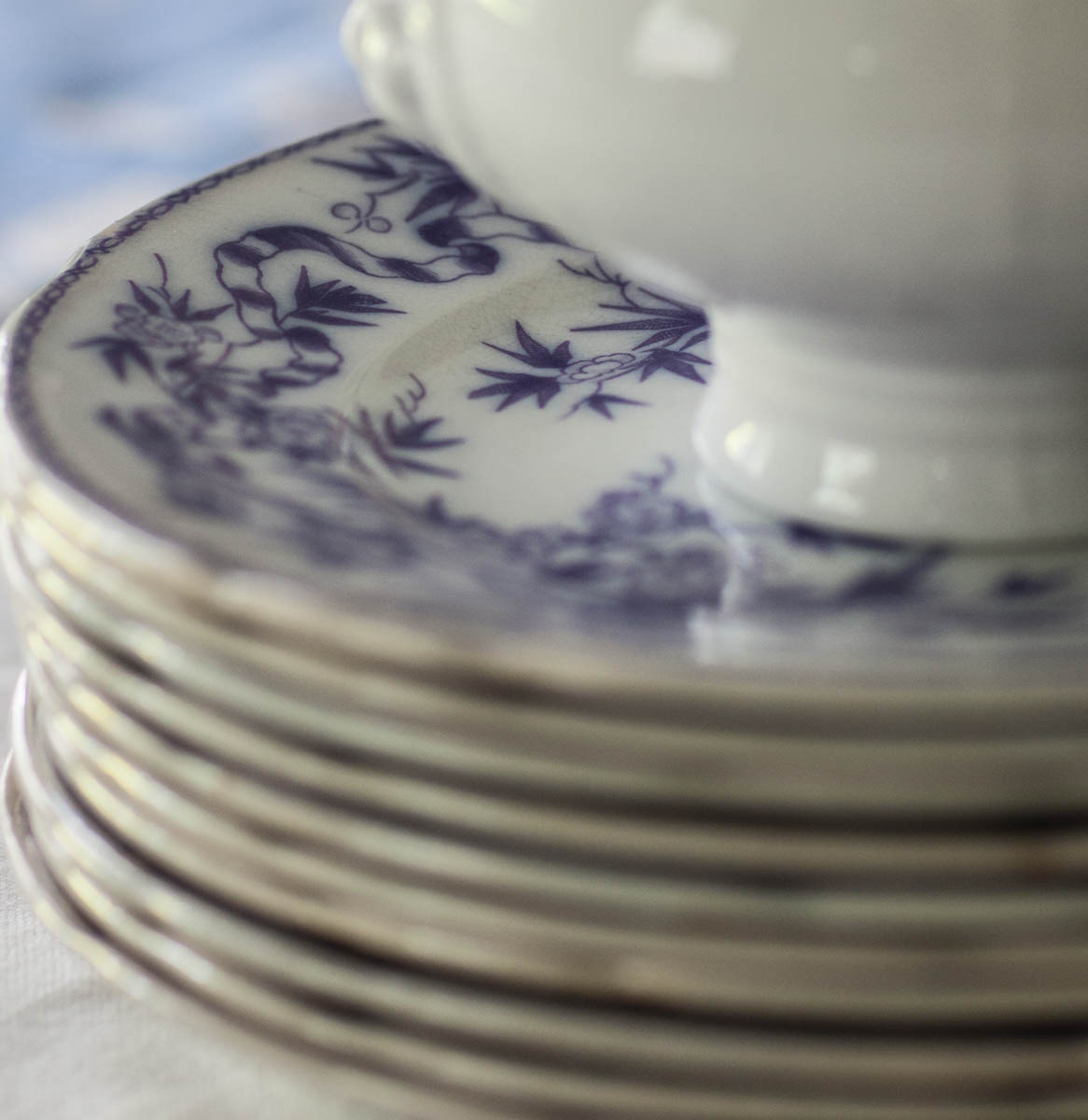 It was such a nice surprise to find them. I won't use them for food, since I am unsure of the lead content, but they are perfect for display.
The other fun thing I have been working on is perfecting my bread making skills. Although I used to make a lot of bread before we went gluten free, making gluten free bread is very different. For one thing, gluten free bread does not require kneading, and it is very sticky to work with. The consistency is quite different. Also it doesn't brown as easily, so many adjustments have to be made.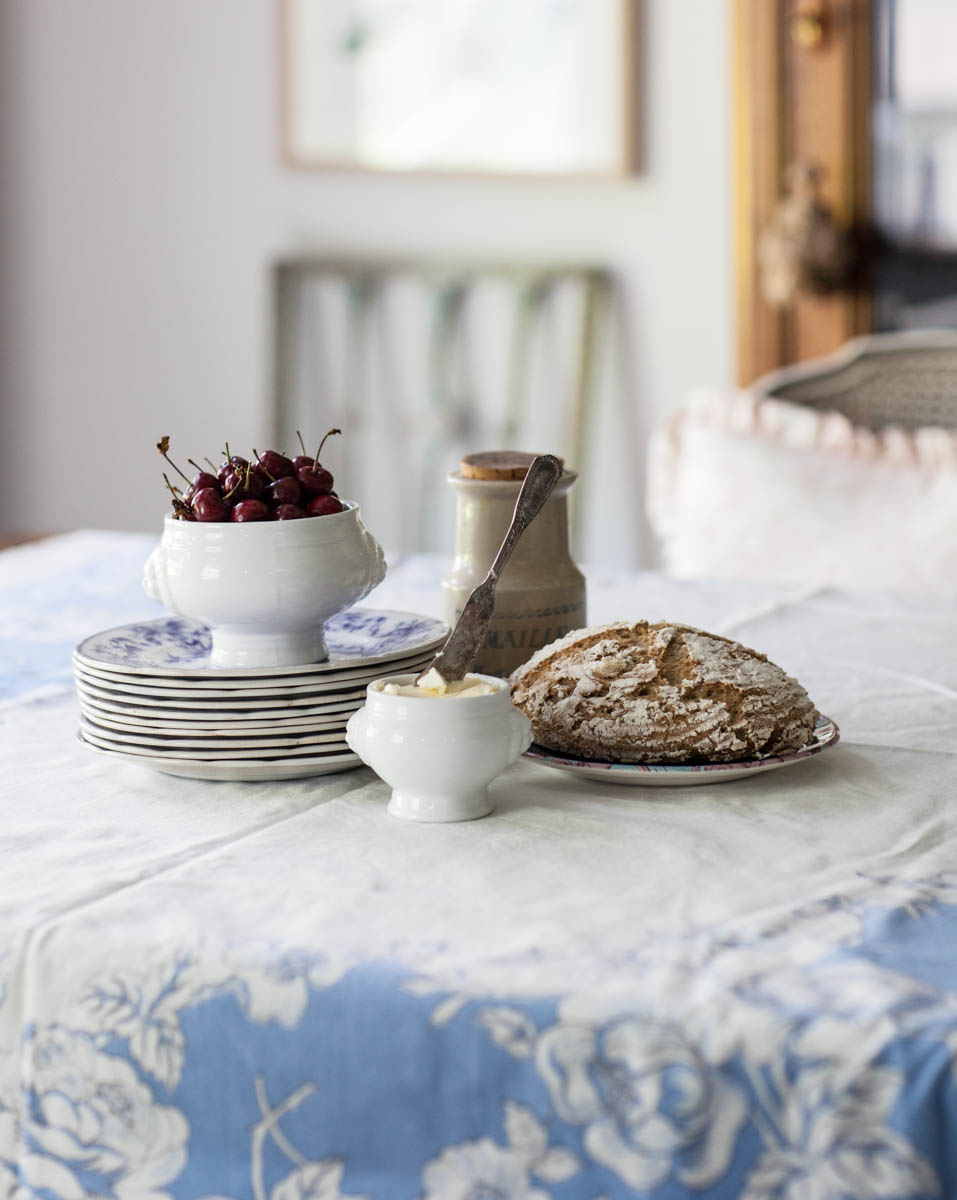 I bought a proofing basket for the bread to rise in, and that helped to make the bread very pretty. Another thing I learned was to put cornmeal underneath the loaf when it is baking, and to top the bread with rice flour.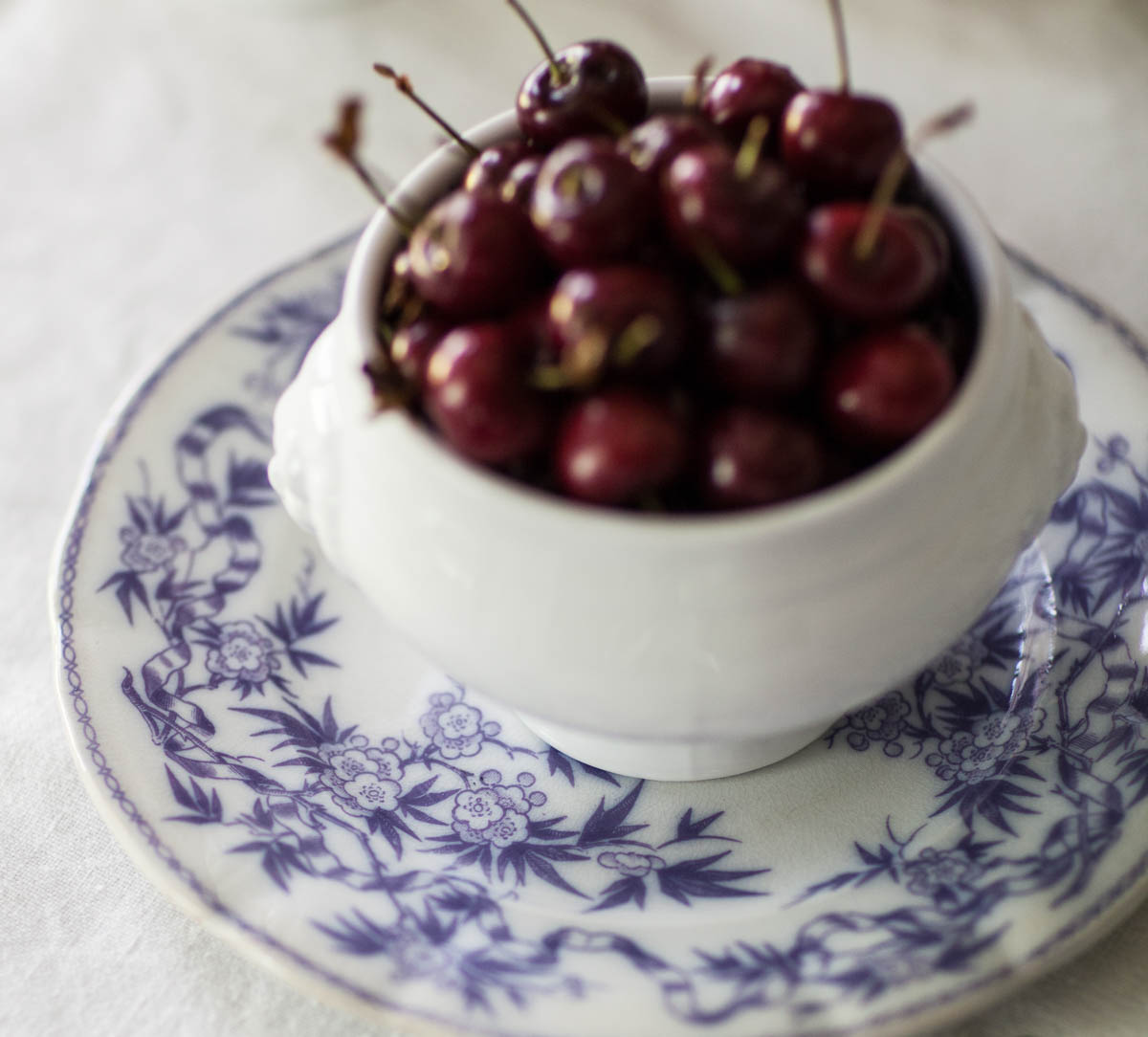 This is a whole grain gluten free bread, with a sourdough flavor and a very European crust.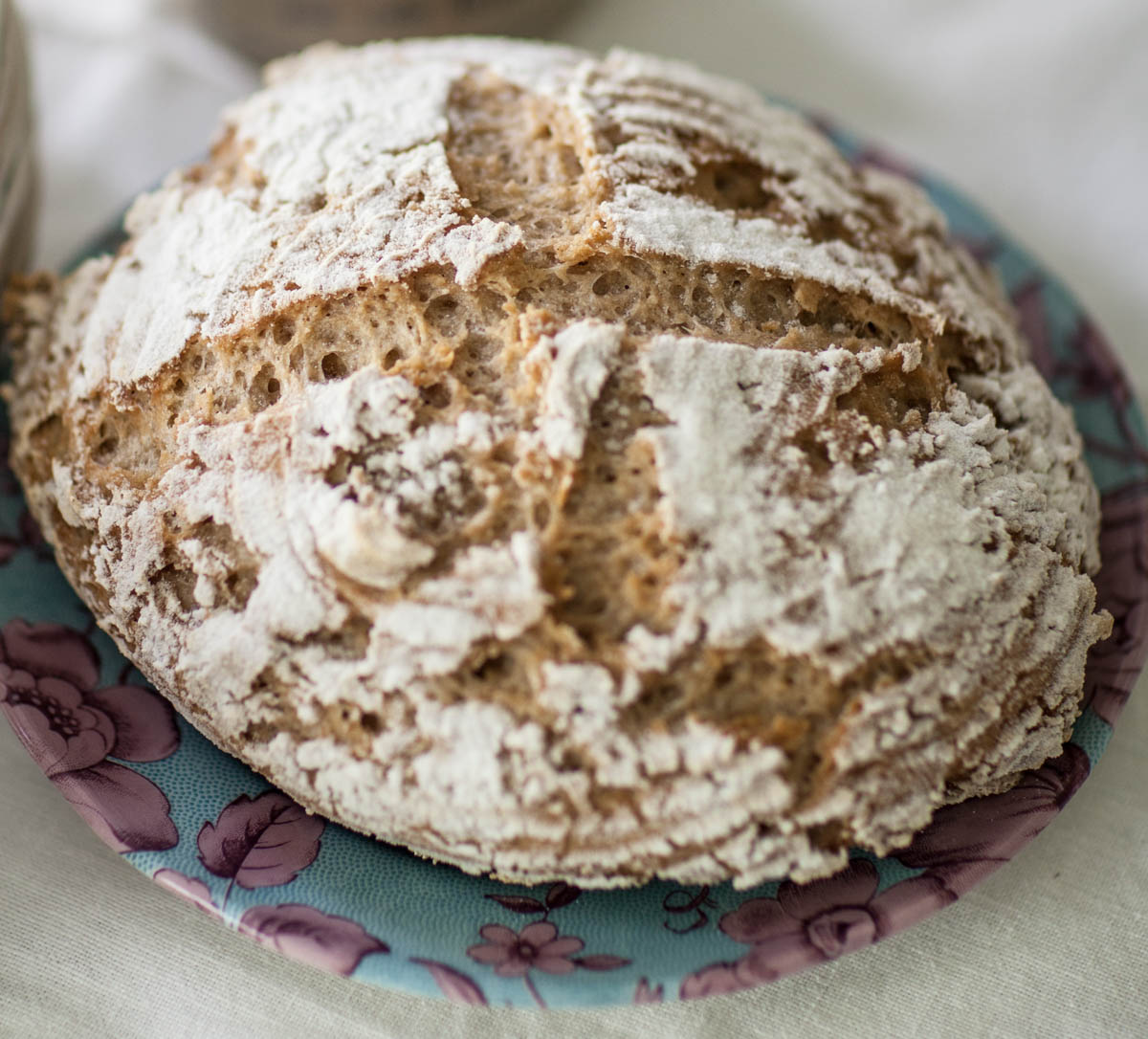 Here is the recipe I am using.
First you need a mixture of whole grain flours.
WHOLE GRAIN MIXTURE
228 g (1-1/2 cups) Brown rice flour
228 g (1-1/4 cups) Teff flour
228 g (3 cups) Sorghum flour
228 g (1-3/4 cups) Oat flour
20 g (2 Tablespoons) Xanthan gum
You will use a cup of this mixture in the recipe below. Save the rest for future batches of dough.
Here's the recipe for the bread.
EUROPEAN WHOLE GRAIN GLUTEN FREE BREAD
910 g (6 cups) Gluten free 1-1 baking flour
155 g (1 cup) Whole grain mixture (recipe above)
1 Tablespoon Yeast
2 Tablespoons Salt
2 Tablespoons Sugar
4 cups water (100 degrees F)
Rice flour for dusting
Cornmeal for dusting
Mix all of the dry ingredients together. Add water slowly and mix with mixer. Cover bowl loosely and let sit in a warm place for at least 2 hours. Then place in refrigerator overnight. It can keep in the refrigerator for a week or two.
On the day you want to bake, gently scoop out a grapefruit amount of dough and place it on a Silpat dusted with rice flour. Cover and pace in warm place and let rise for at least an hour. At the same time, put your Dutch oven in the oven and set for 450 degrees F. After an hour, remove the Dutch oven from the oven. Remove lid, and sprinkle the bottom with corn meal, and gently place dough inside. Dust top with rice flour, and score with a knife (if desired). Place lid back on the Dutch oven, and bake for 40 minutes. After 40 minutes, remove lid and bake for an additional 20 minutes.
Remove from oven, and let cool on a cooling rack. When cool, serve bread with softened butter. This recipe should be enough to make about 4 loaves of bread. When you make the last loaf, keep a half cup of dough in the bowl, and incorporate that into the new batch of bread dough. This will add to the sourdough flavor of the bread.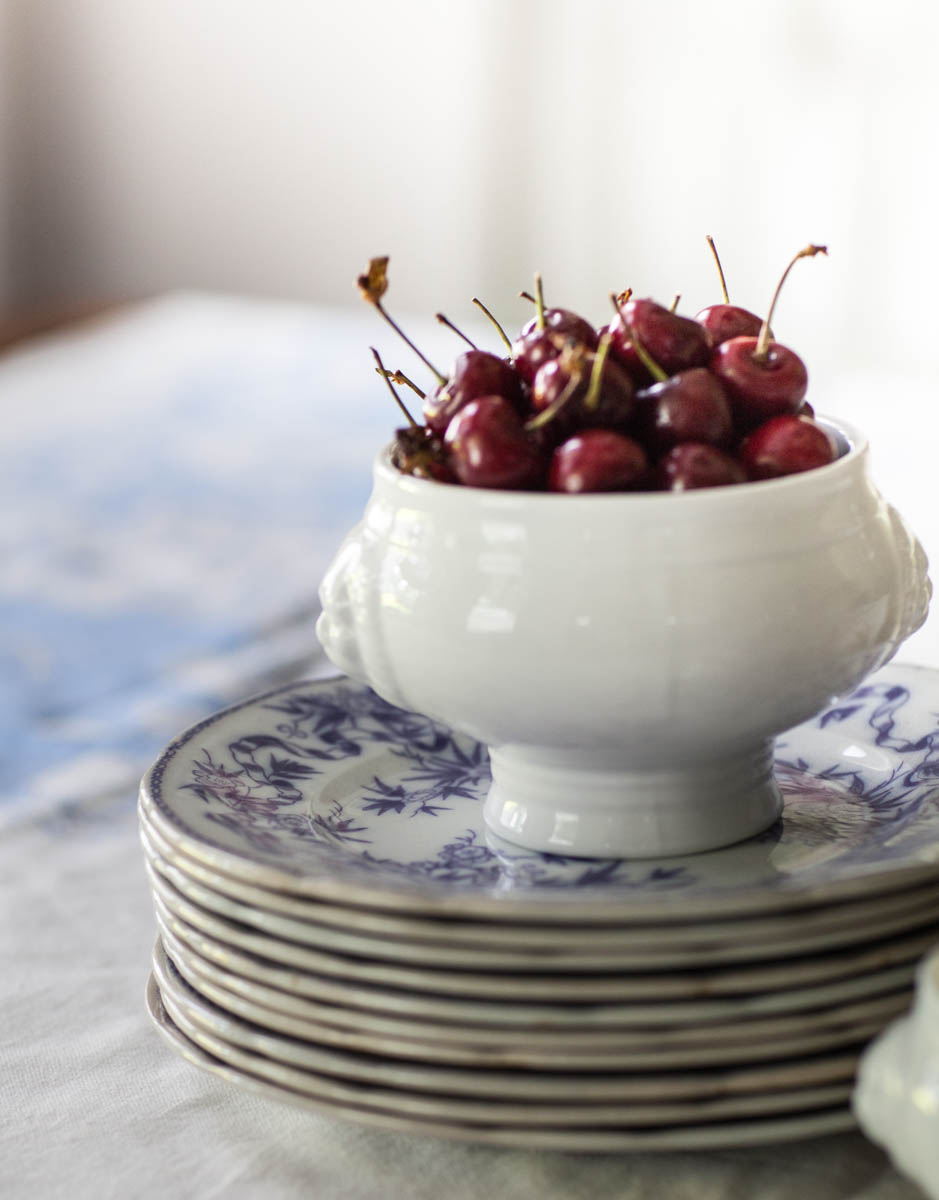 My family loves the bread. Unlike many gluten free breads, this one has an amazing crust, and a sourdough flavor. You do use some yeast, but because the dough sits so long before being used, the flavor is decidedly sour in a delightful way.
It's perfect for breakfast with a bit of soft butter and jam. For lunch, we simply slather it with butter, or dip it in olive oil with a bit of garlic, salt and basil.