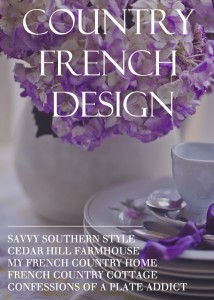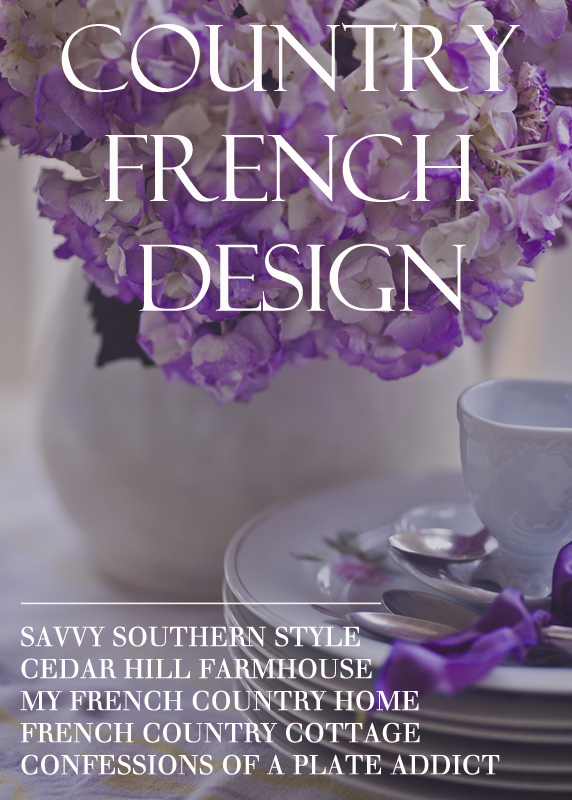 Today I have a fun French event and I hope you will enjoy it. I have teamed up with 4 French blogs to bring you the best in Country French design. Today our topic is Our
favorite ways to add French style to a room. We will each be sharing our ideas on how to do that. At the bottom on my post, I have a link to the other 4 blogs, and I hope you check out their fabulous ideas on today's topic.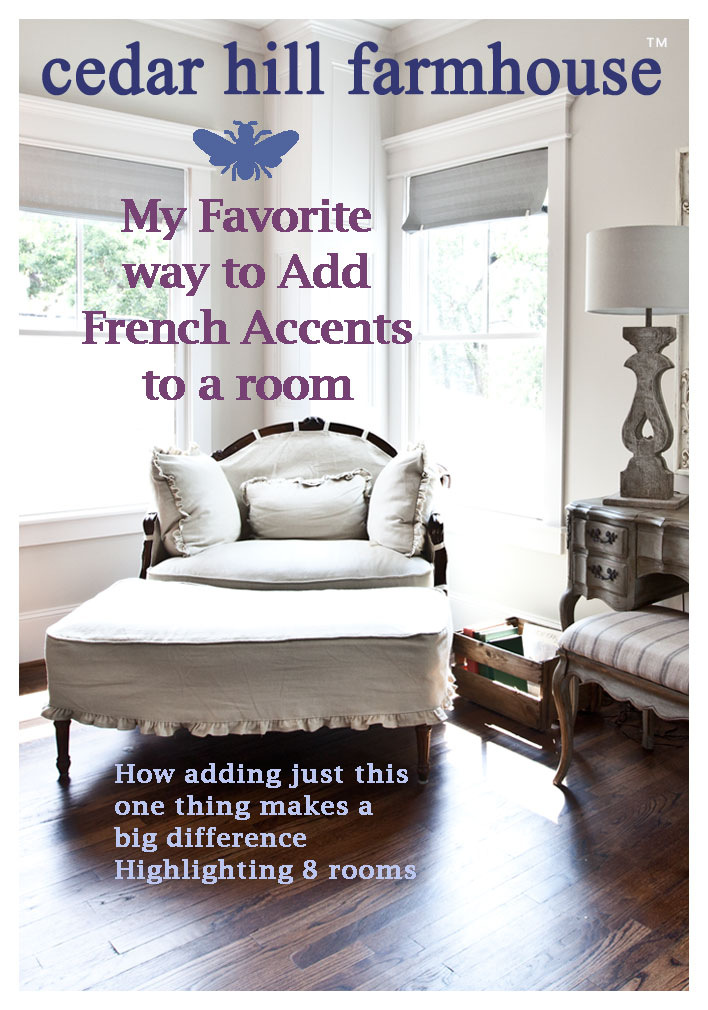 I have talked a lot about how to add Farmhouse French style to a room in my free ebook, but what is my FAVORITE way to add French style to a room?
I had to think on this one.
There are so many ways you can add French style to a room. I like to add touches that are very subtle, but I think the easiest way by far is to add a French chair to the room.  I love a delicate French chair whether it be antique or brand new. They are often small so they will often fit in about any room.  They are pretty and functional, since they add additional seating.   My eye is drawn to their delicate details.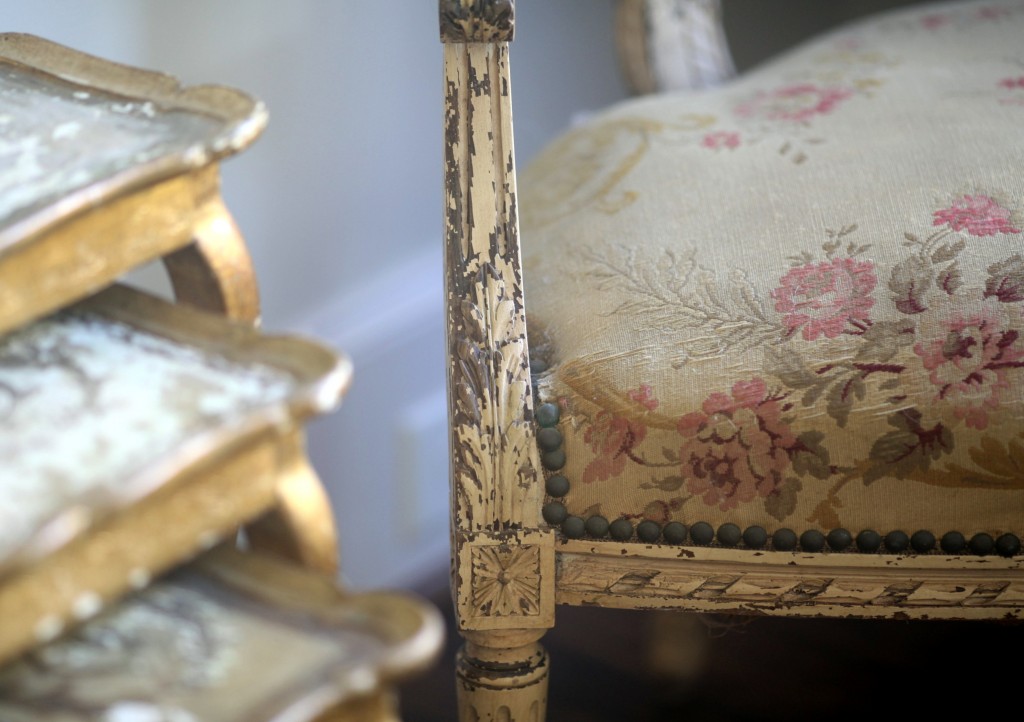 And the thing is that I found all of these French chairs on a budget.  Not one of them was over $150, except the ones in the last photo, and the settee at the very top.
Now this chair in my dressing room was less than $150, but I do have to admit, it did need to be reupholstered. Once you add in the fabric and upholstery work, it was a bit more, but I thought it was well worth the effort. I love how it looks! It's a hand-carved Bergere chair, so it was still quite a bargain. I found the chair at a Thrift store.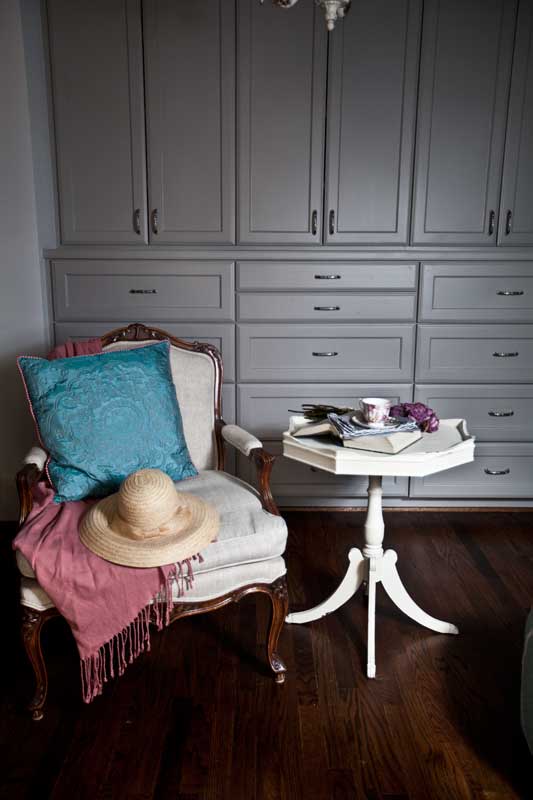 The pillow was proved courtesy of Heritage Lace.
This little number in my dining room has loads of personality.  I found it on Craigslist. It is hand-carved, and has loads of chippy paint.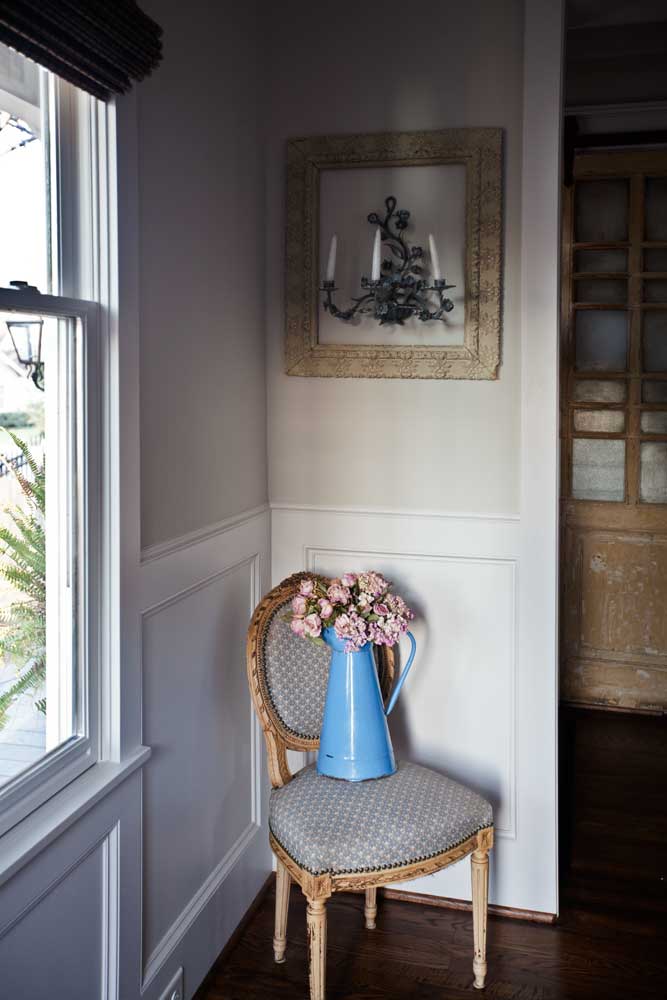 Unlike the other chairs, this Ffrench chair is brand new. I found it at T. J. Maxx. Yup!! It's a great place to sit in my bathroom.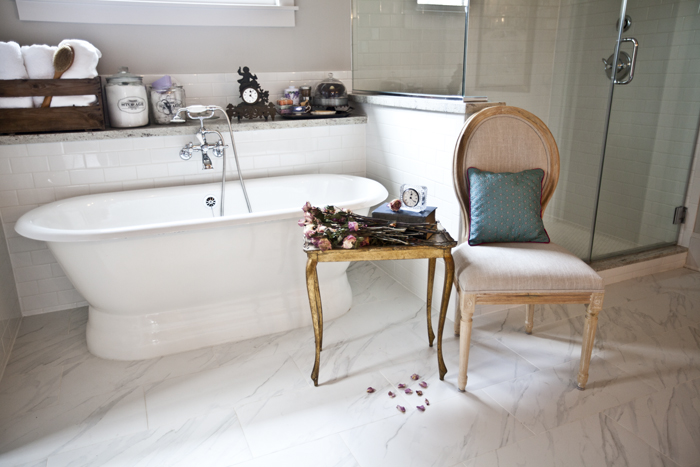 I loved that chair so much I bought 3 more. Here are two of the chairs in front of my fireplace. Another one is at my daughter's desk.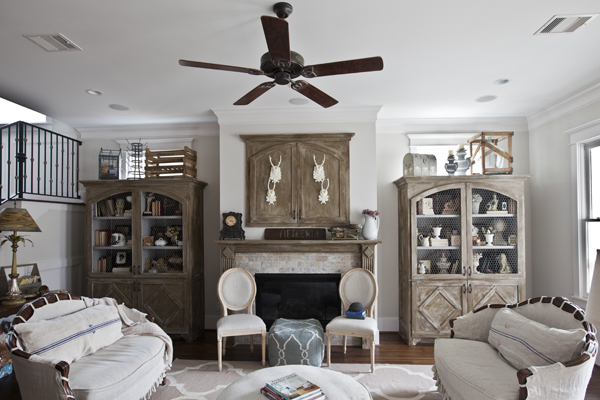 These needlepoint chairs were from a consignment store, and add seating in my bedroom.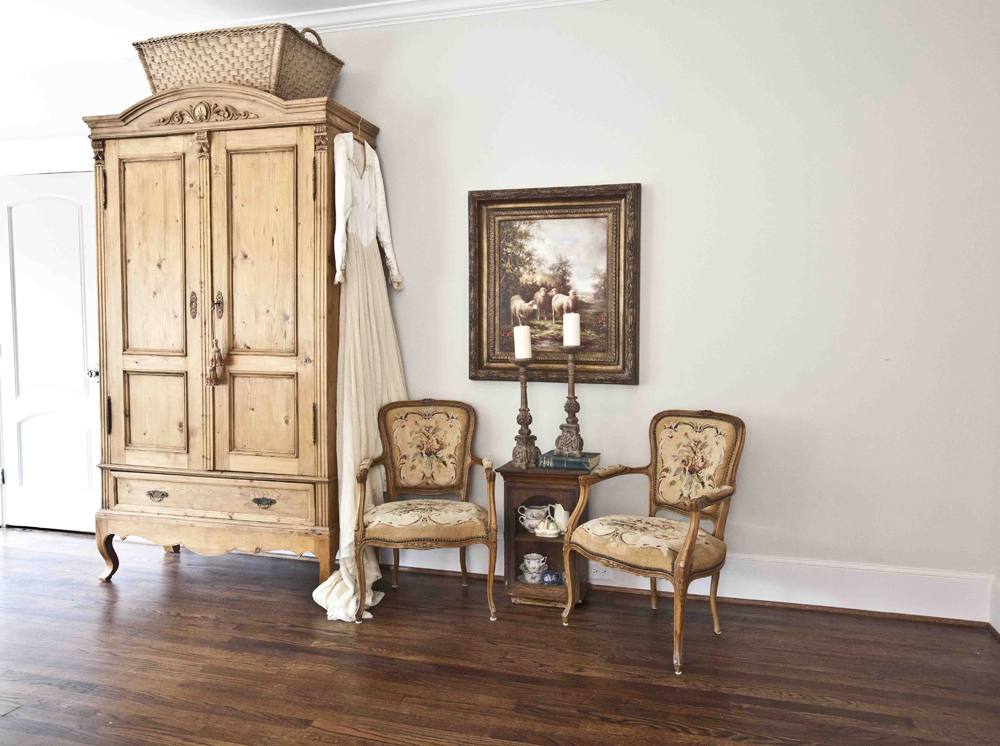 Another antique chair with a rush seat provides more seating in my bathroom.  As you can see the seat needs some work, but I like the imperfections in antiques. Throw out the notion of perfection if you want to use antiques. Like people, they need to be loved, wrinkles and all.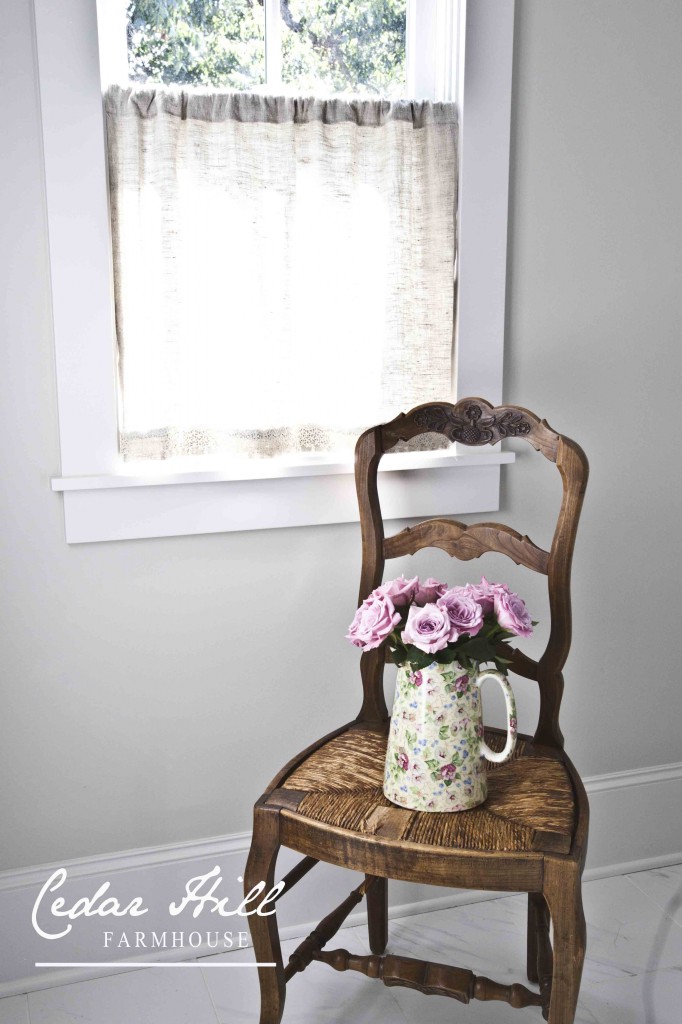 These French chairs were a bit more, but they are large modern chairs with champagne leather seats, and caned backs.  Since I meet clients here, the chairs get a lot of use, so they needed to be solid.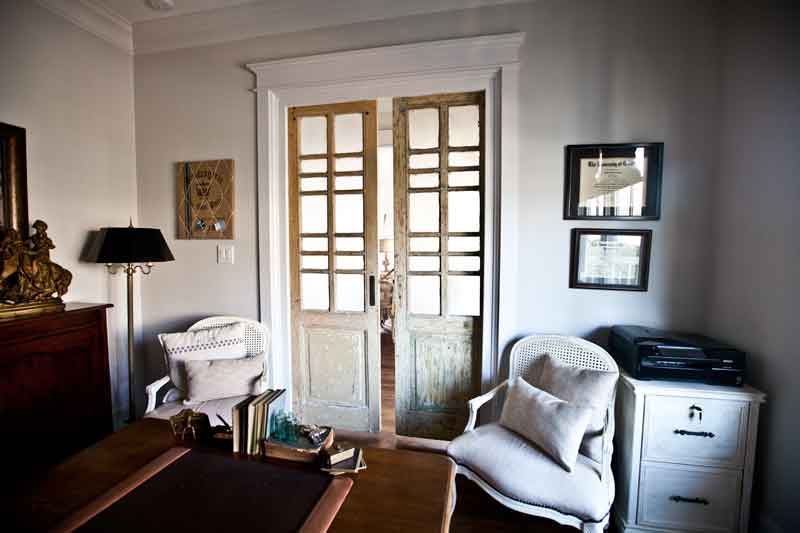 I hope you have enjoyed my French chair tour. I'm off to visit the other blogs to get some French ideas myself. Come on with me.