It's time to  go back to the mountains again for more of our tour there.
This is a house we bought for retirement. It's always been my husband's dream to have a place in the mountains of NC. It felt like a crazy idea at the time, but that's what we did. You can find that story HERE. It's been tricky getting things taken care of while we are out of state, but we have a fabulous company that manages our house for us. 
I haven't shown you the guest room yet, so here we go. I know in Texas we love our wood floors, but it seems in NC that they prefer carpet. This room is carpeted, which is not my preference from a design standpoint, but will probably feel pretty good come winter. This is a nice, neutral berber, so layering rugs on top of it, would be easy enough to do. I don't know if we'll keep the carpet, but it is definitely staying for now. The windows have mini blinds. I prefer bamboo shades, so I hope to get those changed out when I get to this room who knows when that will be.
I have just this folding chair in here for seating for now. I hated to spend a ton of money on furniture since we don't live here now. When we sell our other house, I'll have a lot of furniture I will need to place here, so the sparse look is pretty temporary. This is reality.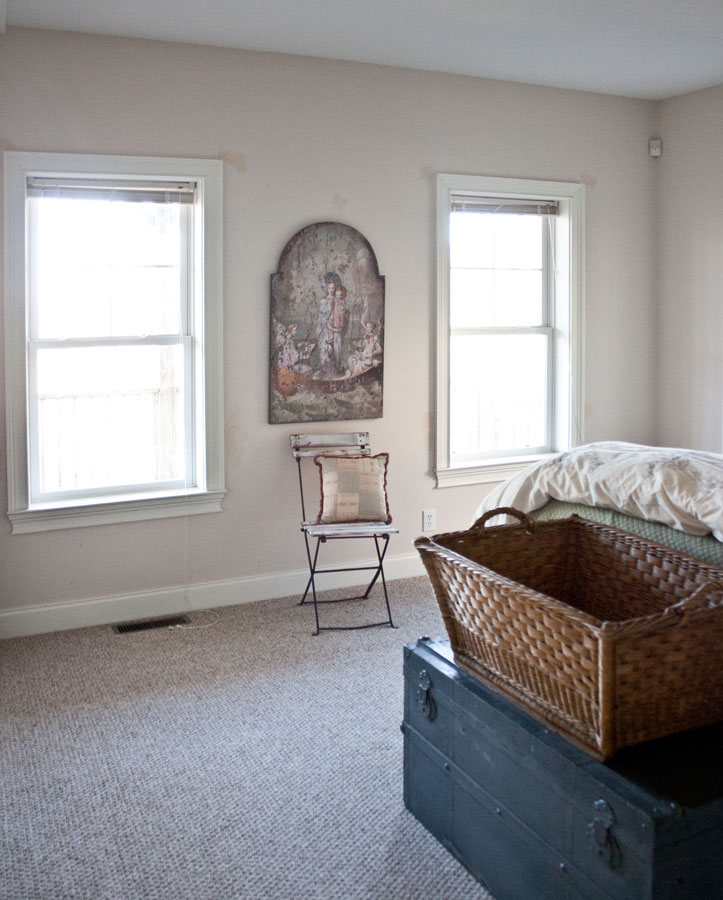 There's not much going on here, but yet I think it has a nice look given the strict budget I was on.
I know people want to know where I buy things so I am trying to share more and more of that information with you. This post contains affiliate links. That means if you use my links and buy something I'll get paid. When you make a purchase using a blogger's affiliate links, it does not cost you any extra, and that 's a nice way to support the blogger. 
The headboard was purchased from JOSS AND MAIN
It was reasonably priced. I love the finials on it. The bedding was some I had in my closet. The mattress we bought from Amazon. I have to say, I like that I could see reviews online, buy online, then have it shipped for free to NC. The mattress is memory foam and less than $300. I haven't slept on this one, but my daughter said hers was quite comfortable. We selected this one based on the great price and stellar reviews. You can find the mattress HERE. It's also a tall mattress, which I like.
I'm also including a link for the frame we used to support the mattress and foundation. You can find it HERE. The lamp and bed stand I had in my closet. The basket and trunk are from my booth at Round Top.They did not sell, so I got to keep them.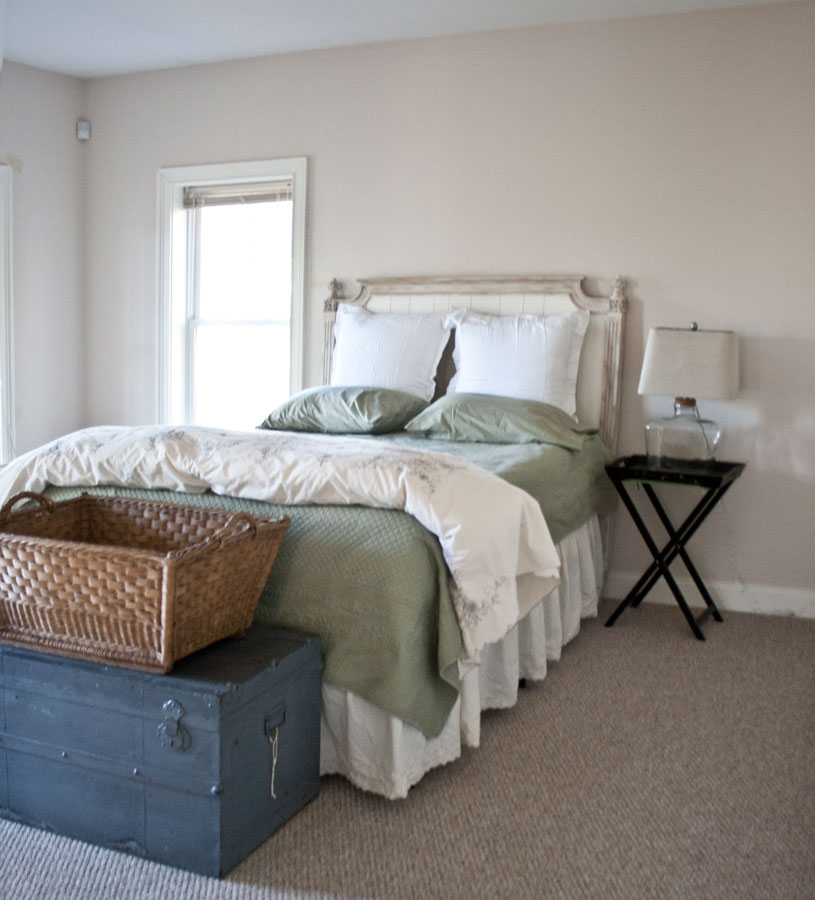 This is the downstairs, but still has amazing views. Can you believe that's the view from the deck? The house also has an upstairs deck. The views and close proximity to town is what drew us to this property.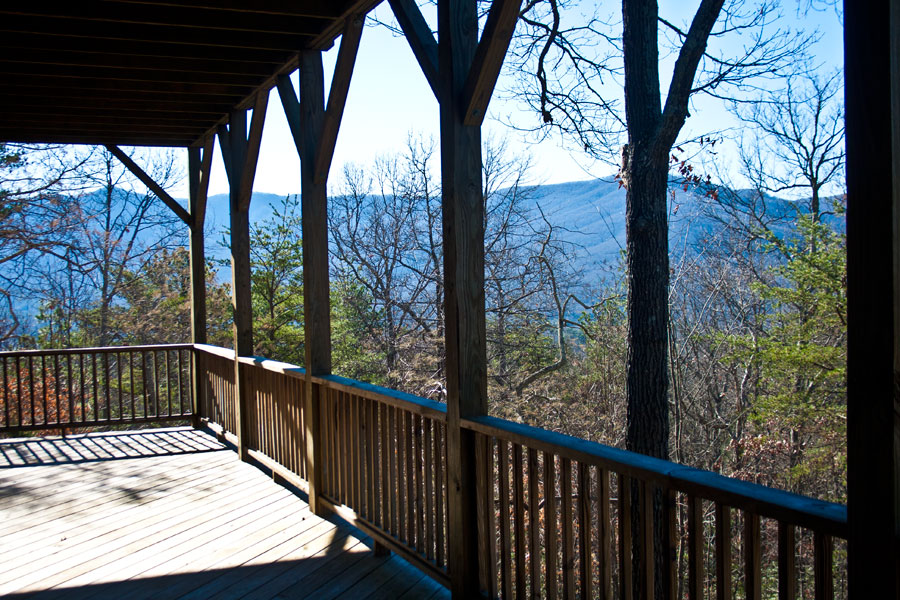 Did you know we rent out our house in Black Mountain, NC? It's about 20 minutes from Asheville, and 2.5 miles to the shopping and restaurants in Black Mountain. Want to stay here? Greybeard just lowered the price and it is filling up fast. You can find details HERE.
We didn't get ceiling  fans put in this room, but did install them in all the other bedrooms. I'm bringing night stands for this room the next time we come. Maybe I'll find something to put above the bed on the wall, but I don't mind it as it is.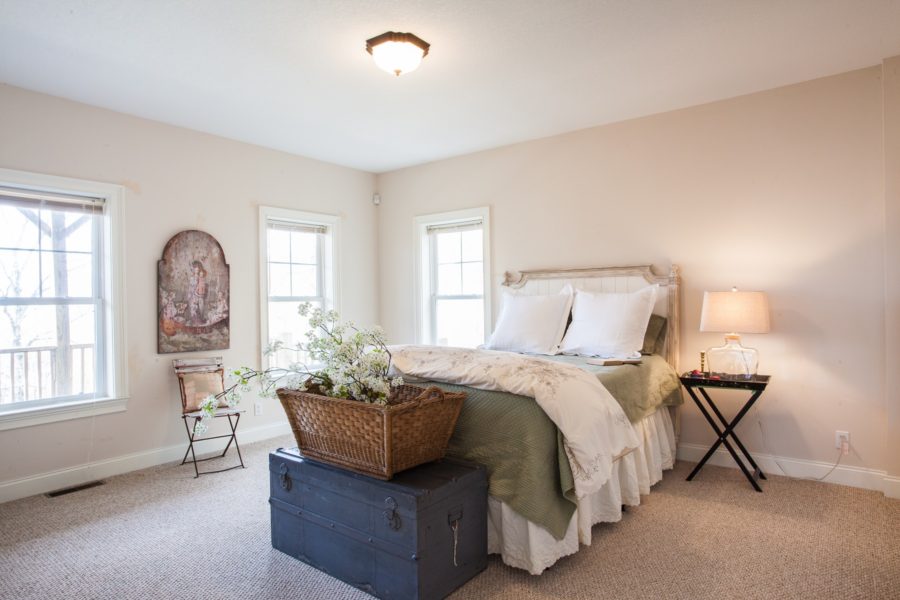 Photo courtesy Greybeard Realty
If you want to see more posts on the mountain house you can find them HERE.
This was the view of Lake Tomahawk when we were there in March.