This is why I say you should go to the thrift store/consignment store/antique store often. It's not like Pottery Barn, who can order the item for you if they are sold out. The things at the thrift store are one of a kind. If you like it, buy it, because otherwise it will be gone when you go back. I noticed the chairs when I first walked into the store.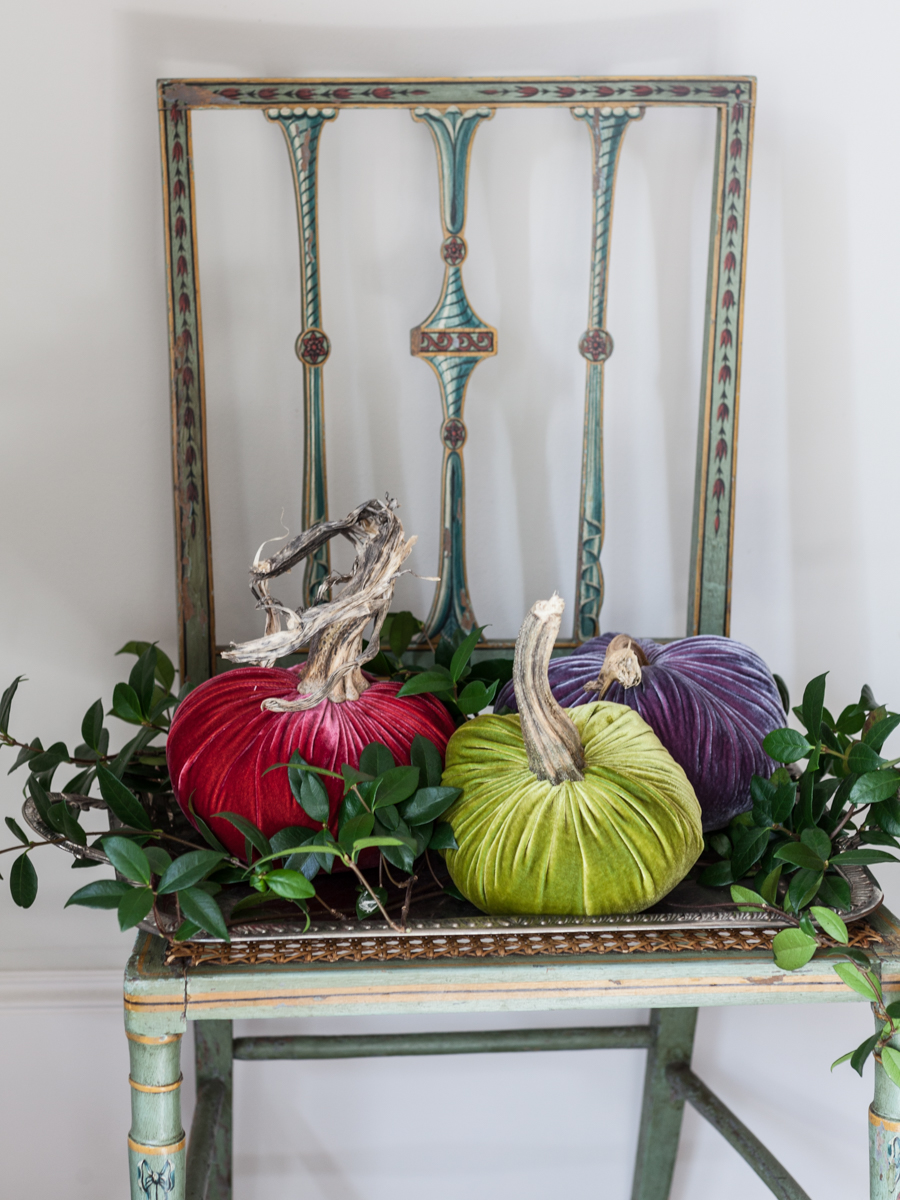 The tag said they were French, but they didn't look French to me. Although I'm not an expert, I do see a lot of antiques in my business.  These chairs were nothing like anything I had ever seen. I did a bit of research to try to figure out what style they are. The style is similar to the American Federal style, based on the shape of the chairs, but the hand painting didn't seem right to me.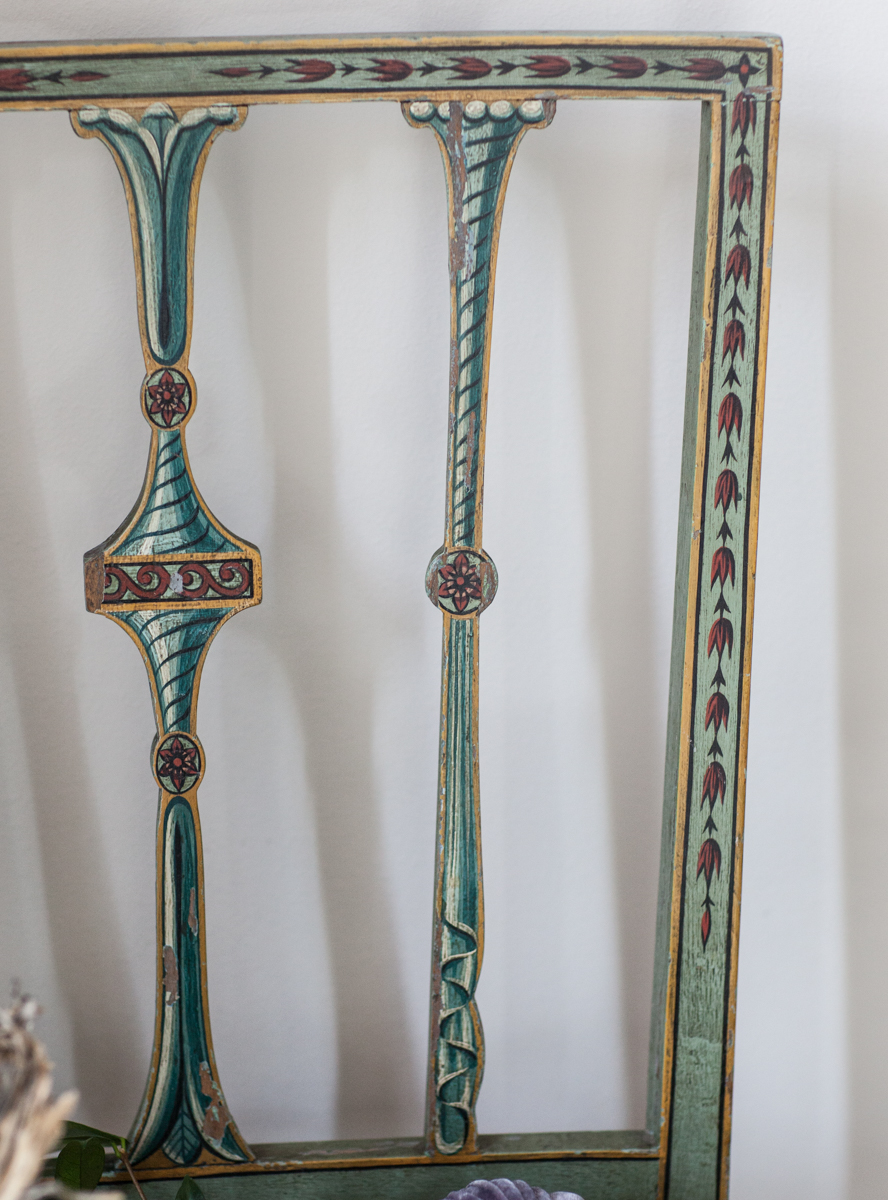 The paint reminds me of my Pompeian style piece, CLICK HERE. Due to the hand painting, the color and the shape of the chairs, I was thinking they were from the Directorie period 1789 -1804, France. I also believe these to be original and not reproduction. Chairs this lightweight and delicate are typically the real deal. The seats are caned. The Directorie period saw a lot of square and rectangular shapes like this chair.
But then I talked to my friend Bart who's quite the antique collector and expert. He says they are either English or American, probably from Boston. He thinks they are earlier than 1820.  This was the Federal period, and they may be Sheraton style.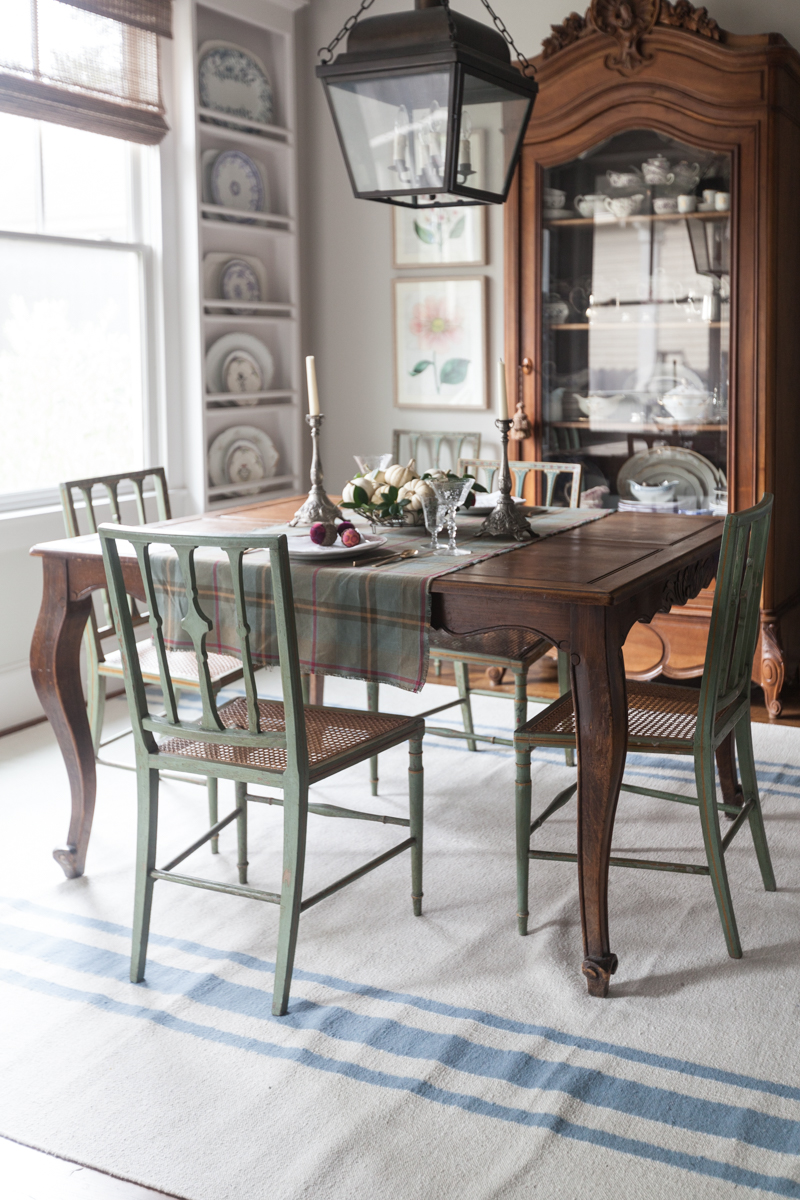 There were 6 in the set. They apologized that they couldn't break up the set, but they didn't need to. How could I be a party to that? I feel that I am taking care of a piece of history for future generations. Someone down the road is going to be so happy that this set is intact.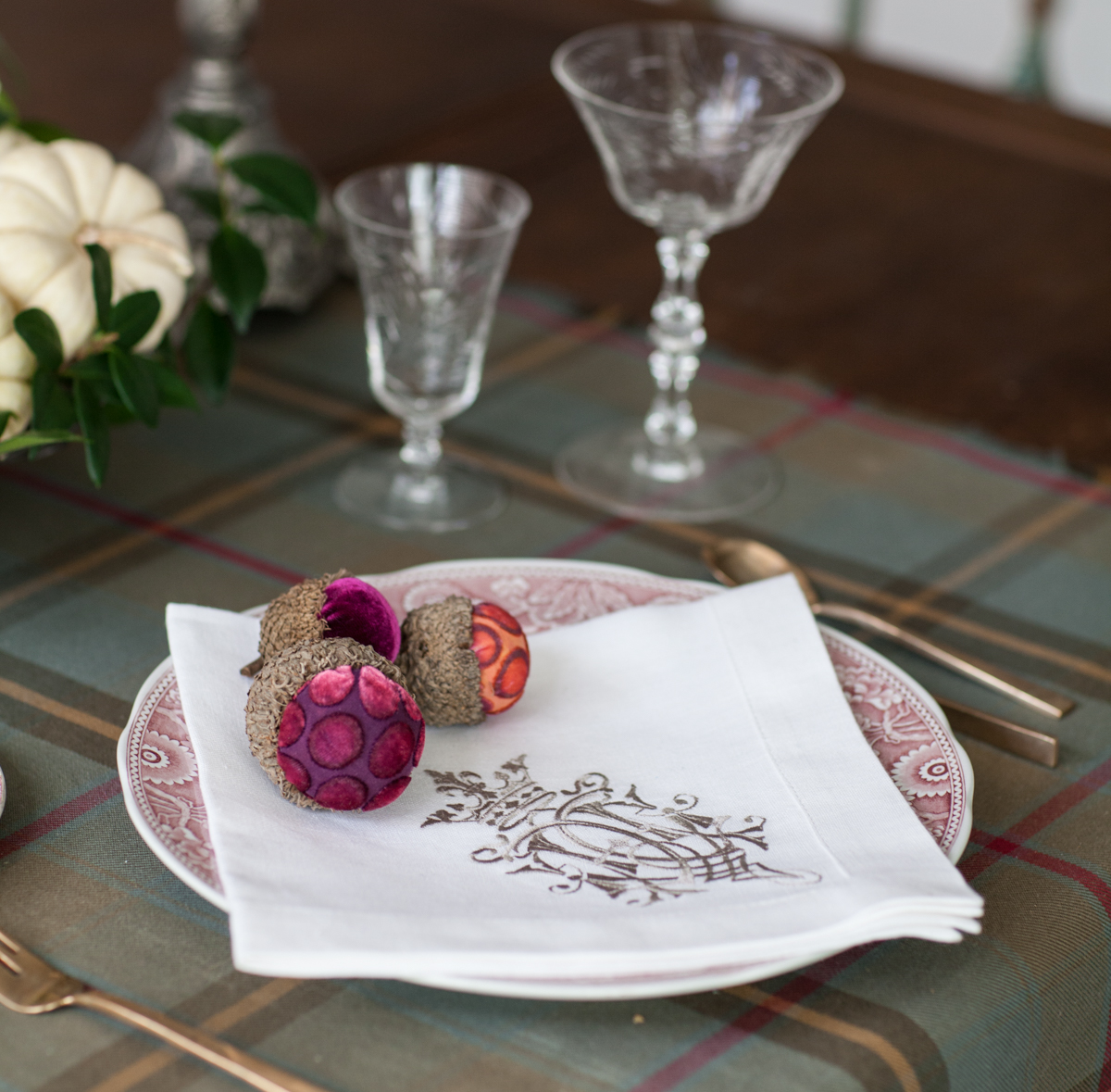 My next job is to fashion some plywood to put on top of the seat to protect the caning. Then I'll make seat cushions to go on top of the plywood base. But there's another mystery still to solve. Is the paint original or not. If it's original, then the chairs are worth about twice as much. I've been examining the places where the paint has chipped off to gather some clues. This green paint color was used extensively on chairs around this time period. You can see a gray paint underneath. Based on my research, I believe this base coat to be a primer. I've read that the primer used at the time looked gray.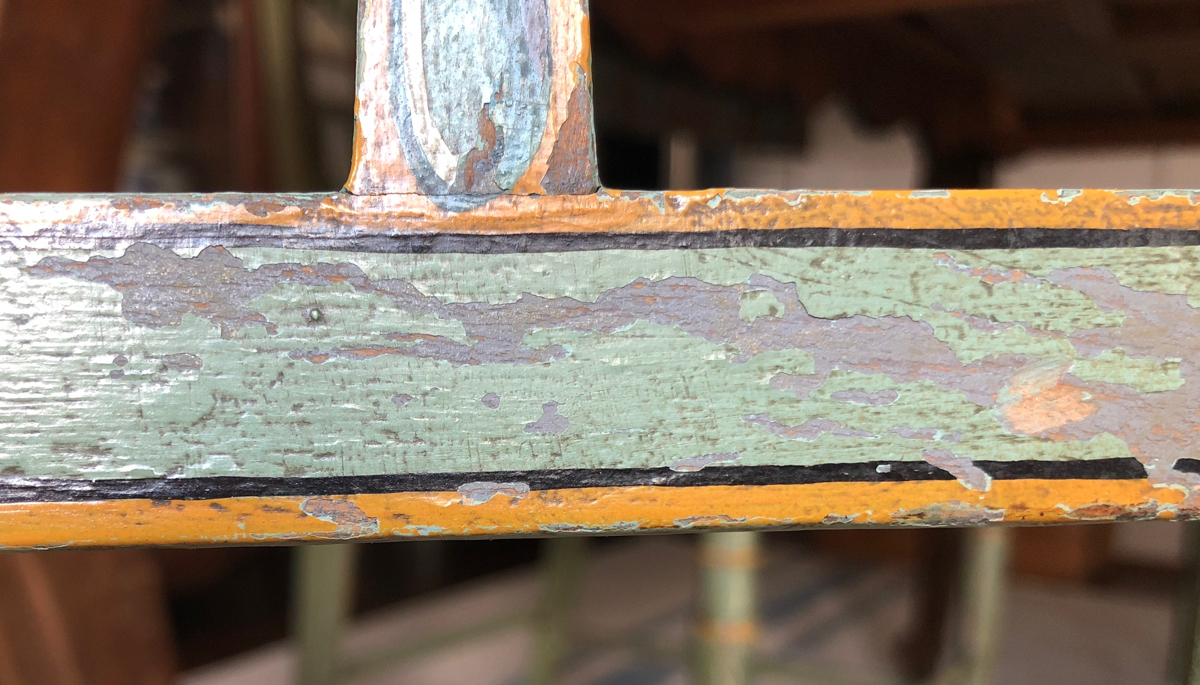 Here's another close up of an area with chipped paint. I suspect the paint is original, but I'm not an expert.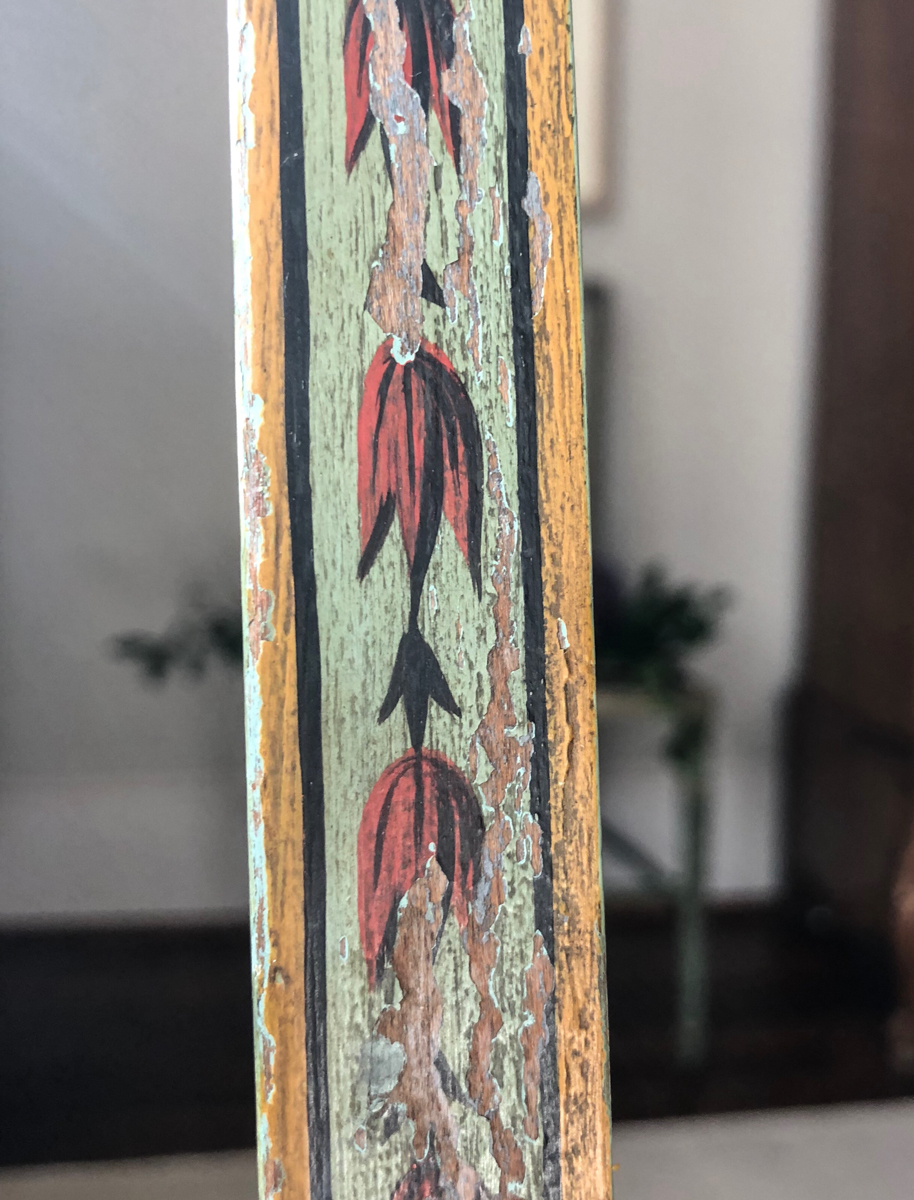 Well the bottom line is that I am enjoying these chairs and from all accounts they were a fabulous price. I hope you find something special that makes you happy this week!