I posted a few months ago about my plans for our little guest apartment and today I am doing the reveal. You can find my plans HERE. We thought about using it as an AirBnB rental, but I was the only one who was for that. Still I wanted to make it a usable guest room, since it really wasn't that comfortable for guests as it was.
(I am an Amazon affiliate. This post contains some affiliate links, and I can earn from qualified purchases at no cost to you.)
The room has been used previously as storage for our online home decor business, so it really wasn't 'guest-ready'. I had a twin bed in the room, and I thought I needed at least a queen bed, two comfy chairs, and a TV that would work with a firestick. The old TV was a plasma TV and you would not believe how heavy it was to move it out of the room, about 100 pounds! I researched a lot of TVs and found one HERE. It's pretty cool, because the firestick is built in, and the remote becomes a pointer, so you just point it at the screen to select what you want. When the pink dot is on what you want, you click the 'select' button on the remote.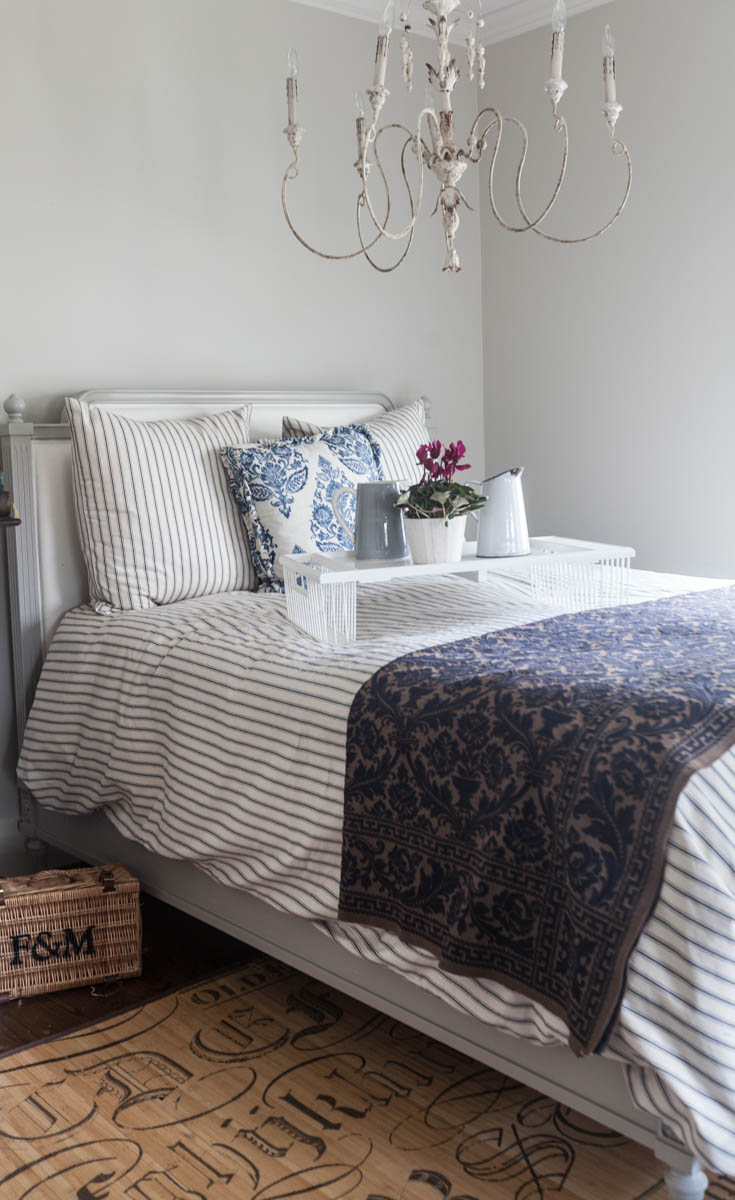 For the new bed, I chose the Colette bed from Pottery Barn, HERE. It's a platform bed, so if you have a memory foam mattress or a hybrid mattress, you don't need a box springs. Still, I used a foundation for the mattress, because I wanted the added height. This is a bed, not just a headboard, so it has side rails and very low profile footboard.
I used bedding I already had, so that saved some money. The bedding is available HERE. I love the simplicity of the blue stripe.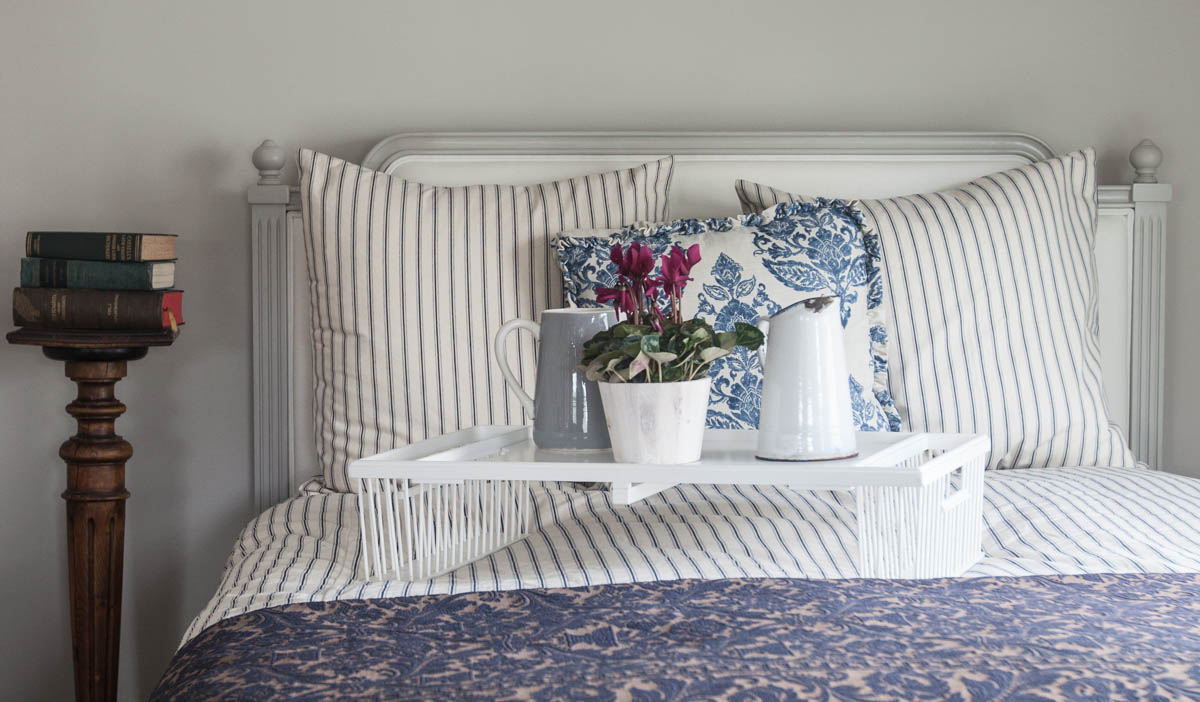 The dark blue tapestry at the foot of the bed is actually an antique piece from France. I found it on eBay. It's a beautiful pattern and it works so well with the striped duvet cover.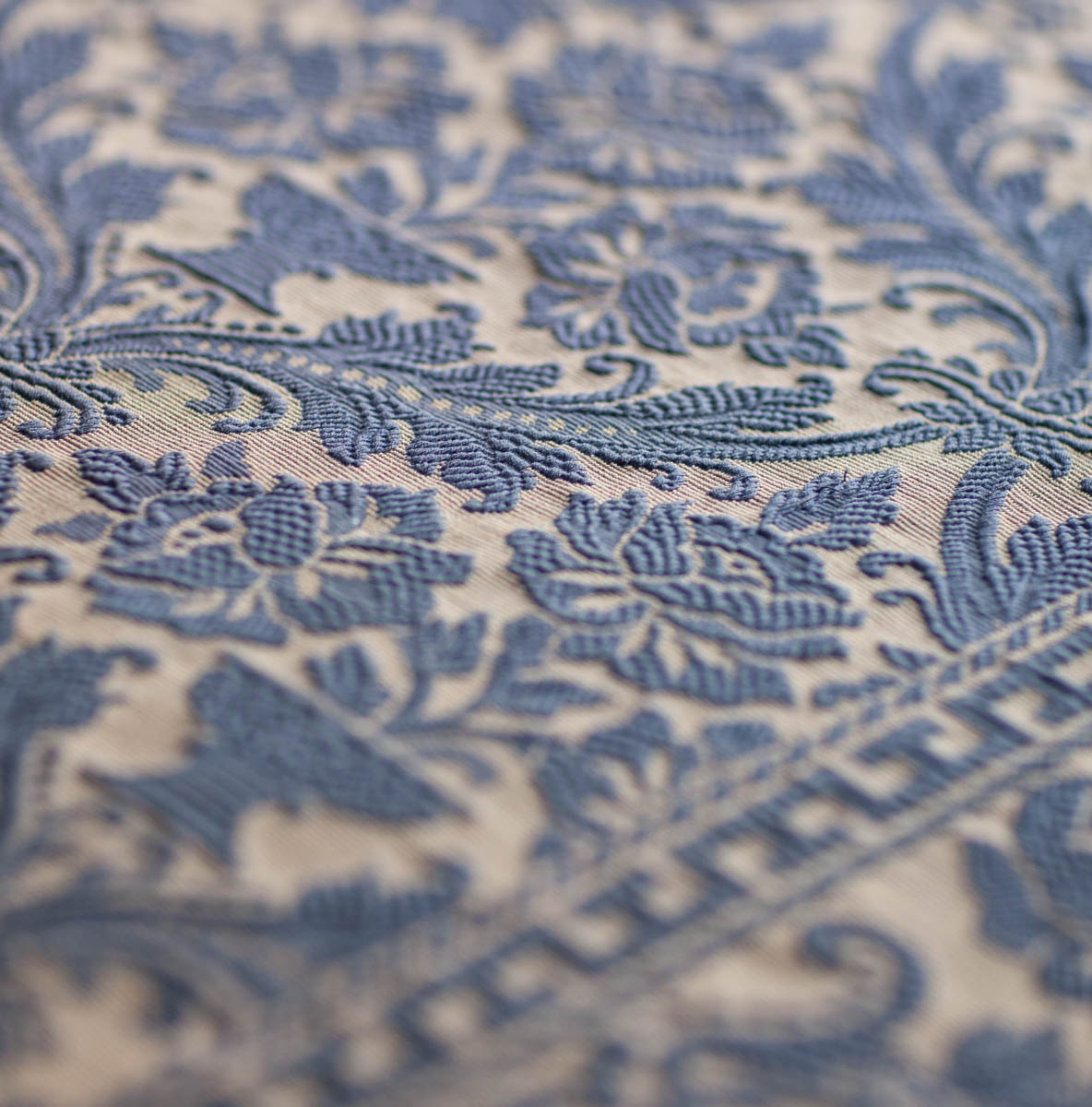 I was sick several weeks ago and I stayed over here by myself so I wouldn't disturb my family all night. Although I didn't feel well, it was so cozy staying in the guest apartment. I watched a few Britbox shows, which I thoroughly enjoyed even though I didn't feel well. Britbox is a subscription service to a ton of great British shows, CLICK HERE.
I also added some comfy chairs. I wanted something comfy that would hold up to wear. Yes, I could have chosen prettier chairs, but I wanted something that would be sturdy and very casual.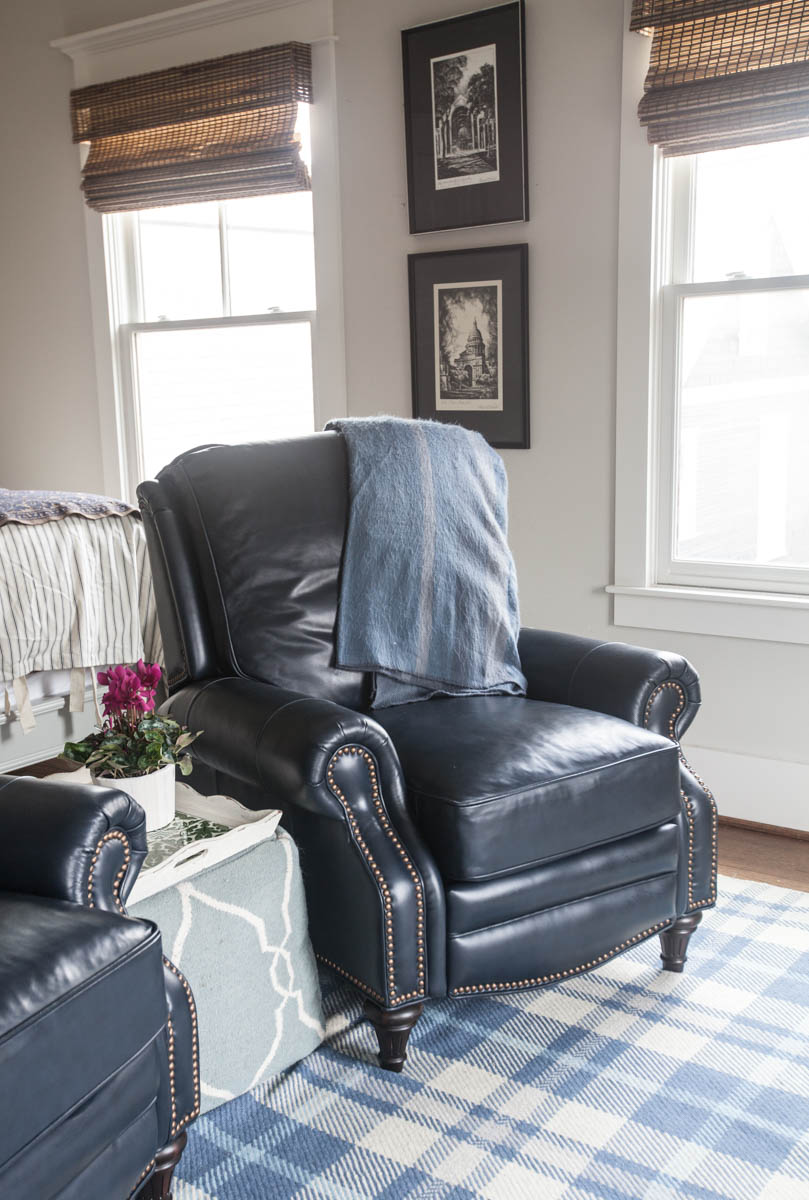 These are recliners! They are made of a beautiful navy leather; I'm very pleased with them.  I love that they aren't oversized. They are smaller, so they fit through the door, and don't overpower the space. They are so comfortable for watching your favorite shows! The chairs can be found HERE. This is where I binge-watched As Time Goes By, HERE.
As you can see, I went with a more masculine approach in the room with Frank Dill architectural prints on the wall. One print is of the Texas State Capitol building, and the other is of the chapel on the campus of the University of Houston. I also chose a plaid wool rug, that sadly is no longer available. I bought the last two. It wasn't big enough for my room, so I bought two, one for the kitchen and one for the sitting area. Lastly, I'm showing the kitchenette. It hasn't really changed, except for the plaid rug.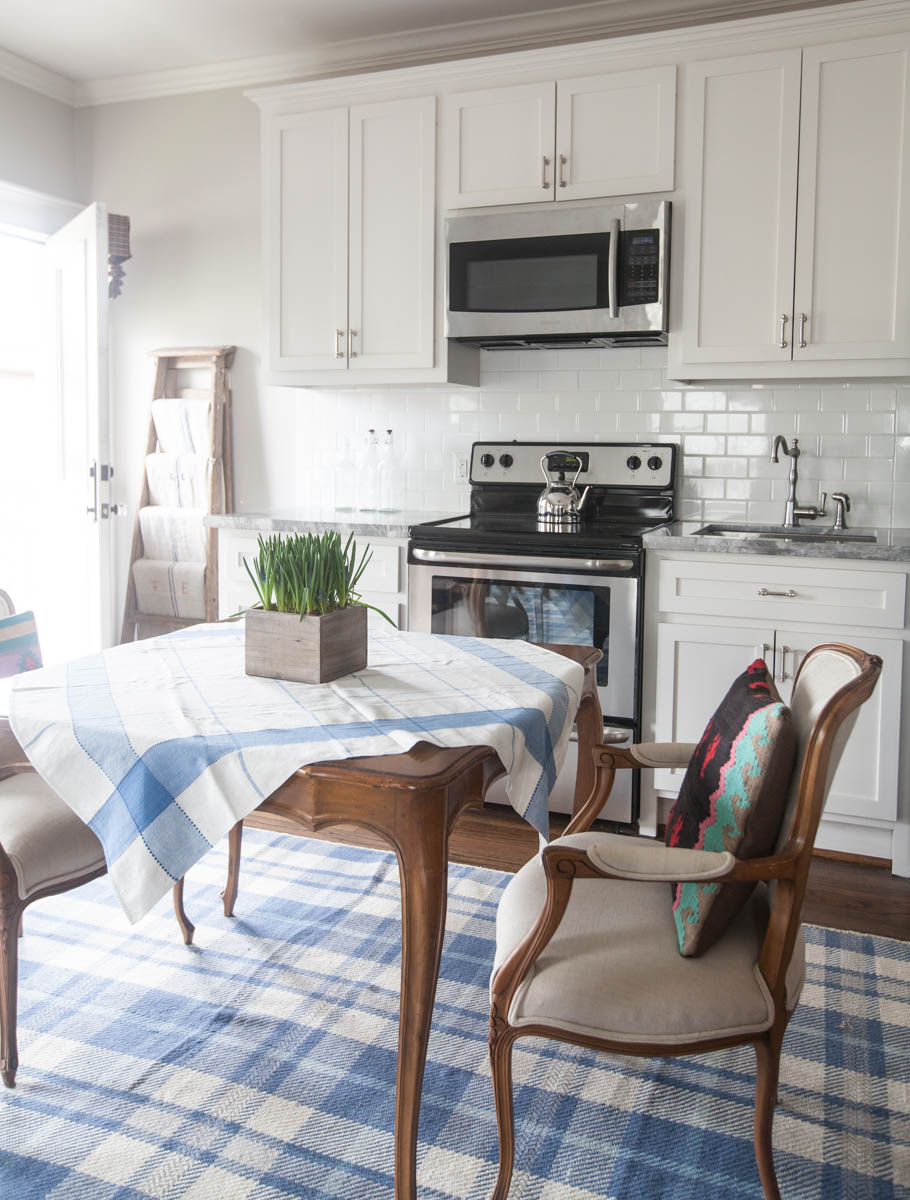 The sideboard is the same one that has been in here for several years.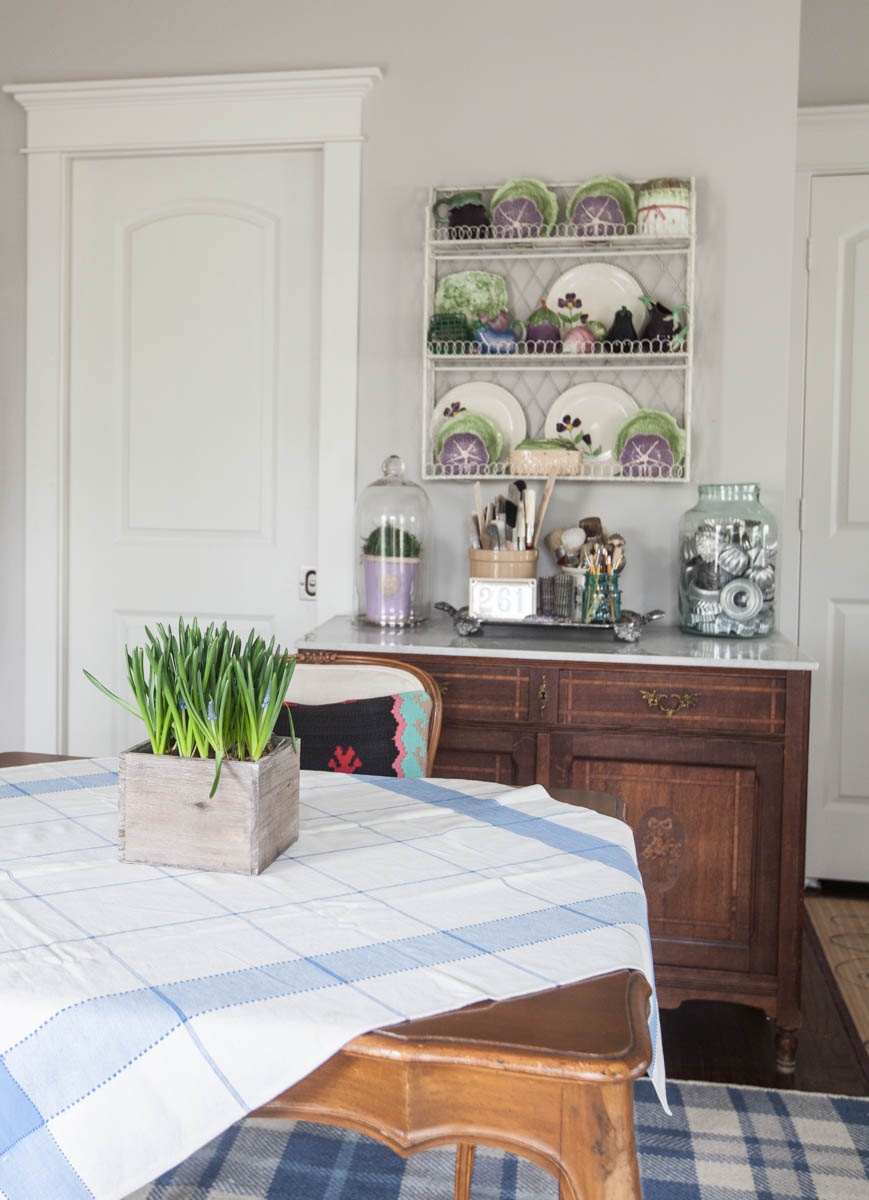 If you have a Trader Joes near you, be sure to check out the charming plants they have now!  I found some beautiful cyclamen, crocus, and  these beautiful grape hyacinth bulbs. They are about the same price you would pay for cut flowers, but these will last a good bit longer.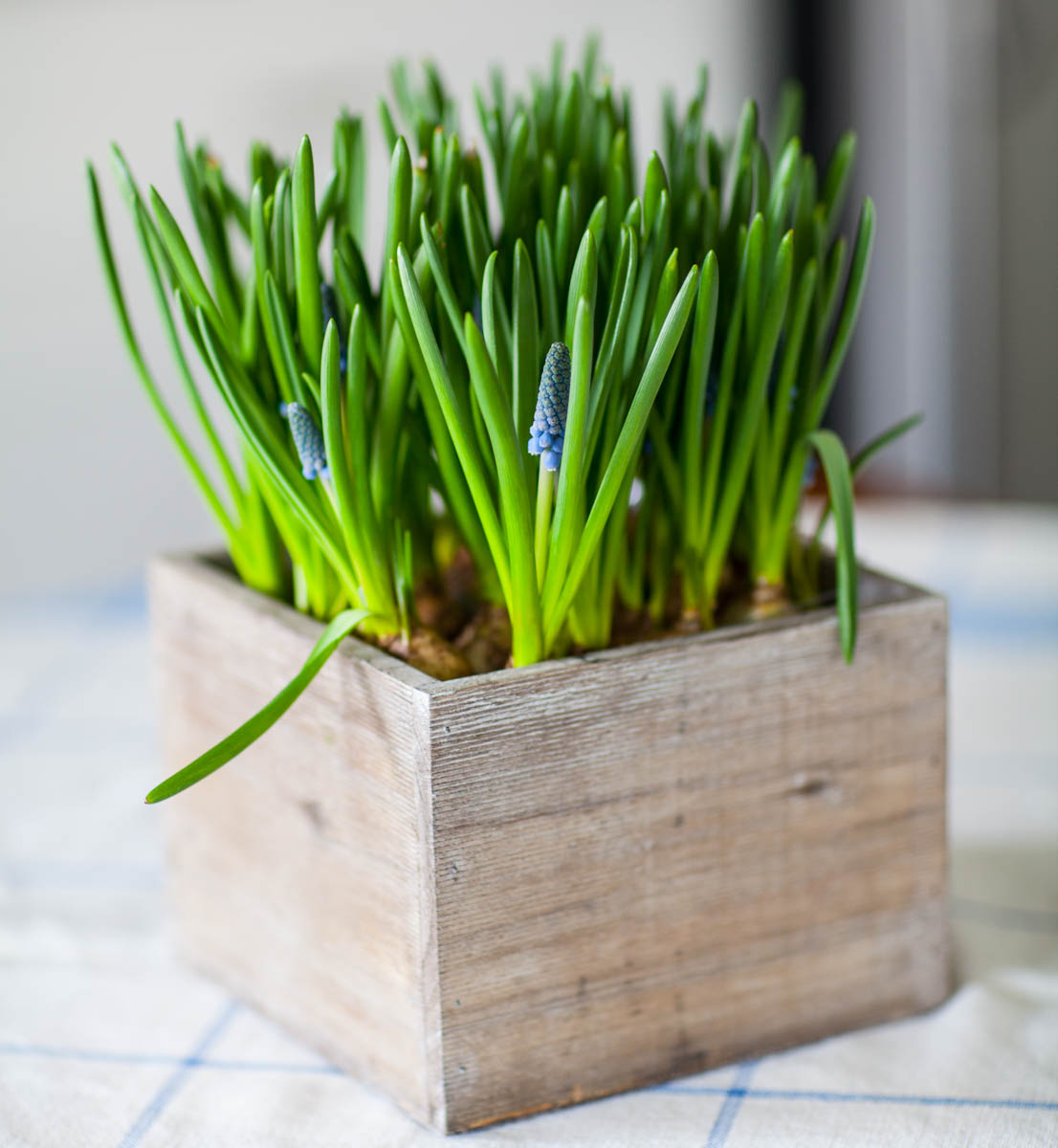 I really enjoyed my few days in the apartment and I am thinking of doing a staycation there soon. The only problem is there isn't any room service.