I haven't posted photos of my guest quarters for a long time because I've been using the space for my podcast studio and for a warehouse while we had our online shop that we closed Sept 15. It was full of boxes, and packing peanuts, packing tape, and some products that we kept in stock. It was a big mess. I don't have photos of the room at its worst, but you can imagine, it was bad. Then my daughter wanted to have her bible study group over, and I had to clear a lot of the mess out of the room. There was still stuff in there, but much less.
Now that we've closed the shop, I couldn't wait to get the room fully cleaned up and ready for a new chapter. What does that chapter include? I don't know exactly. We've discussed renting it through airbnb, but haven't come to an agreement on that yet. But I decided to redo it with the thought that it might be rented out. So, I've gone with a mostly practical look for the room. Either way, I've tried to keep an eye on the style of the room, while keeping it practical also.
I've ordered some things but wanted to show you what it looks like now, and what I'm planning to do.
Not only did I clear out all of the packing supplies, but I cleared out a work table, extra chairs, and some odds and ends. I'm sad to say, it had become the dreaded 'junk room'.
So these pictures were taken after I cleared out the extra junk, but before I added the new furniture.
contains paid links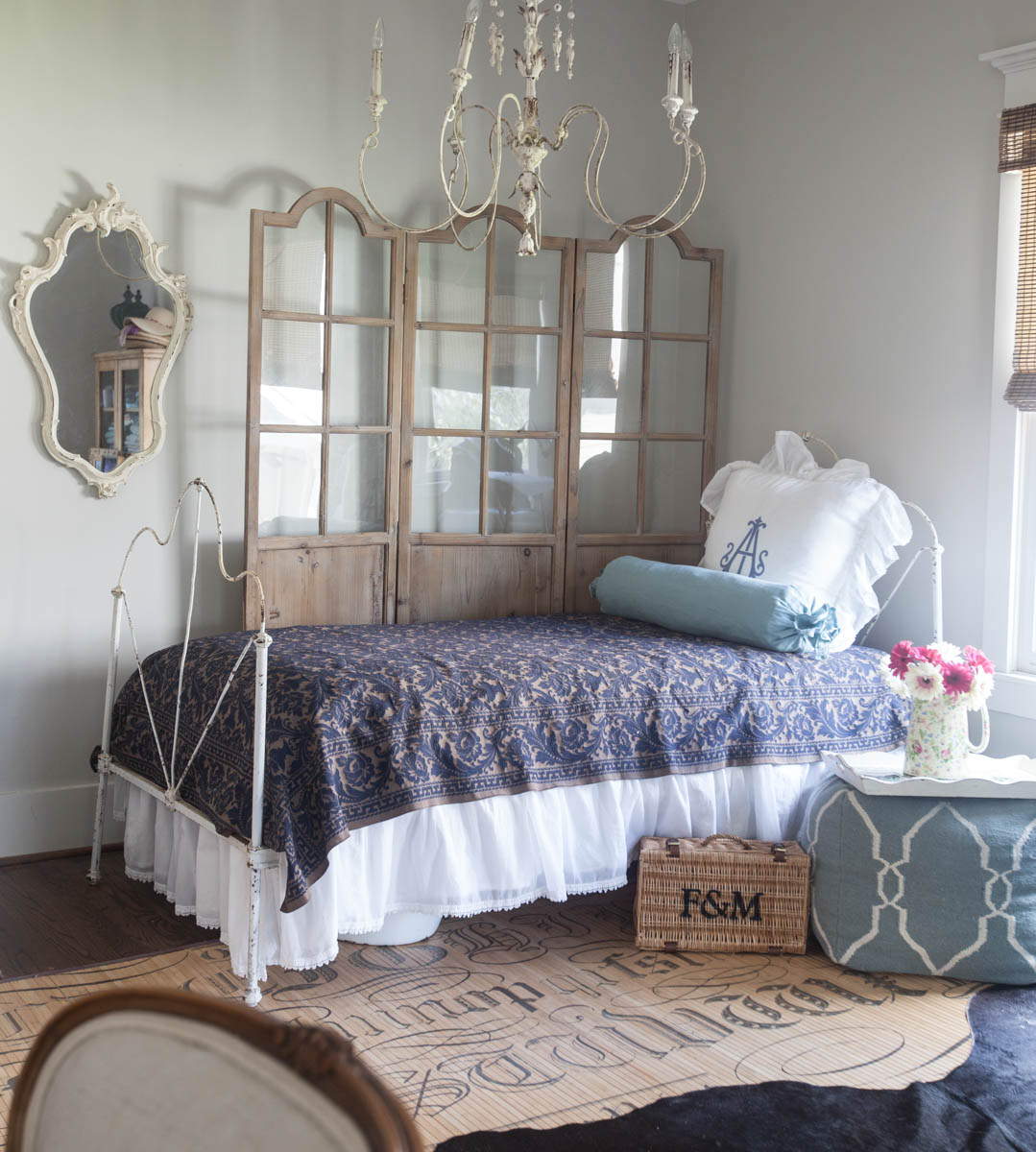 New Queen Bed
I plan to replace the twin bed with a queen bed. I found a gorgeous upholstered bed for a very reasonable price. Click on the link to see the bed I chose!  It's out of stock, but will be available in Nov 2019. It's got excellent reviews. I thought the guest room really needed sleeping for two.
I think it's a dreamy bed and will be very comfortable.
New Leather Chairs
Then I have the issue of comfy seating. Currently I have a French chair in the room, but I want the room to be ready for 2 guests, and I want comfortable chairs that will hold up to a lot of wear.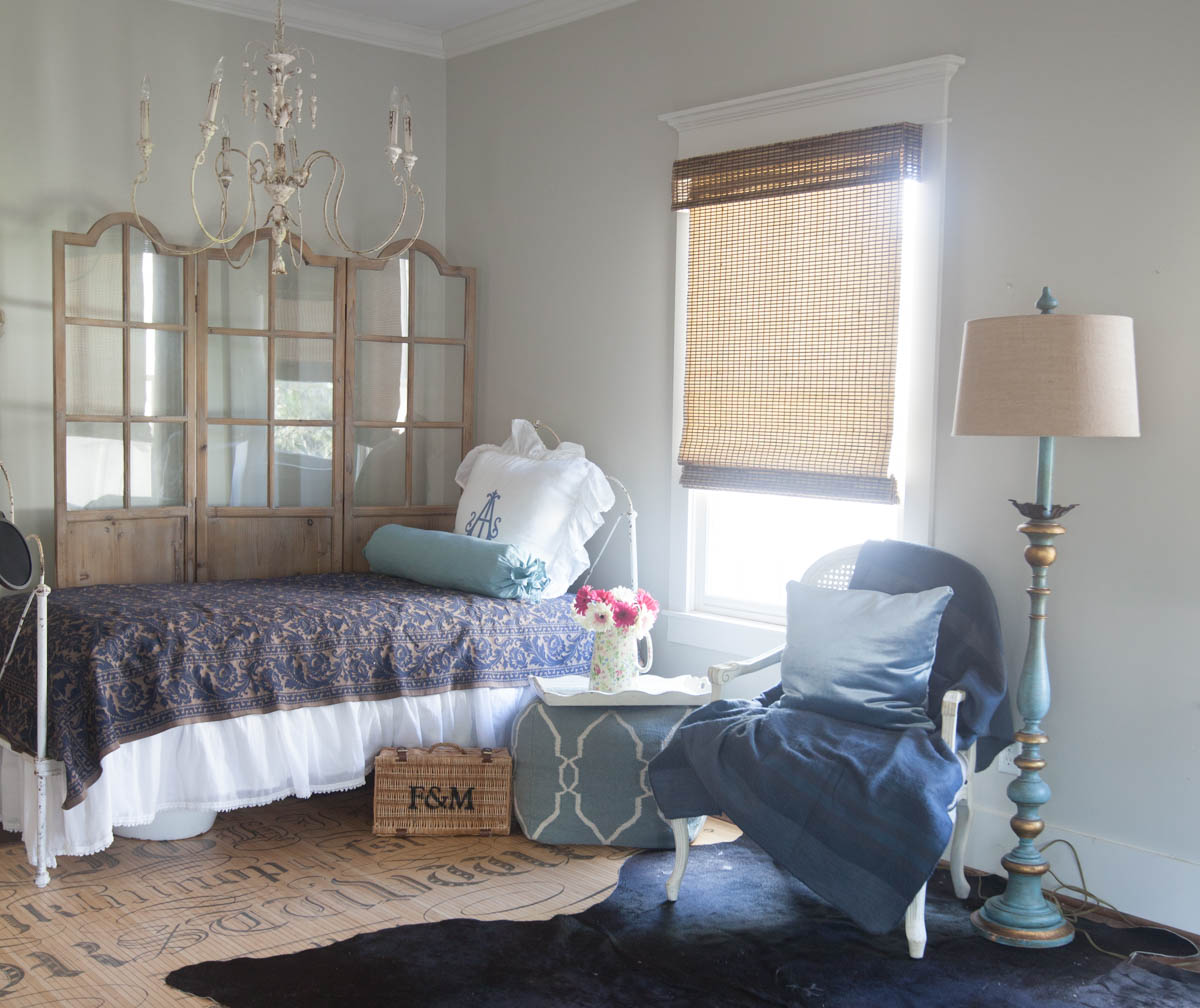 So I've ordered two leather club chairs in Navy. They got great reviews, should be comfy and hold up to wear and tear.
CLICK HERE.  The chairs recline, but they don't look like recliners. I know I normally buy French chairs, but I wanted something very practical for this room.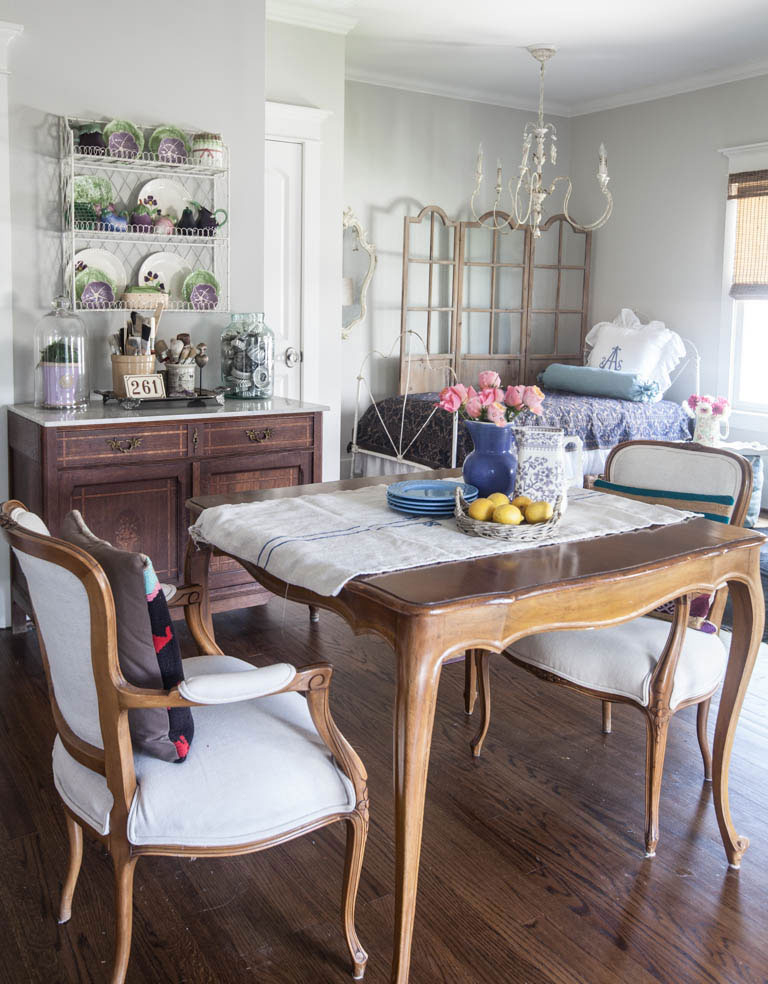 New Smart TV
We also needed an upgrade for the TV. I found a TV that so far is fantastic. It's a smart TV with Alexa built in, so there's no need to add a firestick to access Hulu, Amazon Prime or Netflix. This one was VERY  reasonable. It's an LG, 43 inch and it's less than 20 pounds. The old plasma TV we had in here was over 100 pounds!  The remote has a pointer feature, so you can just point it to your selection and hit enter, much like a mouse. It's so much easier than having to scroll through the alphabet. CLICK HERE. As soon as the chairs arrive, we'll be testing them out for a movie night.
Kitchen Chairs
Now onto the kitchen area. I'd like to do new chairs in here also. I want something very practical, so I'm not sure I'll keep these chairs in the room. But I figure, why not try making some slipcovers first?  The chairs go so well with the table. I'll share the results with you and you can help me decide. If I buy new chairs, I'm considering kubu chairs. CLICK HERE.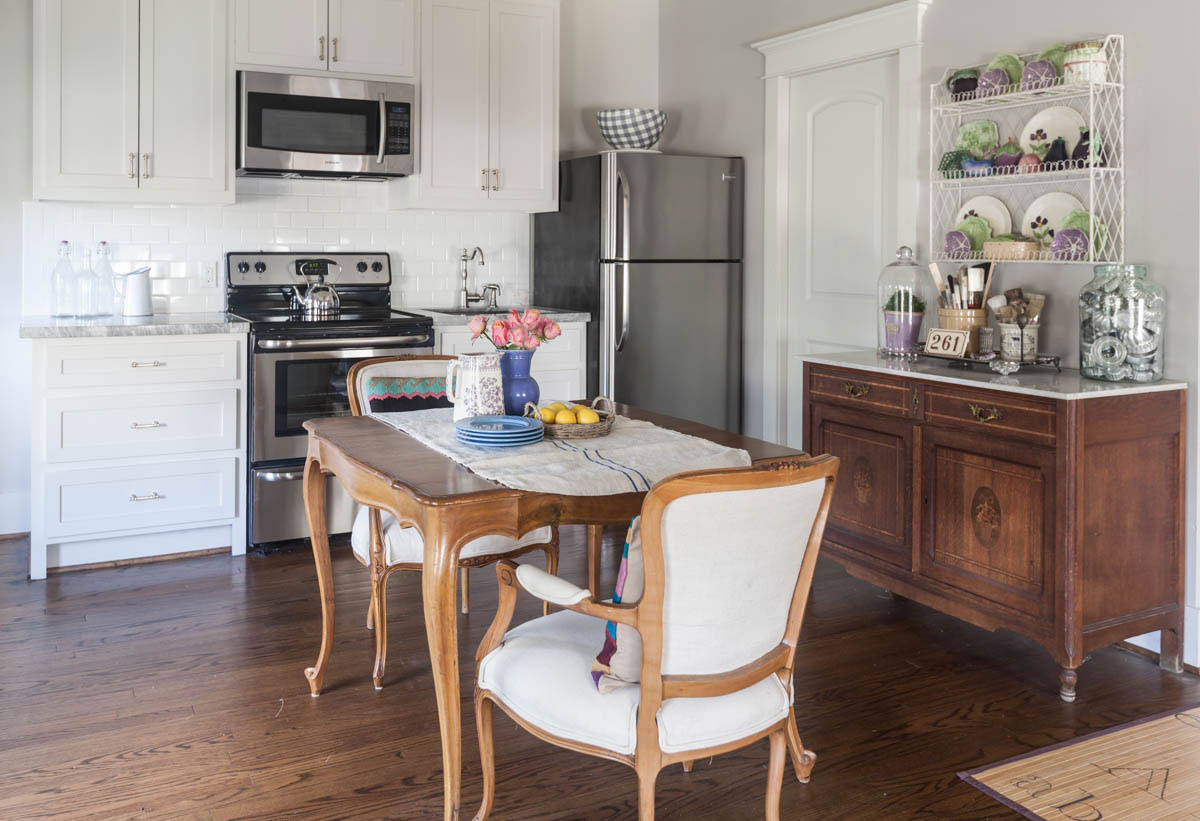 I'm also planning to add a new rug in here. I'm looking at several, so I don't know what I'll get yet. This rug is very similar to what I am looking at. CLICK HERE.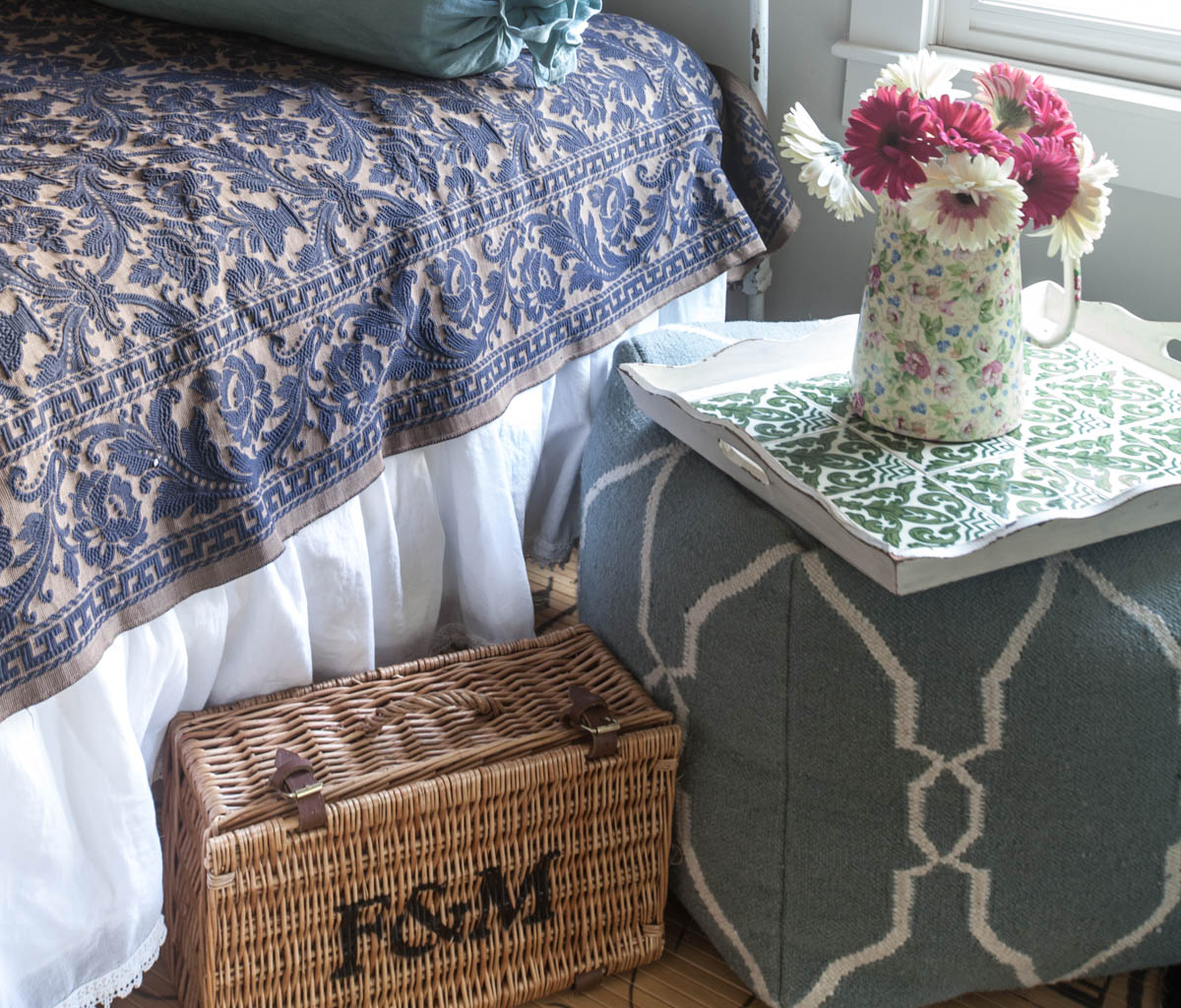 This is our only guest room, and I found it to be lacking when my mom was last visiting, so I hope the room will be more welcoming with these changes. Everything should be here in about a month, so I'll be updating you soon. If you have any suggestions for the room, I would love to hear them.