I thought I would share a bit about my daughter Elise today and the plans for her room. She is a big girl now and lives in a group home! She's been living there for about a year and does so much for herself. We're really proud of her. It's amazing how they can get her to do everything herself, but here… not so much. Here is a picture of the two of us. I am very protective of her, so I don't often post photos of her, but here we are.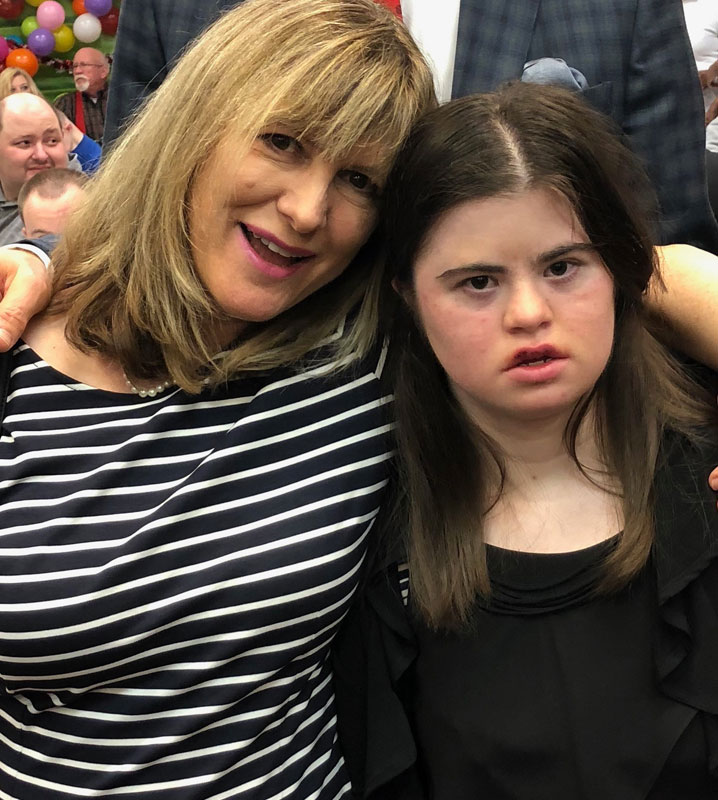 We were at a Christmas party, and as you can tell someone did not want to be there. (We left pretty much as soon as we took the photos, since I could tell she really was ready to go home.) She prefers to be at home, and she doesn't like being told what to do. (Sounds a lot like me.)
Here's her room at our house. She comes home on weekends and we love seeing her. She's nonverbal, so it's hard to get any input from her when decorating her room. The interesting thing is that she loves pretty things. She is always straightening up the house. When she sees that something has been moved she puts it back in its original spot. Everything needs to be lined up and in order.
After I wash laundry, I put it on the countertop in the laundry room, and sometimes don't fold it right away. If she's home, and finds that laundry there, she tosses it in the dirty clothes bin. I've learned my lesson.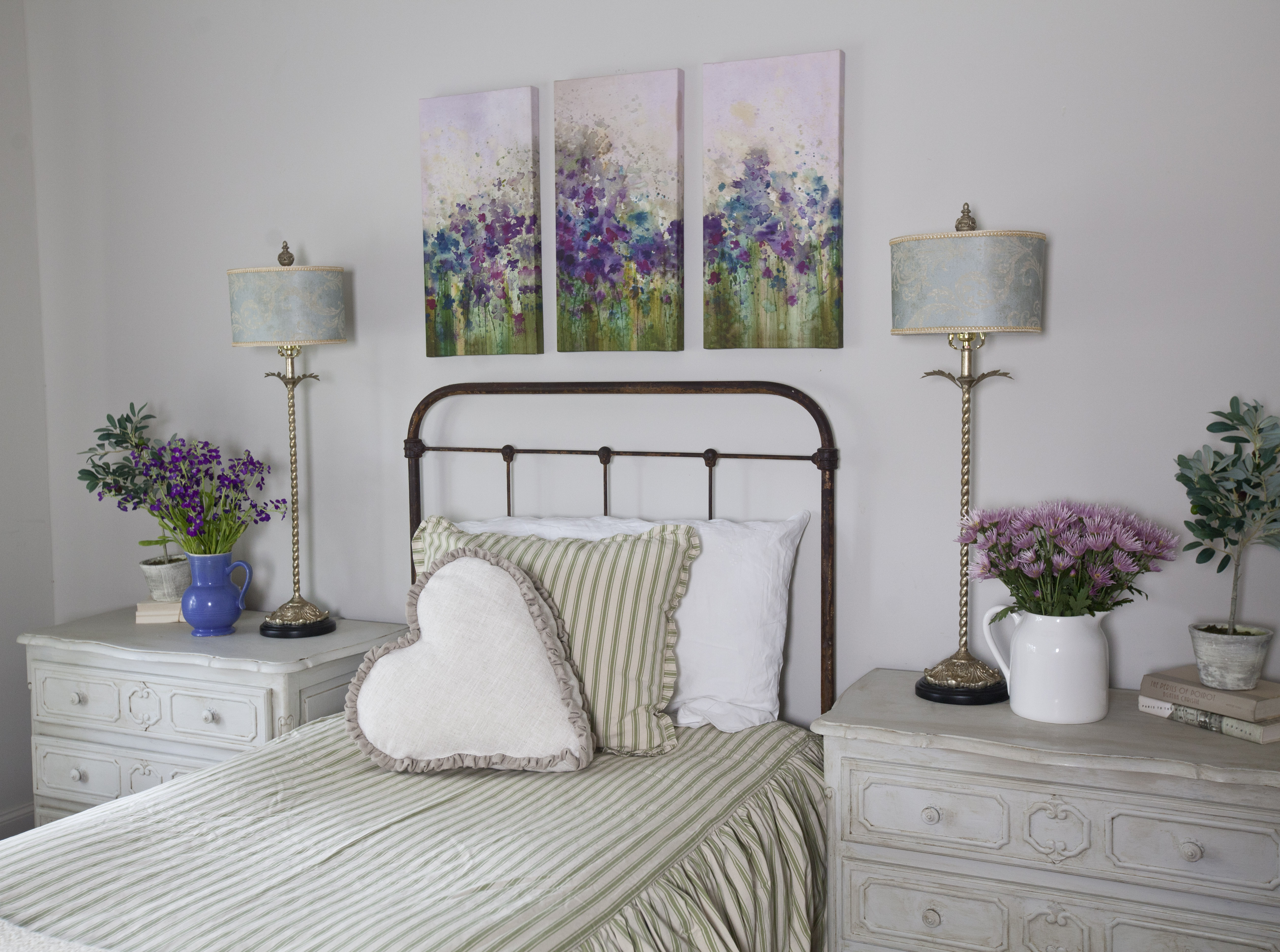 I love how she has a view onto the street if she sits at her desk. She doesn't, but if she did, she would have a nice view.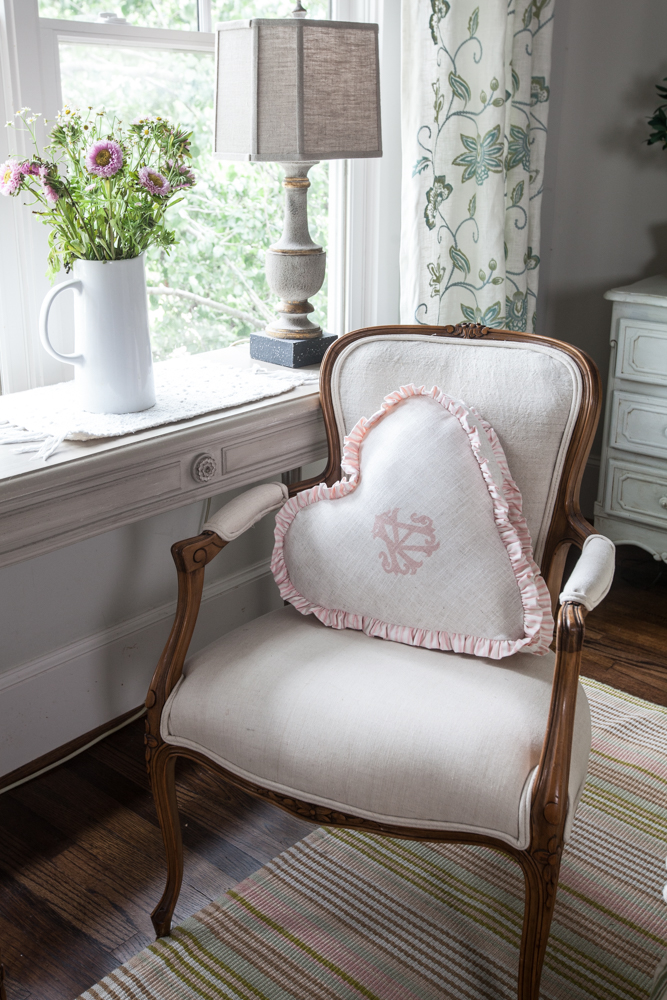 So this is her home away from home, where she lives during the week. It needs some help. She has a super sweet roommate that we really adore. I miss her old roommate too. She was also really a caring person. All of the residents are warm, sweet and caring. It's all women too. I felt the room looked kinda sad with this furniture.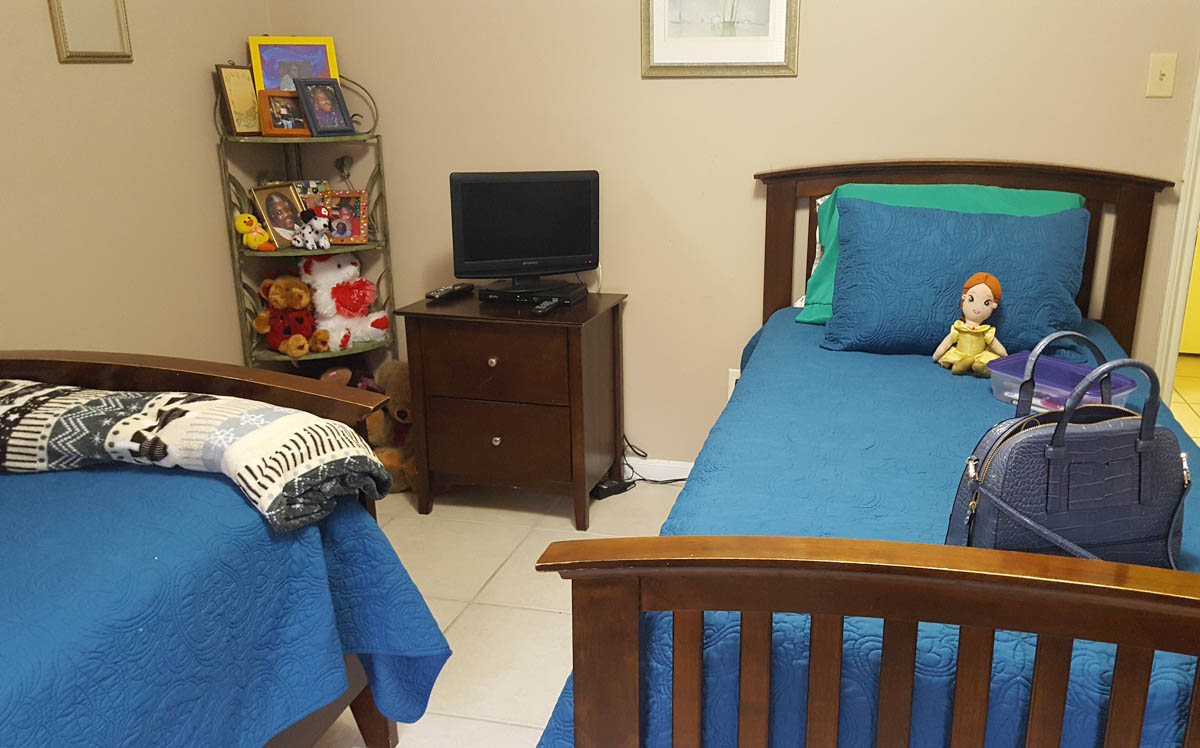 The chest of drawers has seen better days. My challenge is to make this room as cozy and inviting as I can on a budget of course. So here's what I'm thinking for the room.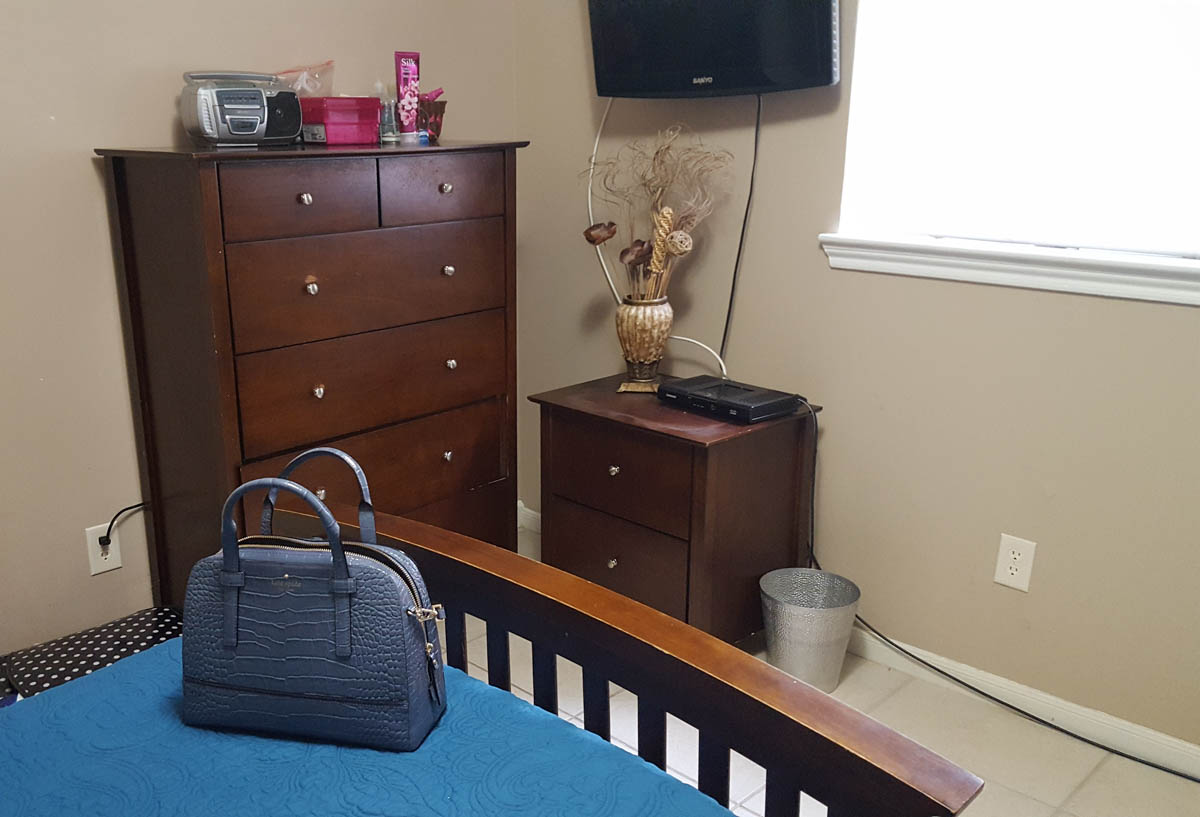 Elise needed a new mattress and foundation so I had to include that in my budget as well. I thought I would replace the beds with these headboards from the farm.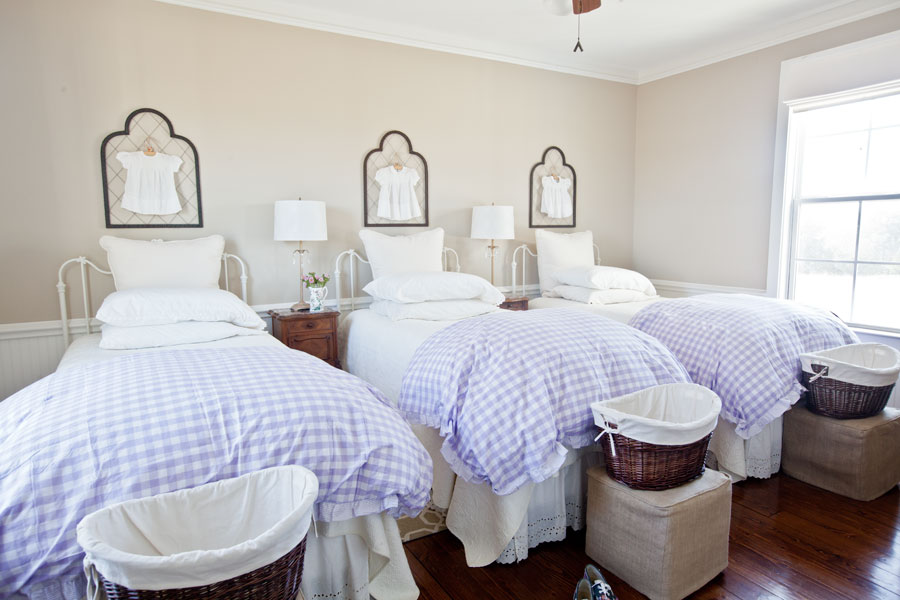 These headboards were replaced last year with some Frenchy ones CLICK HERE, so why not? These iron headboards were just sitting in my garage begging to be used.
I decided on the Hemnes chest HERE and 2 night stands HERE from IKEA for the room.
I do love antiques, but I knew that this piece was not going to be babied, and it needed to be sturdy,  easy to open, and inexpensive to fit my personal budget.
I found these great bed skirts for the beds at an excellent price!! CLICK HERE.  They are voile cotton. I knew we would need bed skirts because the bed will be on a hollywood metal frame since there is no footboard. I don't want to see the metal frame under the bed.
The floor is tile, and it's a hard surface that doesn't look too friendly to me. I think it needs a rug. I am considering something cheery and bright. I know the roommate has some pink bedding so I'll have to factor that in. I might go with something bright and splashy or something neutral, so the bedding can easily be changed.
Speaking of bedding, we could use this bedding possibly. I have it in the closet. If I go with a bold pattern, then I will use a simple rug. I'm keeping my options open right now.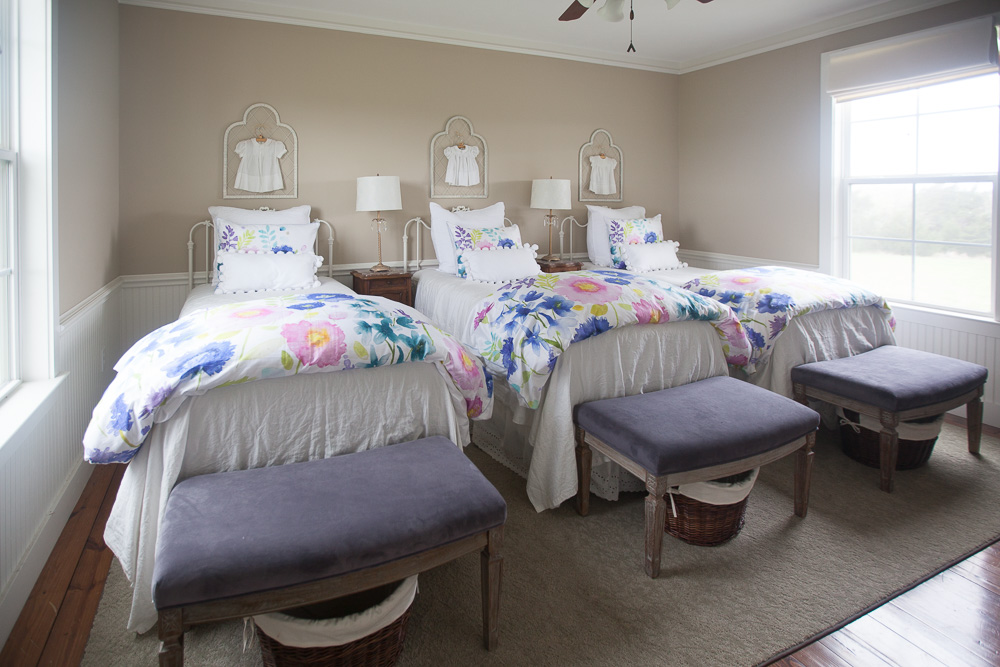 I also want to change out the artwork and add a chair or a pouf to sit on.  I usually have a few extra chairs sitting around.  I'll go through my stash of things first, then buy what I don't have. I'm working on this slowly. I'll keep you posted when I have more to report.