At the farm we have a bedroom for our girls and one guest.  This is what it looked like last time I showed it on the blog. It's not exactly a French bedroom, but it has some Frenchy accents.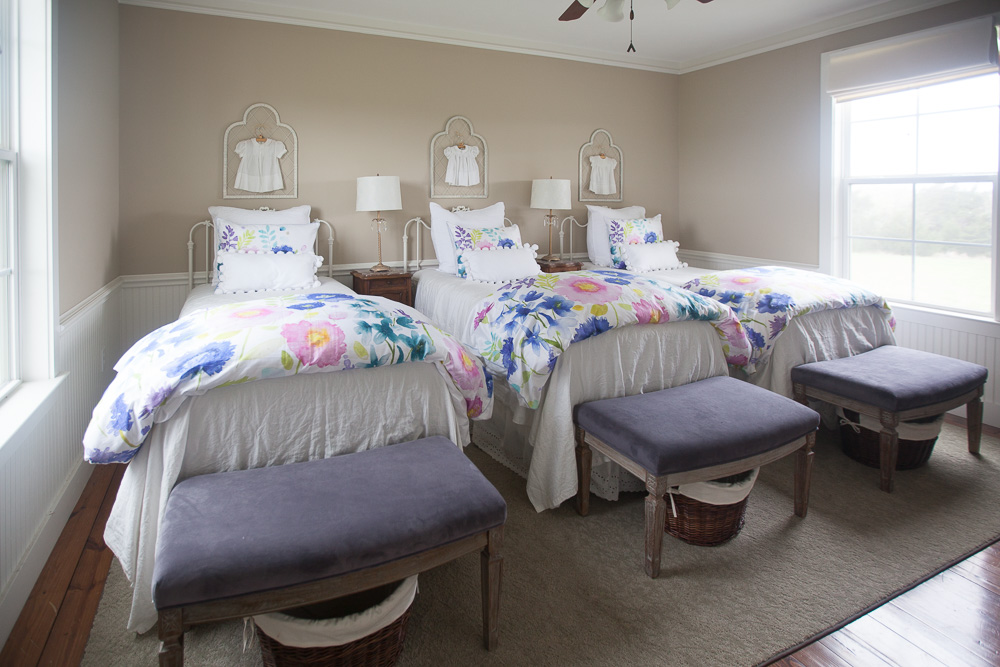 I've been enjoying the look, but I was ready for a change, and I found some things at Restoration Hardware on sale. Well… it was too much for me to resist. Before I show you what I've found and what we are doing in here, I want to show you where the room has been.
I am showing you the different looks this room has had over 9 years. When we had the house built, we didn't have the funds to make it fancy, we were just thrilled to have 3 comfy beds. The point I want to make upfront is that it's okay to go slowly and let your room evolve over time. Embrace each small improvement, even the bad decisions. You will learn from the mistakes. Try new things and have fun. I've had many missteps in my decorating journey, but I've learned so much along the way. If you sometimes feel frustrated by seeing only perfect rooms on Instagram, this post is for you. Get ready for some real, raw photos!
This is how the room looked in the beginning, long before my blog. The dresses are cute, but seem to be floating and lost on the large wall. There are no headboards or lamps.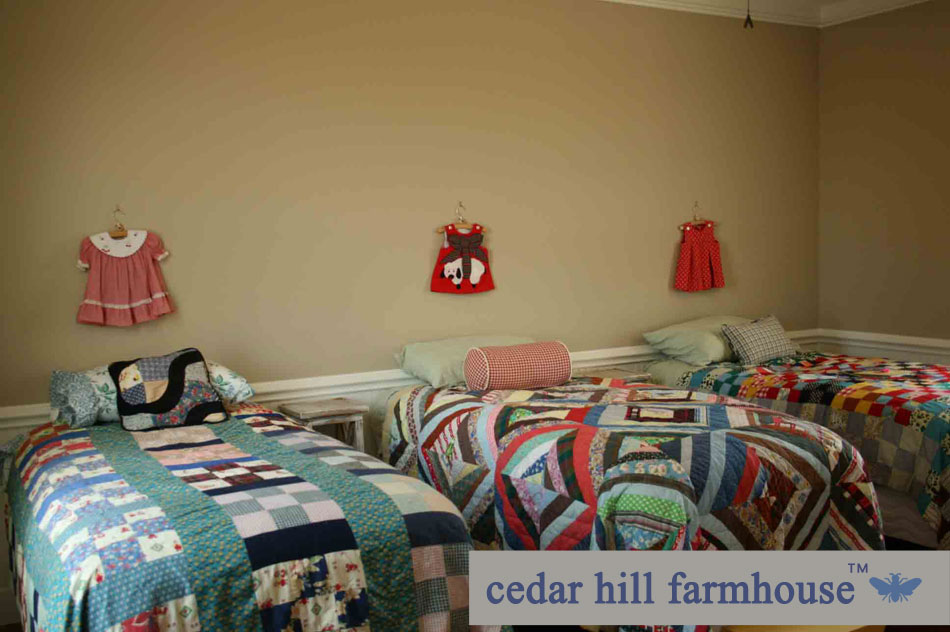 Then I found some cream matelasse quilts for the beds and it really helped pull the beds together visually. I also added the ottomans and made burlap slipcovers for them. The ottomans were very practical, since the room has no chairs.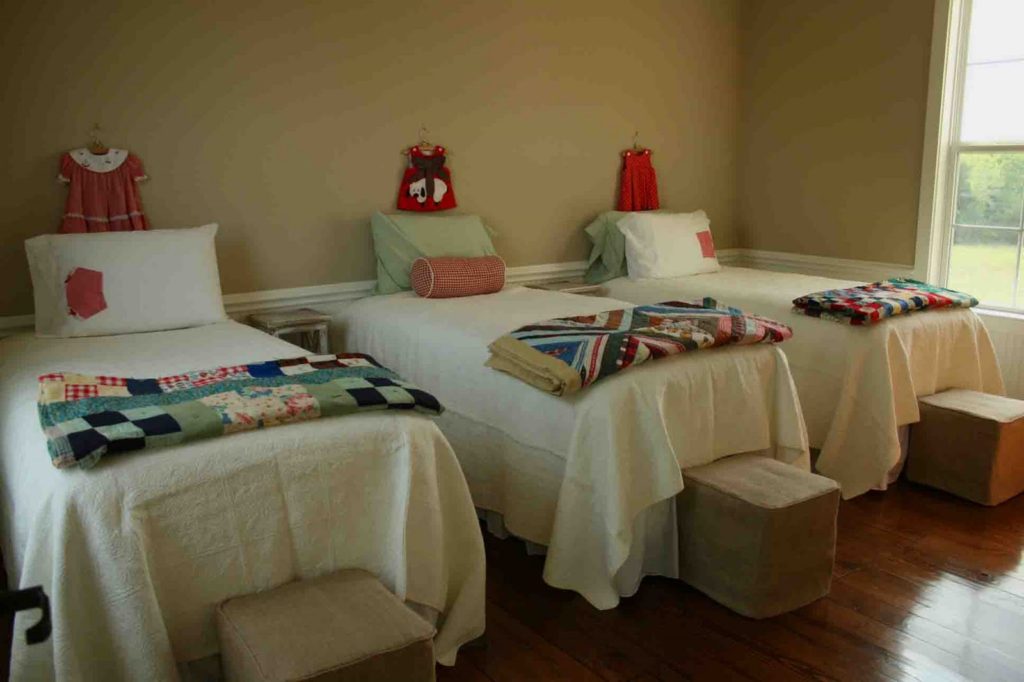 Finally we had headboards for the room. And I switched out the dresses for white ones. I also added the arched frame that fixed the floating dress syndrome. The other big change was adding the French nightstands, and the baskets at the foot of each bed. I also made the red grainsack striped euro pillows.
A reader said the room looked like the hospital scene in Downton Abbey. Oops, that was a mistake.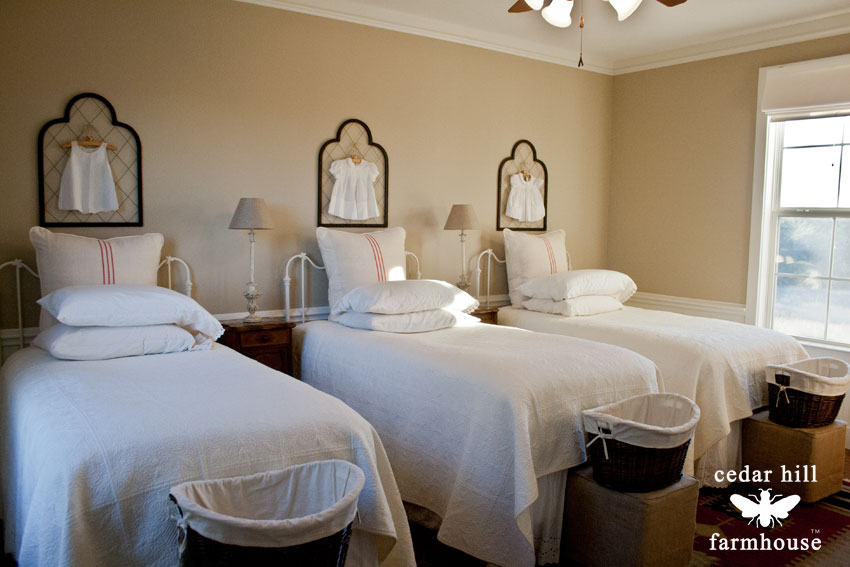 Speaking of mistakes, today's podcast episode is about common decorating mistakes and how to avoid them.
I had to agree with the reader. The room did look a bit like a hospital ward. I decided it needed a little color. I added duvets wrapped in colorful throws.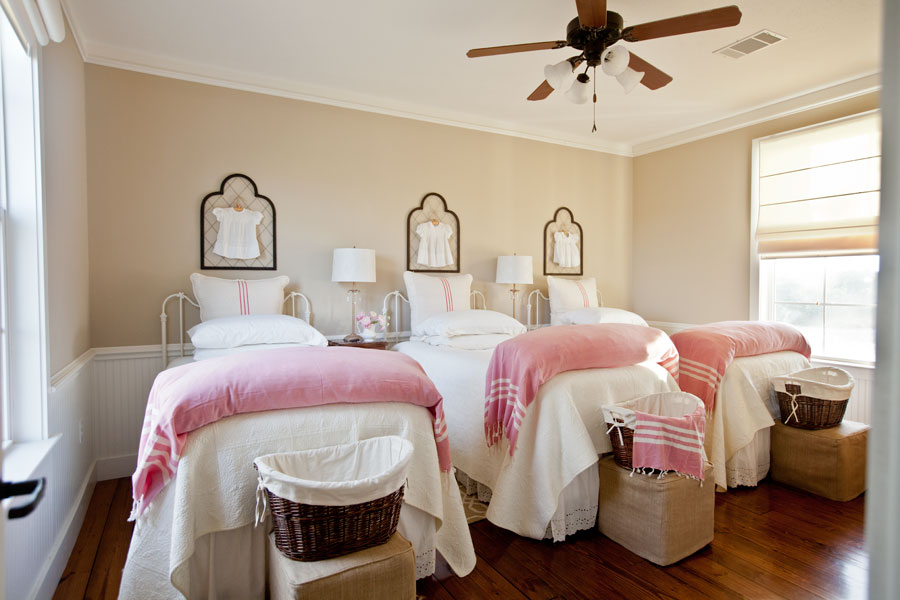 I also tried these red striped duvet covers, but in the end, I didn't like them.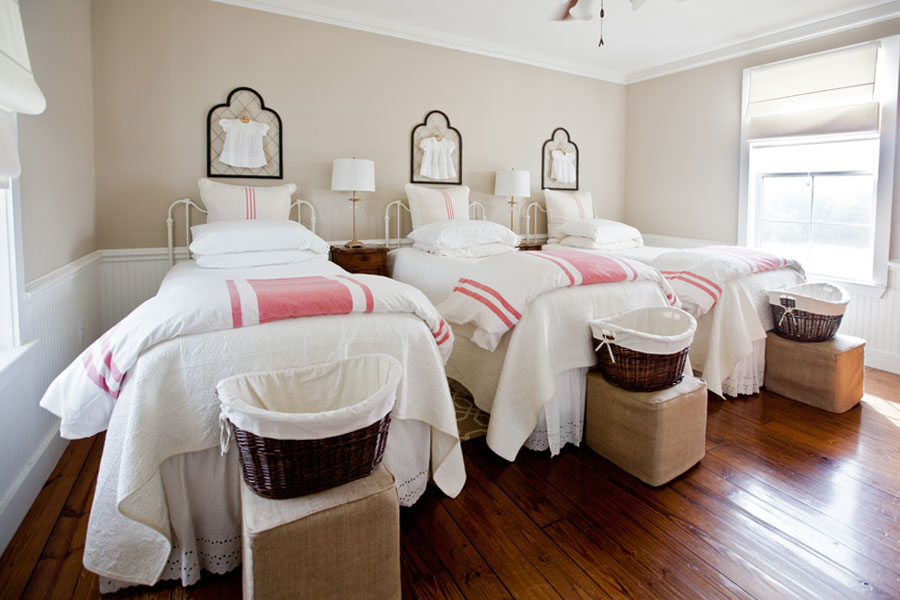 Ever tweaking, I found these gingham duvet covers on clearance so I used them in the room.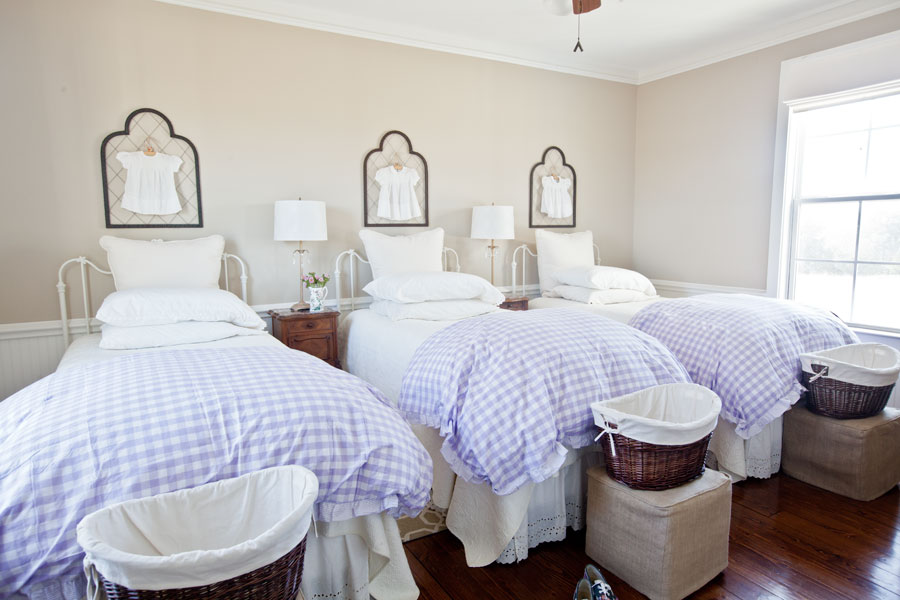 Next we traded out the dresses for shutters. Nope, not working.
But I did add the purple benches that are nicer than the old burlap covered ottomans. One step forward, two steps back, but it's always a learning experience.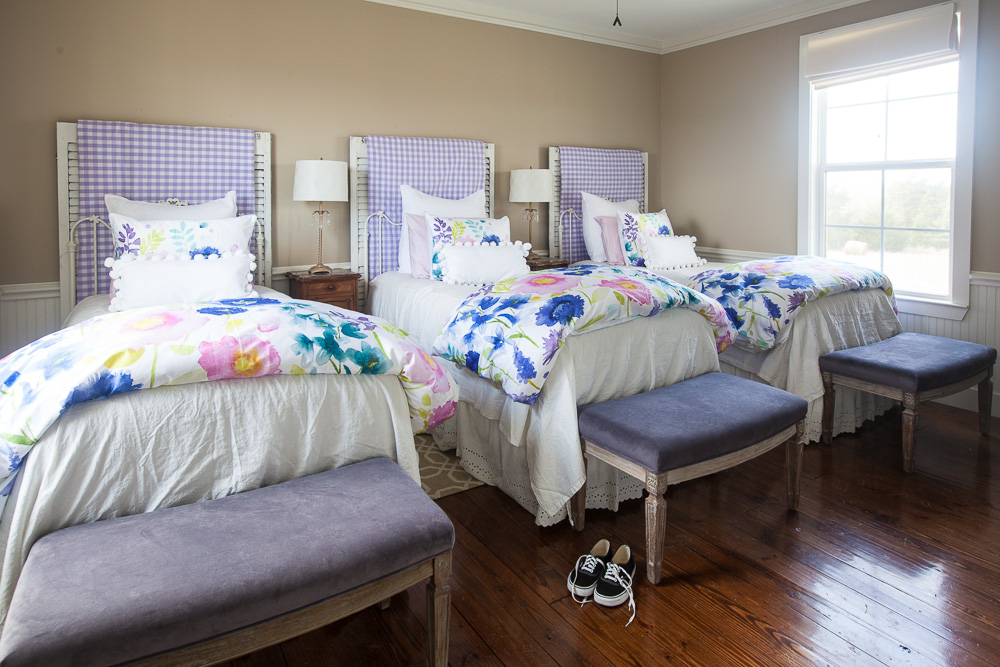 Finally we added the rug which gets us back to the photo at the top of the post. My friend has been telling me to add crowns to the beds and I have resisted and resisted until Restoration Hardware Baby and child put them on sale. They must have sold out, since I don't see them on their website any more. Here they are below. I like the new look already! If you love the dresses, no worries. I still have them, plan to use them elsewhere. Sorry Peggy and Ginger, I do plan to keep them (although I know they would look better in your houses.)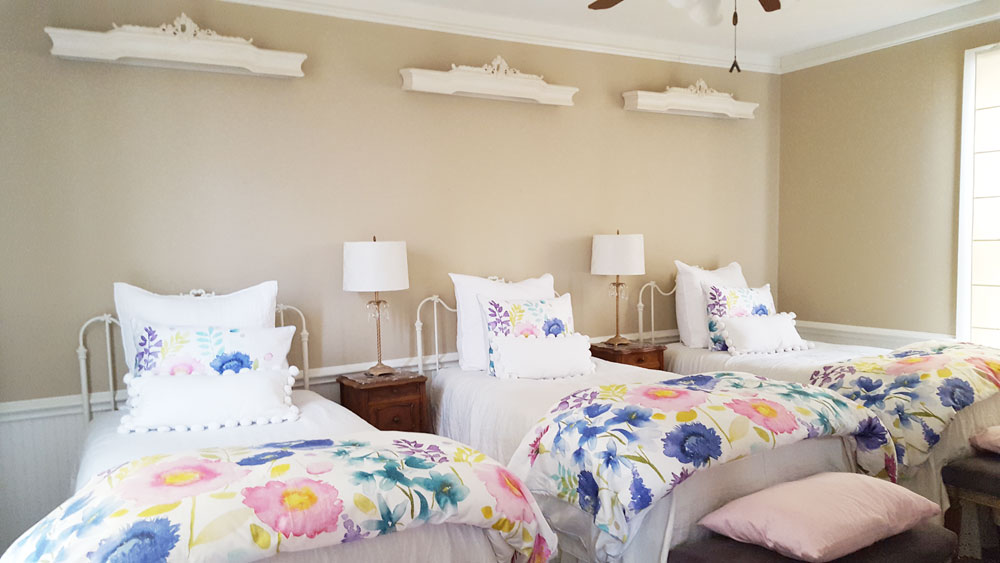 affiliate links
Obviously the crowns need curtains. Soft Surroundings (my sponsor) is sending some balloon drapery panels. CLICK HERE. It's beginning to look like a French bedroom.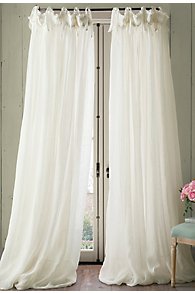 I also ordered new headboards from Restoration Hardware Baby and Child during the big sale. Here they are ready to go! I looked on the site, since I was going to provide a link, but I don't see this bed on their website any more.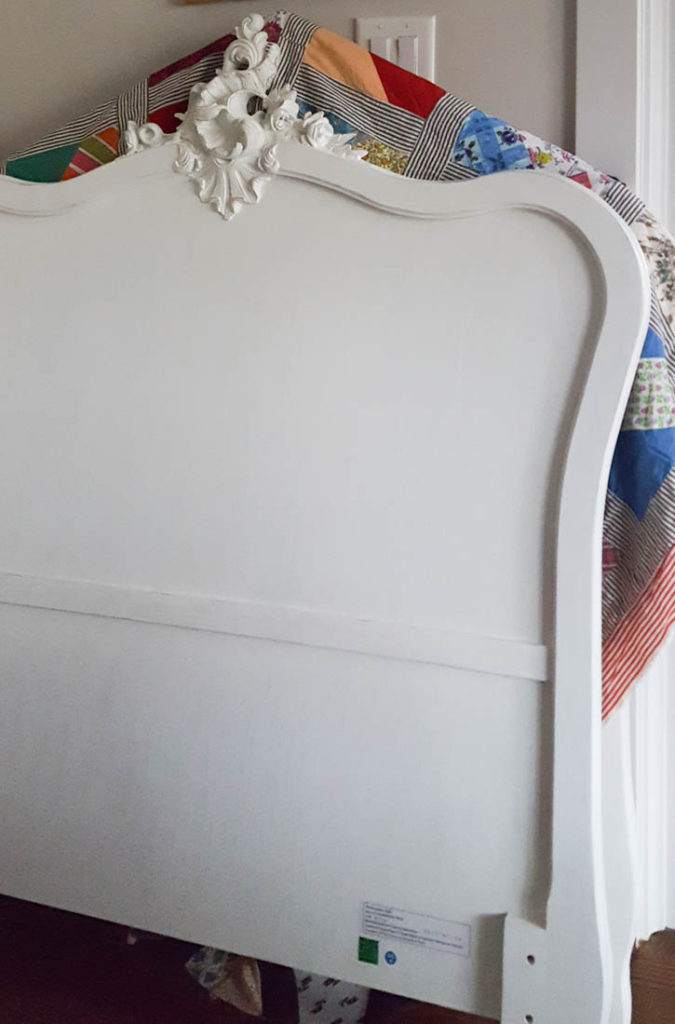 I love the detail on the top. When the delivery guys came, I grabbed some quilts for them to put between the beds so they wouldn't get scratched. I just realized when working on this post, that one of the quilts I grabbed is one of the quilts shown in one of the very first photos.
Finally this will be a French bedroom.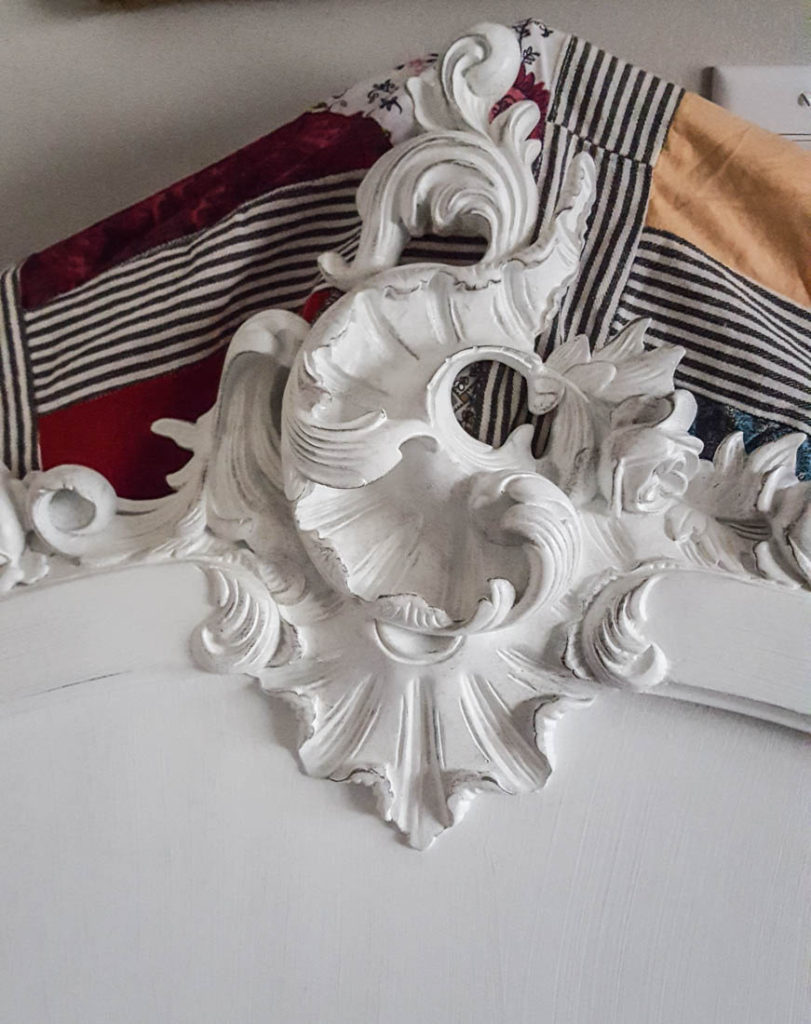 I haven't decided yet which bedding I'm going to go with. Have you seen any that you love? I am looking for ideas. Should I go with what I have or do something completely different?
I'll share more photos of the transformation when we put the headboards and the curtains in the room.
Remember you can always find many of my favorite items on Amazon HERE.
We are a participant in the Amazon Services LLC Associates Program, an affiliate advertising program designed to provide a means for us to earn fees by linking to Amazon.com and affiliated sites.
I am sorry the headboard and crown are no longer available. I always like to provide sources, since that is what people most what to know. So, I did find a few things that I thought you might like for a bedroom. Just click on the photos below for pricing and more info.