The thing I love about coming here, is that I don't need to explain why my dining room looks different every week. (Yours probably does too.) It's just what we do. This is the reveal of the dining room. But first, I thought you might like to see where the room started. I show you these photos even though I don't think they look that great to be transparent, and to encourage you.
When I started blogging, my dining room looked like this, pretty much. This was at our old city house. Looks a bit unbalanced to me, and it did at the time, but the space was small, and I just hadn't gotten to it yet. I know you know what I mean. The room was 'on my list.' It takes time to get your home just the way you want it.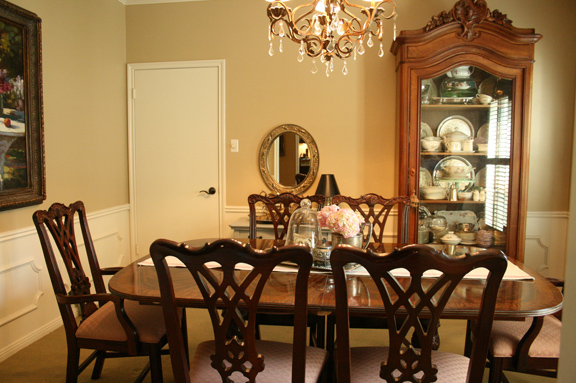 At some point I found these vintage French dining room chairs at the auction house and the transformation began. The chairs breathed new life into the room, and I couldn't believe what a difference they made. I decided I would focus my attention here and keep the momentum going.  The chicken wire photo thingy on the wall, can be found here.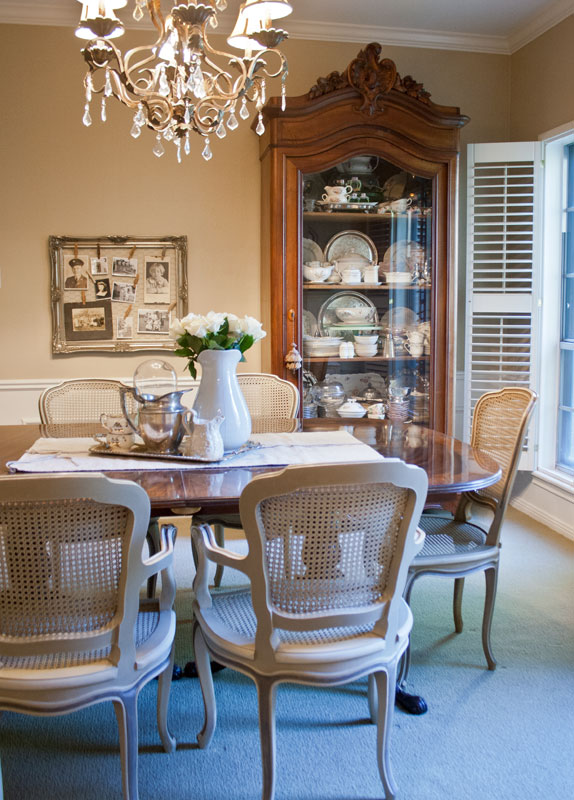 I knew the armoire, although gorgeous, did not work on this wall. I found a console at Restoration Hardware (on clearance) and the room evolved some more.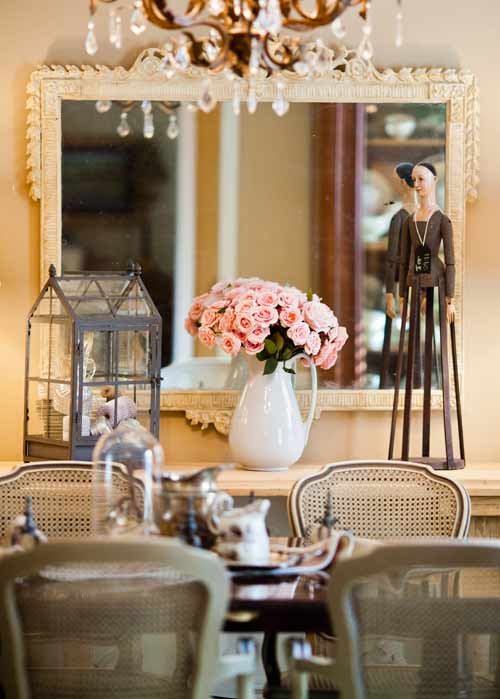 I also added a vintage mirror from Round Top that I painted.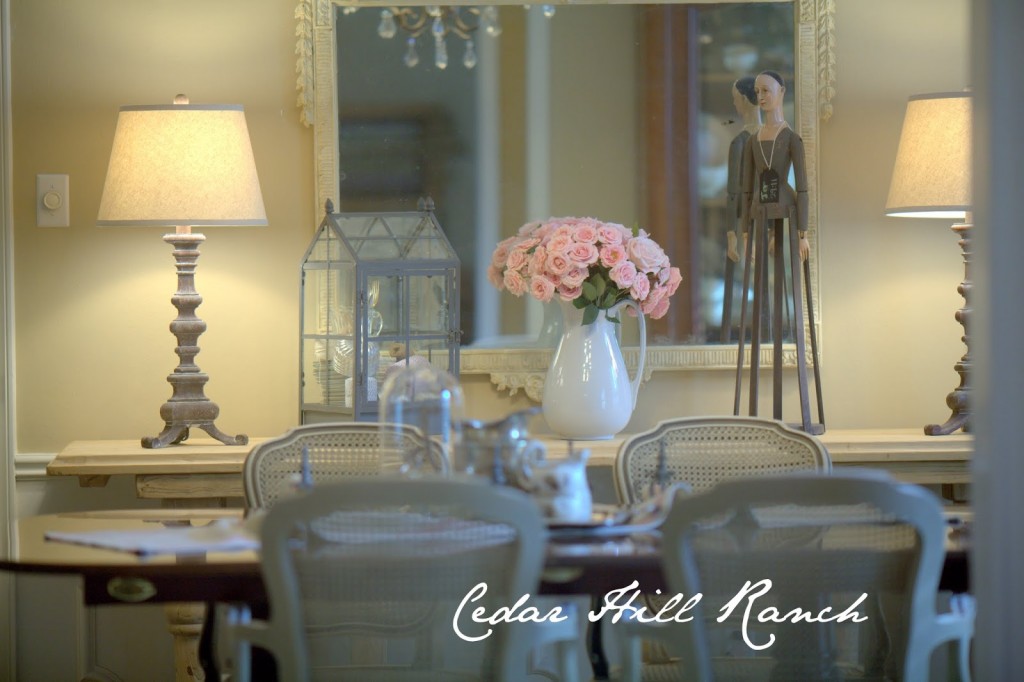 Then we moved from the suburbs smack dam into the heart of the city.  Here the dining room is a bit bigger. I brought pretty much what was in the old dining room into the new one. But it was still a bit bare. The walls at th old house were painted Sherwin Williams Bittersweet Stem, while the new house is painted Sherwin Williams Agreeable Gray.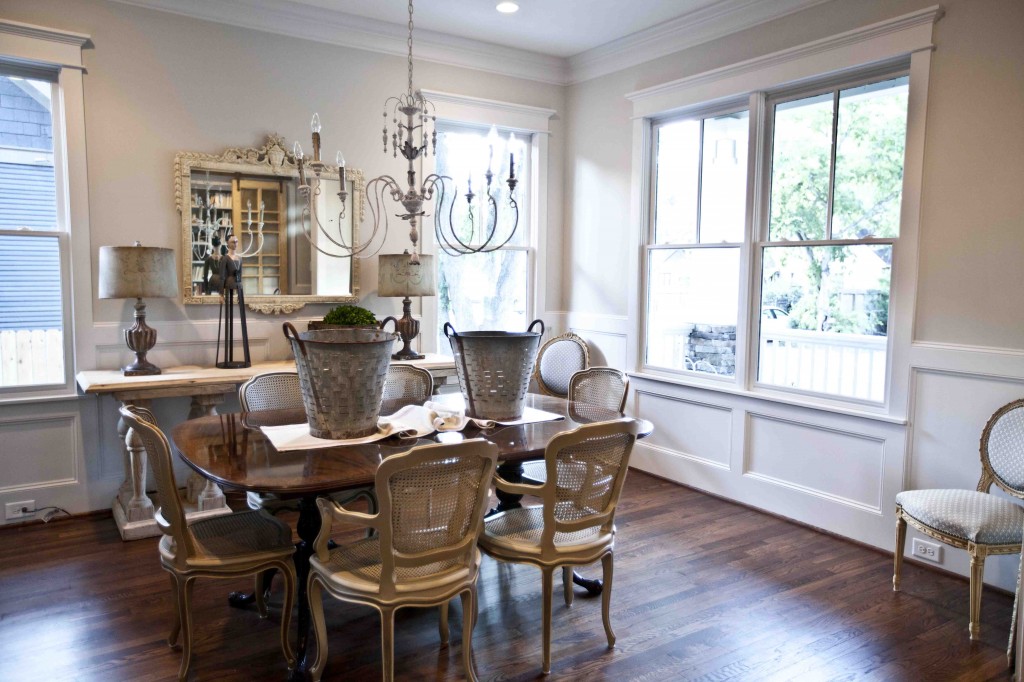 I made slipcovers for the chairs, which made my guests a bit happier to have a seat cushion, and they gave the room a bit of softness.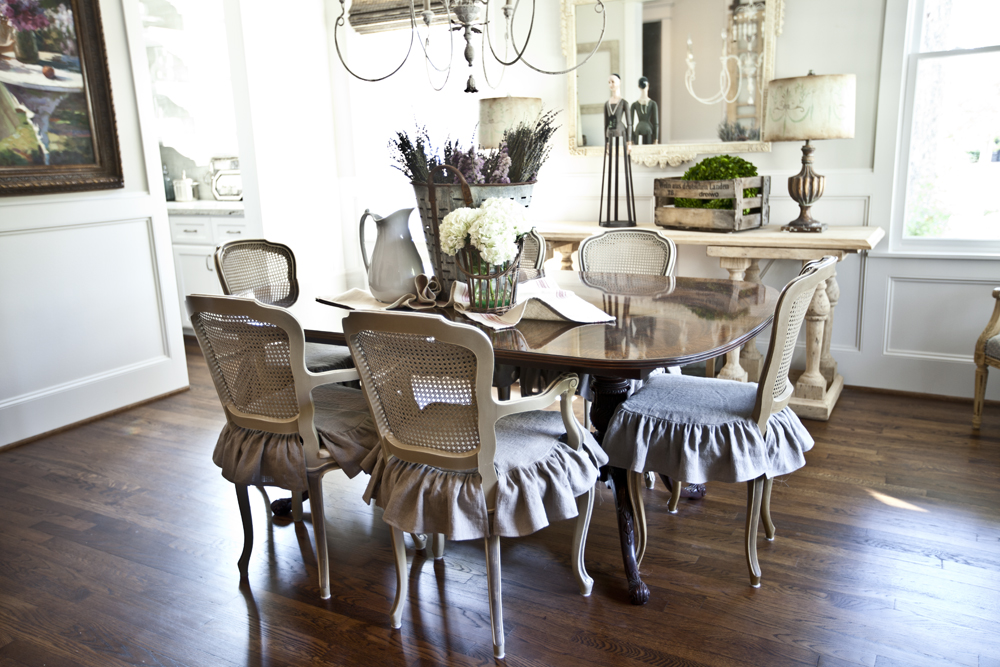 Next came curtains, bamboo shades, and a rug.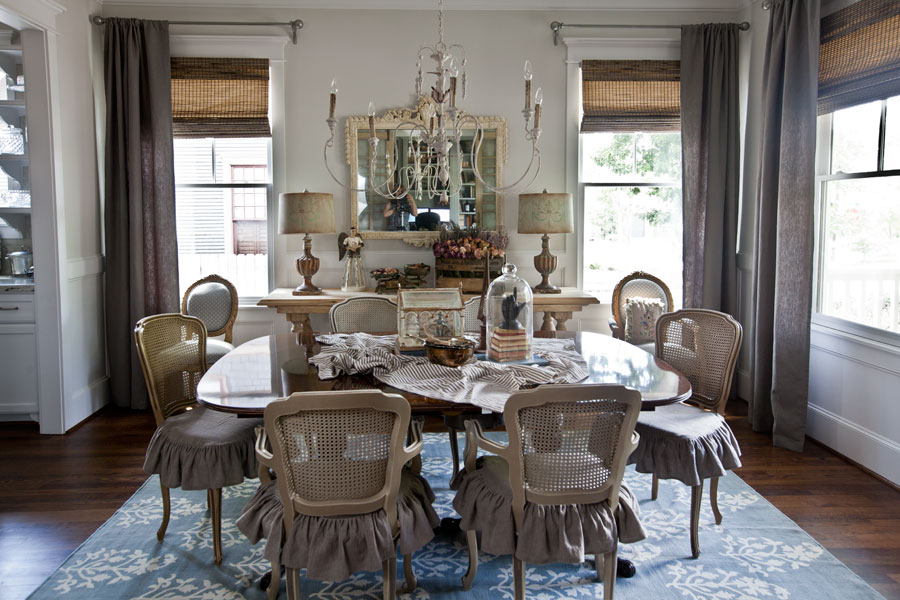 I decided the table didn't work any more, but tried to make it work. I used a tablecloth to disguise it.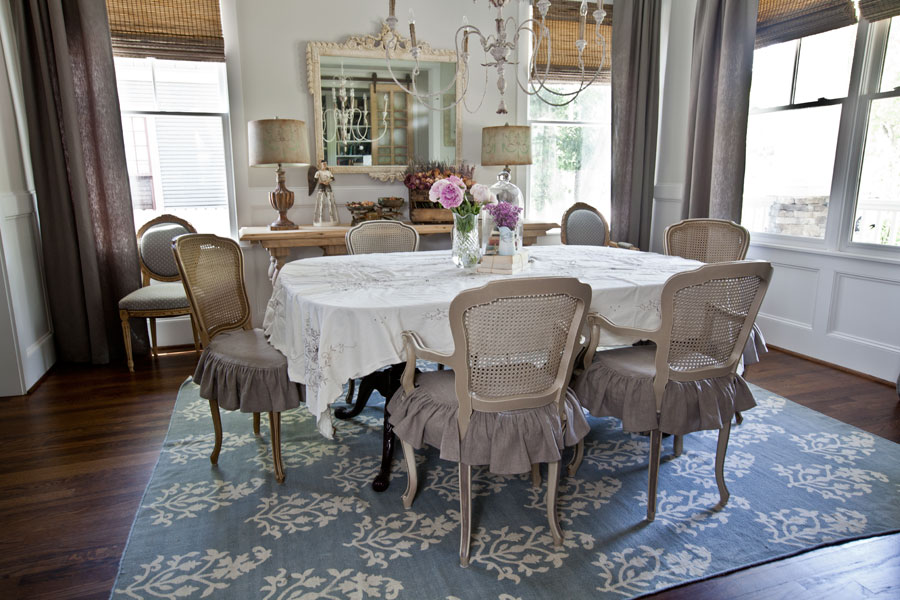 Which brings me to the latest phase of my room.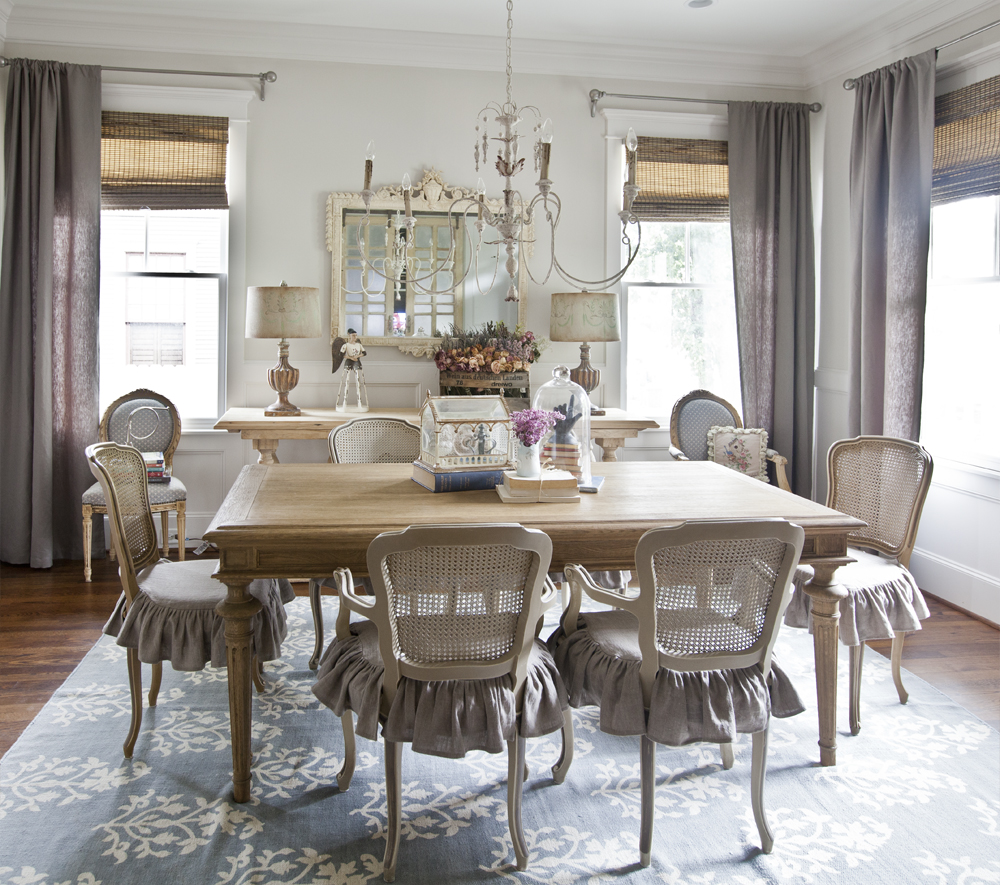 I just replaced the table with a new one from Restoration Hardware.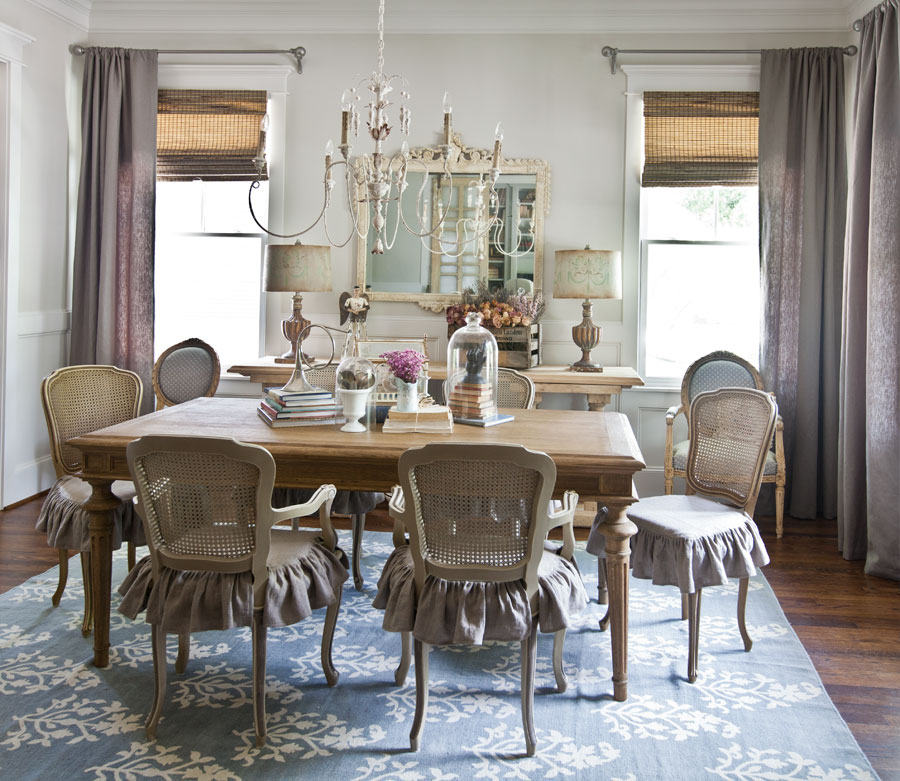 Am I 'done'?  Of course not!! This is fun for me, rearranging and redoing. It's the circle of life if you will.  I am sure I will make more changes. But I always try to keep an eye on the budget. BTW, when I sold the old table, I made enough money to buy the new one. The old chairs were sold for way more than what the new chairs cost. The armoire in the original photo got moved to my breakfast room.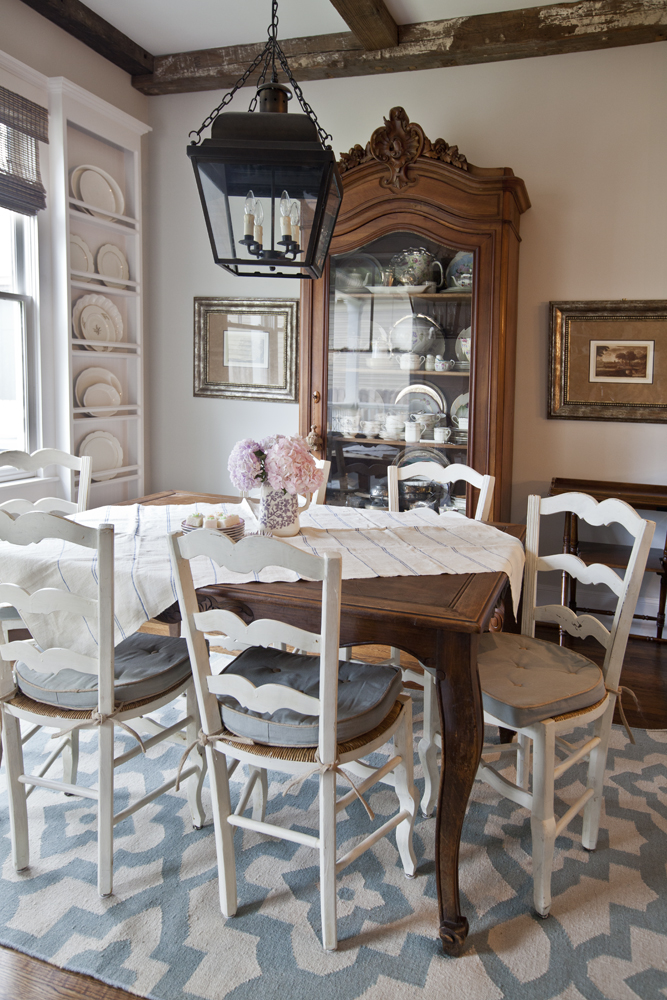 I mean look at that table leg and you will see why I really thought it would be perfect in the dining room.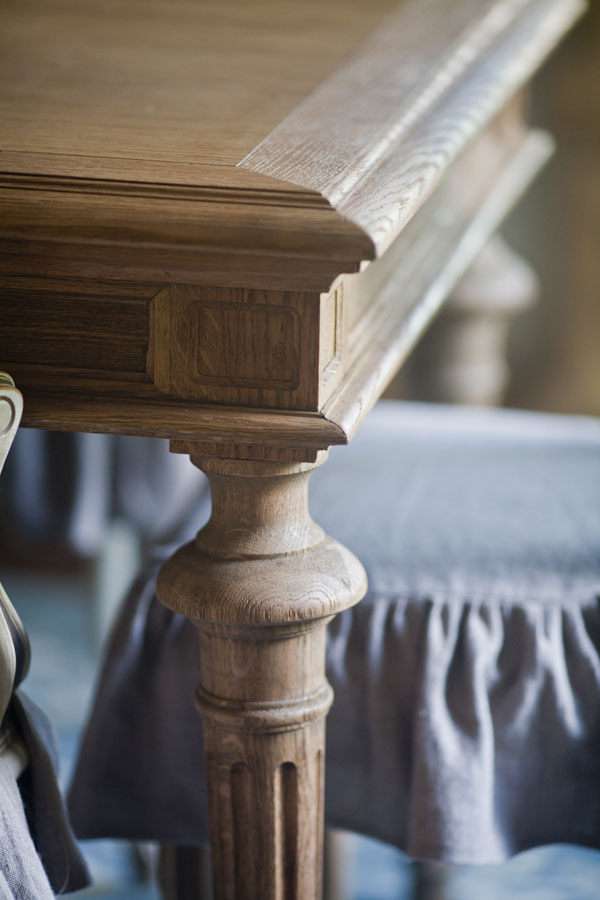 The lamps from the console at the old house have been incorporated in another room. The new lamps actually came from the living room. I love to shop my house!!  I figure if I get tired of something I will give it away or sell it. I have several items in my garage, and they will be finding new homes soon.  My rule is that if I am not using it, it has to go.  And so several things I still liked were given away, because I didn't want them gathering dust in my garage.  I love passing things along to other people.
So what have I learned along the way?
TAKE-AWAYS
1. It's okay to constantly change your room. Even if your husband thinks you are crazy, I know you are NOT. This is normal for us.
2. Take your time decorating a room. If you are spending a good bit of money, I think it makes sense to change the room slowly to pace your spending. Also if you take your time, you can take advantage of sales along the way. Rooms just evolve over time, it doesn't have to all be done this week.
3. Enjoy the journey. If you celebrate each little improvement to a room, you can enjoy it as it is transformed. If you decide you won't be happy until the room is perfect, then you are setting yourself up for unhappiness.
4. Try giving things away. I sell a lot of my old things, but I also try to give a good bit away to people who can't afford to buy the stuff. Here's the thing. If you give things away, it is SO. MUCH. FUN. It may sound cliche, but it's true. I wish I had known this when I was younger. Maybe you have known this all of your life, but just didn't bother telling me. That's why I'm putting this out there, in case someone doesn't know. Seriously try this one, if you haven't already.
What are your tips for decorating a room?