Yes this was the best kitchen styling tip I have found in the last year.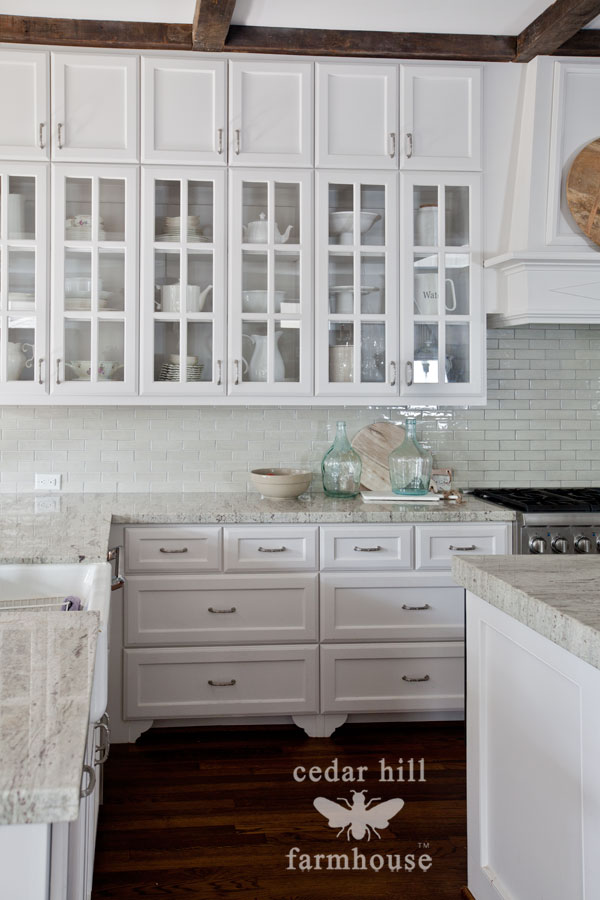 I'm getting there. Just indulge me, while I tell my story. It started with a call from the magazine stylist who was preparing my home ready for a magazine photo shoot.
She said, "They would love for the dishes in your cabinets to be white."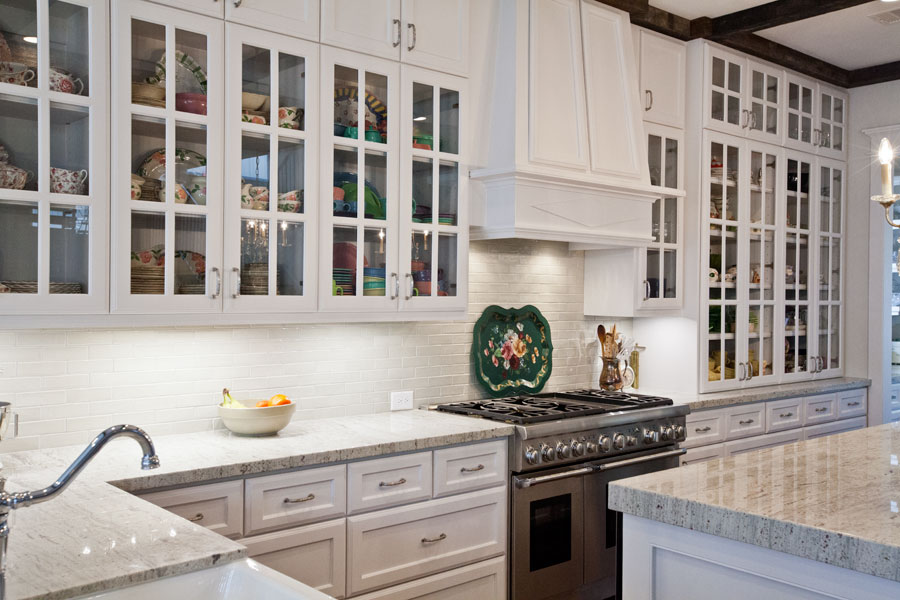 SILENCE (I may have dropped the phone.)
Me thinking to myself: What? White? Did she say 'white'? Oh no, she DIDN;T!!!  No, she did NOT say white.
Me, out loud: Okay.
Me later to myself: ARE YOU INSANE? WHY DID YOU SAY YES? Do you know how many dishes are in those cabinets? Where are all of those going to go? When are you going to have time to go buy more? When are you going to have time to empty all of those cabinets?
WHY DO YOU HAVE SO MANY DISHES? Seriously why are there so many DISHES???
*MAJOR FREAKOUT*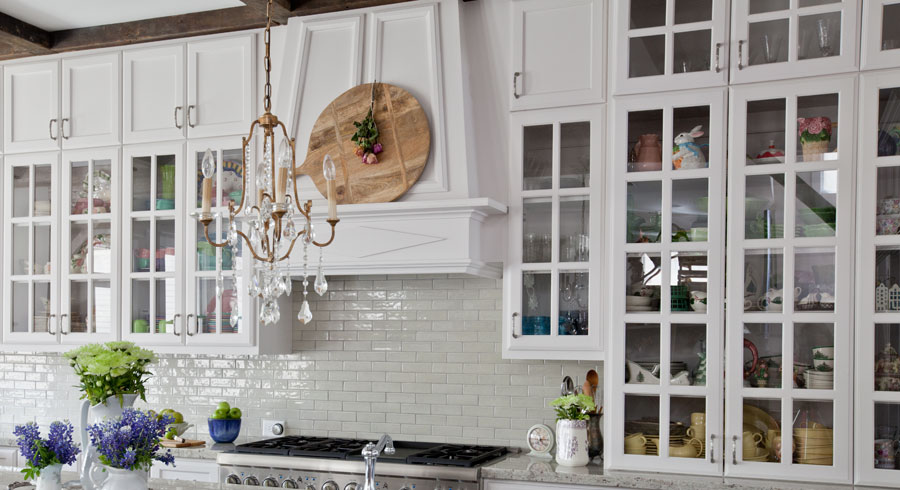 Did I mention I freaked out?
Me after I calmed down: You know, this could potentially look fantastic.
So I surveyed the cabinets to see how many dishes I might need. 'A lot' was the number I determined.  I still couldn't comprehend the enormity of the transformation I was embarking on. Meanwhile my schedule was jam packed. When exactly was I going to go buy all of those dishes?  And when was I going to move all of that stuff out?
I went to Home Goods and TJ Maxx and cleaned out 3 stores. I bought every white bowl, cake stand and pitcher I could find.
I set aside my colorful dishes until I could decide what I would keep of the new dishes. They were in stacks everywhere. Then I began to add the white dishes to the cabinets.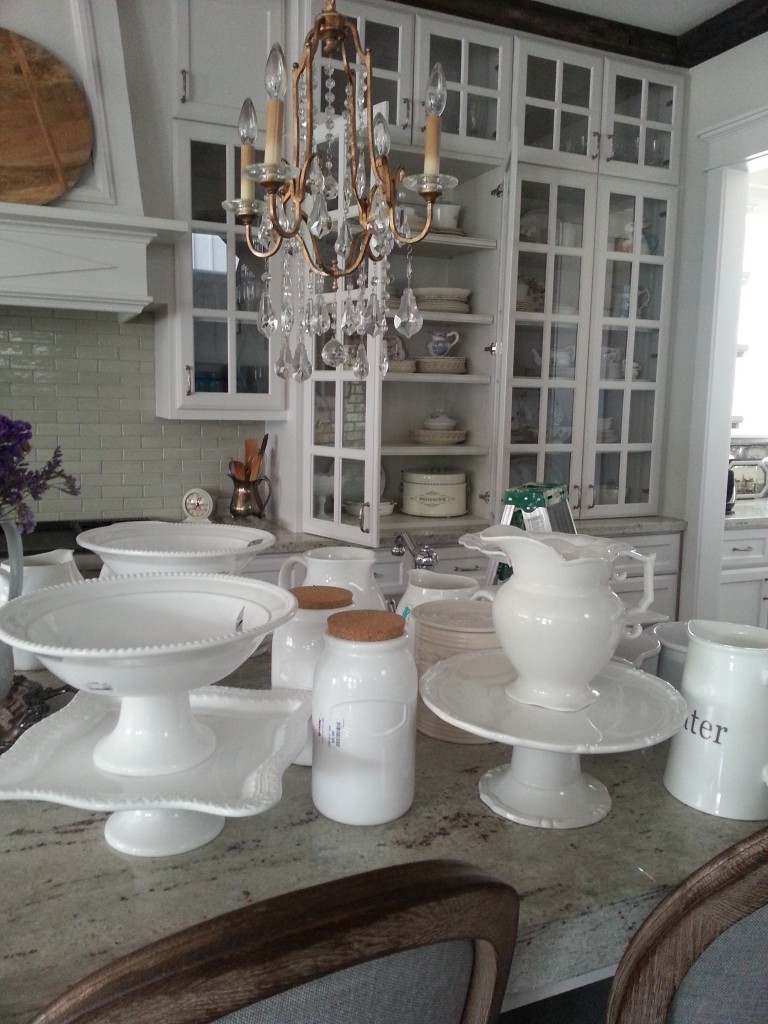 I even changed out the silver pitcher holding my wooden spoons.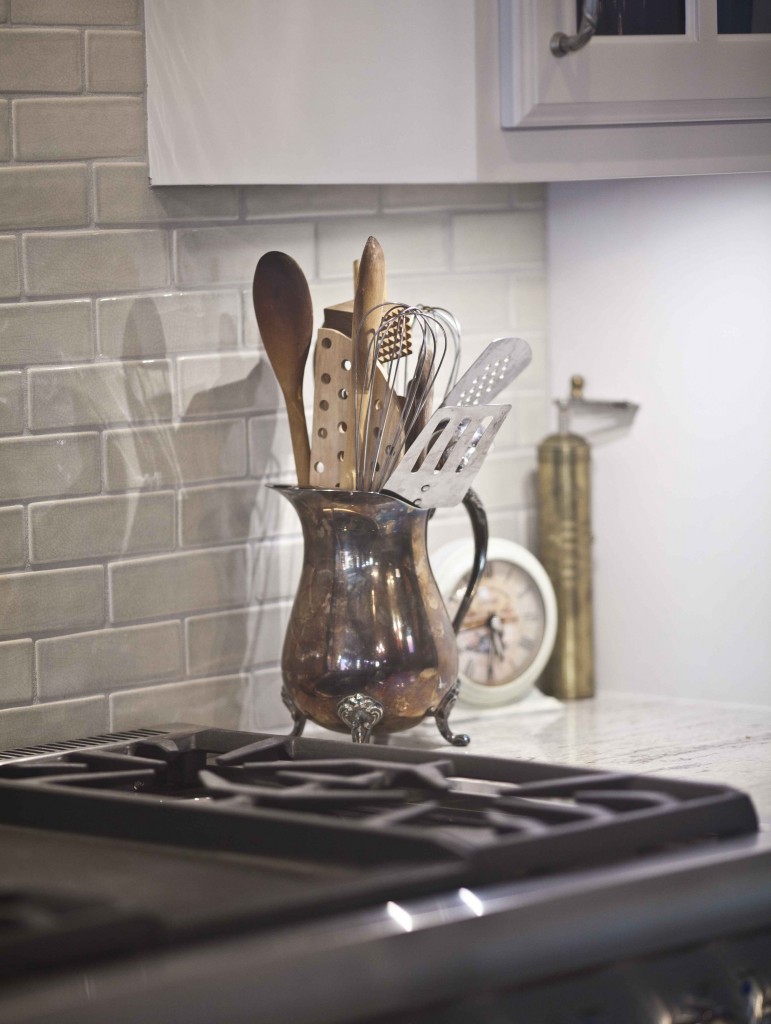 I went with these old ironstone pitchers. I loved the look!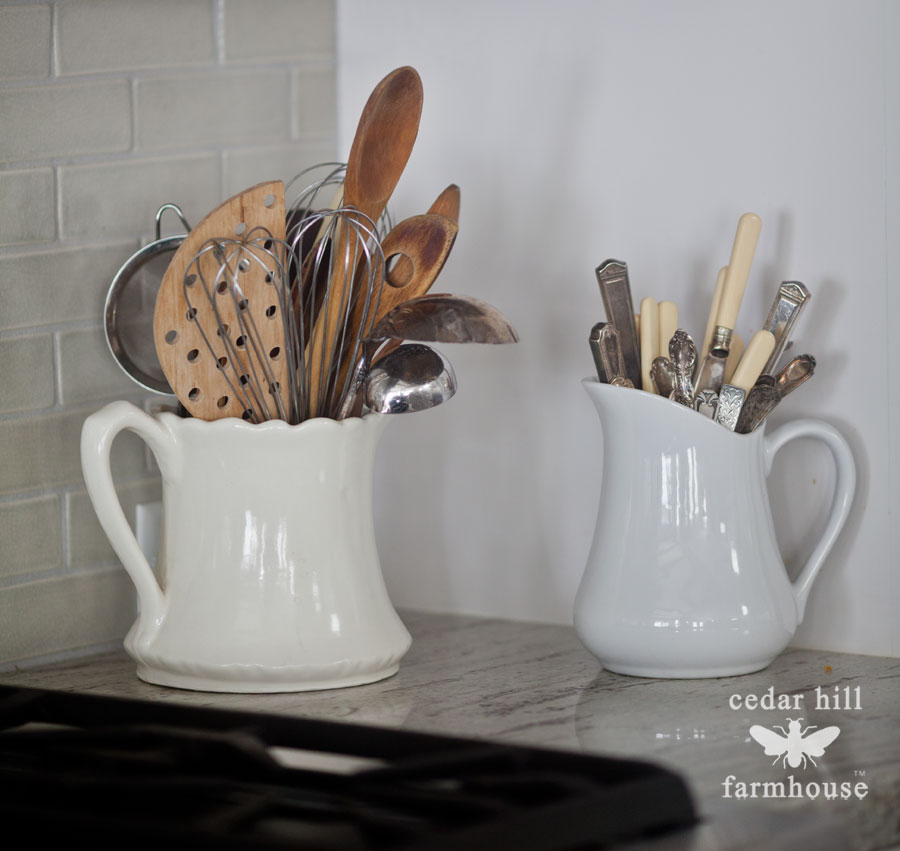 Now onto the cabinets, I felt for the first time in my life, that I had too many dishes. I decided then and there, that I would not be keeping all of these dishes. Many would be sold.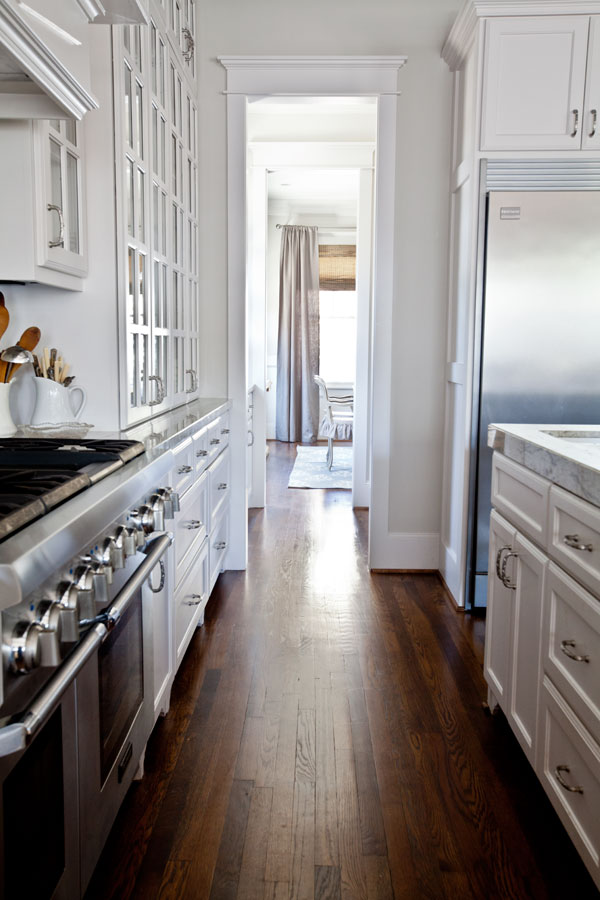 The dishes I had loved began to feel burdensome. They began to feel like a heavy weight. I changed out the old dishes for the new. I used larger, but fewer items. the room felt different. It felt lighter. The cabinets began to feel cohesive.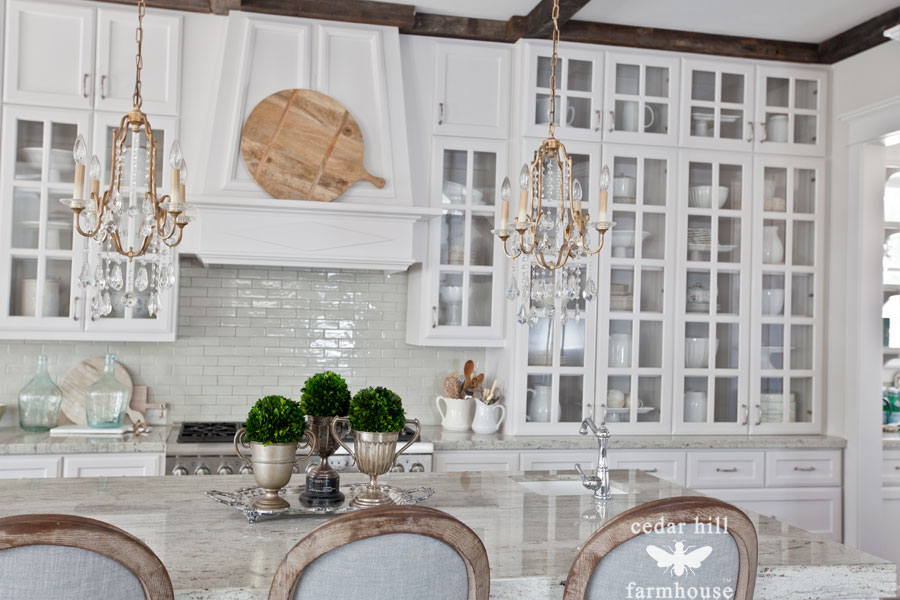 I LOVED the new look. I mean I really, really loved it. It looked fresh, and clean, and so light.  I decided to keep the new look and get rid of some of the old dishes. I was tired of the old dishes. I kept my favorites, of course.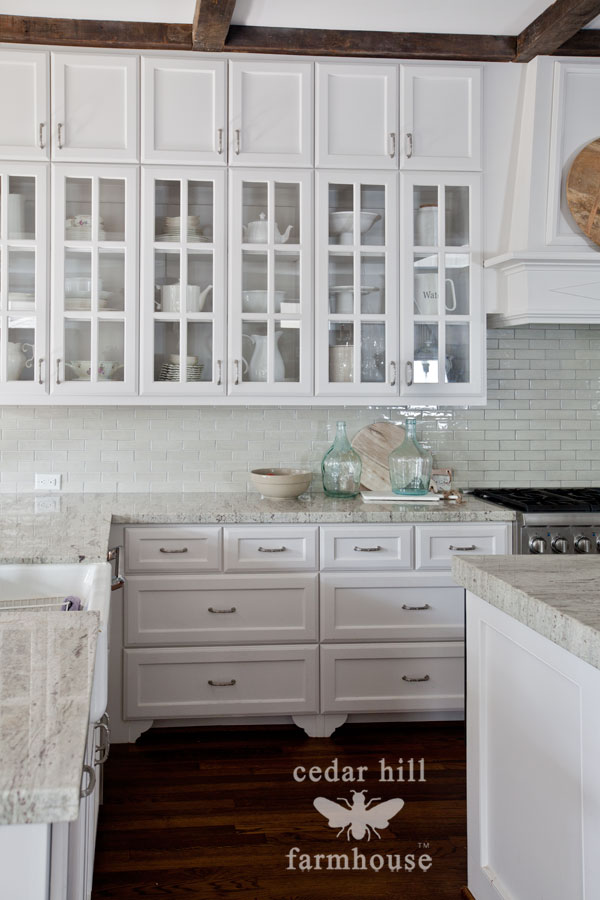 It was as if my entire kitchen got a facelift.
Which brings me to my topic, the surefire way to make your kitchen stunning. Pick a color, and use that color of items in your kitchen and in any glass front cabinets. Use large items instead of small ones.
I had every color under the rainbow. I had lots of small dishes too.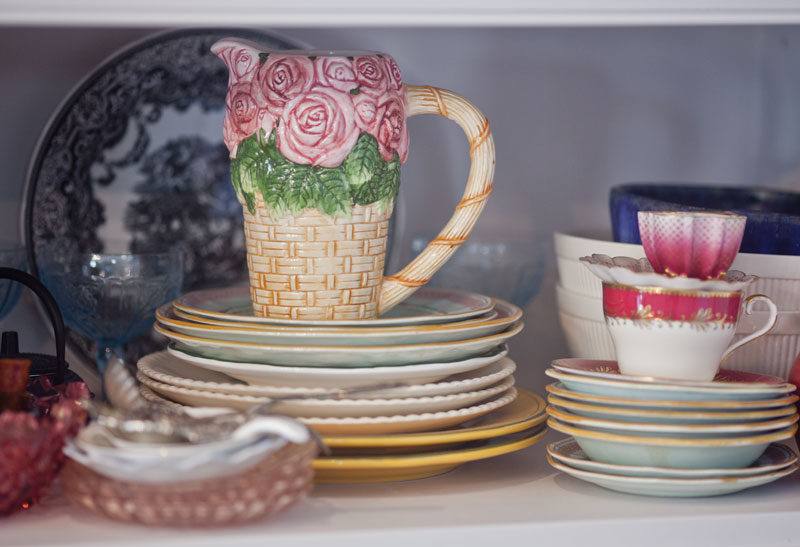 Look how different it looks with just the larger white dishes.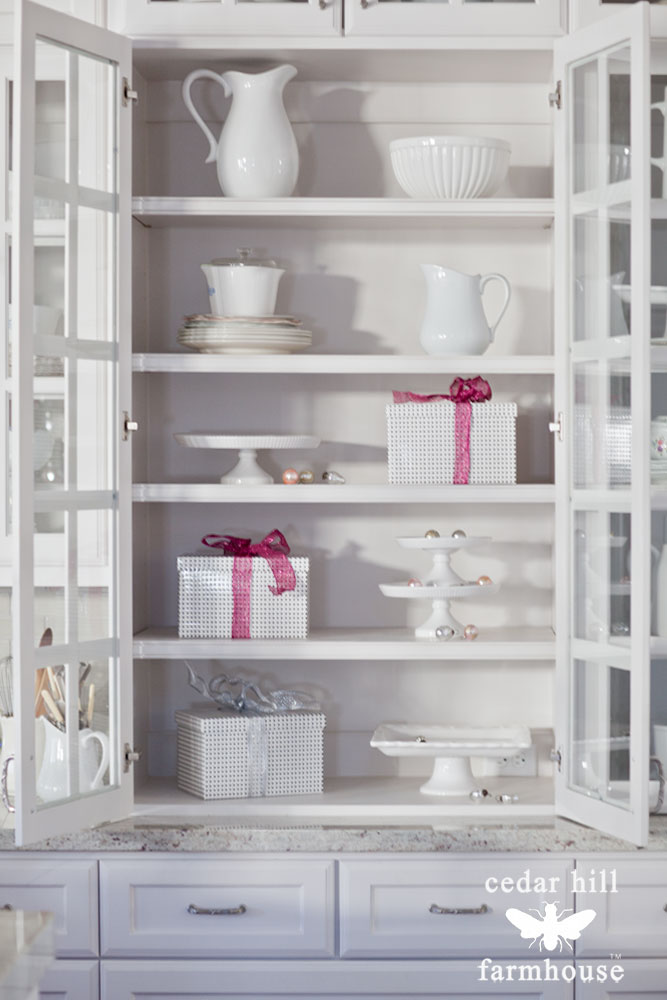 I  have been a person who loved lots of color, and I still do, however; in design I am finding that restraint often makes for a fabulous look.
Here's a comparison of the two side by side. I think the cabinets could look just as fabulous if I had done the same thing with just blue dishes or green dishes, or red dishes.  They didn't have to be white, but I love the white look.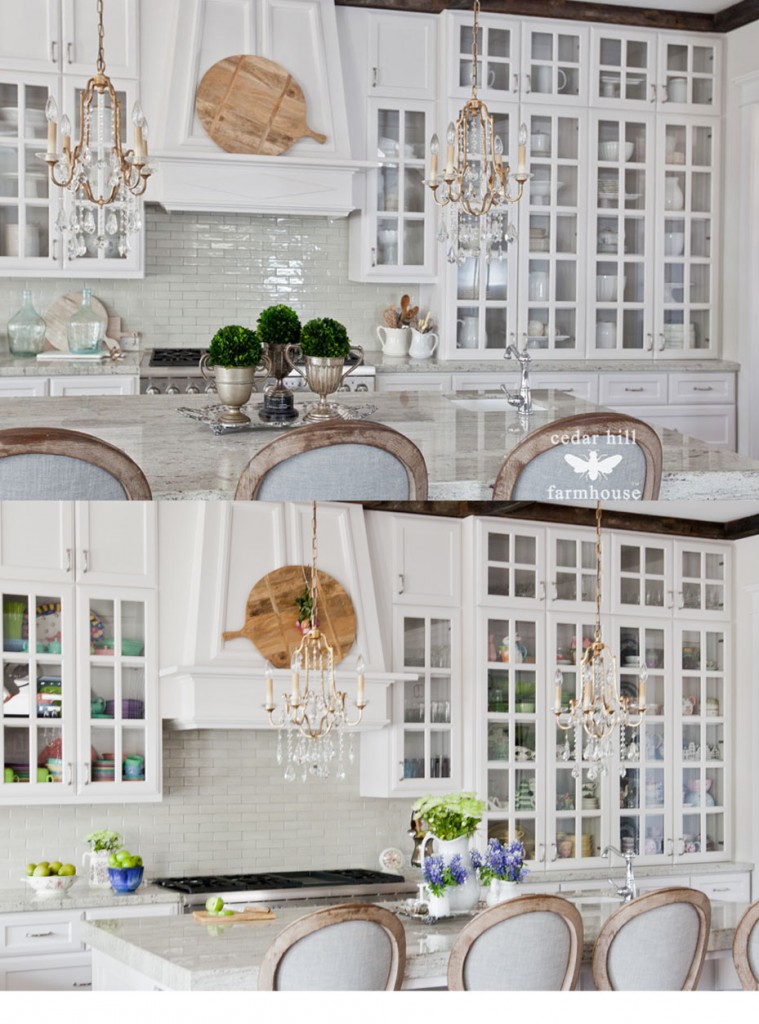 I know some people will prefer the before, there are always some who do, and that's okay by me. Even if you prefer a variety of color in your kitchen, there are still a few points to be made that might resonate with you. Here is what I learned…
1. That even when you THINK you know what will look best in your house, if you are open to new ideas you might find a new look you love.
2. That sometimes something that seems like too much work will be worth it in the end.
3. That sometimes it is time to change things up. I've been collecting these dishes for a long, long time.
4. Don't ever get stagnant. Keep learning; keep growing. Be a life-long student. I don't care how old you are, you can learn and you can change.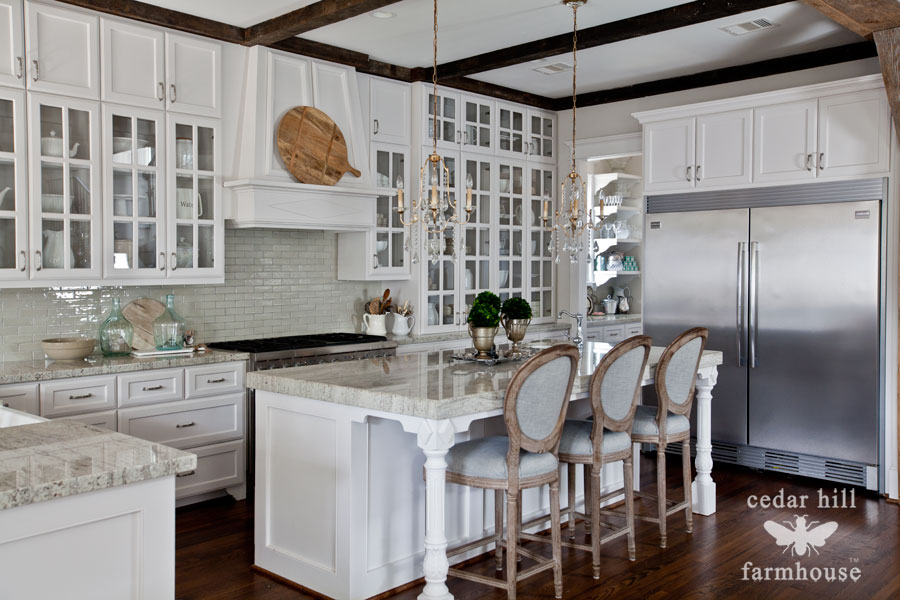 On another note…
As you may know I am a paid contributor to the Bali Blinds blog. I have a new post this week on the Bali Blinds blog about Fireplace Styling Ideas.