I'm been a bit obsessed with monograms lately. I've always loved them. I think they add such a nice touch to any room, especially a bedroom. I shared some new monogrammed things in THIS POST, and today I've got more.
These monograms are printed on osnaburg fabric. Osnaburg fabric is a very coarse fabric originated in Osnabruck, Germany. It was made from flax originally, although now it's typically made from cotton. By the mid-1700's the fabric was made in Scotland. Scotland exported it to England and the American colonies. It was inexpensive and durable, and thus became very popular. Because the fabric is coarser, it was used to make clothing for people with little to no means. Osnaburg fabric looks like a gauzy linen, but it's not as soft. It's still a very affordable fabric. This of this fabric if you want a gauzy linen look, without the expense of linen.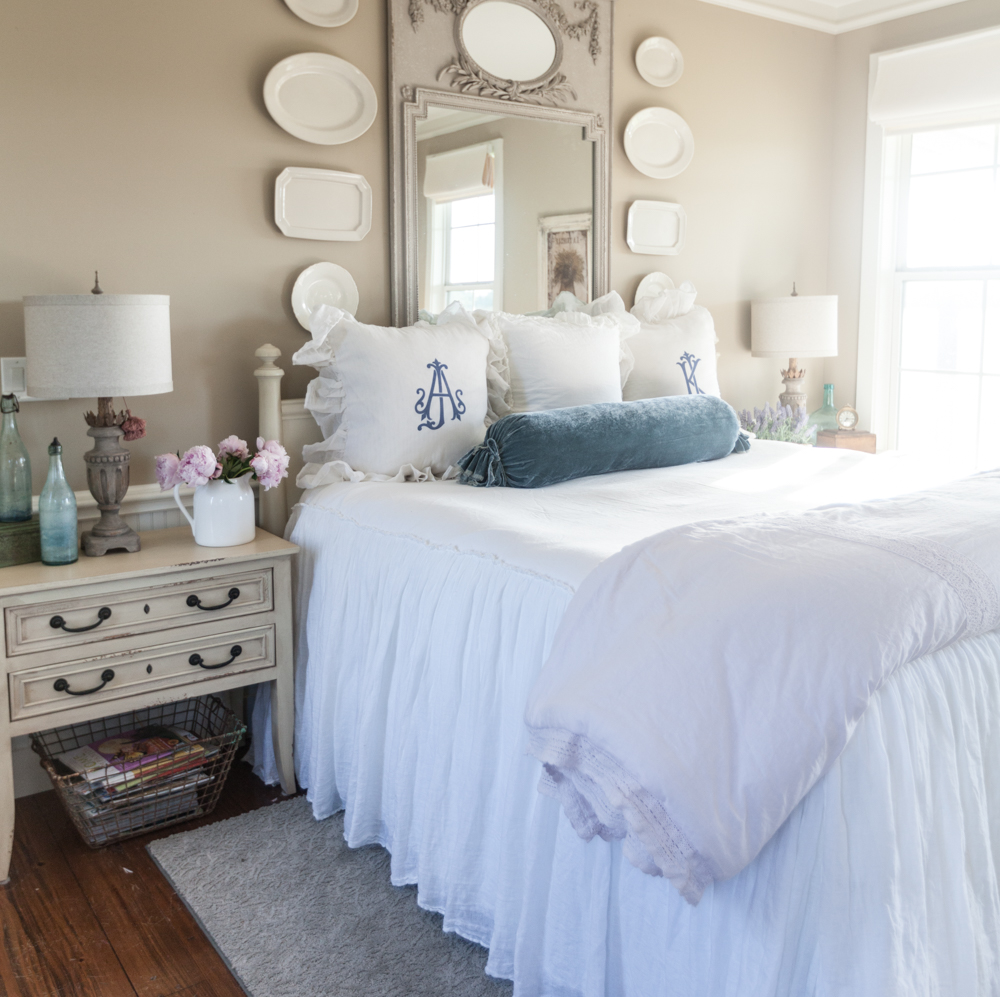 I decided to go with a big monogram on these euro shams in my bedroom. I love how the blue of the monograms echoes the blue of my velvet bolster. The double monograms have been used for hundreds of years, but we Americans are used to seeing a single or triple monogram. You can use your two initials like we did on the bed pillows, (AJ on my side and KJ on the other side) or you can use the first initials of a couple on a pillow. I think the lines of these monograms are particularly elegant. Now you know my side of the bed is the left.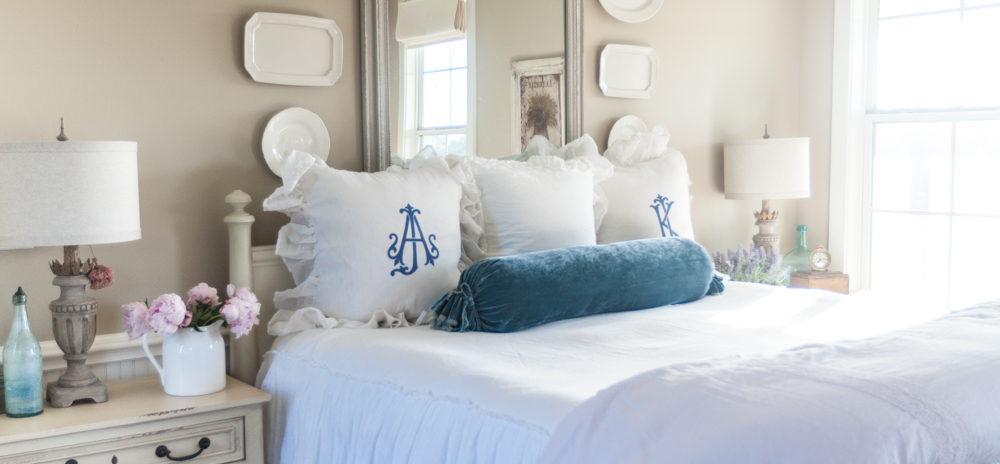 On my city bed below, I used two plain osnaburg euroshams with a monogrammed king sham in front. I think the bedroom is the best place to use a monogram, although, I plan to add them everywhere. And the touch of blue is perfect for me. Note below we took my first initial A and K from Kevin's name for the monogram below.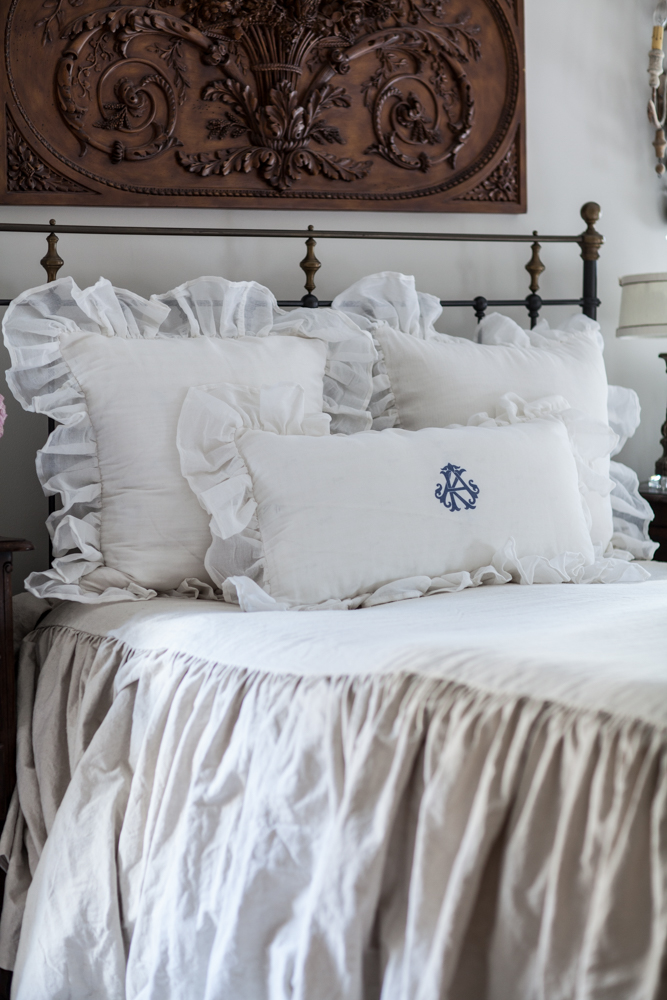 I also like mixing white and cream and oatmeal colored fabrics. It makes the room look more interesting to have different textures and shades. Note all of the textures and neutral shades below in the bamboo shades, the gathered curtains, the white osnaburg pillow with the big floppy ruffle and the oatmeal linen slipcover on the chair.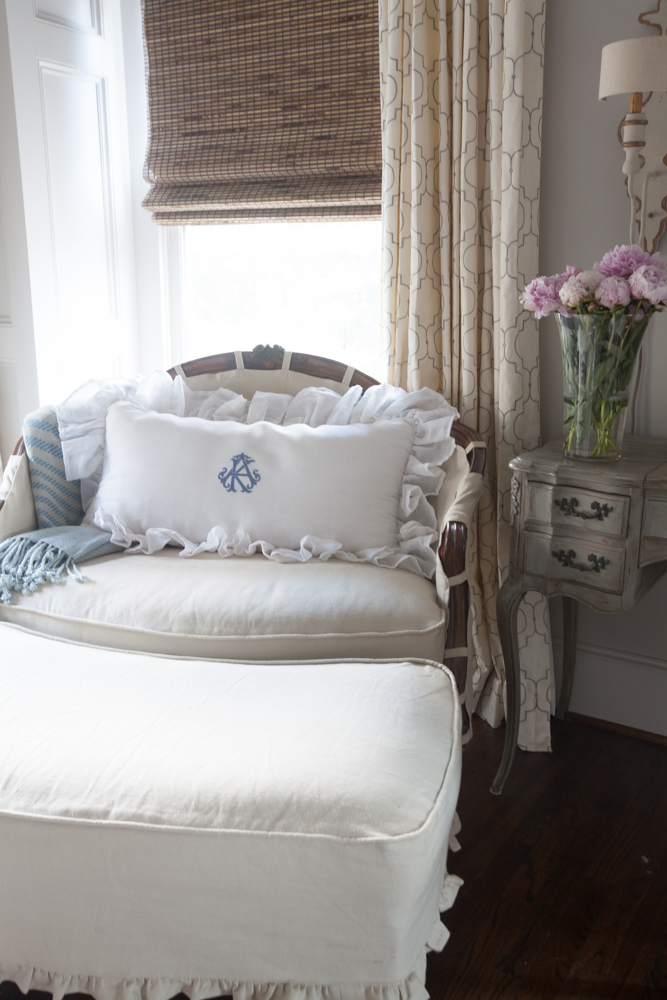 Well, that's what I've got going on here.