I say, give that man a cigar… well, metaphorically of course.  I'm impressed he noticed.  It's not like he actually reads my blog!! Yes, I am moving to a more neutral palette. Having been someone who was "allergic to white", I have a long way to go to lighten my house.  This could take awhile, but this room was easy!!
So here's what I did in the girls' room at the farm.  I changed out the baby dresses from the reds ones to white ones.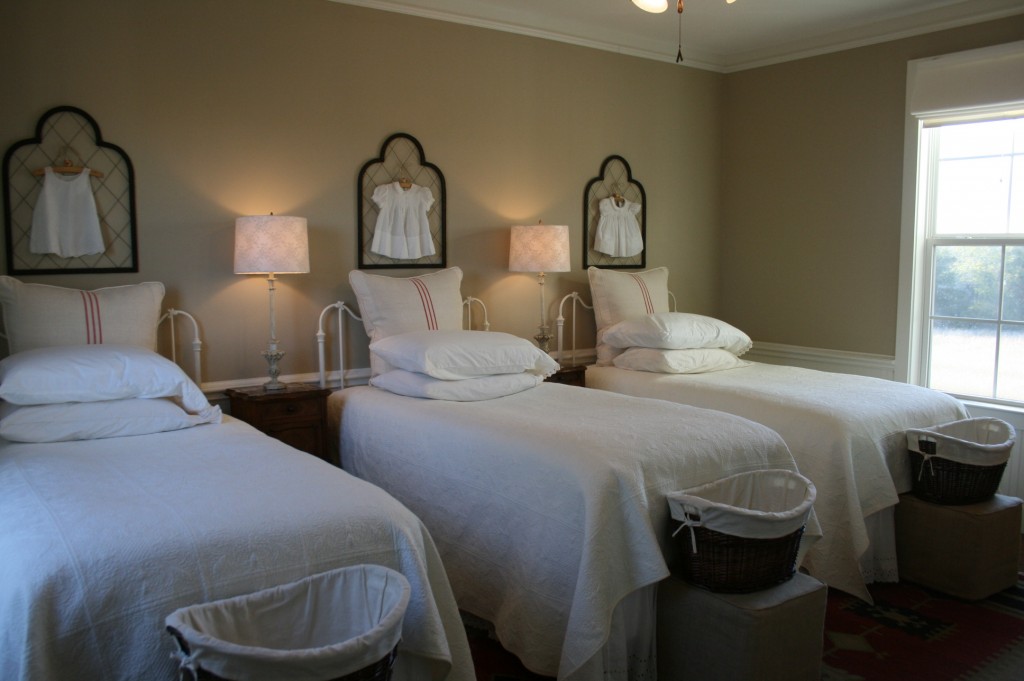 To see the post on the red dresses, click here.
My MIL bought the middle dress while she was pregnant.  Clearly she was hoping for a girl, but Mr. CH was born.  She kept the dress any way, and who could blame her?  It's pretty cute.
The dress on the left is the slip that goes with this dress.
And this last dress belonged to my girls.  Don't mind the spit up stain.
I made the red striped euro pillows using vintage feed sacks.  We have three beds in here so there's a bed for each of my daughters and one for a friend.
Does it look too much like a hospital now?  I hope not!!  And what happened to these red pillows you ask?
Oh come on, you didn't think I got rid of those did you?  Oh no, those were my grandmother's and I still think they are cute.  I just turned them over, and now I can change them out any time I like with any white pillow cases.
The nightstands are antique French nightstands with marble tops.  The marble tops, mean I don't have to worry about water rings from wet glasses, if the girls bring their drinks in here.
The baskets sit on ottomans I slip-covered in burlap, click here to see more.  Since there is limited storage and seating in here, I thought it would be nice for each person to have her own ottoman and basket.
I kept the hand-painted red dresser that I have in this room, since I still like it, even though it isn't my NEW favorite color, white.  Of course, that's all subject to change.  I am wondering if I should bring this red chest back to the city, put it in my red bedroom there, and bring a vintage white dresser here to put in this room.  What am I thinking? It's late and my mind is running away with me.  I'll deal with that later.  I'm tired and I really need to go to sleep soon.
UPDATE: The red chest has been sold, and there is a new one in the room. I'll share when I have photos.
The clock is one I bought on clearance.  Little did I know that it was on clearance because the hanging hook was on the eleven and not the twelve.  When it was hung, it was cock-eyed.  I knew that store would not accept it as a return, so did what any normal blogger would do; I got out my ice pick.  Oh no my friend, I did not attack the shop owner; I used the ice pick to make a pilot hole above the twelve on my clock, and then used the drill to enlarge it.
I had to use twine to hang the clock, but at least it is not crooked now, and the twine adds a rustic touch to the clock.
So the question is, now that the girls' room is white (for the most part), should I go with a white palette in my bedroom now?  On the one hand, I do love white now, but on the other hand, I need to stop coming up with new projects, until I can get the old ones finished.  I think my daughter calls it, "ADOS" or "Attention Deficit Ohhh Shiny!!!!"
UPDATE: This room has been changed since this post was written. To see the way it looks June 2014, click here.
Here's the bedding in my country bedroom when this post was written.
(Yawn) Good night!!