I know I'm changing things all the time, because I like to tweak and make things better and better. Some of my changes are fabulous and some are… well… flops.
So when are you finished decorating a room? Did you answer 'never'? I'm done with a room when it feels right. But when I say 'done' I mean 'done for now', not 'done forever.' I always reserve the right to change things later.
Here's where I started just a few months ago. I decided to make a few changes. I didn't like the black frames and wondered how it would look with shutters behind the beds.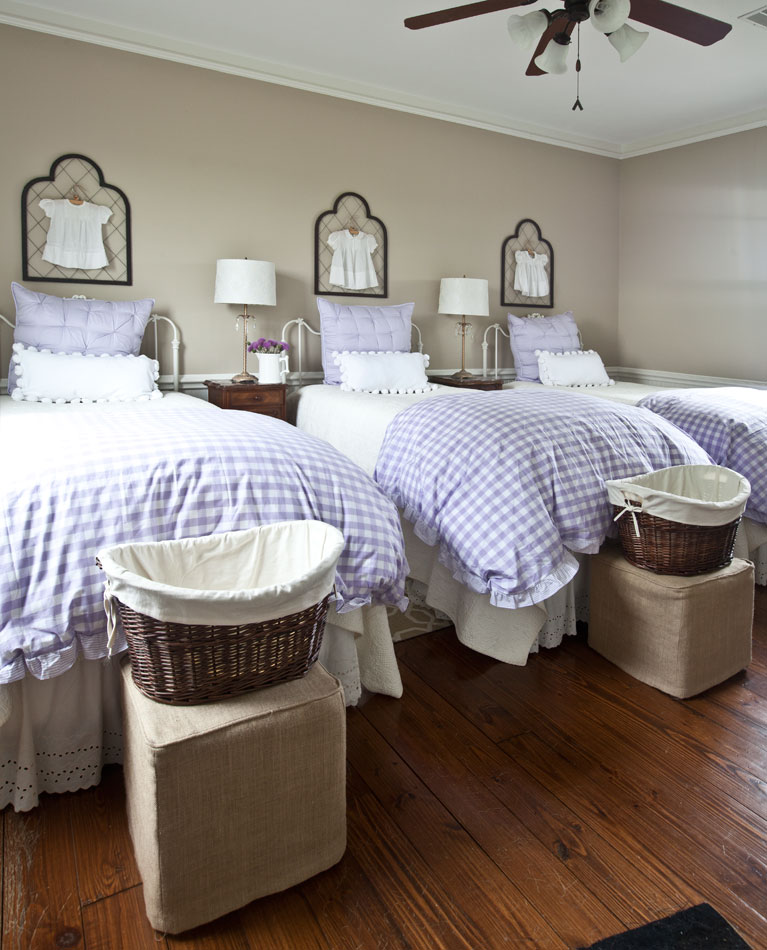 So here is the room with the shutters. I had mixed reviews from readers on this look. I thought the shutters looked too rustic. I did miss the dresses, but not the black frames.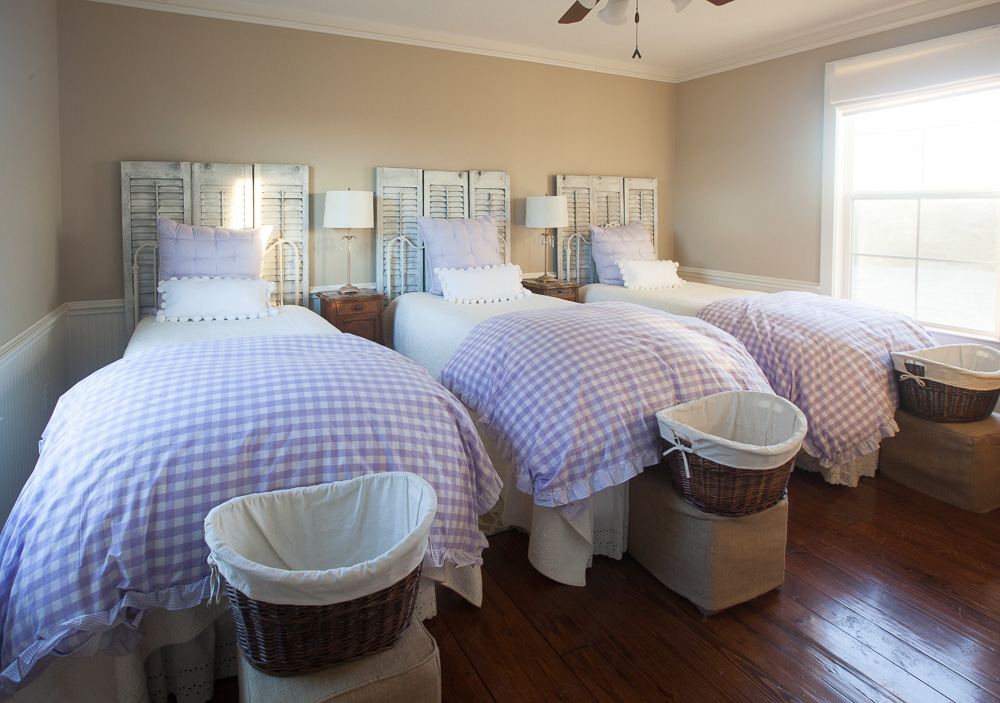 Here I went with new bedding. I really liked the fresh look, but felt the shutters looked dingy next to the white bedding.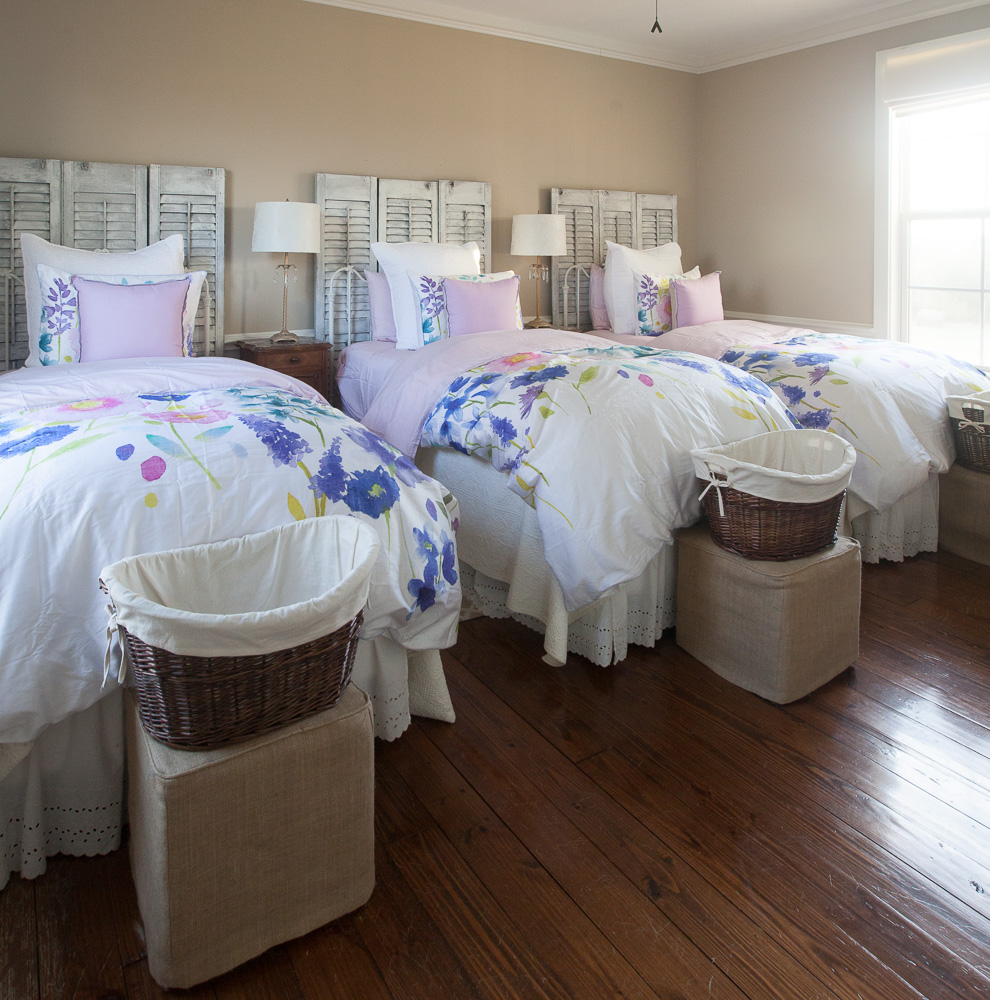 Well I thought I went too far, so I added the gingham back in on the bedding below.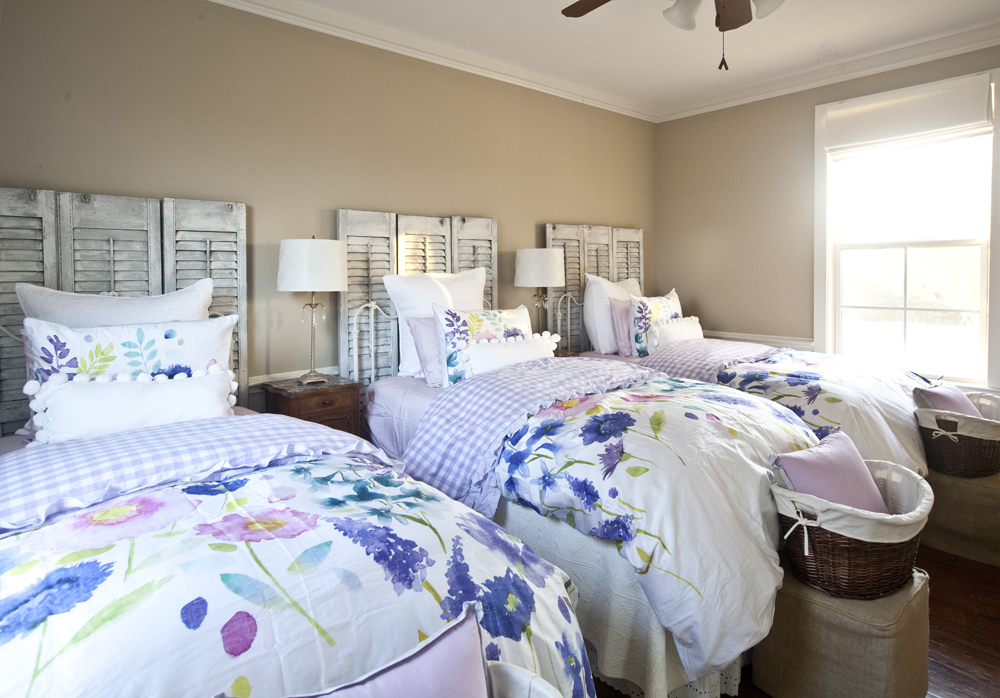 And now for the next phase. I wondered how it would look if I draped the gingham over the shutters. I also folded the bedding up at the end of the bed for a slightly different look. I also got new benches for the room. The burlap ottomans didn't go any more. Also I wanted a bigger seat, since the benches are the only seating in the room. This way someone can sit on the bench and have more room. I've included a link for the bench since there is always someone asking 'where did you get that?' You are not going to believe this, but the bench is less than $120 right now. I am telling you, I know where the deals are!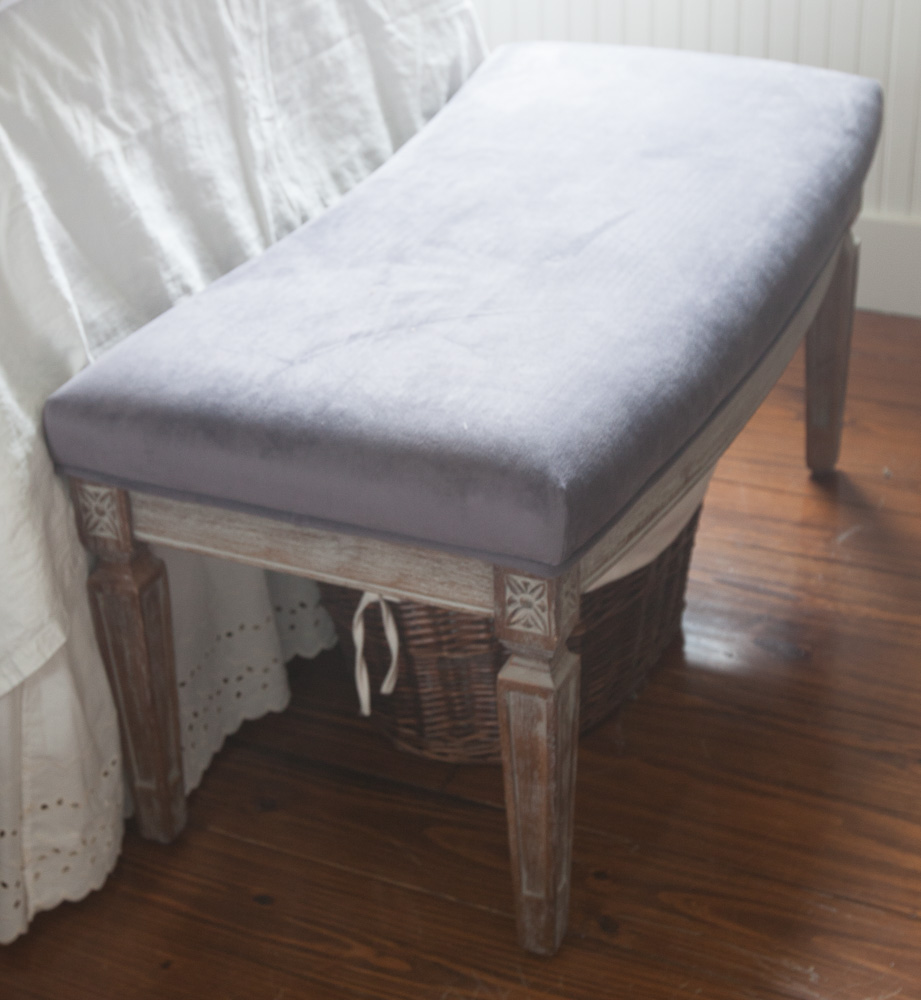 affiliate link

The baskets went under the benches, so they are still there. I also realized that people can stow their bags under the bench also if they don't want to use the basket. I think these benches go better with the new bedding and are also more practical. Another more subtle change was changing out the cream matelasse quilts for vintage linen sheets. Yes I used sheets for my bedspreads, don't judge, ha! I think the look is very airy and springy. Yes it's January, but hey this is Texas, and it's been hot.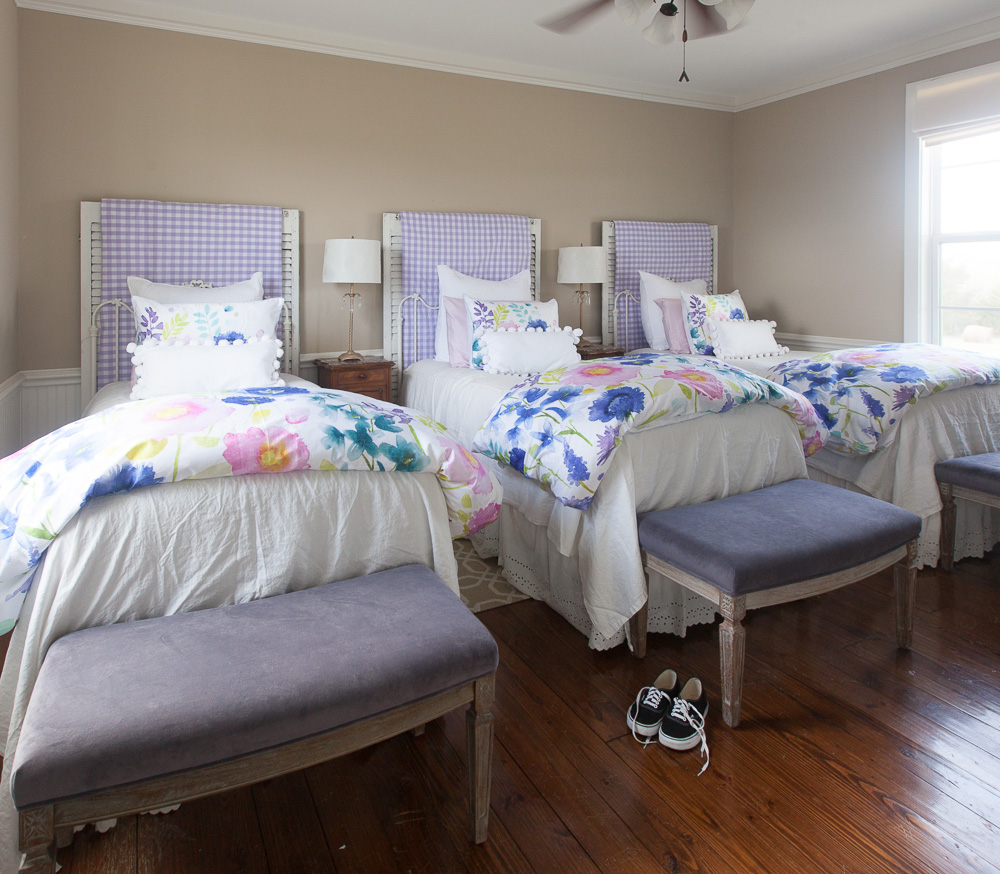 Okay I am going to be honest here. I liked the benches, but the room still felt off to me. I felt the room looked too angular with the squared off shutters the the more rectangular benches. I made another change to the room. Well I made a couple of changes. Can you guess what I did? What would you do? I'll show you as soon. But I am always open to your suggestions.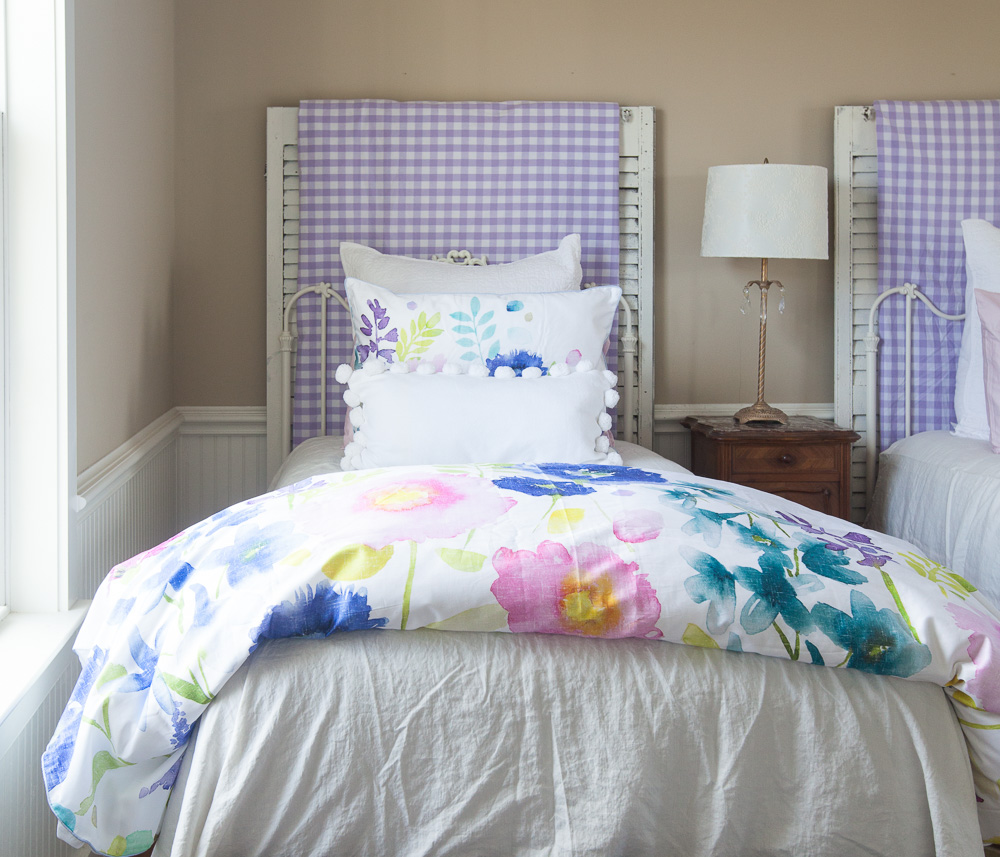 Leave a comment and be entered to win!