Yes you heard that right  – what rich people know about decorating.
What do they know? They know that antiques give a room depth, richness, and a soul. They know that antiques give a room something – class.
Even though antiques by definition are old, I'm amazed at how something so old can give a room a new look.
Let's take this mirror for example. It is much more subtle and subdued that what was here before.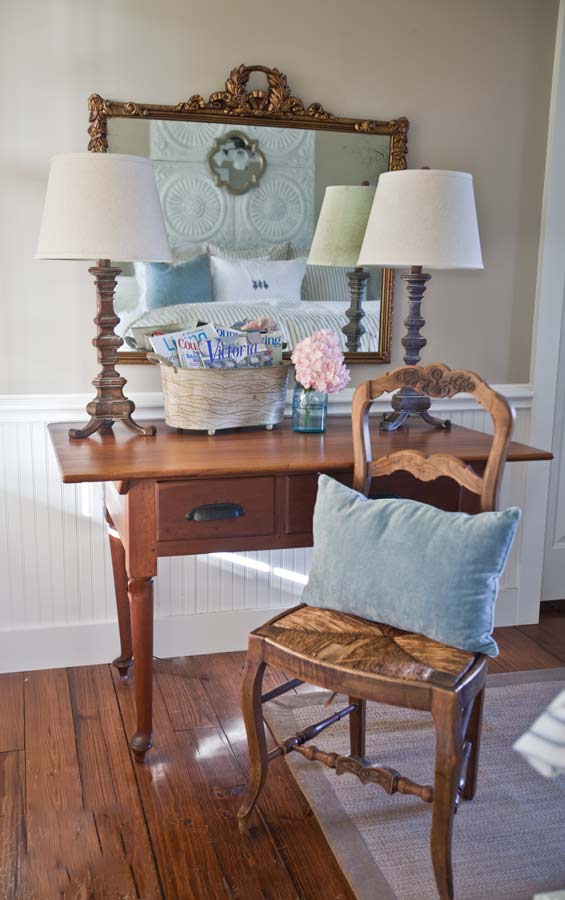 Here's what I had over here before. I actually really like the painting; it's actually a print on canvas. I just didn't think it went in this room any more. I gave it to my dear friend Peggy because she wanted it. (Love you Peggy!!) If you wonder where things go when I don't end up keeping them,often they go to her.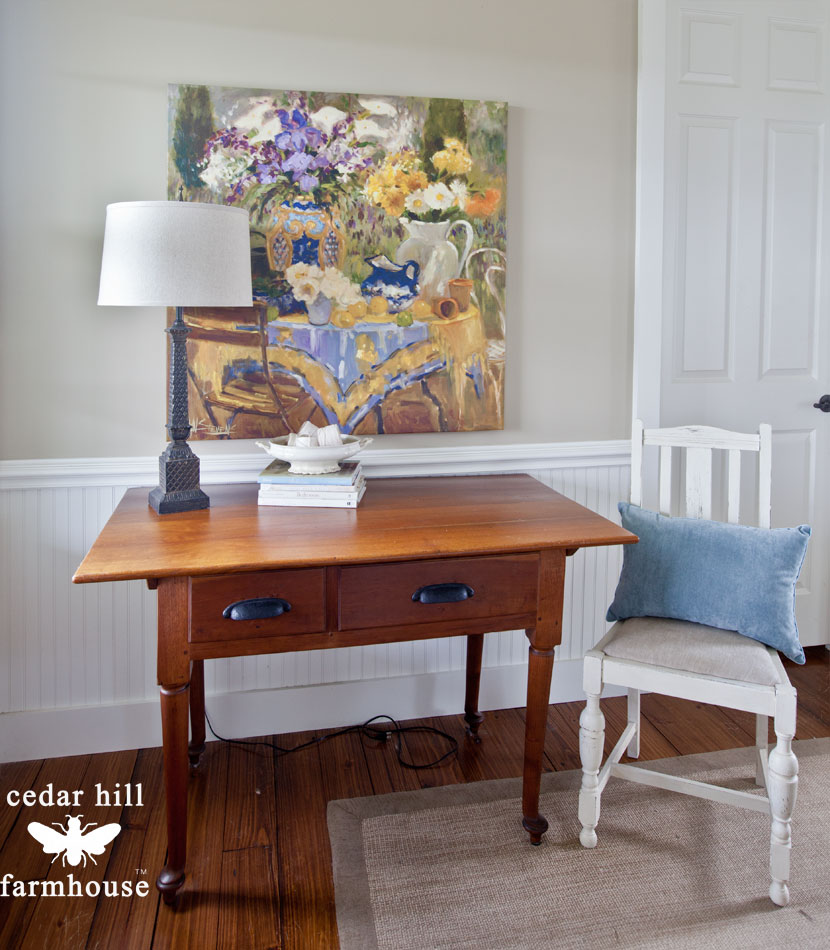 This table is a very, very old antique from the 1800's or even before. The painting I felt didn't go with the newer blue bedding in the room. The room used to be green and the painting really went with all of the green. Now it looks strange, since the rest of the room is very blue and white. There's a story about the table. Maybe I'll share it one day, and call it "Tales for the dark side."
So I wanted to move the painting out of here. It went to my friend Peggy who was very happy to get it.  (Love you Peggy!)
The downside to the mirror is that it doesn't add any color to the room, but it does reflect the blue and white bedding, so in a way it does add some color.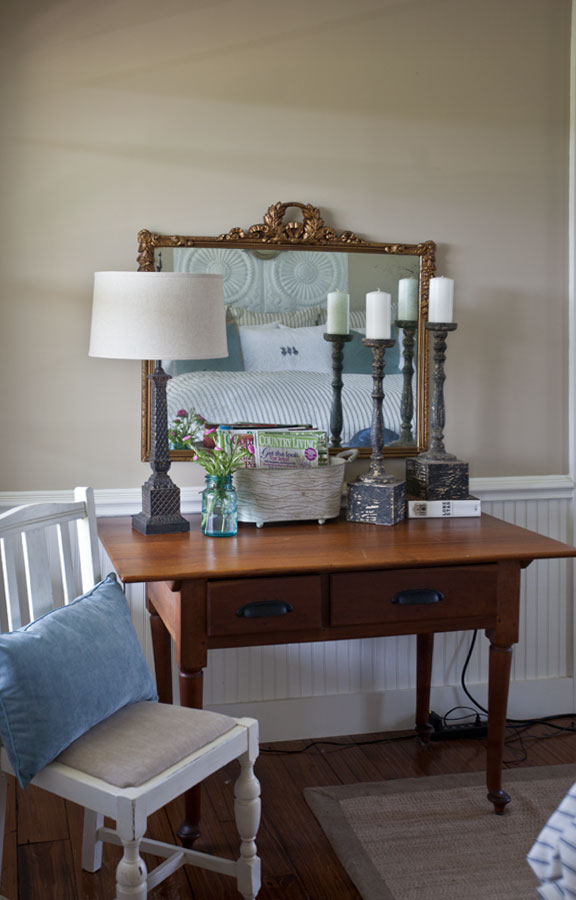 If you are wondering why I go for antique mirrors rather than new ones, look no further. Check out these detail shots.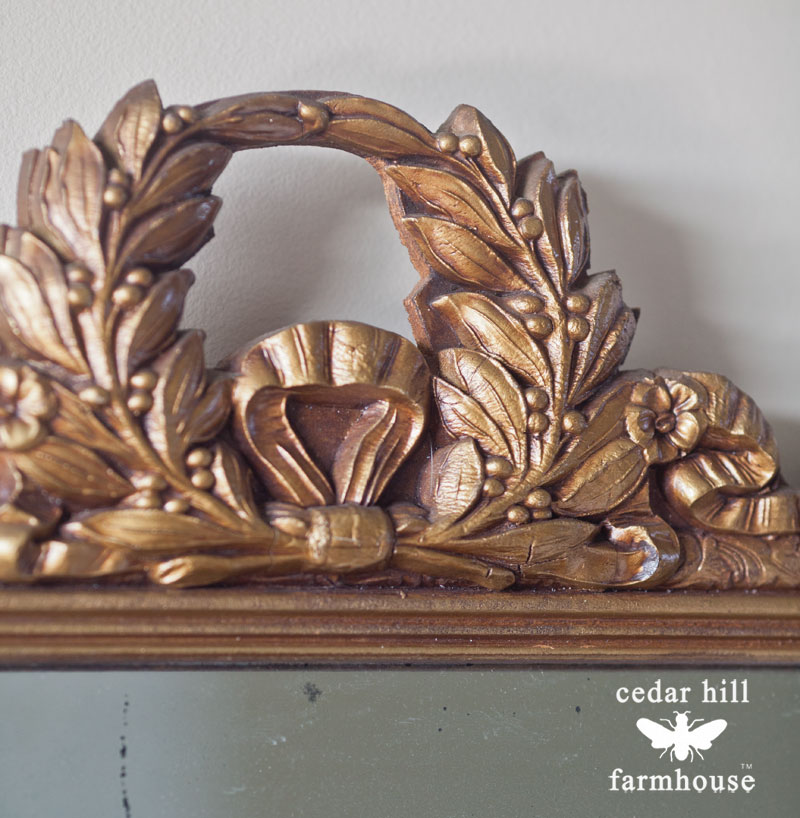 I love all of the delicate swirls, bows, and acanthus leaves. Yes the mirror will have the spots where the silvering is coming off, but if you buy one of these mirrors I would not have it re-silvered. The imperfections on the mirror show it's age and are part of the mirror's charm. You don't want a beauty like this looking brand new.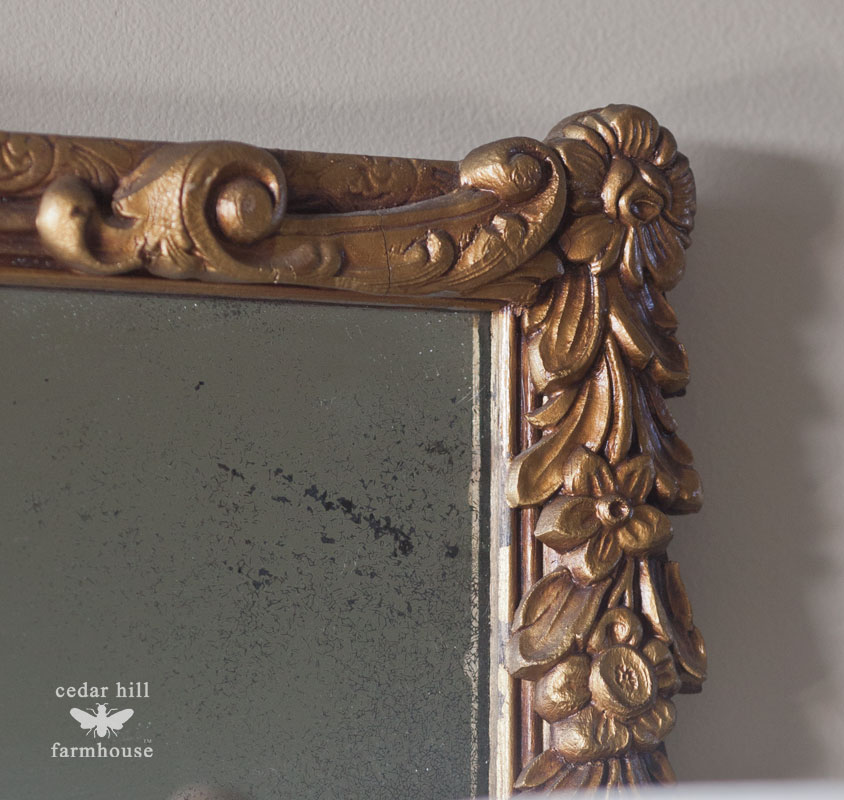 I know some people will prefer the colorful print to the mirror and that is okay. But for me, I really like the beauty of the mirror and its faded elegance. BTW, the tiles behind my bed just came down and I put up a mirror, which I am removing in a few days, because I found an even better mirror. Can't wait to show you!!!
Where did this mirror? At a local antique mall.
If you want to see the rest of the room, you can see more below