I'm getting ready for Valentine's Day, and have some ideas for you today.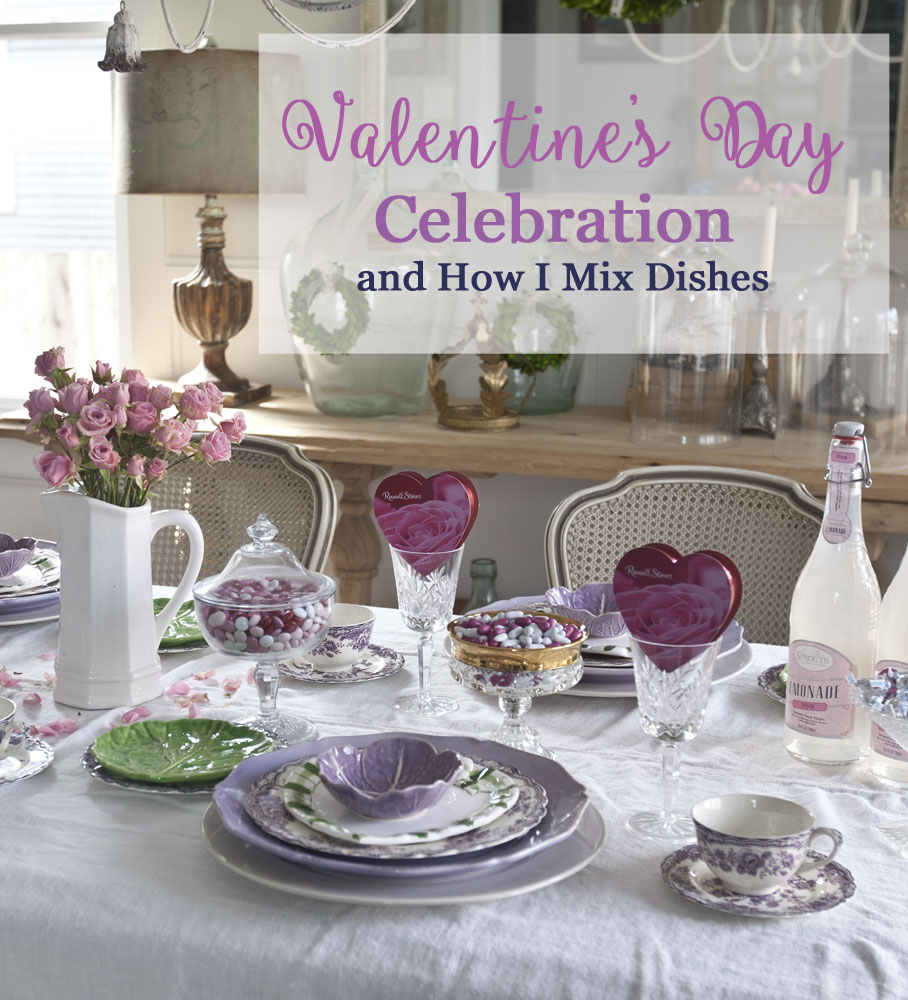 Shrek said that he was like an onion, that he had layers. Yes I am quoting Shrek, because I'm fancy. A delightful table often has layers too. Layers and layers of plates make the table so pretty. The secret is to consider the colors. Two color plates mix much more easily than multi-color plates.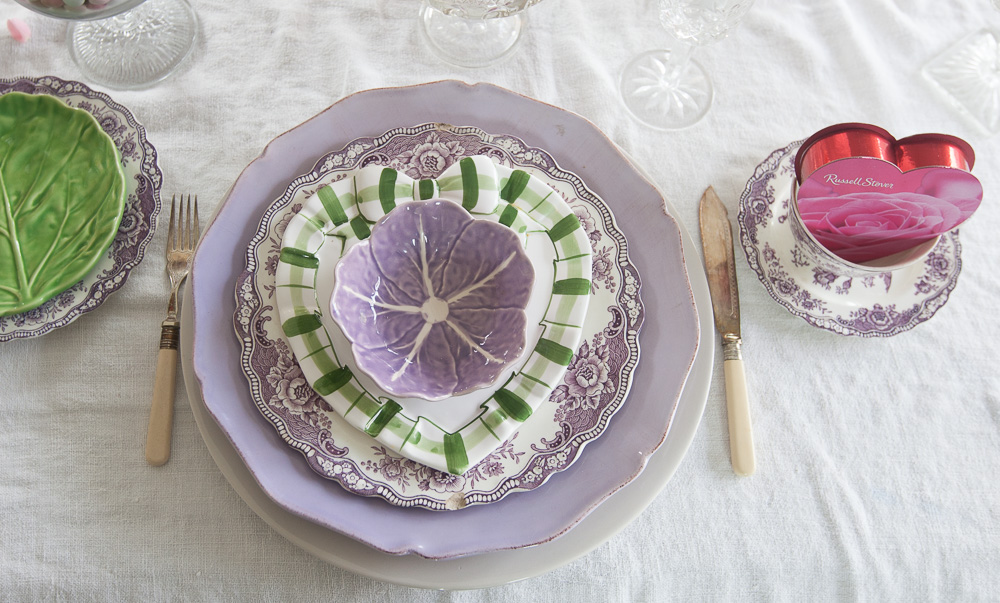 This stack starts with an oversized white plate, topped with my lavender Italian plates, then I used these charming Crown Ducal Bristol Mulberry plates (made in England) layered with green plaid heart shaped plates (made in Japan) and topped with a lavender cabbage bowl made in Portugal. I think it's really easy to mix plates if you stick with a limited color palette. You can use plates with lots of colors, but they are much more tricky to work with. Here I have 3 colors – one, green, and purple. The eye is drawn to the simplicity. If you have too much going on, it can feel confusing. When it looks confusing, it is no longer pleasing to the eye. Once again we are reminded that simplicity is at the heart of good design.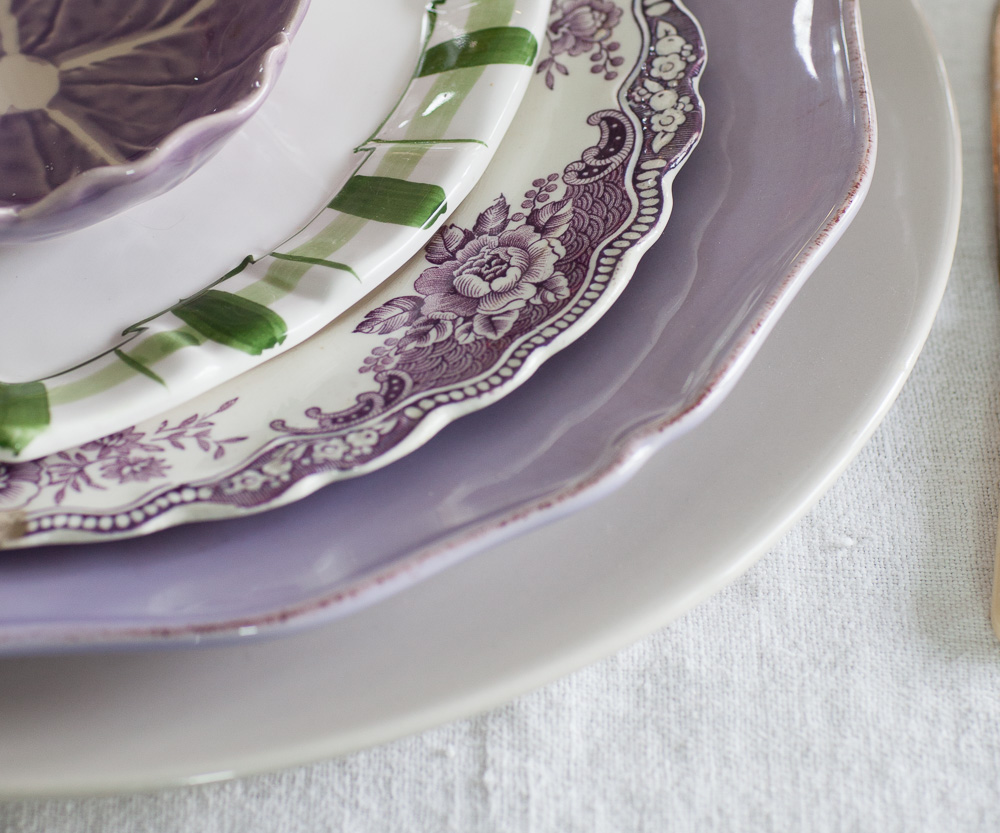 Before I go any further I want to thank my dear friend Barbara Jacksier for the Crown Ducal Bristol plates. She's such a talented writer. She wrote the article about my farm for Prairie Style magazine and she is writing the article for French Country Style magazine about my house, and that issue is coming out this spring. She sent me an entire set of these gorgeous dishes. Thank you sweet Barbara!!!!
You may know about my love of lavender dishes from this post, CLICK HERE.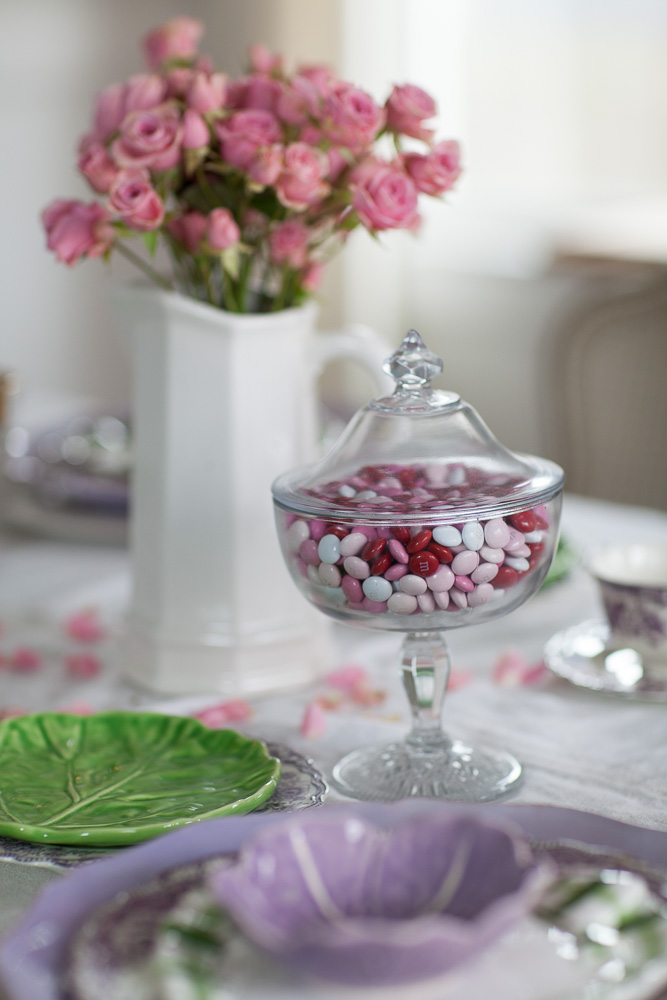 I added these charming little chocolate heart boxes for the table. These were under $2 each. They came with 3 chocolates in each one. They may or may not be missing their chocolates today. This is, after all, a Valentine's Day table.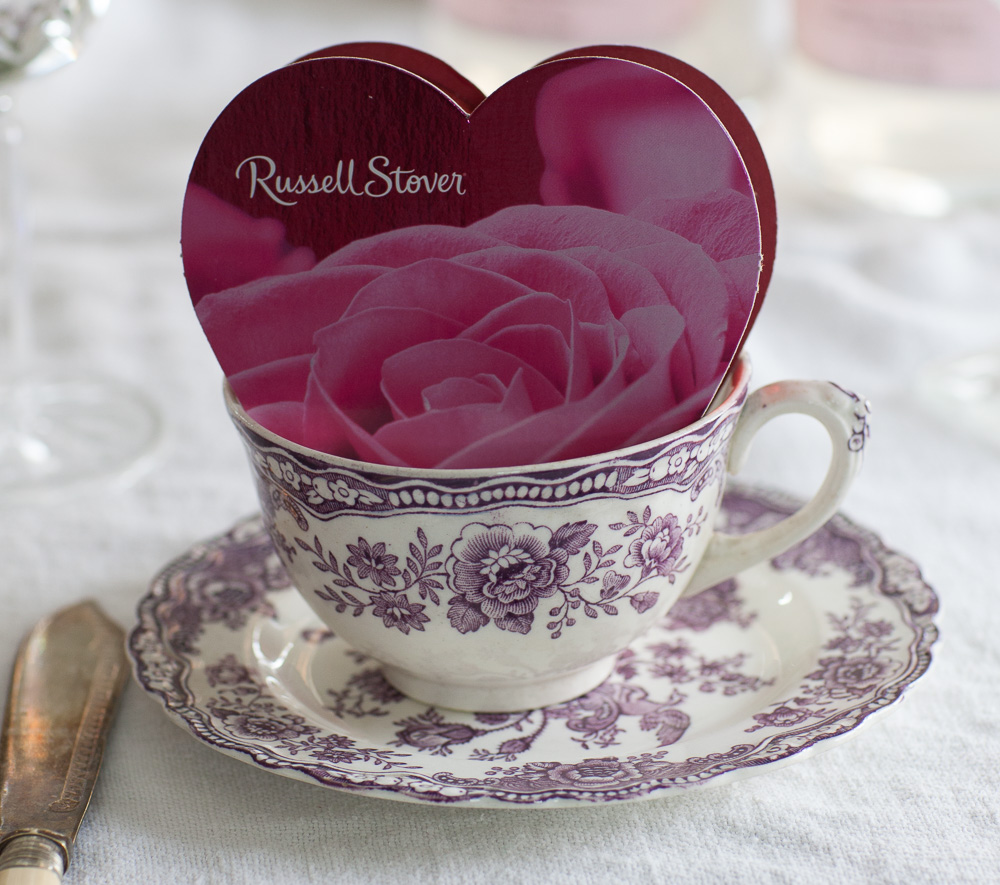 The Bristol cups and saucers are so pretty! I thought we might need a bit of pink lemonade as well for our Valentine's Day celebration. The lemonade is from Sprouts  but they don't carry this any more according to my store manager. Did you see? It's imported from France. It's like they know me! (This is not a sponsored post, BTW.)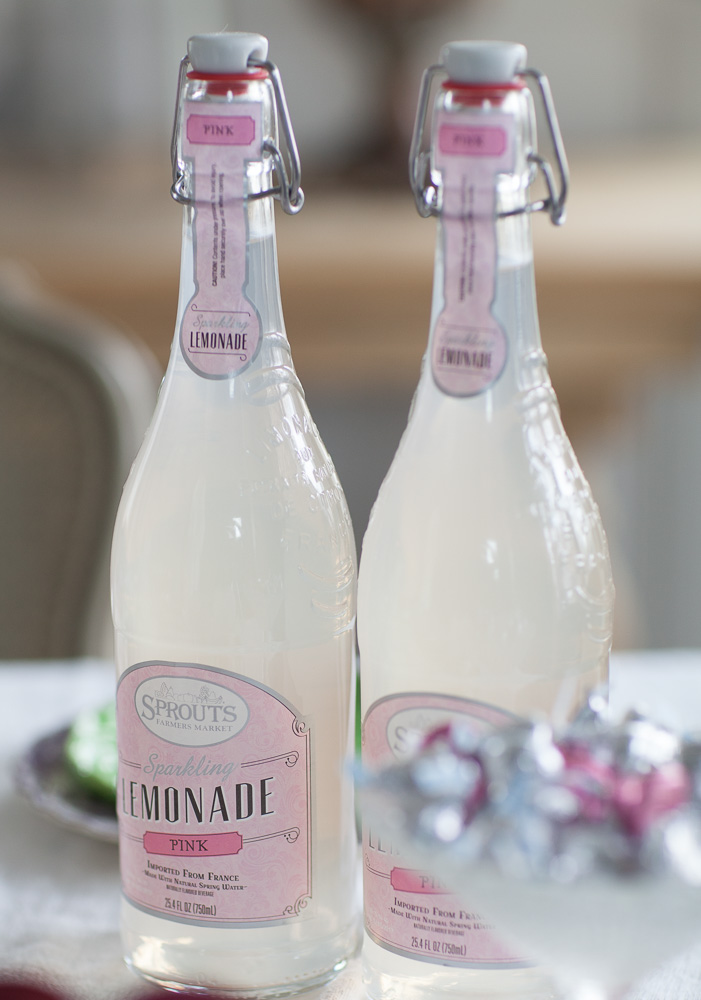 My sweetheart brought me this chocolate Eiffel tower for Valentine's Day. It was delicious!!!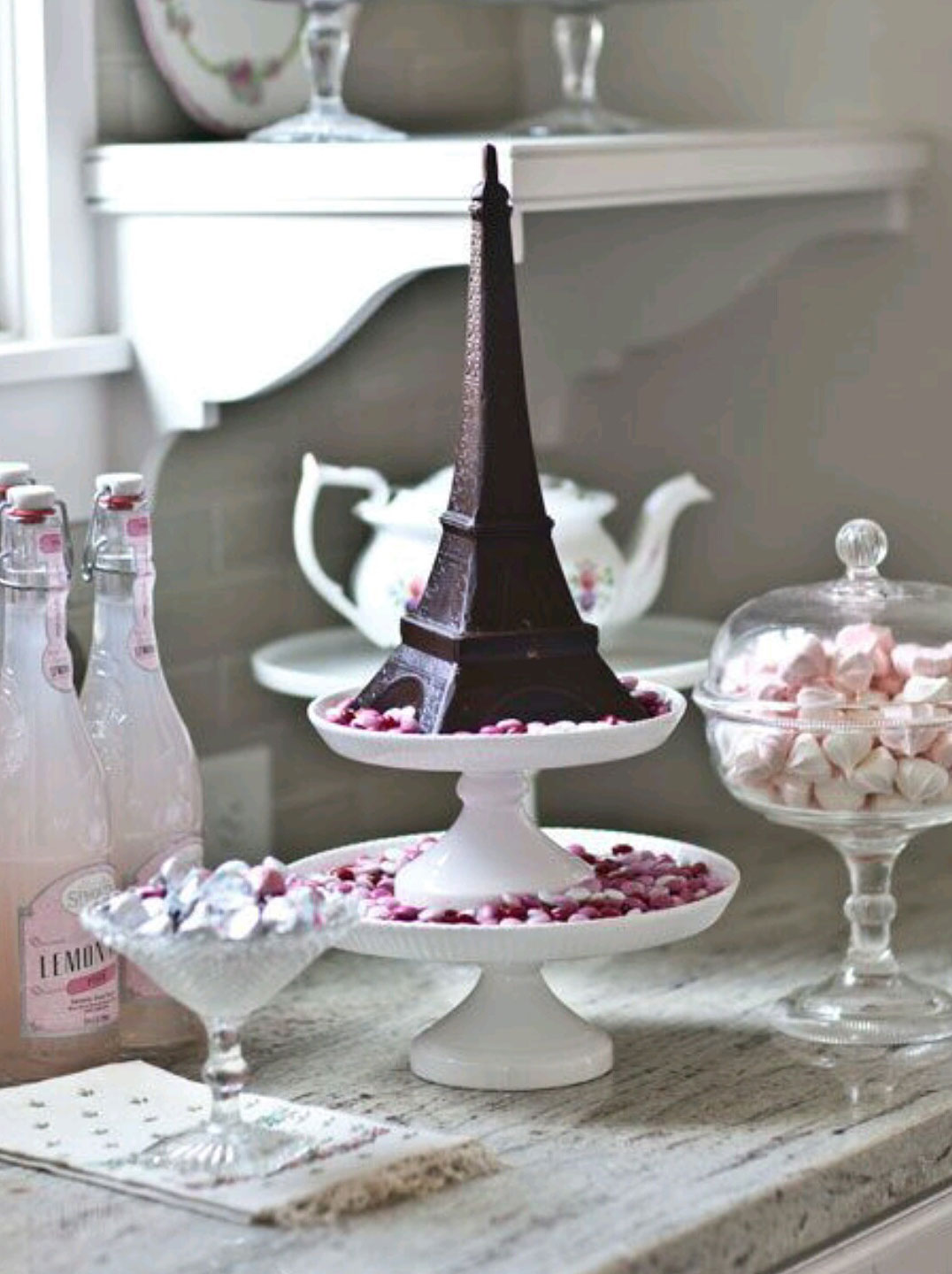 I even added a lavender throw to the room.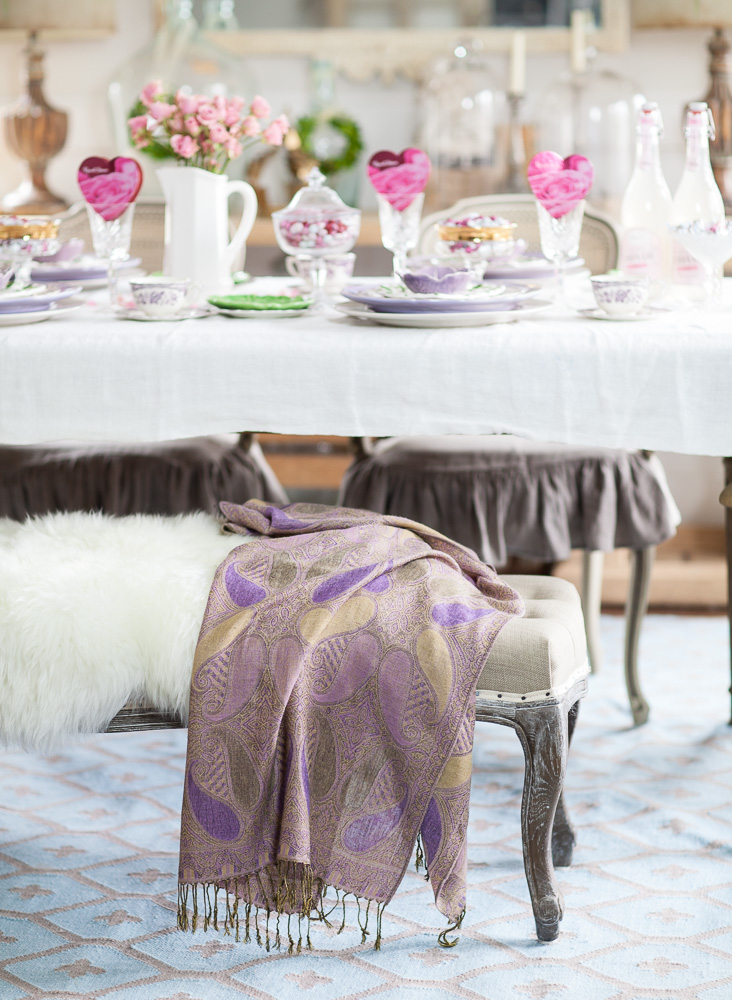 I used an old vintage sheet for my tablecloth, and sweet little roses for my centerpiece.