UPDATES TO MOUNTAIN LIVING ROOM
Today I've revealing before and after photos of our mountain house living room as we improve it slowly but surely.
As you probably know we went to our mountain house a few weeks ago. It was so nice to get out of the heat in Houston and escape to the mountains of North Carolina.
If you want to stay at our house, you can. CLICK HERE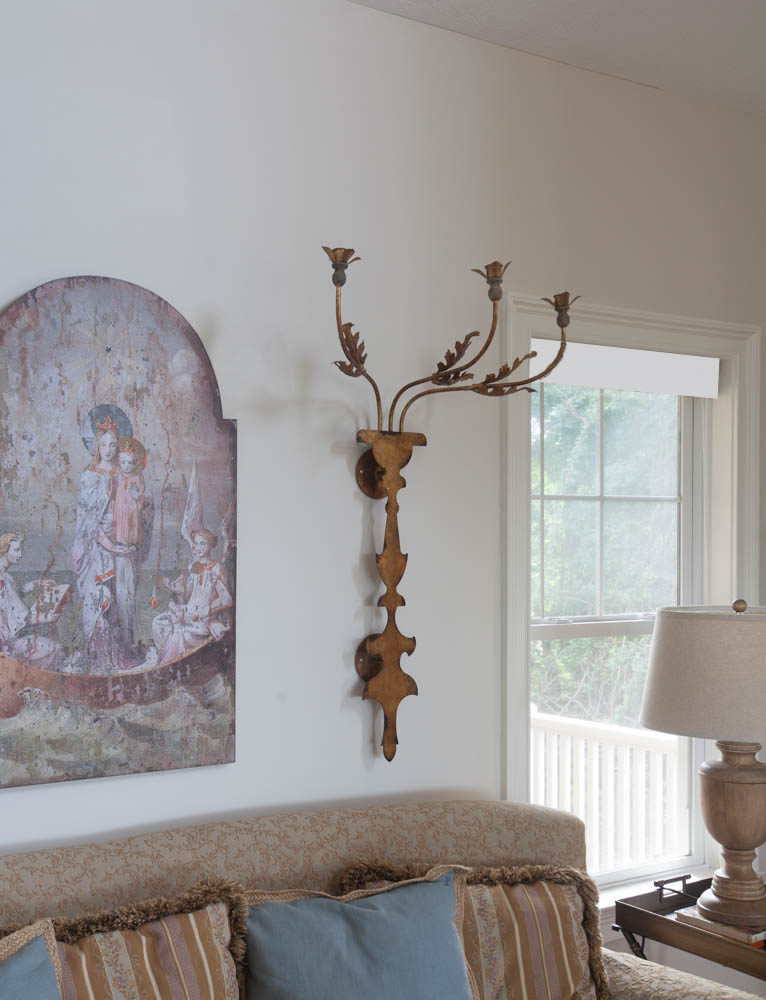 It was rainy for a few days, but I'm not complaining. After the rain, it cooled off so much we needed sweaters in the morning. Again, I'm not complaining. It was so wonderful.
I don't do much in the way of decorating at this house, because we're not here often and there's only so much I can fit in our car for the trip (because the car has two sets of golf clubs in it.) Not complaining, just stating the facts. *wink, wink*
When we moved in this is what the mountain living room looked like. To hear more about setting up the living room, CLICK HERE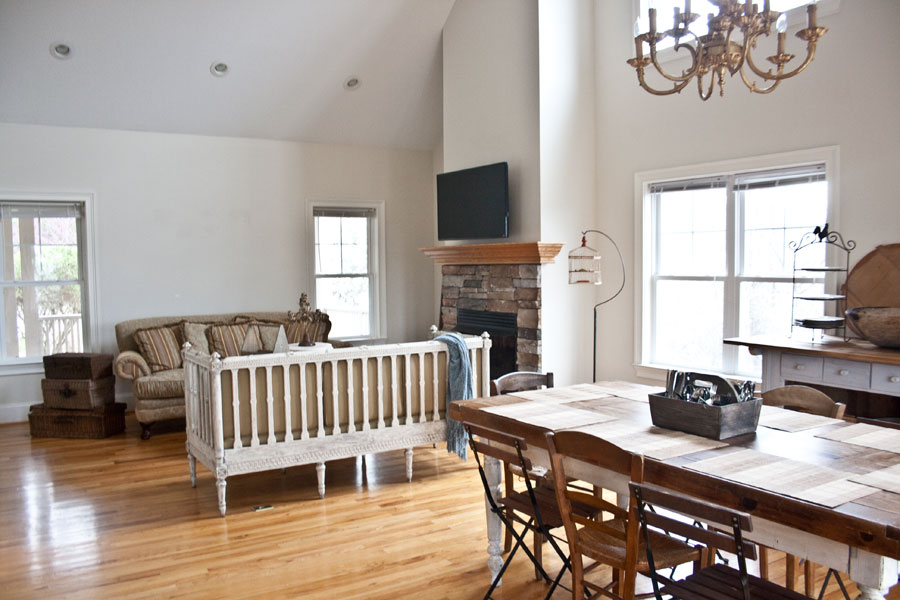 Yes I know it's a bit stark. I'm trying to furnish the house inexpensively and with leftovers from our house in Houston. My philosophy is go without until you can afford what you really want. When we retire and move here, we'll be combing two houses of furniture so I really, really didn't want to buy a bunch of stuff for this house. But this is a vacation rental, so I am also balancing what renters want. So…. I've been adding updates.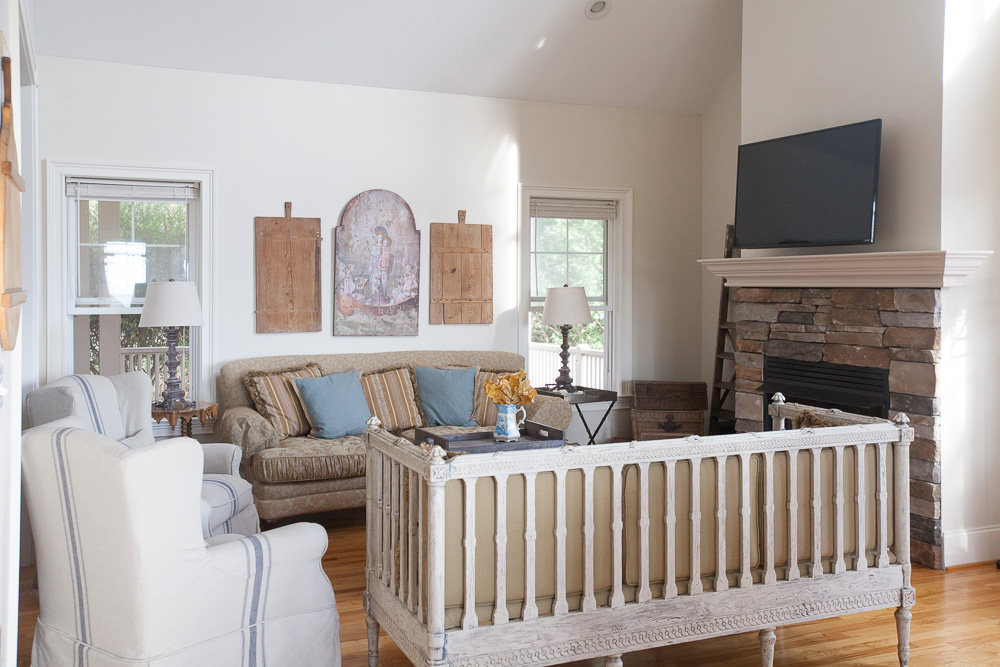 I talked about making some of the updates HERE. I added end tables with lamps, something the room desperately needed. We also added two comfy chairs, CLICK HERE and painted the mantle. If you would like to purchase these chairs for your home, I think you'll love the price and quality. (affiliate link) Click on the image of the chair below or just CLICK HERE.

I think it already looks so much better, but it does get better. I brought these lamps from Texas. They are weightier and I think they make the room look more balanced. I liked the bread boards, but moved them. I had purchased these wall sconces and didn't have a place for them, so they got installed here. Why did I buy them? They were about 1/4 of the regular price. (Yes, please do as I say, not as I do.) I know I say not to buy something just because it's on sale. Well in my defense they are gorgeous.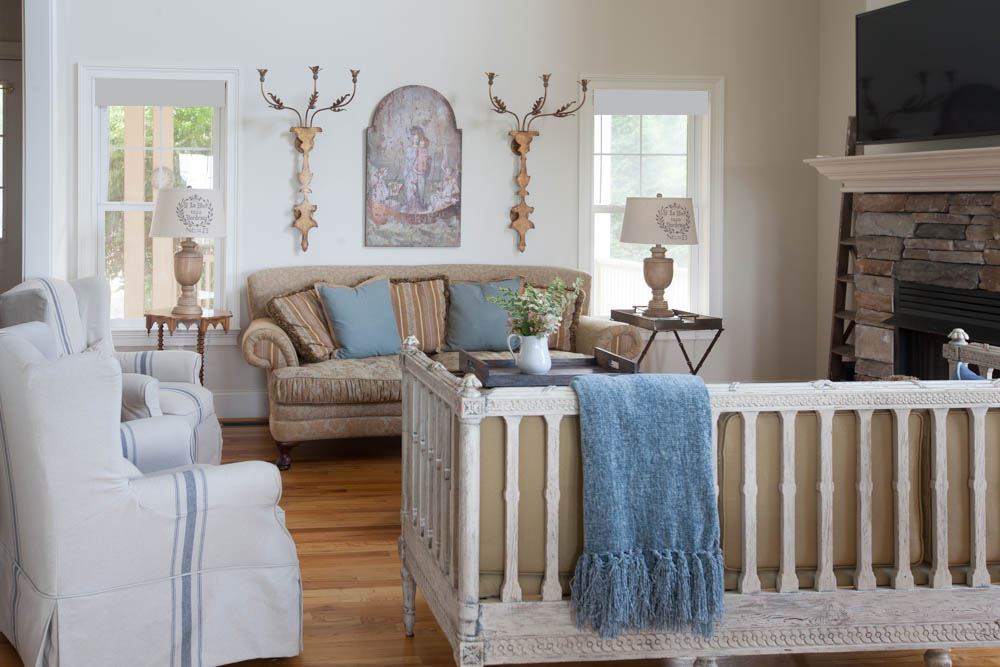 Like most of you I'm not crazy about the big black 'thing' over the fireplace, but again it's a rental and my family wanted it, so it's all about compromise. This is real life ya'll. I like the boards above the TV.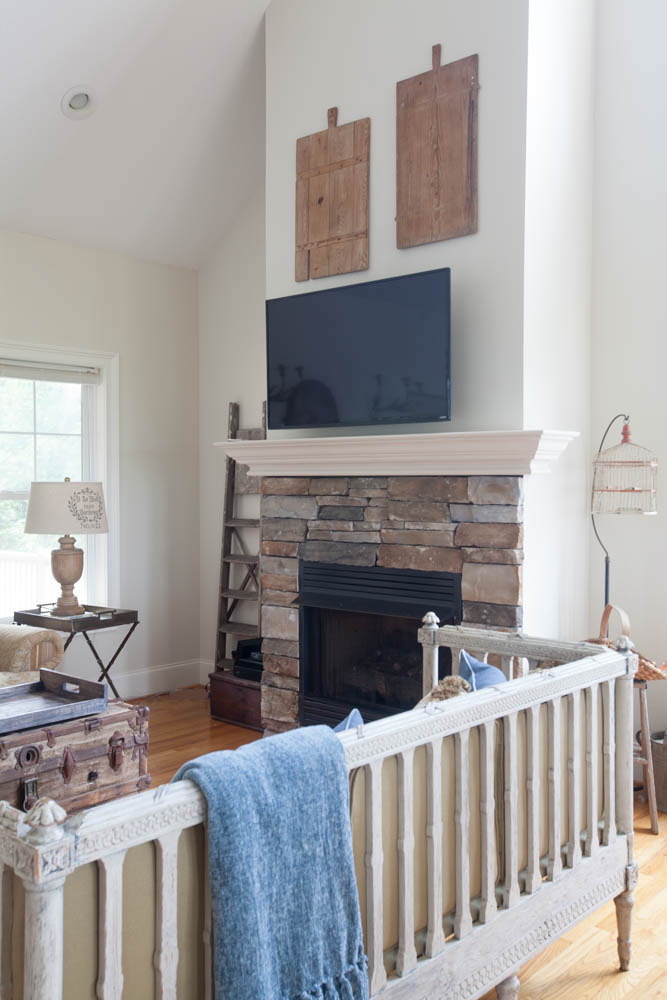 There's another fabulous episode of the podcast out today.
EPISODE 81  THE FASHION RULES THAT APPLY TO YOUR HOME

Before you ask if we changed out the minblinds, no we didn't. I've photoshopped them out. I wanted to see what it would look like with some neutral shades. I think I'm going to go with some neutral roman shades in here.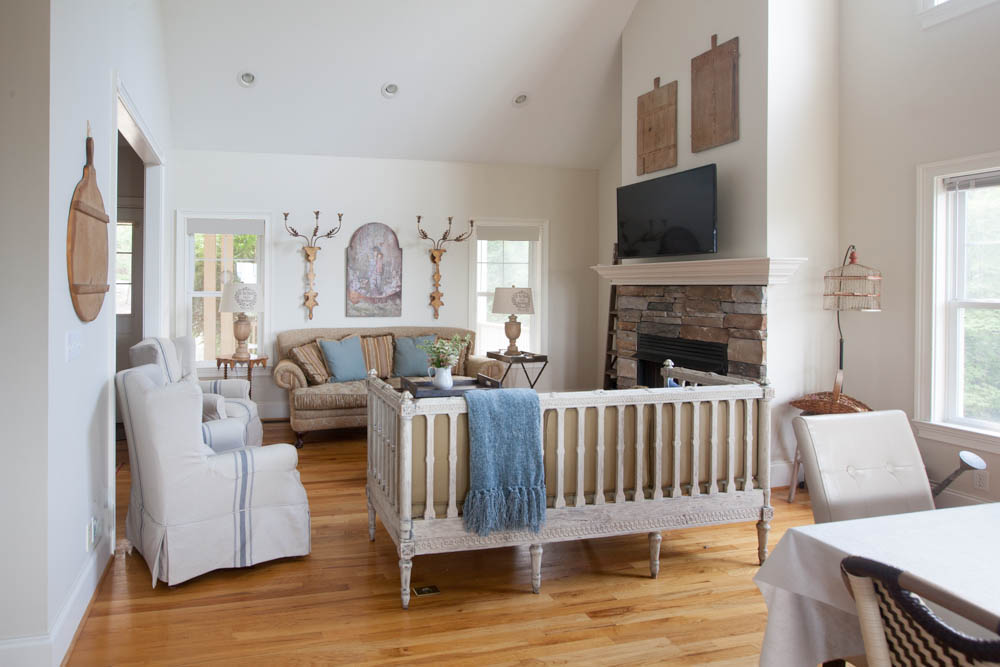 There's so much I want to do to this house, but there's only so much I can do for now.