Do you ever feel like you are stuck in a rut? I've felt that way for a long time with my coffee table. It's comfy for sure, but I've been tired of it for awhile.  I even made a new slipcover for it about a year ago. (or I think it was a year ago.)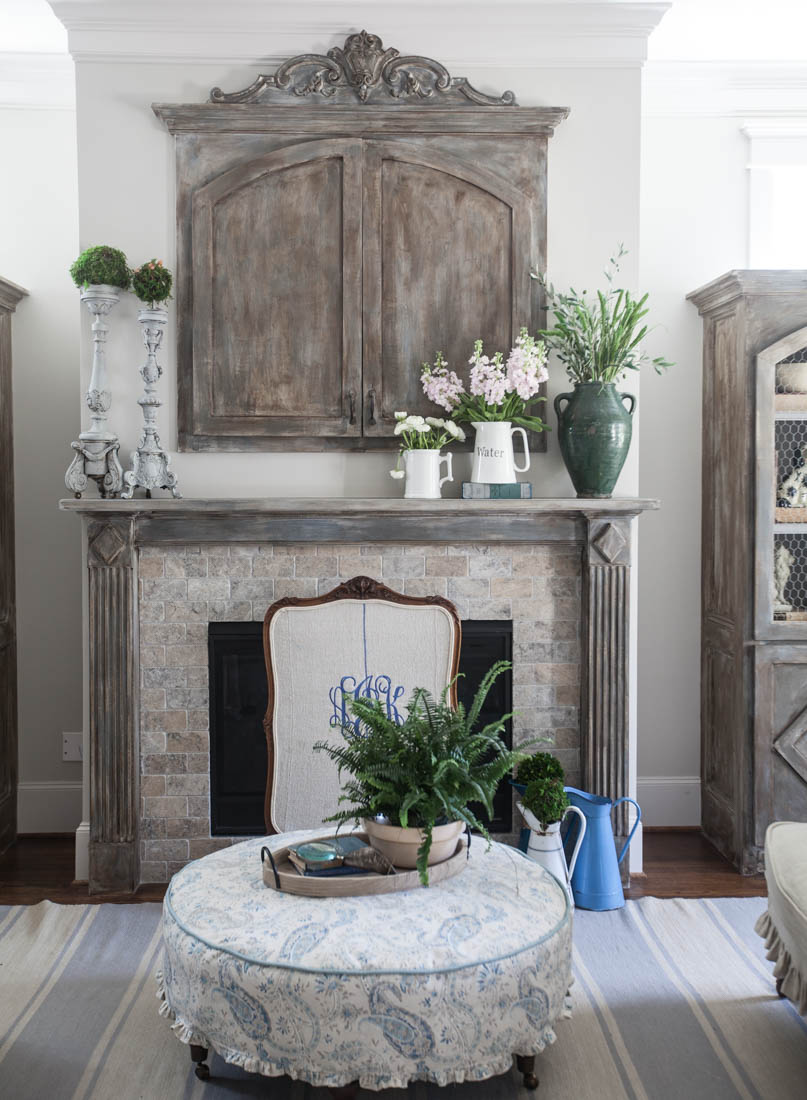 I love that it's so easy to move around because it has casters. But it's also frustrating when you are sitting there with your feet on it, and someone else puts their feet on it, and it starts rolling away. This happens a lot. And that was my excuse to replace it. Plus, it's been our coffee table for over 10 years.
A few months ago, I started looking at real coffee tables, not ottomans. I soon realized that there were tons and tons of styles, and I realized that I loved several styles. In the end, I wanted something modern, but something that would work with my French furniture. I chose this tray topped coffee table.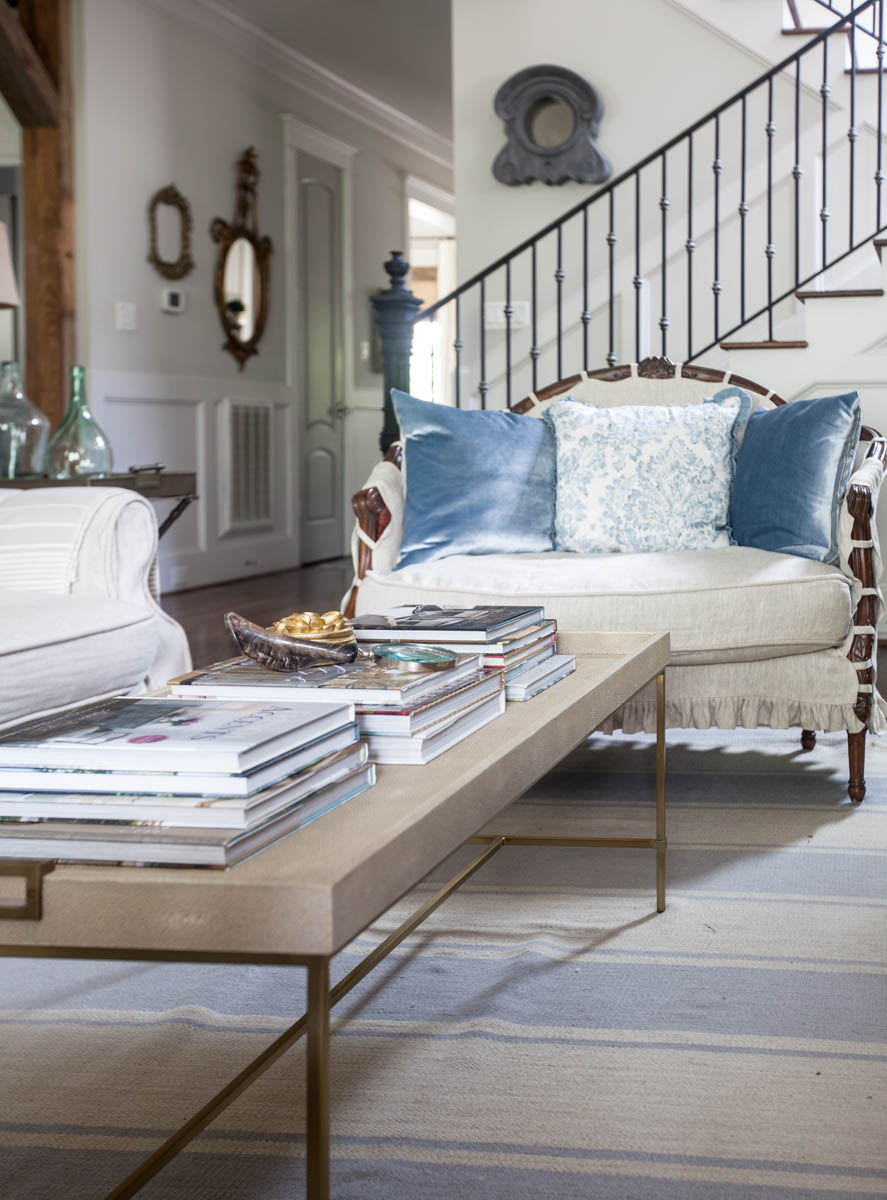 I love how it gives the space an airy feel, since visually it holds little weight. The tray actually lifts up, but I don't see using it anywhere else.
It's a long way from my very first coffee table. That was a yellow igloo cooler with a throw used to disguise it. For now, I've moved the ottoman to another room, while I decide what I'm going to do with it going forward. Remember you can sell your old furniture or consign it.
This post contains affiliate links.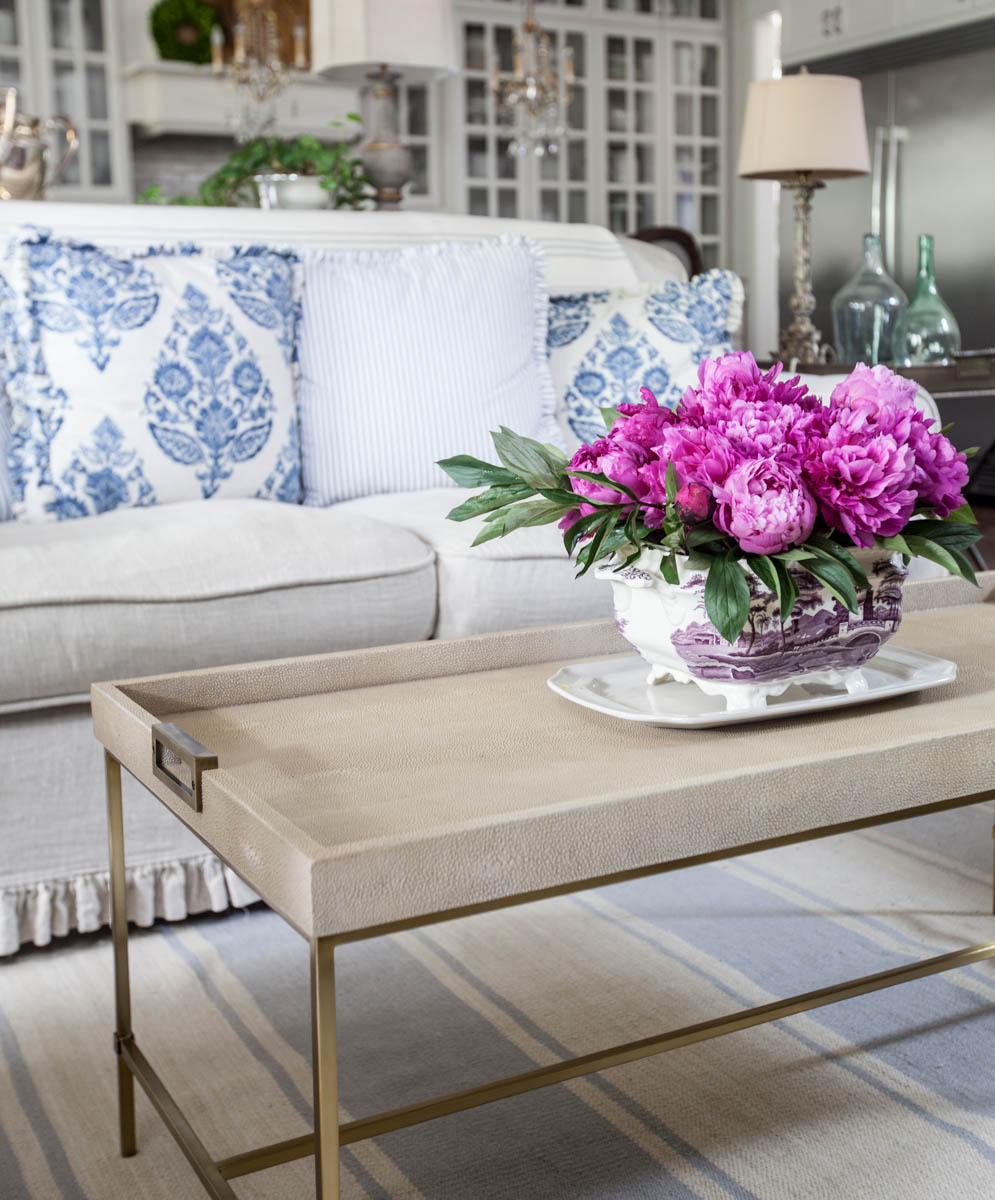 The tray is a faux shagreen. Real shagreen used to be made from sharkskin, but this one is not real. It has a very interesting, nubby finish. If you are interested in this coffee table, see the link below.
CLICK HERE for the COFFEE TABLE INFO
On another note, since we're in the living room, remember the chest behind the sofa I added recently? Several of you felt it looked a bit crowded with the chairs there.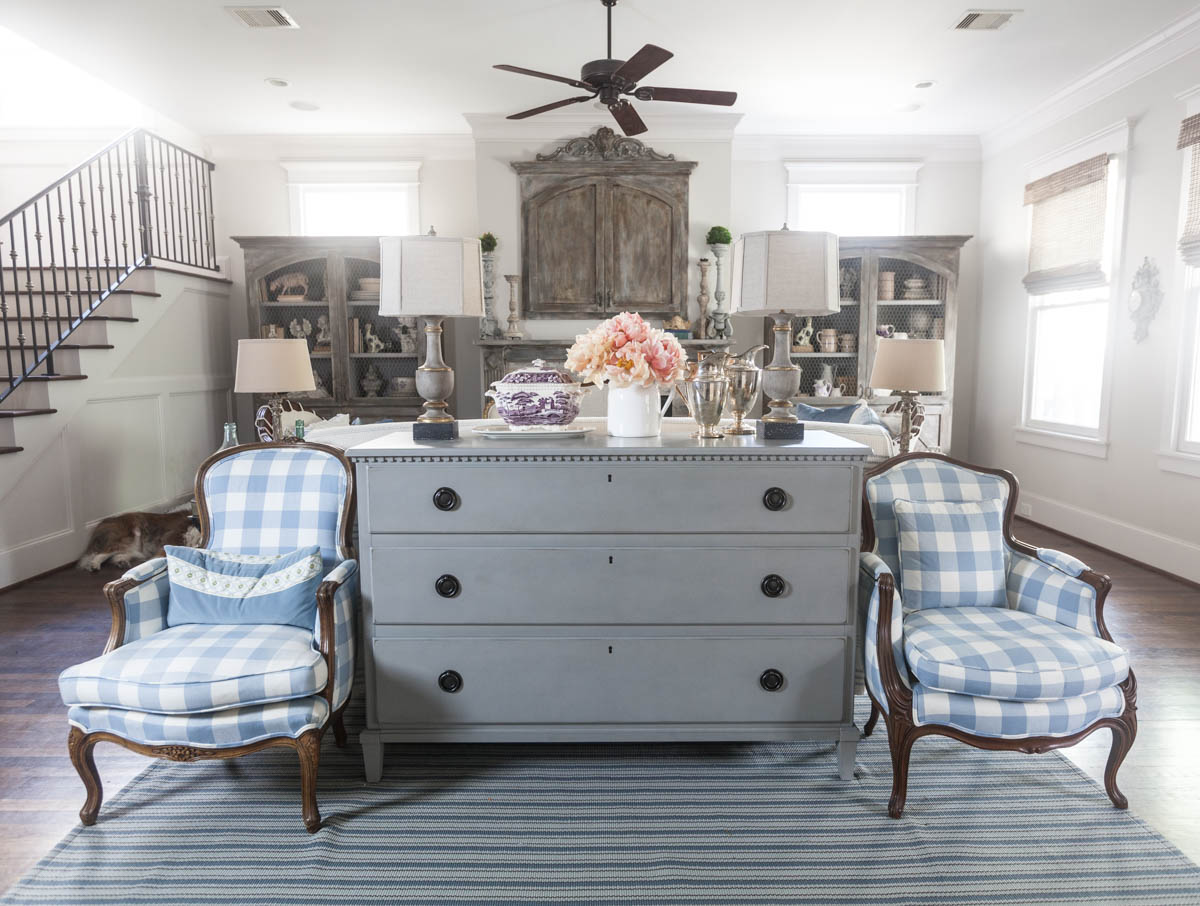 I had to agree! I actually wanted to move the chairs, but my husband asked me to keep them so I did. He wanted to use the chair to set his work bag on each night, so it would be there on his way out of the door. I finally suggested he use the chest for his bag, and he was happy with that solution. And so, another decorating dilemma was resolved.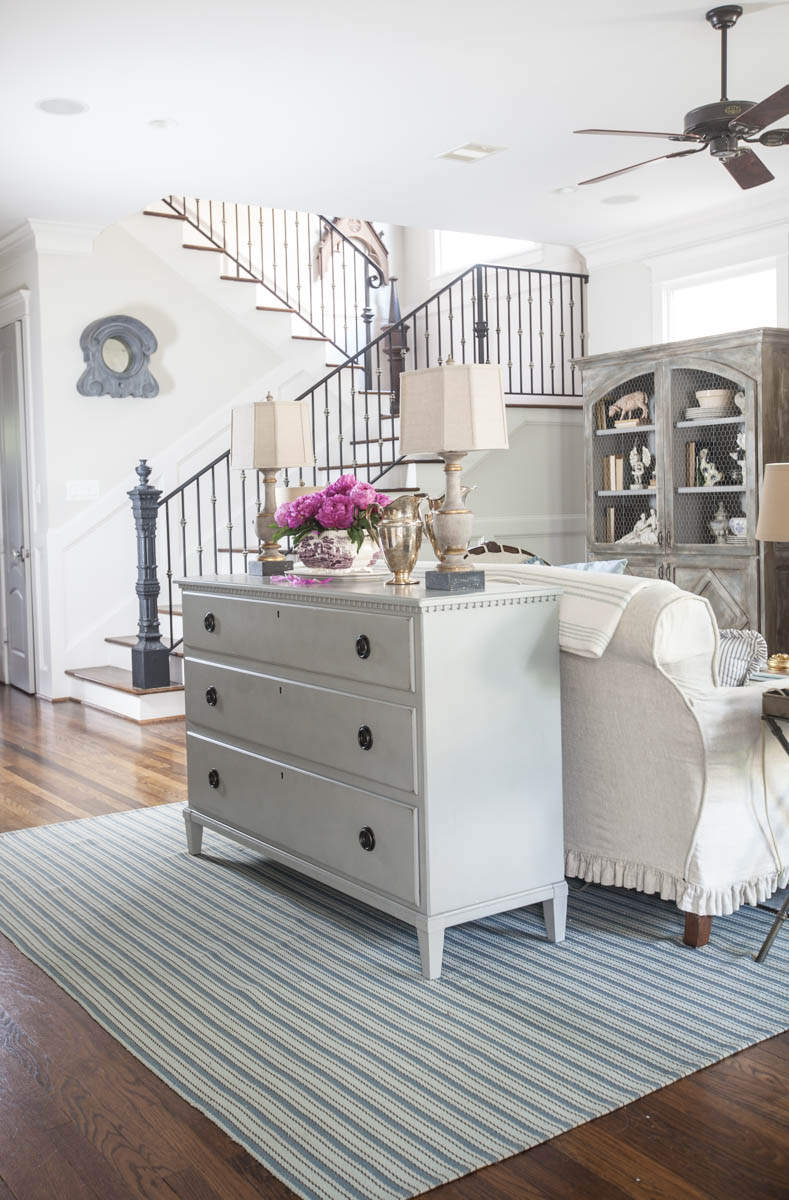 I am enjoying the room more with the chairs moved.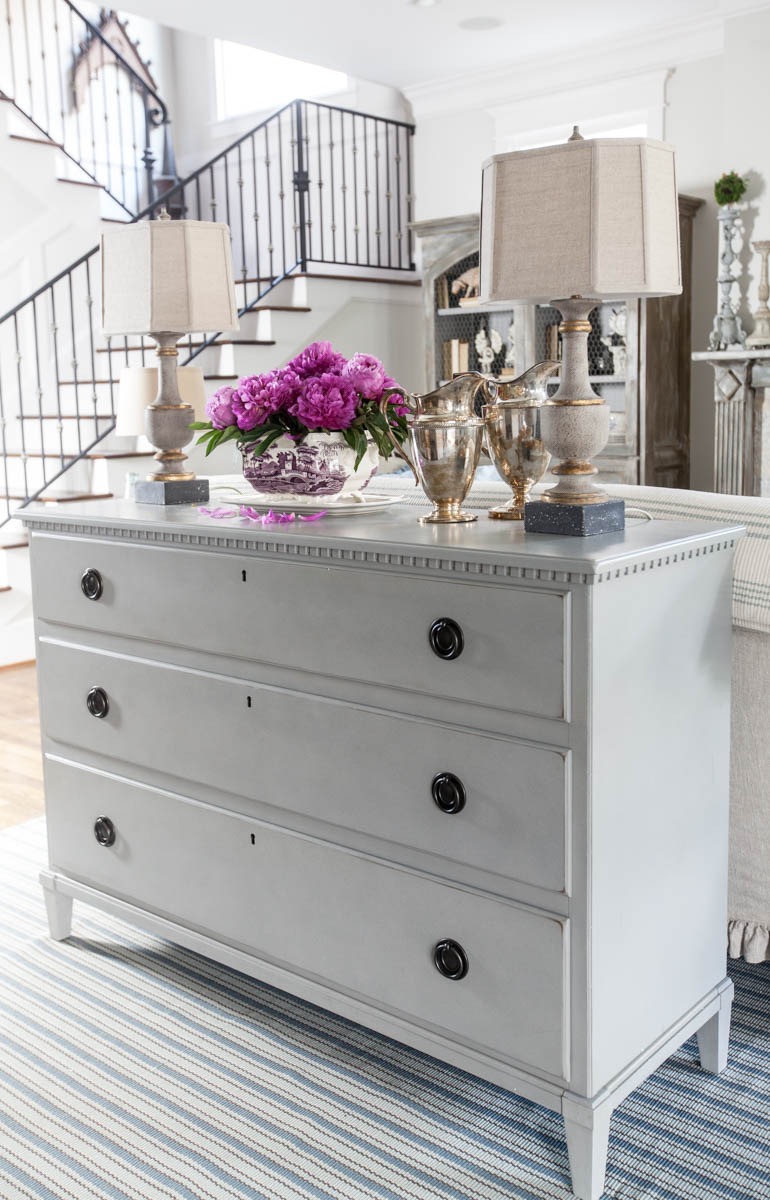 I love the open feeling of the space. As you can see the kitchen is behind the living room area.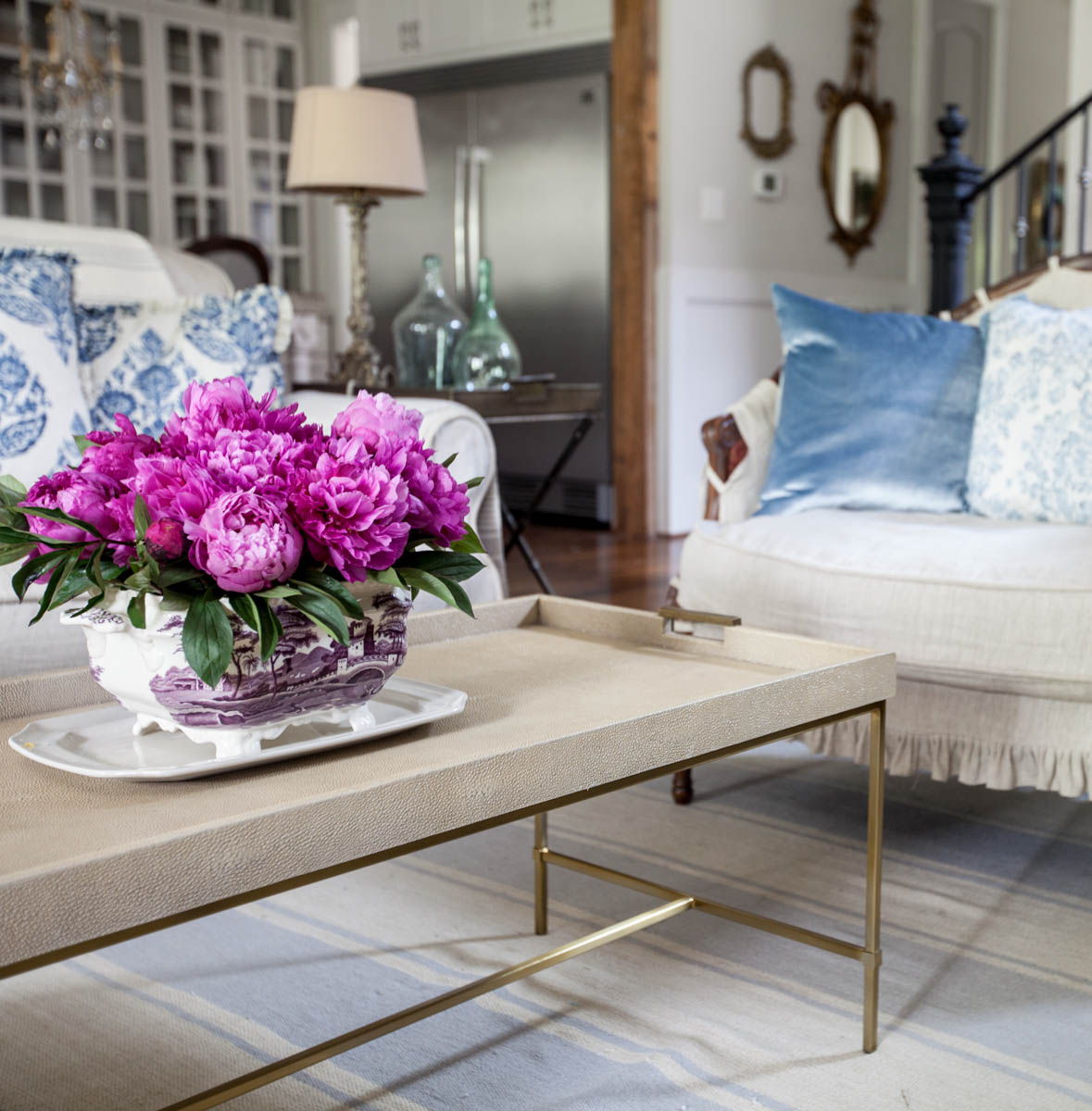 I am loving these peonies so much, but sadly they will only be pretty for a few more days.
Below, I've found some coffee tables I like in various price points.