Styling a bookcase is so easy if you keep just a few things in mind. I had a unique privilege to watch an expert in action. Am I an expert? No, far from it. When Meredith Publishing came to photograph my home for one of their magazines, I got to observe the stylist whipping my home into shape. Let's talk about how to style a bookcase.
This bookcase above is close to the way she had it. Let's talk about what makes this work. The main thing is that it is monochromatic. Although you do not have to go monochromatic, it is easier to make a statement if you do.
Try taking everything out of your bookcase and just putting back things of like color. You may not need everything you have in the bookcase any way. From a magazine photo perspective, they want less in the bookcases because they photograph better that way. Too much can look confusing. They want each piece to stand out and shine on its own. If you have too much in there, it all begins to look like one big clump.  They took a ton of things out of my cabinet.
Here is my before.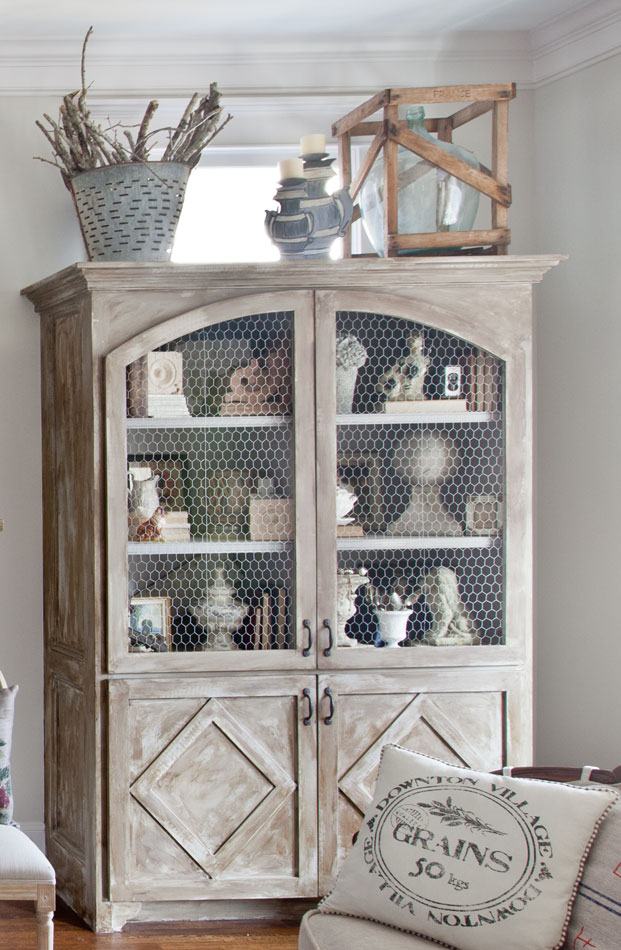 What's different? Well I took the things off of the top. I thought it looked a bit cluttered, and I like the clean look without those items up there. We also took out all of the artwork in the back of the bookcases. It ended up just looking dark, and you couldn't see them any way. I took out some of the darker items. You couldn't see them very well either. Then I removed several of the smaller things that were getting lost.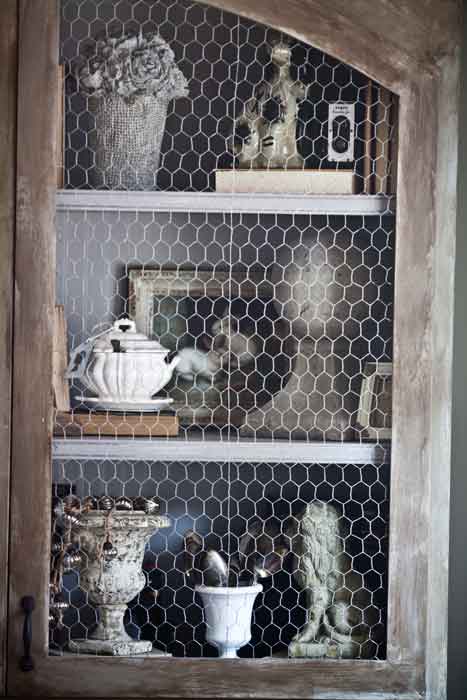 What did I keep? a few new (but old looking) concrete pieces, the lion and the urn. I kept a lot of the old books. Again I went with my monochromatic theme. The books with cream, tan and yellow covers were used here. If they had another color cover, I turned them backwards. It works from a design standpoint, but if you are going to be looking for that book later, this technique won't work for you. The books I want to find later are turned so that I can easily see where they are.
So I used a mixture of large architectural-looking items (finials and urns) and a few dish items (tureen and teapot) then threw in some old books. That's about it.  What can you use to give your bookcase a country French look? Well old things really give a room a French feel – try old books, old ironstone, architectural fragments, old clocks, old bottles, or even old rusty iron pieces. Remember not to over-stuff them.