Here are my top 5 versatile pieces of furniture that I think you might want to have. Versatile furniture is great, because these pieces can be easily moved from one room to another when your design changes. They are also helpful when you move from one house to another one, since these pieces work so well in many different places. Here we go.
BENCH OR OTTOMAN
The first piece is a bench or ottoman. I love benches and ottomans! I have several that I move around a lot. There's one bench I have that I bought for the dining room that was at the table, then under a window, then I moved it to the foot of the bed, and now it's in front of the fireplace. So it's VERY versatile.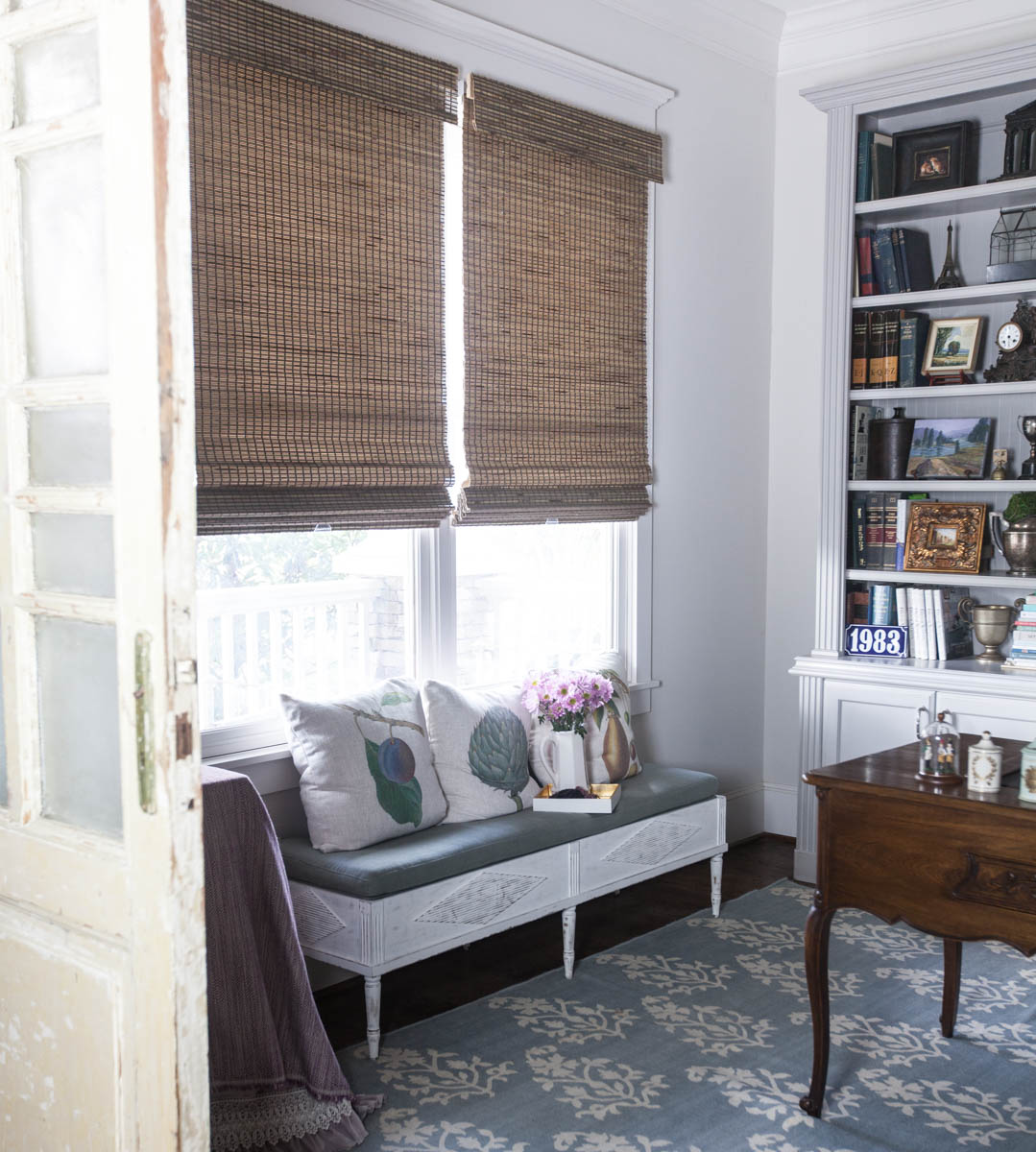 You can also use a bench as extra seating at your table or as a coffee table. I prefer using an ottoman as a coffee table since they can also be used for seating, or a place to rest your feet, so they are more versatile than a coffee table.
(This post contains affiliate links, which means I may receive a small fee if you make a qualifying purchase. This does not affect the price you pay.)
So you can use a bench
as seating at the dining table
at the foot of a bed
under a window
as a coffee table
under a console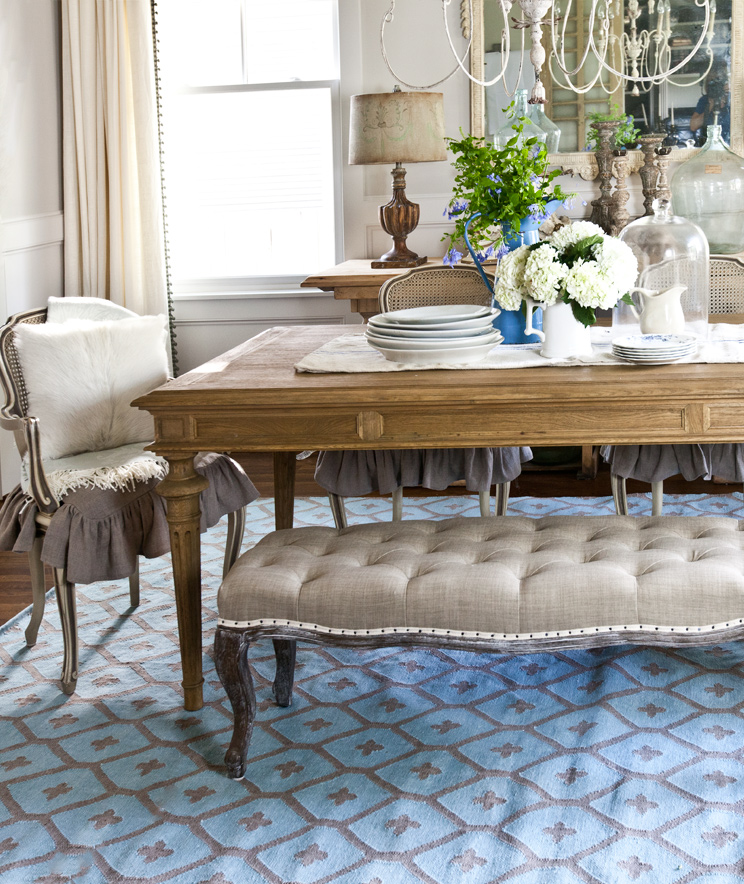 This French bench is one of my favorites. You can find something very similar
HERE
DRESSER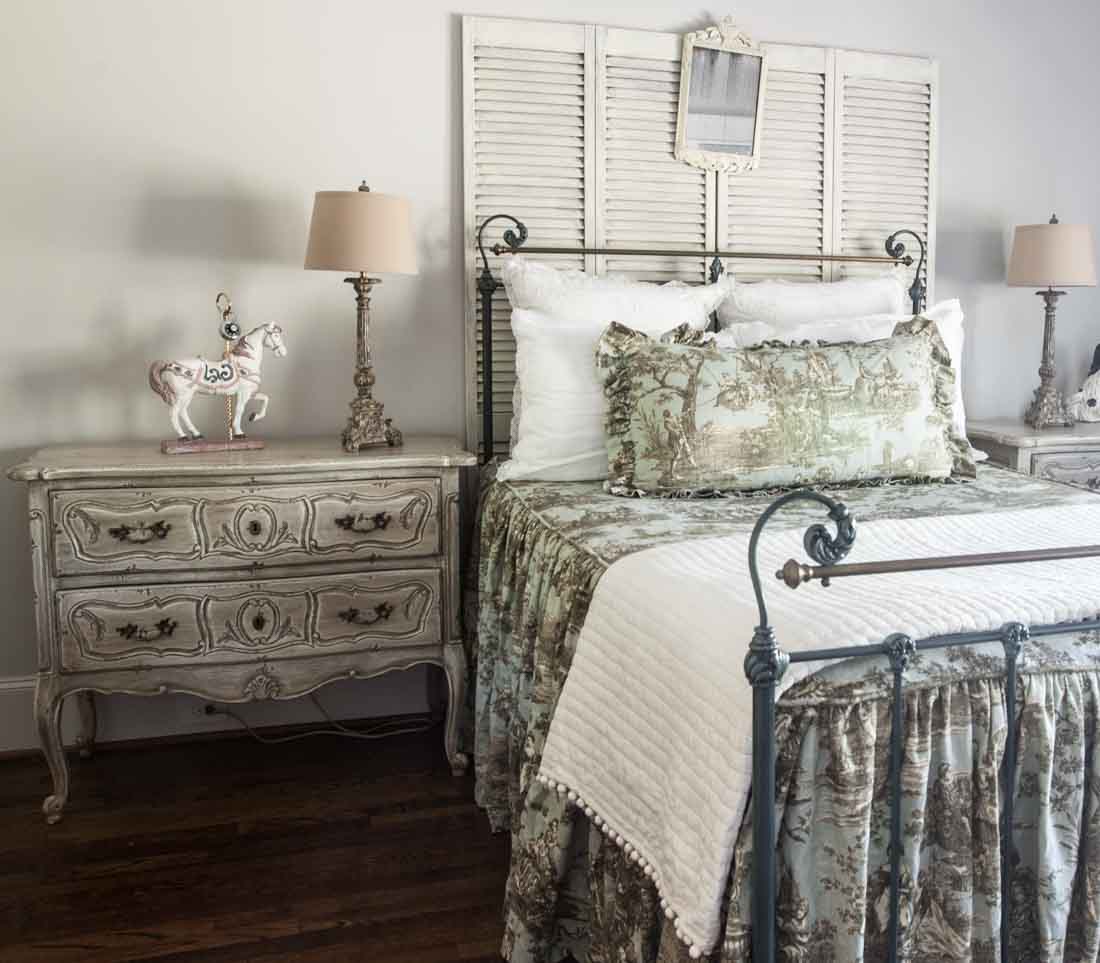 Dressers are normally used in a bedroom to hold clothes, but they also make great end tables or night stands, and then double as storage for just about anything that will fit in the drawers.
You can put them in a living room, a dining room, a bedroom, a closet or a foyer.
I have an oversized dresser behind my sofa to hold table cloths, placemats, and napkins.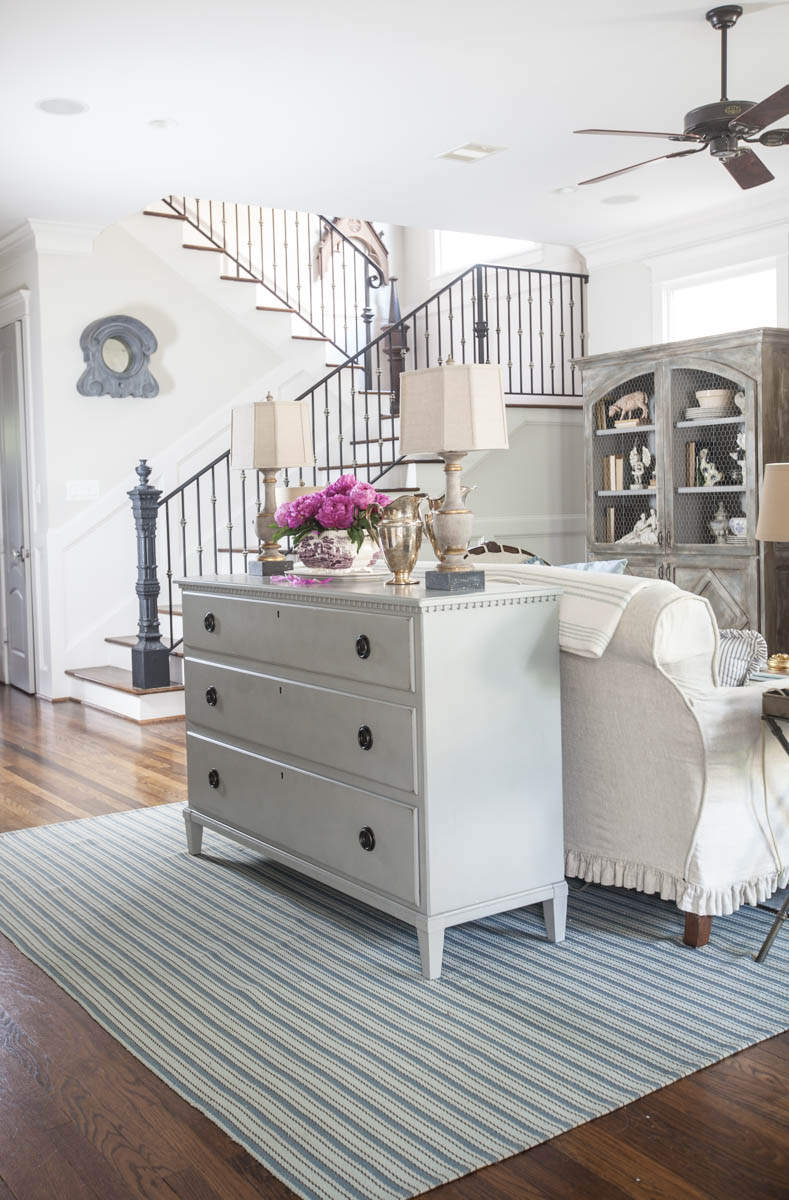 I found a charming 6 drawer dresser, I think you'll love. This one has two cedar lined drawers, and and has a cord exit for one of the drawers. You can find it HERE.
KITCHEN ISLAND
I do love a kitchen island, and if your kitchen doesn't have one, you still might be able to fit one in. I bought an island for our old home, and loved having it in my kitchen. I found an even more beautiful island that has a faux marble top. It's got two shelves and in the French industrial style. You can find my pick
HERE.
EASILY MOVED CHAIR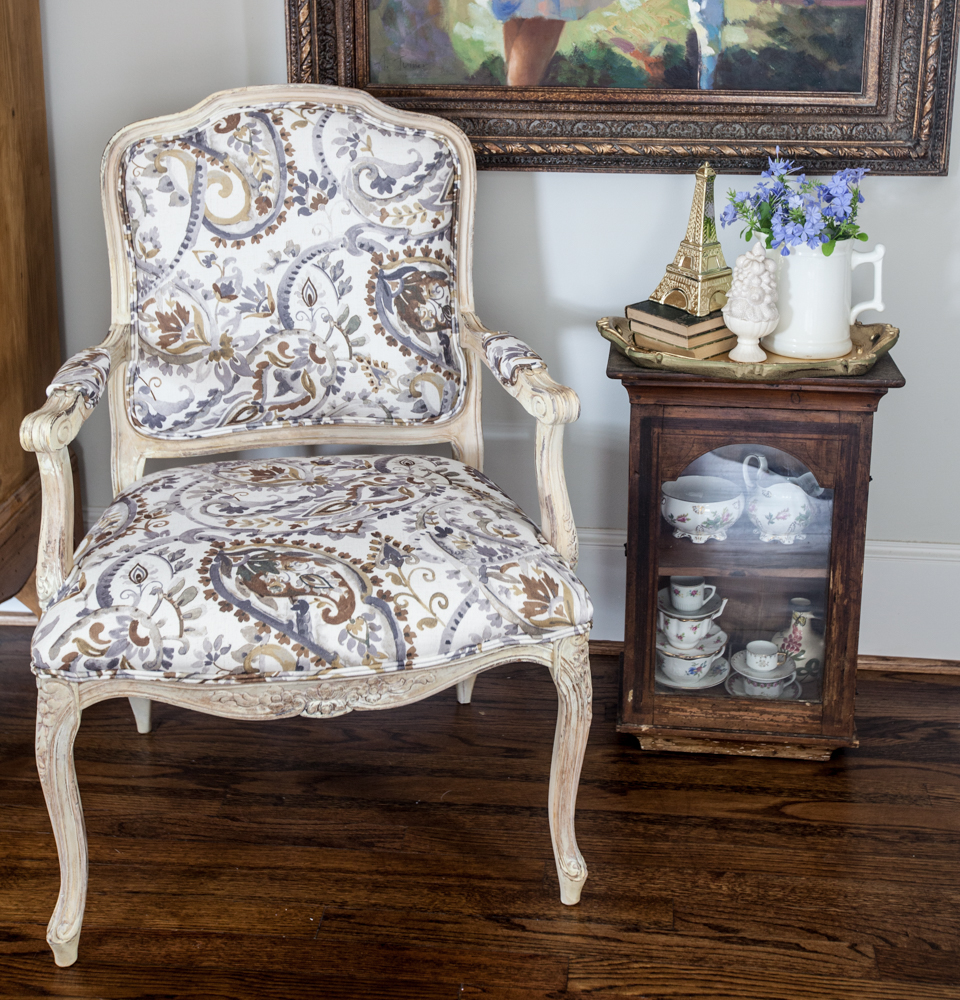 You could use a dining room sized chair or slightly bigger. These chairs are lightweight and typically neutral, so they can be moved to any room. I've had this chair in several rooms so far including a bedroom and the study. I love to use French chairs in almost all of my rooms, since they are often small and very movable, but you don't have to use a French chair. Antique chairs are great, but again, you don't have to use an antique chair.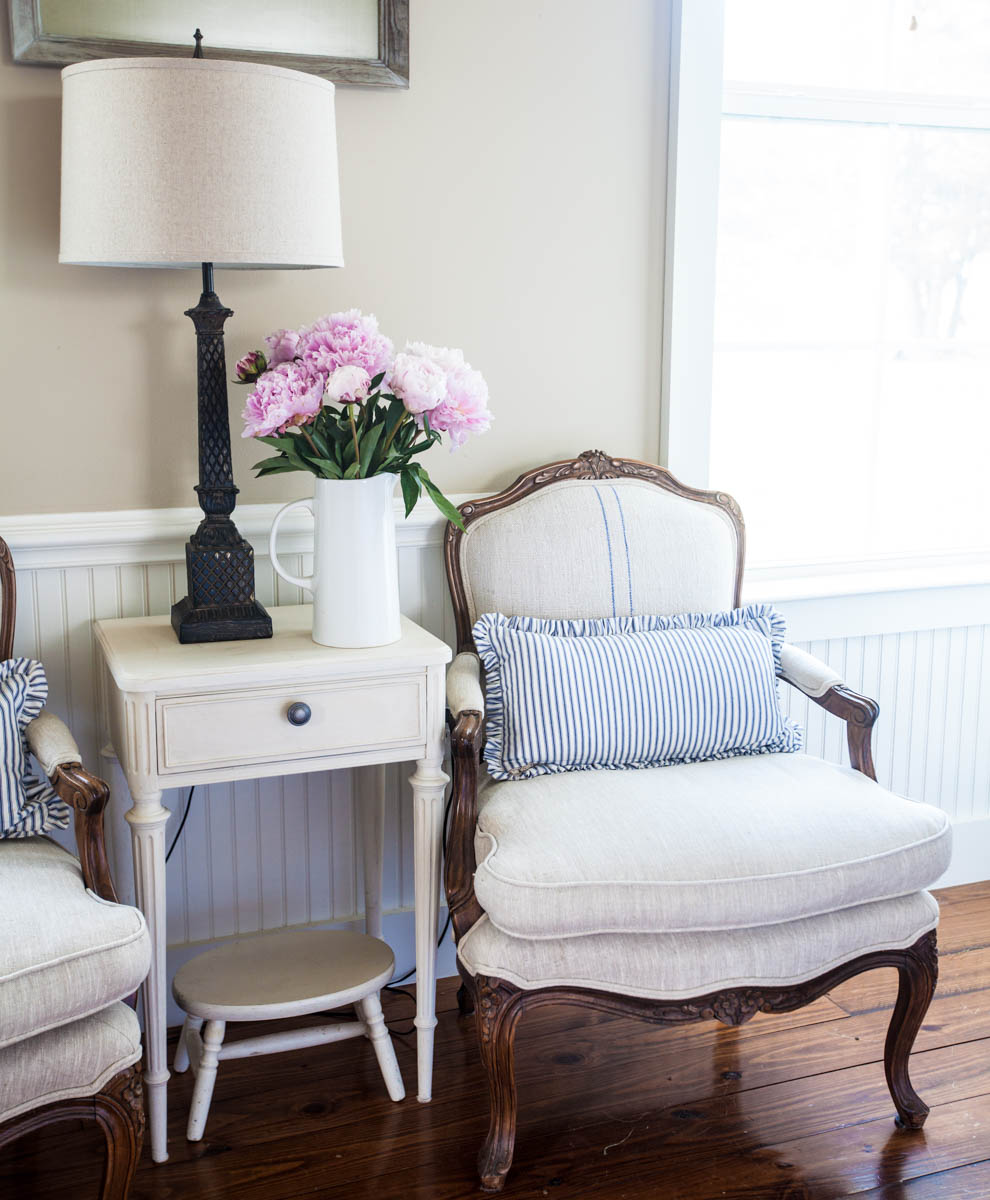 For my movable chair pick, I found a gorgeous patterned modern style wingback chair I think you'll love. You can find it
HERE.
SMALL DINING TABLE
Small tables can be used in just about any room as a side table or as a night stand. This is a small desk, but it could also be used as a table.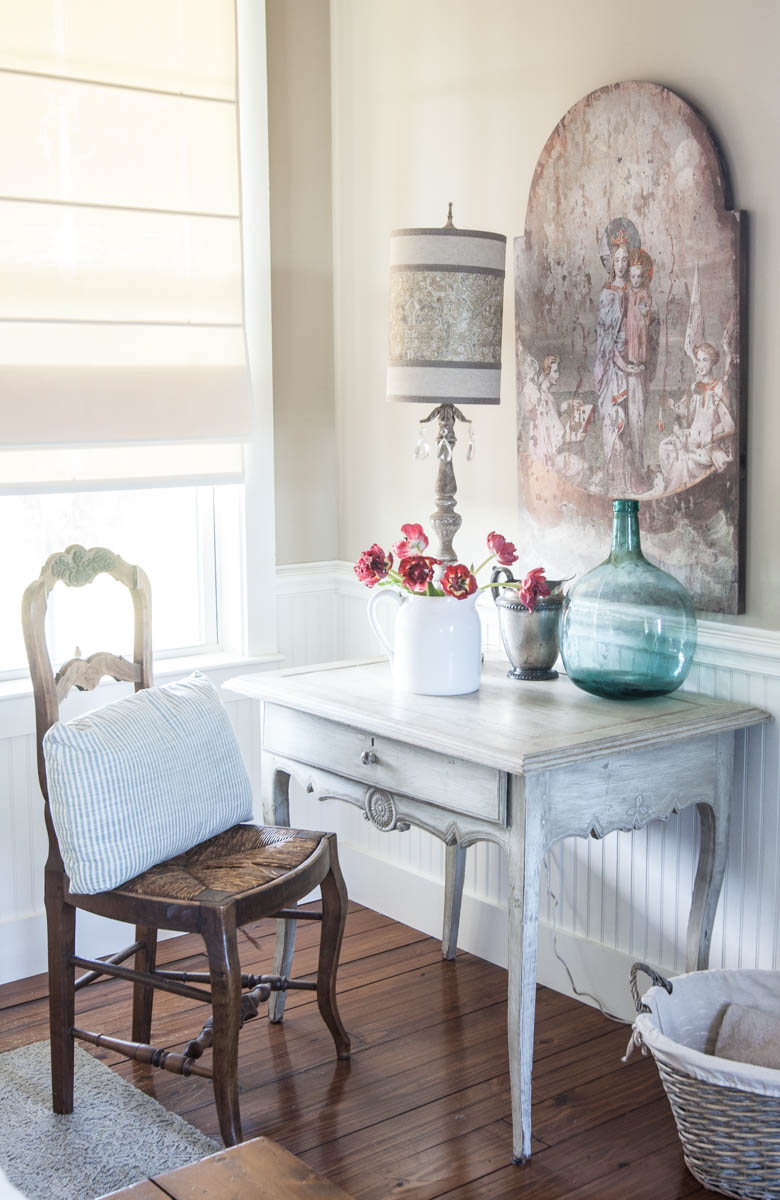 I found a small wood table with a gray finish that has drop leaves, for the ultimate in flexibility. I think you'll love it. You can find it
HERE.