I know I've shared several Fall and Thanksgiving posts this year, but this one is different. This is about our recent trip to the mountains. This is where I would have Thanksgiving if I could, and maybe next year we will. This is about relaxing and taking time off to be with your friends and family. I'm hoping you don't feel pressured and stressed to have a Pinterest-worthy event this year. Today, I am sharing a special trip to our house at the top of the mountain in Black Mountain, NC, that's all about relaxing and enjoying Fall.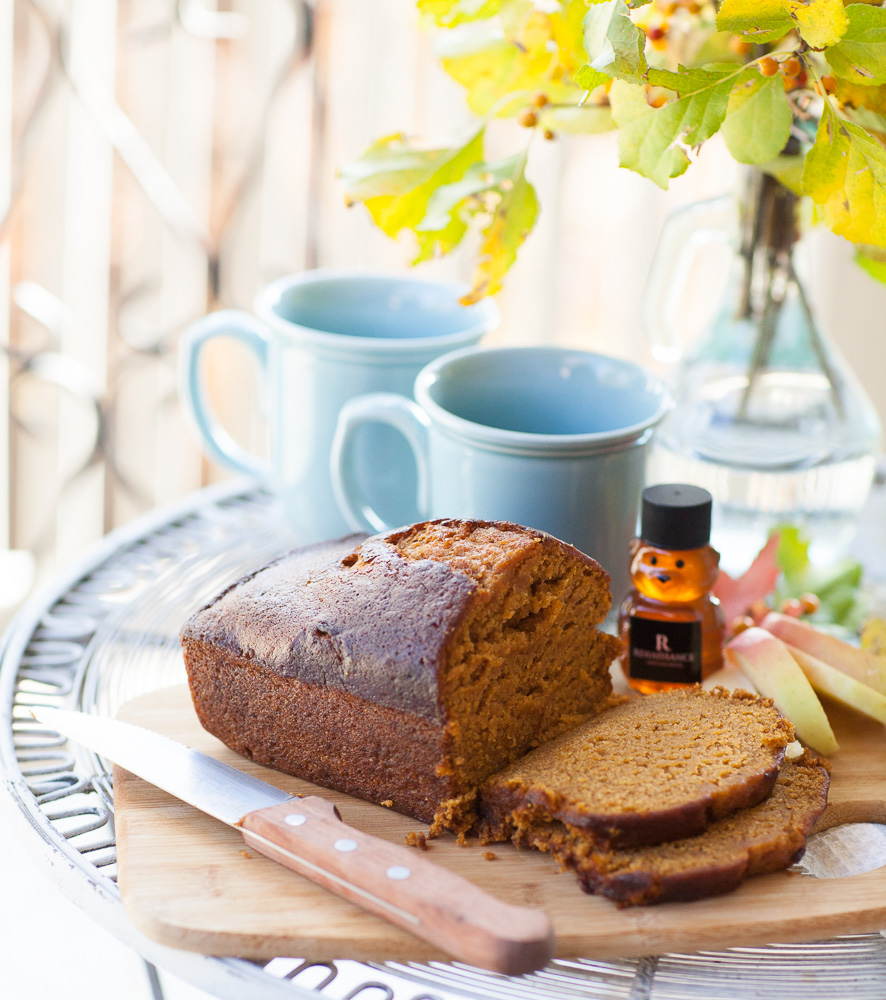 Since we rent out our house, we have a management company that handles all those details. The cool thing is that when we arrive, they treat us like they treat our guests. Fresh pumpkin bread is there when we arrive along with a hand-written welcome note. A little local honey makes it even more special.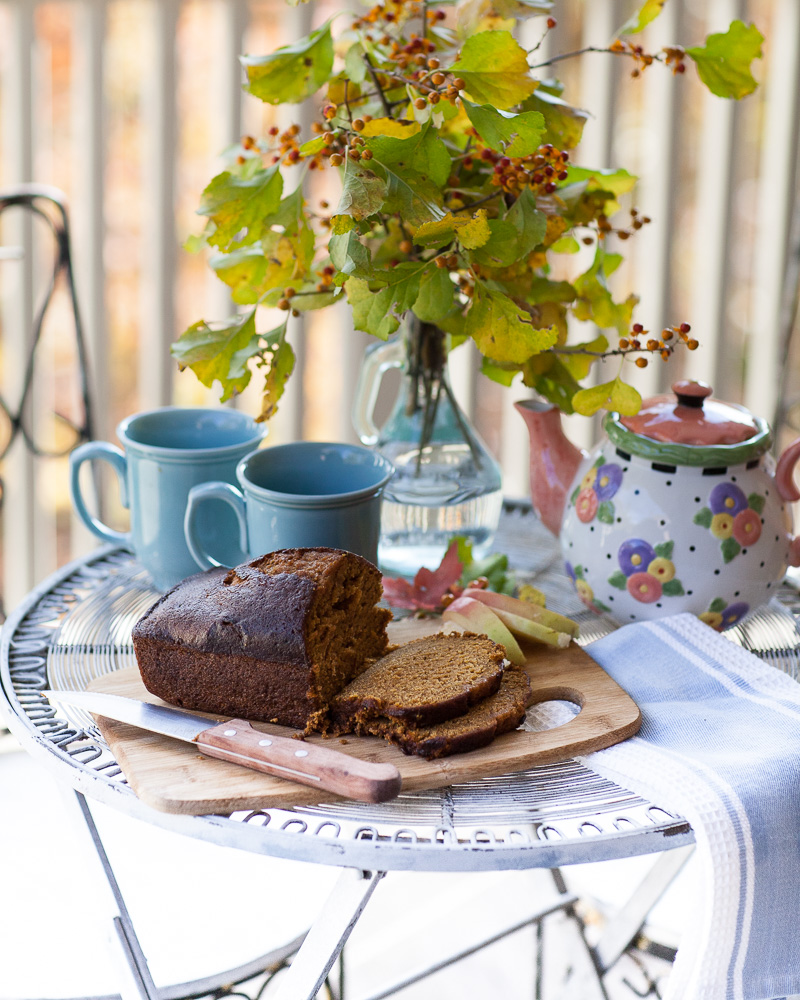 We spent our days outside enjoying the amazing Fall color. I had fun picking up the pretty leaves around our house. The nights were cool, and we slept with the windows open.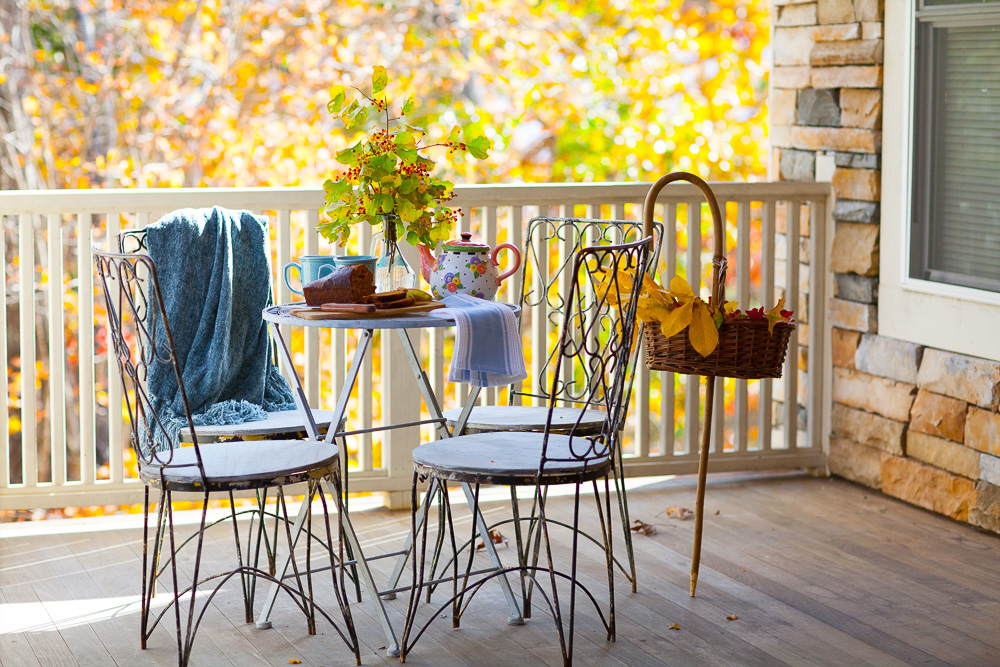 My gathering basket came in handy as I collected leaves and berries.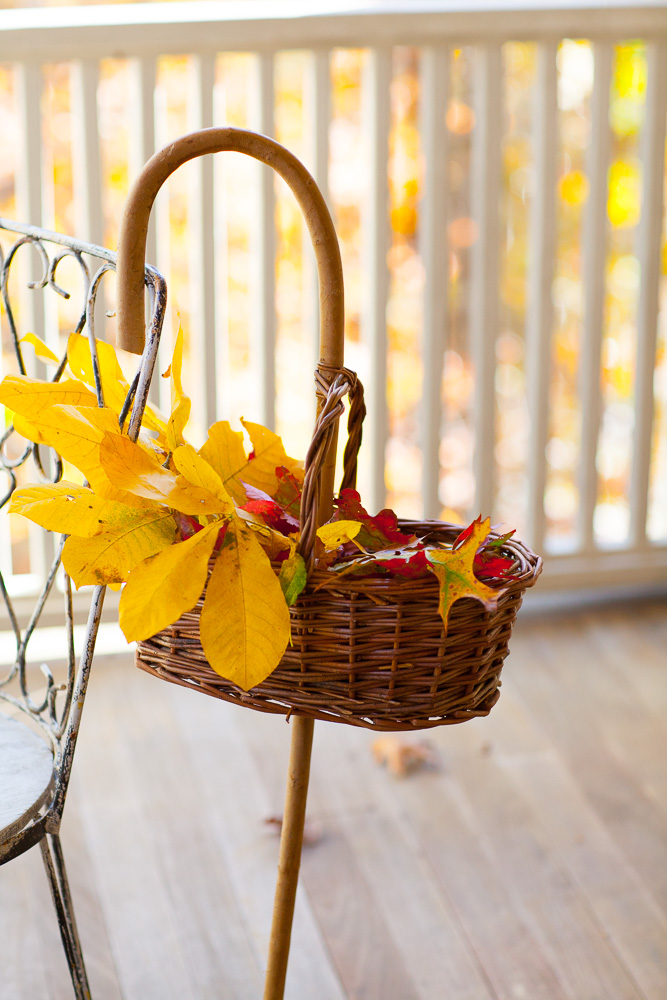 I cut some branches and set them in my dough bowl.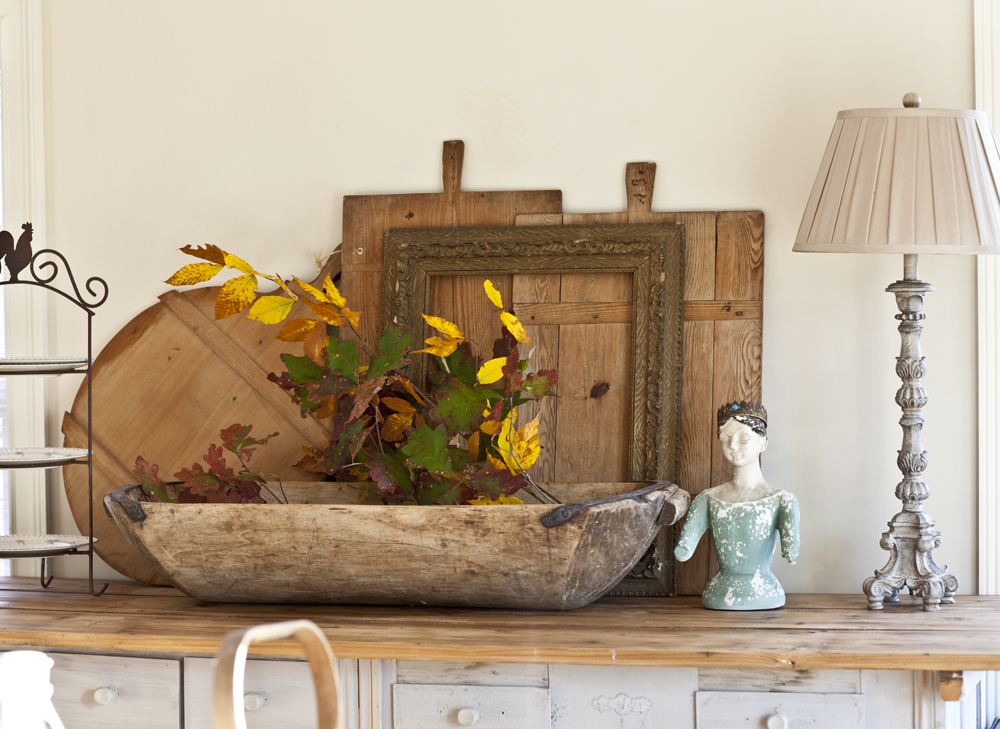 This is the view from our front porch. The stresses of city life just melt away here.
There was a ladybug convention in town apparently. They were everywhere. We left the doors open most of the day, and then I saw our house was full of ladybugs. I hope they made it back out; I'm partial to the little creatures.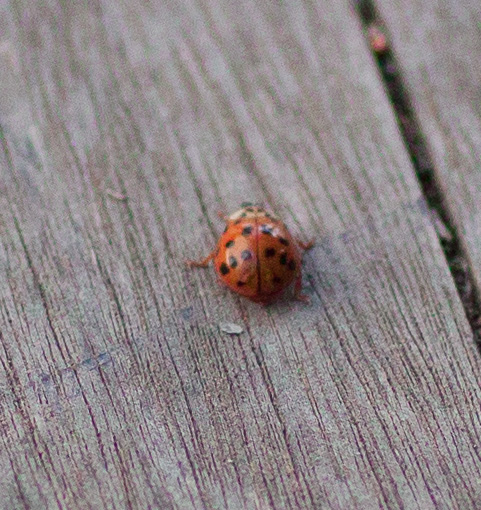 It was fun decorating the house with Fall leaves, since we don't have many in Texas. Leaves in Texas go from green to brown without much ceremony,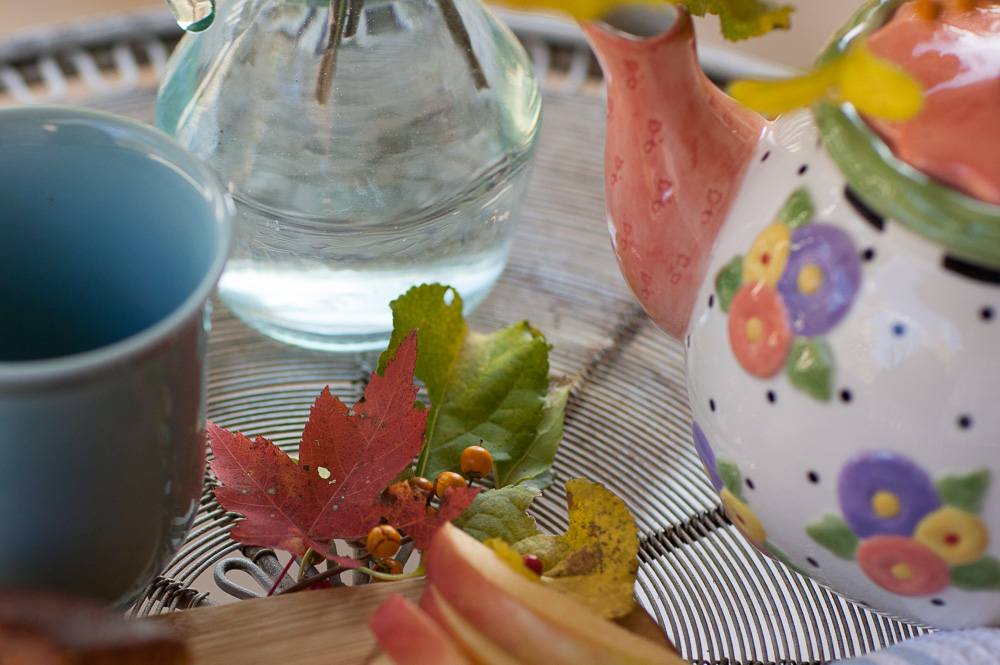 Every day on the deck we feel so blessed to see this view. The view has opened up since we did some tree trimming.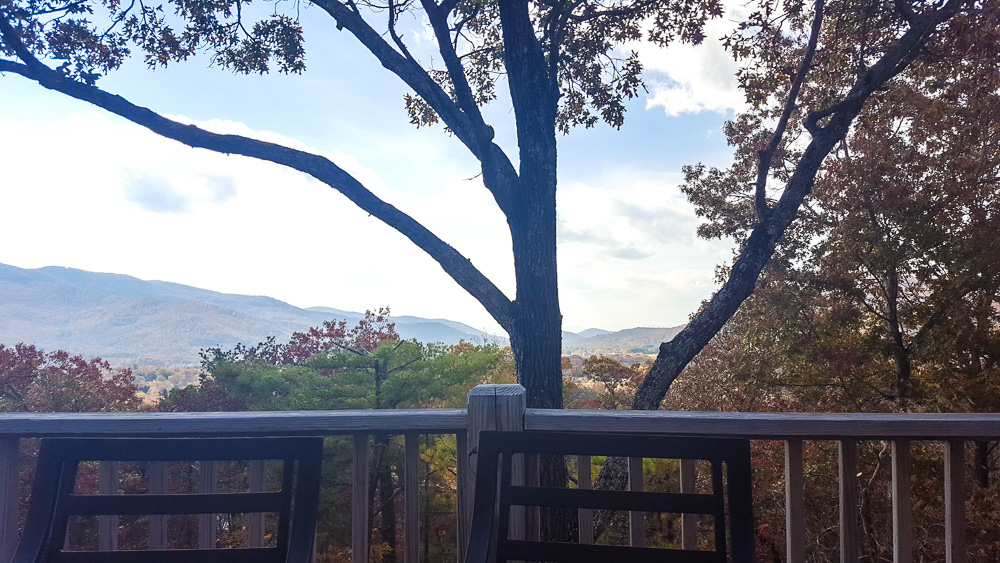 There are so many church retreat centers in Black Mountain, including Montreat (Presbyterian) Ridgecrest (Baptist) Chrismount (Christian Church) and so many more. One that we can see from our deck is the Blue Ridge Assembly, founded 1912. If you look, you can make it out in the distance. (I used a telephoto lens so you could see it better.) It's the long building with the columns.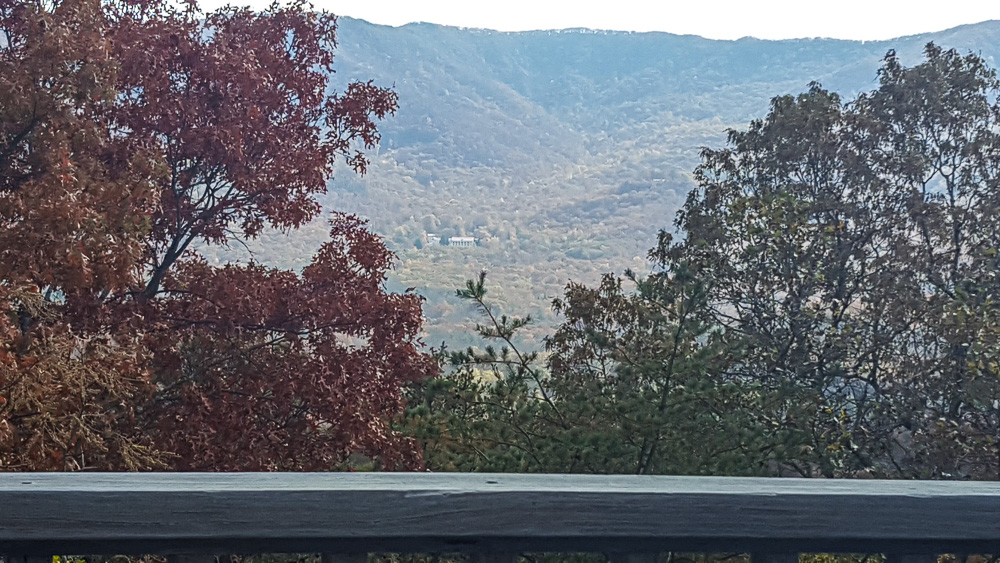 It's on a mountain on the other side of town. One day we decided to take a drive over there. As we got to the Blue Ridge Assembly, we took a photo looking back at our house. I can't see it from the photo, but I think it is behind the evergreen tree on the left.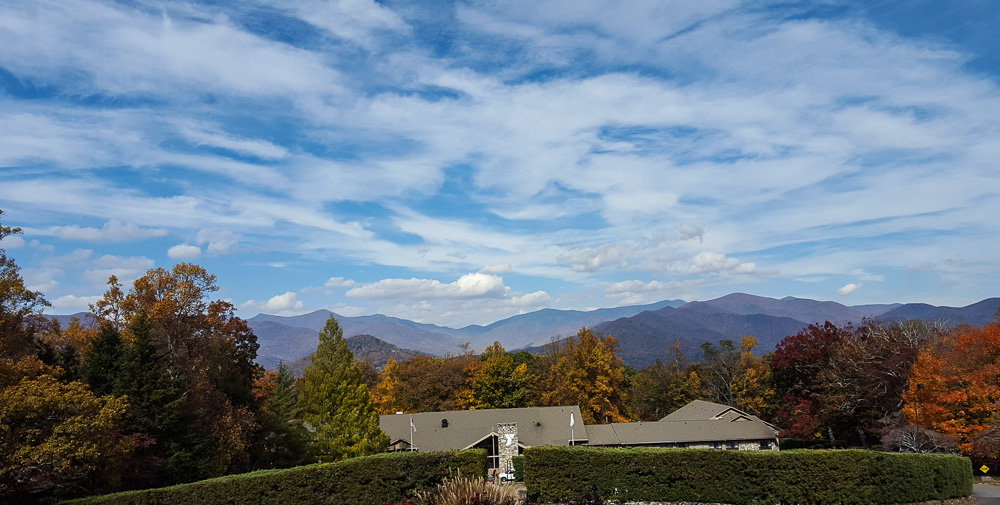 I can see why they selected this spot, what a view!!! It's so pretty! The photo below was taken on the grounds as well.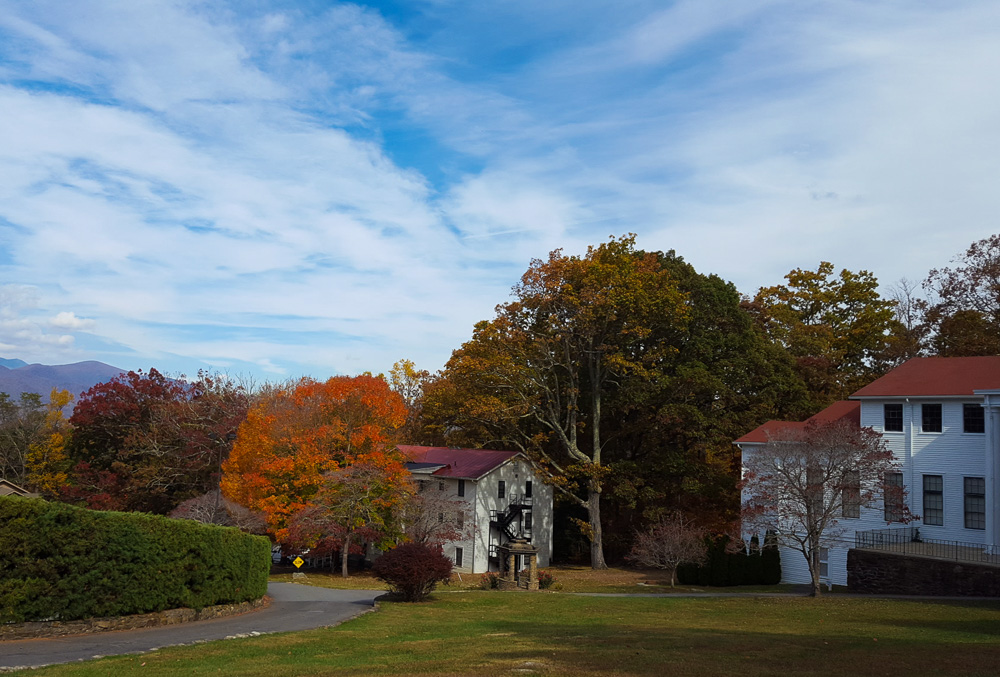 I think some of the best color we saw was in Black Mountain.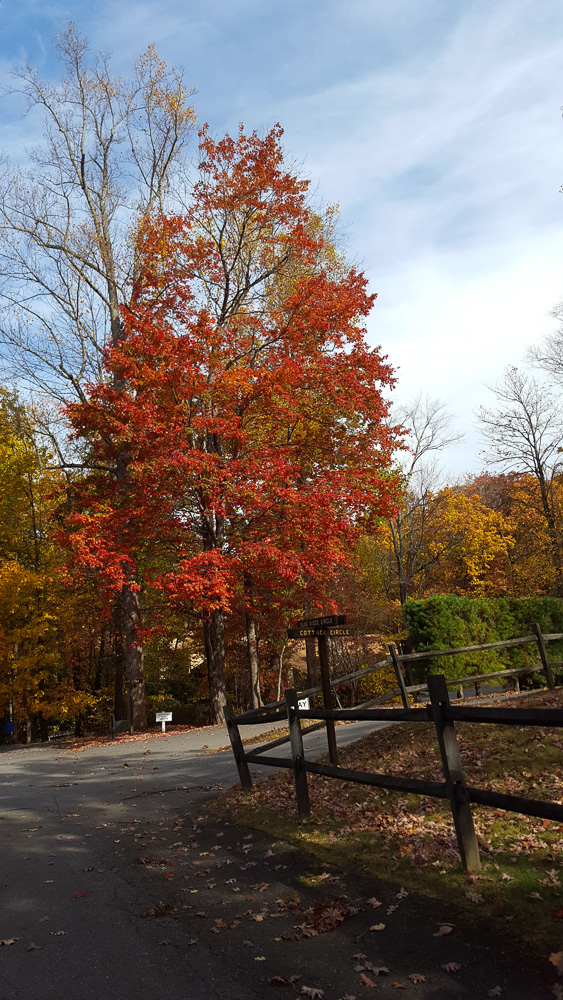 We loved simply taking a walk from our house. A friend was telling us we should take some side trips to some other places, but I looked around and said, "Why would we leave Black Mountain?"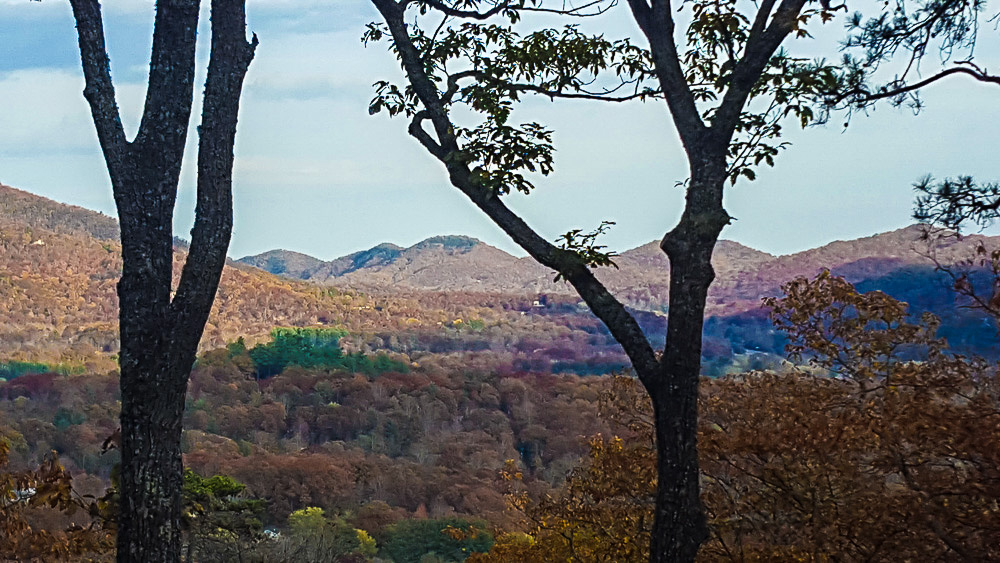 Seriously! This was our view as we took a walk down the road from our house. I hope the people that live here, understand how very blessed they are!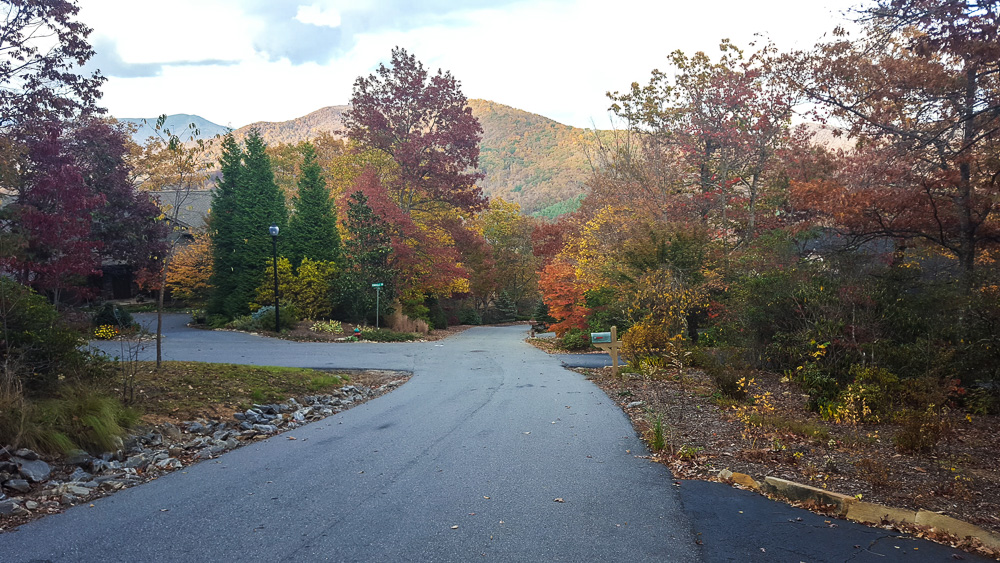 Since people ask, yes you can stay here! To get more information about availability, etc. CLICK HERE.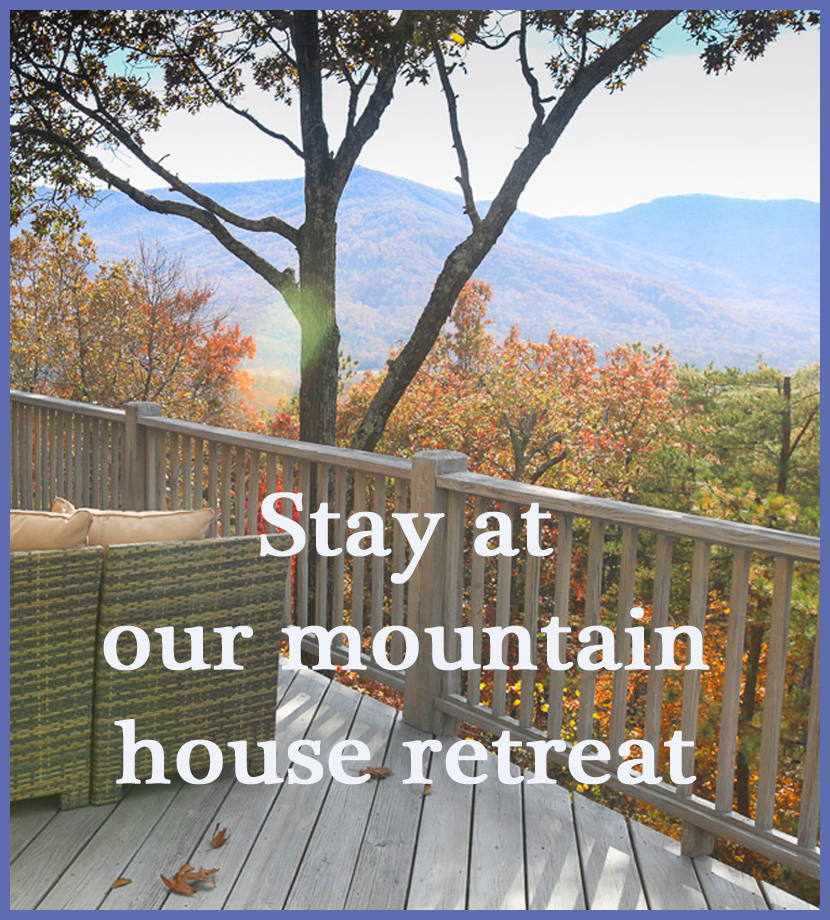 One day we drove on the Blue Ridge Parkway. I wish I could have taken you with me.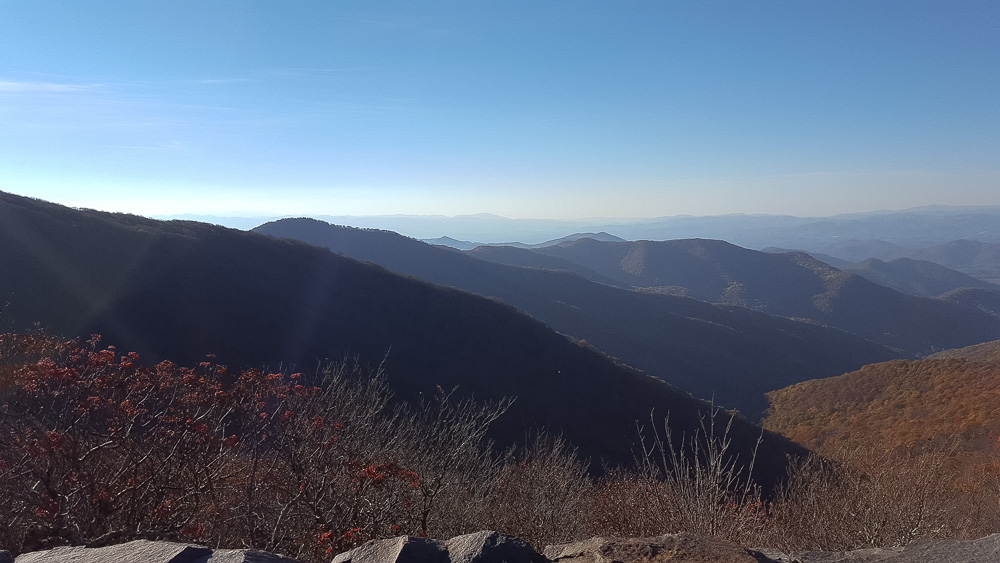 Break-taking is the best way I can describe the views.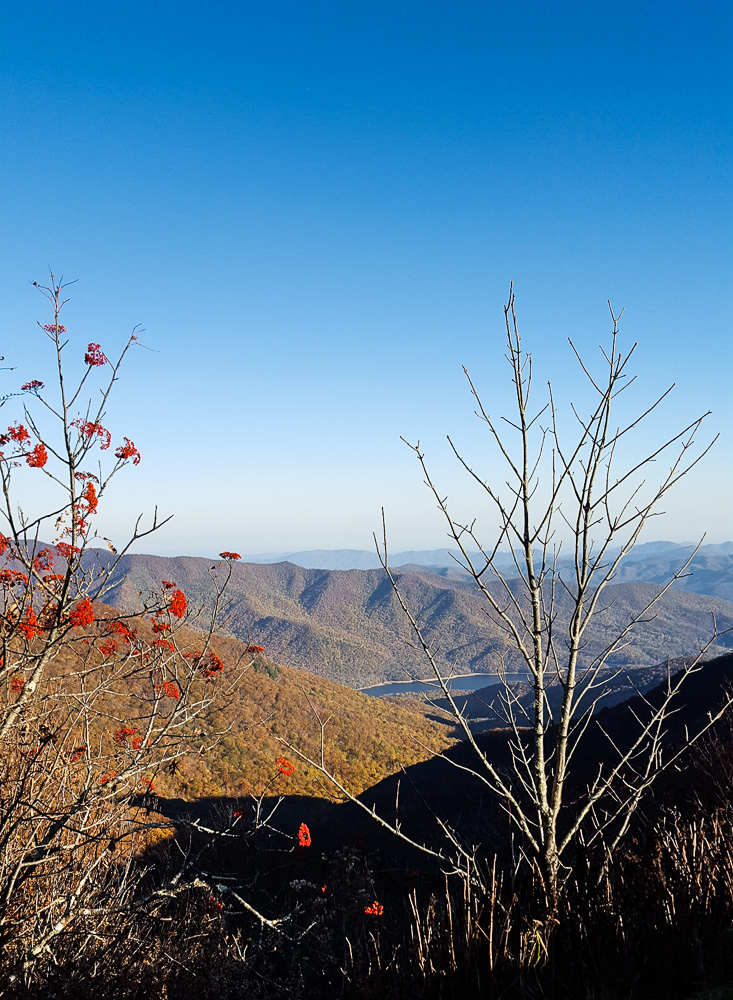 As the sunlight is fading, the best part of the day is yet to come. Sunsets are always best enjoyed from the deck.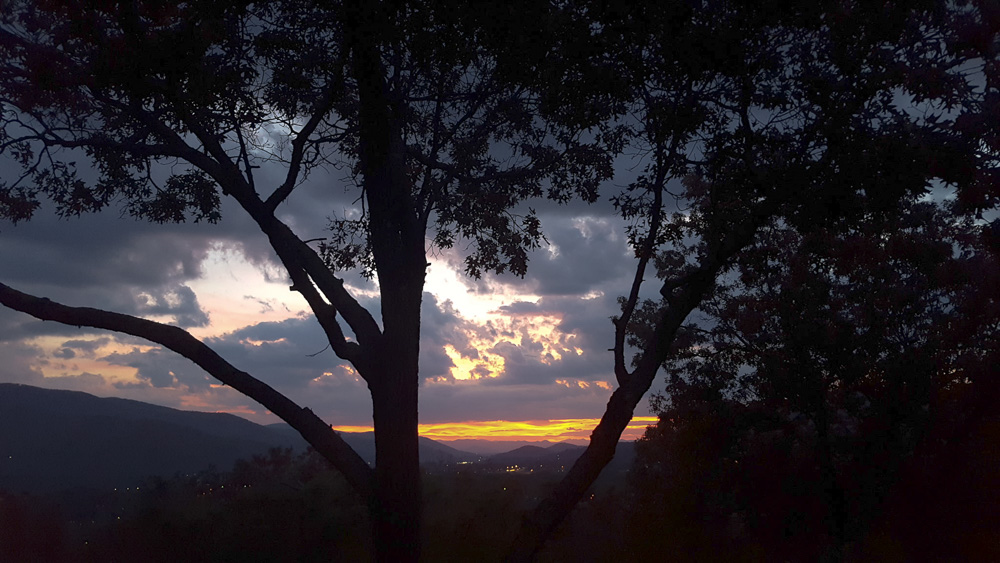 Nature puts on a glorious show of beautiful color across the sky. And then the most amazing thing happens. The lights of the town start to twinkle in the valley below. I love seeing the town after dark. I imagine all the townspeople snug in their homes with their family around them enjoying a home-cooked meal.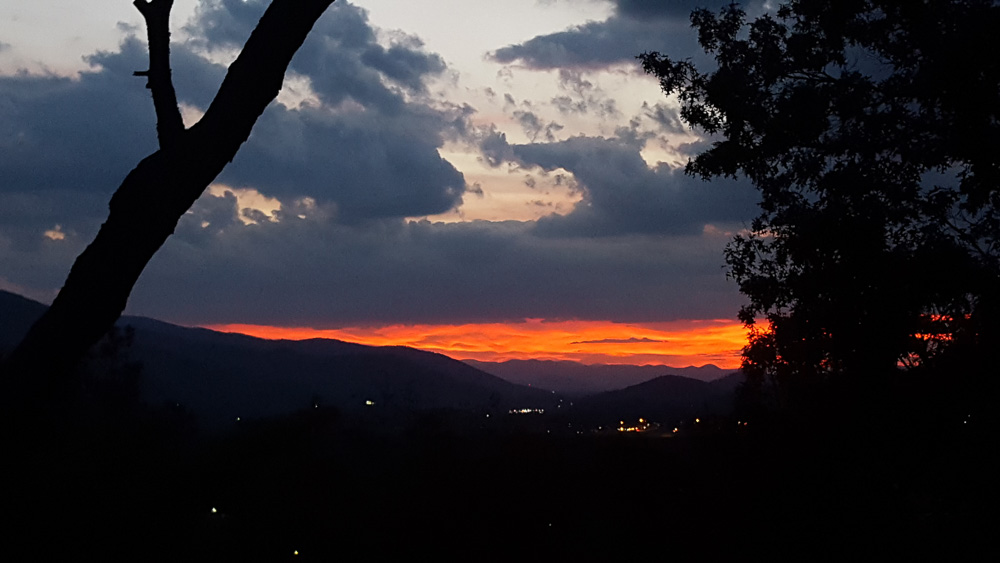 I hope you enjoyed this little virtual retreat. May you have a wonderful Thanksgiving. I hope you take time to sit back and enjoy the season and time with family and friends.