Congratulations to BJ who won my Feb giveaway!!! She got back to me, and I'll be sending her box to her in just a few days.
You might have seen my previous posts on the Texas Flip N Move house (on the DIY Network). I showed the living room HERE and the kitchen HERE. This is episode 10, season 5 Duplex Doozy. You can find the dates when it will air HERE.
Today we are moving onto the dining area which was my favorite! I found a table we could use, but the top was all messed up. It was small, so it would fit perfectly in our space. So what do you do, when the top of your table isn't so nice, but you are in a hurry? Use a tablecloth. I had an idea for a bench against the wall, but we had no time to work on it. In the end I decided to use the wall as a plate wall. The tan tablecloth had beautiful embroidery work all over it! We found a lot of white plates for the table and wall. I found the urn or trophy (whatever you want to call it) at Home Goods.
Of course it was a mess while we were throwing everything together.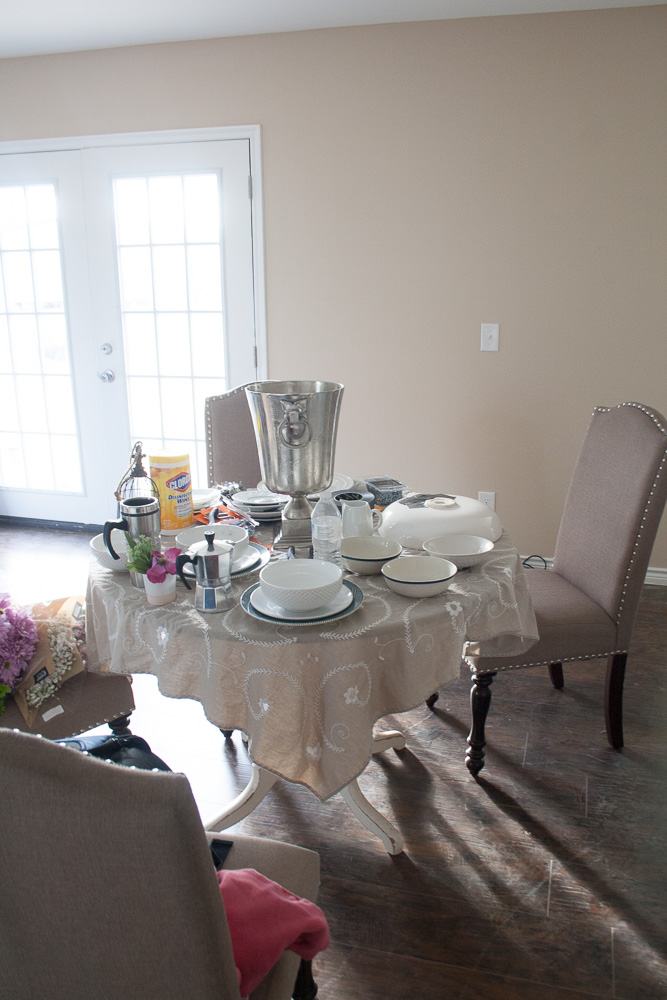 Here are the plates on the wall. It's easy and cheap to hang the plates. For directions for hanging dishes the cheap way, CLICK HERE. We did a completely random pattern and prayed it would work. We used chalk-based spray paint on the dresser. You can find the paint and and where you can order it online (affiliate link)  CLICK HERE.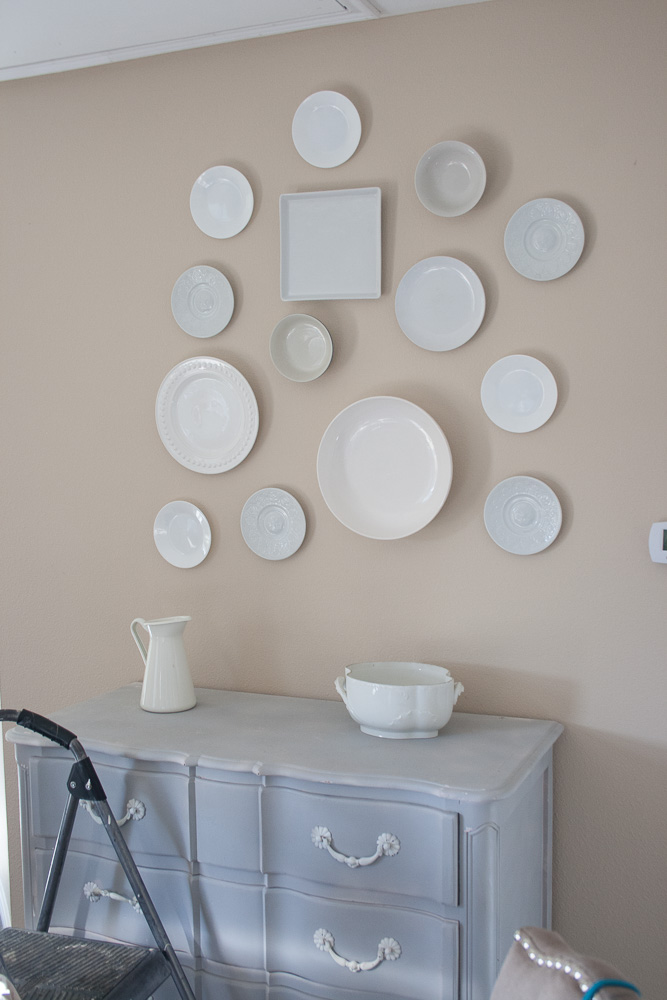 We worked solid without may chances to take a break. Here Evie is getting the floor spic and span!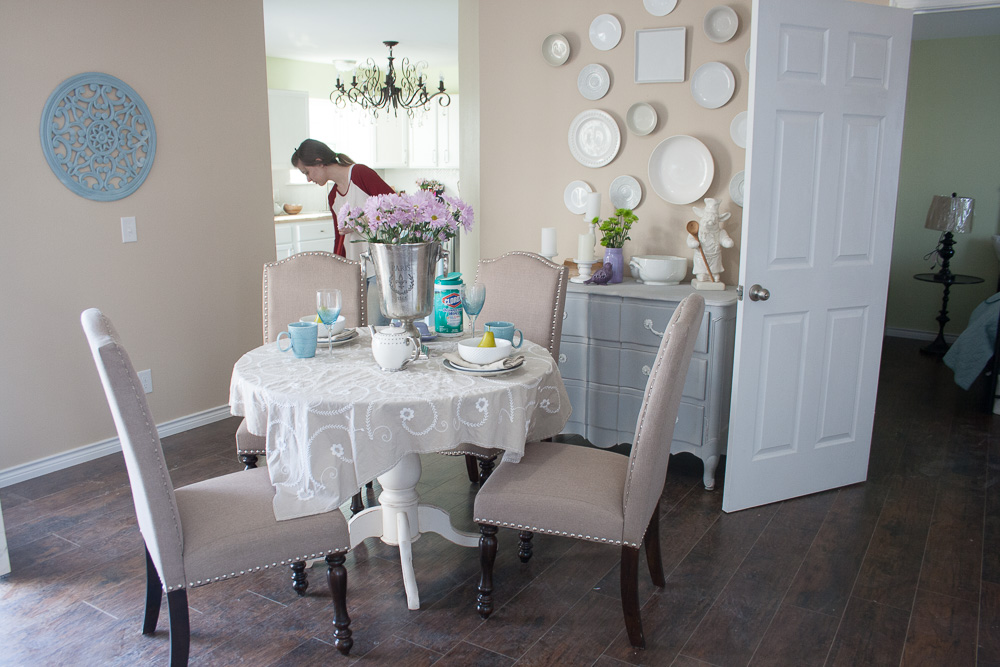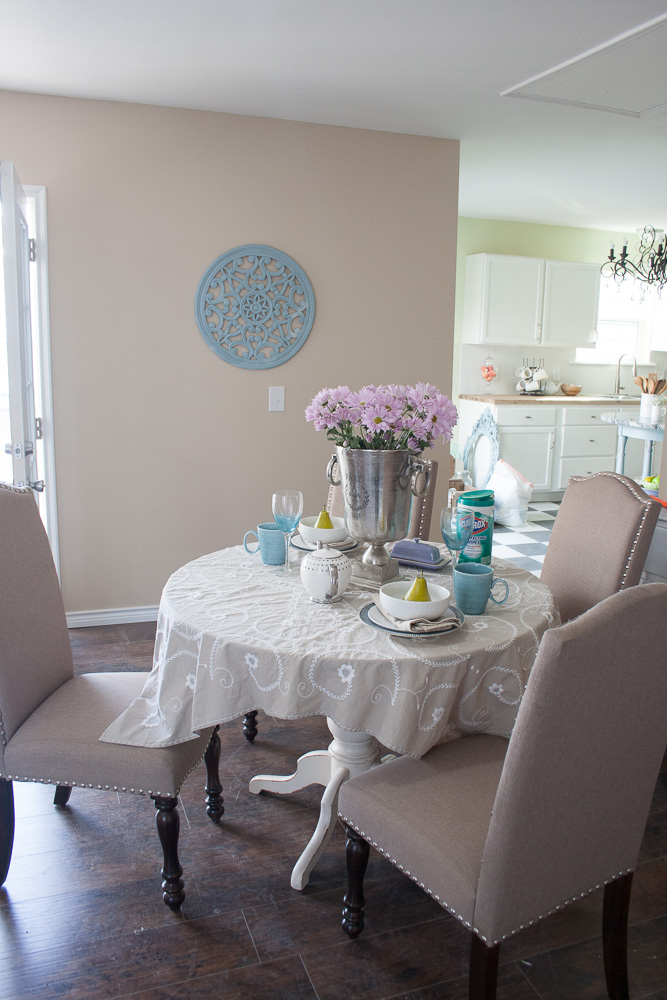 We were in such a big push to get it all done in time, that my photos are full of things I would never leave in a real photo shoot. Above you can see the Clorox wipes and below there's a hammer on the dresser.
Here's a tip for you, grab cheap plates at the thrift store for a wall of dishes like this.
Don't have room for a china cabinet or big buffet? How about using a dresser? This one was the perfect size for the wall.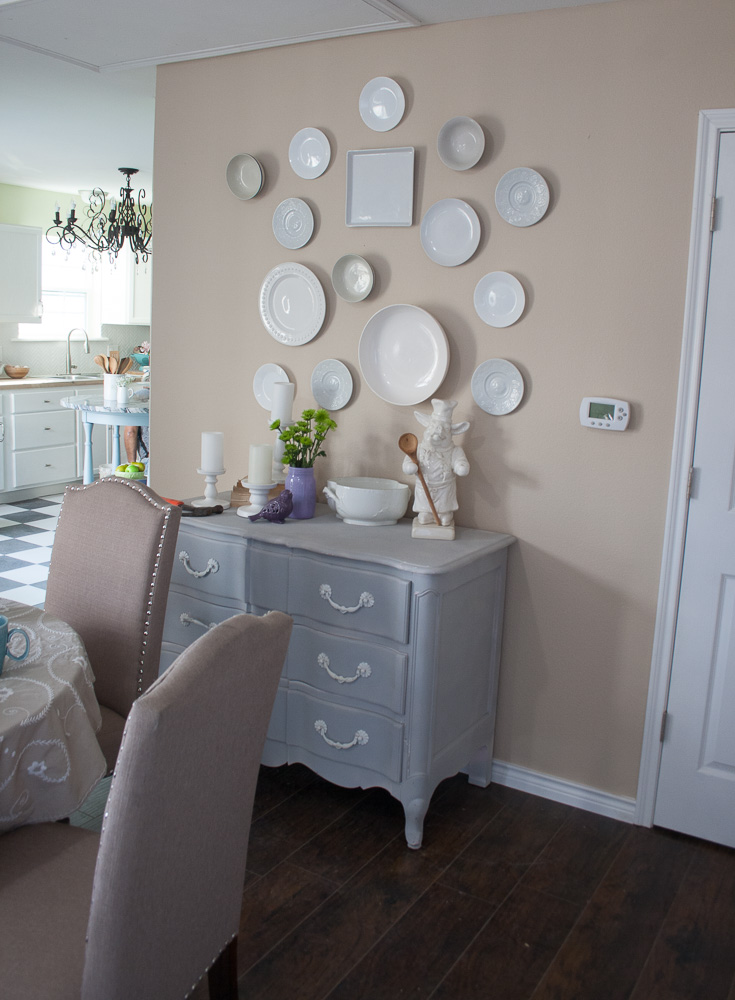 This was a fun project, challenging but so rewarding when we finished.
TO SEE MORE OF THE TEXAS FLIP N MOVE HOUSE, PART  IV CLICK HERE.