I told you that I was going to work on the DIY Network's TV show Texas Flip N Move HERE.  The episode is called Duplex Doozy, Season 5 Episode 10 and originally aired February 10, 2017. I helped the Snow sisters get the house ready for auction.
Now that it has aired I get to show you my behind the scenes photos of what we did. (I had to wait until the show aired for the first time.)
There was a storage building with furniture and some accessories we could use for the house and a very, very, very small budget for buying new things. Also I should say when we arrived the the house was close to being finished and we were just staging it for auction. So to answer your questions, I did not pick out any paint colors, tile or any faucets, etc. I only added furniture, accessories and art.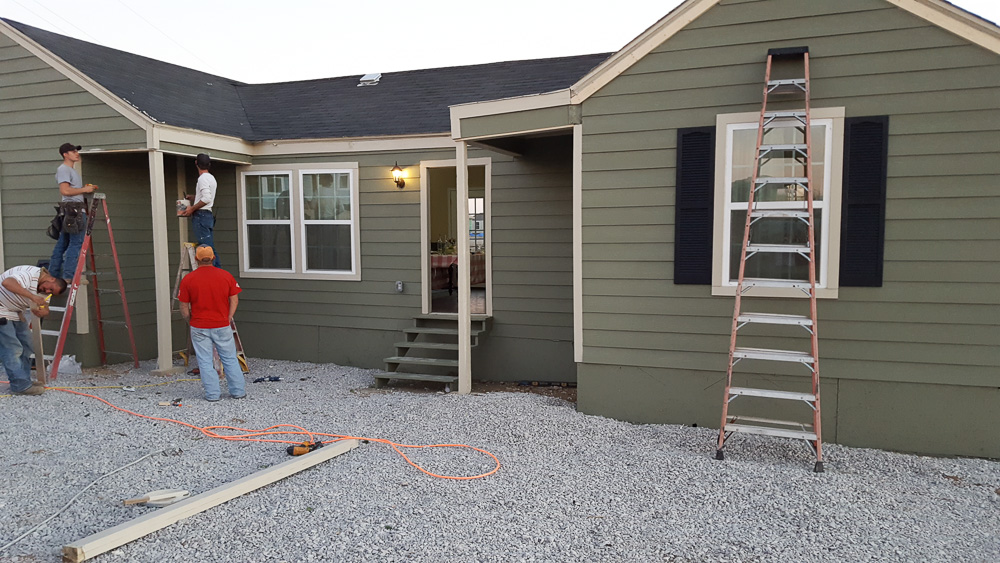 When I say 'we' I mean I arrived in Fort Worth with my lovely assistant, Evie (my daughter) who was between semesters of school. I want to apologize for the picture quality in this post upfront. I did not bring my pro camera, since I was here to decorate not photograph.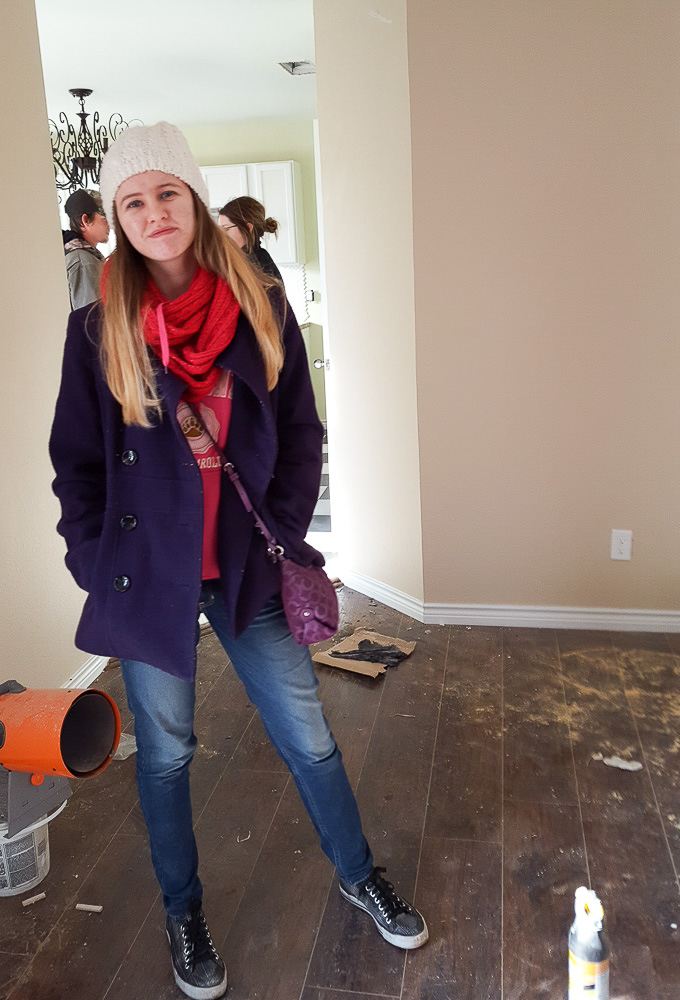 The first order of business was to see the house. It still hadn't been cleaned and it was Monday morning. The auction was Thursday morning. I knew we had very little time to get everything done. We had to be done Weds night. The pressure was on!
The next step was to check out the storage and see what furniture and accessories we had to work with. It was going to be a challenge, limited funds, limited things to work with and 3 days to do a 3 bedroom house.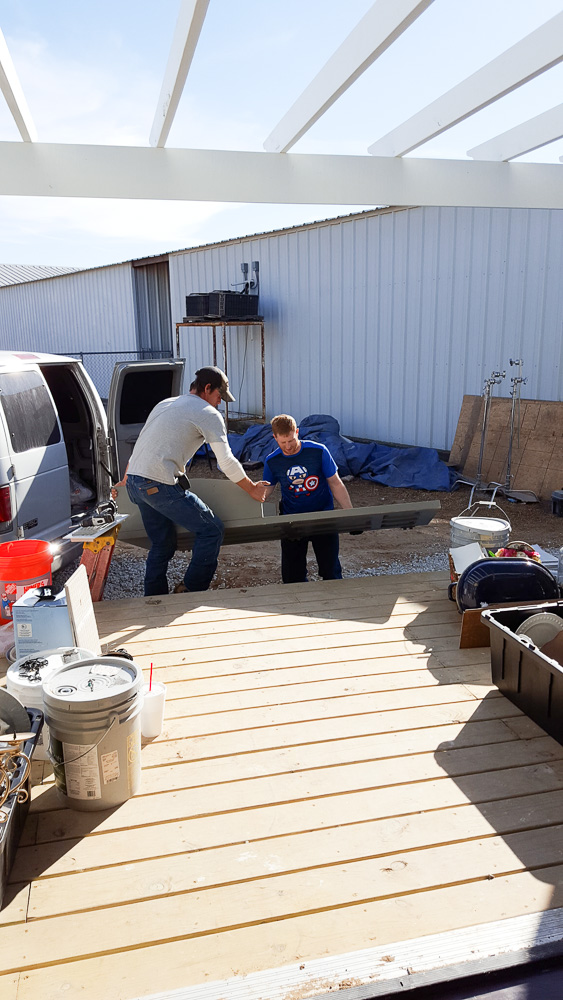 We had to work around workmen coming in and out. Also the Snow Sisters were filming segments here and there, so we had to get out of the way several times. We did have some fabulous guys helping to move furniture around for us. Evie was my dedicated production assistant and boy did she work hard!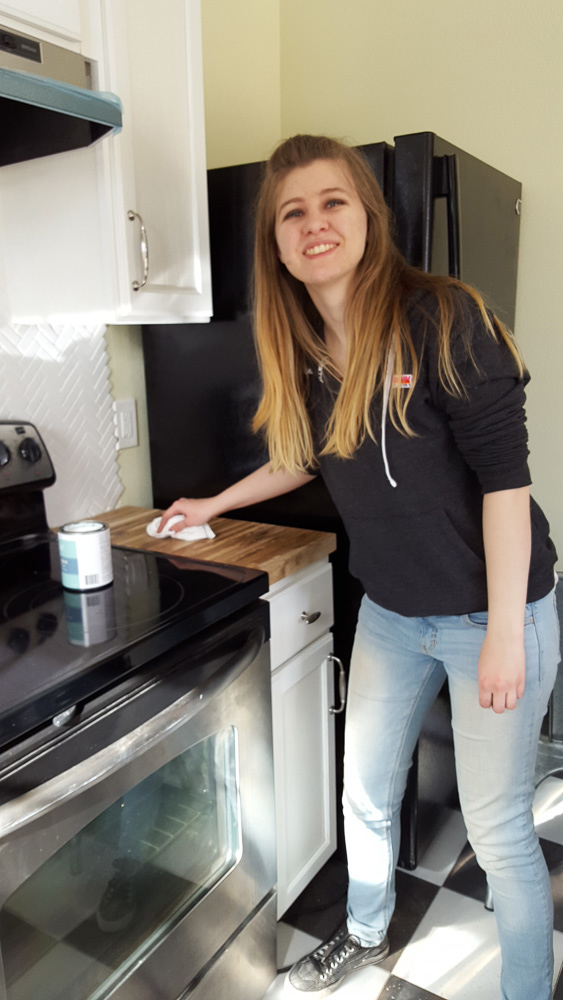 Here is a summary of Day 1.
Look at the house
Assess the furniture and accessories we had to work with.
Pull what we were going to use from the storage building.
This took all day. Plus we couldn't move anything into the house yet because they were still cleaning it. I admit I was worried. We had an empty house, a pile of stuff we had pulled and no plan. I was a bit nervous about how it was going to come together.
Here is a summary of Night 1
Sleep
Wake up in the middle of the night with lots of ideas
Try to go back to sleep unsucessfully
Day 2, we hit the ground running. We had a lot to do, and I had no idea how long everything would take. We moved the large pile of stuff into the house and put furniture into the rooms.
Sometimes we brought things into the house and decided after seeing them, they were not going to work. This little table ended up not being used. It was purple, and you know how much I love purple!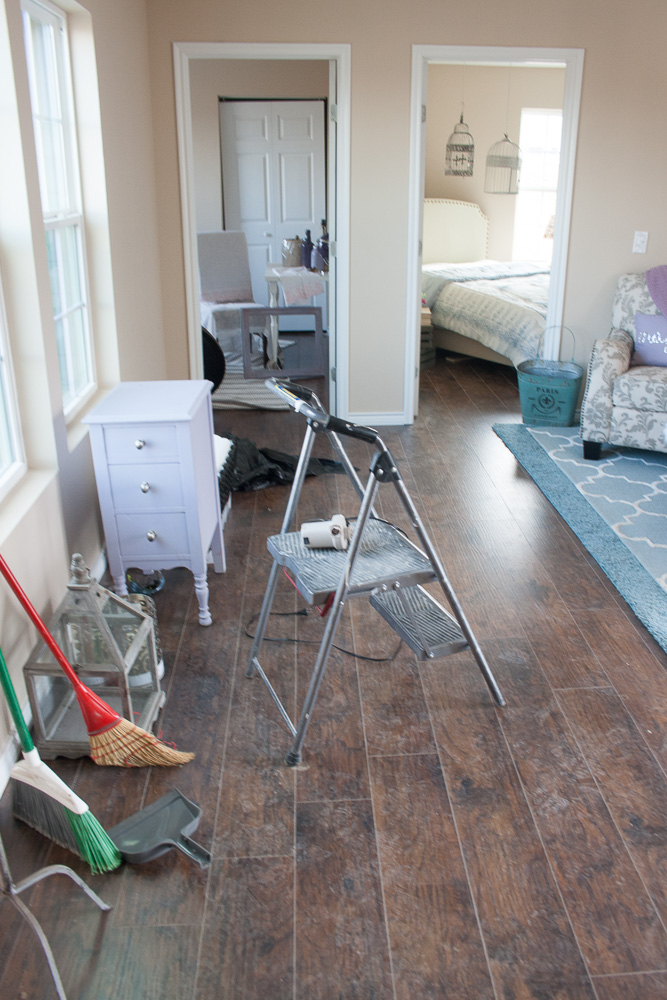 We realized the coffee table was too big for the space once we got the other furniture in the room.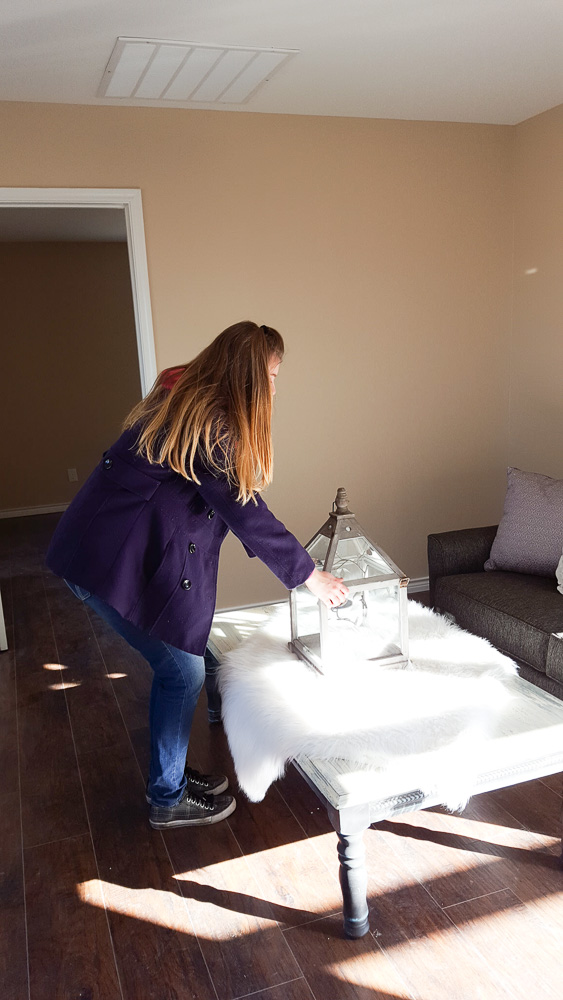 The sofa also was too big, so I ended up changing it out for the love seat. I am really into the furry stuff. Remember my post HERE? I was frustrated when I realized I would need the white furry throw for the bedroom, because I really wanted it for the coffee table in the living room.  Then I spied a fluffy white bench in the office, and asked if we could use it. Yes, we got it!
Summary of Day 2
Move pile of furniture into house
Arrange furniture
Remove furniture that isn't working
Add in accessories from our keep pile.
Make buy list from items we still need
Buy paint for things that need to be painted
Drop plans for which we don't have time
Move excess accessories to the closet
Find hammer and nails so we can hang artwork
Back to the living room, we bought the lavender pillow, the clock and the top rug. They already had the larger blue rug, but I felt it would look so much better with the rug I found. They are not the same exact color, but they don't need to be. I LOVE the look of the two rugs layered. Here's the thing. The top rug is wool and much more expensive. This is a great way to make your expensive rug bigger, put a larger, less expensive solid colored rug underneath it!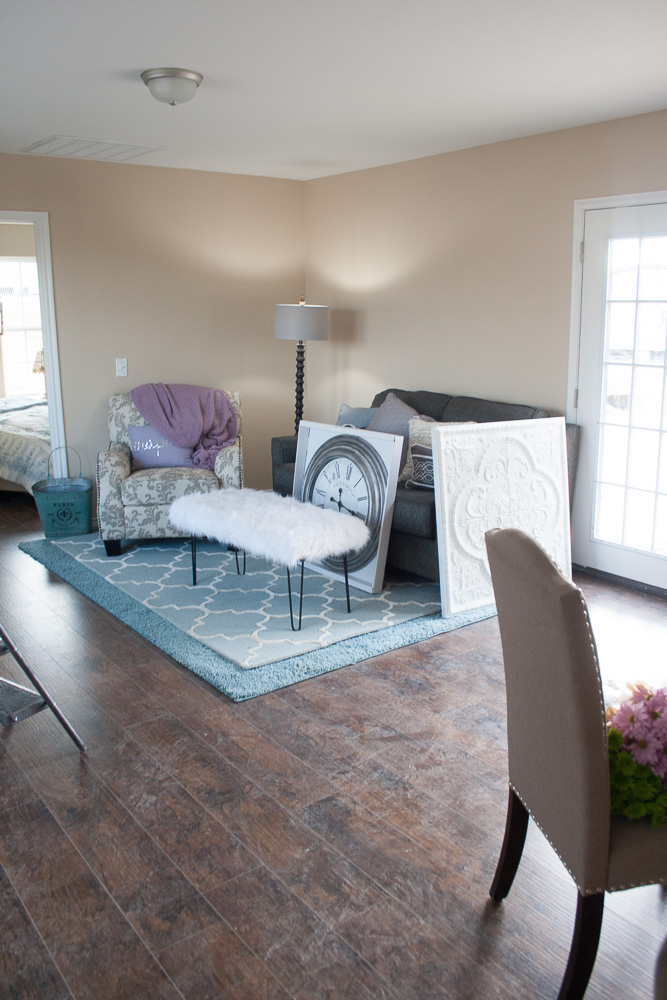 I want you to note that the table is a bright white, the chair is a cream color and the rug also has cream in it. In the old days I would have never put that pure white bench next to a cream chair, but times have changed. Note the light fixture on the floor? That is for the back porch. The Snow sisters made the candle chandelier into a solar powered light fixture. So smart!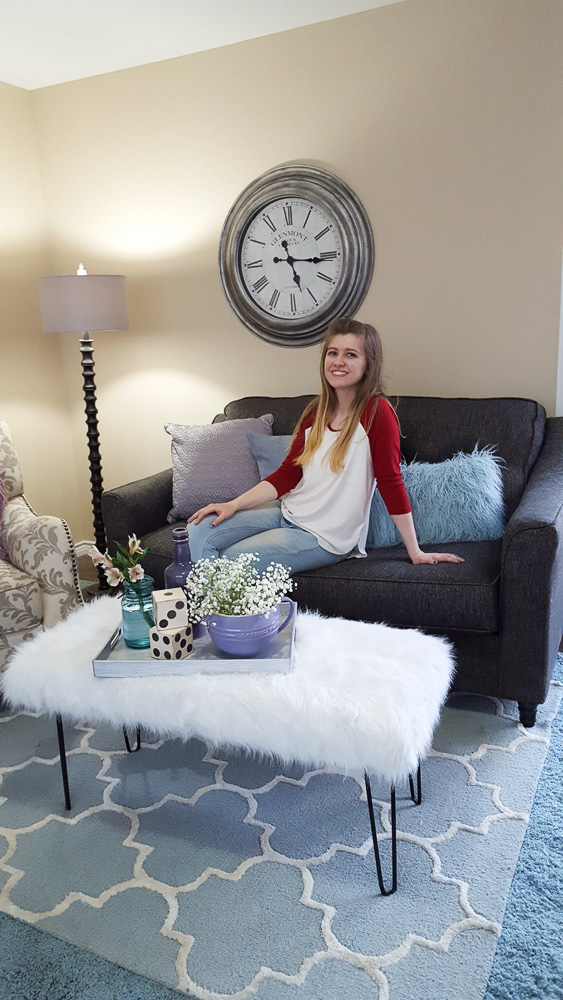 We limited the color palette in here to blue and lavender and neutrals – gray, cream, tan, silver and white. There are so many things I want to share with you about this house, and I realized it is going to take several posts, so there will be more coming as I show you each room. This corner is basically finished. They had one piece of white tin (shown above) that was being waxed with antiquing wax and it was going over the chair. For styling we added the silver tray with the lavender pitcher filled with baby's breath, the over-sized dominoes, and the mason jar with pink flowers.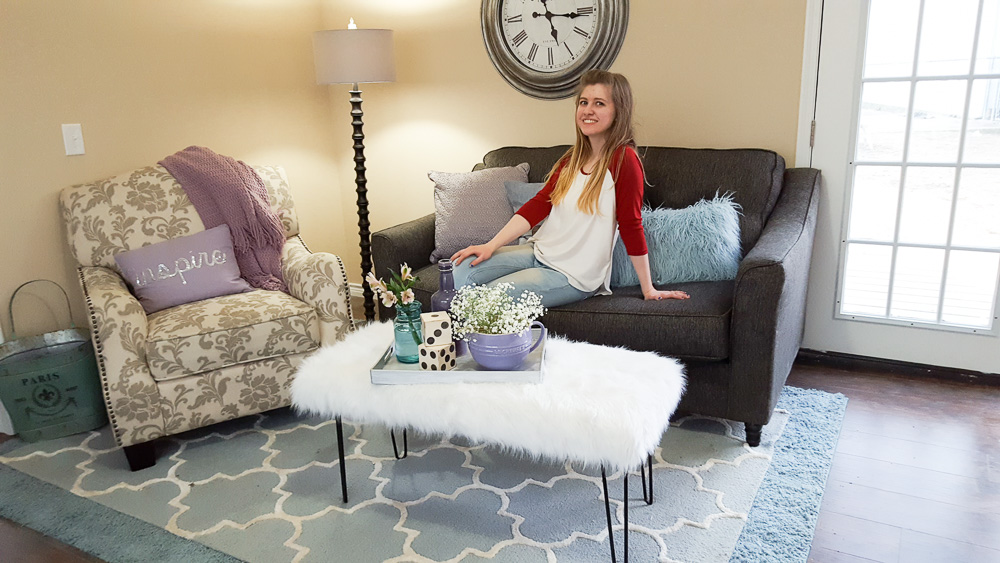 We were bone-tired after 3 days of non-stop, all-day work.
I still have to show you the bedrooms, the bathrooms and the kitchen and dining area! Stay tuned.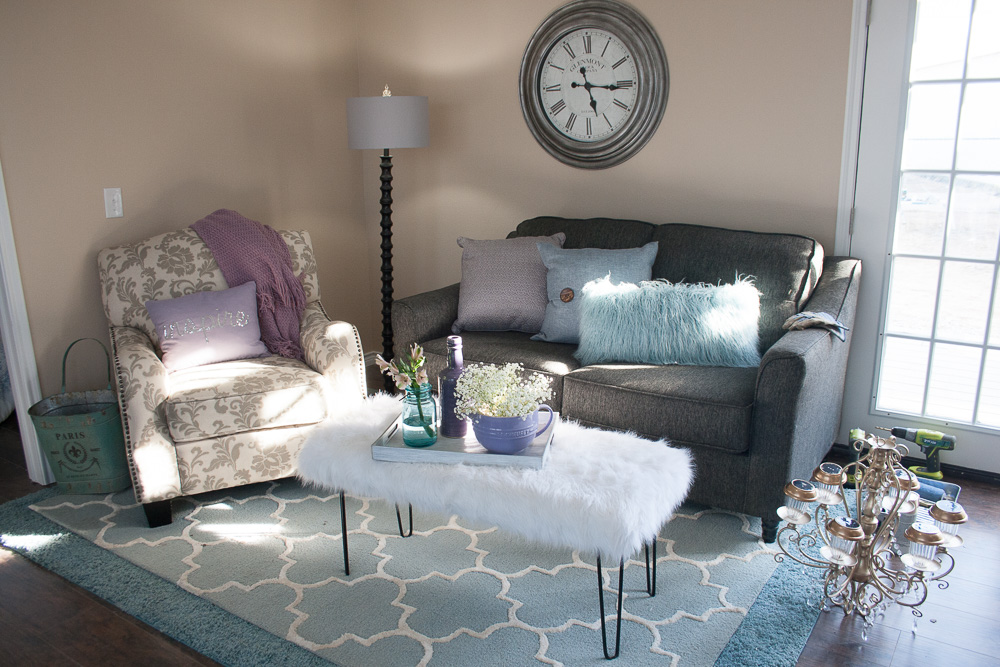 TO SEE MORE OF THE TEXAS FLIP N MOVE HOUSE, PART  II CLICK HERE.