Today I am joining the bhome bloggers for a Christmas event.
I love seeing everyone's amazing Christmas decor every year. The talent is so amazing! I do hope you'll check out the other homes on this tour. You'll find them at the bottom of this post.
In case you missed it, Part I and Part II of this year's home tour can be found HERE and HERE. The theme this year is Outlander!
I set up a table that I thought would be so pretty for Christmas. Although I do have Christmas plates, you know the Spode ones with the Christmas tree on them, I decided to do something different this year. I am using my Spode Rosebud Chintz plates since they are red with a bit of green. I also used some white dishes with a bit of greenery on the table.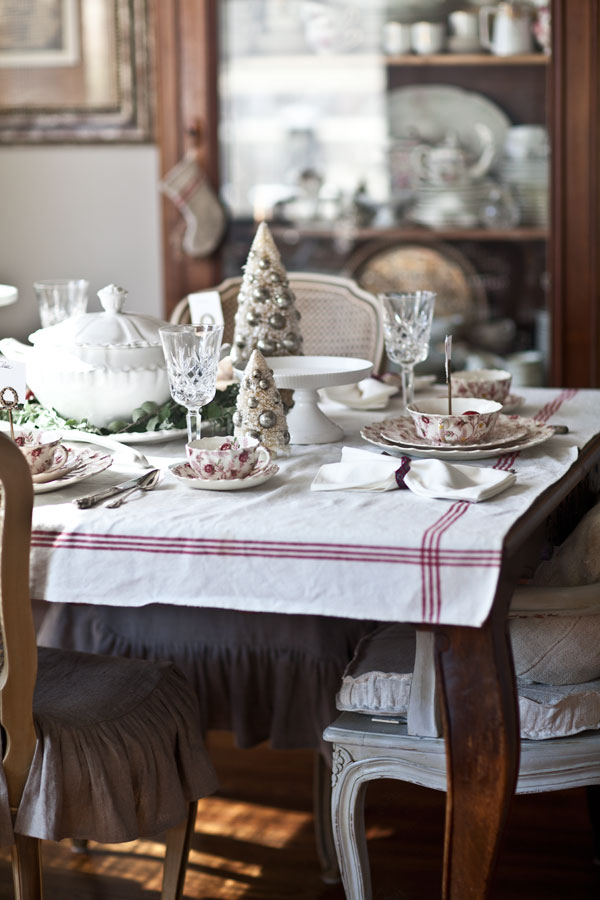 The tablecloth is a vintage one that didn't sell at Round Top. Then I get attached to it, and decided to keep it. I love this charming butter dish below that my friend Peggy gave me. It's adorable.  She'll be perfect for Christmas!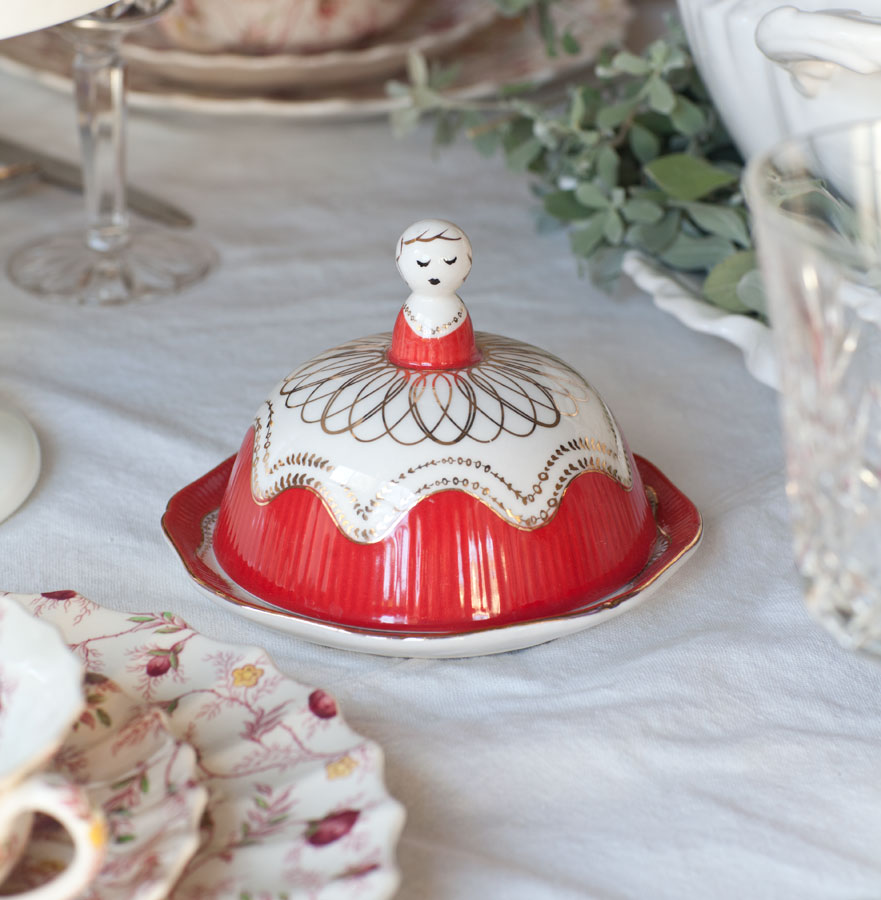 The tureen is a find from the thrift store. I think it's gorgeous and it was very reasonably priced. The greenery around the base is from my yard.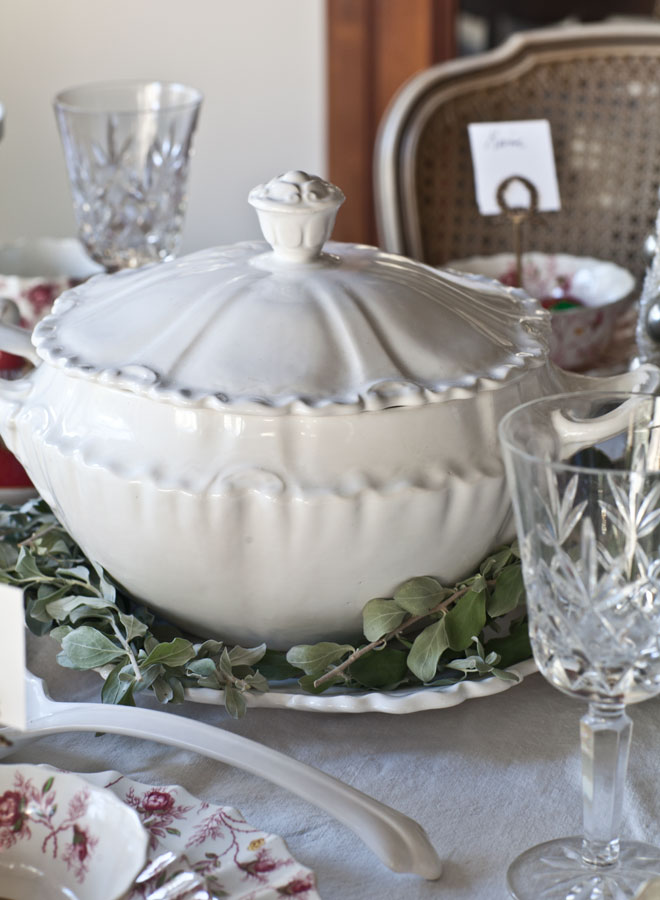 For each place setting, I used a little holder for the place cards, and put an ornament in each cup. Then I used some of my red tartan ribbon to tie around the white linen napkins. The silverware is inherited.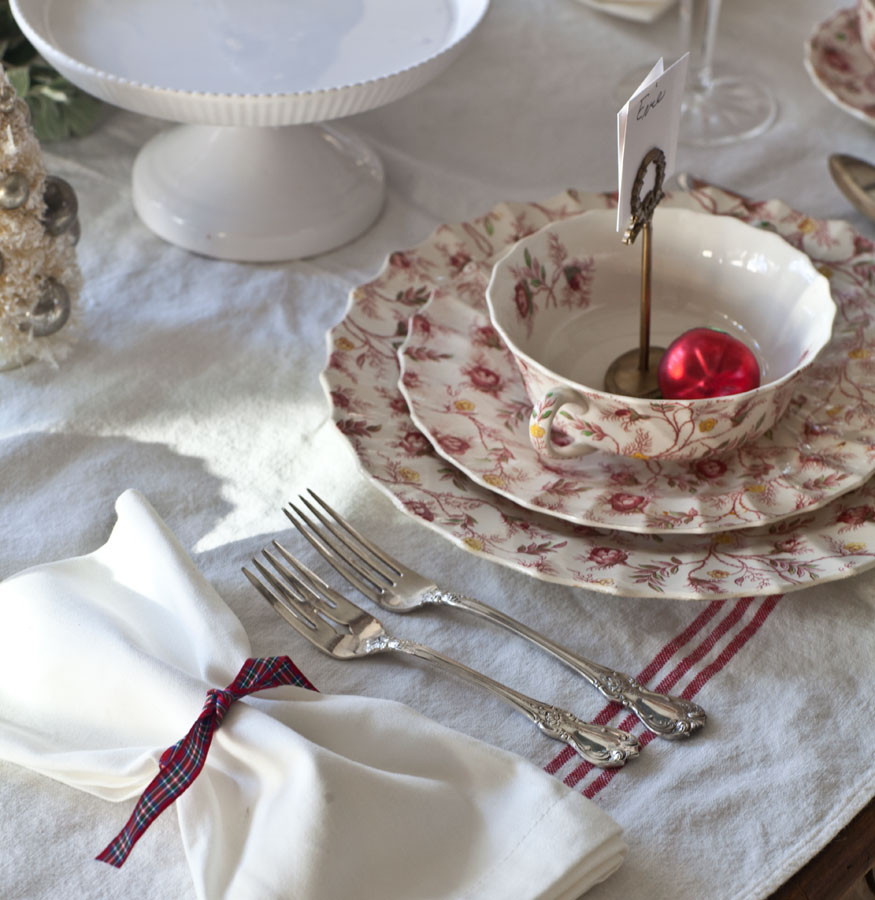 I also used these little boxwood wreaths that I am obsessed with this year on the cloches. Inside the cloches I used some birds nests and moss. The natural look is in keeping with my Scottish theme.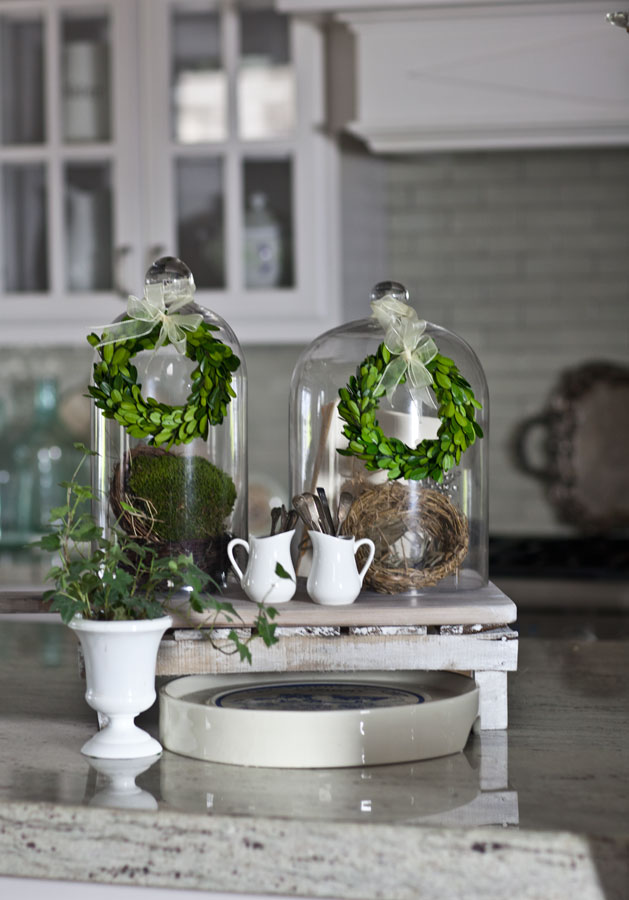 The birds' nests are actually not real. I have tried using discarded birds' nests that are real, but they tend to fall apart very easily. Birds are not thinking long-term apparently.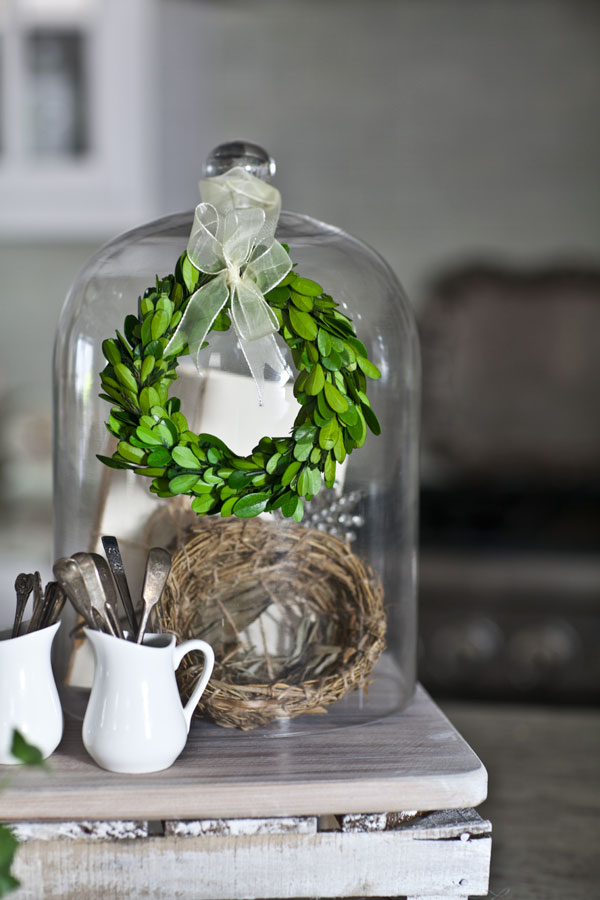 I found this little tree in with my Christmas stuff and thought "What the heck?" Then I realized it was a Charlie Brown tree that someone gave my husband a few years ago at the office. So I thought, what the heck, I'll set it out.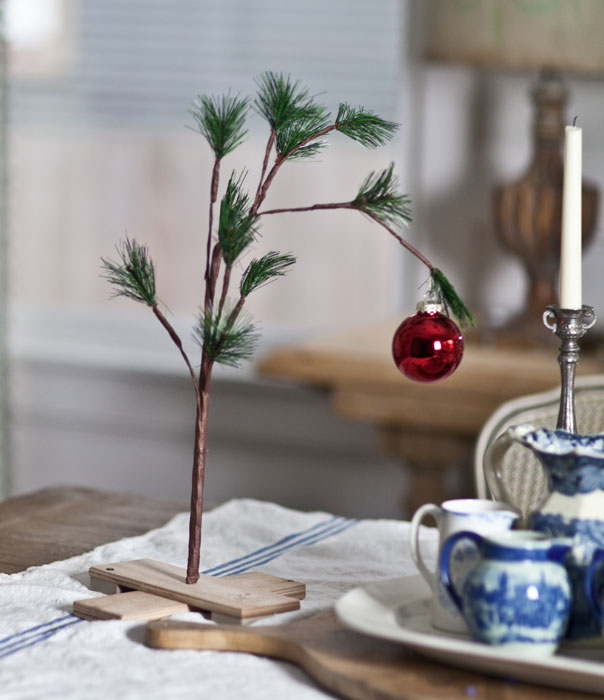 Here I added some silver oversized ornaments to a French wire basket.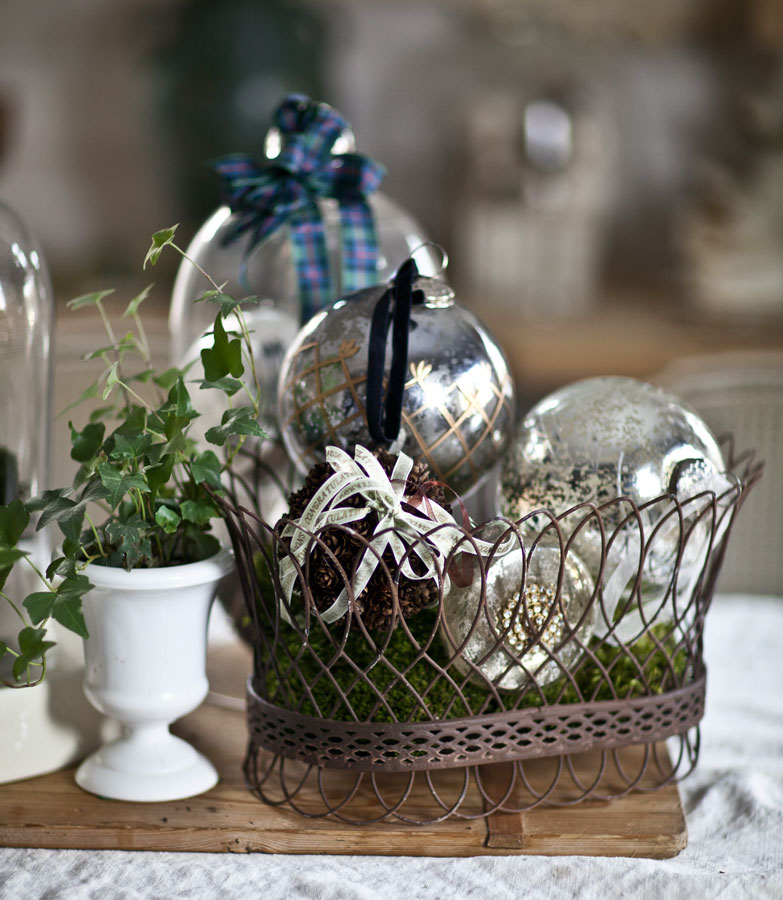 I actually have two of these baskets, so I thought I would show them together, but for this table, I like seeing the one by itself.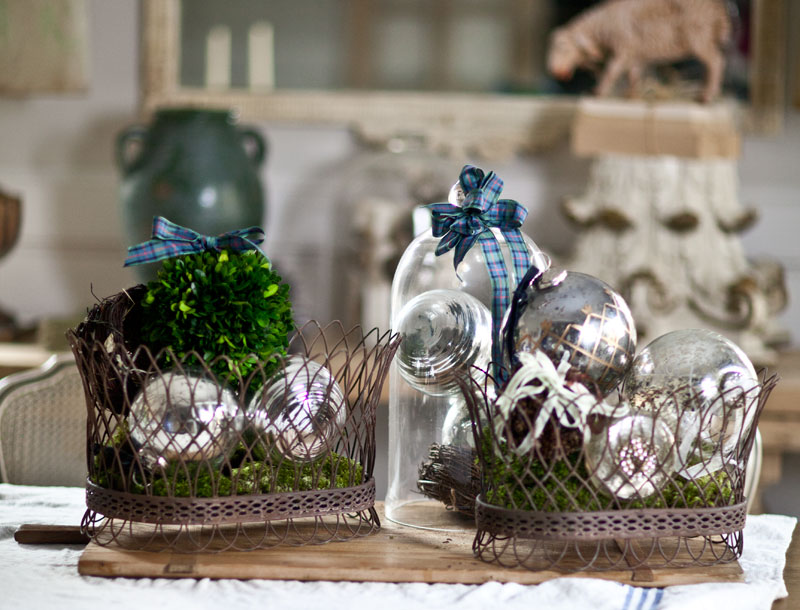 The basket is lovely by itself, but I really love it filled with these oversized silver ornaments.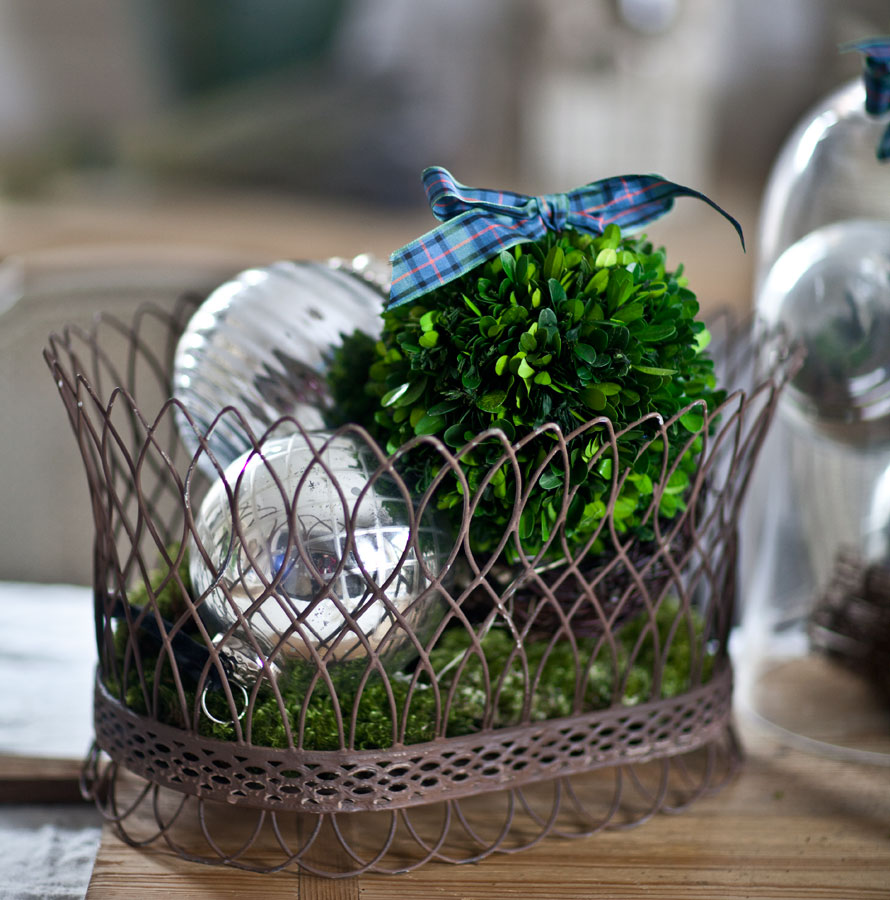 Set of French wire baskets available
Here is my little reminder to remember what the season is for. It's about the birth of Jesus, and not about extravagant Christmas decor.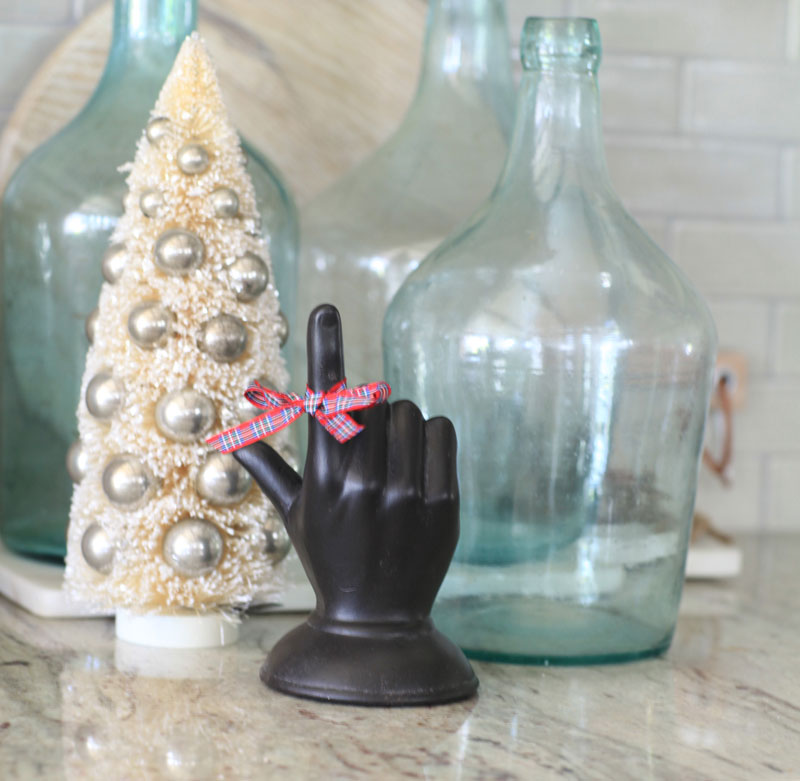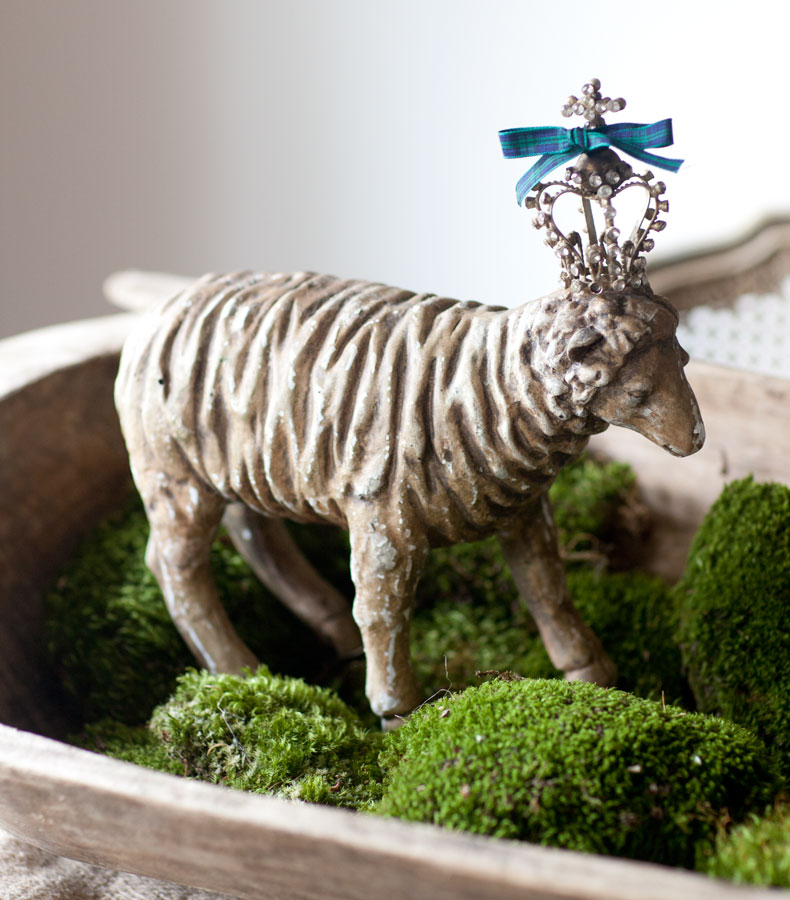 Crown and Sheep available
Here is a wreath inside two very old frames.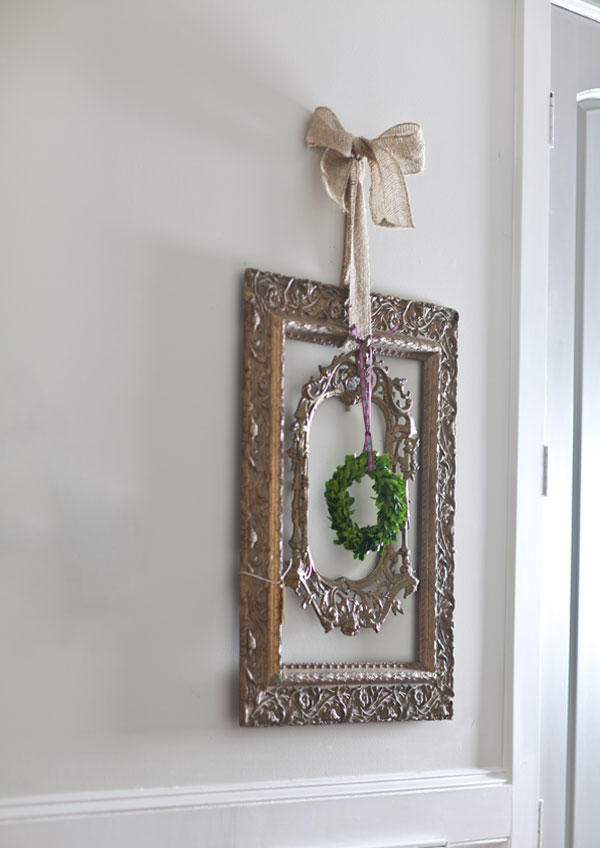 I didn't do much here, but I wanted to show you these awesome old milk pitchers from the thrift store. I think they are so lovely they just didn't need much of anything.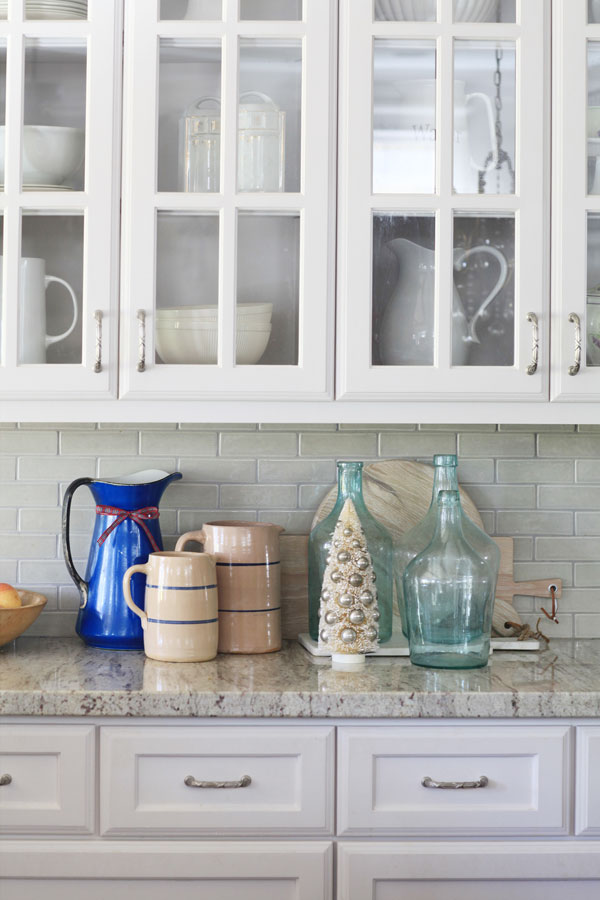 Again very simple, but here I just added a few trees to my ironstone pitchers.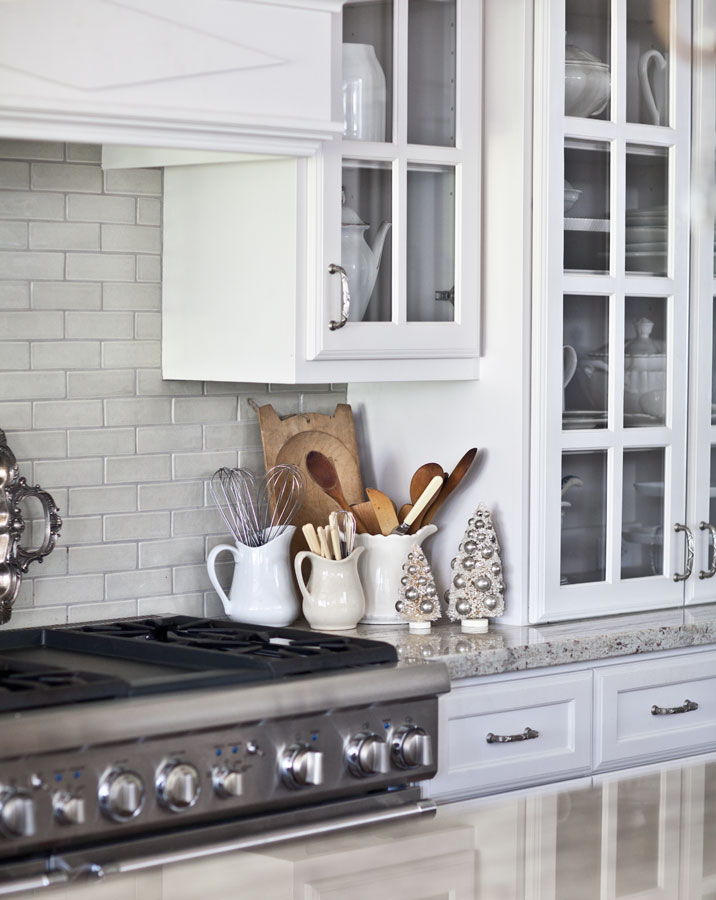 I added more greenery from my yard to a grouping of old pitchers.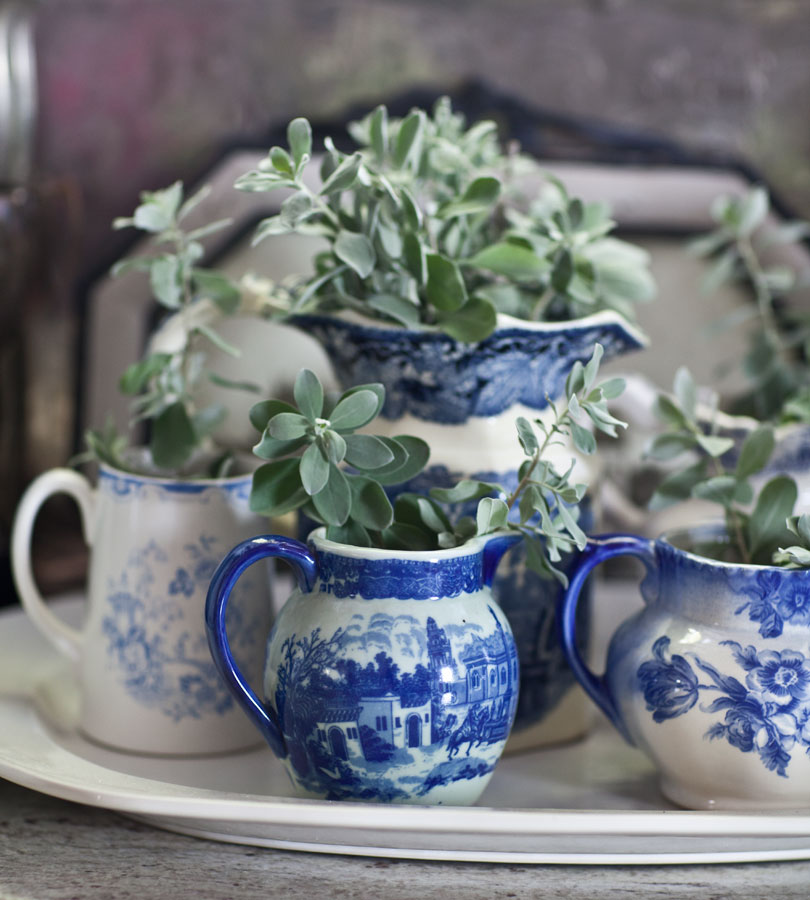 For any guests stopping over, I've go Pellegrino water in the sleigh.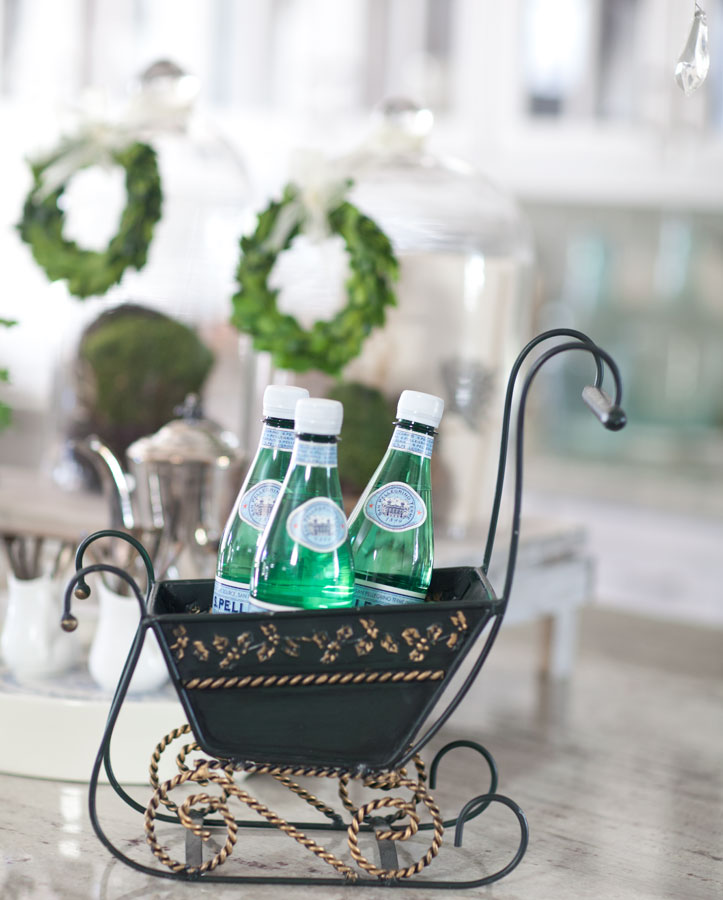 And finally more bottle brush trees in these fabulous wood planters.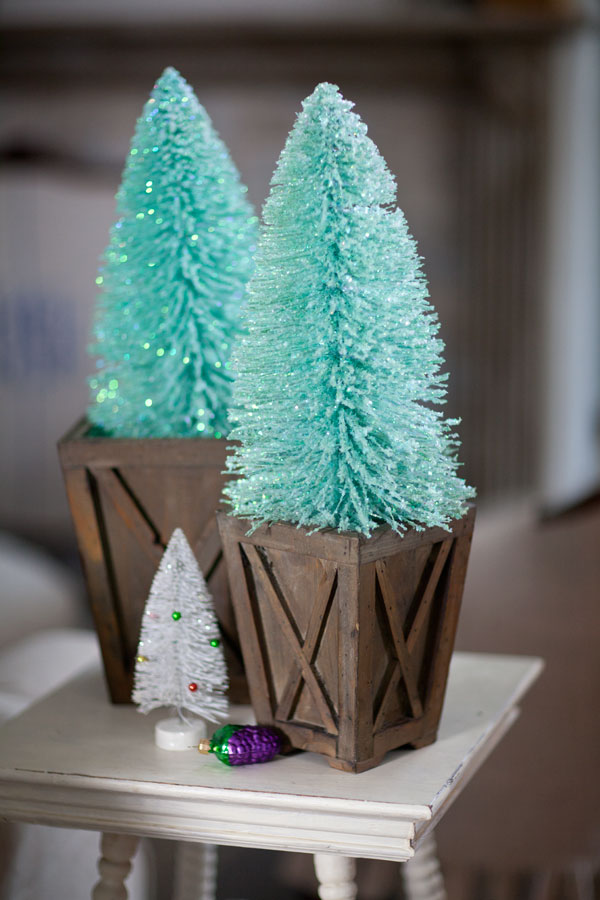 Set of Wood Planters available
Well, I hope you enjoyed my little touches of Christmas in the kitchen. I know you are probably here for some ideas for Christmas decorating, but I do hope you have time to sit and enjoy time with your family and friends. I hope you have time to reflect on the reason for the season.
Between what I have going on with my mom who just had a heart attack, visiting her, then helping my daughter prepare for finals things have been crazy here. My other daughter who has Down Syndrome, is finished with school and I have been working to get her into a day program with employment assistance. Until then, I don't have any help with her until late in the afternoon.  Meanwhile my tub is not usable because the plumber hasn't been able to locate the part, then my daughter flushed when he had the taps off so some water came down through my ceiling. All of this while I am trying to keep content on my blog, keep up with social media, make sure the shop stocked, keep up with all of the articles I have due, get orders shipped, answer reader questions, and do book signings. Then we had an unexpected trip out of town last weekend for some family business. Add to that a serious issue with my blog that I had to deal with until 2 am the other day, and I'm tired.  I'm only sharing that with you, because I know you too have things going on in your life, and you probably don't have a week to devote to Christmas decorating either.  I know many people are going through difficult times and decorating is the last thing on their minds.  All of that to say, do what you are comfortable with. It's okay to do just a little or nothing at all if you just don't feel up to it. And I'm in the middle of something new that is either super smart or super stupid. I'm still not sure which it is, but this thing has been very time consuming.  I'll tell you in a few weeks. 
GIVEAWAY
All the bloggers you will see on this tour are on the bHome App and we are honored to be partnering with D. Lawless Hardware to offer a $150.00 Gift Card to one lucky winner. To enter just download our bHome App by clicking HERE. Our app is available to both iPhone and Android users. If you have already downloaded bHome, you will automatically get a message to TAP to enter. D. Lawless offers international shipping so this giveaway is open to anyone. Winner will be notified on or around December 14, 2015.
DAY 1
Garden Therapy | Cedar Hill Farmhouse | Bright, Bold & Beautiful | Cupcakes and Crinoline
Southern Hospitality | Little Farmstead | Shabby Art Boutique