This post is sponsored by Calico.
I love fabrics, I really do. Do you enjoy touching all of the fabrics when you go shopping? I like to feel their texture, I like to see the prints, the woven patterns, and the solid colors. I notice the way the silk shimmers, and the way linen drapes on the floor. Each fiber has a special uniqueness to it. Today I'm talking about this silk blue striped pillow.
I have talked about linen, but I haven't focused much on silk. Silk is a delicate fabric, and I wouldn't use it for just any project. But for a special spot, where it won't get heavy wear, it's perfect. I would love to see this fabric in curtains as a matter of fact. If you do make curtains in this fabric, please, please send me a photo. I know it will be stunning. And for anyone using this fabric for curtains, please make sure to line the curtains. Silk is delicate and can break down over time if you don't protect it from the sun. Even though silk is a delicate fabric, I don't think we should overlook it's beauty and value. Silk has an elegance to it, that is difficult to replicate in other fabrics. This fabric is called Elegant in color sky, find it HERE. The fabric is so soft to the touch, and has a shimmer in the light.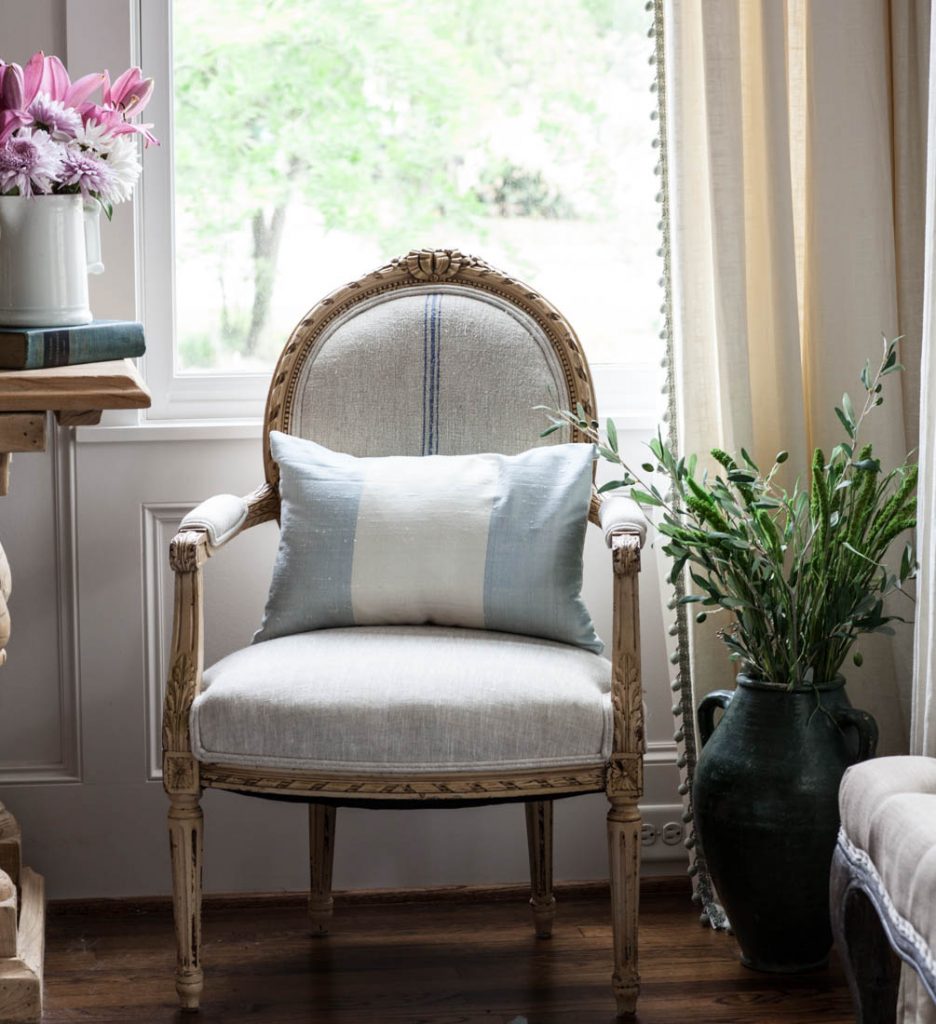 I feel like I say this all of the time, but it's true. This is one of my very favorite pillows. I did a reverse pattern on the back of the pillow, so one side has the blue stripe in the center and the back has the white stripe in the center.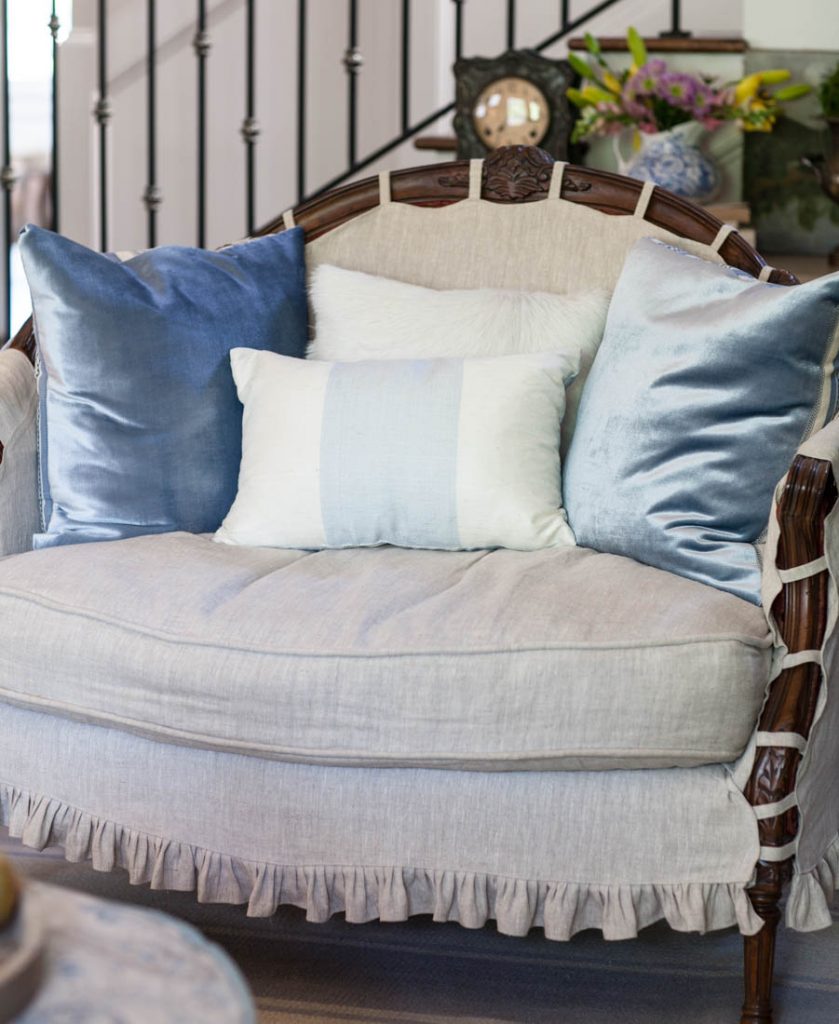 The fabric is very soft, but has a slightly nubby texture. I love all of the beautiful texture. The blue is a soft color.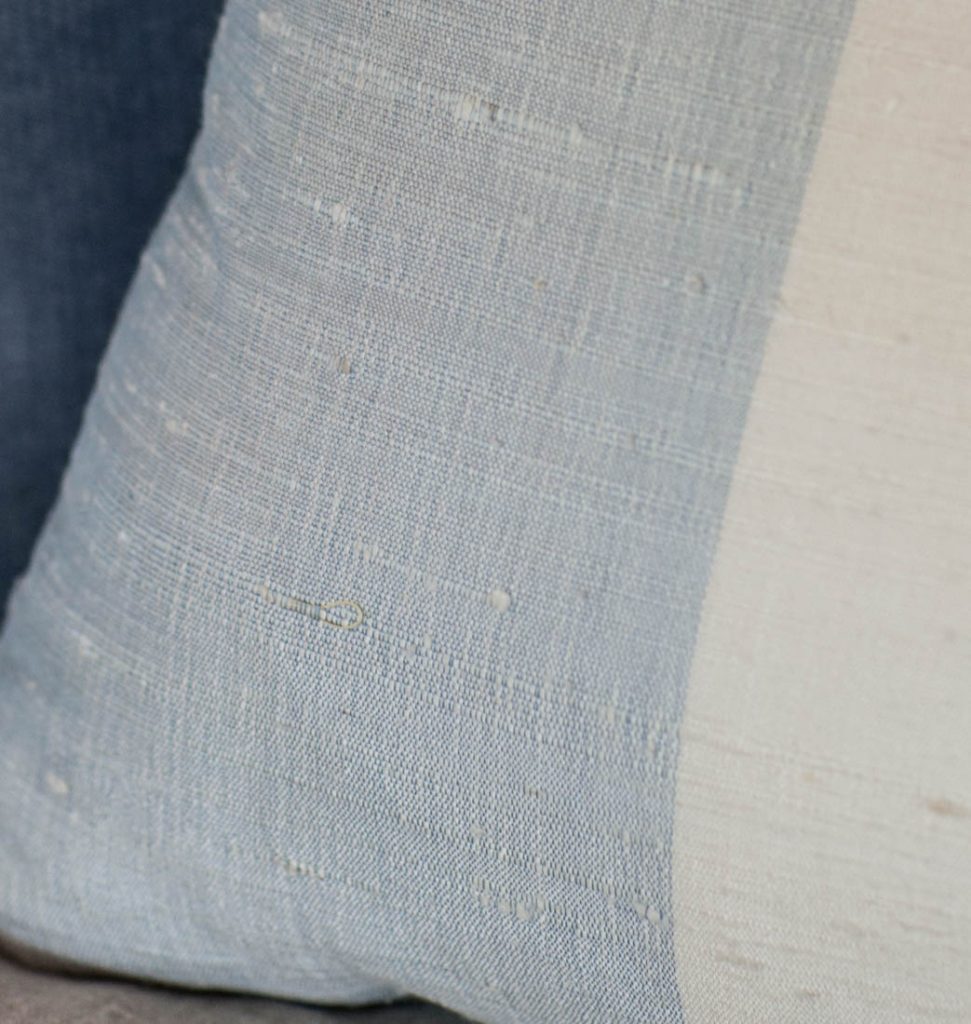 I love the way the elegant silk pillow works so well with my French chair redone in simple grain sack fabric. Note the blues don't match, but that's okay. The chair, an antique, is wearing it's original paint.