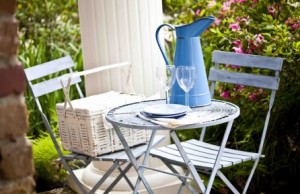 As you can see, I'm still on the front porch.  It's beautiful outdoors so I am just looking for an excuse to stay out here.  This basket was inherited and I almost didn't keep it, but then I thought, "What would Peggy do?" and I realized the answer was "Keep it!!"  She's on a tight budget and that really does force you to be creative.  You know what they say, "Necessity is the mother of invention."  So here's what it looked like when we first got it.  I'm pretty sure it was meant to be a sewing basket.
Sometime I spray paint wicker, but in this case, I just painted it with homemade chalky paint using a brush.  (Click
here
to see my recipe.) I decided to try this for a more rustic finish.  I thought if I painted it, it would make a darling picnic hamper.
I like the finish, but might redo it with white spray paint later.  Yes, another redo of my redo might be in store, but for now, I am happy with it.
It's big enought to hold enough for a light snack.  Since we are always looking for a new place at the ranch for a picnic, I love having lots of baskets around.   We just moved my wrought iron table and chairs over to the creek so I think this picnic hamper will be put to good use having a picnic down there. I also brought out my vintage French enamelware pitcher I bought on eBay.  What can I say? I'm in love!!
I mean, who wouldn't be?  Look at that spout and the rust!!
Oh, it's so glorious to be outdoors right now with the azaleas blooming, I was looking for an excuse to come outside.
Does the table look familiar?  Oh yes, it's the same one I have shown
here
. Glad I kept basket, thanks Peggy!  Are you ready for a picnic? I'll bring the food!!
P.S. I decided I would like the basket better if the paint were more even, so I just spray-painted it just a bit to even out the paint.  (I'm telling you instead of my family, since I know you won't think I'm crazy.)