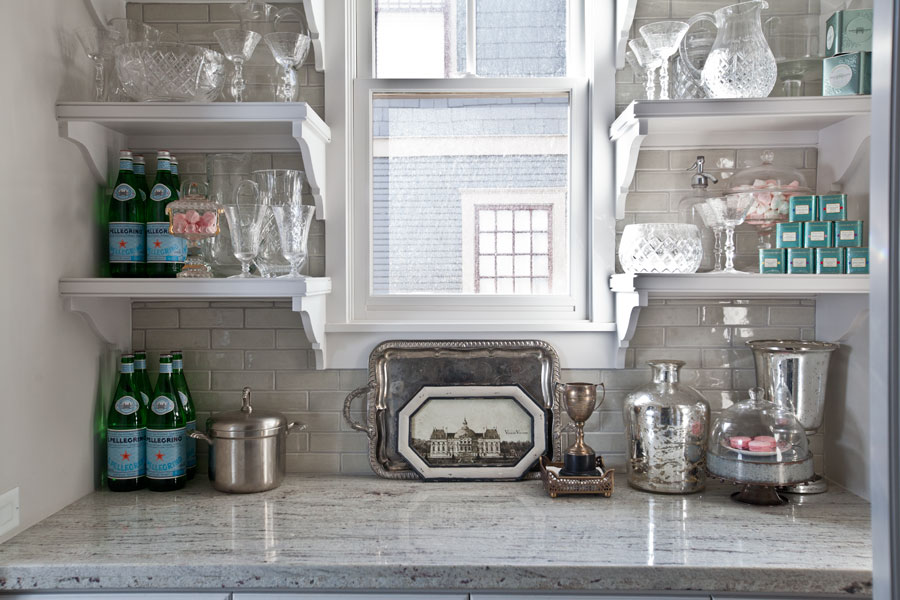 A note about yesterday's post. So yesterday I talked about silk flowers, and asked what you thought. I appreciate the two-way conversation. Some readers don't like silk flowers, and some really do like them. At the end of the day, it's best to do what works for you. I read all of the comments, and thought there were some excellent points made and good arguments. I have to agree with you, for some people silk flowers are the best option. (You can put down your pitch forks!) Ha, no seriously sometimes I think I should talk about something less controversial like politics and religion. It's all good. Ya'll keep me in check!
Okay, now onto today's topic.
So what make the space look elegant?  Here are 7 things that I used to make this space elegant.
The first one may sound silly, but I promise it works.
1. Pellegrino water bottles
The Pellegrino water looks super cool and it looks like it belongs in a very expensive home. I'm not kidding you. Try setting a few bottles out. Besides, your guests will love them. Just replace as they are used.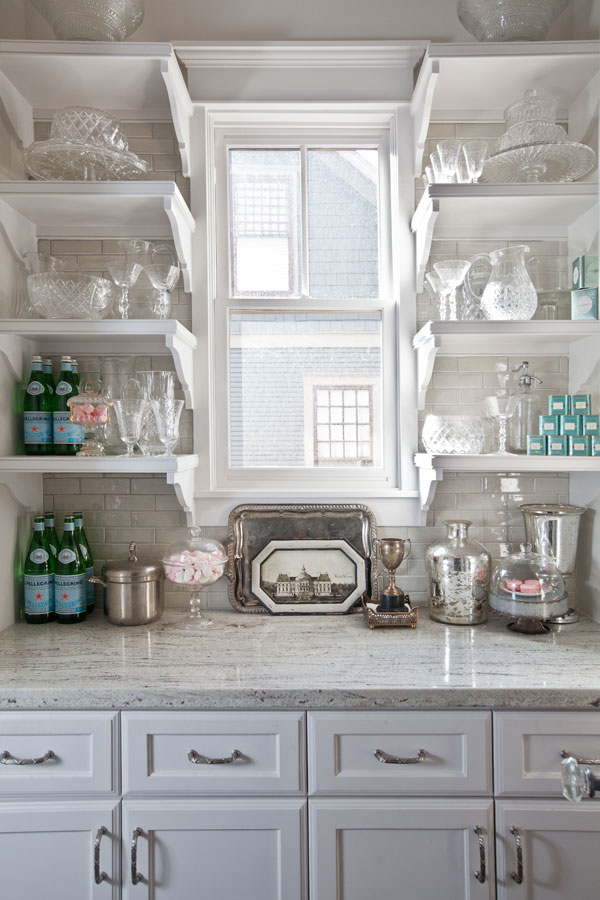 2. Crystal
I also displayed some of my crystal here. I didn't buy much of it. I inherited a lot. You may not have room to display all of this, but a crystal bowl would add some sparkle to your kitchen. You can use it for any fruit you left out like apples or lemons.
3. Silver
Silver says 'elegant'. I love to add some silver here and there. the tray is a special favorite of mine. You can lean a tray up against the wall, or use it flat on the counter. I also used a silver ice bucket here.
4. Mercury glass
I mainly use mercury glass for the holidays, but really the silver mercury glass works year-round. The reflective surface is really pretty.
5. Vintage trophies
I love vintage trophies.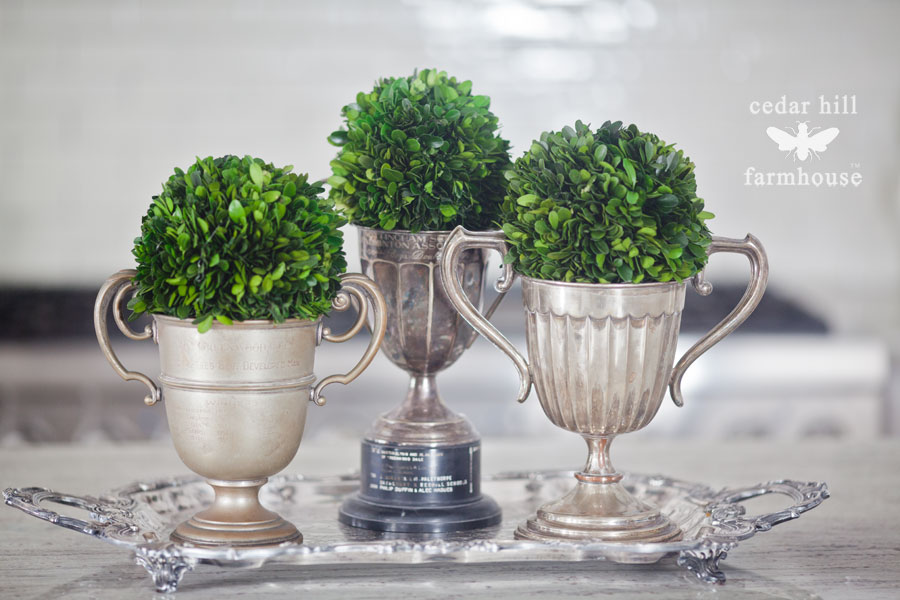 They have a history, and even if I don't know all of the details, I still think they are 'way cool.' I love using them to hold these boxwood balls, but I also use them for vases.
6. Architectural print
Well again, they just look so elegant to me. Usually they are black and white, but I have one that is in color.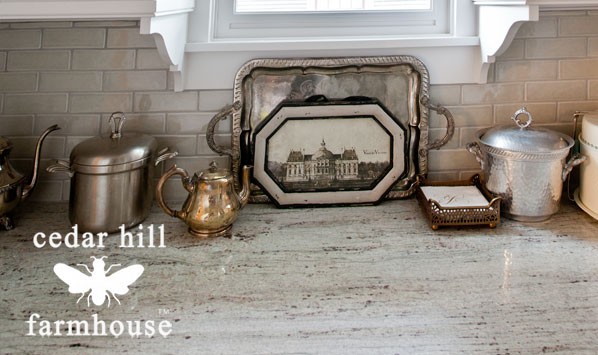 7. Tea tins
This tea is Fortnum and Mason from London, but you can use any tea tins. It just looks so inviting to me to see pretty tins sitting out. It's the first thing I have every morning. Yum.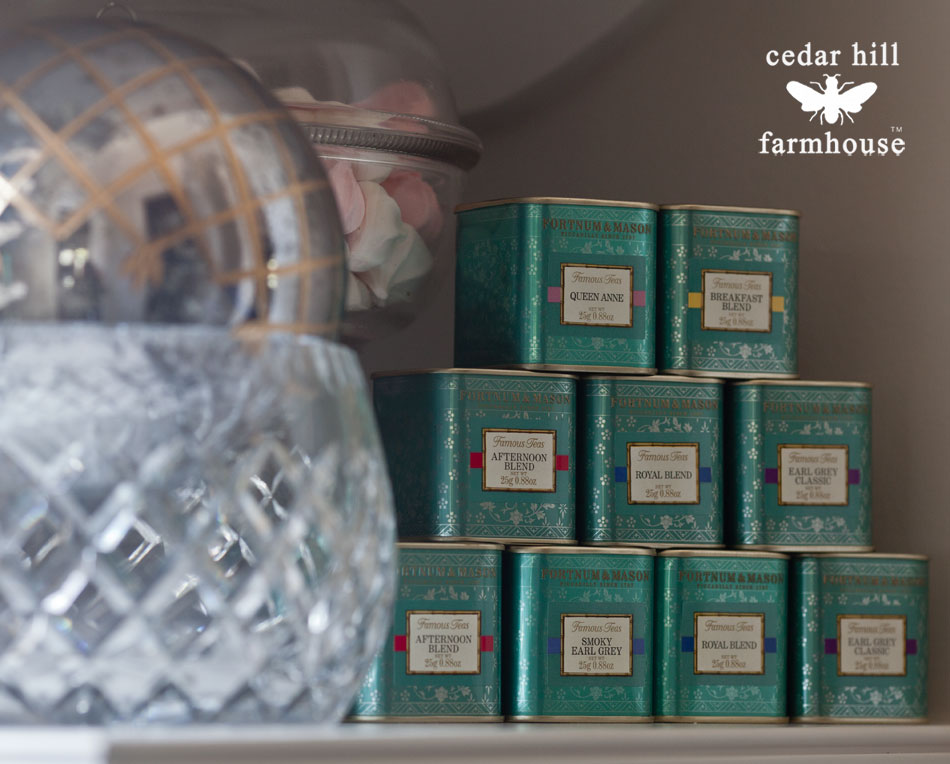 What are your tips for giving a space elegance?