Hurricane Harvey sure did a number on Houston. I had a headache that that lasted from Saturday until Wednesday. Yesterday was the first day I've felt normal in days. I actually fell on my stairs during the hurricane too, and strained the muscles in my chest, so that every time I picked something up, it felt like I had chest tightness. And my stomach was in knots too, so basically I was a mess.
The steps are always super slick when it rains. I've tried different shoes, but the stairs are still treacherous. I'll be adding some strips that will make the steps not so slick.
(affiliate link) I plan to add this step grip tape, CLICK HERE.
We've had storm damage to our home, but it is minor. And yet the storm traumatized me. I wasn't even worried about our home, because it's on high ground. I was worried about my friend Peggy's home, and the homes of so many. It was agonizing to hear about flooded homes hour after hour. So many people posted the pictures of rising water throughout the storm on Facebook. I think this storm probably traumatized the entire nation. You may not have been here, but you saw all of the destruction played out on the news and on social media.
Yesterday things began to gradually ease back into a normal pace in my neighborhood. The restaurants are opening. The mail came and the trash man also. The hammers began again on construction a few houses down from me. The churches and restaurants that were collecting donations have gone back to their normal functions. It's good to see things returning to their normal state, and yet I know for so many that day is months away. It's heartbreaking. I know I included this link before, but it's worth including again. I've given to the hurricane relief efforts of SAMARITAN'S PURSE. I am hoping what we give can help others get back on their feet and back in their homes quickly.
So I know you've come here probably for some decorating ideas rather than to hear about the hurricane. So I'm easing back into decorating today. This post is sponsored. I've been busy sewing lately, and I just made these two pillows. The fabric is Venezia Suzani in Orchid from CALICO CORNERS.  I ignored the Panetone color of the year, if you remember, and suggested you decide for yourself what YOUR color of the year should be. My color of the year is Purple. You can read more about that HERE.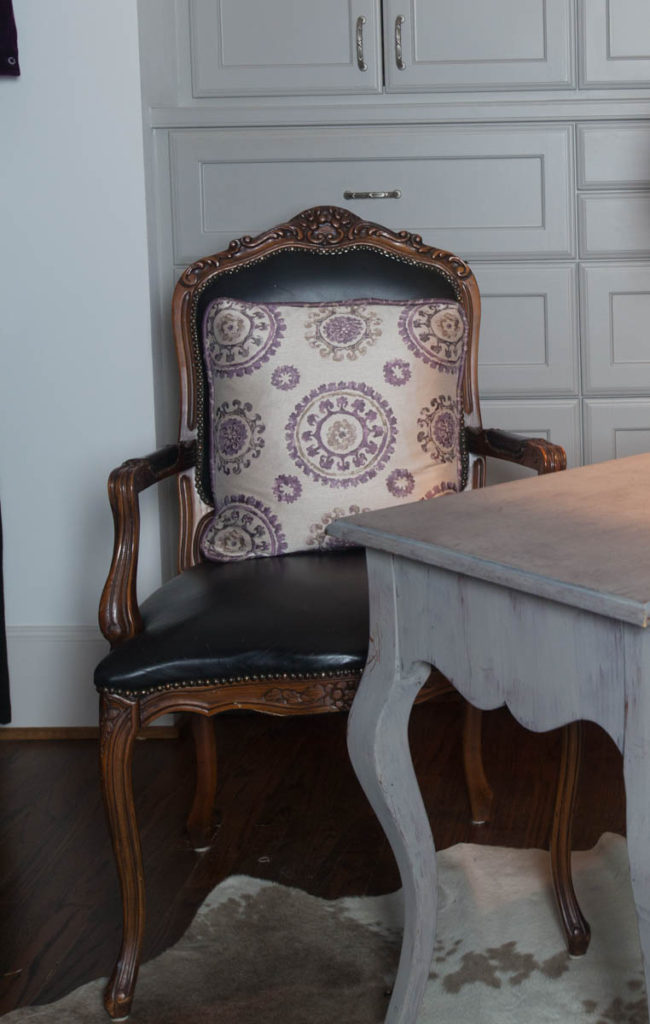 Using a pattern when sewing pillows takes a lot more fabric, since now you need to make sure the pattern is centered on each pillow. I wasn't as careful lining up the pattern on the back, but I'm not showing that today. I used about a yard and a half of fabric for this project. For the piping, I used the pillow fabric, but turned it inside out for a contrast.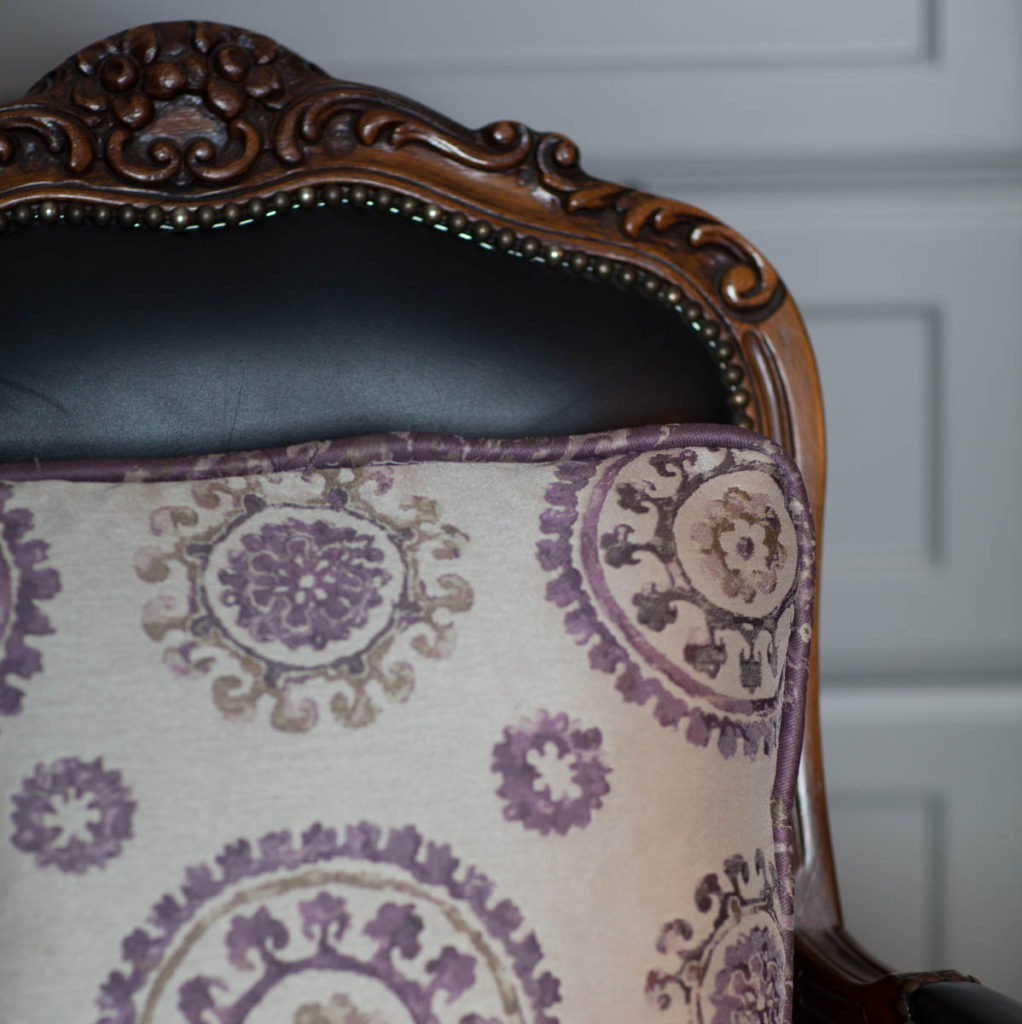 I made matching pillows for both chairs. These took about 3 hours.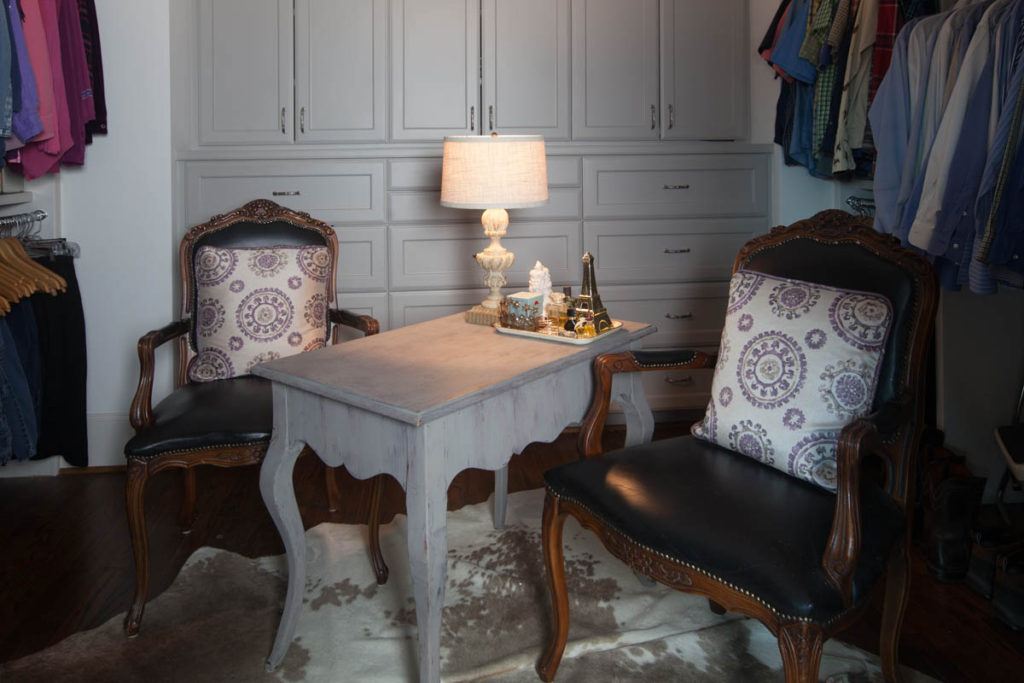 If you want to see what the room looked like with the old pillows you can find it HERE. I used the same technique I outlined in that post, but added the piping.
Looking for fall decorating ideas? We've got you covered in the podcast today.
EPISODE 93 TIPS FOR FALL DECORATING