I just posted the photos of my friend Sheila's pumpkin project in my post, Pumpkin Time.
Everyone wanted to know how Sheila did it.  Well I knew she used the instructions in the October 2011 issue of Country Living Magazine.  I haven't been able to reach her, but I did pull out my
Country Living magazine and read the instructions for myself (and you.)  So here they are.
Select paper napkins with a design you like. Then here you go.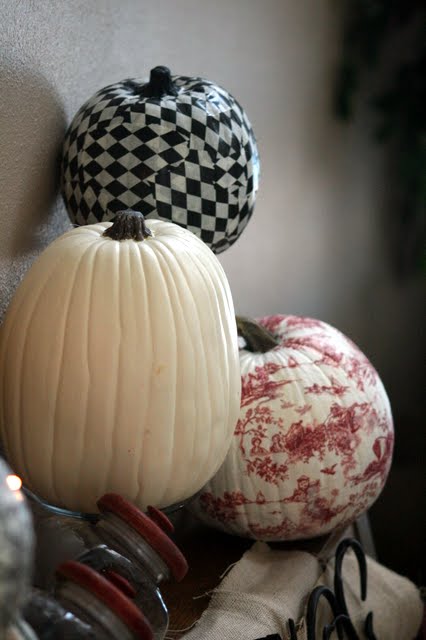 Basically the instructions say to
1. Cover your workspace first.
2.  Pour Mod Podge Matte (all in one) decoupage sealer into a mixing bowl.
3. Using a foam brush, spread a coat of Mod Podge on the back of the paper you are using to cover the pumpkin.
4. Press the paper onto the pumpkin, smoothing out air bubbles.  And you continue to do this until the pumpkin is entirely covered.  They mention suspending the pumpkin to let one side dry before you do the other side. Also, they mention using fake pumpkins, so there, I just assumed they were real.  Be sure to let one side dry for at least 10 minutes for before moving to the other side.
5. Using the foam brush apply a thin coat of Mod Podge over top of the paper, doing one side at a time and letting it dry before going onto the next side.
6. Let it dry for an hour.
7. Repeat with a second coat to seal the project.
8. Let the pumpkin dry for 24 hours to be completely set.
I like that.  It seems really simple.
So there, I learned something, and I hope this is helpful for those of you who will try this technique.