Previously I talked about rug tips HERE.
Today let's talk about how I chose this rug and what decisions you'll need to make.
Previously I had a rug in here that I loved, but really began to think it was a bit small for the space. I've moved it somewhere else, and I'll show you that later.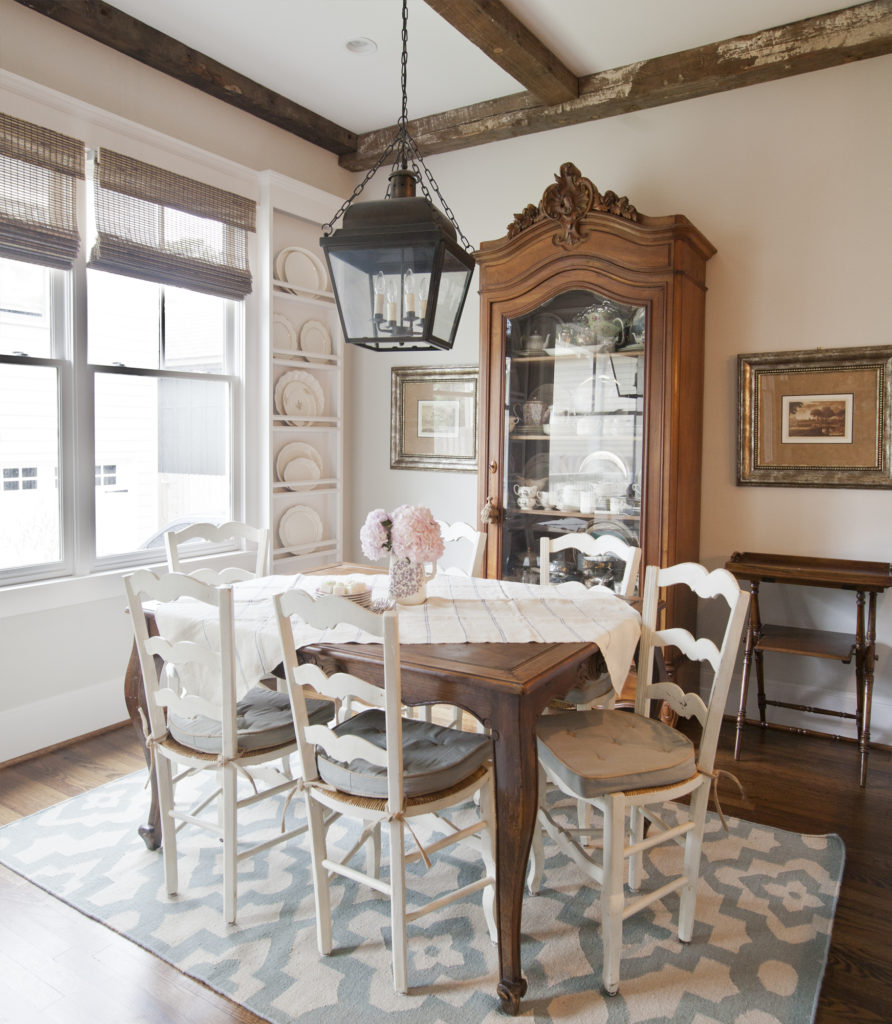 In that rug tip post, I talked about getting the largest size you can afford. Larger is almost always better. I could only go so big, because the space is tight, but I wanted the chairs to fit on the rug, even when someone is sitting in them. I think that is best. This blue and white rug is a 9×7, but I felt I needed to go up a size. Let's talk about your choices.
What fiber is best? 
So the next question was what fiber should I chose? Well for a dining area if you are going to have spills, I do recommend wool, since it cleans so well. I have a cowhide rug at my farm, and it also cleans up very well also. This rug is cotton, and in general I would recommend cotton more for a bedroom or bathroom, where you don't have food, but my kids are grown so we don't have a lot of floor spills. Besides we end up eating in the kitchen now so we aren't using this room as much. Cotton does need to be cleaned more often than wool, but the big benefit to a cotton rug is that it is much more affordable that wool, so that's a big plus.
I chose COTTON for this room.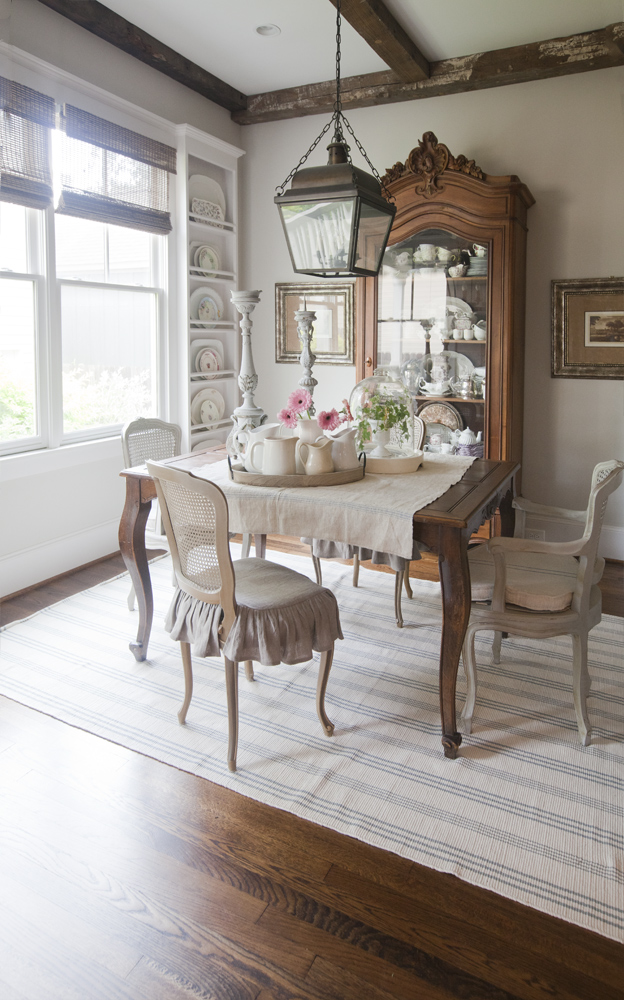 What colors are best?
Obviously this is very different depending on what is in the room. Bold color rugs work great in a room with bold colors. Soft color go with soft colors. Make sure your rug feels like it goes in the room. Obviously a red Oriental rug would not work in this room since I have blues, whites and oatmeal colors in the open concept room. But if you have a room with jewel tones, then a red Oriental might be perfect for you.
As we discussed last time, you can chose a color that is not in the room, but the intensity of color in the rug needs to make sense in the room.
I love white and blue so that is what I was looking for in a rug. I have several blue rugs and they work perfectly with my calm color palette. This room (like my dining room) did not have a lot of color in it, so using a rug is a great way to add color. This rug is blue and white which adds a calm to the room. If your rugs are exposed to a lot of dirt, I really recommend darker colors. We take our shoes off at the door, so I wasn't so concerned about that, but if your family wears shoes in the house, you might want another color. We also have a collie, but the rugs stay pretty clean at our house. If it's muddy outside, I do a paw check before I let her back inside. If you have small kids, again, darker would probably be best for you.
I chose BLUE AND WHITE.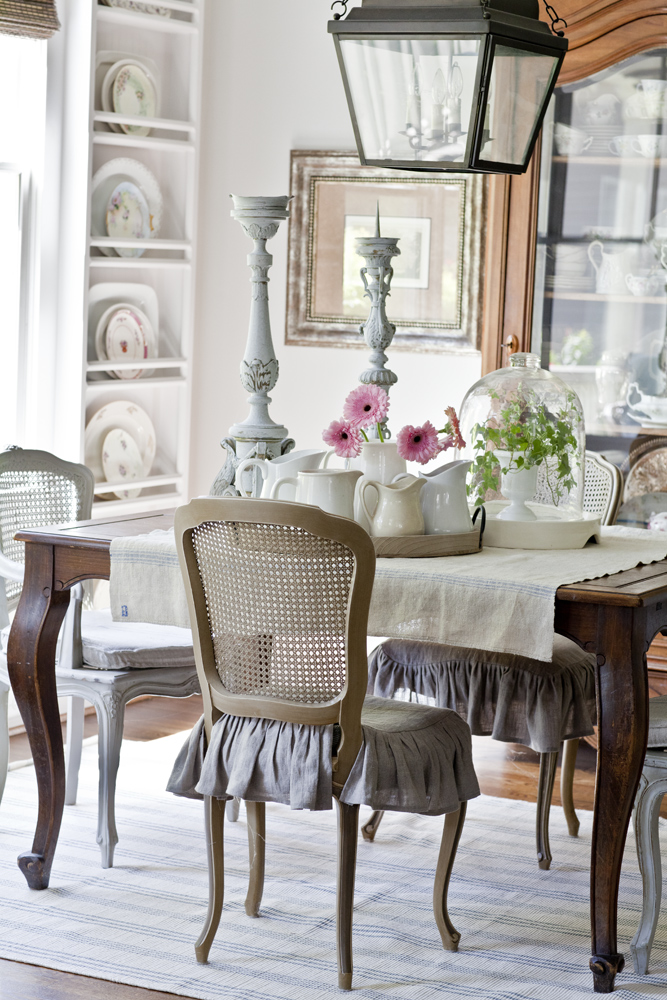 What pattern is best?
The answer to this question is clearly dependent on your home and your design aesthetic. If you love farmhouse French design, then you might want to consider a floral, check, or stripe. I am crazy about stripes, so that was what I was looking for. I prefer a simple pattern, which really works well in my room. I like a simple pattern with just 2 colors. If you have a Bohemian color drenched room, then a a rug with rich color and pattern would work.
I chose a STRIPE.
Remember I have a giveaway going on this month, and there's just a few days left to enter. Every time you comment, you are automatically entered to win. Details here.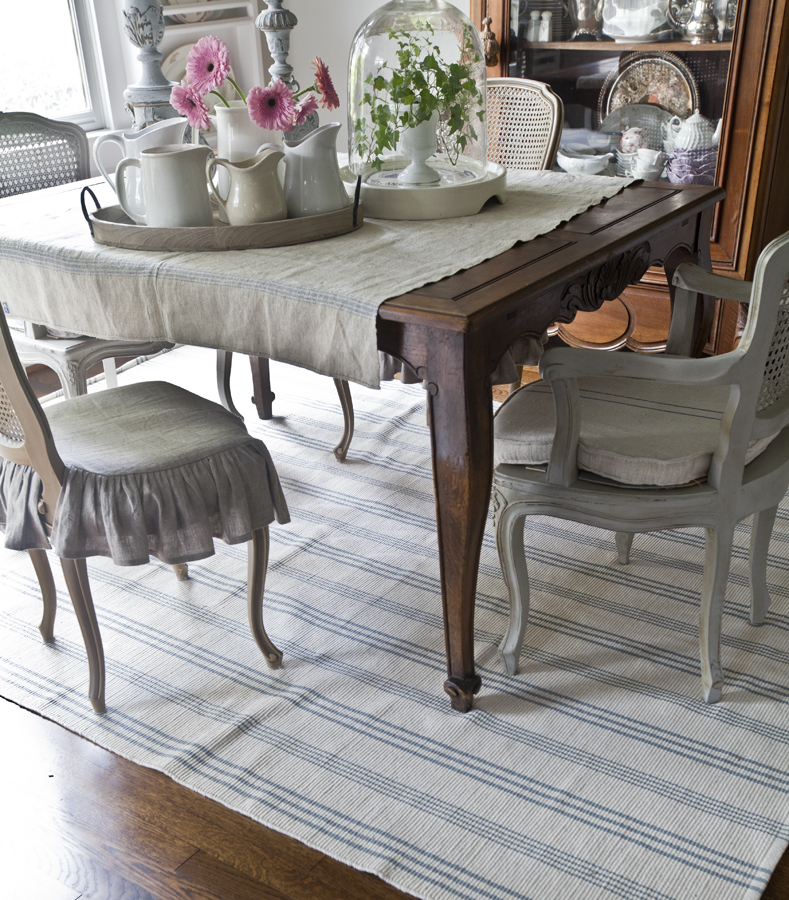 What style of rug?
There are braided rugs, shag rugs, flat weave rugs, hand knotted, hand tufted, hand loomed, and machine loomed rugs. I think my favorite kind of rug is a flat weave rug. It just looks very high end to me, even if it is inexpensive.  I don't have room to get into all of the options here, but the flat weave is a good look for many homes.
I chose FLAT WEAVE.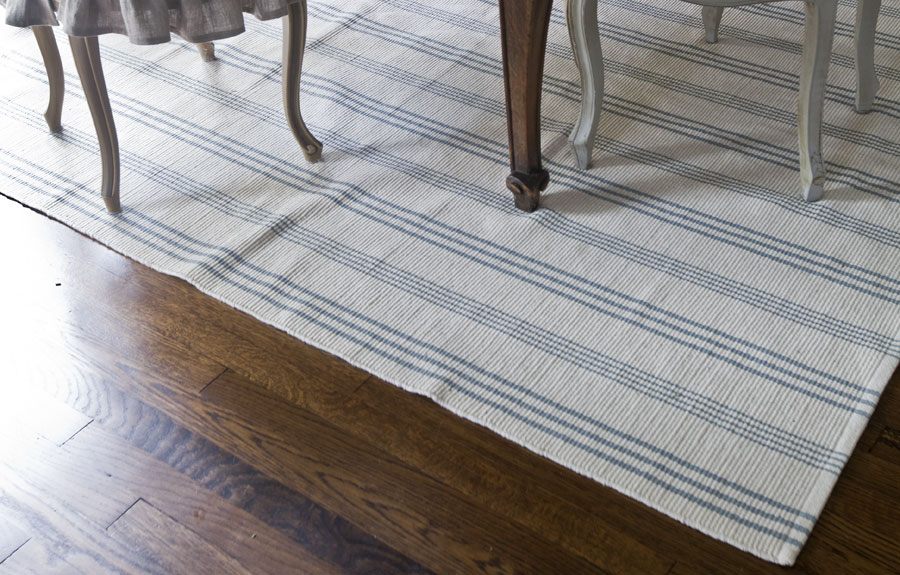 If you notice the rug is not 100% flat. That is because I did not use a rug pad. I do recommend using a rug pad, because the rug won't shift as much and will not bunch up. I used to use rug pads, but I move rugs around so much and change sizes so often, that it was a big hassle moving the rug pads too. And then when I change size, the rug pad no longer works. But I do like them.
This post was graciously sponsored by Annie Selke, maker of Dash and Albert rugs.
This SWEDISH RUG can be found HERE.
We've talked about many rug options about fiber, but at the end of the day, the rug needs to feel good in your room. This rug works because it feels light in here. It's a Swedish style rug that works so well with French style. The thing about Farmhouse French style is that it is a mix of the simple and casual with refined French elegance. It brings French style down so that it feels livable and not too fussy. Had I put a fancy 'foofy' rug in here the room might have become very stuffy and formal. I want it to feel approachable, friendly, and comfortable. To do that you need to add simple casual elements like this rug.
Choosing a rug is very personal, so go with what you love!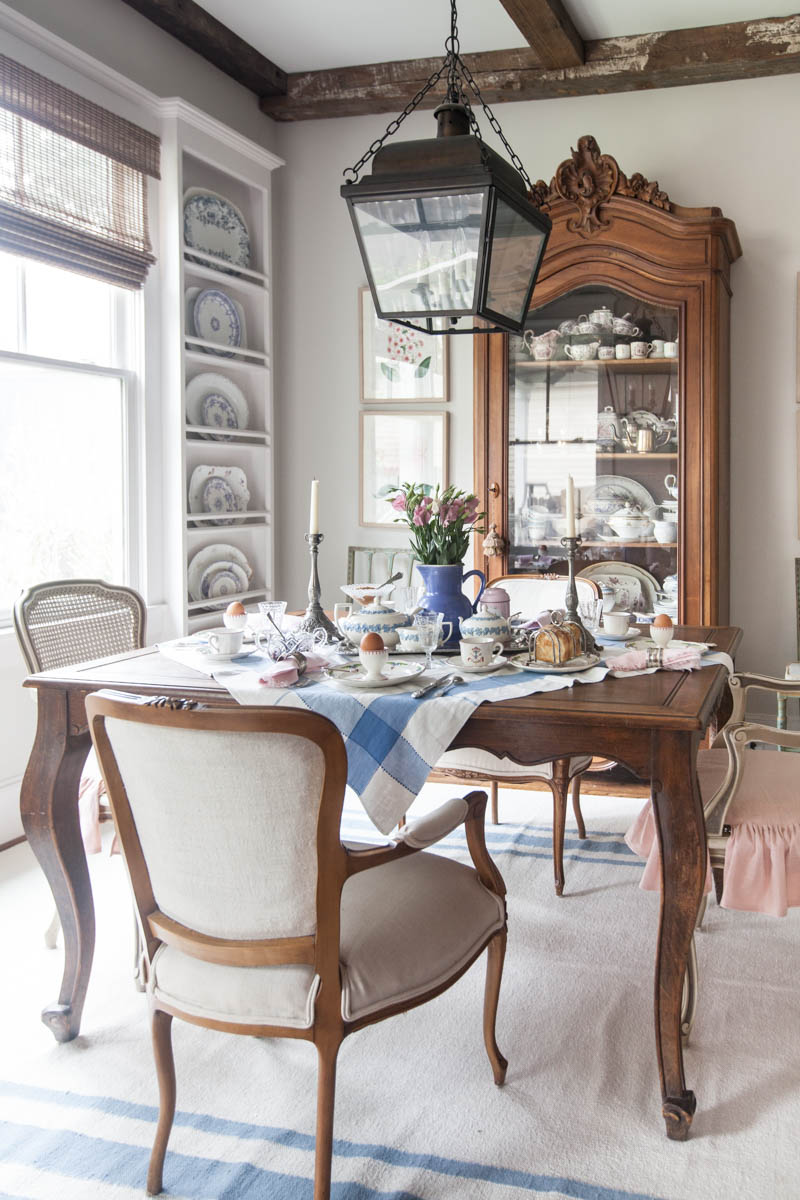 If you are looking for a rug, the one I designed for Dash and Albert can be found HERE.