This post is sponsored by Soft Surroundings. All opinions are my own.
This is my oasis. This feels so cozy and comfy to me. This is where I like to sit with a cup of tea and listen to a podcast or read a book. I love to curl up on my chair and shut my eyes. This is where I think and dream. So it's important to me that it be beautiful. I believe we are happier if we live in a room we find beautiful. I don't see interior decorating as trivial. It's meaningful to the people that live in the space.
Today I'm trying something new. If you are a regular reader of my blog, then you know my house is pretty neutral. But today I'm trying something new. I'm adding some pattern and color. I am curious to know if you like the changes.
Let's take a look. Here is what my bedroom normally looks like.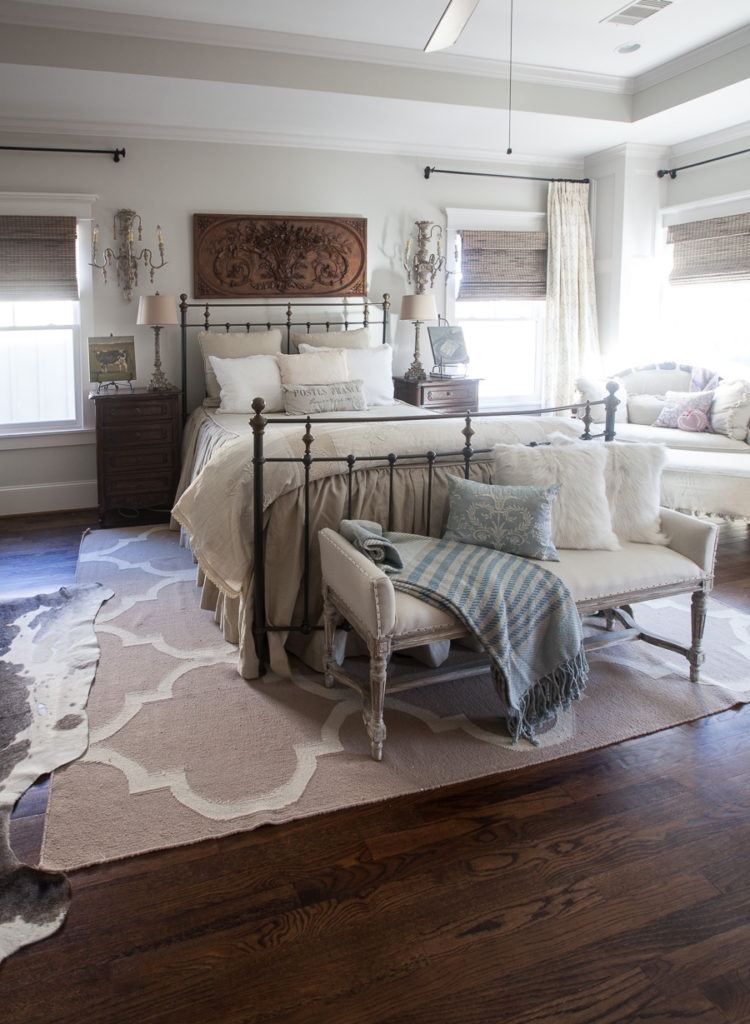 On this end of the room I had two vintage chairs that were a bit smallish. I loved the way it looked before, but let's see how it can look with a bit of color and pattern. Ready?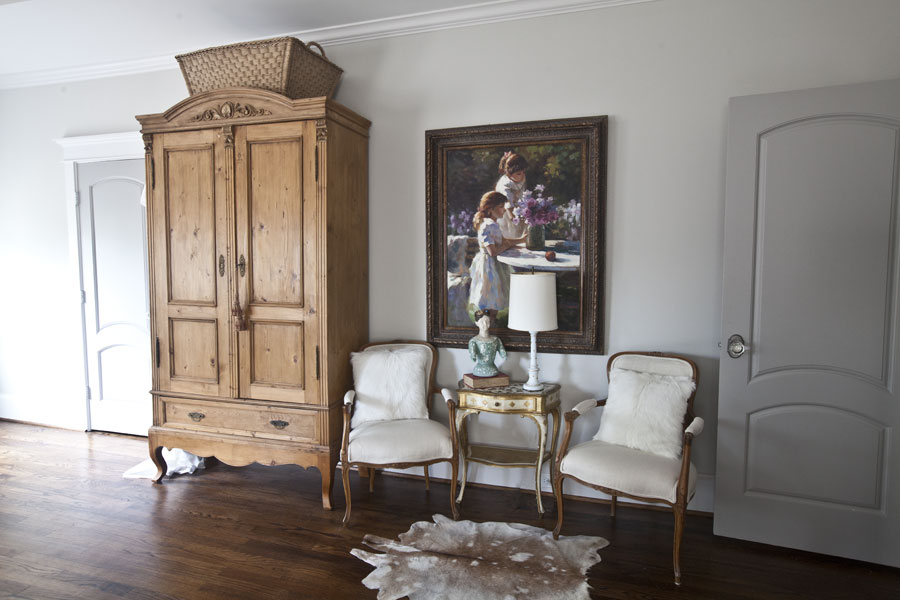 I chose the REGENCY TAPESTRY COVERLET  from Soft Surroundings. I wanted to have a pattern in here with some soft color.Even though I have a neutral bedroom, the colors went very well. I know a lot of readers prefer color and pattern, and so I was thrilled to get an opportunity to show you a new look in my bedroom. I am a huge fan of the color duck-egg blue.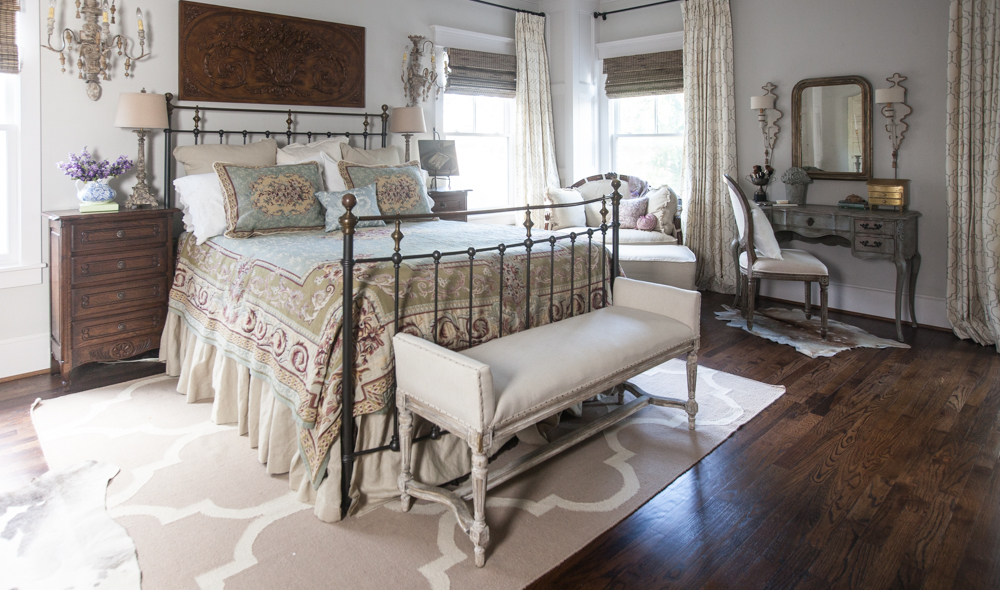 This tapestry coverlet has a lot of duck egg blue in it. The soft blue works so well with my oatmeal linen fabric.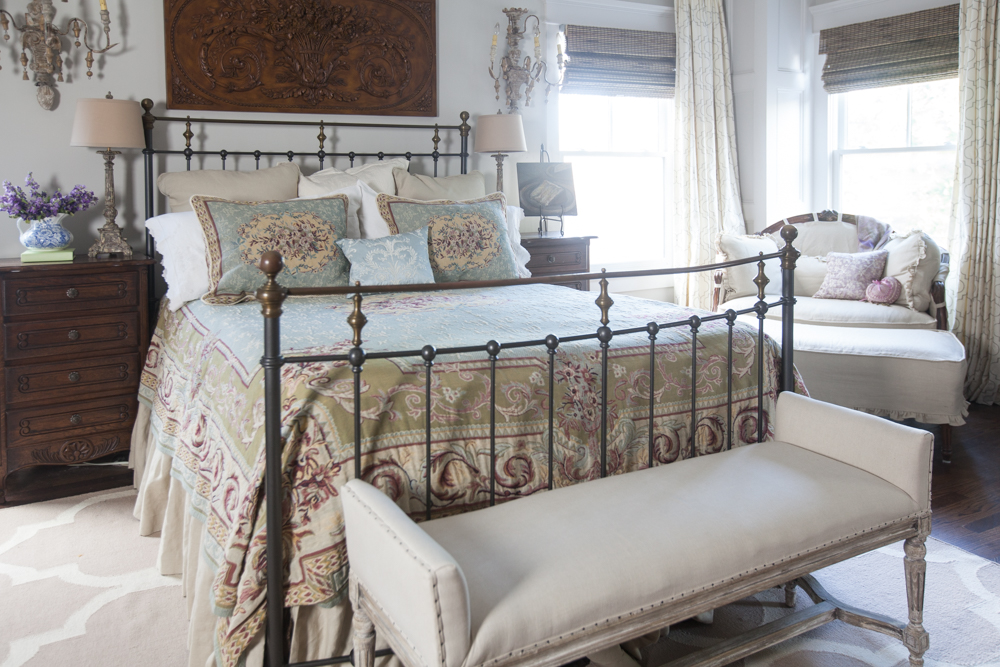 There is a lot going on in the pattern, yet it doesn't feel like it's too much. There are several colors and you could pull out and add to your room, the yellow, the blue or even the burgundy,  I added the duck egg blue pillow.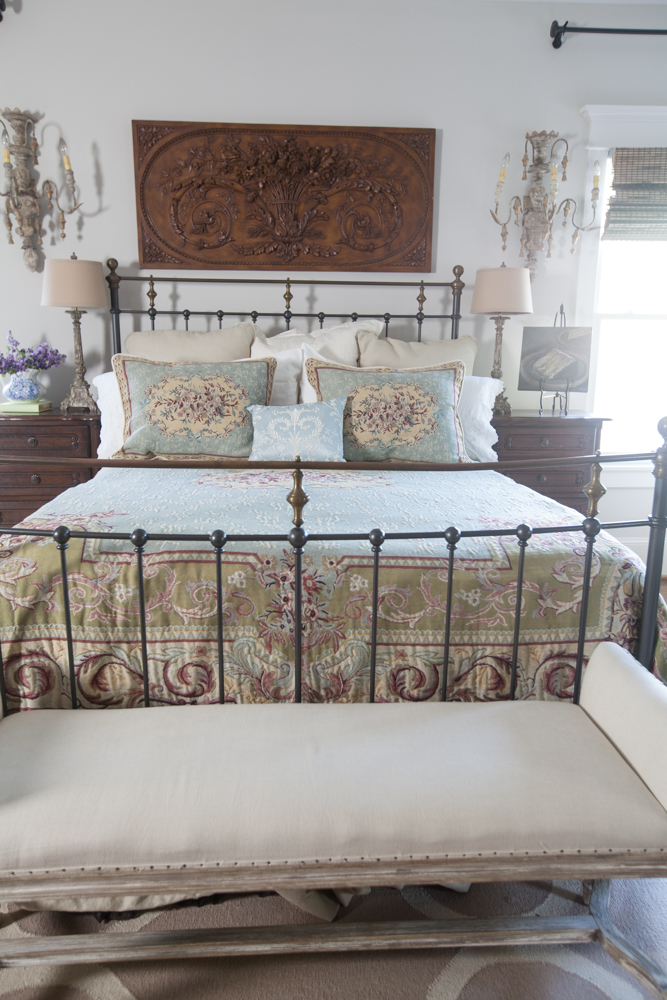 I love the elegance of the coverlet and think it would go well with a neutral room or one with color.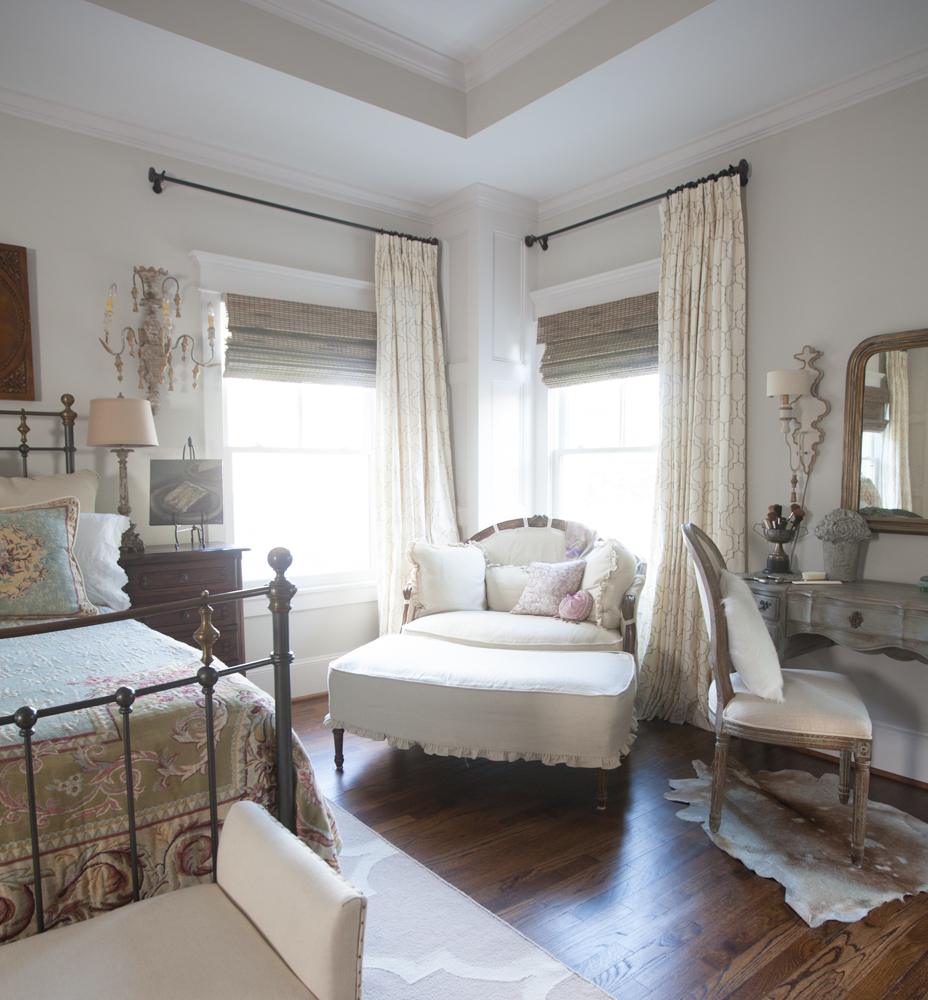 I love how the sun pours in my bedroom during the day. It's so cheery.
Now by the armoire, I added the fabulous Firenze armchair to the room. I think the scale works better in here, and there's another reason I really love this chair. One of the reasons I often buy vintage is so that I can find chairs made in Italy or France. This chair is crafted in Italy, which is difficult to find in a new chair. It's larger than the vintage ones which is another plus. I am loving this chair in my bedroom.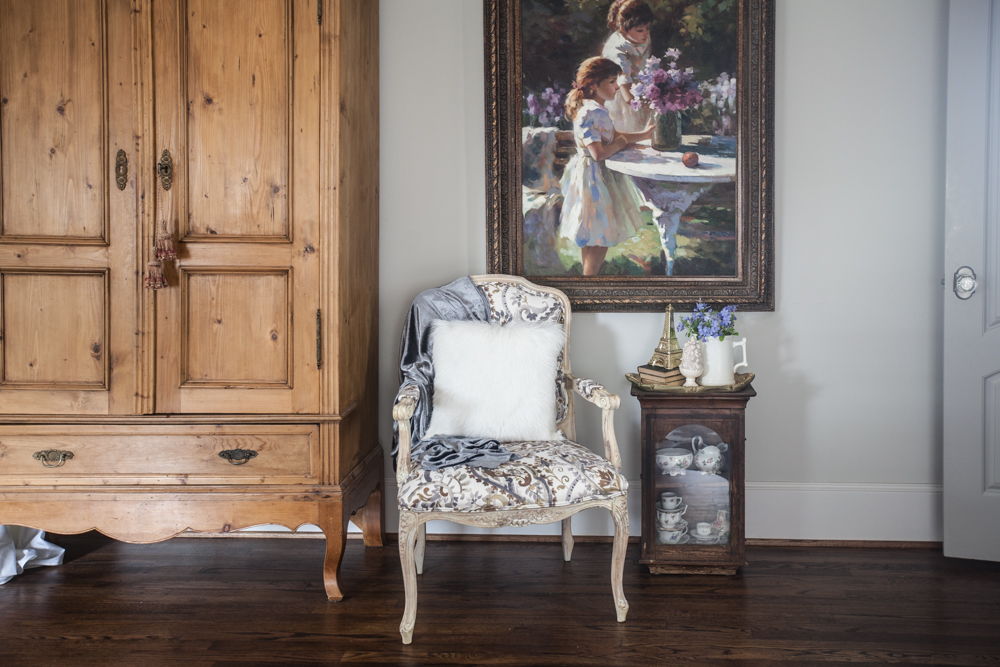 Now the chair has a definite pattern, but is still fairly neutral. The colors are gray and tan, so it will work with a lot of different colors. It has so many luscious details including double welting.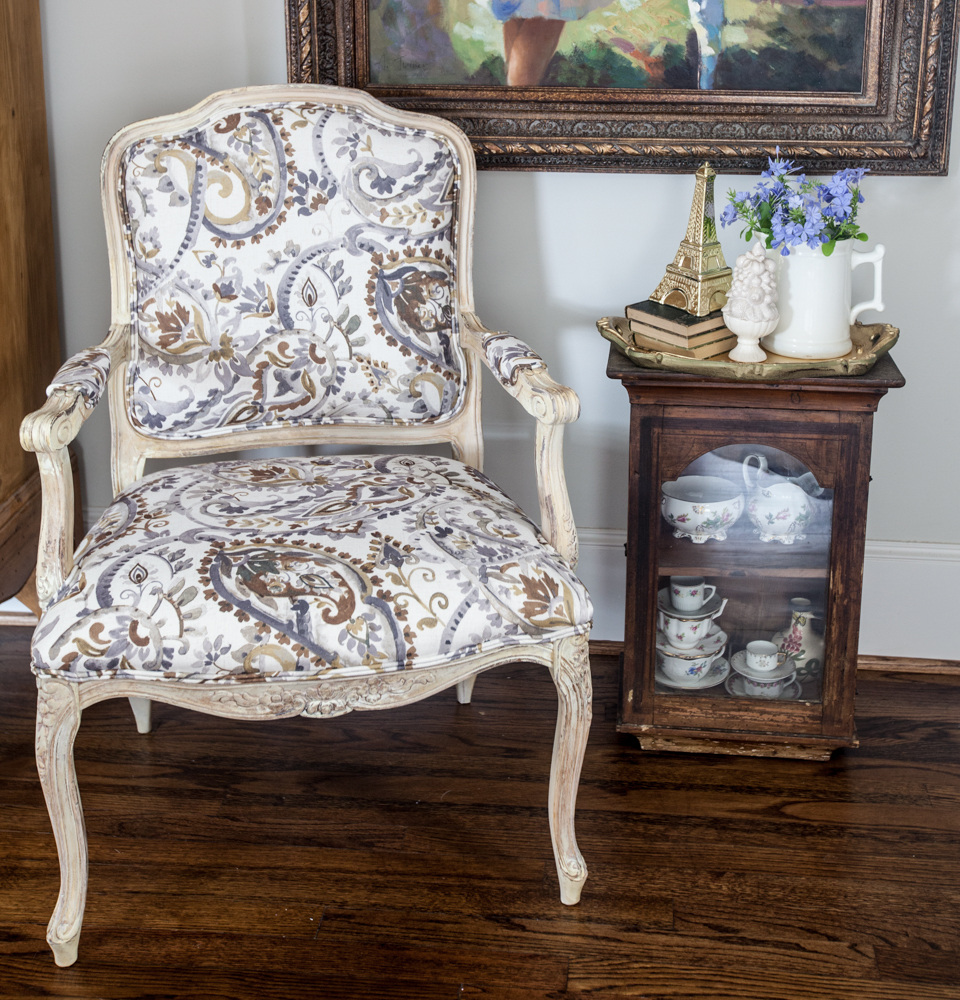 I don't often take photos this direction in my bedroom, but here is how it looks. Yvonne doesn't like to see fur in the summer, so Yvonne you might want to avert your eyes!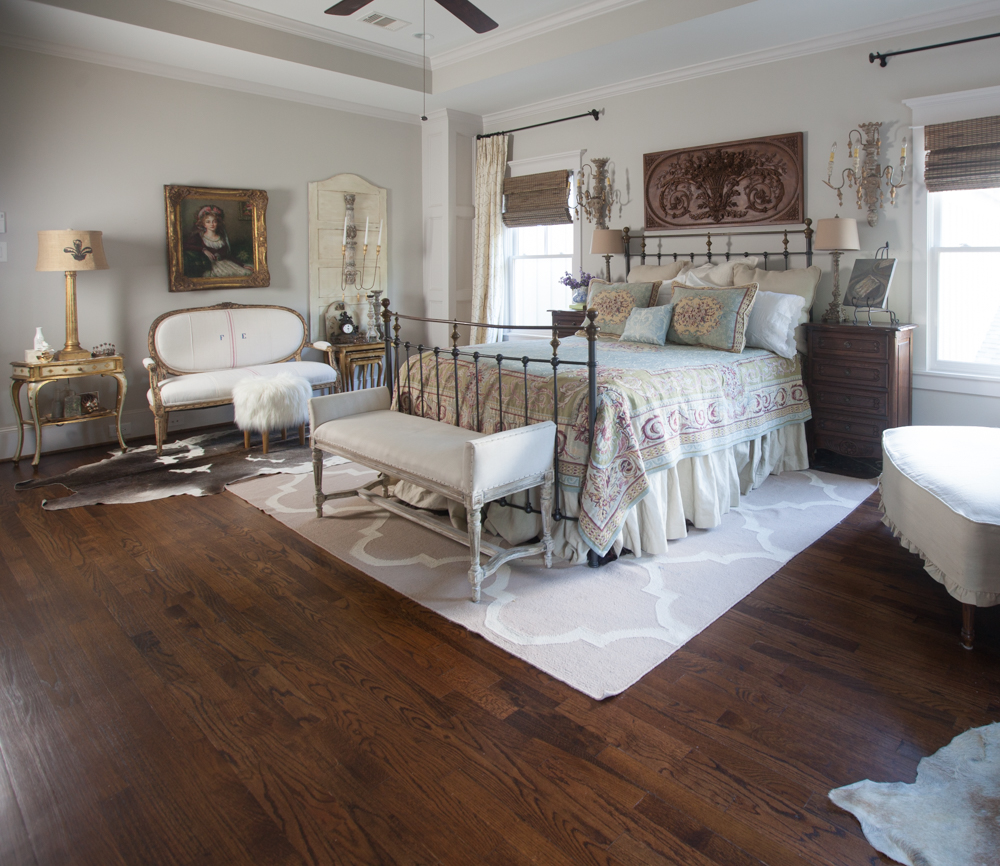 l
Looking for some amazing cleaning tips? Be sure to listen to today's podcast episode #60 OUR BEST CLEANING TIPS


I have some wall art I want to show you, but it's in another room. This is the Rue de Bac Grille.  It is made from mango wood, based on some grill work found in Provence.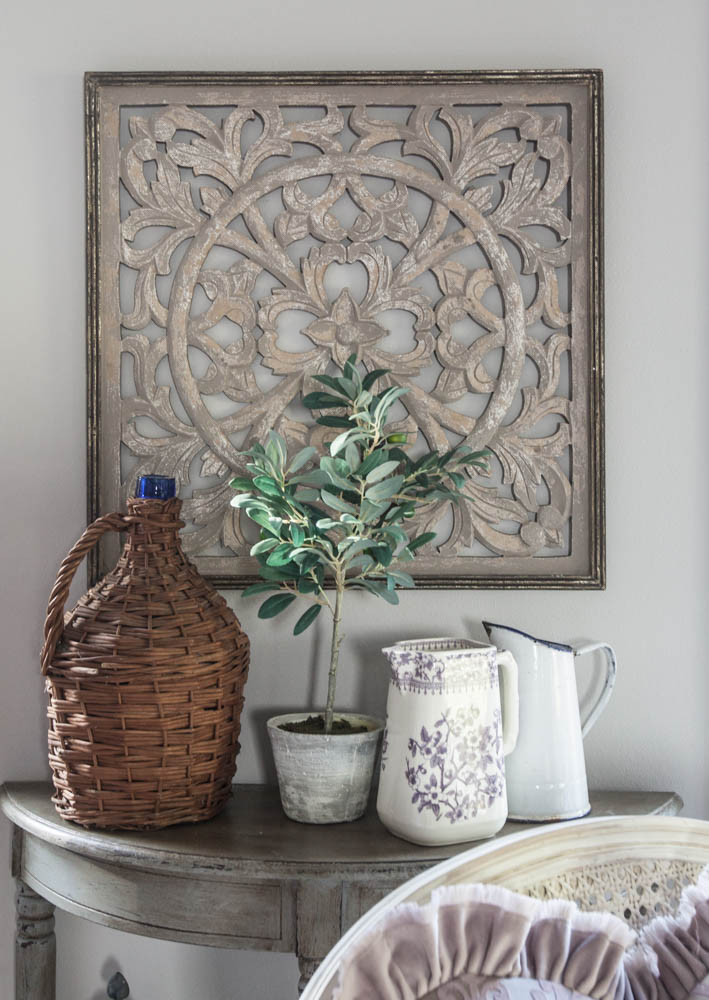 It looks great in our guest room, which is also my podcast studio.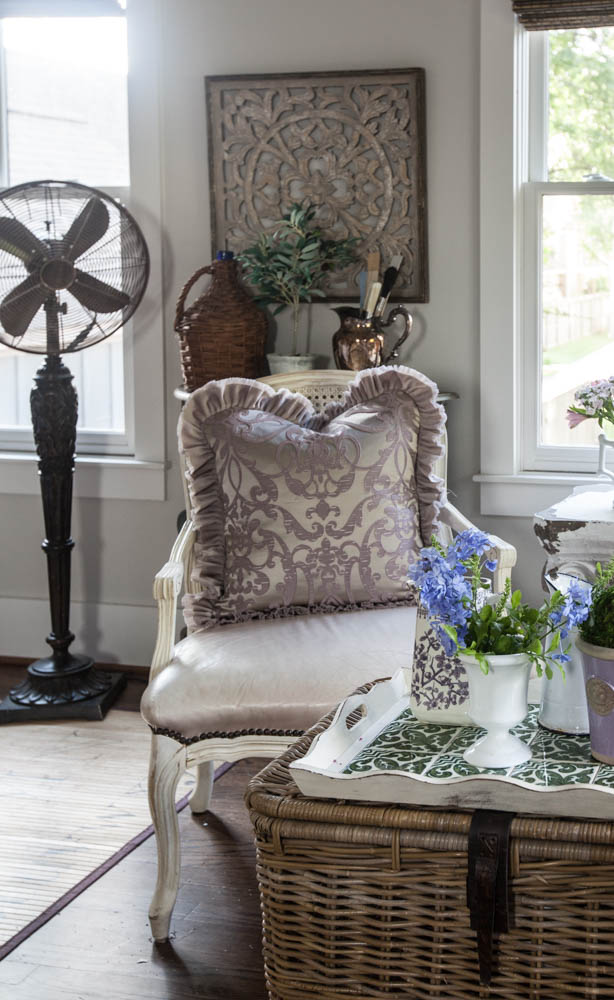 So what do you think? Do you like the new touches of color?
Be sure to check other blogs on this room refresh tour sponsored by Soft Surroundings.