I love French chairs. I mean I really, really love them. One reader corrected me and said I can't LOVE a chair, I can only admire or appreciate it.  I don't know about that. I mean a musician can love a beautiful song, and a painter can love a painting, right?  It's all about perspective. Things shouldn't be more important than people. Things can't say, "I love you" or hug you back.  I will take my family in a shack versus living alone in a mansion any day.
Okay, now that I've dotted my I's and crossed my T's, I do LOVE, APPRECIATE a pretty French chair.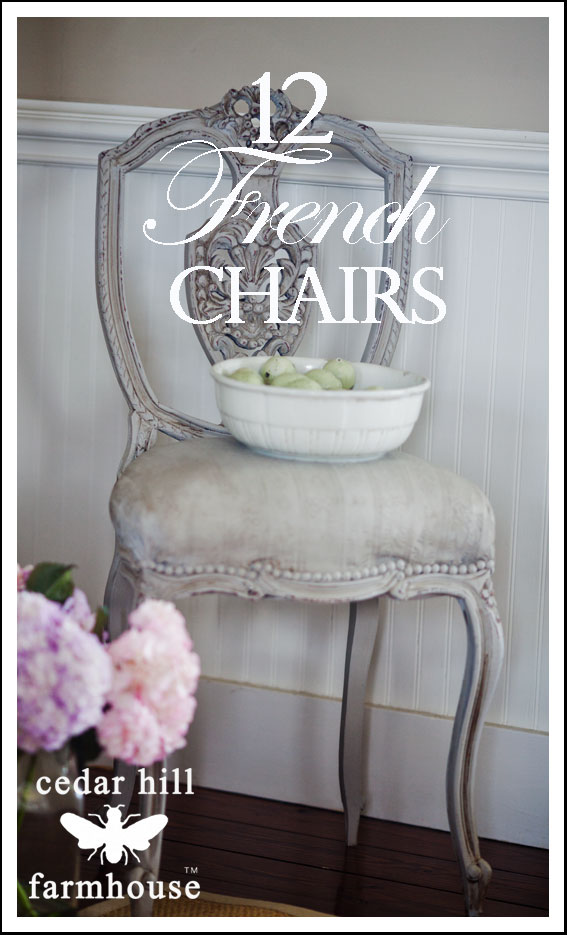 French chairs are a great way to add French accents to a room, and often you can find them for less than you think.
1. This settee or oversized chair and ottoman in my bedroom is a favorite place to sit and read. I made the slipcover, and that bonded us. The double chair is very comfy, but requires a bit of room for the wide chair and ottoman.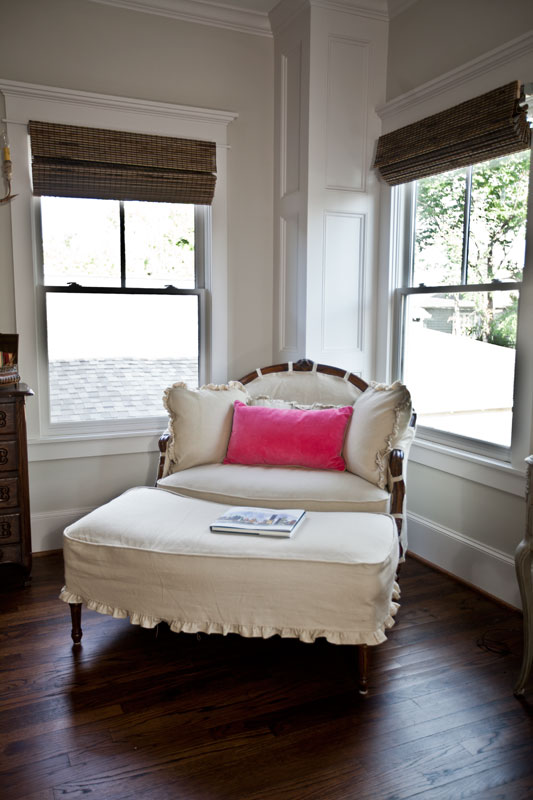 You can see more of my bedroom HERE.
2. The French chairs at our breakfast room table were special finds at an antique auction years ago. They were very dark, and at some point I painted them. This is where I have dinner with my family most nights. Sometimes you find find these chairs with rush seats for a good price. See more HERE.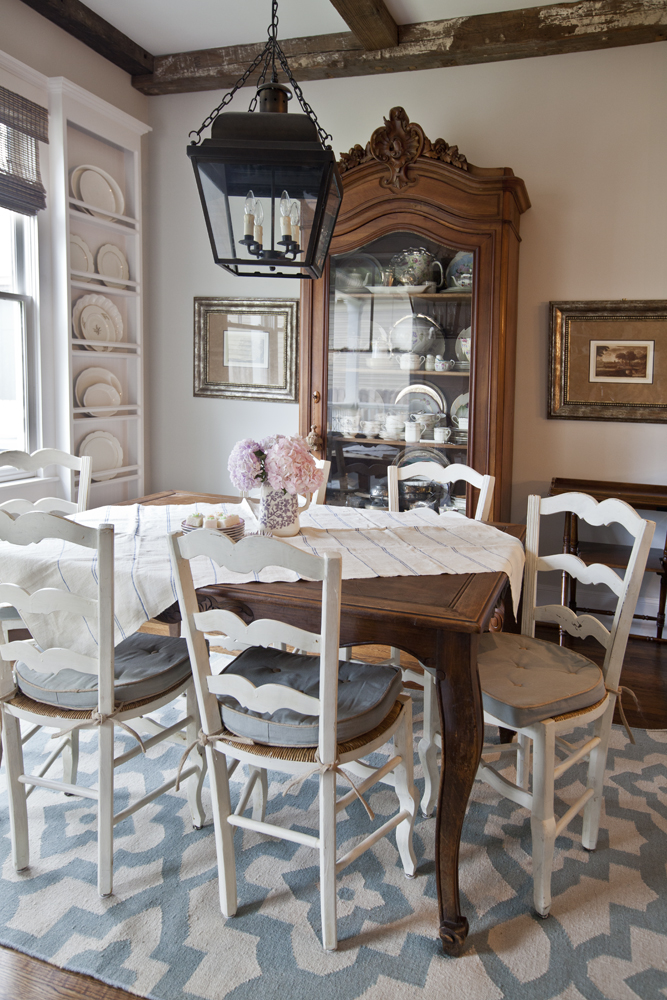 3. The counter stools at the island are also favorites of mine. My daughter does her homework here as I work on the computer or cook dinner. When friends are over, they like to sit here. These are from Restoration Hardware. You can read more about these chairs HERE.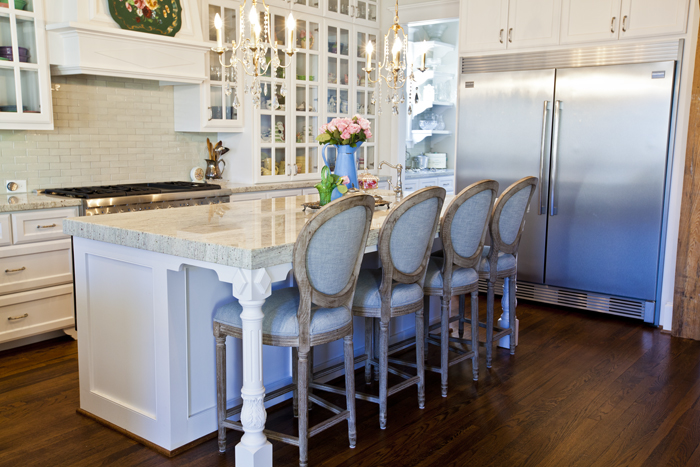 4. The bergere chair in my closet was a thrift store find. I had it recovered in linen, and love sitting here as I get ready for bed every night.  This is such a quiet, private place, I enjoy this chair also. If you are looking in a thrift store, the chair will probably need new upholstery.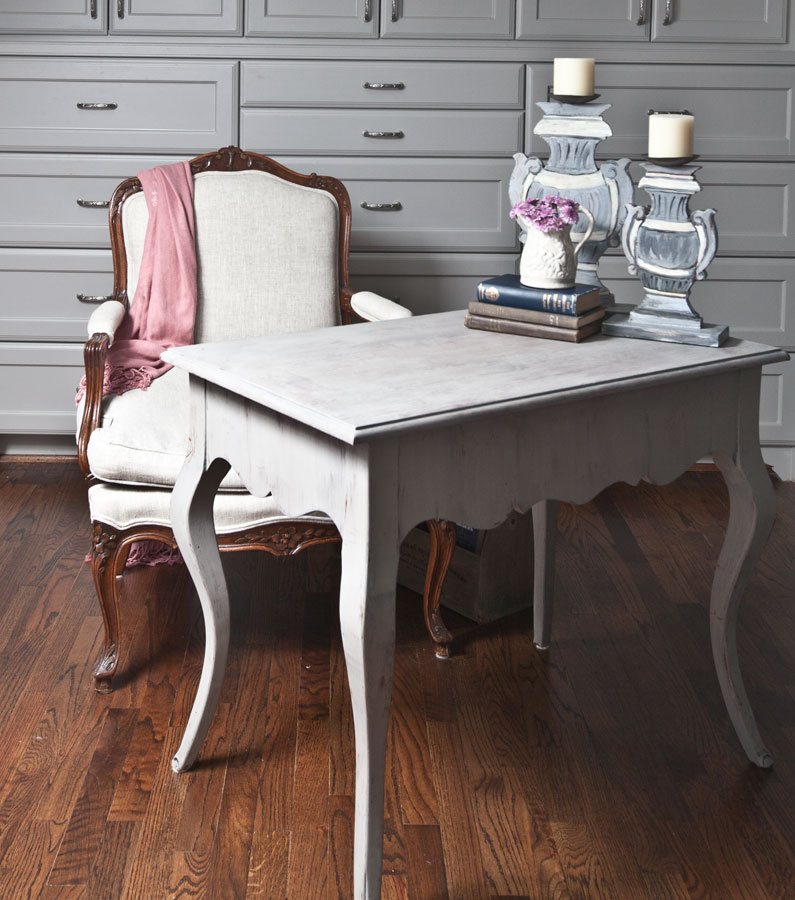 5. The dining room chairs were found at a French antique auction. The labels on the chairs said they were made in France. I made the little slipcovers for these chairs.  You can find out I reinforced the seats HERE.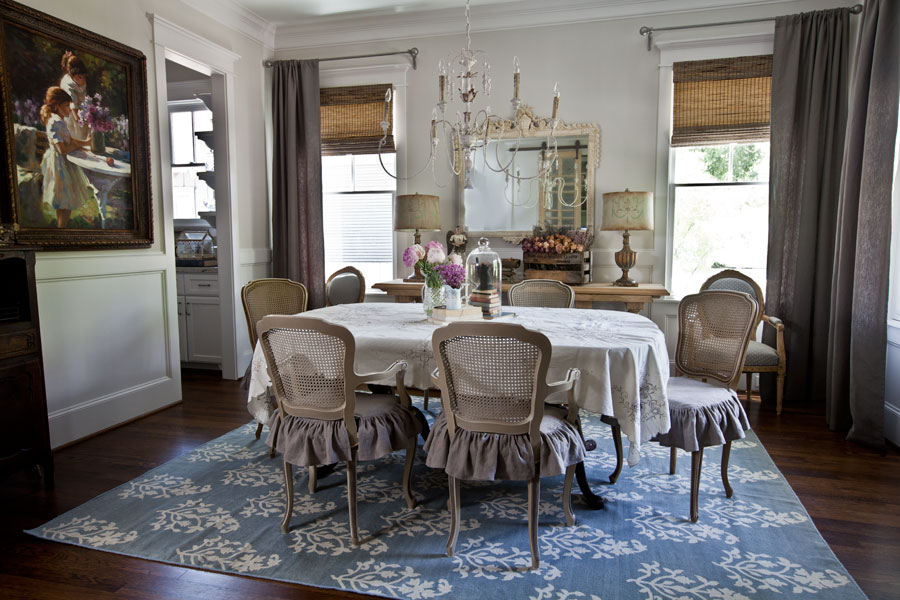 6. This chair is in my living room and sets over to the side, but is ready to be used as extra seating when guests arrive. It's actually quite comfortable and it is new, a Louis the 16th reproduction. It required no painting or upholstery, and was perfect when it arrived, so that was really nice. You can find out more about this chair HERE.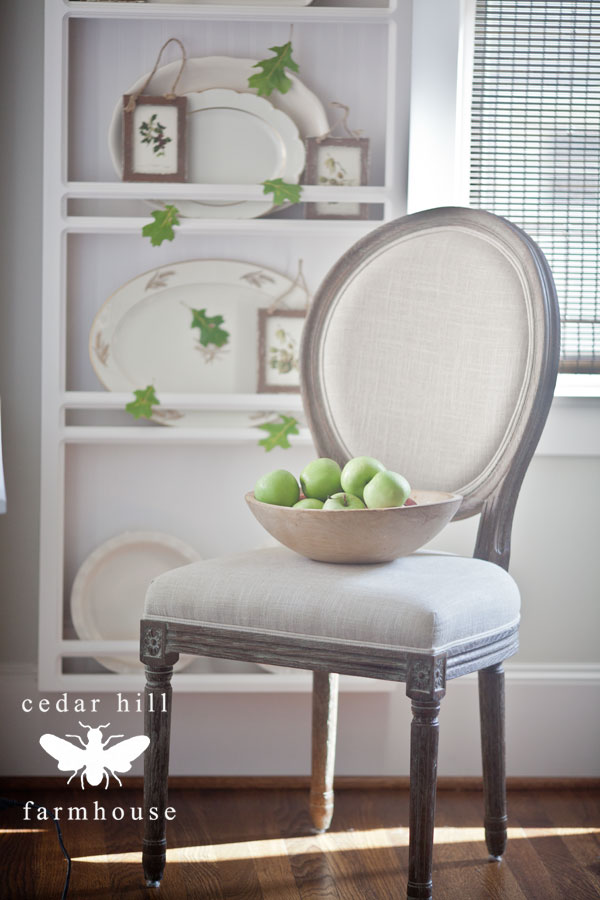 7. Ah, one of my favorites. This one is an antique, and was broken, but I patched her up, and painted her. She's a beaut!  I appreciate that she isn't perfect, yet she has an  easy elegance that is difficult to find. She's very old and delicate, still a favorite. I painted the fabric too, read about it HERE.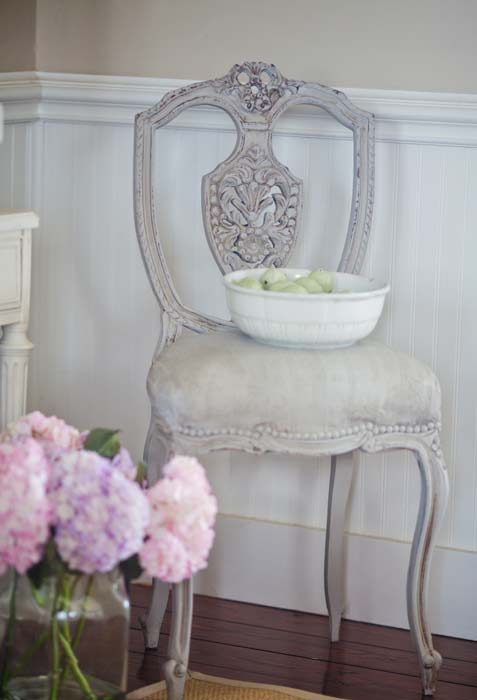 8. This chair has a story. You can read about it in What the Turtle Taught me.  It's about second chances and believing for the best. It's a favorite because of how I came to own it, so this one is also a special chair. It's vintage and the paint is coming off in many places.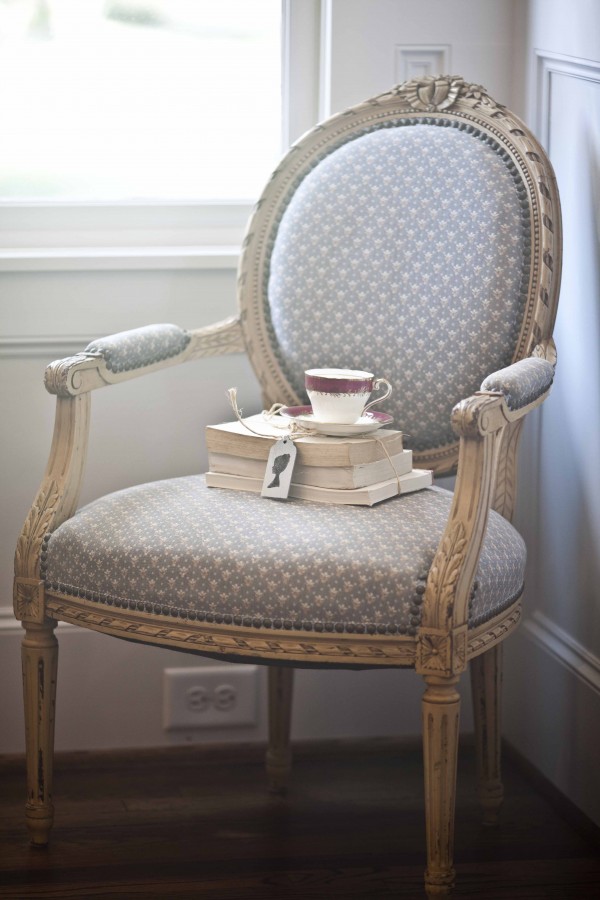 9. These needlepoint chairs came from a consignment store. They are not perfect, but they are sturdy and sit in my bedroom. Having a pair makes them a little special too. These chairs are one of the first things I see every morning.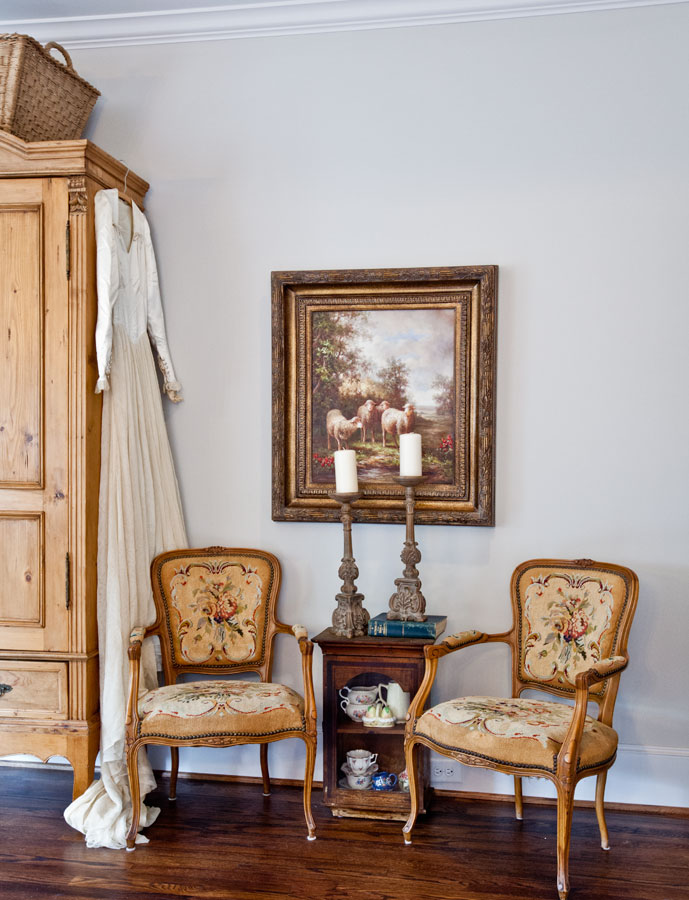 10. The white chairs below also came from a consignment store. I painted the wood, but the leather was fine. You can only see one in this photo, but they are actually a pair. They are perfect for my office, since they are very sturdy and hold up to lots of use. This is where clients sit, while we talk. I have fond memories with these chairs too. My daughter sometimes comes in here and talks to me while I work.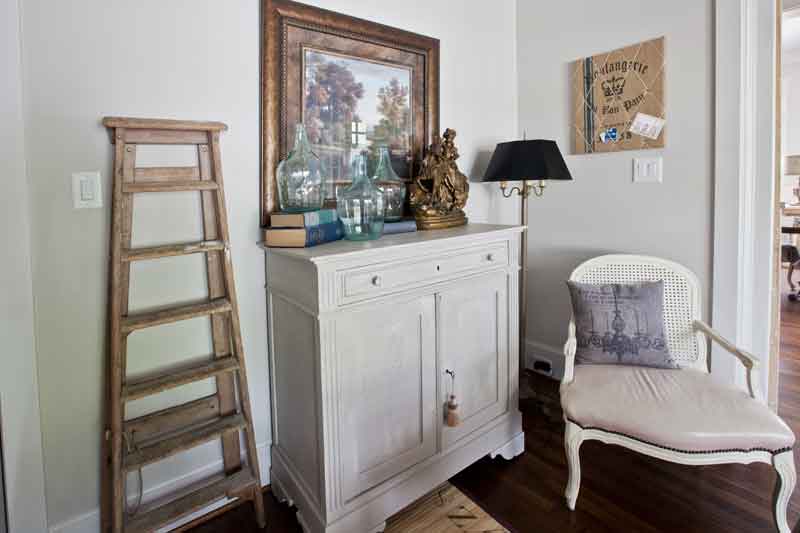 11. Then there are the French chairs at the farm. These chairs are very comfortable, and make the space feel so upscale, although it is just a simple farmhouse kitchen. I have shared many a happy meal with my family here when it was too hot, cold, or wet to eat outdoors.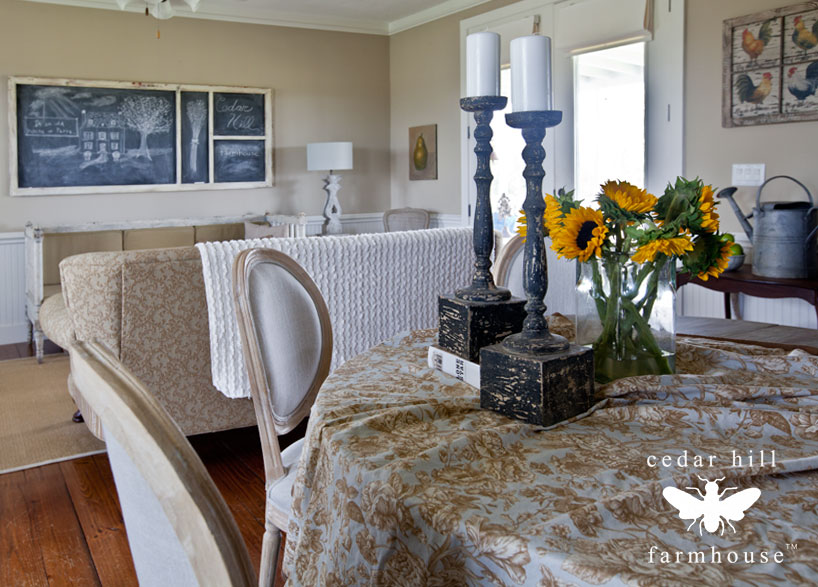 12. And finally there are  a pair of French bergere chairs at the farm. I sit here when I get dressed or when I read. These chairs came to me in terrible condition. They required re-upholstery, and I used grain sack fabric for the back of the chairs and linen for the seat cushions. You can see the before photos HERE.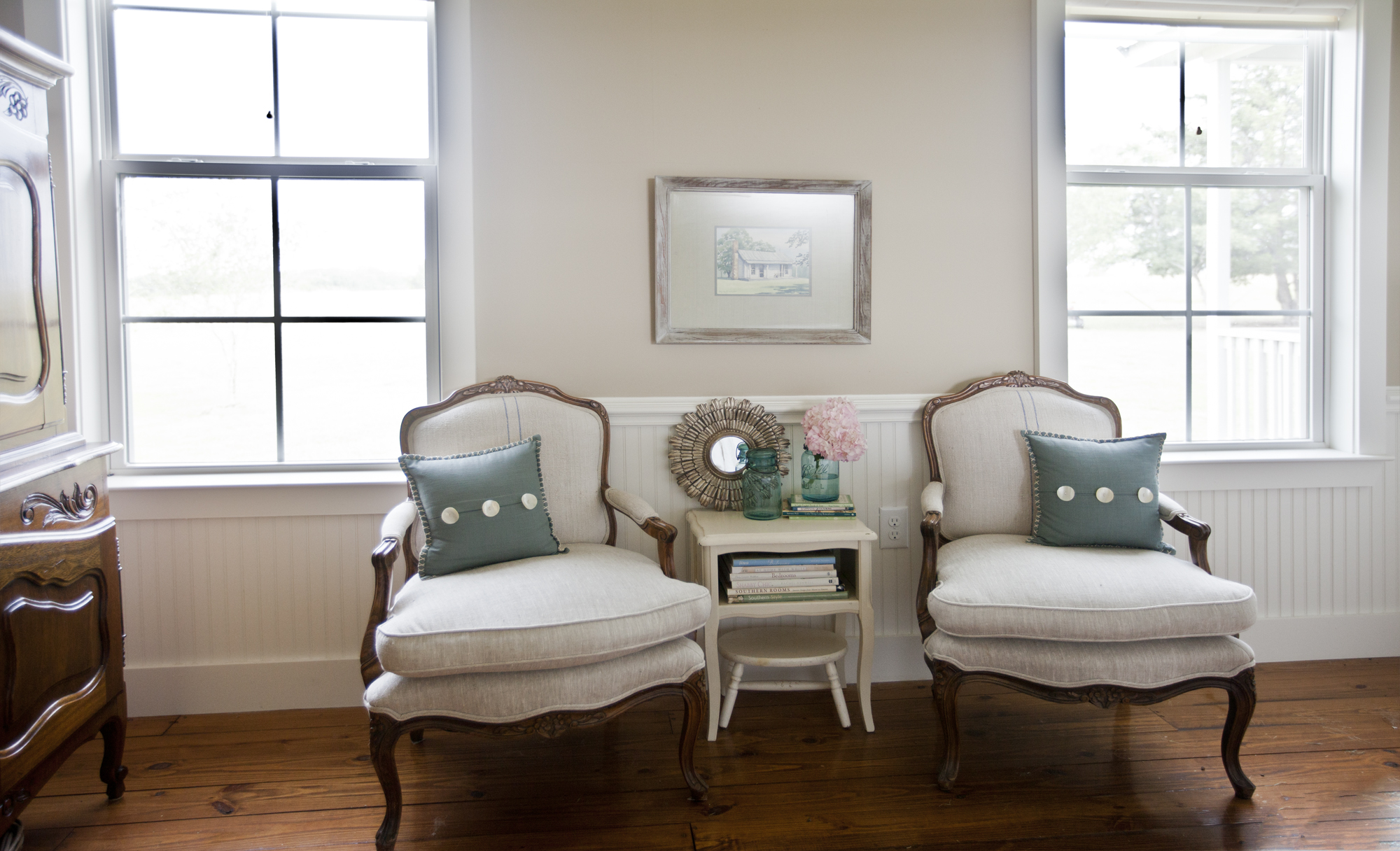 Well that's a little tour of French chairs. I also wanted to leave you with a take away, here are my thoughts on French chairs.
A. You can find beautiful vintage or antique chairs at consignment stores, thrift stores, craigslist, antique malls and at auctions.
B. Be sure to check it the chair, and make sure it is sturdy before you buy it.
C. Keep in mind upholstery is expensive, so you'll need to factor that into the price, along with the cost of fabric.
D. Vintage and antique chairs will have more detail than newer ones.
E. You can have a chair that is beautiful and comfortable.
Thanks for joining me today for my country French event.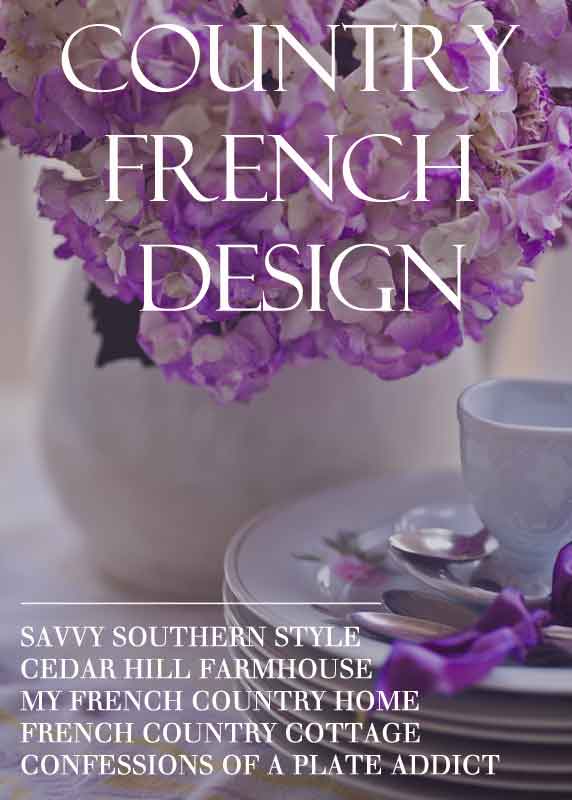 Please join the other blogs on the tour to see more gorgeous French chairs!!