Today I am back on our mountain deck. Well not literally. I'm showing photos of it so I can show you another transformation. Of course I always need a before photo, and this one works perfectly.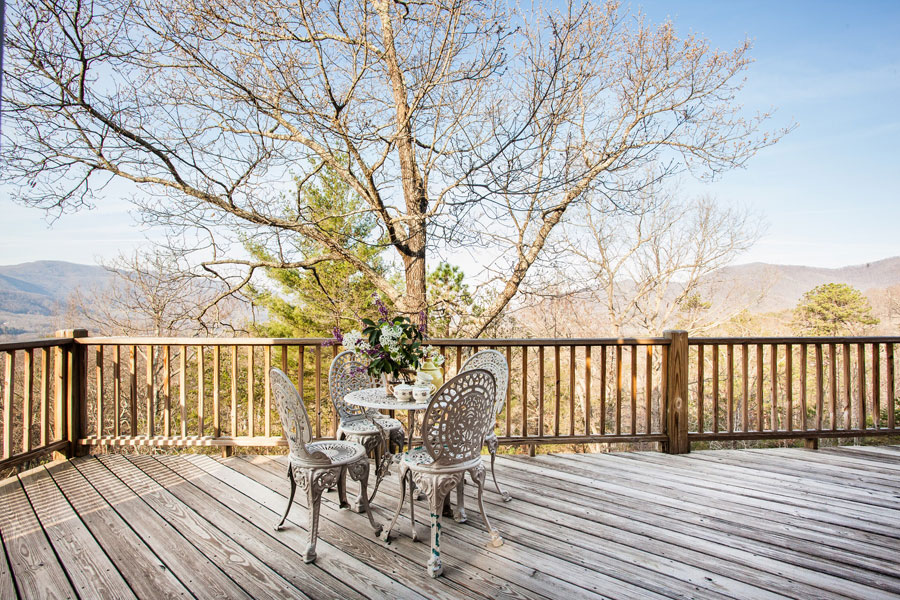 Our deck did not have any stain or protective coating on it, so we needed to take care of that. I also want to show you some more views, so stick around for that too.
This post is sponsored by SHERWIN-WILLIAMS, but all views are my own. 
Our painter, recommended we try SHERWIN-WILLIAMS SUPERDECK, and so that is what we did. You remember my painter, right? That's Eb.
Eb, of course is not his real name. We call him that because he basically lived with us when we were at our house last time, so it reminded me of the Mr. and Mrs. Douglas from Green Acres, and Eb who worked for them and practically lived with them. We had hoped the work would get done before our trip to the mountains this fall, but it didn't. We had a difficult time coordinating Eb's schedule with the rental schedule for our home. There were only a few spots open when we didn't have renters in the house, and Eb had commitments those days. Eb ended up doing most of the work, while we were there.
It was Saturday and all that was done was this tiny corner of the deck and all of the railing. I needed to take the photos before I left in just a few days.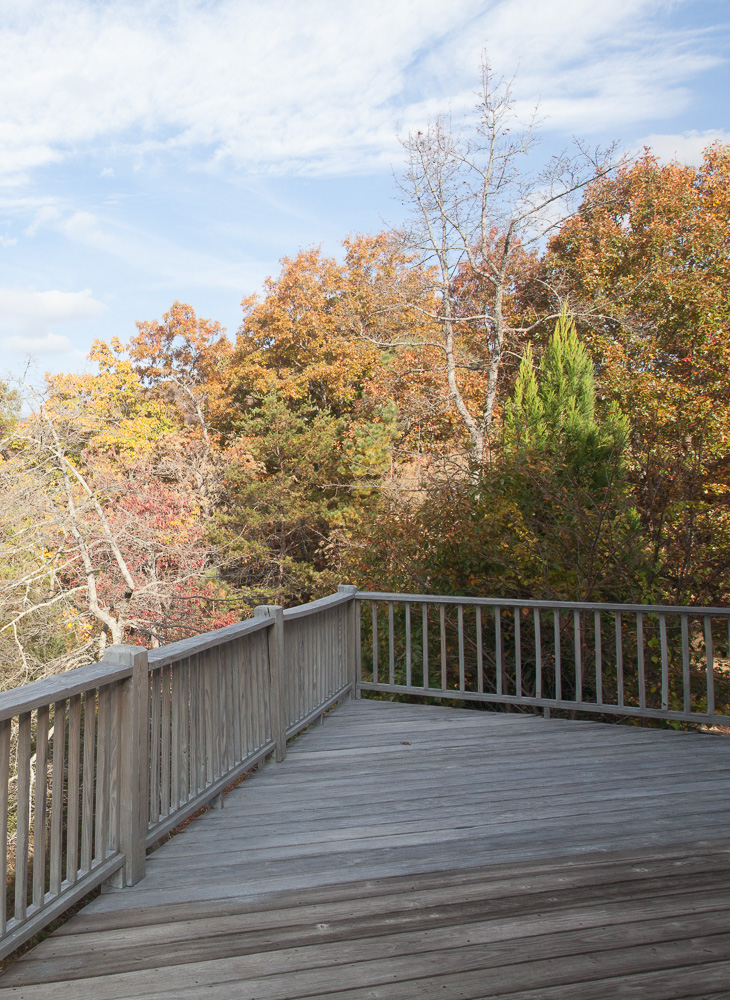 It was not looking like it was going to be finished while we were there, so I staged the corner as best I could. This is what  got.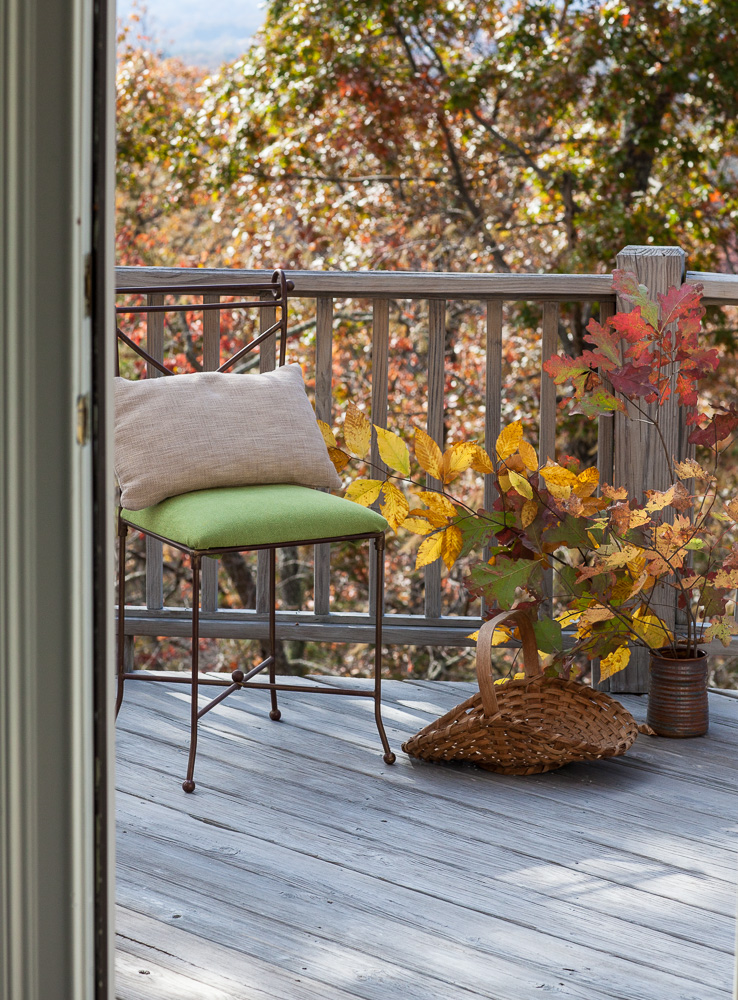 And check out this close up of the railing!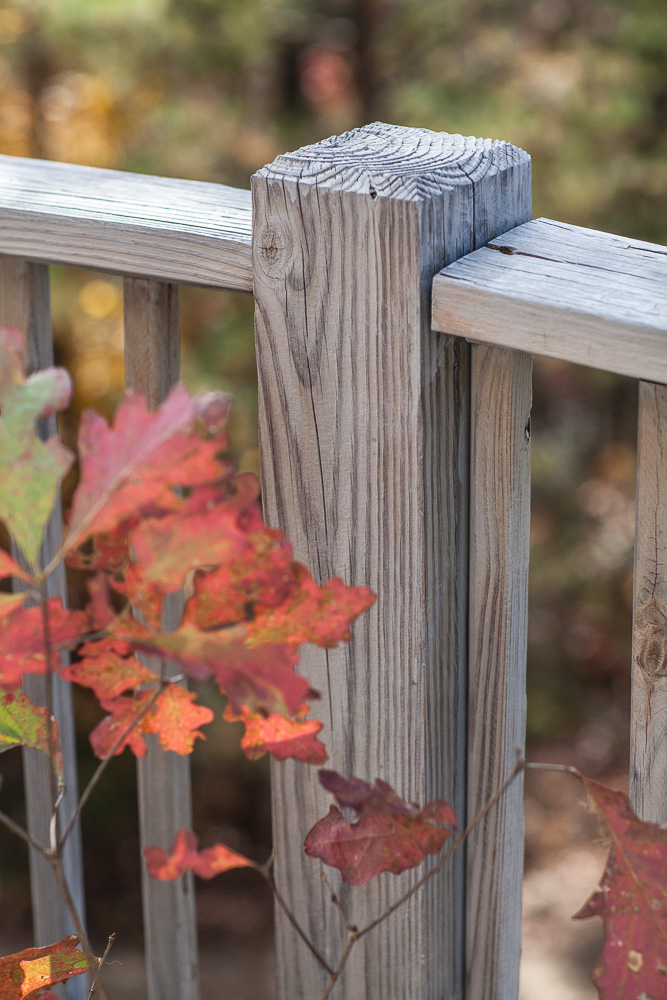 And I managed this photo too.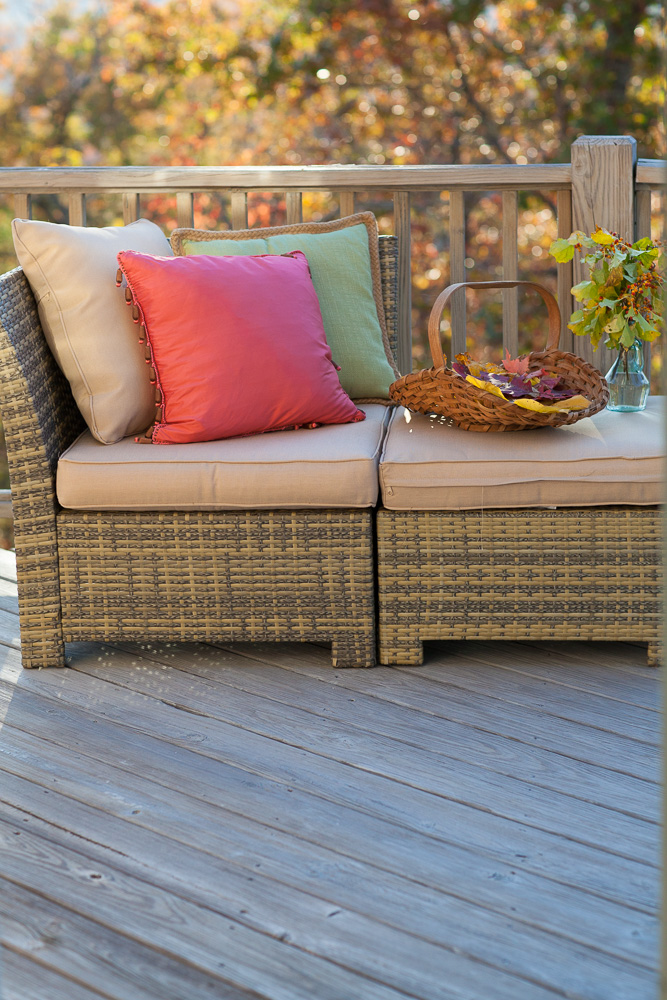 Here's a close up of the BEFORE and AFTER all in the same photo. The left part is the one with the SUPER-DECK on it, while the right is raw wood.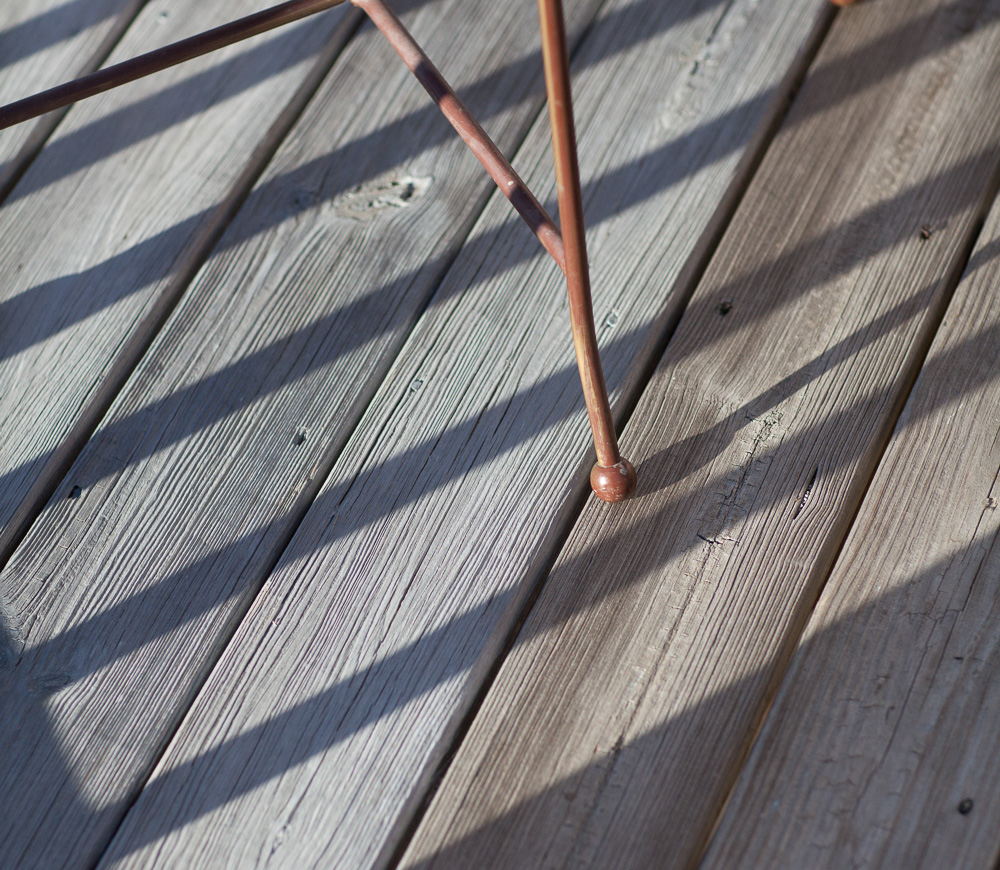 I thought maybe I could distract you from the fact that I was only showing a small portion of the deck by including views of the mountains.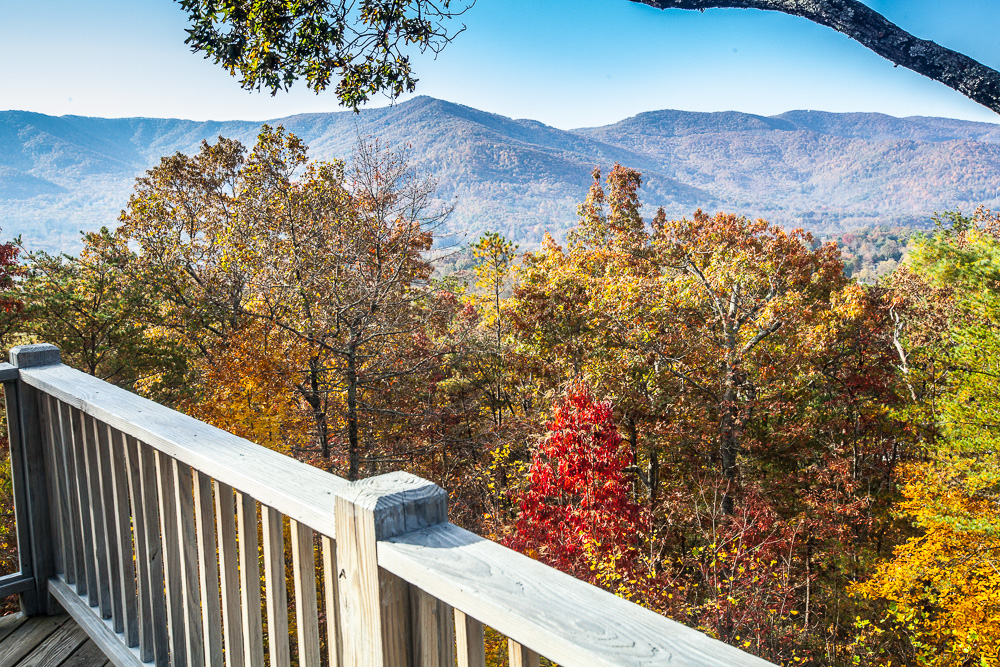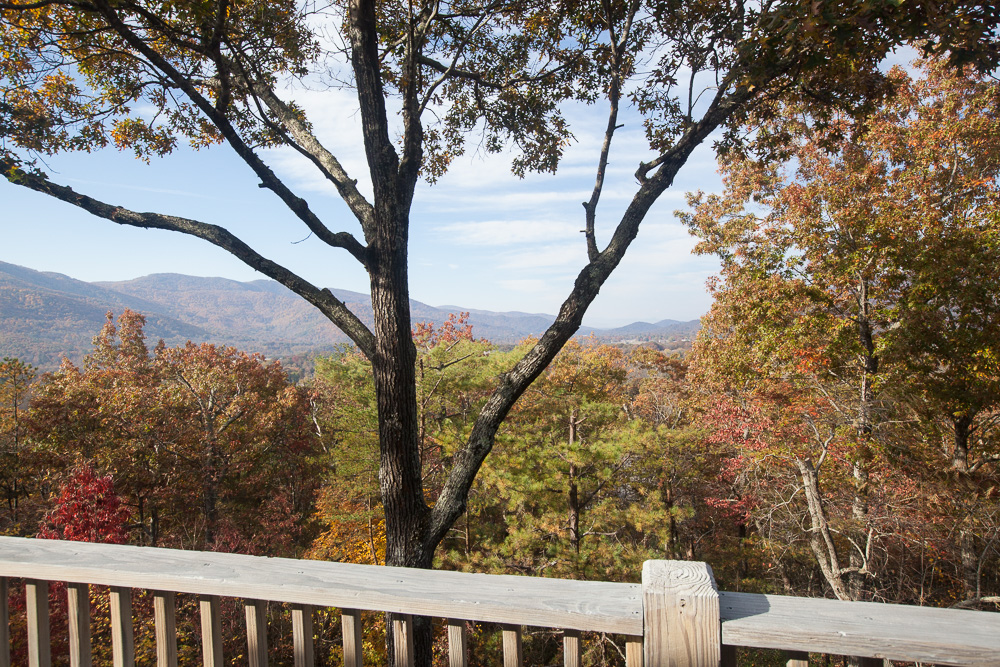 Seriously, check out the charming view of the town!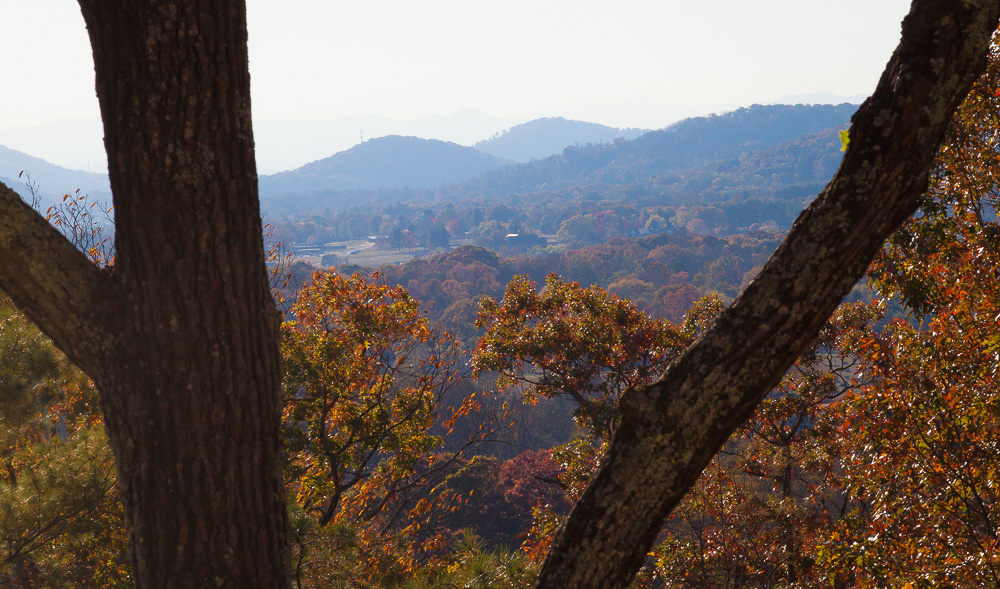 I gave up on getting the entire deck photographed for you on this trip. Then Eb gave up his Sunday afternoon to come finish the upper deck for me. That gave me one last day to get the deck photographed for you. That's right, Eb is a 'righteous dude.' He came through for me. I love the new look and feel so much better knowing the deck has the SUPERDECK on it. He said it was really dry and soaked up the SUPERDECK like a sponge.
We went with the semi-transparent SUPERDECK in weathered gray SW3568.
SHERWIN-WILLIAMS has many products for your deck and you can check them out here. CLICK HERE. The more opaque the stain is, the more protection you will have for your deck. We went with semi-transparent because it does protect the wood, but also lets the grain show through. We plan to paint our house a gray later, so I wanted a deck color that would work with the new house color.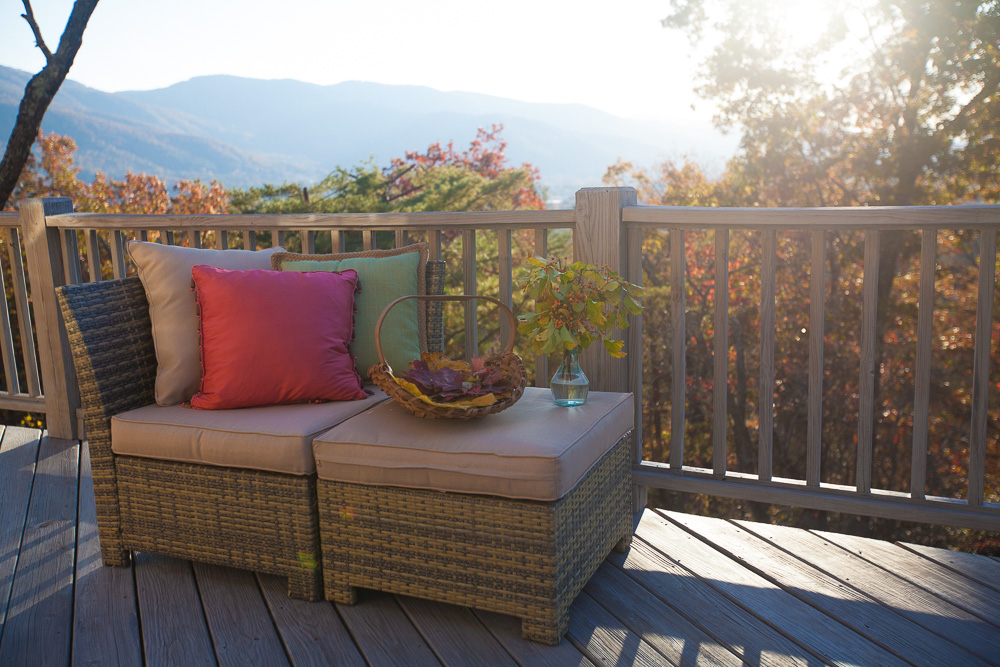 I know the color difference is subtle, but it's there. The deck is now more of blue/gray rather than just gray. But more importantly the SUPERDECK is protecting the wood.
Here is a bit of information about SUPER DECK directly from Sherwin Williams.
SuperDeck® Exterior Waterborne Semi-Transparent Stain
penetrates bare wood, giving properly prepared decks excellent protection from sun and premature weathering.
contains agents which inhibit the growth of mildew on the surface of this paint film
has a technologically advanced formula weathers similarly to an oil-based stain.  It wears away gradually rather than peeling and blistering at the end of its lifecycle.
can be applied on damp wood, so most jobs can be finished in a single day.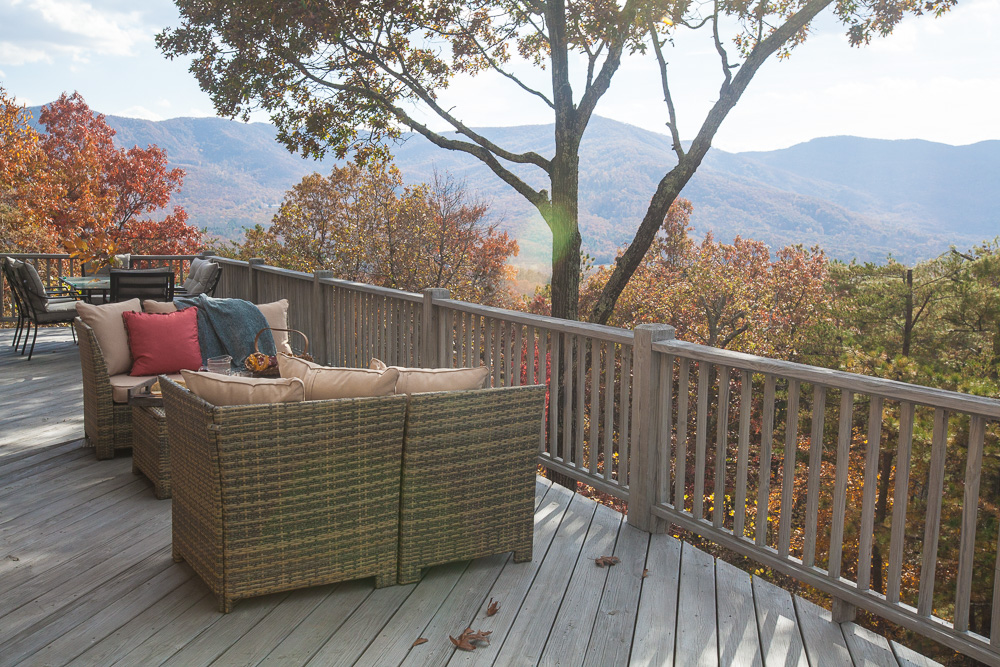 It's lovely in person.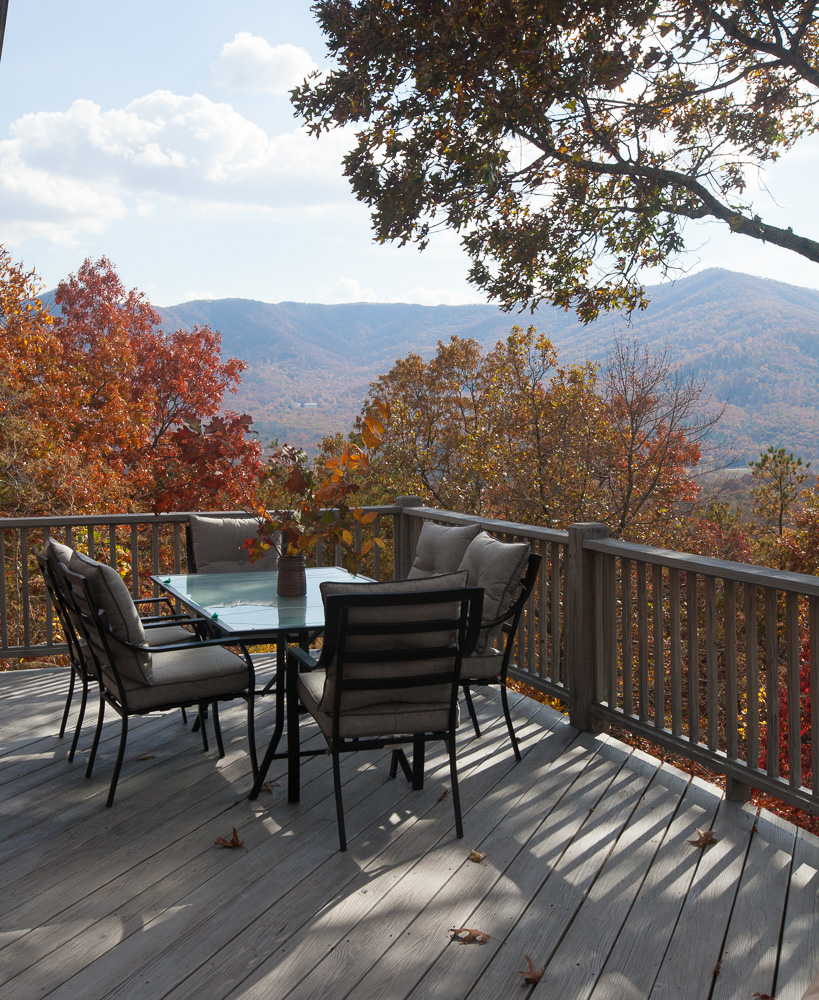 It was so pretty and it was our last night at the house. After dinner we sat out here and enjoyed the sunset. As you can see, the leaves are falling like crazy.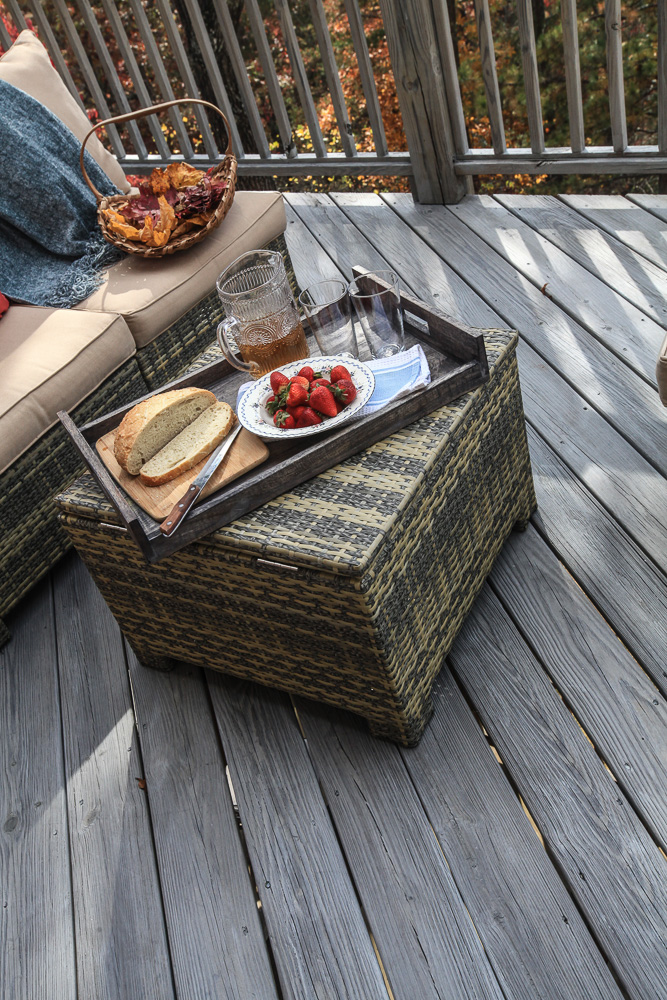 It was so pretty; it made me so sad to leave.