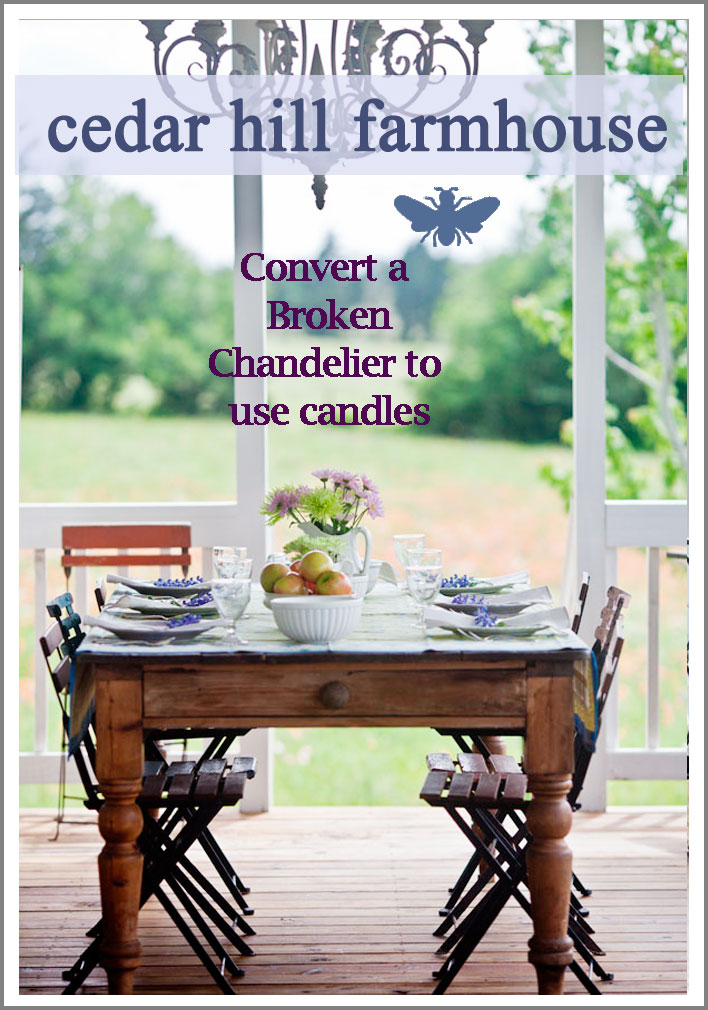 I was talking to my friend Peggy recently (nothing new there) and we were discussing decor and what we were doing.  I don't get to say much here, because she has already read about what I am doing on the blog.  Actually during this conversation, I was in trouble for not sending her pictures of my projects before they go into cyber-space.  (Sorry Peggy.)
So she mentioned that she installed a new chandelier in her dining room.  I remembered the old one being very nice, and asked what happened to it.  Ahhh yes, she reminded me of my last visit to her house.  She was giving me a house tour showing off all of the wonderful things she had done to her lovely home, and the last room on our tour was the dining room.  As we entered the room, she turned on the light switch with a theatrical flourish and instead of the lights turning on like we expected, there was a loud popping sound instead and no light.  I had completely forgotten about it.
I knew she had someone over to look at it, but hadn't kept up with what happened after that.  But now that there was a lovely chandelier that might be available, I was all ears.  (That really makes me sound terrible I know, I know.)  I was remembering Caroline and her shelf, click here, so I knew I couldn't act too interested, hee hee.  (Caroline was getting rid of a shelf that I really loved, but I showed way too much interest in it, and she decided to keep it.)  So I casually asked, and what will you do with "that old broken" chandelier?  She said that she was taking to Goodwill the next day.  (I was pretty excited, so I had to work to stay calm and not blow my cover.)  Oh, well, if you are just getting rid of "that old thing", I would love to have it.  You know how we like to take old things and find a place for them at the ranch.  "Sure," she said, "you can HAVE it."  I was now doing the happy dance on the inside.
I thought I would convert the chandy to use with candles down at our new creekside deck.
I spent lots of time planning how and where the chandelier would hang, and how I would convert it, but the contractor still wasn't finished with the deck, and so I waited patiently as the chandy sat silently on my front porch, taunting me every time I walked by it.  I had plenty time to plan out how the chandy would be attached and how we could lower it to change out the candles and light them.  I designed in my head a rope and pulley system for lowering the chandy when we lit the candles, because the roof is pretty high and there's no ladder down by the creek.  I bought rope, pulleys, and a few rope cleats to use.
After our contractor finally finished the project and I went down to work on the chandy, I looked up only to find that he had added some guide wires under the roof to give the roof some added support.  Okay, they were going to keep the structure from falling down but they were right in the way of where I had planned to hang the new chandy.  He had totally ruined my project.  I was not happy with this new development and planned to tell him that he needed to take those wires down.  Well, then I thought better of it.  So now what was I going to do?  Well, onto plan B, whatever that was.  I had a fork and spoon chandy on my back porch that was much smaller.  I moved it to the creek.
And those guide wires were the perfect height for my fork and spoon chandy.
Here's where the fork and spoon chandy used to be, over our dining table, (From Garden Party post, click here to see)
and now we had a "big hole" there.  (From Dressed in White post, click here to see)
So I had a place of the chandy, and I went to work on it.  Here's a BEFORE photo.
Now I began to work on removing the "candlesticks."
Yikes, now I had another problem.
I thought there would be a flat surface here where I could glue a glass votive holder.
But this center "stem" was in the way, and it could not be removed, since it provided a rigid support for the chandy branches.  Long story short, the project was now on hold again.  Now, Mr. Chandy was back to his "taunting position", staring me as I walked past him.  If I could ignore Lumpy (click here) I could ignore him.  I went onto another project and knew the chandy thing would work out later.
Later back in the city, I took a trip to Hobby Lobby to see what they might have that I could use.  I remembered when my Dad used to work on projects, he would bring home lots of options from the store, and usually one of them would work.  Then he could return the ones he didn't use later.  (But I doubt he ever actually returned those extra things.)   I found a few different wood pieces at Hobby Lobby to try.  The ranch is a long way from Hobby Lobby, so I wanted to get everything I might need while I was here.
I found these wood curtain rod rings that I thought might work.
I removed the little metal rings that are used to attach the rings to the curtains.  Now I just had several wooden circles.  I used an outdoor epoxy to attach the rings to the chandy.
Now for the fun part, painting it!!  And guess who was visiting the day I ended up finishing this project?  Peggy!!  So Peggy and I took turns painting Mr.Chandy.  I selected an cream color spray paint with a satin finish.  After he was painted, we hung him out to dry (I just like saying that).  Peggy and I decided to make use of our time while he dried, so I grabbed our UTV, and we took off  down the gravel road for a ride.  The weather was perfect, and we had a glorious ride but, back to our project.  When we returned, we added the glass votive holders with the epoxy.
And here's our big reveal.
Later, as the sun was setting, the light began to play on the glass, giving it a warm glow.
By dinner time, I put some tea lights in the chandy so we would have some light for our al fresco meal.  I actually tried using the flameless tealights since cleaning wax out of the glass holders wouldn't be easy.