A few days ago, I was walking out of a store with an armful of goodies headed to my car on a beautiful day and it occurred to me that I have the best job. This post is sponsored by Kirklands. That's right, as part of my job, I get to shop for Christmas decor at Kirklands.
Check out Kirkland's ChristmasLand HERE to find loads of Christmas things. 
I had so much fun going through all of the goodies, and I hand-picked the things I think are going to be hot, hot this season.
Christmas is such a special time at our house. Come on in and I'll show you around. Here's my daughter Evie and our collie, Molly. They're waiting for Dad to come home so we can trim the trees together.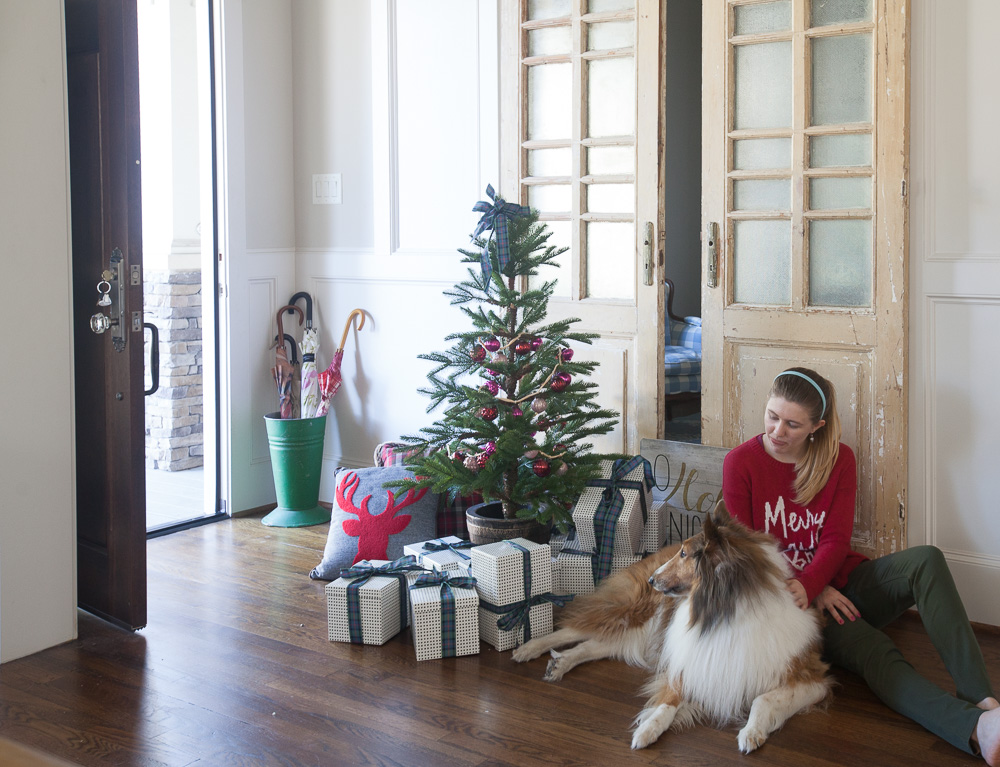 It's a special family tradition that we play Christmas carols and drink hot apple cider while we decorate our tree for Christmas.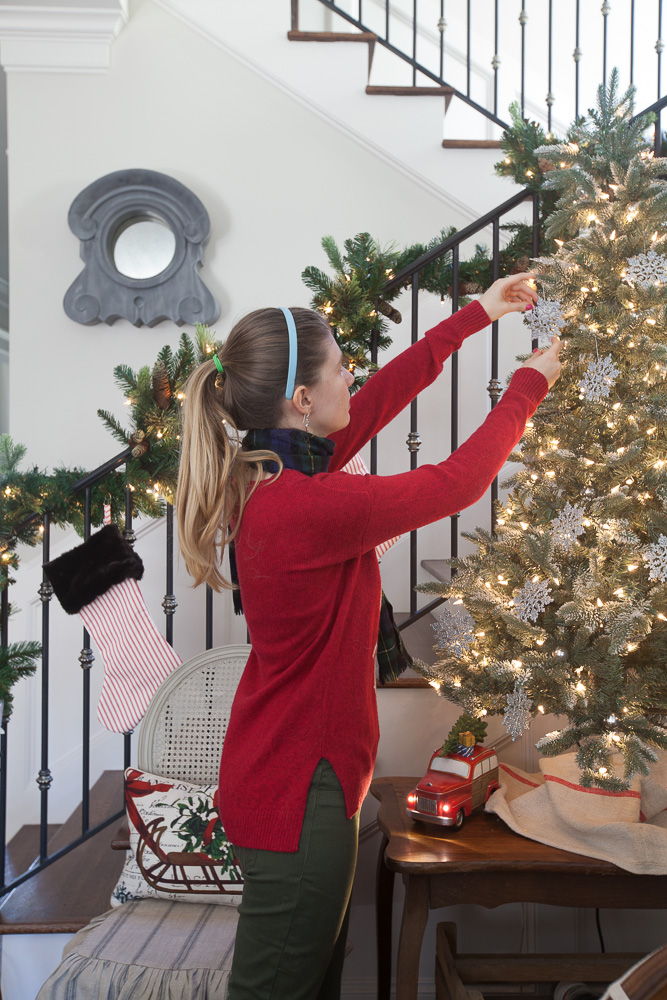 It's a special time for our family and we always have fun.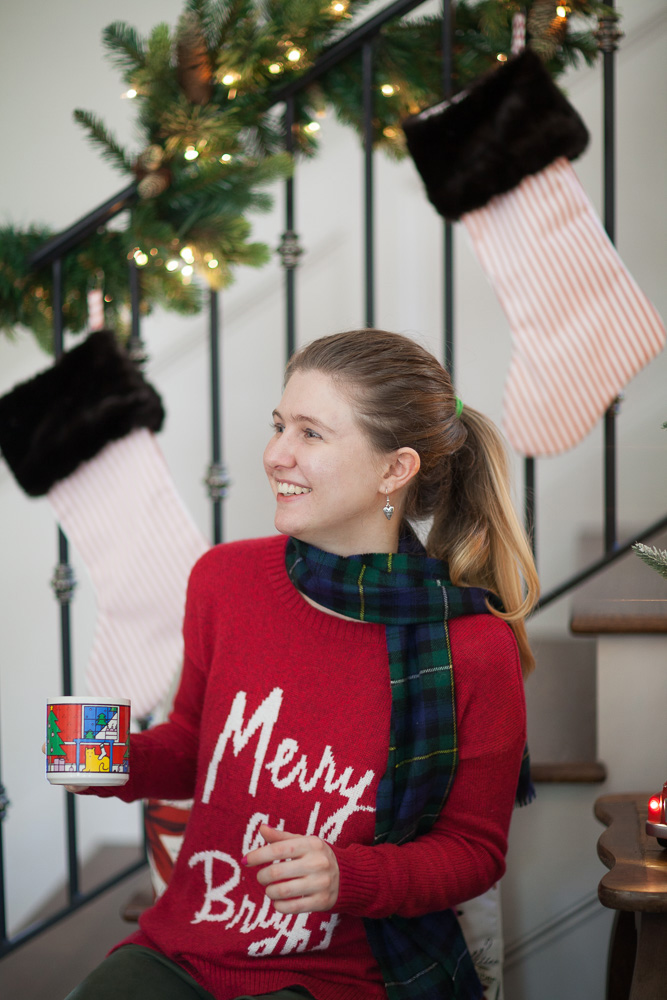 Now, I'll show you around the house.
Don't forget to comment on this post to be automatically entered in my giveaway this month. Click here for details.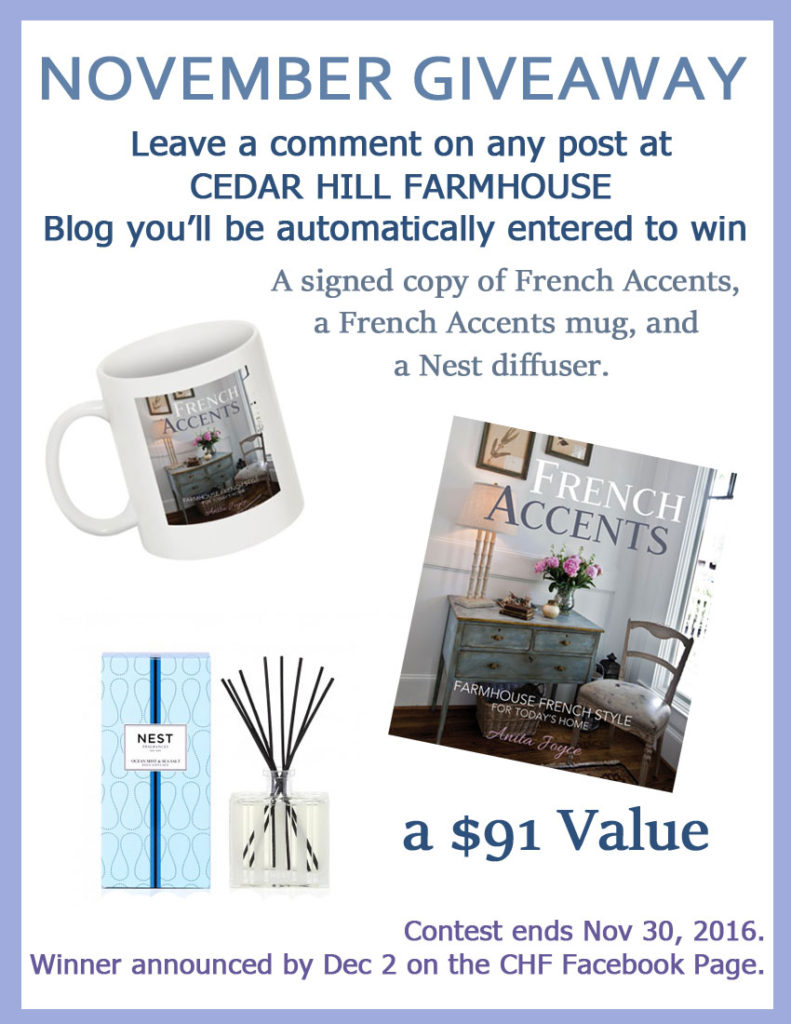 I was drawn to these adorable bears with the initials. Of course I had to grab an 'A' for sure!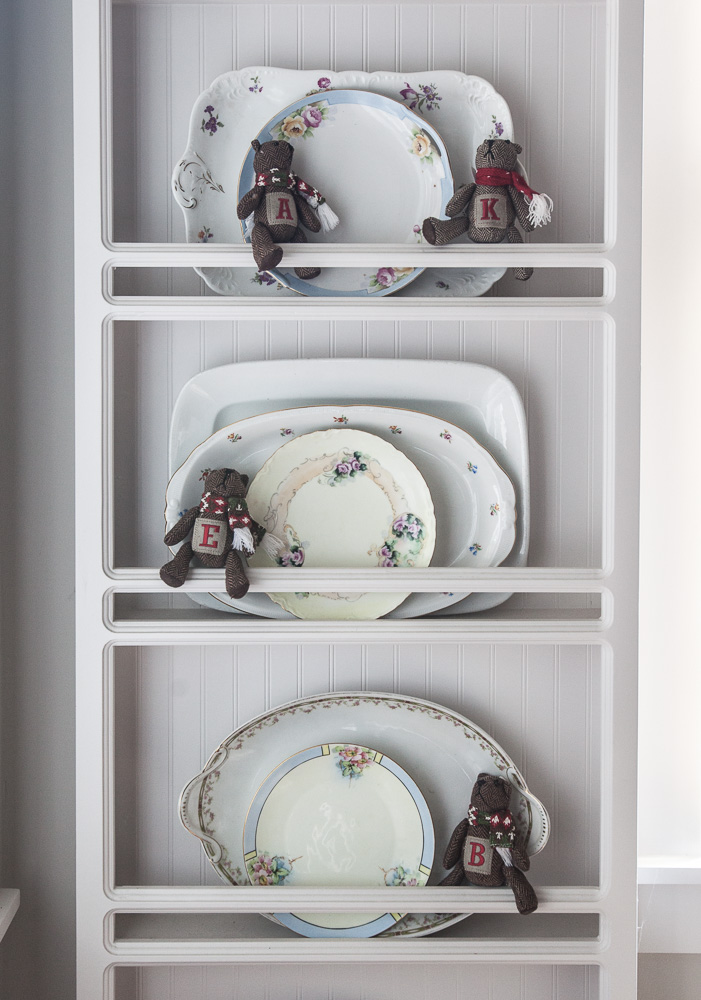 If you are having a dinner party, wouldn't these little guys make fantastic party favors? Put one on each plate! The bears are from Kirklands, but I could not find them on the website. I did find them in the store, so check out the stock at your local Kirklands store to find them.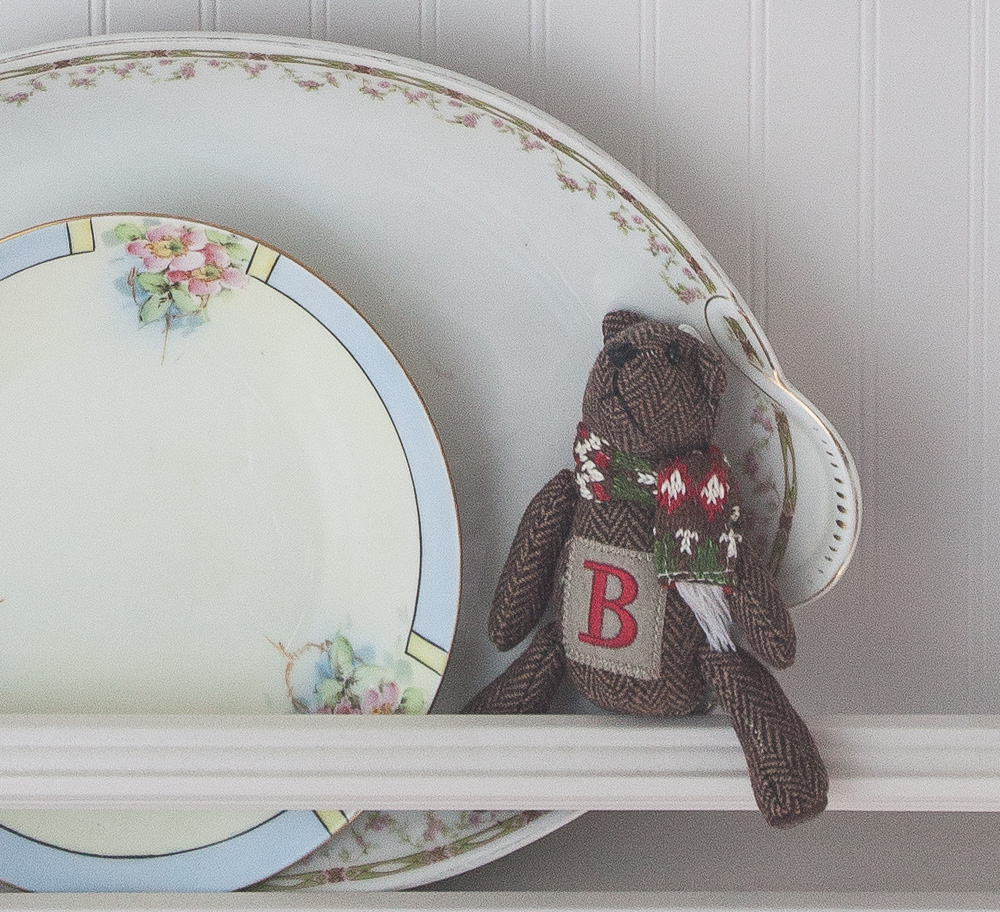 I'm also partial to the light up decorations. I love, love, love this NOEL sign. You can turn the lights on or off. As an added bonus, it comes with the greenery.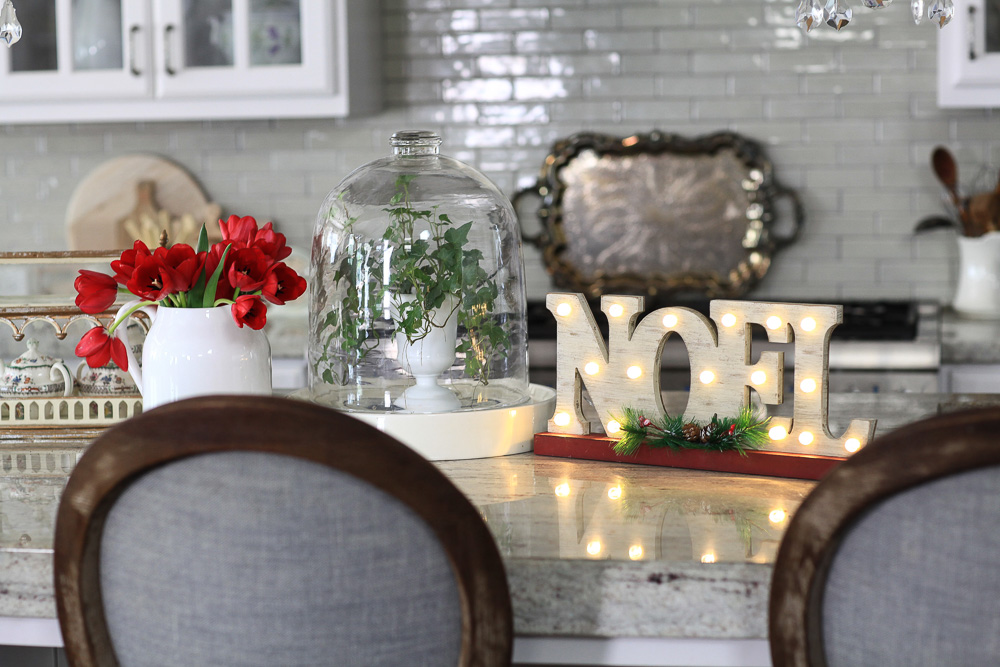 While we are in my kitchen, I wanted you to see I am putting boxwood wreaths all over the place.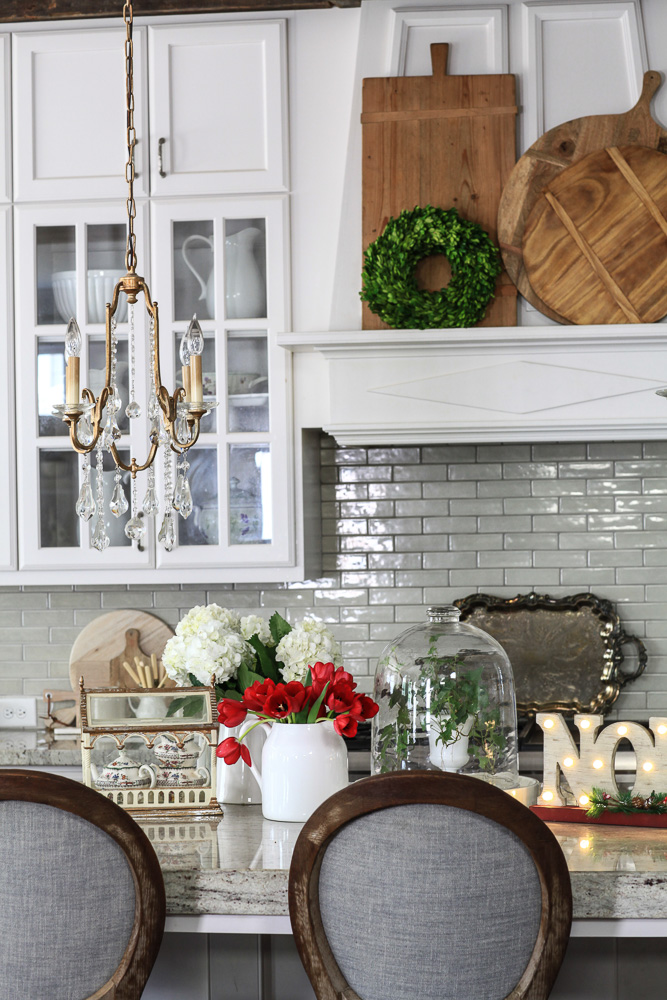 I am also loving this O HOLY NIGHT artwork. It works so well any where. I have it sitting on a table, but you could even hang it on the wall.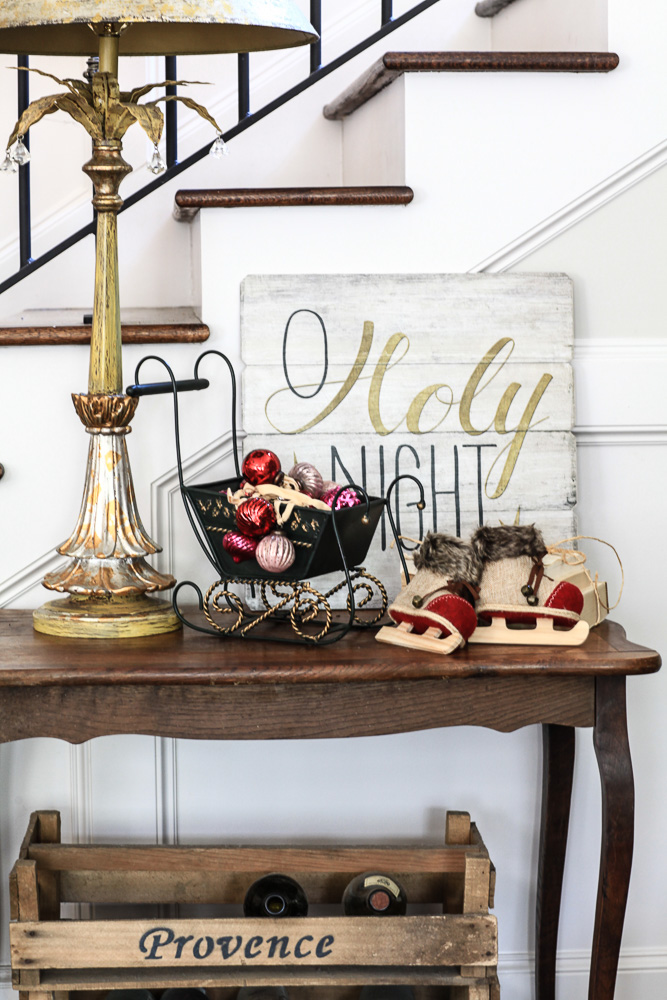 Aren't these little ice skates adorable? You could hang them on the tree, but I loved using them on my table.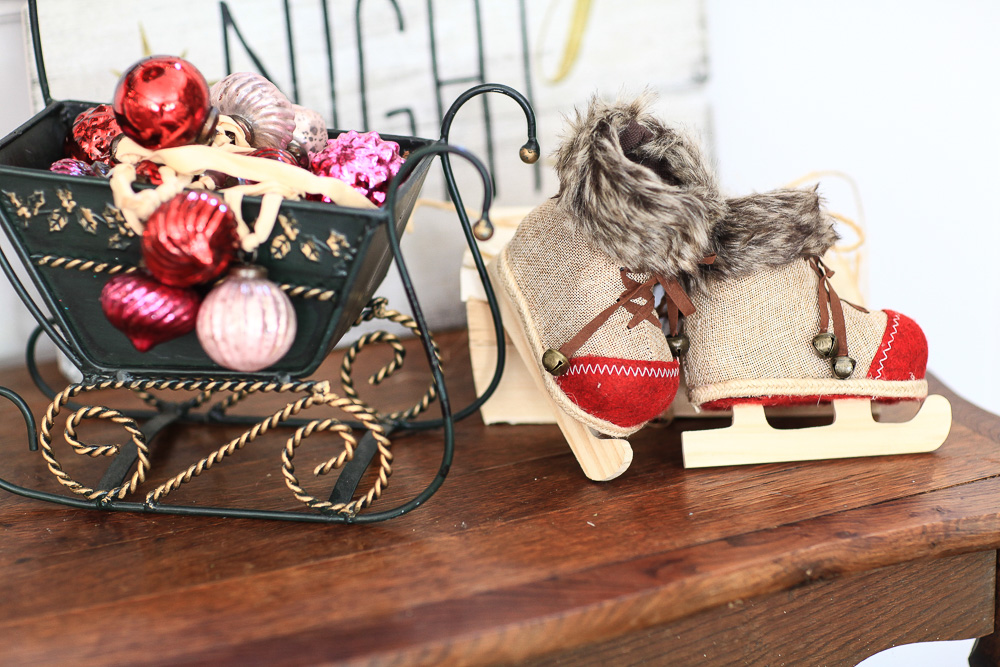 I also found these super cute flocked bottle brush trees with the ornaments. I added them to a platter and used them on my table.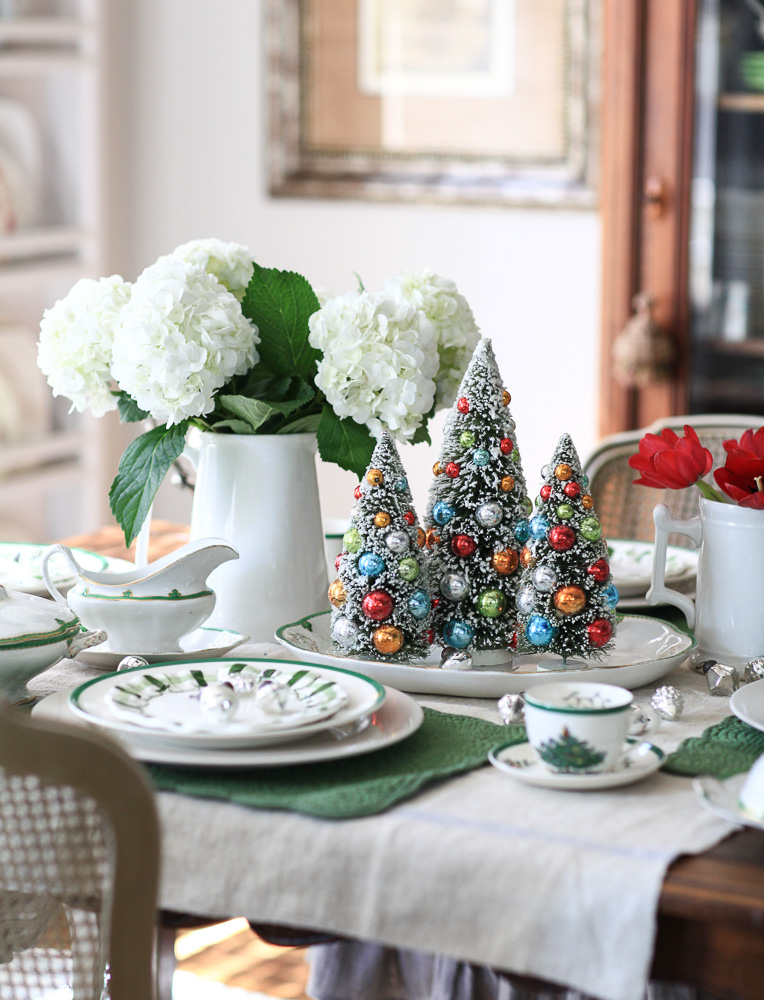 The trees and red tulips add color to the table.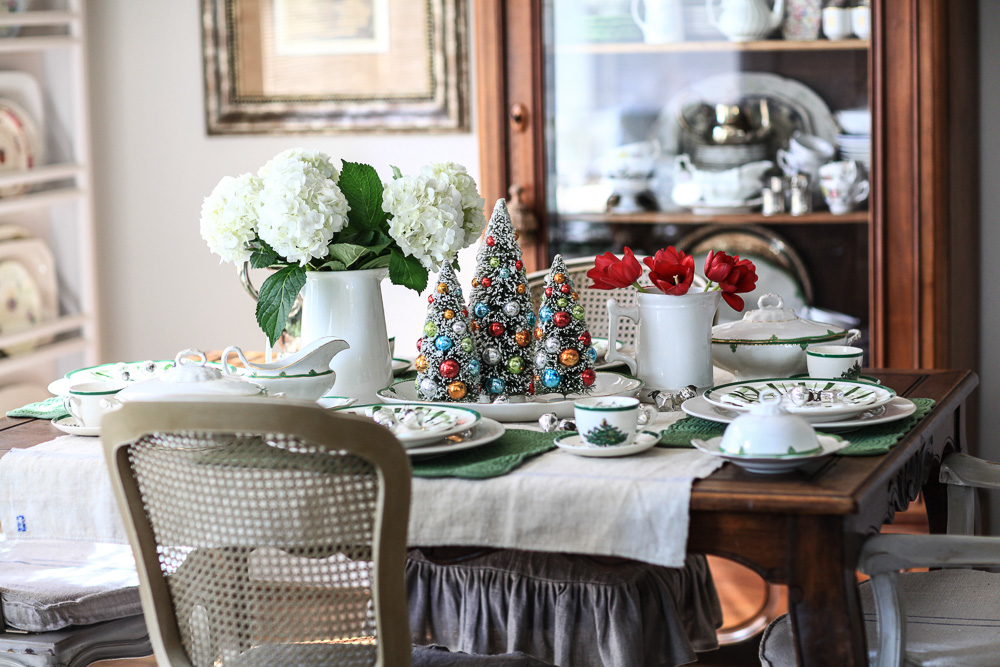 I sprinkled little mercury glass ornaments in the plates. For the place setting I used green plaid ribbon plate on a Spode Christmas plate on a large white plate.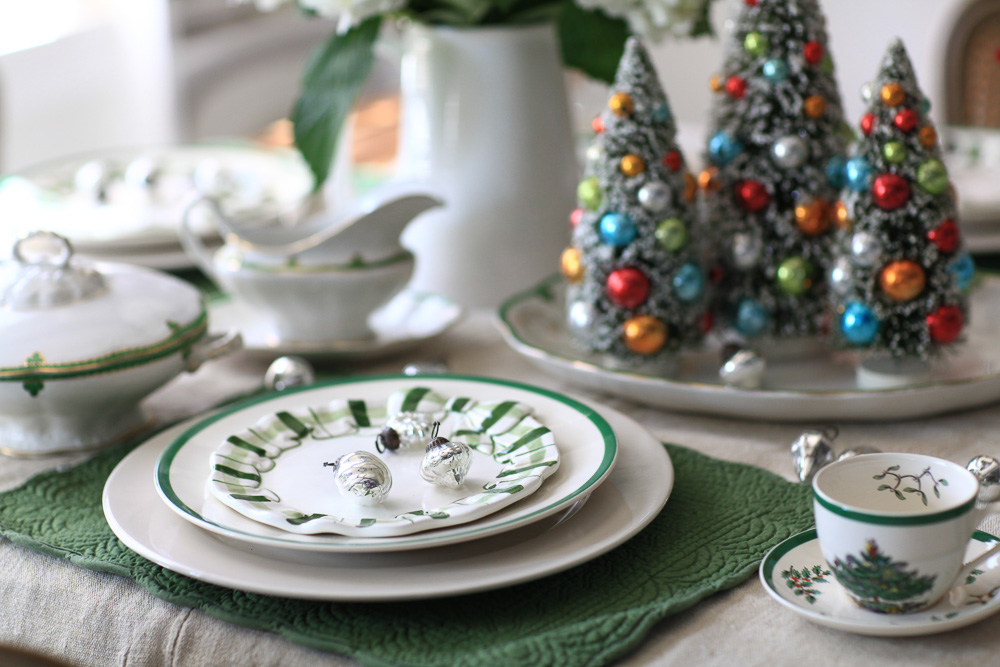 I found some vintage green and white dishes that worked perfectly on the table. They are from the Edwin Knowles China Co. I thought the green and white looked so classic and perfect for the holidays.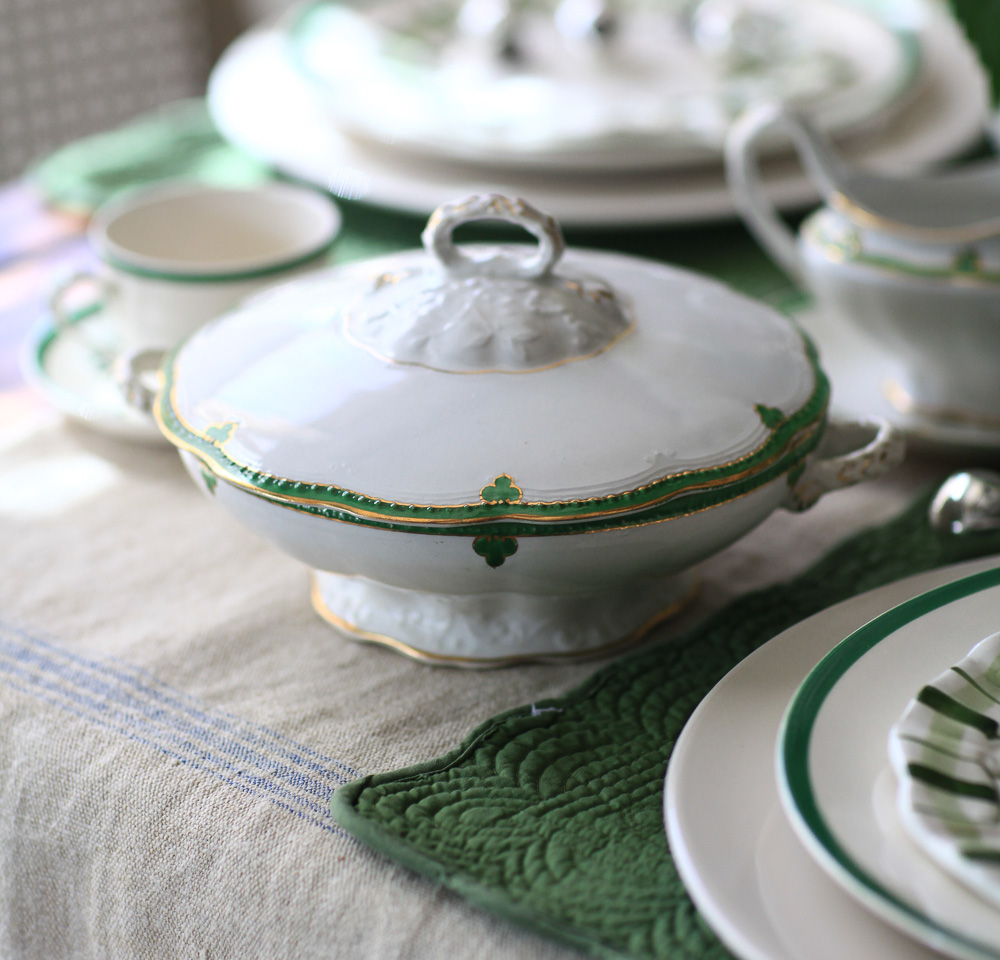 Not only did I love the NOEL sign with the lights, I also found this charming little wood paneled suburban with the Christmas tree on top. You can turn the car lights on, which makes it doubly adorable. I think this was my family's favorite.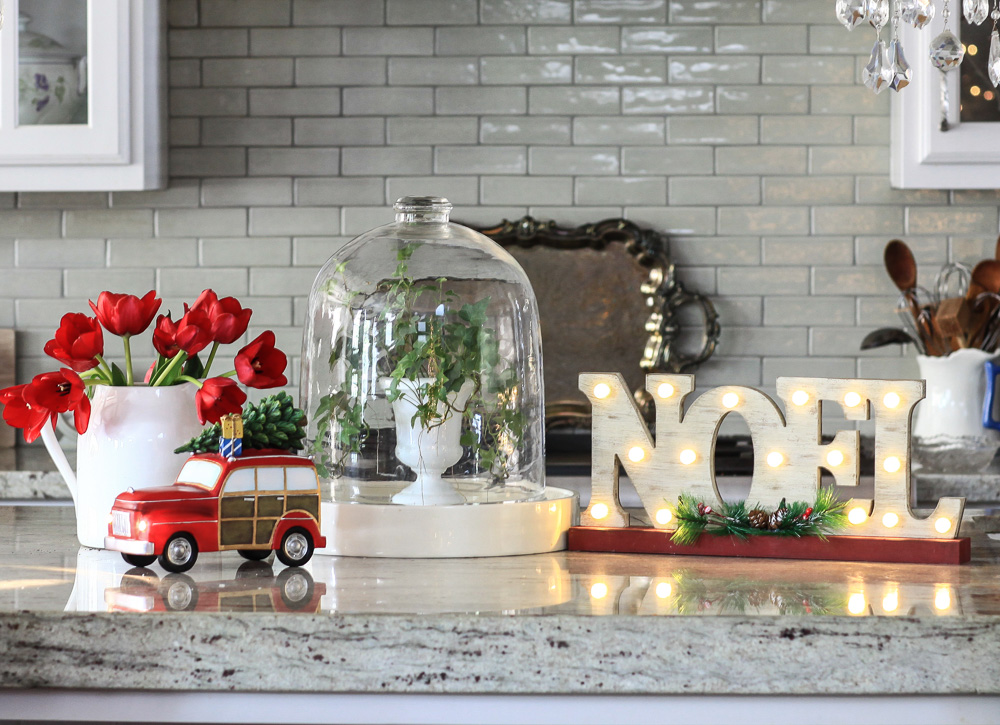 I love this charming Christmas pillow with the deer antlers.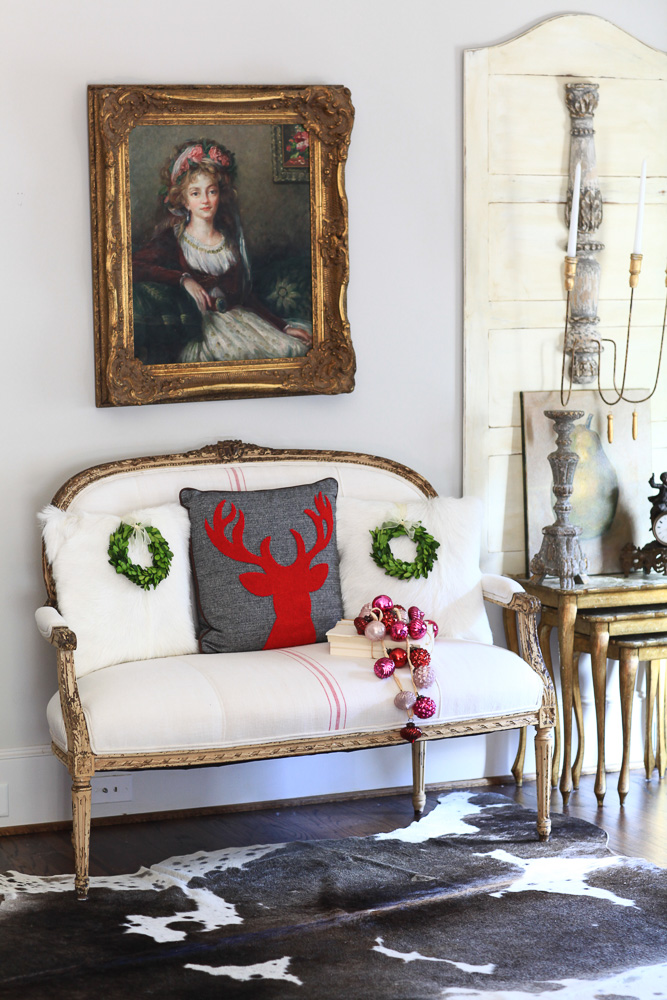 The plaid pillow is also perfect for Christmas. I like how both pillows can give your holidays a casual cabin feel. The pillow is from Kirklands, and I bought it in the store. I couldn't find it at Kirklands online, so check out your local store to find it.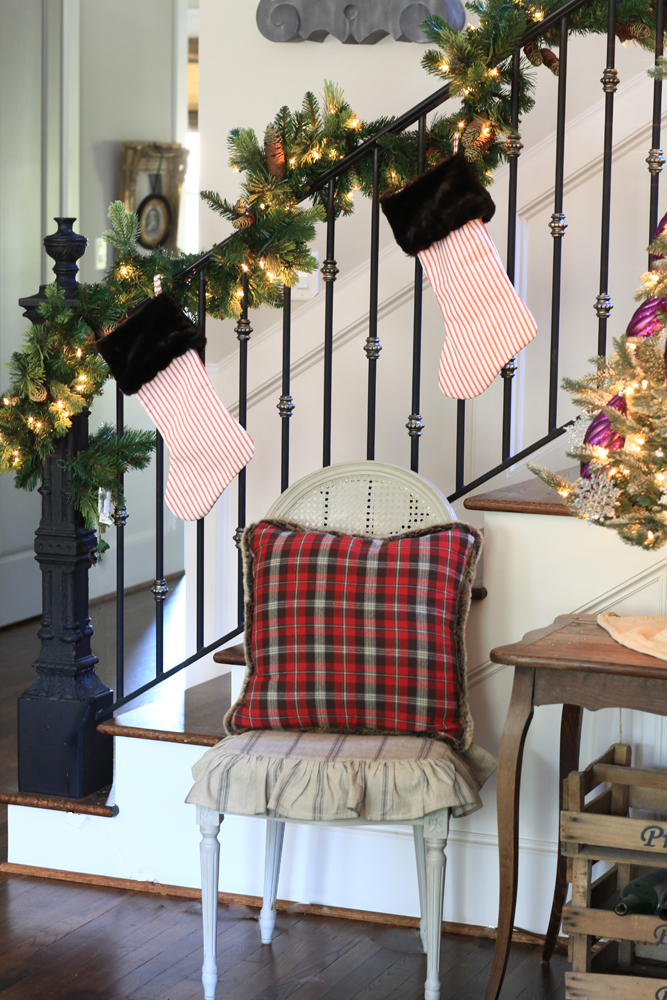 I'm sharing the links for each of the products I found at Kirklands below.
Click on the links for more information.
LITTLE BEARS in store only CHECK FOR NEAREST STORE
PLAID PILLOW in store only CHECK FOR NEAREST STORE
Check out the other amazing blogs joining me on the Kirklands Christmas tour.
Monday: Rooms for Rent
Tuesday: The Handmade Home
Thursday: Thistlewood Farms
Friday: My Sweet Savannah
Be sure to enter to win a Kirklands Gift Card!!
AND for another chance to win, you can join in on the fun with Kirklands on Instagram by using #DoorwaytoChristmaslandContest  for a another chance to win one of five $100 Kirklands gift cards. Submissions will be accepted Nov. 4-Nov. 30.
Good Luck!! And hope you have a happy start to your holiday season!