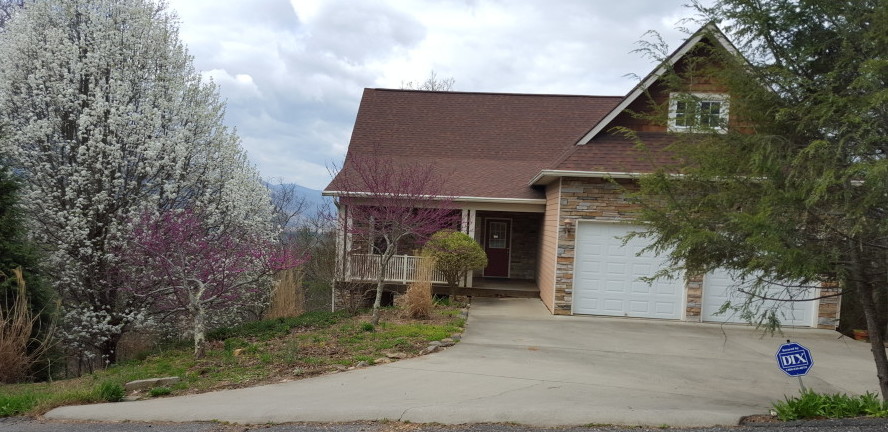 In case you missed the news, we bought a place in the mountains of NC for retirement. For now we'll be renting it out until we're ready to live there. You can find all of the news on the house HERE. Why are we doing this now? That's all HERE.
I talked about the big room and the big bare wall and what my thoughts were for the space HERE.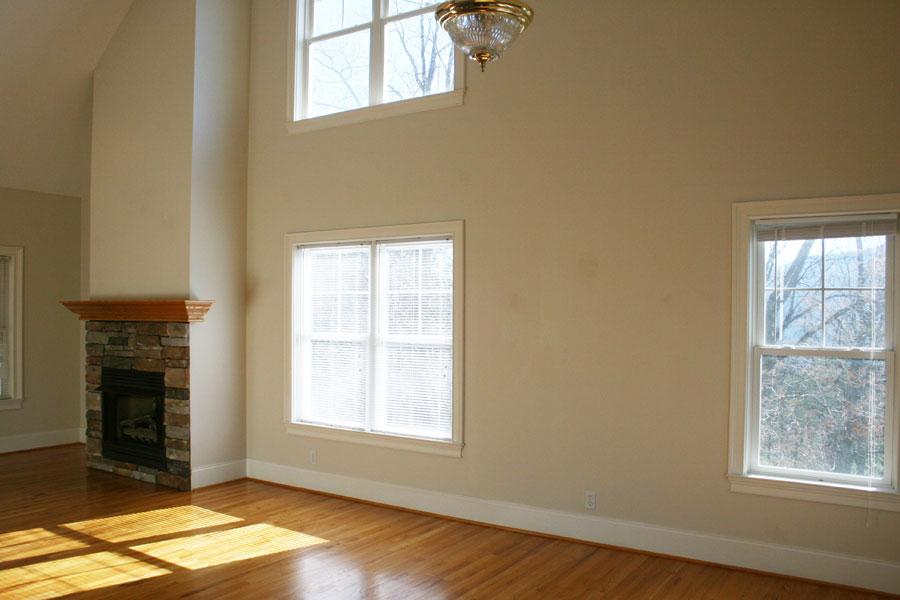 So to get you up to date. We gathered up a bunch of extra stuff I had, and things that didn't sell from my antique booth, and I bought a few things (mainly mattresses) so we could get the house ready for vacation rentals.
We packed up some stuff from Round Top in a truck and brought it to our house in Houston.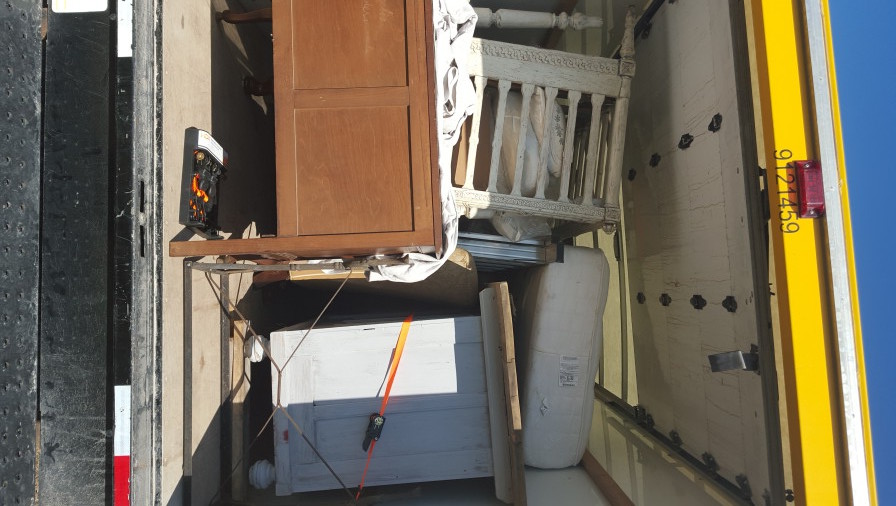 A few benches that we planned to move didn't fit in the truck so we left them at the farm.
In Houston, I had a POD delivered and got it filled with this stuff and stuff we had at our Houston house.
The guys loaded my POD and although I thought we would need a second one, it miraculously all fit. I paid the guys and they left. I was patting myself on the back and giving hi fives to myself. I just needed one pod, not two. #winning
And then I went in the garage and realized that one of the dressers was still in my car. One we bought specifically for our mountain house. And I realized our old plasma TV we planned to bring did not make it into the POD. Well that's life. Stuff happens and you just have to deal with it.
The PODS people came and picked up the POD, then delivered it to our house in North Carolina. It was much cheaper than renting a moving van. Yes we could have driven a truck ourselves and saved some more money, but we only had a week off and 4 days would have been spent on the road to NC and then back to Texas. So PODS was really our best solution. Everything arrived in great shape too!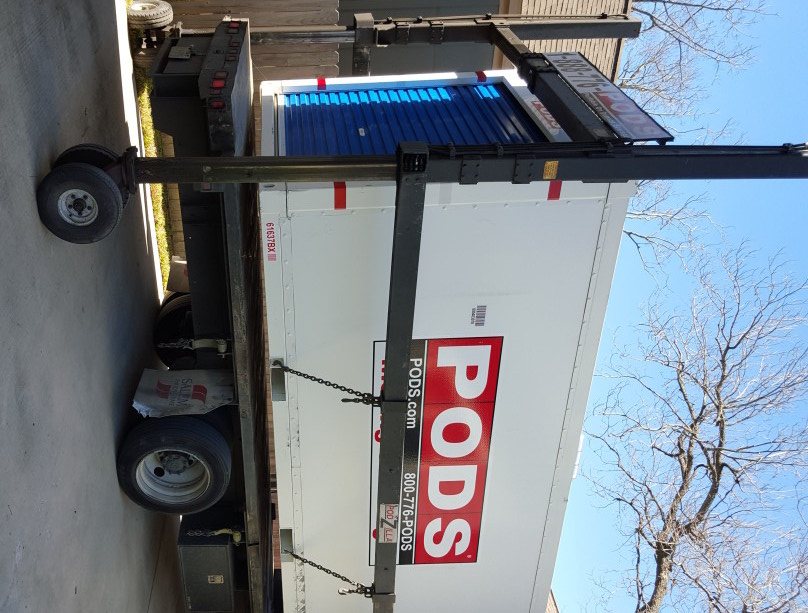 We unloaded it at the house the night we got there. Yes my back is still recovering. We planned to hire big burly guys to unload, but that fell through. I did hire some lovely people to help and we got it done.
My big question was what was I gong to put on this wall, and the answer is for now… nothing.
I had planned to use that big sideboard as an island. I was going to rip out the one in the kitchen. But the reality is, I love it where it sits. So for now, I'm leaving it against the wall. Once I added the oversized antique bread boards, I felt the wall didn't really need anything.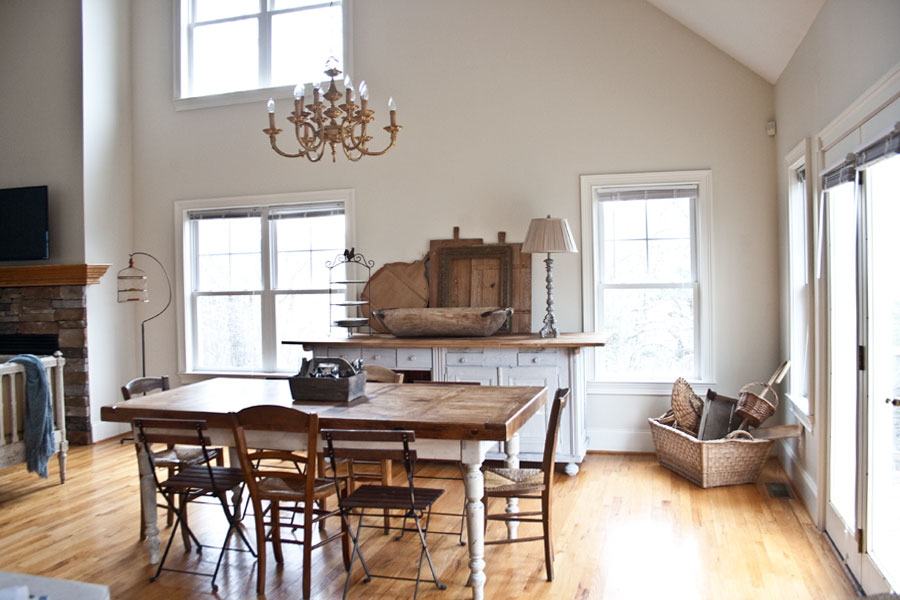 I was going to put that big cupboard on the wall, but now that is going to go somewhere else. (Picture below from my antique booth)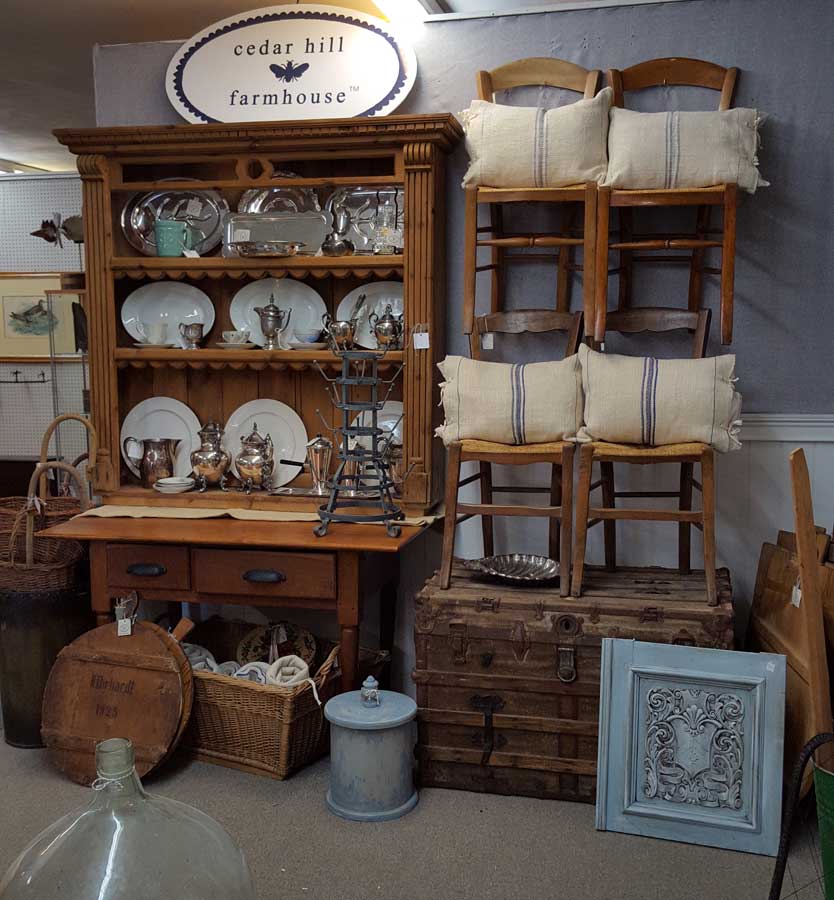 You might have noticed I got the old light changed out. Here's the original.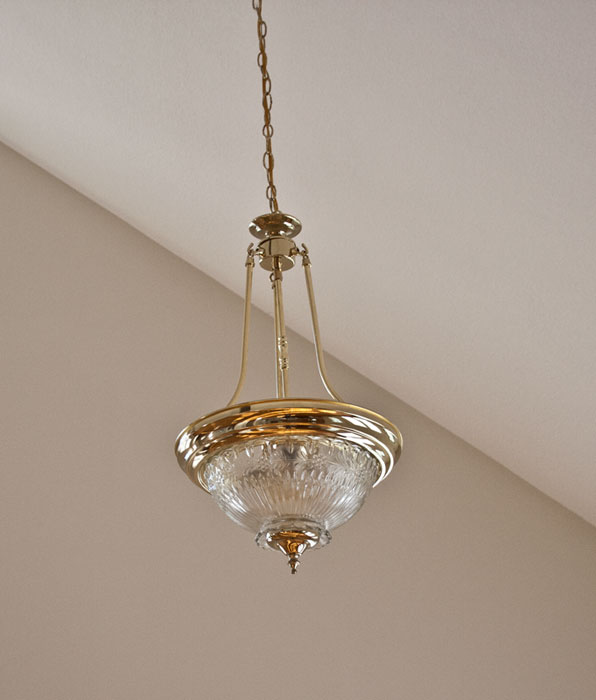 I found this gorgeous chandelier from Belgium and had it rewired for the USA.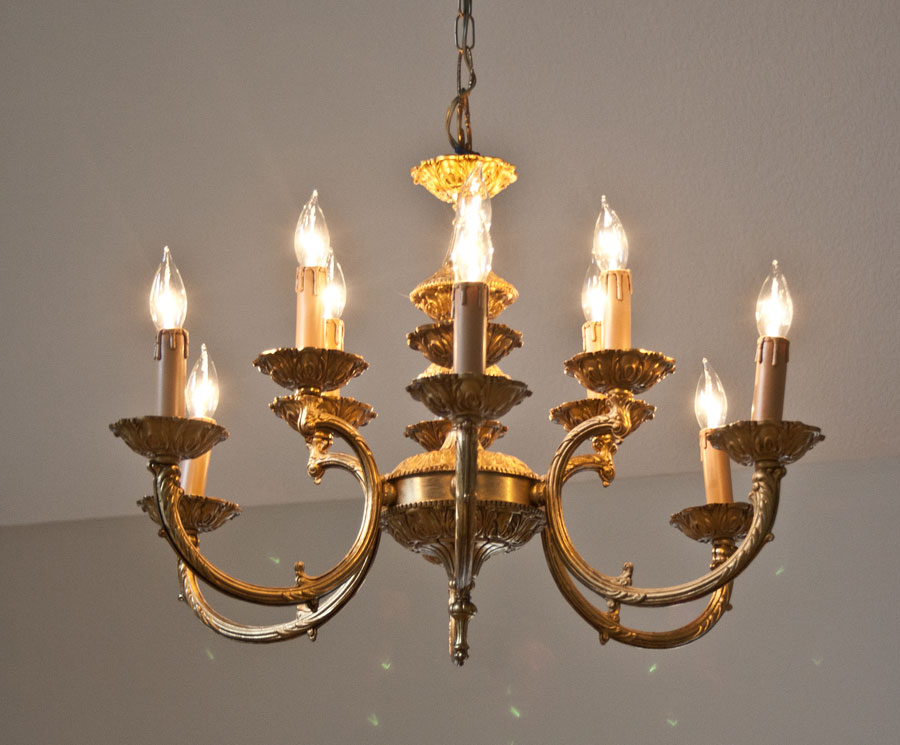 I lowered the light a bit, but it is still high because if your ceiling is a cathedral ceiling, I think you visually want it higher than the standard 30 inches or so inches above the table. And I thought that at some point the table might not be directly under it, so I didn't want someone to hit his head, mainly my 6'2″ husband. You'll notice all of the windows have mini blinds on them. I'll get them changed out later.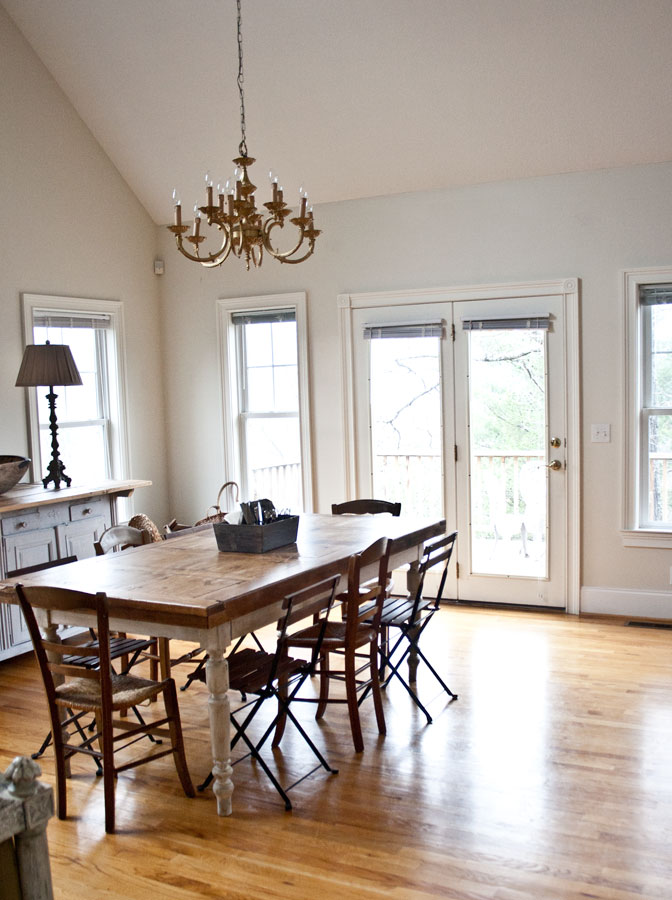 The table and sideboard are European antiques. The chairs are a combo of French antiques and inexpensive Ikea folding chairs. I'm pretty smitten with this sideboard. All of those bread boards and the down bowl did not sell. Well it all worked out in the end.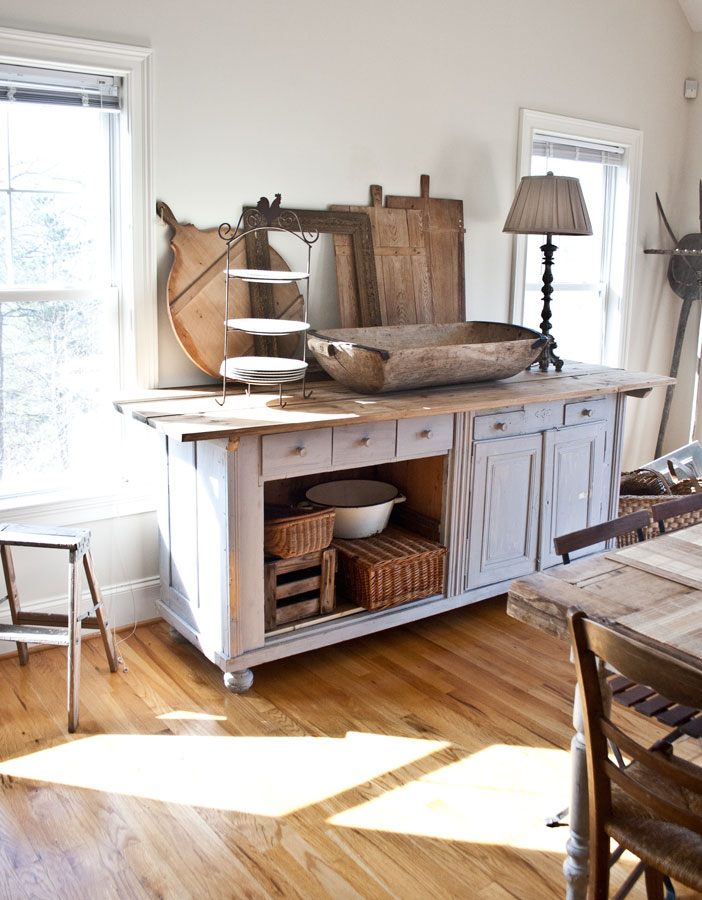 The kitchen still looks the same… for now.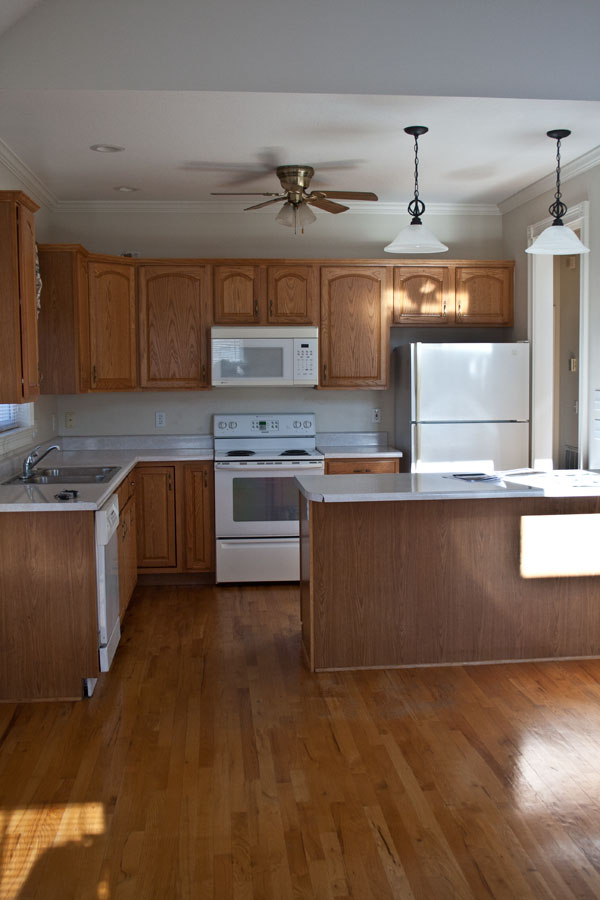 The best part about the house is the view. This is from a few houses down the road. We have a few more trees behind us. Isn't this dreamy?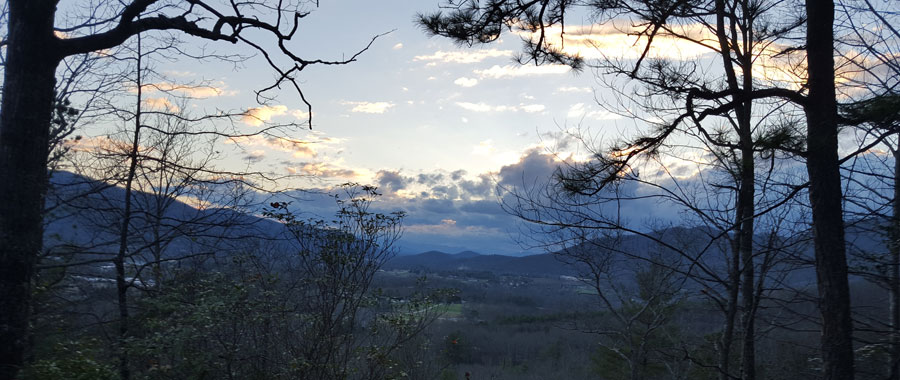 This was the view our last night there.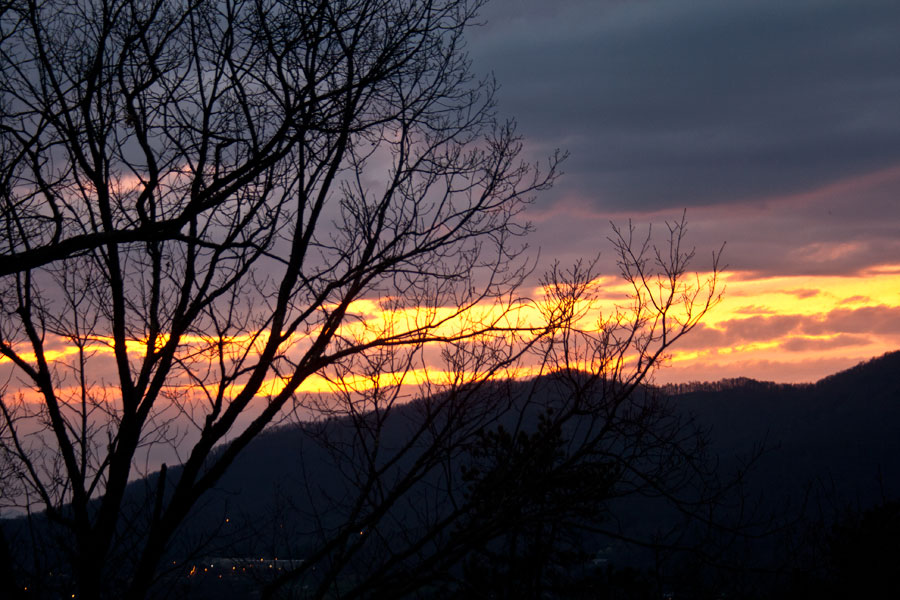 Here is the actual view from our deck.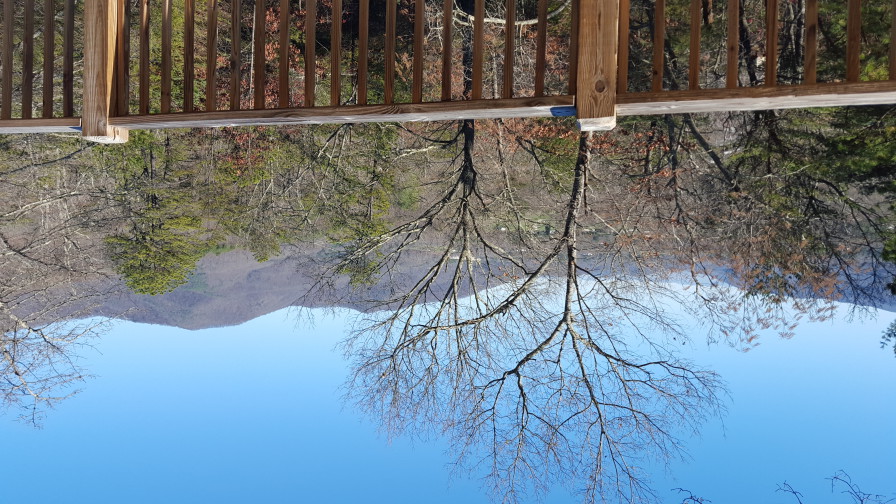 I have so many plans for the house. Our big accomplishments were moving in, changing out a few light fixtures, getting the TV mounted, the cable connected, a few plumbing issues fixed, and getting set up with the property management company. We met with a painter and a contractor as well.
For a full tour and information about staying at our place near Asheville, NC
CLICK HERE
.
Find out why Country Living says Black Mountain is on their list of MUST SEE small towns,
HERE
.