Decorating a hutch
Decorating a hutch can be challenging, but I have a few tips to make it a snap.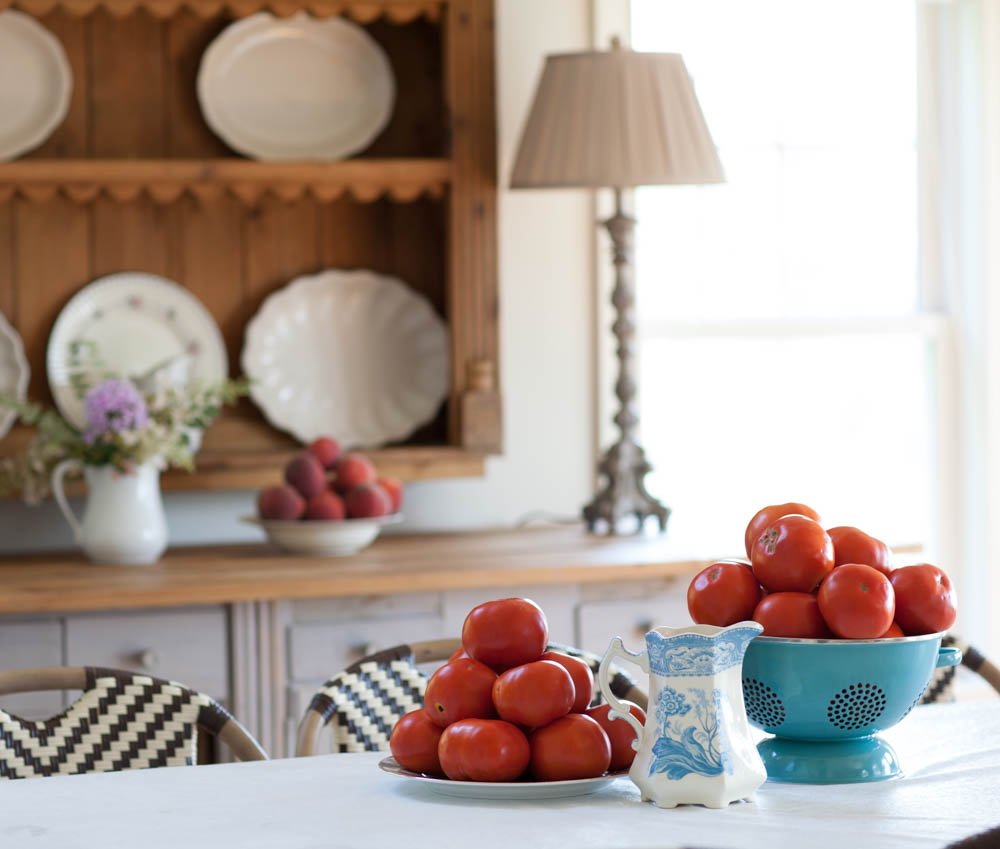 If you don't recognize this room, it's our mountain home, CEDAR RIDGE. It is available for vacation rentals year-round, so please check it out. The views are extraordinary. This is a no-filter picture I took with my phone. It looks even more amazing in person. Some of the mountain peaks in the distance are obscured from view due to the clouds. The collander shown can be found (affiliate link) HERE.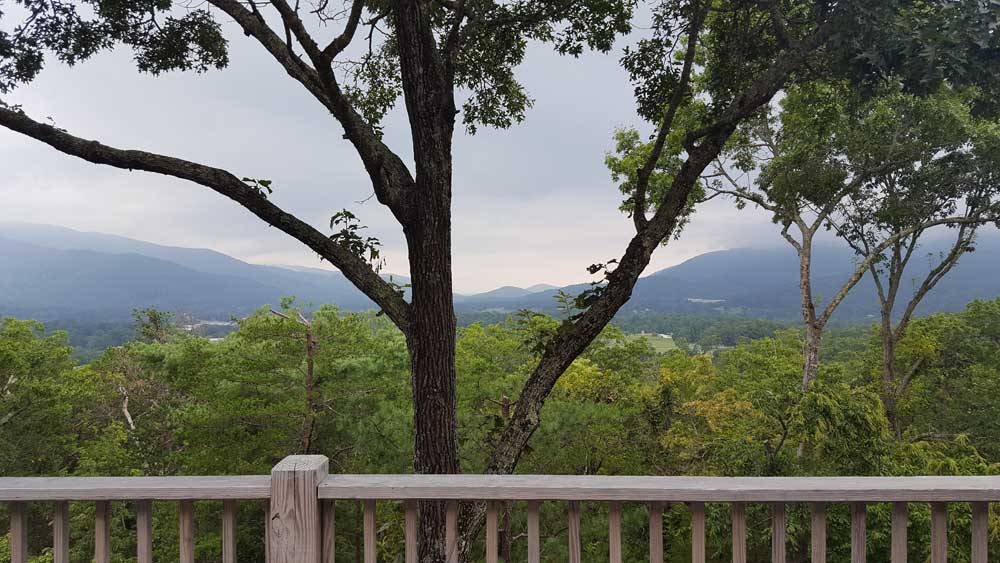 You can see the fall view HERE and the winter view HERE.  I honestly didn't want to spend much styling this hutch. Really it's a wall shelf, but because I have it above our buffet, it looks more like a hutch.
I like to include something fresh from my yard if I can. It obviously doesn't last forever, but looks so fresh and happy. These blooms smell delicious!! There is probably something in your yard right now that would look scrumptious in your home.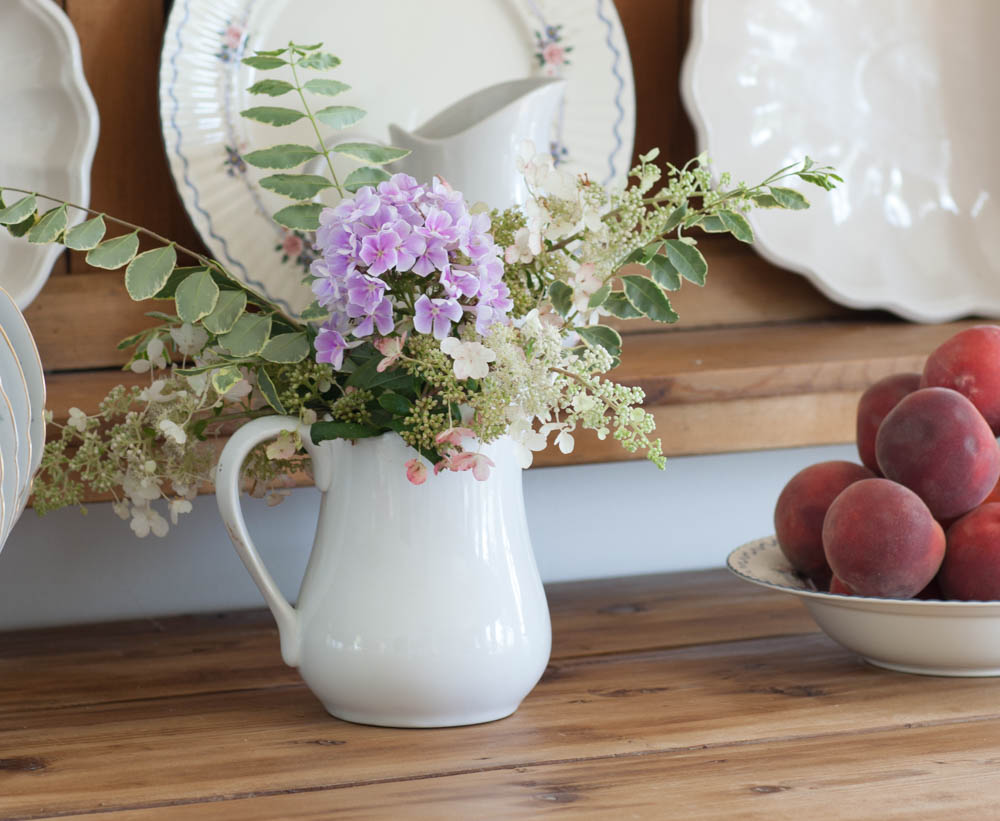 Check out the latest podcast episode
EPISODE 77 SNEAK PEAK AT THE 2018 HOME DECOR TRENDS
I had a booth at Round Top and an online shop for 2 years. When I closed it a few months ago, I had a few things left over. I wrapped up some of the things and brought them here.
Here are a few tips for styling your hutch.
Use a limited  color palette. Using few colors means it all looks like it goes together. If you use a lot of color, it can still look great, but takes more skill to pull off the look.
Use museum putty. It will keep everything in place. If something were to bang against this shelf, everything should stay in place since I used putty to hold the platters against the back.  (affiliate link)  CLICK HERE FOR MUSEUM PUTTY
White platters are always in style. They work well in almost any home and with almost any decor style. I found some for a great price (affiliate link) HERE.
Less is more. Well as a collector, I wish it weren't true, but too much stuff will make your hutch look cluttered. Try paring it down to the minimum. Then if you need to you can always add more. As I say I brought some things from Texas, so I don't have a lot here. I could add more to the shelf later, but it looks fine the way it is.
Keep the top clear. I recommend not putting anything on the top of your hutch or shelf. I think it just looks cleaner. If you really want something up there, I would stick with one big thing, rather than a bunch of little things. I know not everyone agrees, so go with what you want.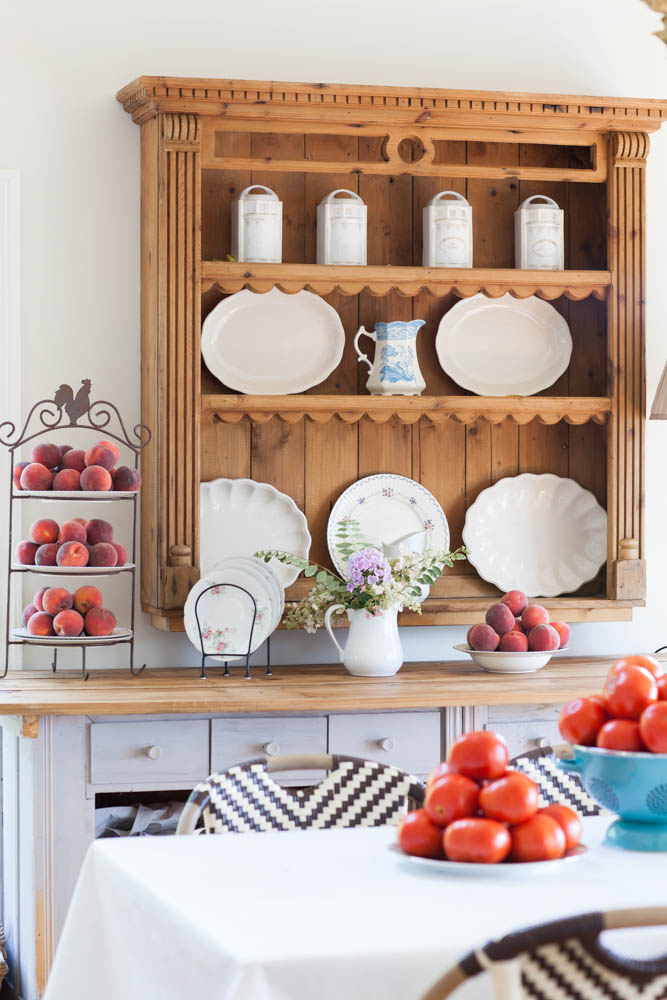 We went to the farmer's market, so we got overrun with peaches and tomatoes. That's my kind of problem.
I love the way the sun pours into the room. If you have any tips for styling a hutch, please drop them in the comments.