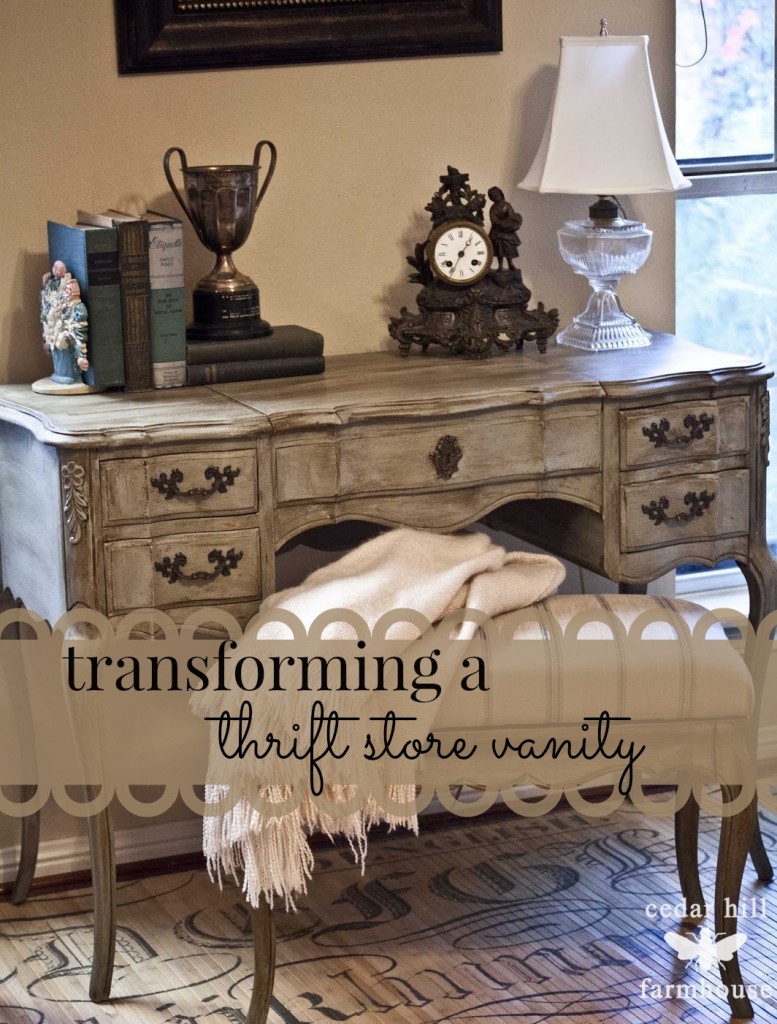 Some of you I know are drop dead gorgeous all of the time, but if you are like me, maybe you can relate to Camille, my vanity, who needed a little help, but in the end, turned out beautiful.
Here's the photo I took of Camille, with my phone, when I first found her at the thrift store around the corner from our new house.
I've been looking for a new vanity for the new house, and just wasn't finding what I was looking for, then I saw… her.  I took a picture, so I could think about if she was, you know, the one.  I knew pretty legs like Camille's, don't come along every day, but I also knew we weren't ready to move yet, and my house was (is) beginning to look like a junk shop.
I might have mentioned previously that I have been buying for the new house. I've got a pair of antique 8 foot doors for the study, 5 mirrors for the bathrooms, 3 chandeliers, 2 wall sconces, 2 antique corbels for a shelf, an antique desk, 4 antique French chairs, a French settee, an old iron post that we're going to use as a newel post, and a partridge in a pear tree. (Okay the partridge part isn't true.)
I went back to the thrift shop, this time with my friend, Caroline. Caroline, too, was looking for a vanity or desk.  As I looked Camille over, I heard Caroline over my shoulder, exclaim that if I didn't want her, she, Caroline, would take her.  Well, of course, that was that. Caroline was just oohing and ahhing. Good grief, I couldn't take it any more,  I told the folks there to 'load 'er up.'  (Don't worry about Caroline, she found another one.)
I used my homemade chalky paint for Camille.
I quart of SW Earl Gray, 
adding 
3 T Calcium Carbonate/cup of paint.
After the paint dried, I sanded down the corners and a few areas to distress the piece, then applied a coat of
Fiddes Rugger brown wax.
For the bench, I used a French ticking gray linen fabric with blue stripes.  BTW, you don't need to use 100 staples when upholstering a small piece like this. I think I removed at least that many, and in the end, just left some, because it was becoming so tedious to remove all of the old staples.  The worst part was that they were brittle and broke when I pried them up with my screwdriver. Each piece had to be extracted with pliers.
The old bench was tufted, so I had a decision to make. Was I going to tuft the new cover or not?  I decided not, I just wasn't "feeling it." That meant I needed new foam for the seat, since the old foam, had little holes where the buttons were.
I hope you are reading this and not just skimming, because here's an important note: The above photo shows What Not to Do!!.  I added a new piece of foam then wrapped it in batting, stapling the batting in place. I had too much bulk on the botton of the seat and it wouldn't sit flat on the base. I had to cut away a lot of the batting on the bottom.
Here is the bottom after I cut away much of the batting. Then I started over. Sorry not so pretty, but you need to know.  Remember I removed a gazillion staples, and I was ready to be done with this bench, so it isn't so neat looking here on the bottom.  I left quite a few staples since I was tired of pulling them out.
As I stretched the fabric over the foam, I made sure the stripes were straight and that the pattern was centered.  I started with a staple on the north side, one on the south side, one on the east side, then one on the west side. I tightened and straightened as I moved toward the corners, doing them last.
I don't strive for perfection, but a finished product that looks good. I have too much to do, so I can't spend a week on this project.
Did you notice I put one of my favorite things, this French clock on my new desk?
I also used a lamp from Mr. CH's grandparents. It's 100 years old, and when they first bought it, it was a kerosene lamp.  Only much later, did they covert it to an electric lamp.
I think Camille will be very happy with her new look.