Thank you for all of the sweet comments for my family as we mourn the loss of my mother-in-law.  It means so much to me to hear from you, and your expressions of sympathy are much appreciated.  Even Mr. CH who never enters the blogisphere was touched.  (I read your comments to him.  Heaven forbid that he would actually read my blog!  That's okay with me. That means I am completely "unsupervised" here and free to share my secrets with you.)
Since we had so many bluebells this year, I was looking for ways to make use of them.  While they are gone for the year, I still have a project or two that I haven't shared with you yet.  This is a table I put together with the bluebells.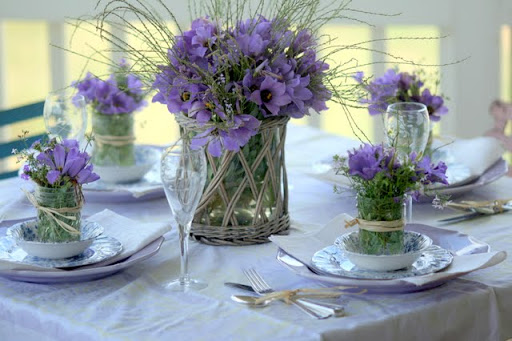 Although they are called bluebells, they are actually on the purple side.  I thought it would be fun for everyone to have their own bouquet.   I used small mason jars for vases, with a little raffia bow.  I found a few other wildflowers that I added in with the buebells.
You might recognize these jars filled with bluebells from the post on my breakfast bar, picture shown below.
I used new luncheon-sized linen napkins I found at Round Top for $1 each.
The Cedar Hill silver is also tied up with raffia.
I used a vintage tablecloth that my mother-in-law gave me years ago.  It has a soft, subtle lavender pattern. Perhaps it was a bright purple at one time and faded from use, I just don't know.
I took a hike around the ranch to find some wildflowers to add to the bluebells, and found some bunches of Clasping Venus Looking Glass wildflowers for the Ikea vases.
Here are some more photos of the Clasping Venus Looking Glass flowers before they were cut.
I love this view, down our little hill toward the woods.
The dishes are Nikko Blue Roses, discontinued years ago, and the charger plates are lavender dishes made in Portugal.
I really missed reading all of my favorite blogs in the last week, and hope to have some breathing room to catch up with everyone soon.
And as a side note, my MIL (mother-in-law) loved dishes and one of her last wishes was that we keep as much as possible. I really think she wanted us to keep everything of hers.  I already had dishes stuffed into every nook and cranny here but now I am really trying to figure out where to keep hers and mine.  She had some wonderful things and she would be very pleased to see us enjoying them.  So as a tribute to her, I'll be sharing them with you here.  My most amazing find so far? Her ration book from WWII.  I can't wait to share her momentos from living in Switzerland in the 50's, her dishes, crystal, "Jackie O" gloves and scarves, a Better Homes and Gardens magazine from 1958, a family bible from 1897, a painting of the 1800's family homestead, an Ike for President button, and lots more.
Blessings to you.