What do you do for a centerpiece when you decide at the last minute to invite guests to your house?
It was my daughter's sixteenth birthday party.  We were going bowling (her choice not mine) and then to her favorite restaurant for dinner.  Then at the last minute she said she REALLY, REALLY wanted everyone to come back to our house for cake and games.  So… the first thing was look at the clock, and wonder how I could possibly get the house ready in just a few hours for company.  The first thing to do was vacuum.  Okay, I asked Mr. CH to do it.  The house had not been vacuumed in 4 days, which may not be a big deal, unless you have a collie.  I had a ton of other things to do – make beds, get the leaf for the table, pick up the cake, make homemade lemonade…
When I had about ten minutes left, I realized I did not have a centerpiece for my table.  (I know the teenagers would not notice, but I had some adults coming, so I had to make some effort.)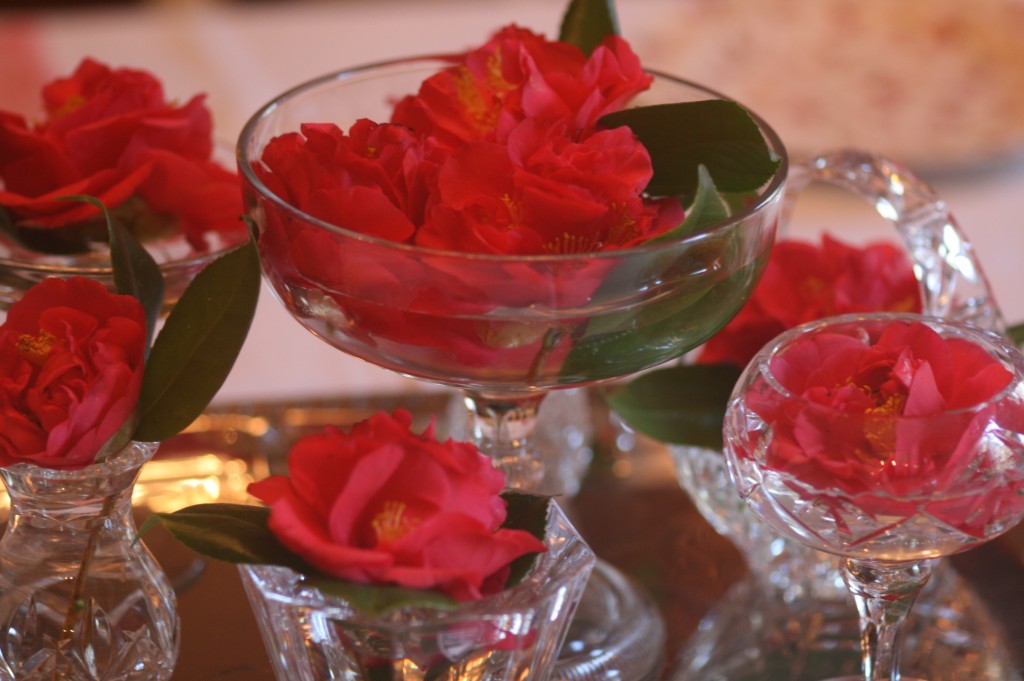 I grabbed my scissors and went to work on our camellia bush.  There was no way I had time to run to the store for fresh flowers.  After cutting several camellias, I put them in an assortment of crystal pieces on my thrift store silver tray.
Did I mention that our daughter's middle name is Camille?
Many of these crystal pieces were inherited from my MIL.
I barely had it all done when it was time to pick up my daughter from her play rehearsal at school and head to the bowling place.  (I still had to change clothes too.)
We were running late, but we DID make it to the bowling place, then to my sixteen-year-old's favorite restaurant, and finally back to our house for cake, lemonade, coffee and games.
We had lots of fun, but I was glad to sit down finally.  When someone noticed the fresh flowers and commented on how lovely they looked, I just smiled and brushed the hair out of my face.
BTW, Happy Birthday to my Baby Girl!!