I admit, I have a love affair with vintage fabrics. They have a weight, a feel, and a texture difficult to replicate. I especially love finding pieces with hand work. Just look at the linen texture on these!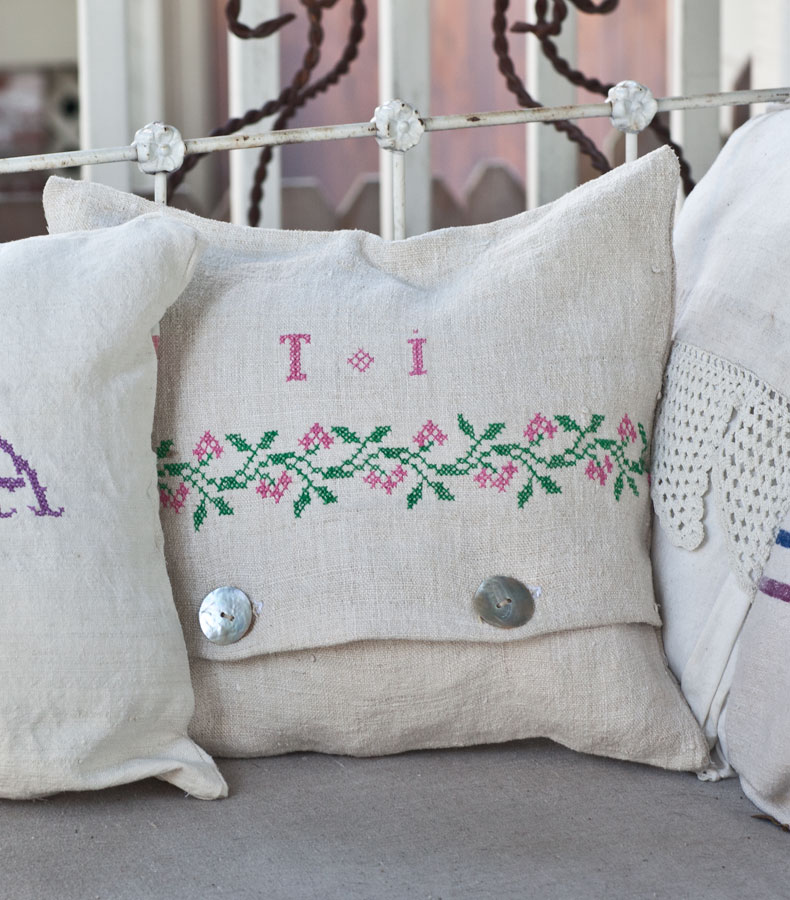 I love using them for pillows. Isn't this lovely? It was made from a vintage linen torchon (tea towel).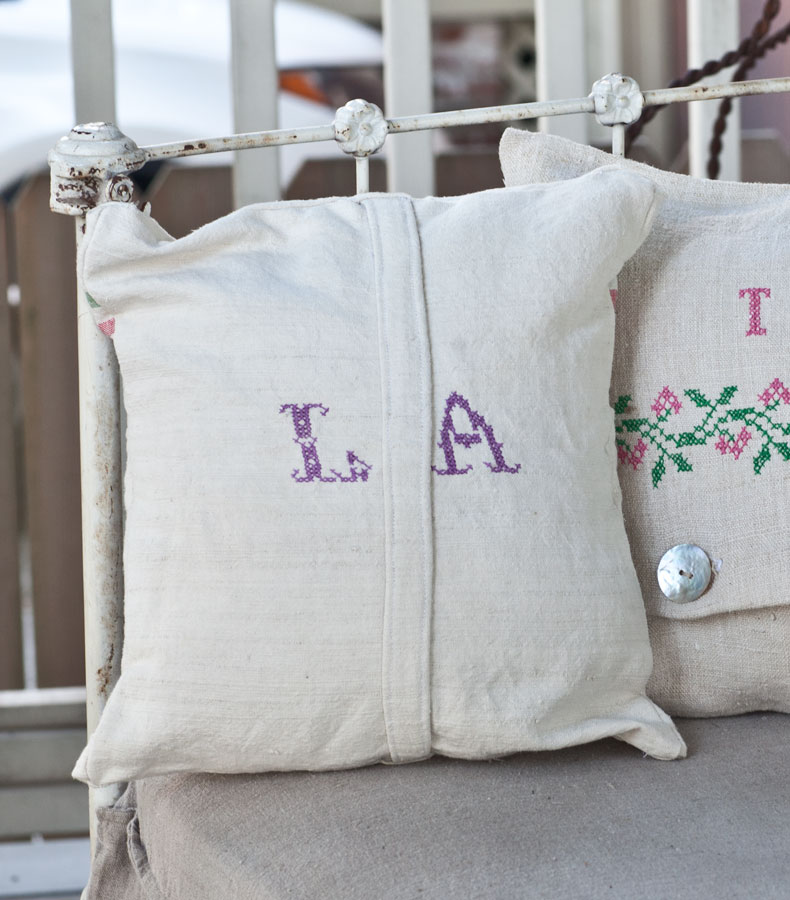 Don't you love seeing these monograms? I imagine the seamstress who made it was quite proud of her handiwork, as well she should be!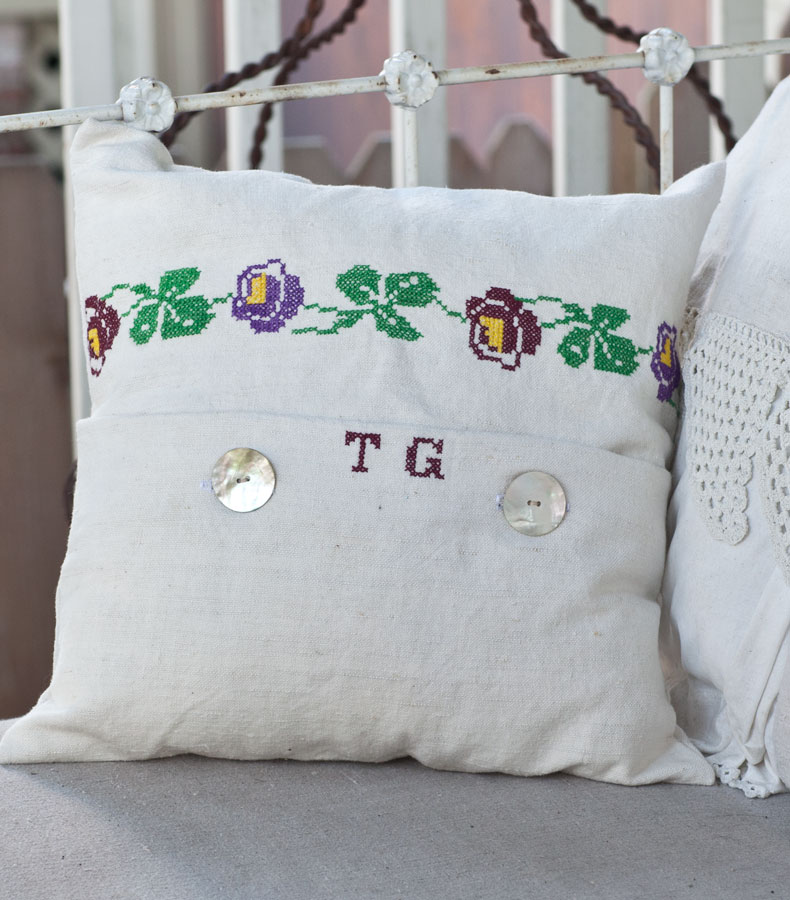 I can't tell you how much I enjoy these in my home!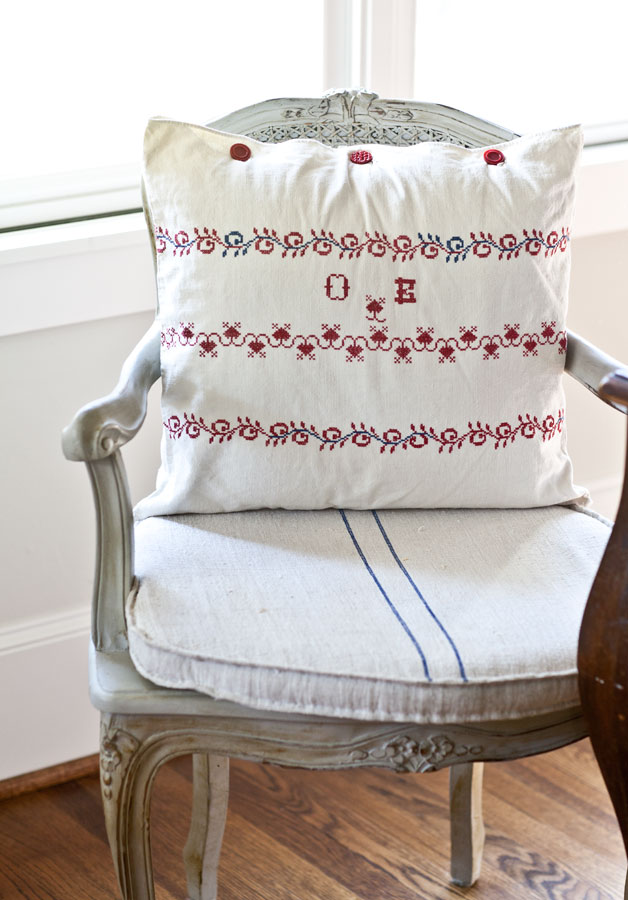 I also use grainsacks extensively for projects. I used a vintage grainsack fabric for the seat cushion above, and the pillow is another vintage torchon.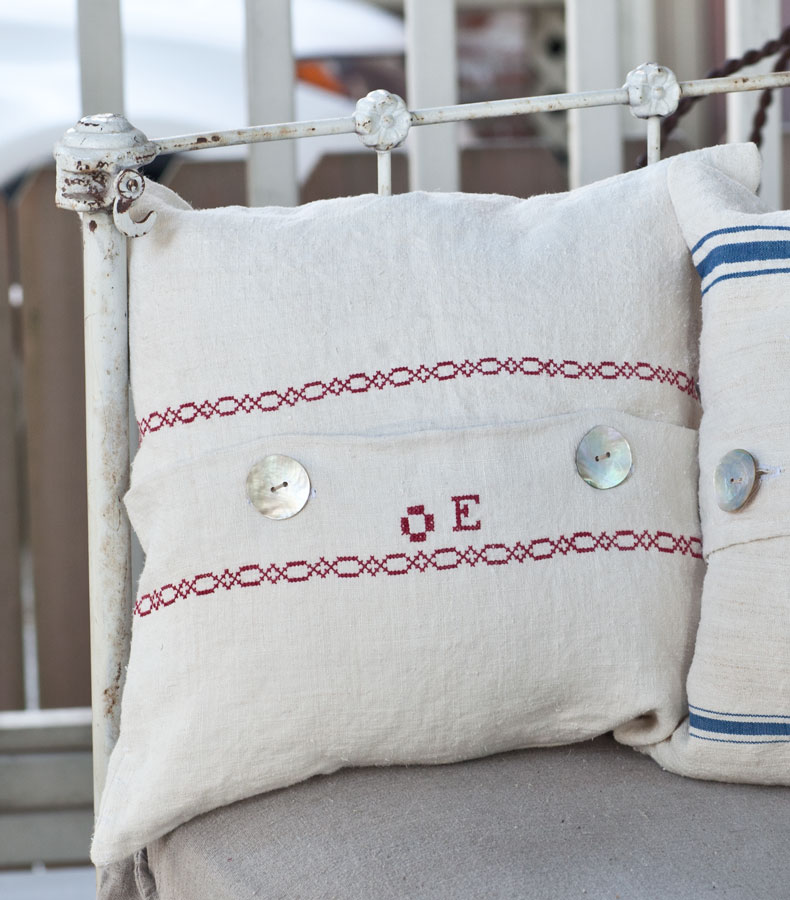 OE, I wonder if the same person made embroidered both of these pieces.
I sometimes just use the vintage items just as it came to me. The pillow cases below were already made, CLICK HERE to see MORE. I found these on eBay.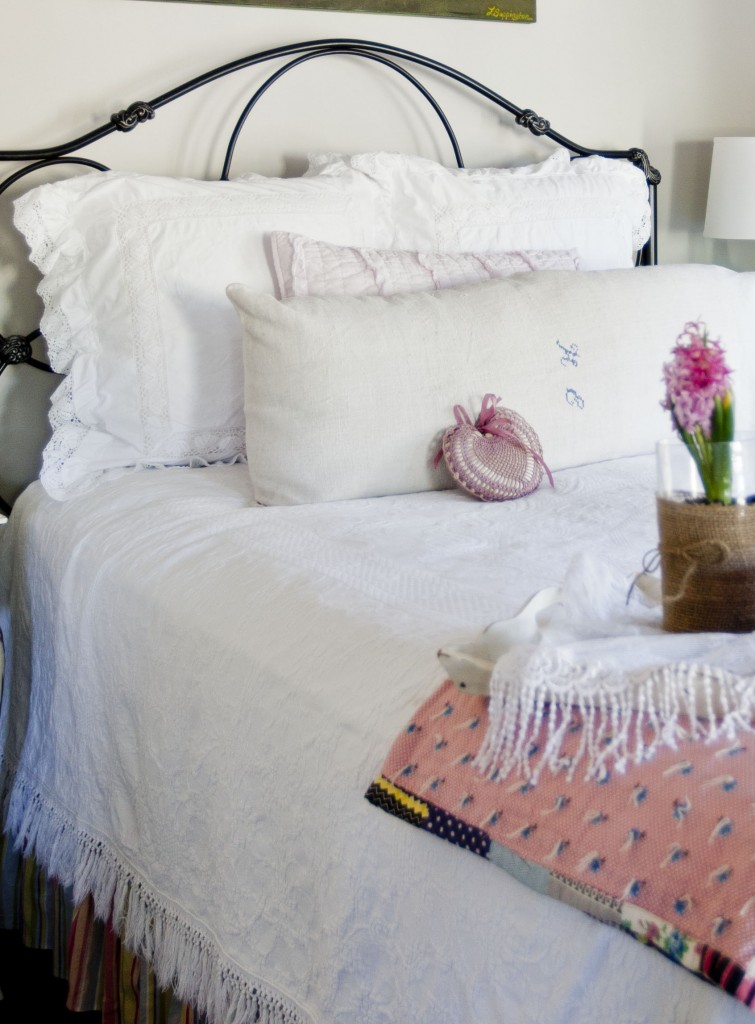 The bedspread is also vintage, along with the quilt. The quilt is a family piece and my sweet friend Peggy gave me the bedspread.
Here I made a curtain out of an old tattered pillow case. CLICK HERE TO SEE MORE. This was a pillowcase we inherited.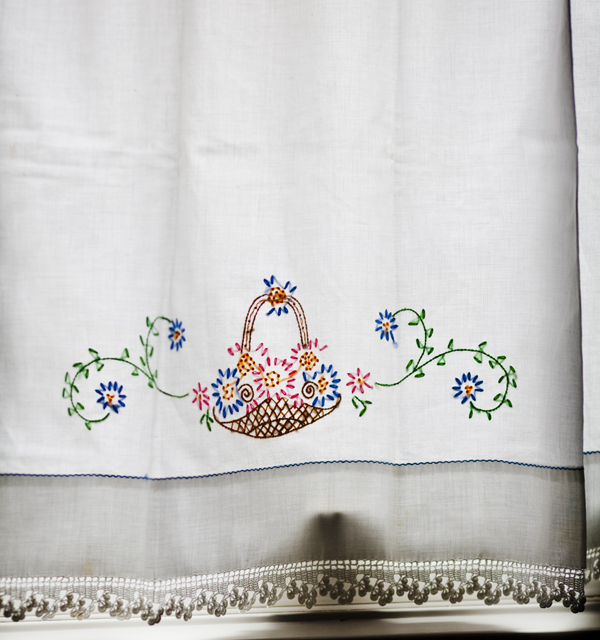 Here I used vintage pillow cases on the girls' beds. Just look at that detail! CLICK HERE TO SEE MORE. These were found on eBay.
I use vintage grainsacks for upholstery all the time. Like these chairs below. CLICK HERE FOR MORE.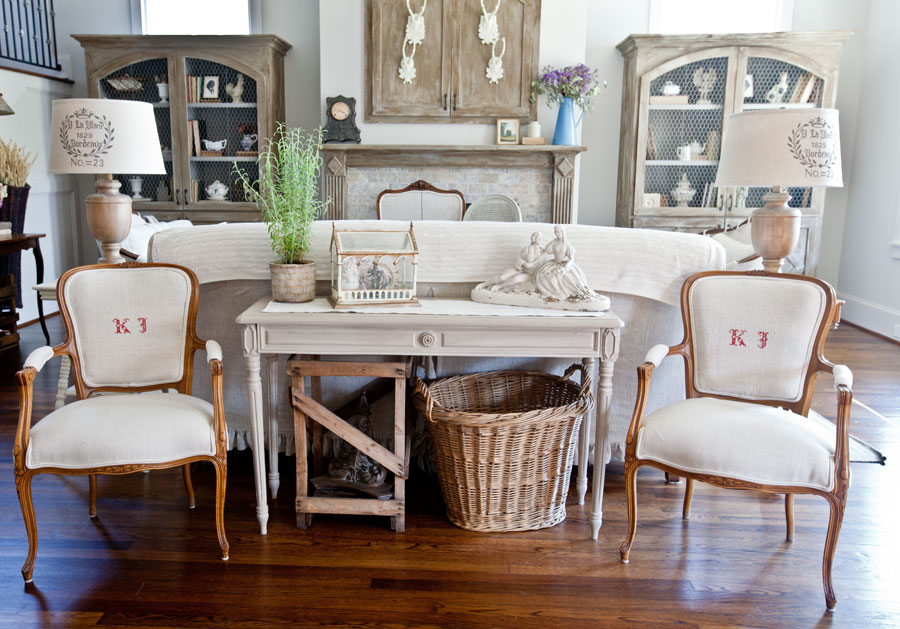 I also used a vintage French bedspread at the foot of my bed. This photo is from my old house in case you are wondering why the room looks different. CLICK HERE FOR MORE. I found this on eBay. 
I love to use old linen sheets for tablecloths. The old ones are much thicker than the sheets we use today.
For Christmas this year, I'm using these mini stockings made from vintage fabrics.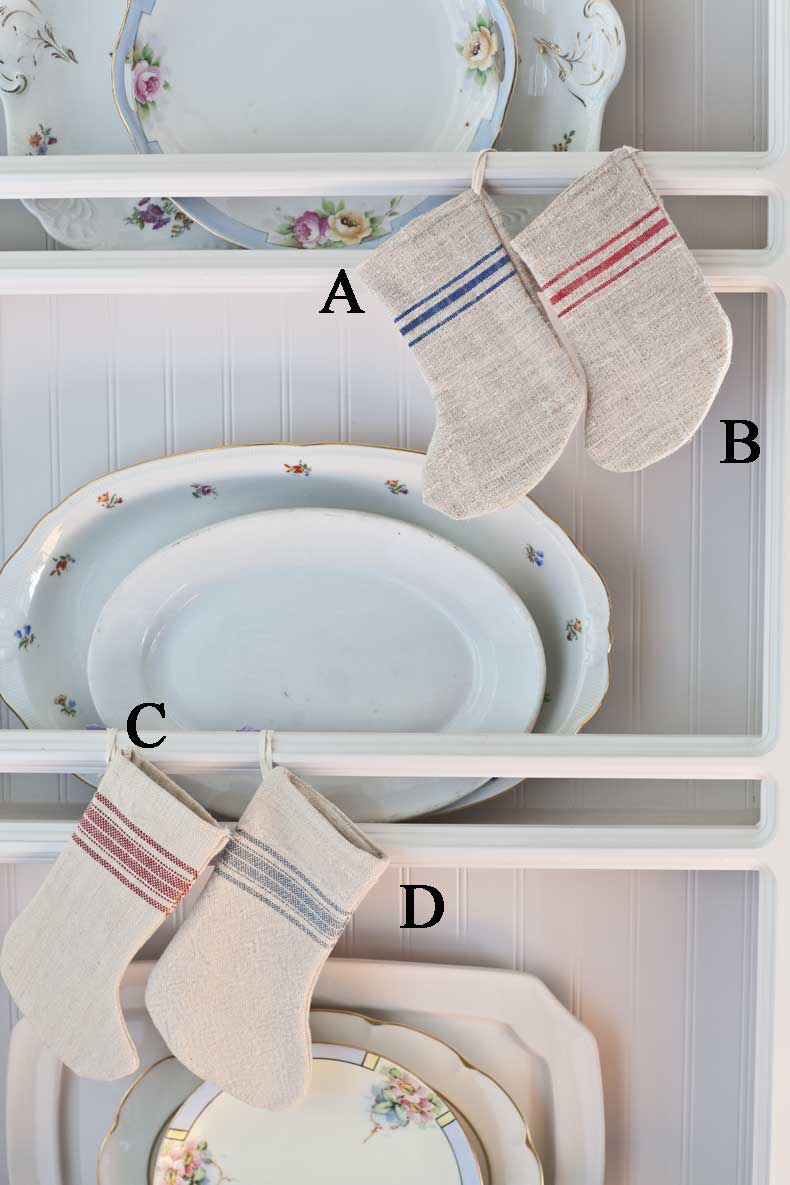 There are many more ways you can use these old fabrics, but certainly these are some of my favorites.
If you are interested in any of the pillows shown, I have added just a few to my shop. These are one of a kind pieces and hard to find, so if you like it, grab it! I've worked very hard to keep the prices down, and they are all made in the USA. These are not reproduction! The embroidery has been done by hand. Some are made from torchons (tea towels) and some are made from tablecloths. If it is made from a tablecloth, then I will have more than one available. Each one is a work of art!