My mom always said that if you had one color in a room, you should repeat it a few times. And so today we are talking about how to repeat color in a room. I know that sometimes I go overboard with a particular color in a room. Then later when I change colors, I have to change out everything! So how much is enough?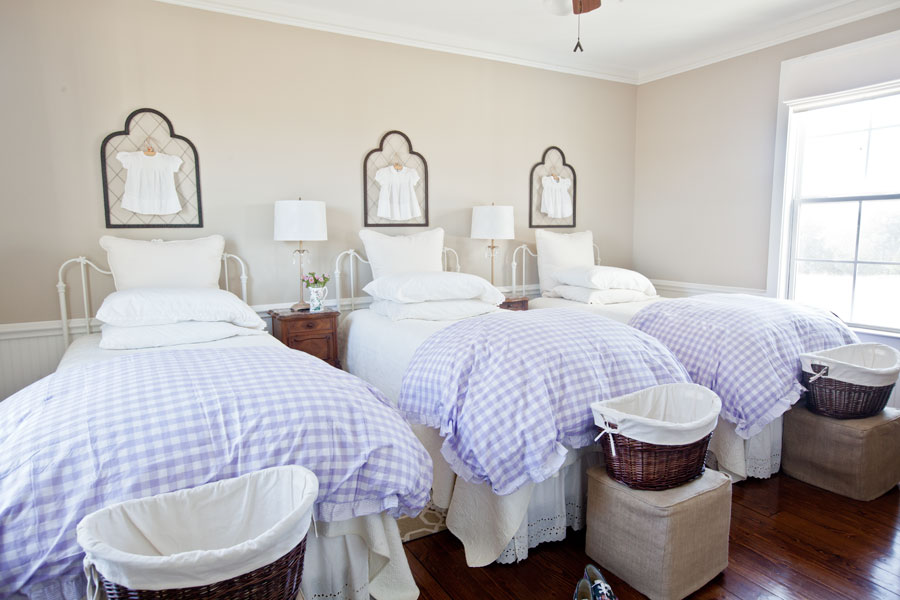 When you last saw this room, I had changed out the red duvets for these lavender ones above.
Here's what it looked like a few months ago.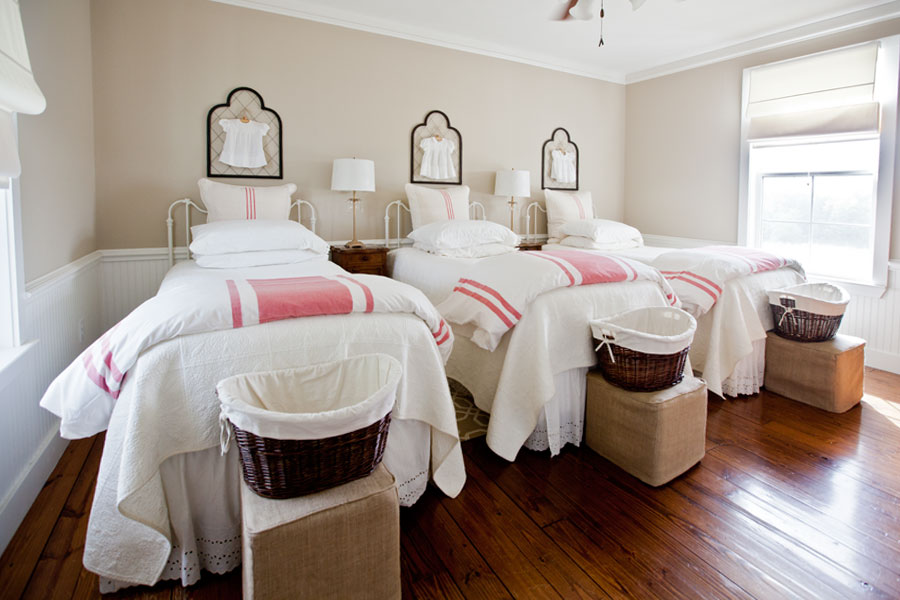 I fell in love with the lavender look in here. But the only lavender in here was in the duvets. Was that enough? I felt the room needed at least one more shot of lavender and I felt that going with lavender euro shams was the way to go.
The duvets covers were purchased on sale at Pottery Barn, and they no longer had the coordinating euro shams.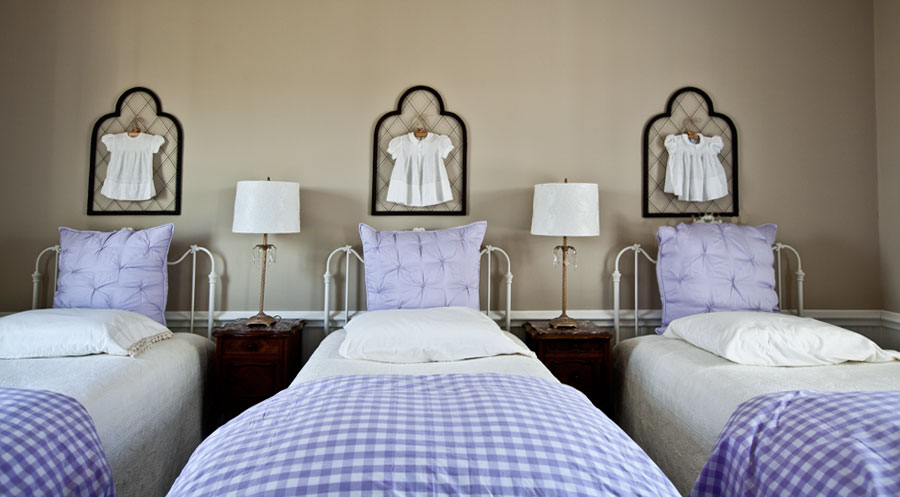 But that's okay, because I actually like the fact that the pillows are not exactly like the duvet covers. I am very, very happy with the look! It only took me 6 years to get it here! A year ago the room looked like this. Remember the Downton Abbey Hospital ward look?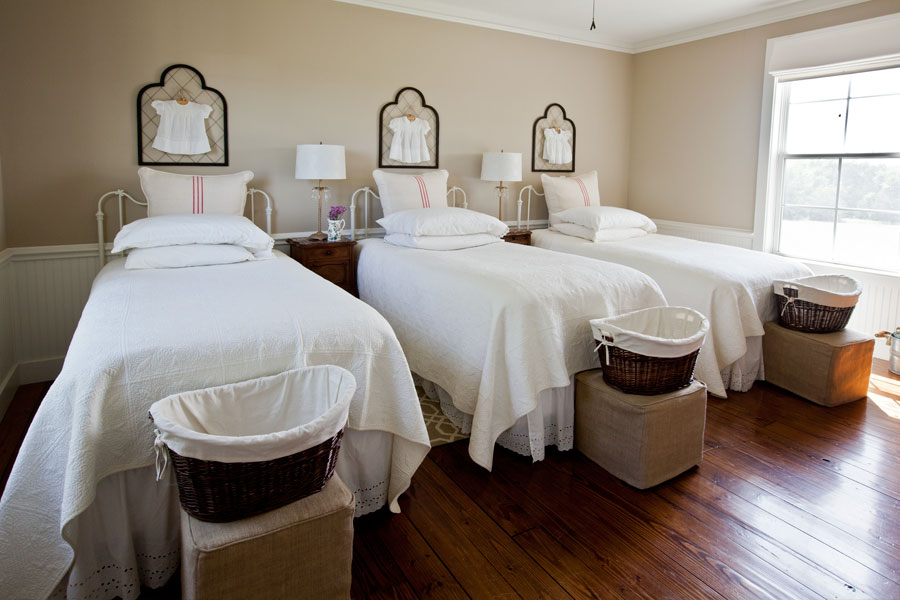 It was a bit stark. Now it feels more cozy and inviting. I like white, but sometimes you just need some color. So to go back to our how to repeat color in a room theme today, I felt that I needed at least two repeats in this room. Yes there were 3 duvets, all lavender, but I counted that as one. I like if a color is meant to be a dominant color in the room, you probably need to repeat it at least once. The lavender shams worked for me. I did not add lavender on the other side of the room either. This is it. Now when I add curtains in here, I will consider lavender, but  I will probably go with something neutral so it will work if I ever get tired of the lavender. Oh my that makes me sad to think I might get tired of the lavender; I hope I don't.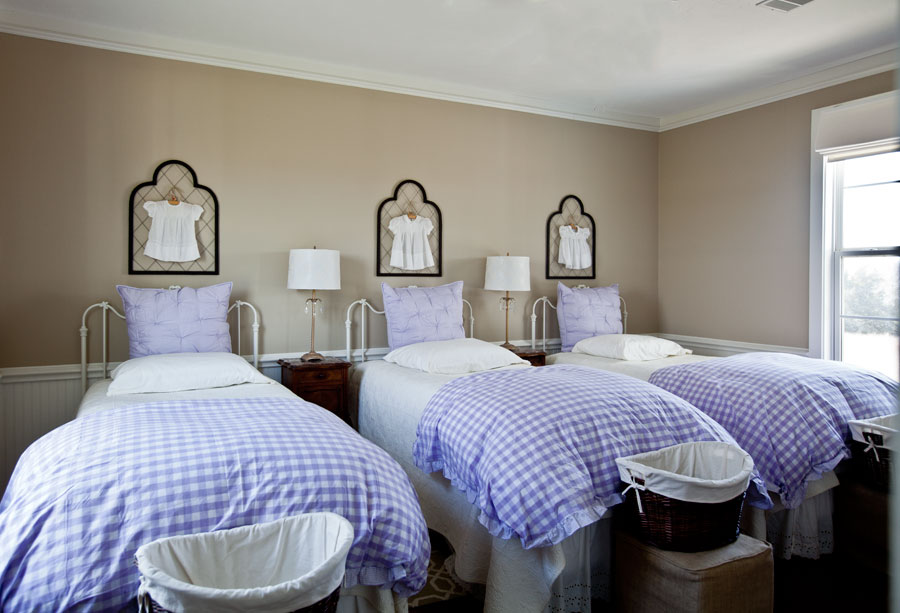 The point is if you want to introduce a color to a room, you want it to look balanced. The pillows added that balance to the beds. It is difficult to make a hard and fast rule about how much color you need to repeat in a room. I think the thing I want to point out is to be aware of it, and ask yourself if it looks balanced. Try a few different looks, then decide which one is best. EXPERIMENT!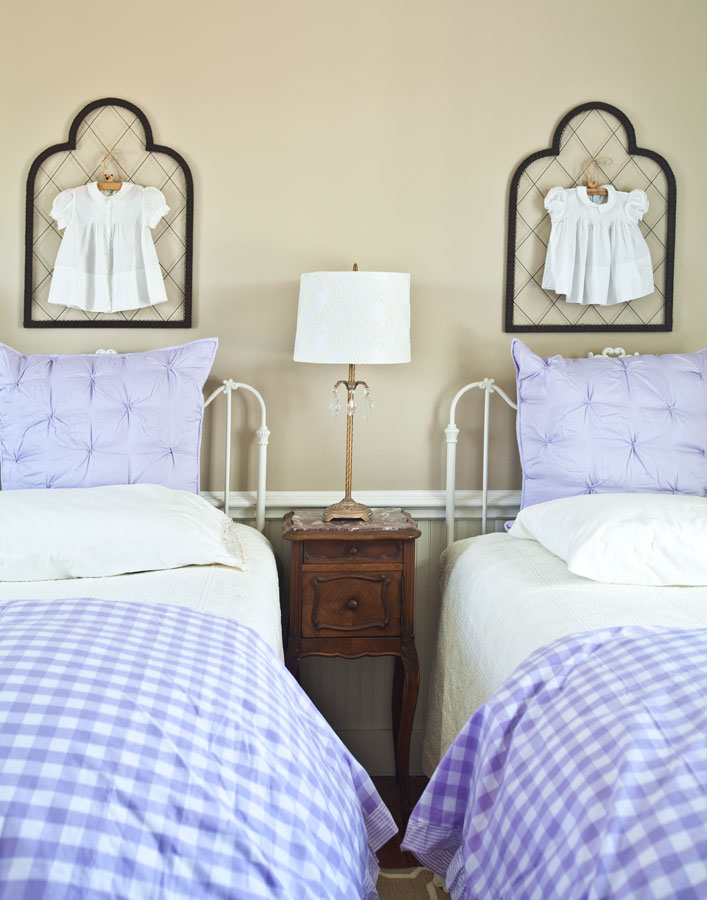 We recently had a lot of guests over to the farm for an overnight camping party. Some guests slept in the house, while most slept on the porch or in tents. They said that the house was cozy and inviting. And that is why I do what I do, to make our home a sanctuary for my family and for friends. I think those of us that love to decorate and to nest do it for the love of home, of friends and family. It's not for show or a competitive sport, it's about making our homes welcoming. Now that I've said what I think, how about you? Do you have any thoughts on repeating a color or pattern in a room?